/
DIY Nintendo Switch Costume for Couples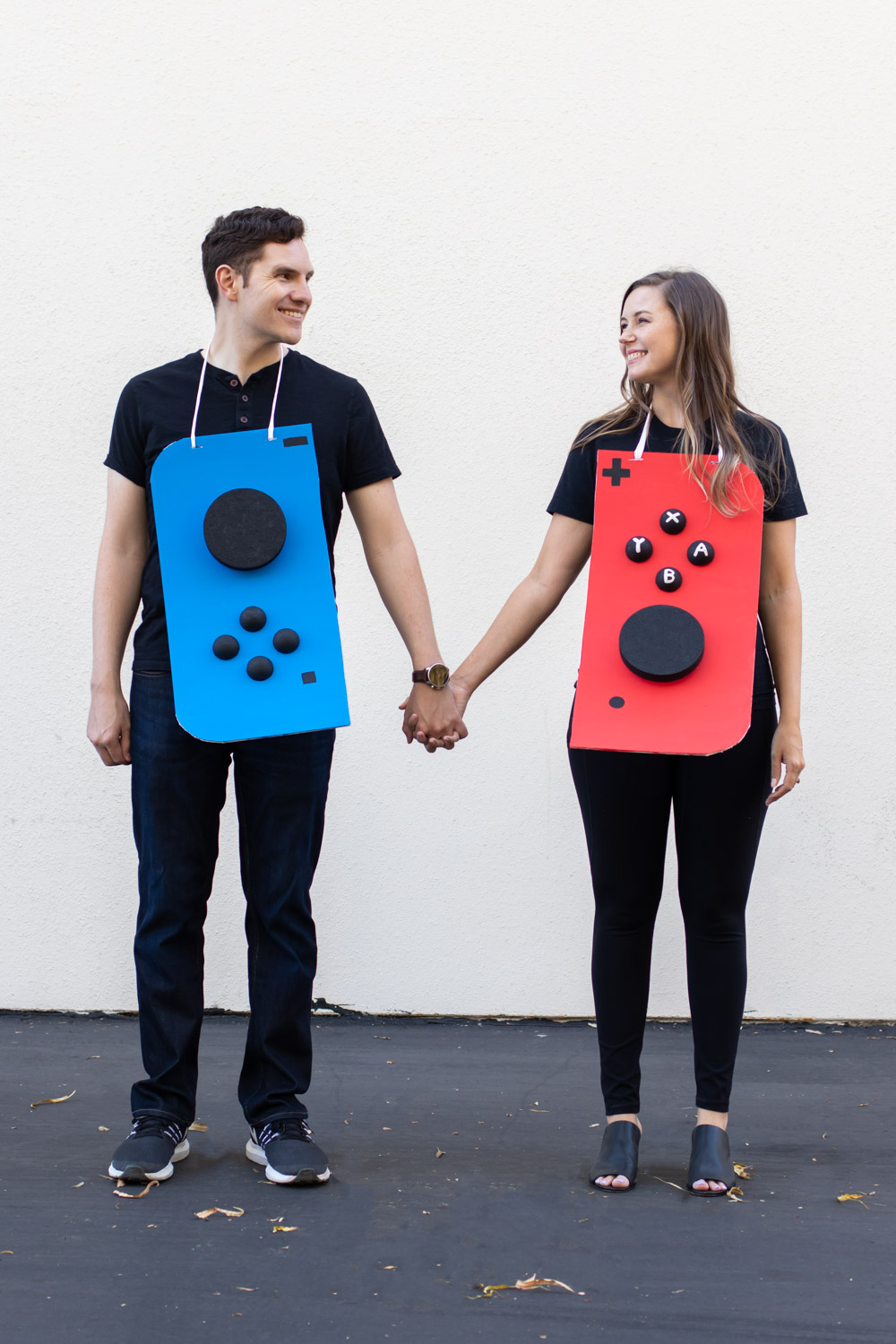 One thing that helped get us through quarantine this year was the Nintendo Switch. Andrew spent MONTHS trying to snag one (no one could keep them in stock) and when he finally did, it was a fun outlet for both of us to enjoy at home. When I was brainstorming costumes this year, Andrew was the one who suggested we try a Nintendo Switch costume as a couple, so here we are! You don't see him make a lot of appearances here…but isn't he cute?! We've never shared a couples costume before, so I was thrilled there was a costume he was excited about it! Best of all, this video game couples costume is SO easy to make with posterboard and foam pieces. If you want to make it even easier, you can still make the costume with just posterboard. It's great for a last-minute DIY Halloween costume.
(Nope, not sponsored. Andrew is just obsessed with his Switch and I really like Mario Kart.)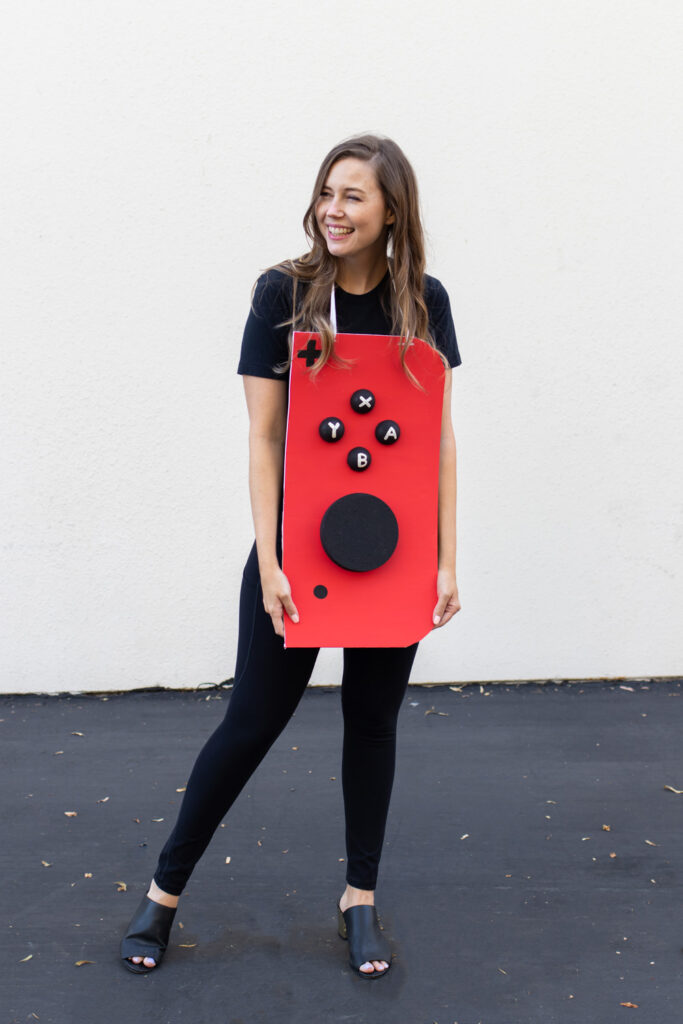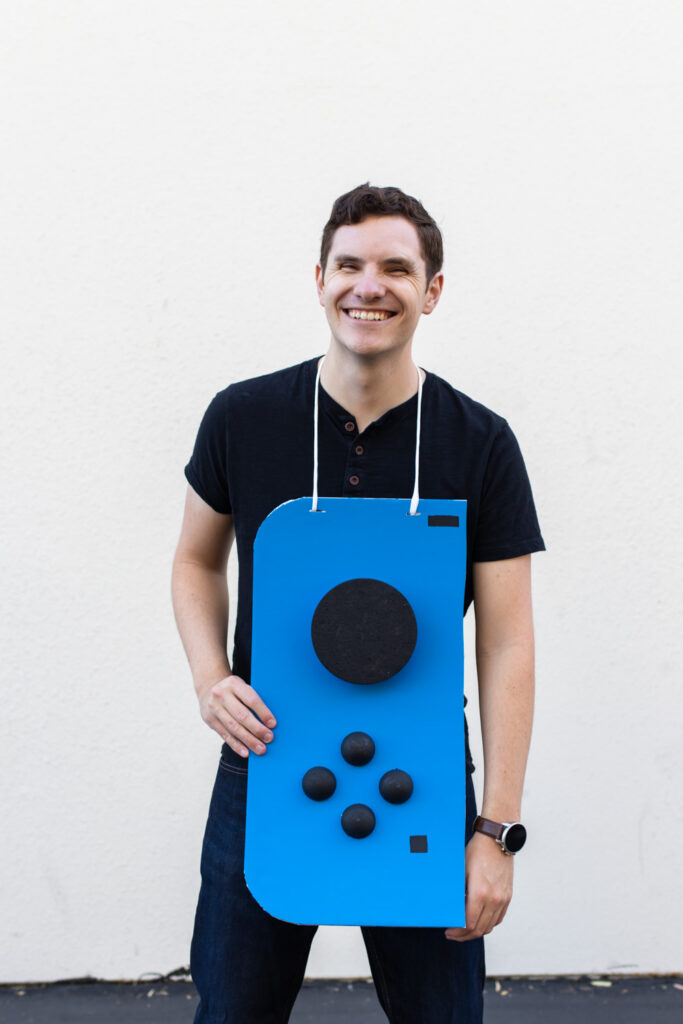 I would never want to suggest unsafe Halloween plans this year. Although I love making and sharing costumes with you all, I urge you to please be safe and smart this Halloween. We'll be at home watching Halloween movies and pigging out on candy, but we'll be in style in our costumes, of course!
As you can see, this Nintendo Switch costume focuses on the signature controllers. One is red, one is blue. All of the buttons are made out of foam pieces you can find in your local craft store. As far as a video game couples costume goes, this one is incredibly easy! If you prefer a video game costume for one, I recommend my DIY Pac-Man costume from last year. Simply wear black (or white or whatever you want) and wear the sandwich board to match with your friend or partner. It works for any type of couple! Kids too!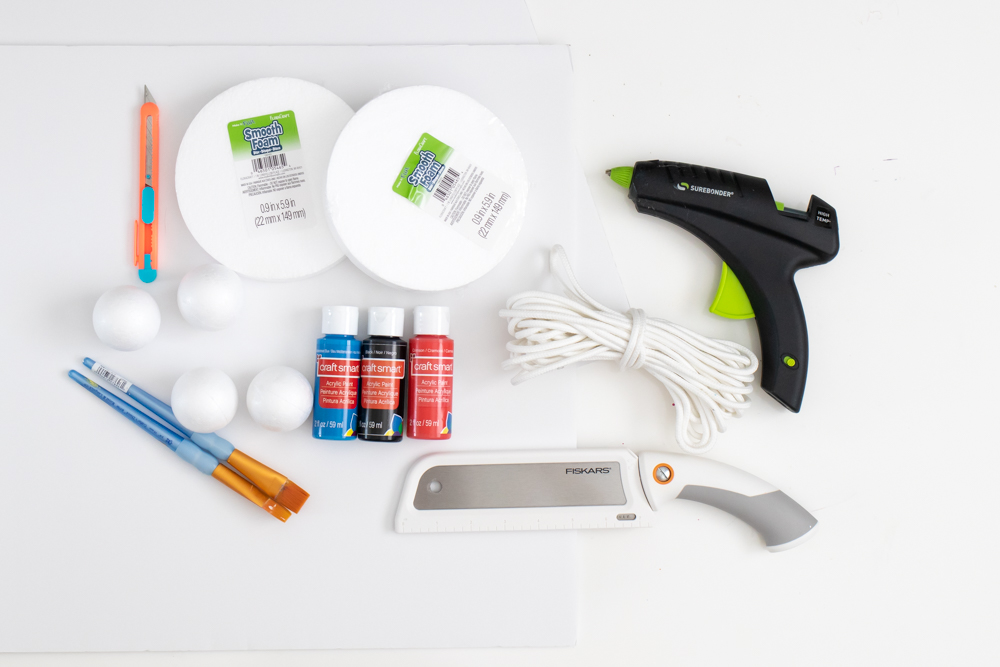 How to Make an Easy Video Game Couples Costume with Posterboard
Supplies:
Two thick posterboards
Craft knife
Red paint
Blue paint
Black paint
White paint
Paintbrushes
Small foam spheres
Large foam discs
Large craft saw (or similar for cutting foam)
Glue gun
Rope/thick string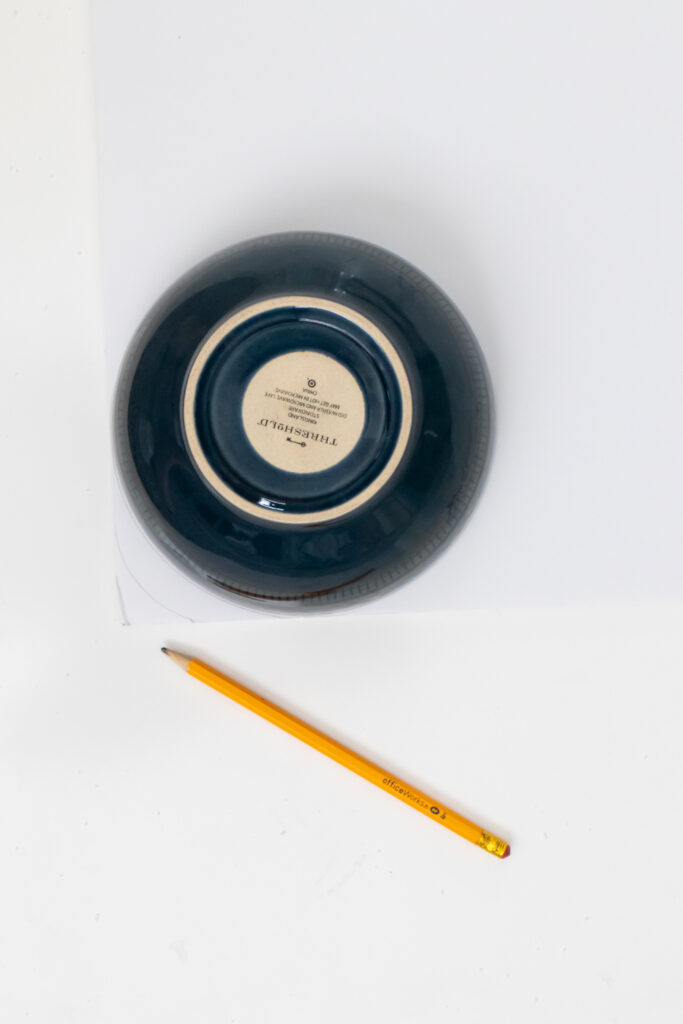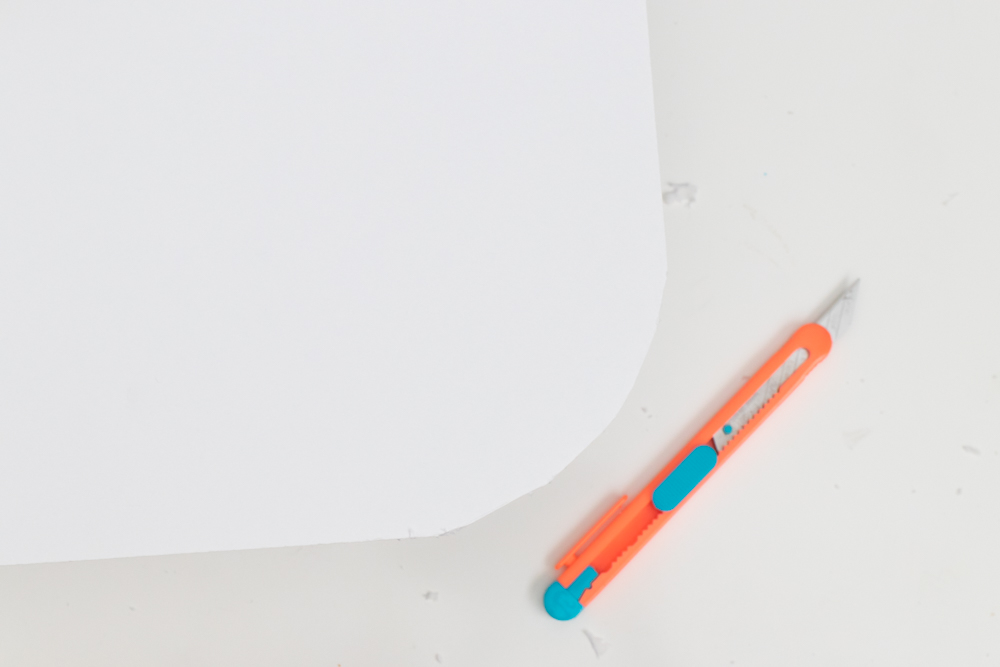 Step 1: Use something like a bowl to mark a curved edge at the two long side corners of both posters. Then cut with the craft knife. Also cut the short sides down to about 16-18 inches wide depending on your desired width. Keep the length as is.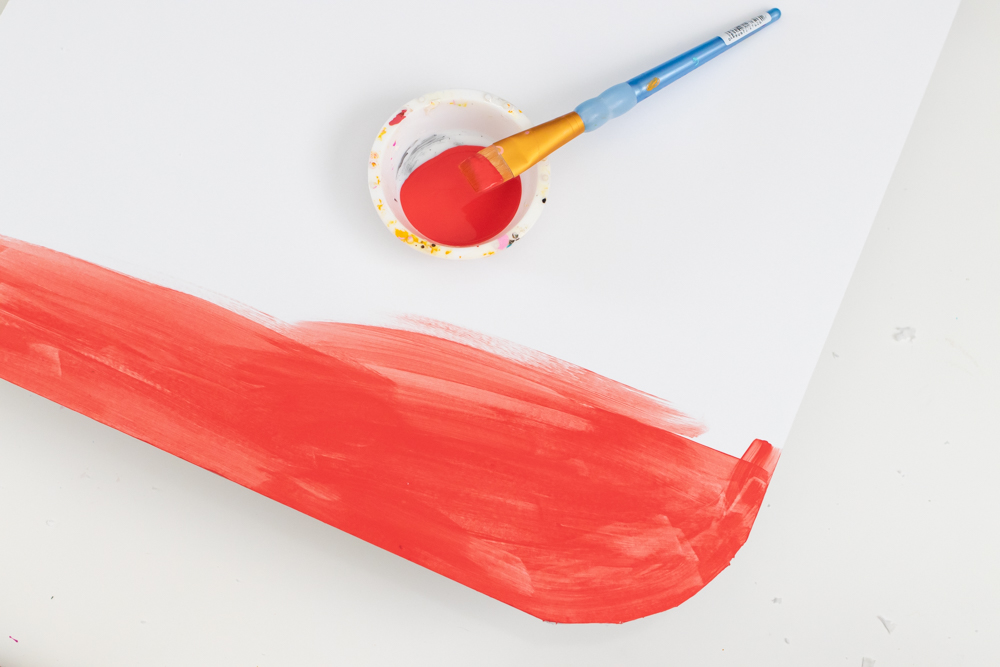 Step 2: Paint one poster red and the other blue. It will take multiple coats of paint.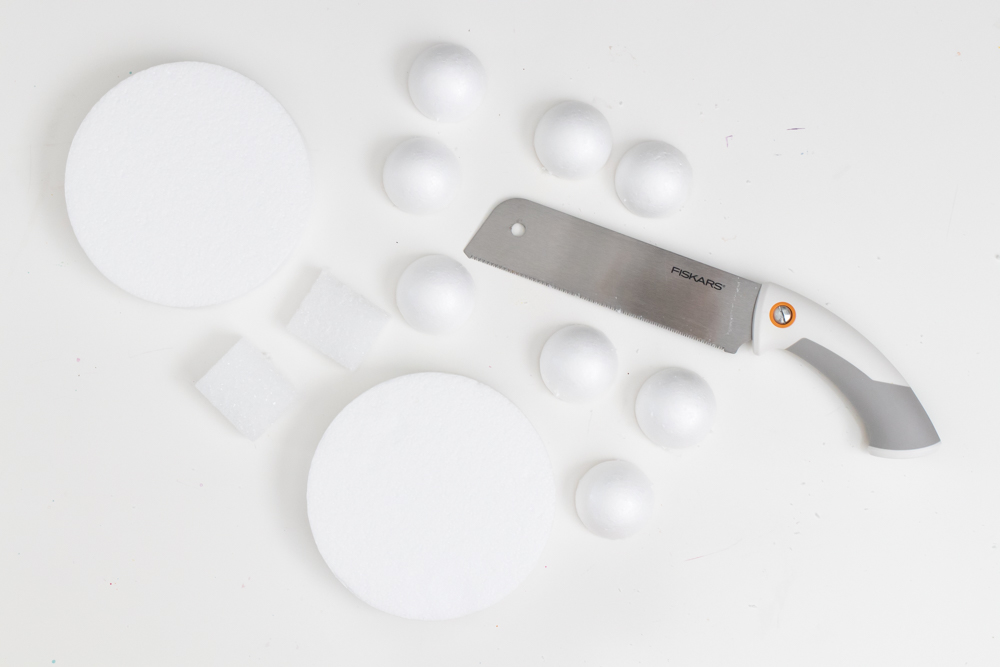 Step 3: Meanwhile, cut four small foam spheres in half. The cuts don't need to be too clean, just flat so they can hold the glue. Also cut two small chunks of foam to be about 1/2-inch thick and set aside.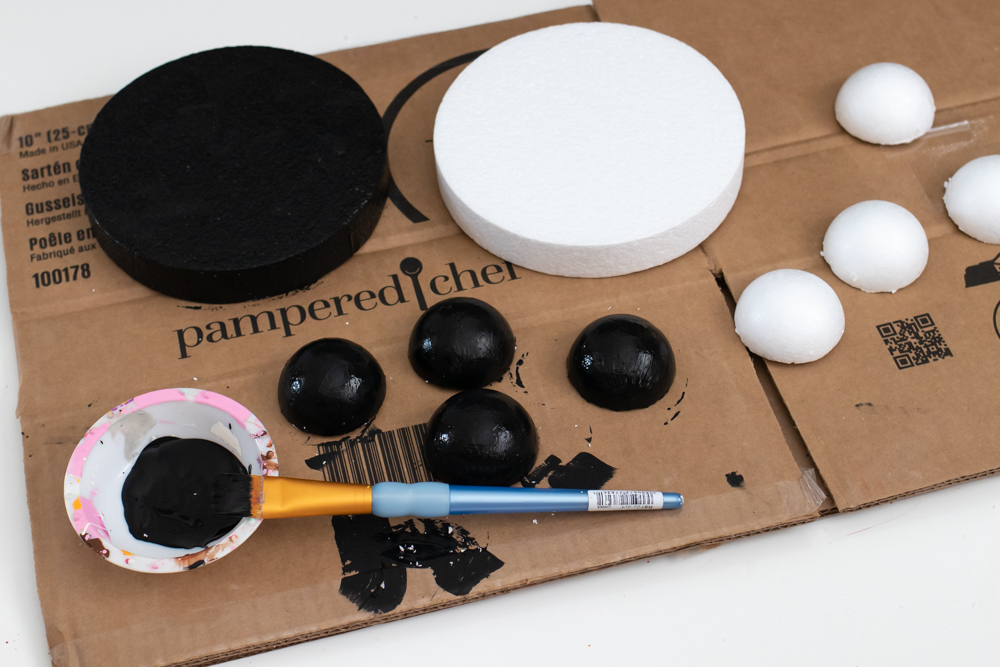 Step 4: Paint the spheres and discs black. This may require two coats.
Step 5: Once both the posterboard and buttons are dry, you can assemble the costume. It's important that the red controller have the curved edges facing to the right and the blue controller have the curved edges facing to the left.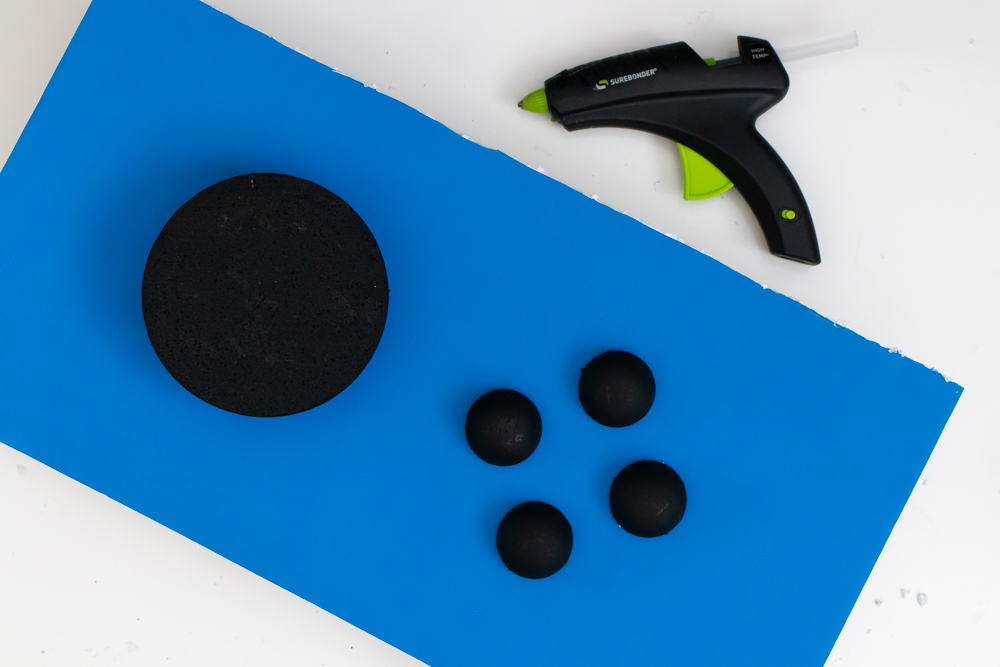 Step 6: To assemble the buttons, space them into a diamond shape. For the red controller, they will be toward the top. Then the blue controller will have them toward the bottom. Glue in place with a hot glue gun.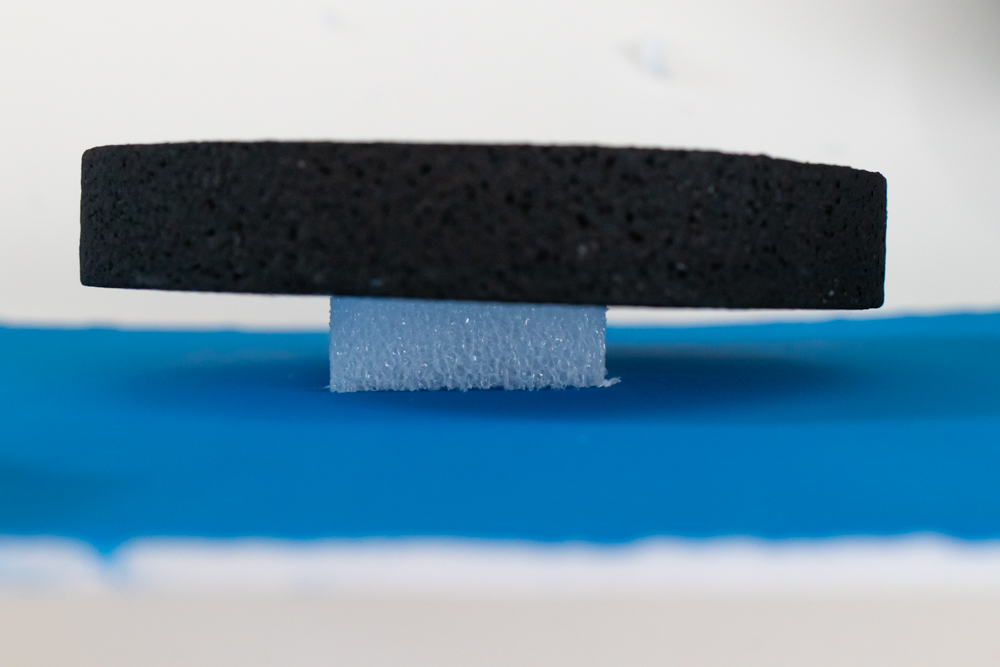 Step 7: Then position the joystick piece. This will go toward the bottom for red and toward the top for blue. Use the extra piece of styrofoam beneath the large disc to give it depth like a real joystick. Glue in place.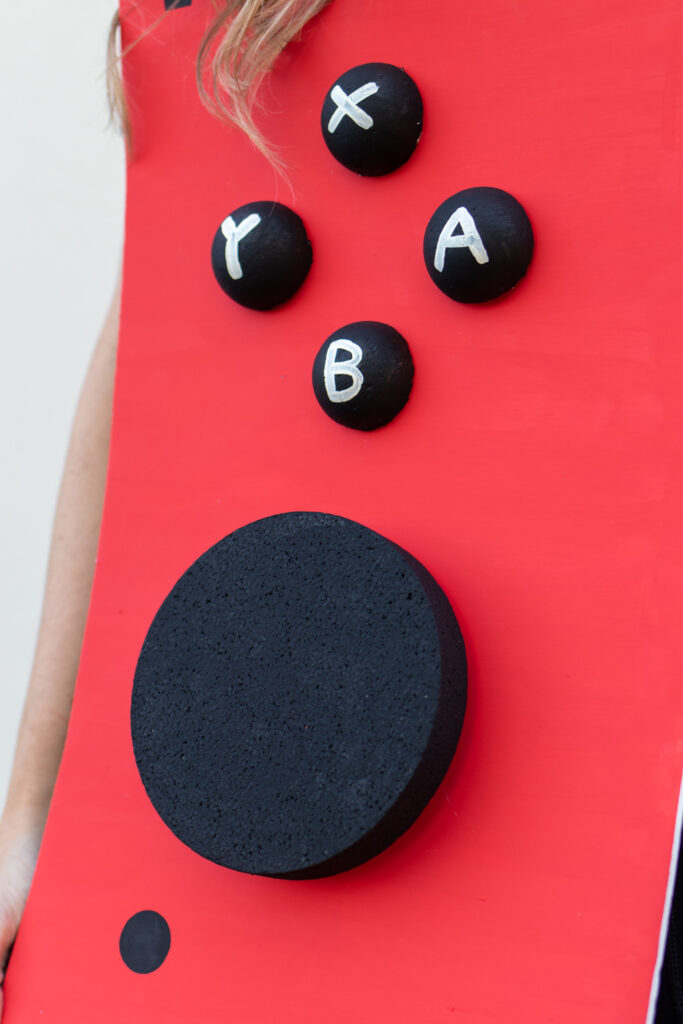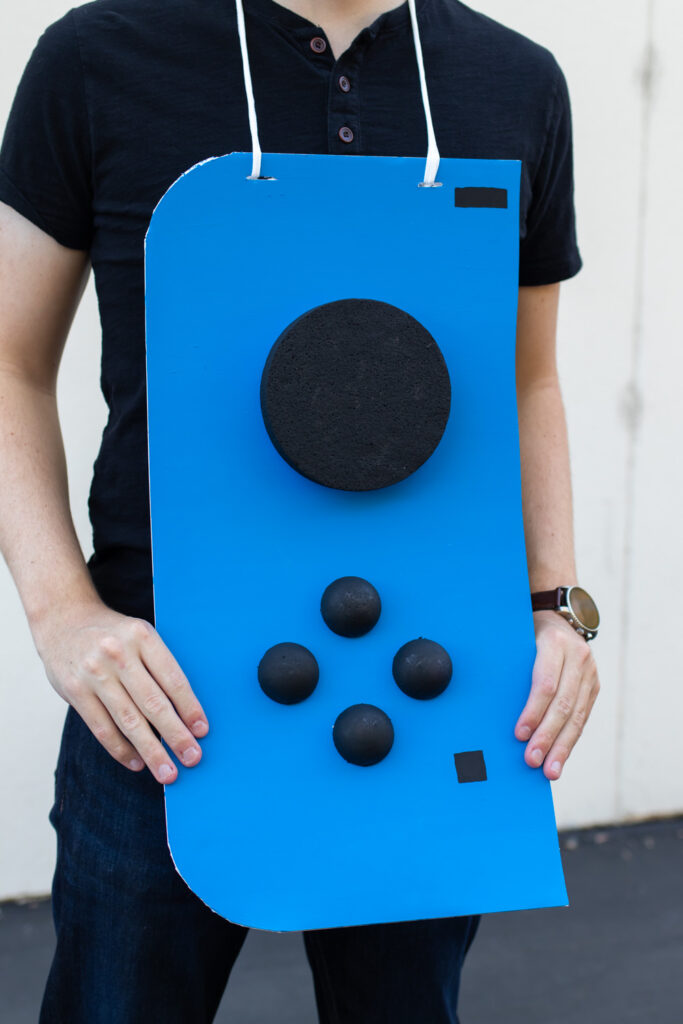 Step 8: Use a small brush and black paint to add additional details to the Nintendo Switch costume, like plus and minus signs and a circle and square. See photos for reference. Then use a small paintbrush and white paint to mark X, A, B and Y on the buttons of the RED controller, leaving the blue one blank.
Step 9: Lastly, use the craft knife to cut two slits at the TOP of each board. For the video game couples costume to work, make sure the are facing the correct way before cutting. Thread the heavy string or clothesline through the slits and knot on the inside. Fit to the size of your and your partner's bodies.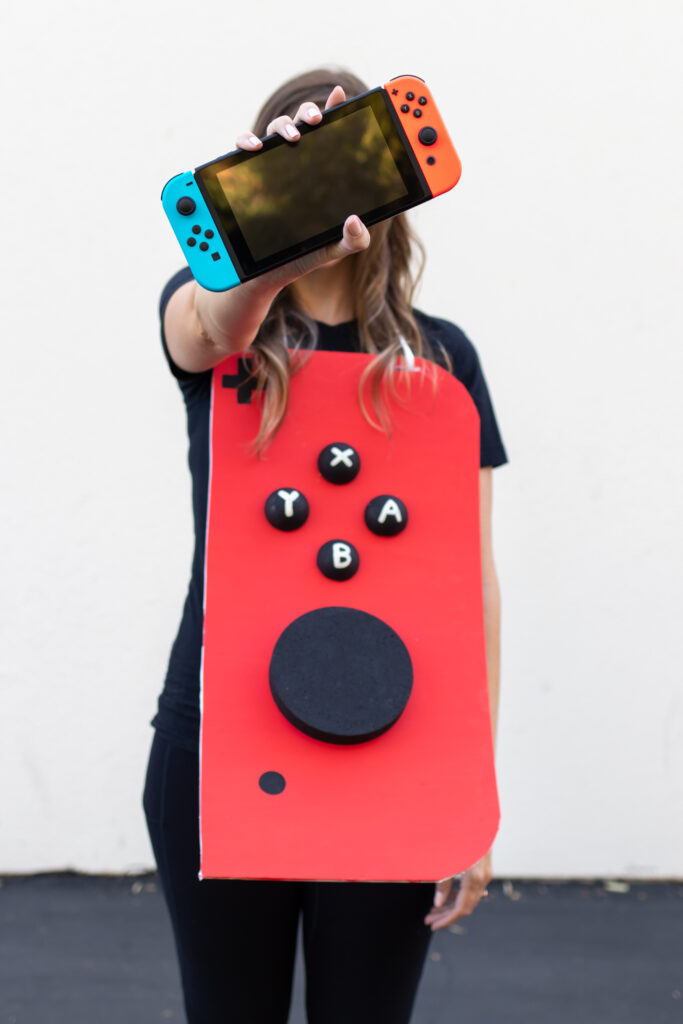 Dress in black or another color and you're ready to go dressed as a Nintendo Switch for Halloween! In addition to being a fun couples costume for adults, I bet it would be perfect for video-game-loving kids too. The great thing about costumes like these is you'll never grow out of them, ha! Save them to use again and again. Our Nintendo Switch costume might be the only couples costume I ever get Andrew to agree to!
Psst, check out my nail polish costume or cheese (board) costume for more DIY costume ideas!
What other video game costumes would you want to try? Do you have a favorite Switch game?