/
DIY Neon Tie Dye Grip Socks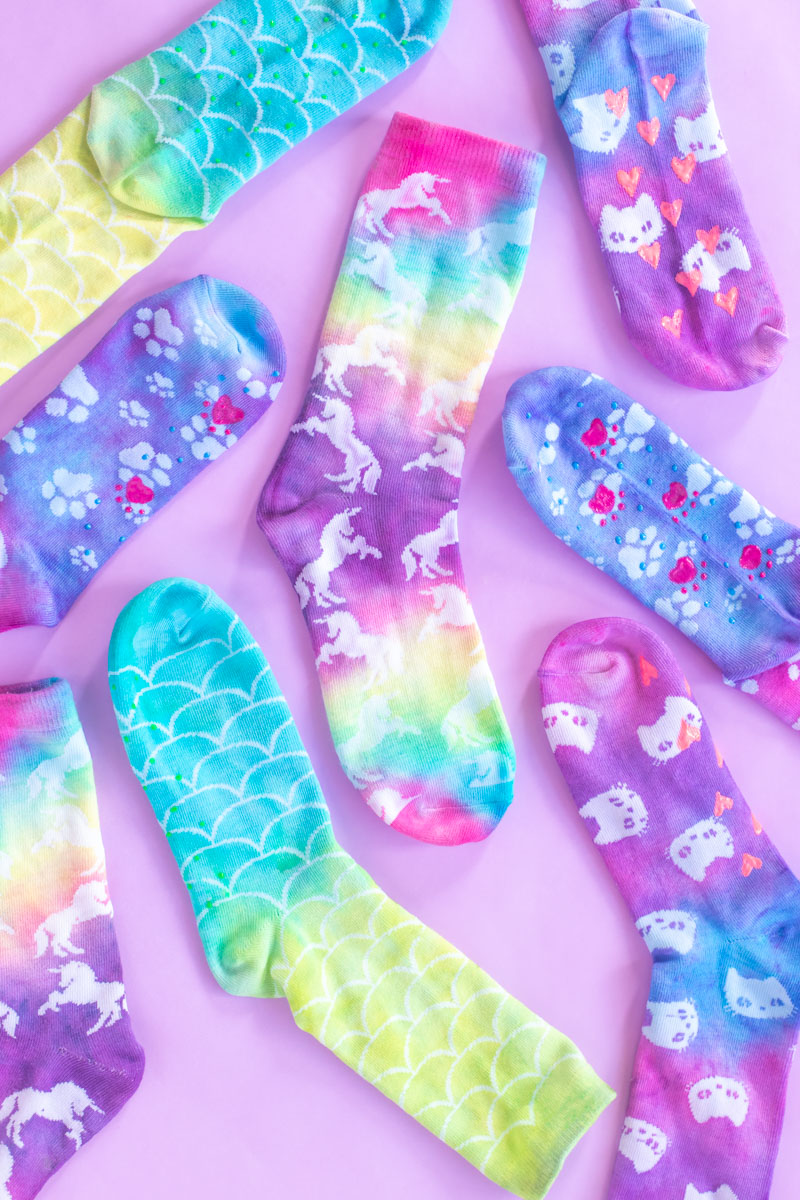 The following post is sponsored by Tulip
I love seeing that tie dye is one of the few things that never really went out of style. For many of us, especially DIYers, it never left! Enter the new Tulip Crazy Socks Kit, and you can actually reveal cute patterns on your socks with tie dye! I got to play around with the new Tulip Color kit to make my own neon tie dye grip socks, featuring patterns like unicorns, paws, mermaid scales and cats. Then I used Tulip Neon Dimensional Paint to add grip to the bottoms of the socks to prevent sliding. This quick update is similar to my starry grip socks I made recently. Here's how to make your own crazy socks with neon and tie dye!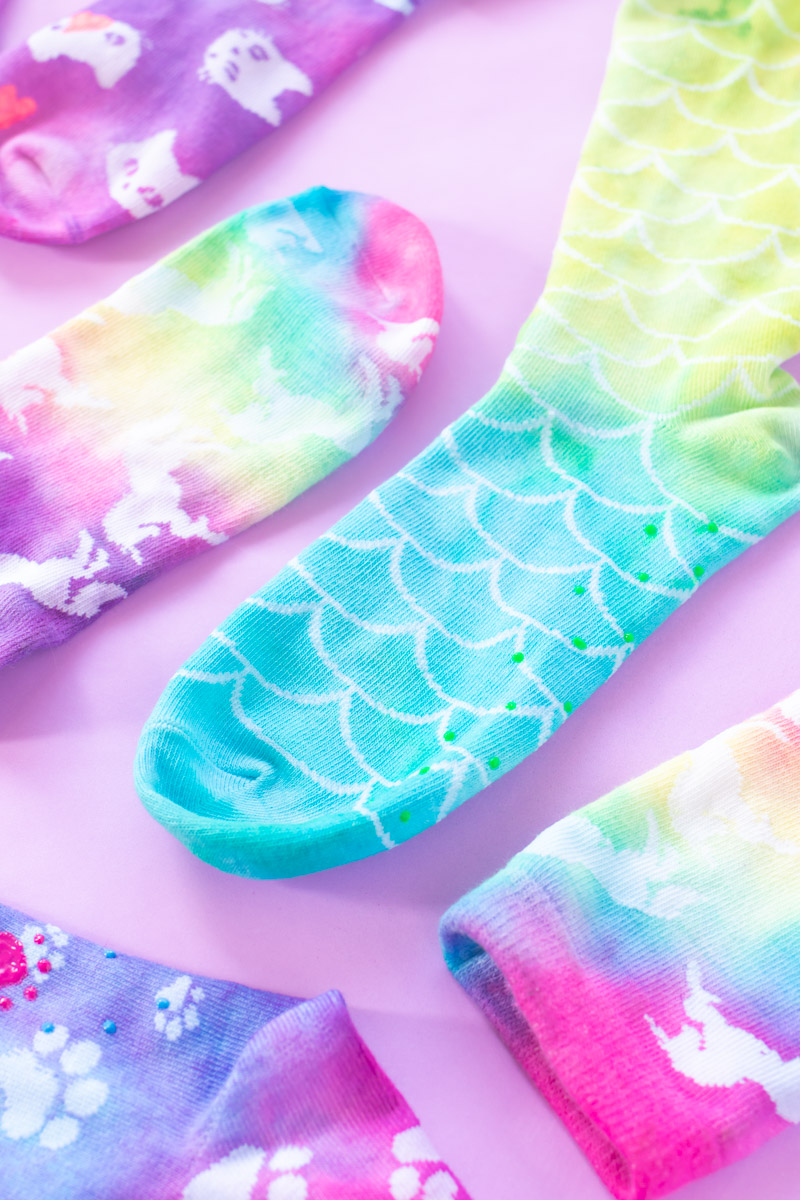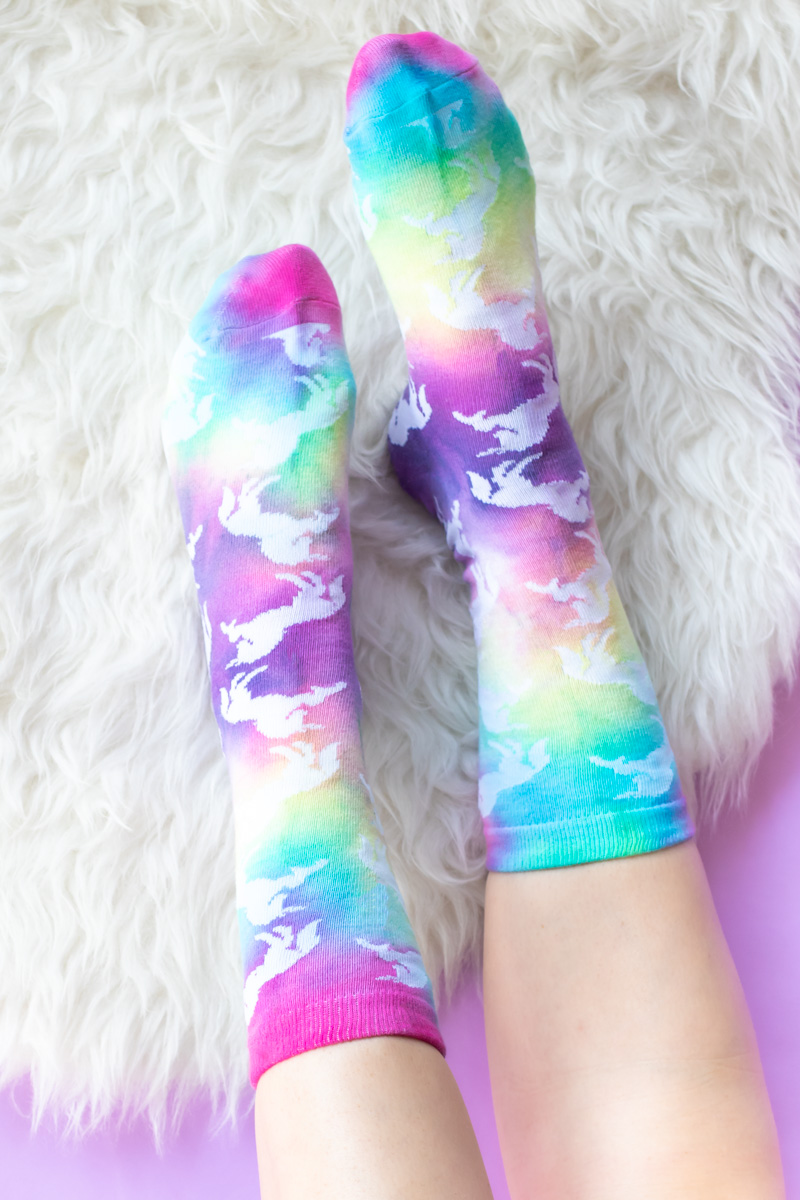 This kit makes tie dye not only easy but very customizable. Use the various dye colors, sock patterns and neon paints to make a new pair of socks that feel like YOU. As you add the dye, you'll begin to see the patterns on the socks come through. Then, when you rinse the dye, the patterns are revealed! This tie dye craft would be such a fun group party activity for teens or adults.
Check out the video to see the tie dye grip socks come to life! 👇🏼
Supplies:
How to Tie Dye Crazy Socks
Step 1: Mix dye with water according to package instruction. Shake well.
Step 2: Cover your work surface with plastic to protect it. Pre-wash socks and keep damp for dyeing. Lay them flat on the prepared surface.
Step 3: Apply the dye in your chosen pattern. Use the rubber bands included if desired. Do not oversaturate – this could cause the colors to become muddy.
Note, the unicorn socks are the only ones I used rubber bands for.
Step 4: Once both socks are dyed, carefully wrap in plastic wrap. Let the socks rest for 2+ hours for brighter colors. Then unwrap.
Step 5: Carefully rinse each sock until the water runs clear. Then wash separately and dry completely.
Step 6: Once dyed and dried, reposition the socks so that the bottom is flat and facing up. Draw your desired patterns using the Tulip Neon Dimensional Paint. Let dry for about 6 hours.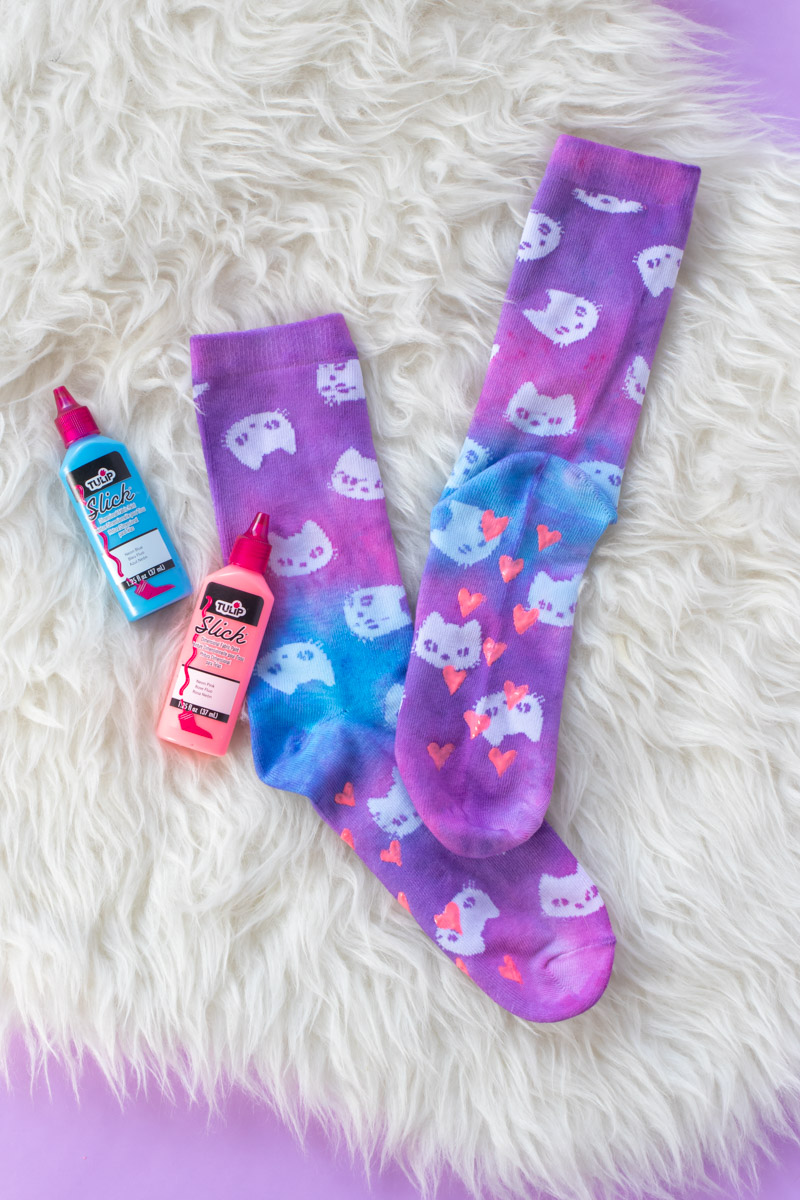 Once your new crazy tie dye grip socks are dry, they're ready to wear!
Thank you to Tulip for generously sponsoring this post. All opinions are my own. Thanks for supporting the brands that keep Club Crafted making!