/
3 Ways to Tie Dye Handkerchiefs with Two-Minute Tie Dye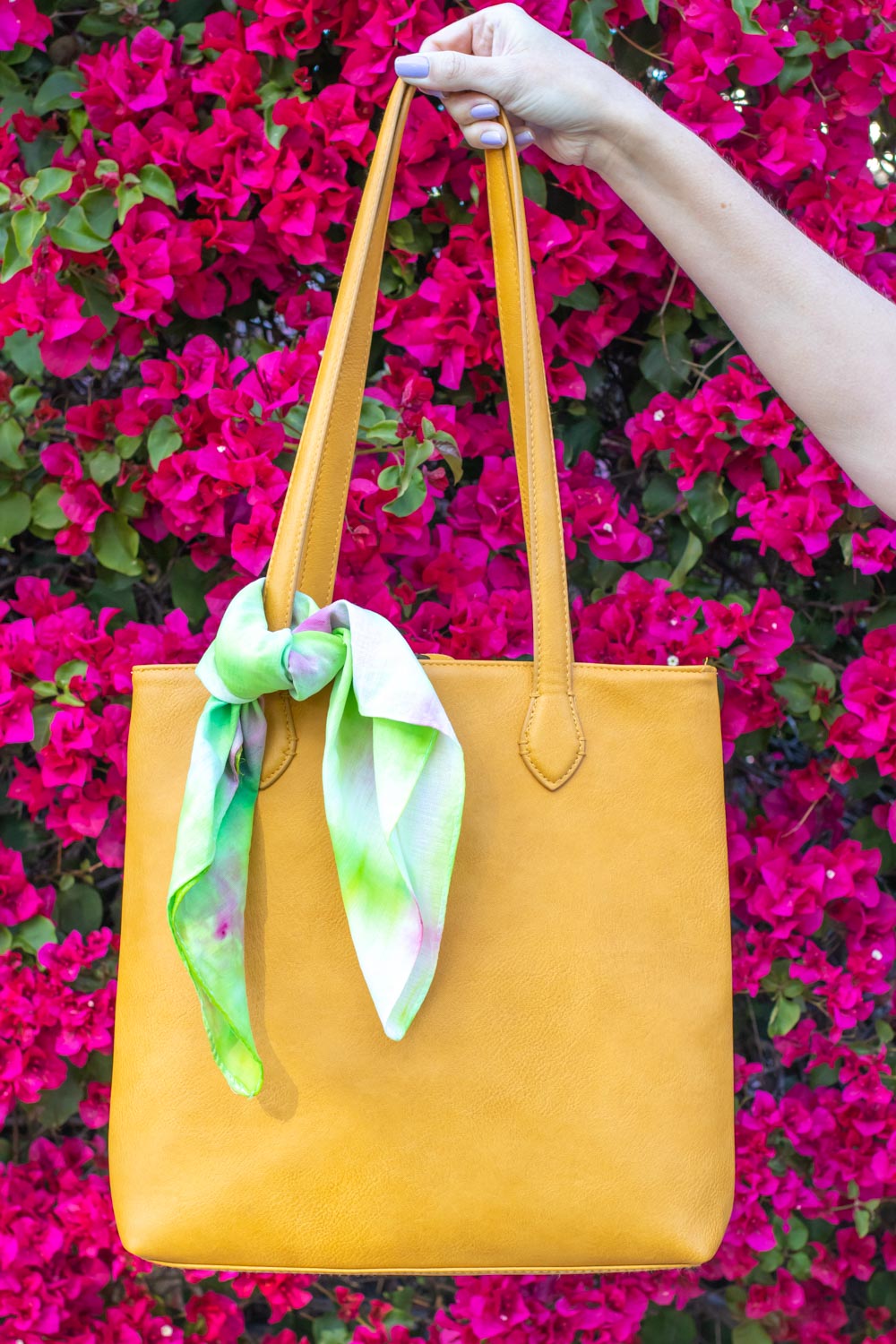 The following post is sponsored by Tulip
With warm weather on the horizon, it's the perfect time to start tie dyeing again! One of my favorite versatile accessories is handkerchiefs, so I wanted to share three ways to make tie dye handkerchiefs with different tie dye techniques. Using Tulip's newest Berry Blast palette of its Two-Minute Tie Dye Kit, these handkerchiefs are a faster way to tie dye! Using your microwave, the projects are ready much quicker than average dye. Tulip tie dye kits make it easy to create beautiful patterns on various types of fabric clothing and accessories. I can't wait to share many more tie dye ideas with you in the coming weeks!
Check out my last project with Two-Minute Tie Dye right here from Christmastime.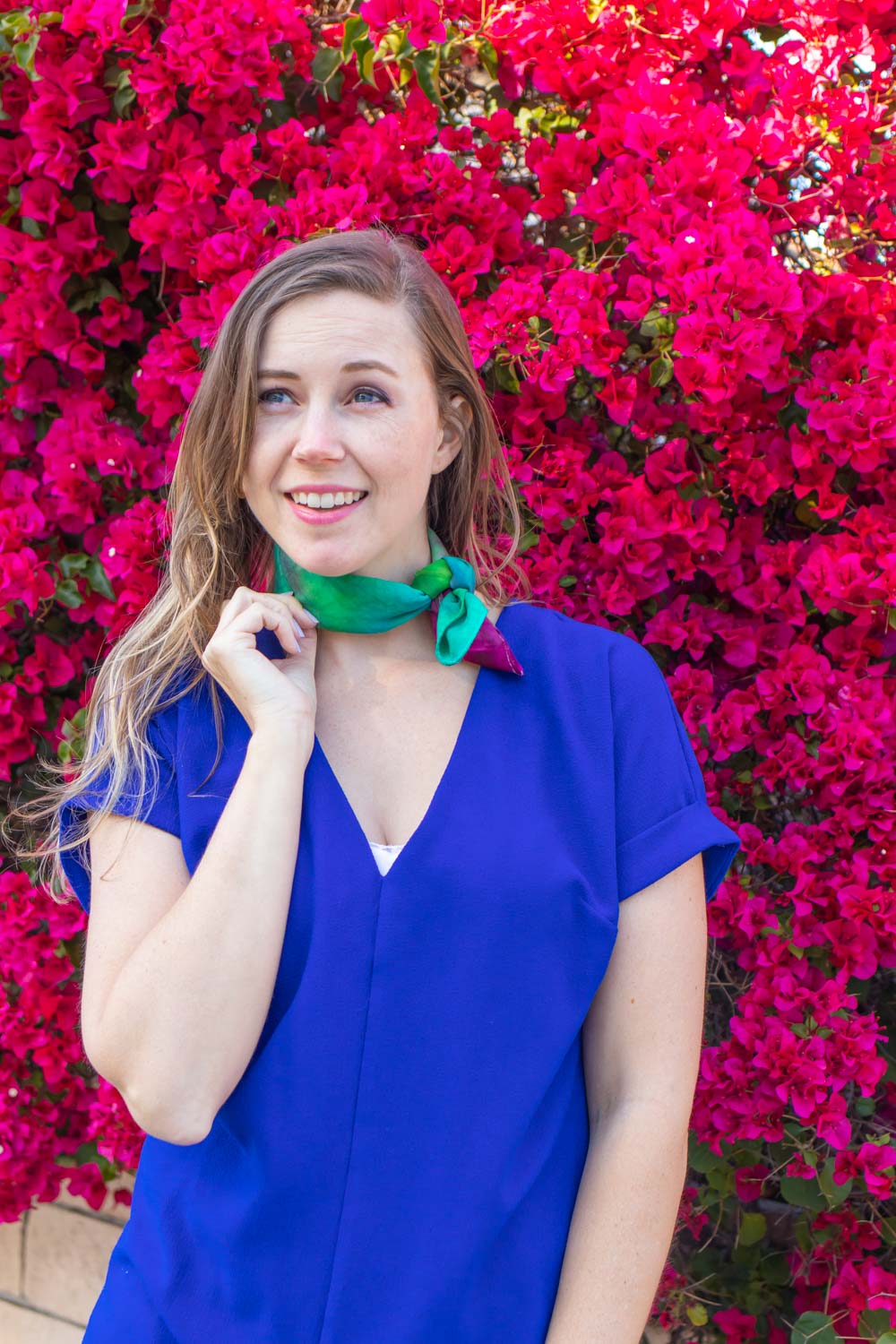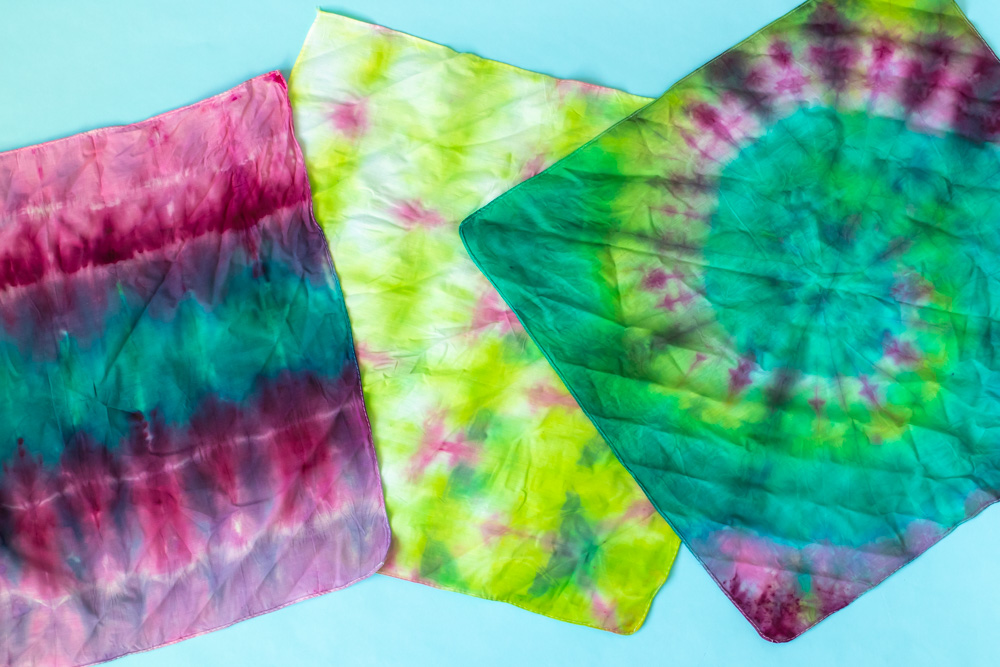 Three Tie Dye Techniques to Try
I'm always learning new ways to tie dye! In the next few weeks, you'll see several more ways to tie dye various fabrics and accessories. First up, here are three ways to tie dye handkerchiefs that you can use as accessories!
Spiral Pattern
For the spiral tie dye handkerchief, lay the wet fabric flat. From the middle, pinch the fabric and twirl it so that the sides come in. Then apply four rubber bands in a criss-cross shape. When dyeing, apply in distinct sections to create a spiral pattern.
Stripes Pattern
Stripes are probably the easiest tie dye technique! First, accordion fold the fabric. Then rubber band different sections of the fabric (I use four). Apply the dye in sections across the fabric, overlapping only slightly in some areas. This creates a vague stripe pattern once revealed.
Triangle Pattern
To make a triangle shape, accordion fold the fabric. Then fold one end up into a triangle shape. Repeat across the strip until you have a single triangle shape (similar to how you fold a flag). Rubber band two sides of the triangle, then dye. In this example, I used green and pink to create a watermelon-inspired tie dye look.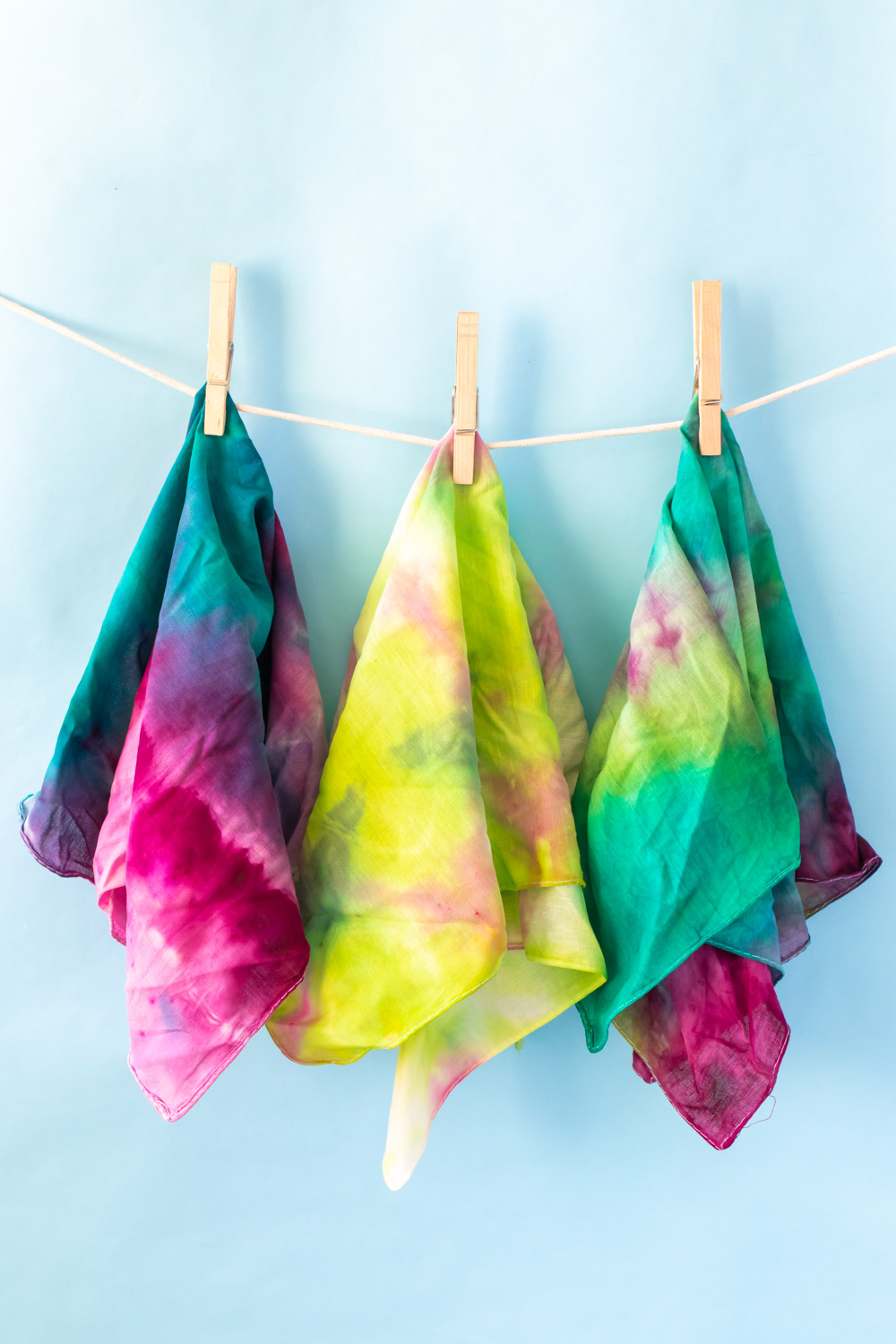 How to Tie Dye with Two-Minute Tie Dye
Supplies:
Cotton handkerchiefs, pre-washed
Tulip Two-Minute Tie Dye (Berry Blast) Kit
Plastic for covering work surface
Step 1: Either wash the handkerchiefs and leave wet OR soak dry handkerchiefs in water. Make sure they are completed saturated. Then wring out excess water.
Step 2: Mix the dye! Fill each Tulip dye bottle to the fill line, then secure the lid. Shake vigorously until the dye is completely dissolved. Repeat with all four colors in the Berry Blast package.
Step 3: Cover your work surface with plastic. For best results, make the tie dye handkerchiefs outdoors. Then lay a damp handkerchief on top of the plastic.
Step 4: Choose your desired tie dye technique (see above). Twist, fold and rubber band the fabric of the handkerchiefs.
Step 5: Wearing the provided gloves, apply the dye to select areas of the wet fabric. Because they are thin, they will saturate very quickly. Avoid too much overlap as the colors may appear "muddy." Make sure to flip and dye both sides.
Step 6: Immediately place the dyed handkerchiefs inside of the Two-Minute Tie Dye containers. They should not be touching.
Step 7: Close and microwave the containers for 2-3 minutes. Then let cool with the lids closed 15 minutes. Open and cool an additional 5 minutes until cool to the touch. (Check package instructions for more information.)
Step 8: Then trim the rubber bands and carefully open the tie dye handkerchief to reveal the design. Rinse in cool water until it runs clear. Finally, wash separate and dry normally.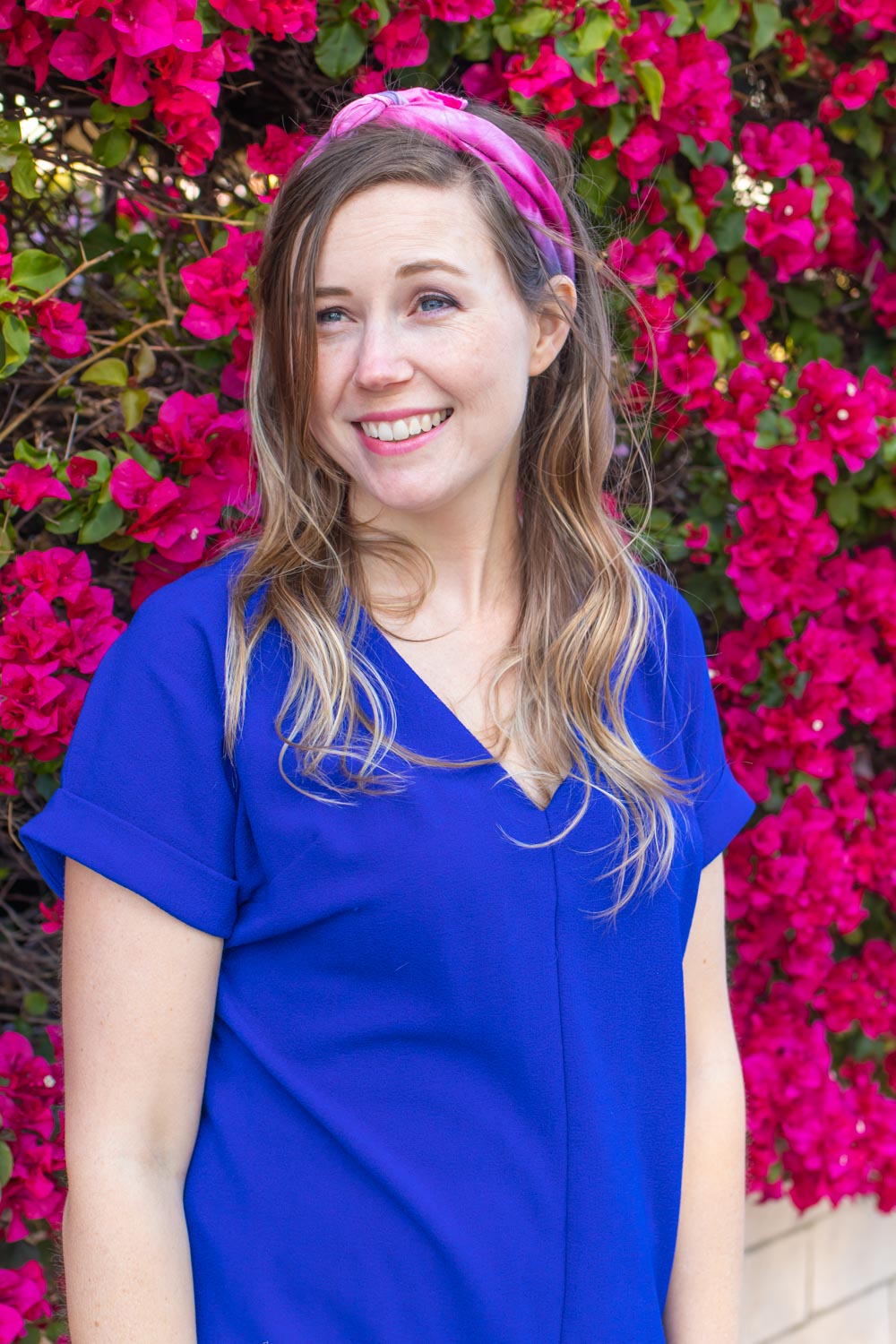 Then the tie dye handkerchiefs are ready to wear! All of these tie dye techniques are easy to recreate on a variety of products. Wear the dyed handkerchiefs as headbands, neck scarves, bag accessories, bracelets, etc!
Thank you to Tulip for generously sponsoring this post. All opinions are my own. Please note this post contains affiliate links from which I may collect a small profit should you choose to make a purchase. I only link to products I personally use or recommend. Thanks for supporting the brands that keep Club Crafted making and sharing!