/
Cookie Dough Cream Puffs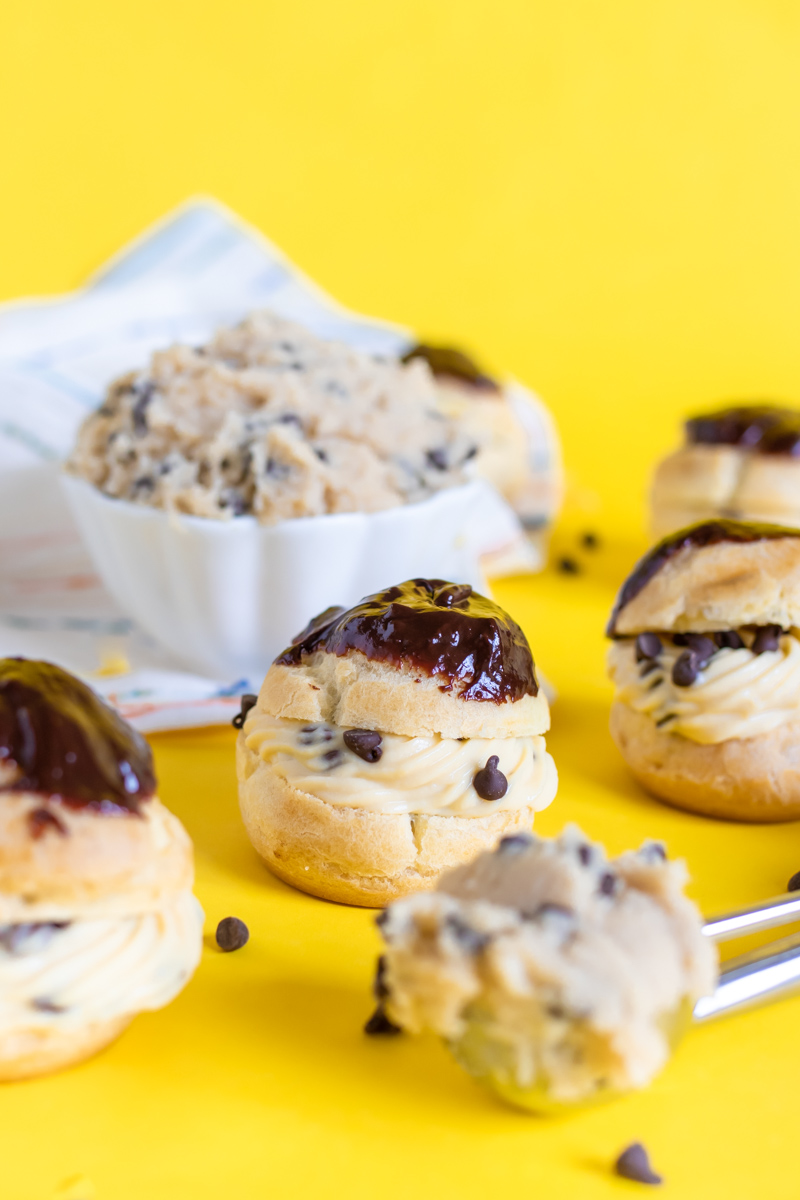 Today's post has been a long time in the making. Literally. I first made these cookie dough cream puffs almost a year ago and never shared them, so it was about time I share this fun take on a classic pâte à choux recipe! Despite an intimidating name and appearance, cream puffs are quite easy to make. It's nothing like making a cake or cookie, but boy is it worth the additional steps to make cookie dough cream puffs with this delicious brown sugar pastry cream. Keep reading for my easy recipe and how-to for making cookie dough-inspired treats!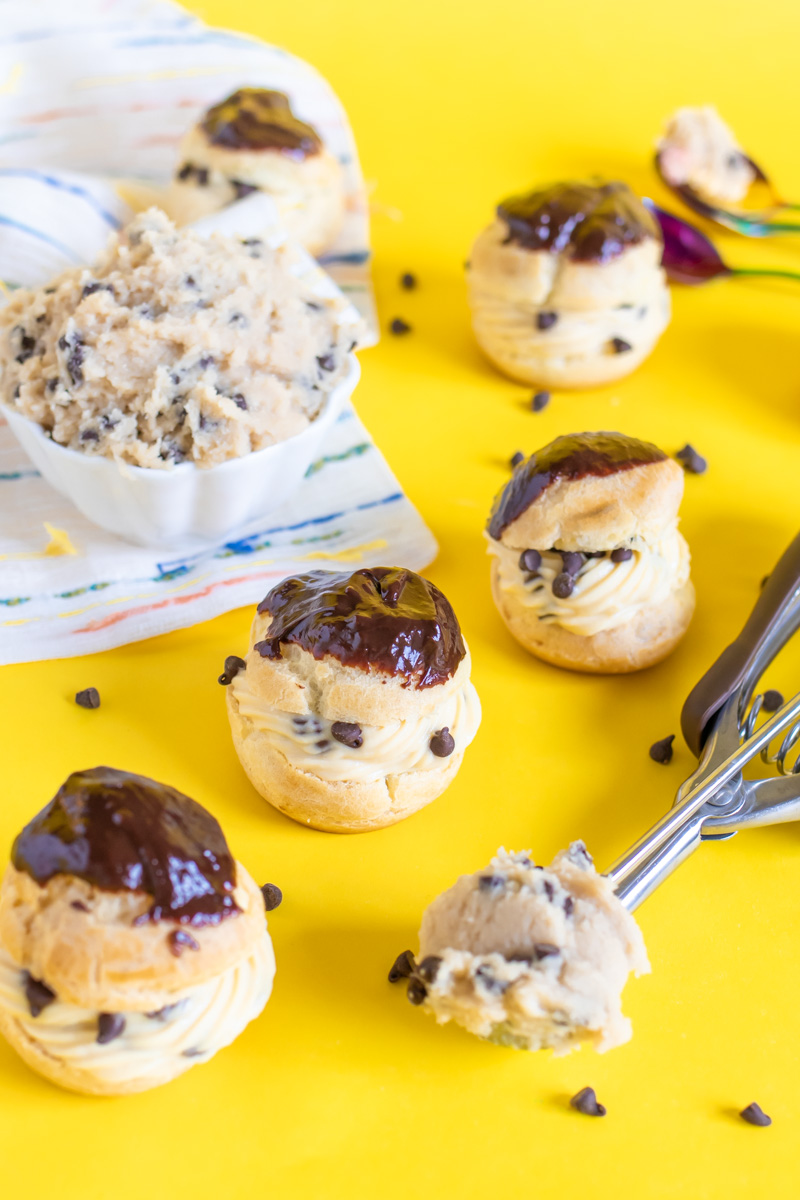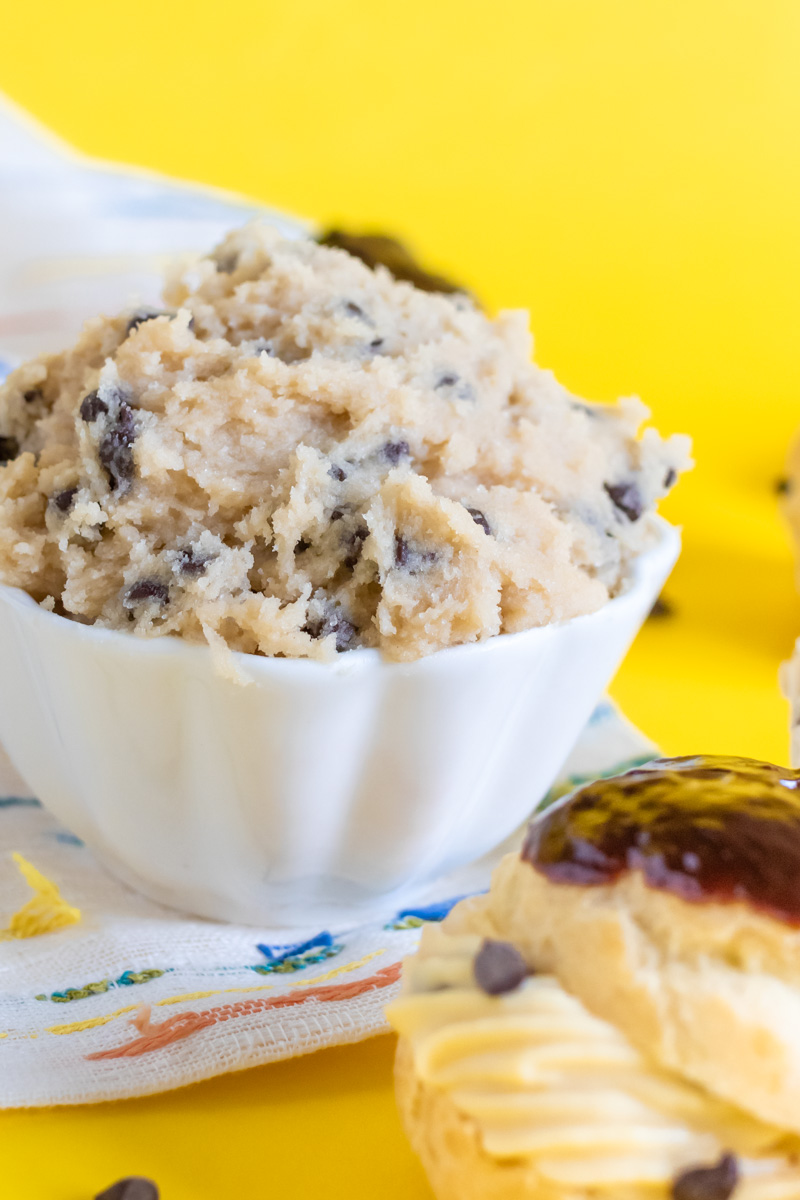 After the success of my hot dog eclairs last summer (still one of my favorites!), I got pretty hooked on pâte à choux. Shortly after that, I shared my chill pill eclairs using leftover shells. Now I'm using that same recipe base to make these cookie dough cream puffs! I feel so fancy when I'm making cream puffs, like I should be a contestant on The Great British Baking Show.
Keep scrolling for the full recipe card for these homemade cream puffs! 👇🏼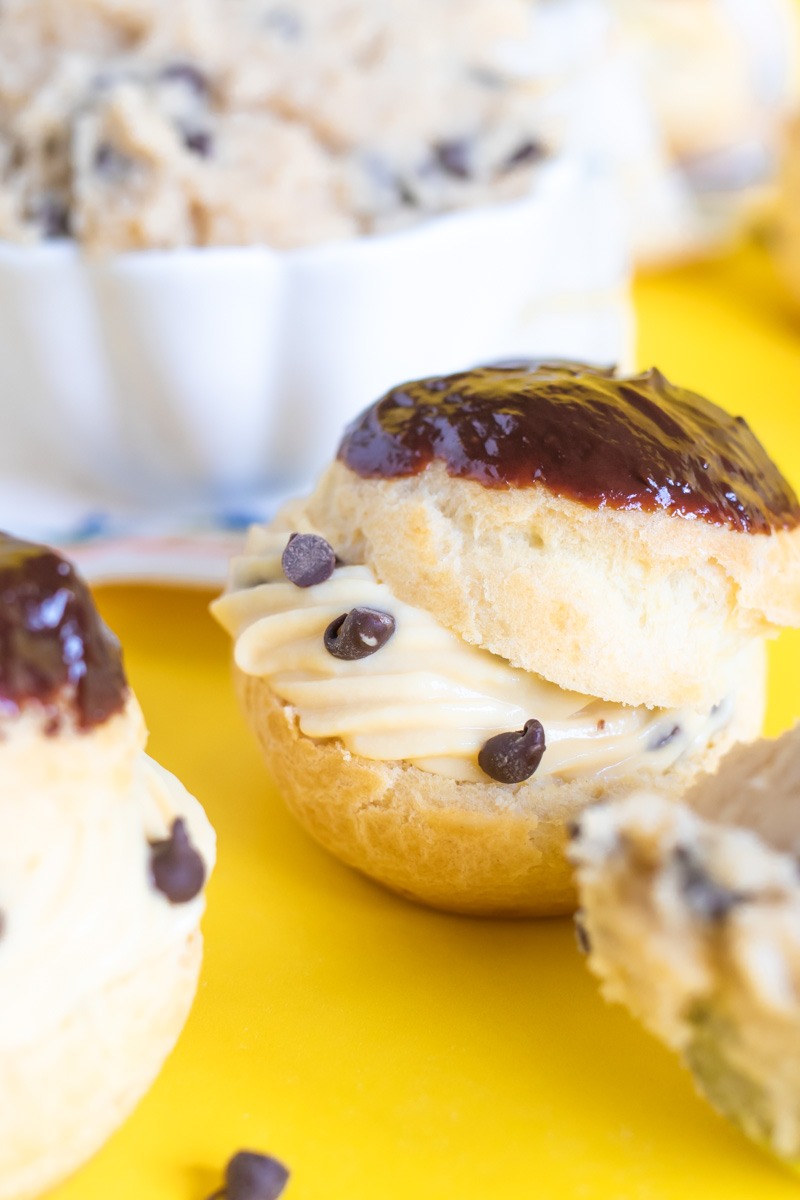 How to Make Cookie Dough Cream Puffs from Scratch
The key to making a great cream puff dough is the 'V.' You start with a very thick dough, then adding eggs thins it out into a more of a batter consistency. You've reached the right consistency when you stir the batter with a spatula and it creates a 'V' shape when it falls from the spatula. I've used this cream puff recipe many times, and it always produces perfect shells for eclairs and cream puffs! With this cookie dough-inspired filling, these are definitely a new favorite. If you want to take it to another level, you can even add a bit of eggless cookie dough to the cream puff before topping with pastry cream.
What kind of fun treats can I make out of eclairs and cream puffs next?! Btw, did you know you follow a similar process for making churros?!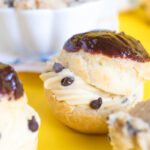 Cookie Dough Cream Puffs
2020-01-06 18:27:45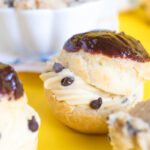 Classic cream puff pastry dough filled with brown sugar pastry cream and chocolate chips to take on a cookie dough-like flavor
For the Cream Puff Shells
1 cup water
1/2 cup butter, cold
1 1/4 cups flour
4 eggs
For the Brown Sugar Pastry Cream
8 large egg yolks
Pinch of salt
1/2 cup brown sugar, packed
3 tbsp cornstarch
2 1/2 cups milk (whole recommended, dairy only)*
2 tsp vanilla extract
1/4 cup heavy whipping cream
1/3 cup mini chocolate chips
+ more melted chocolate for dipping
For the Cream Puff Shells
Preheat the oven to 475 degrees F
Line a baking sheet with parchment paper or a silicone baking mat and set aside
Combine the water and butter in a large saucepan over medium heat. Heat until the butter is melted
Add the flour in one batch and stir with a large wooden spoon (recommended) until the flour has soaked up the moisture. After about a minute, the mixture should come together in one lump of dough as you stir
Move batter to the bowl of your mixer and beat with a paddle attachment for about one minute to release the steam and cool the batter
Once slightly cool, add one egg and mix until it incorporates the batter, repeating with each addition until the batter is smooth and does not appear curdled
Transfer the batter to a pastry bag with just a coupler attached (or large round tip) and pipe dollops of batter - I do a small swirl - all over the prepared baking sheet
Once piped, dip the tip of your finger in water and lightly press away any pointy tips
Bake the eclairs for 15 minutes. Then turn the heat down to 350 degrees and bake for an additional 24-46 minutes until golden
Allow cream puffs to cool before filling or icing
For the Brown Sugar Pastry Cream
In a large bowl, whisk together the egg yolks, brown sugar and salt until well-mixed
Stir in the cornstarch
In a medium saucepan over medium heat, bring the milk to scalding hot (barely a simmer)
Slowly whisk in just a splash of scalding milk into the egg yolks, whisking constantly so that the eggs do not scramble. Then continue to stir in the milk in a small but steady stream. Whisk continuously until smooth
Pour the mixture back into the saucepan over medium heat. Heat for 3-5 more minutes, whisking often, until mixture is thickened
Remove from heat and stir in vanilla and heavy cream
Place a fine mesh strainer over a separate bowl and pass the pastry cream through the strainer into the bowl to remove any egg membrane left behind
Cover the cream with plastic wrap so that it touches the cream. Refrigerate at least 2 hours before using as a filling
To Assemble the Cream Puffs
Remove the chilled pastry cream and stir in almost all mini chocolate chips (save some for sprinkling on top)
Move the cream to a large pastry big fitted with a large piping tip. It must be large enough for the chocolate chips to pass through
Cut cooled cream puff shells and half
Fill the bottom half generously with cream. Top with additional chocolate chips
If desired, dip the tops of the cream puffs in melted chocolate and/or ganache, then place on top
Serve immediately or within several hours.
Notes
*I have used a 2% milk, but whole milk produces thicker cream
Store unfilled cream puff shells in the fridge for up to 3 days, freezer for up to 3 months. Filled cream puffs are best enjoyed fresh
Find my eggless cookie dough recipe here
https://www.momtastic.com/food/696945-eggless-cookie-dough-kids-can-eat/
Club Crafted https://www.clubcrafted.com/