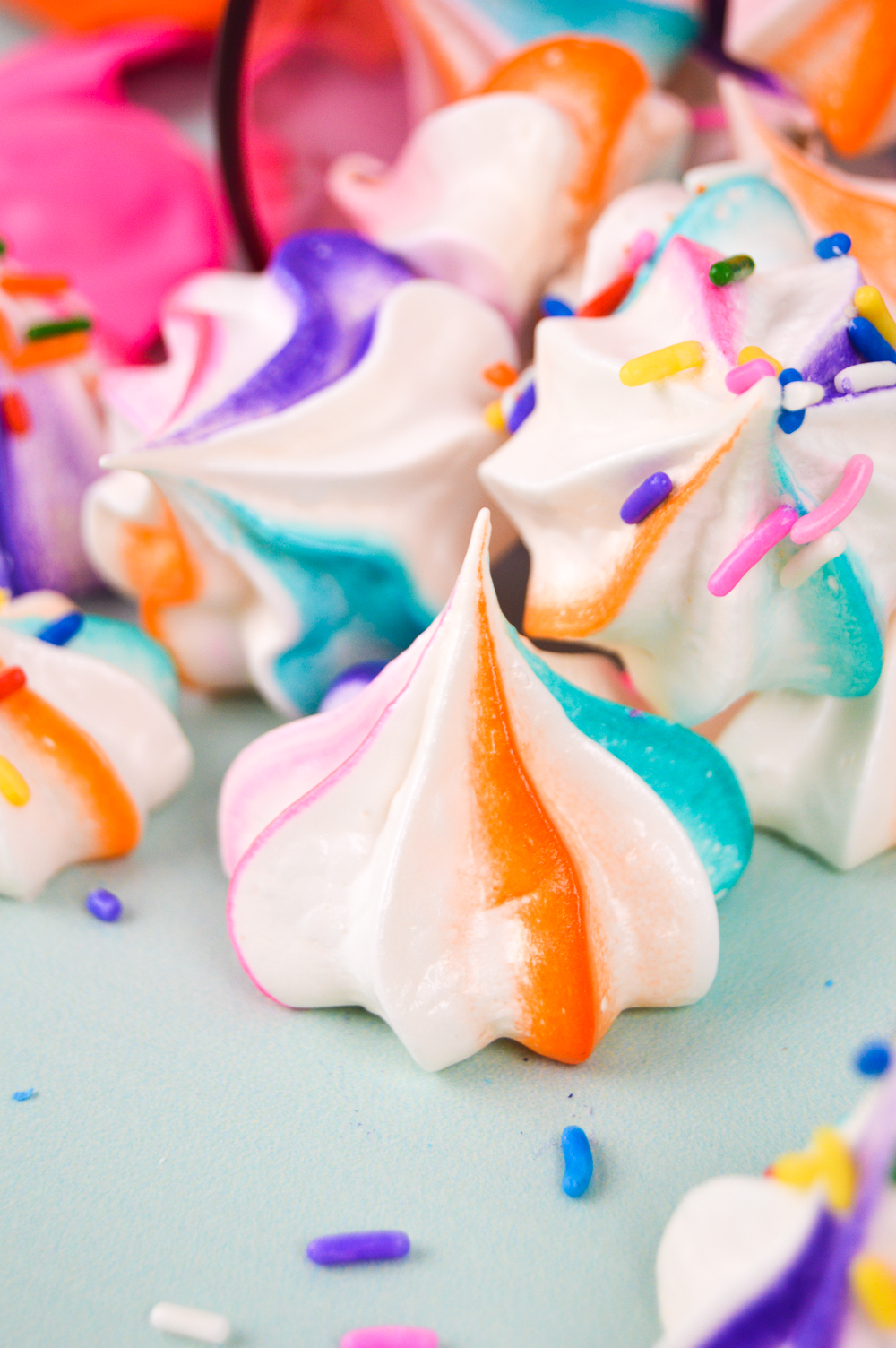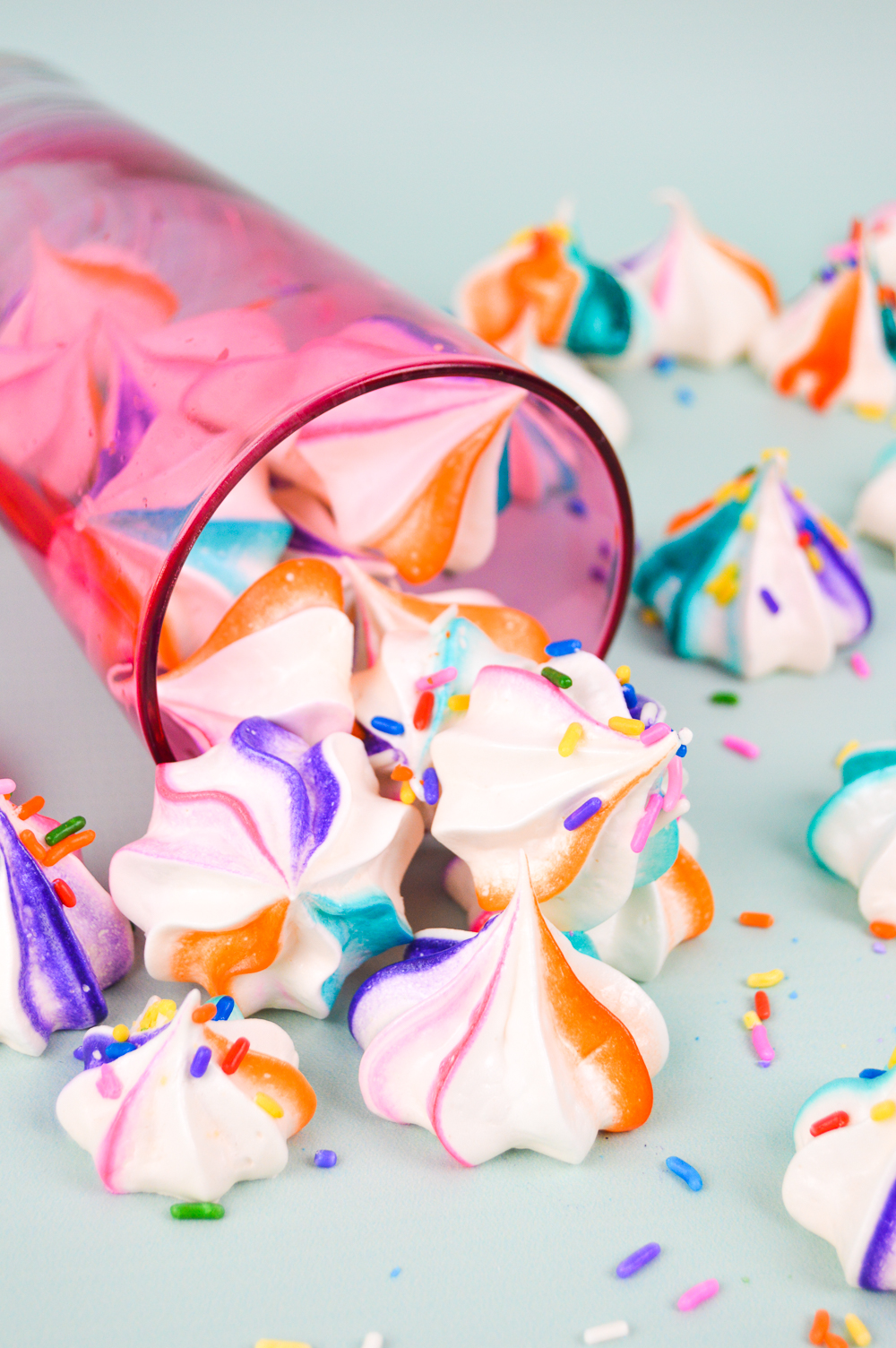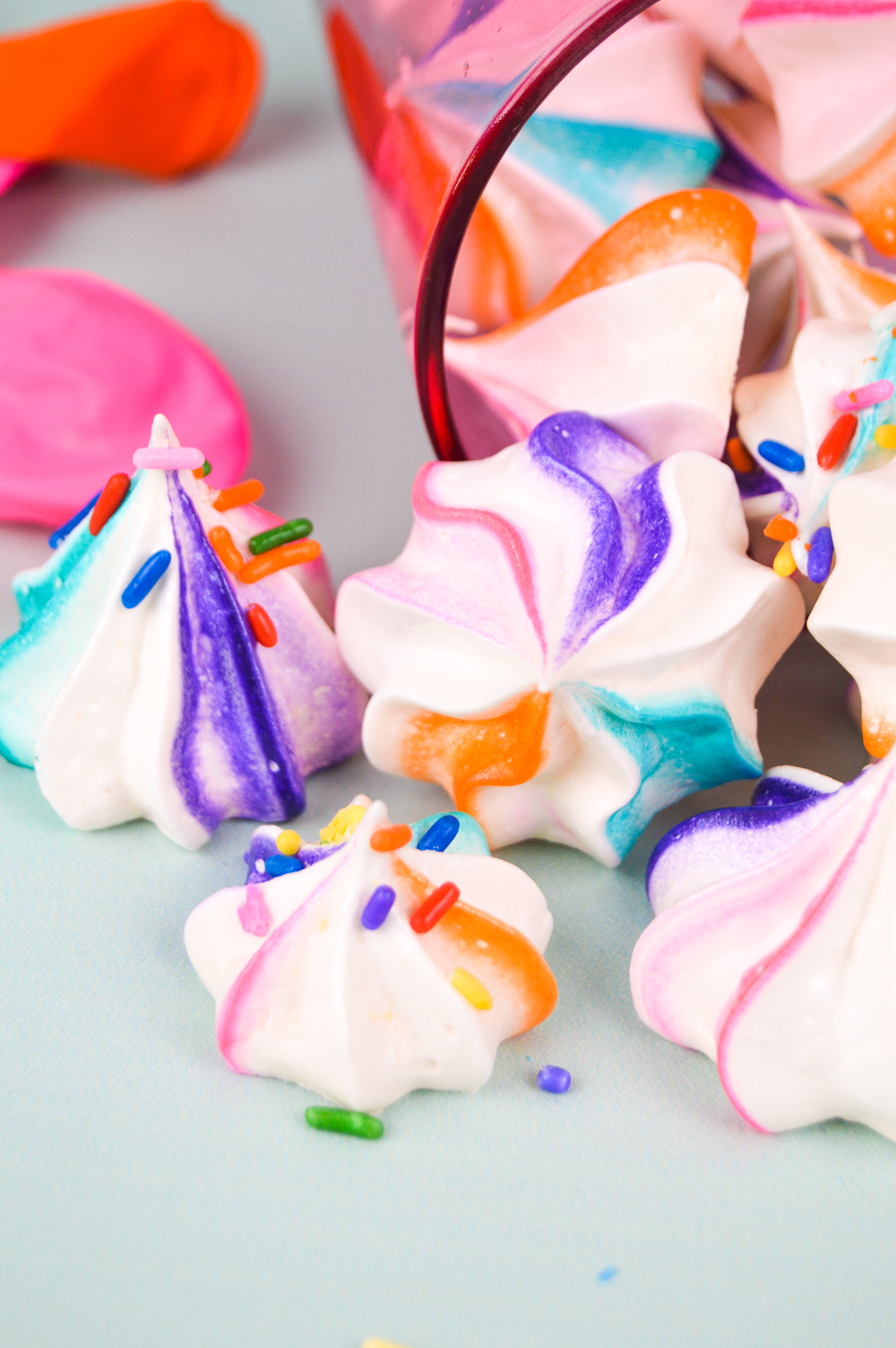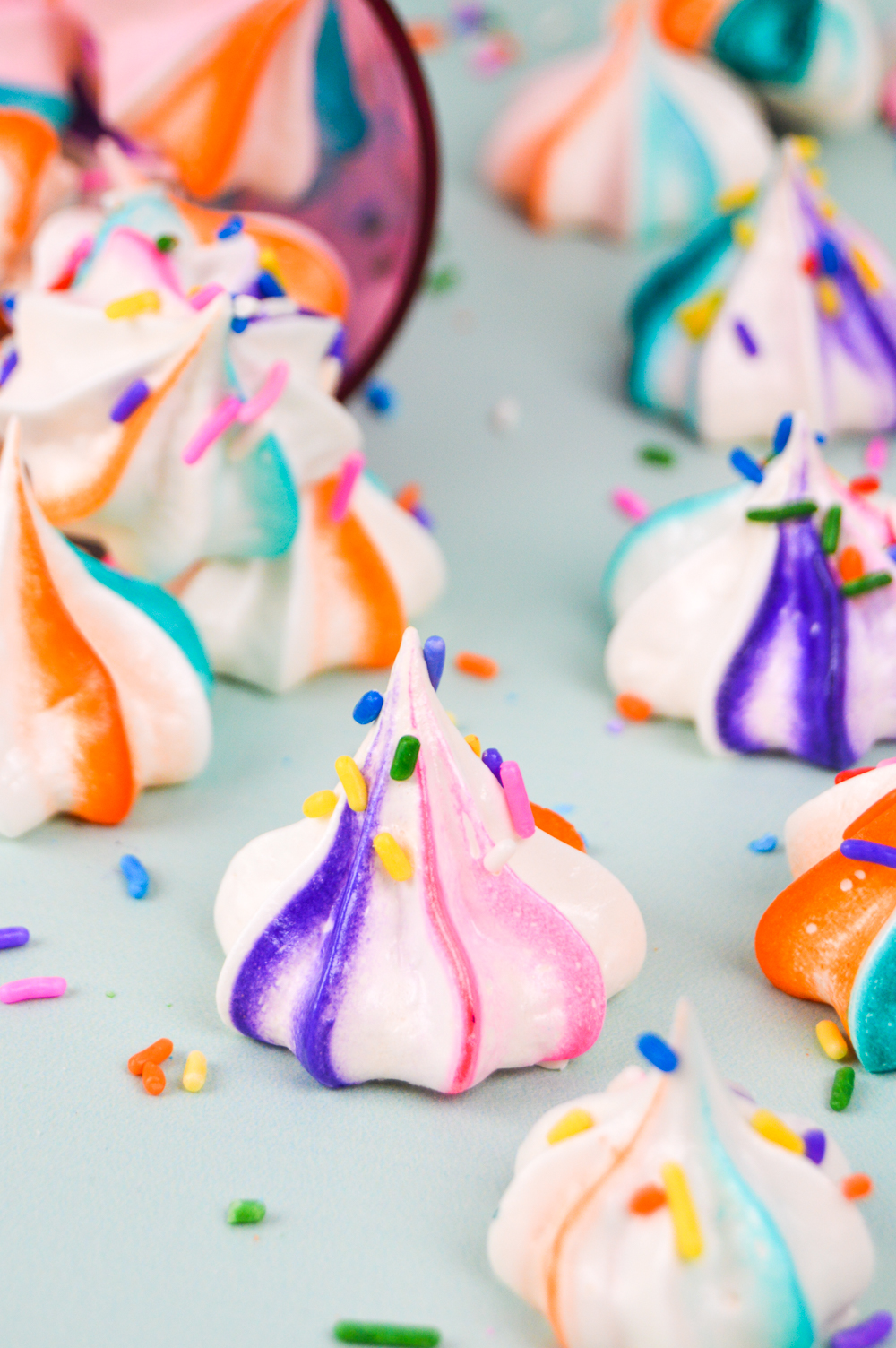 I'm not even kidding when I say meringues are one of my favorite things EVER.
I could eat an entire batch by myself in one way…but I try not to. Lately, I've been itching to make meringues but wanted to dress them up and do more than make plain looking cookies, so I made rainbow meringues and topped them with colorful sprinkles! I'd like to believe these are meringues worthy of a unicorn.
Use your favorite colors and fun piping tips to create beautiful meringues that everyone will love. Seriously, I have never met anyone who didn't like meringues. They're so light and perfect and I could probably live off of me. Plus, they're not that difficult to make as long as you follow the directions! After all, the worst thing you can do with meringue is add the sugar too early. But honestly, I've messed up my fair share of batches of meringue and I promise it didn't stop me from eating the entire batch. No shame!
Scroll down for the meringue recipe card! ??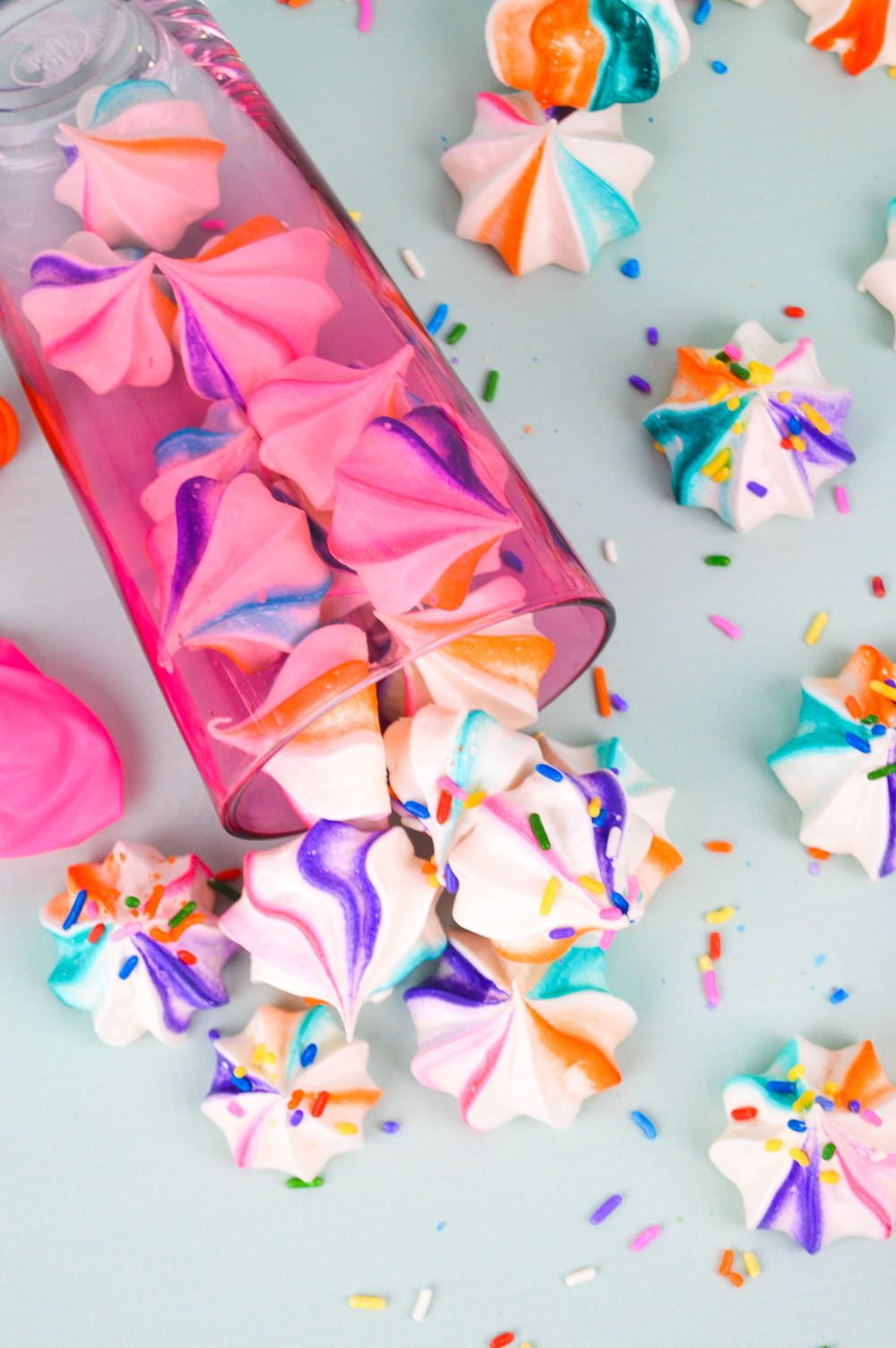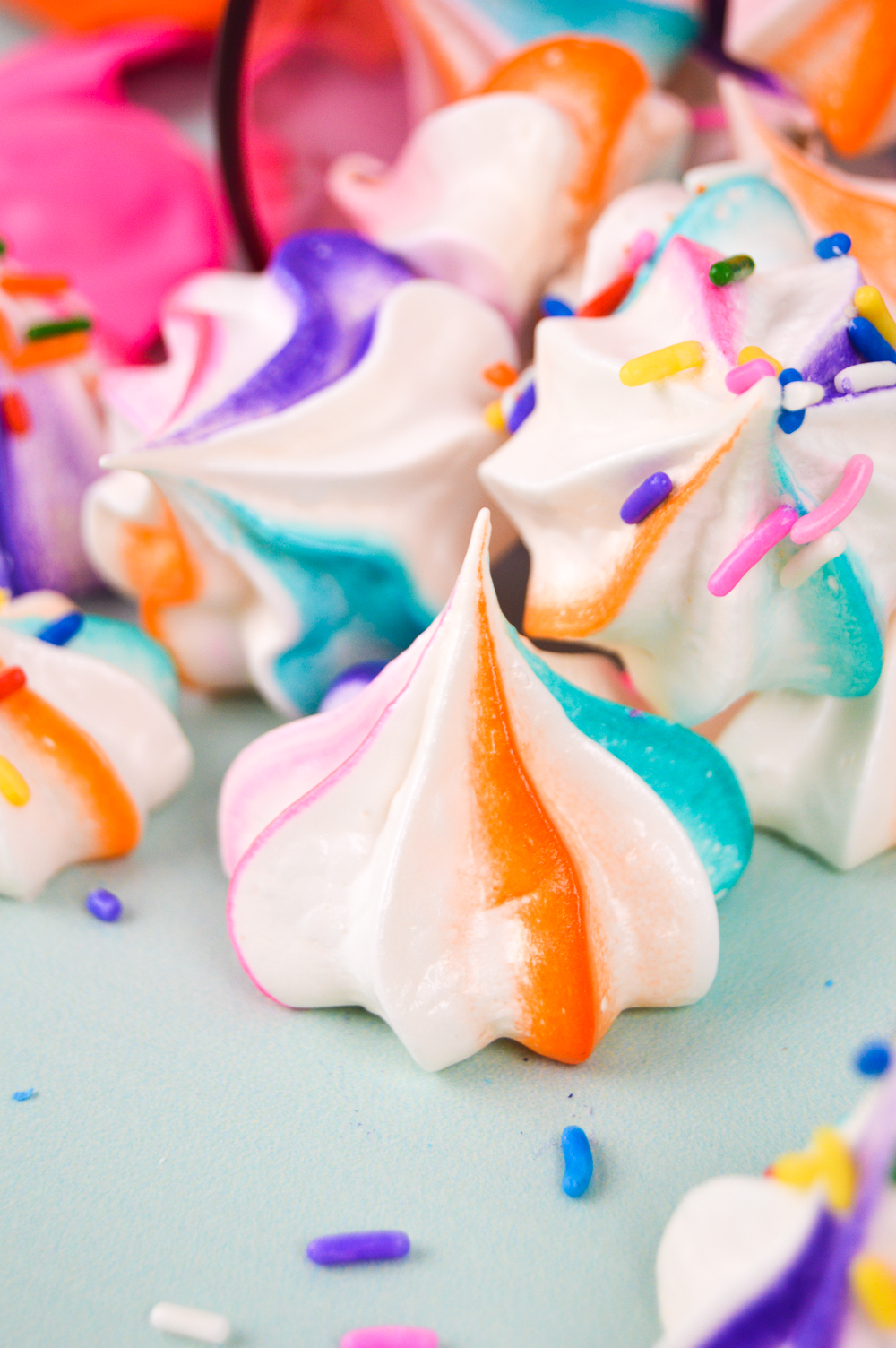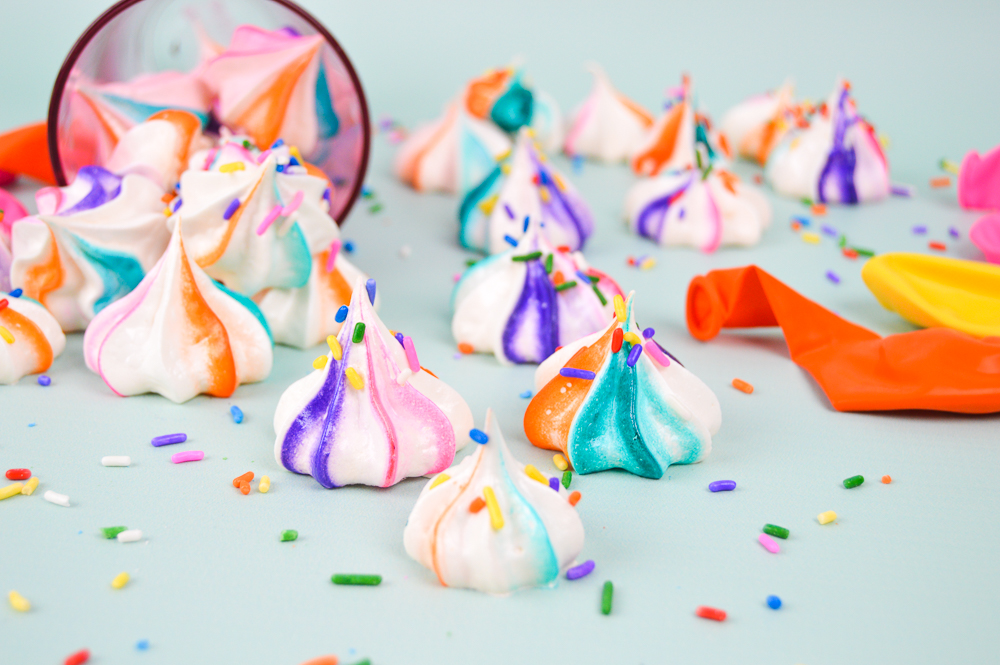 First, I'm going to tell you what you need to create the same rainbow look I have here.
Supplies:
Closed star piping tip
Pastry bag
Gel food coloring
Pastry brush (or brand new small paintbrush)
Spatula
Rainbow sprinkles
To create this colorful look, start with plain white meringue (you can add a little vanilla for extra flavor if desired).
Fit a closed star tip or other piping tip inside of a pastry bag. Using a clean pastry brush (or a brand new paint brush), paint lines of the gel food coloring along the inside of the pastry bag. I used four colors and spaces them evenly apart.
Use a spatula to move the meringue into the pastry bag and gently massage it to push the meringue to the bottom and remove air pockets. Slowly pipe the meringues about 1/2 inch apart on a prepared baking sheet and sprinkles with colorful sprinkles.
Follow the directions below for preparing and baking the meringue.
The cool thing about meringue is that they don't get very hot in the oven, so I tend to pop them in my mouth straight out of the oven when the middles are still a bit soft. SO good! Now you have super fun, colorful meringues that are great for topping a cake, giving in gift bags or just hoarding all to yourself!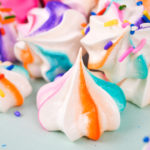 Rainbow Meringues
2016-10-17 16:14:04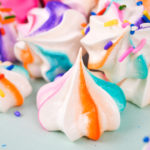 Fun, colorful rainbow meringues using a class meringue recipe and topped with sprinkles
Ingredients
3 large egg whites, room temperature
Pinch cream of tartar
3/4 cup granulated sugar, fine
To prepare the meringue
Preheat the oven to 400 degrees
Line a baking sheet with parchment and pour the sugar on it, spreading it out in a thin pile
Bake the sugar for 5 minutes
While the sugar bakes, wipe down a metal mixing bowl and whisk attachment to remove grease
Whisk the egg whites on low speed until bubbles form; then add cream of tartar
Increase speed to high and whip until egg whites and fluffy enough that you can turn the bowl over without them moving (be careful not to overmix)
Remove the sugar and turn heat down to 200 degrees
With the mixer on high, add large spoonfuls of hot sugar to the egg whites and mix until it is very white and glossy and stiff peaks form
Test the meringue by feeling some between your fingers. If you can feel sugar granules, continue whipping for a little longer
To pipe and bake the meringue cookies
Line a baking sheet with parchment or a silicone mat
Fit a pastry bag with a closed star piping tip
Use a pastry brush to paint stripes of gel food coloring along the inside of the pastry bag
Fill with meringue and pipe dollops onto the prepared baking sheet about 1/2 inch apart. Sprinkle with colorful sprinkles if desired
Bake the meringues for about 25-30 minutes on 200 degrees F until the meringues peel off of the sheet with their bottoms intact
Let cool for about 10 minutes
Notes
I recommend baking the sugar first so that it dissolves better in the egg whites because it truly makes a difference
Club Crafted https://www.clubcrafted.com/