/
Fruit Loops Cheesecake Bars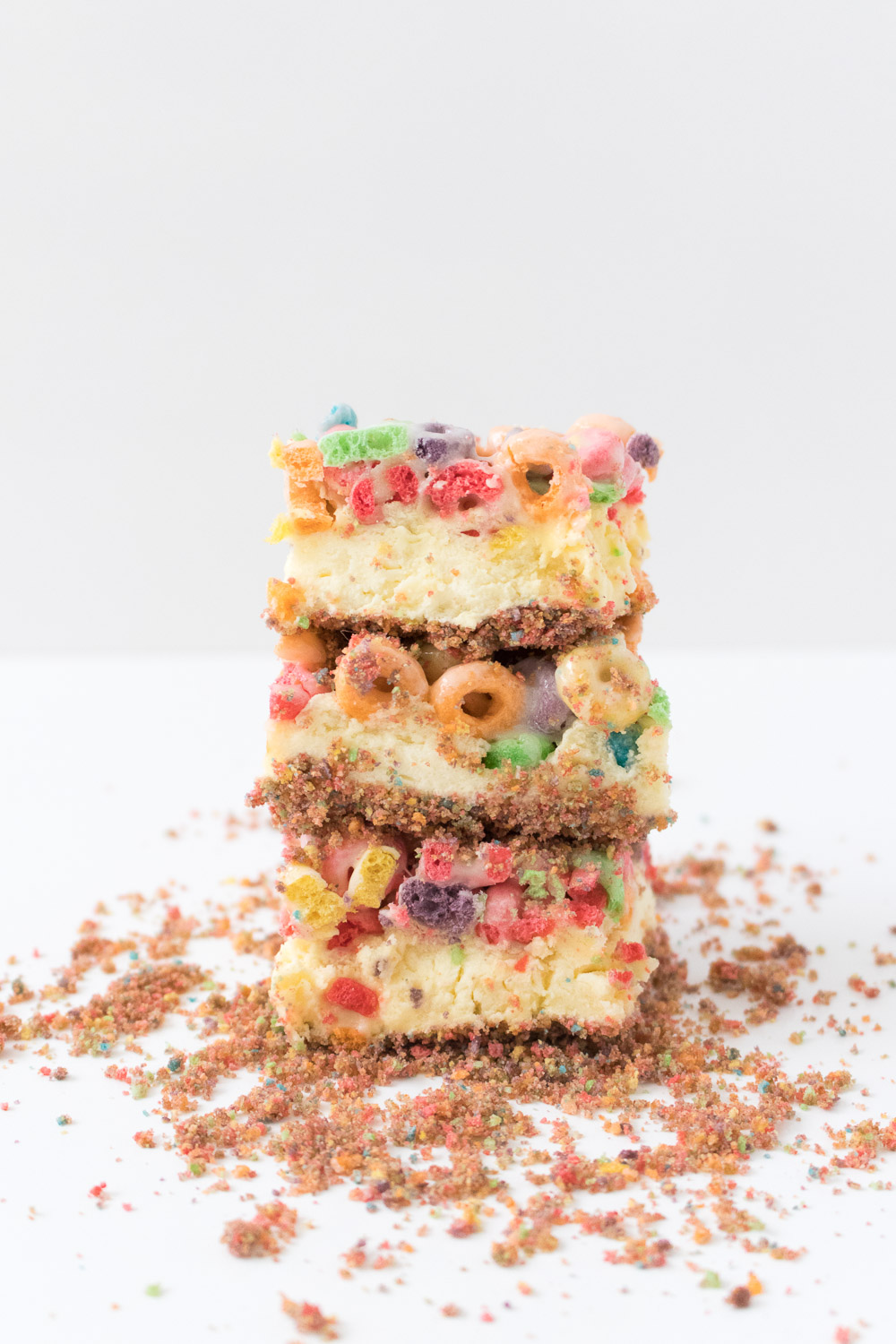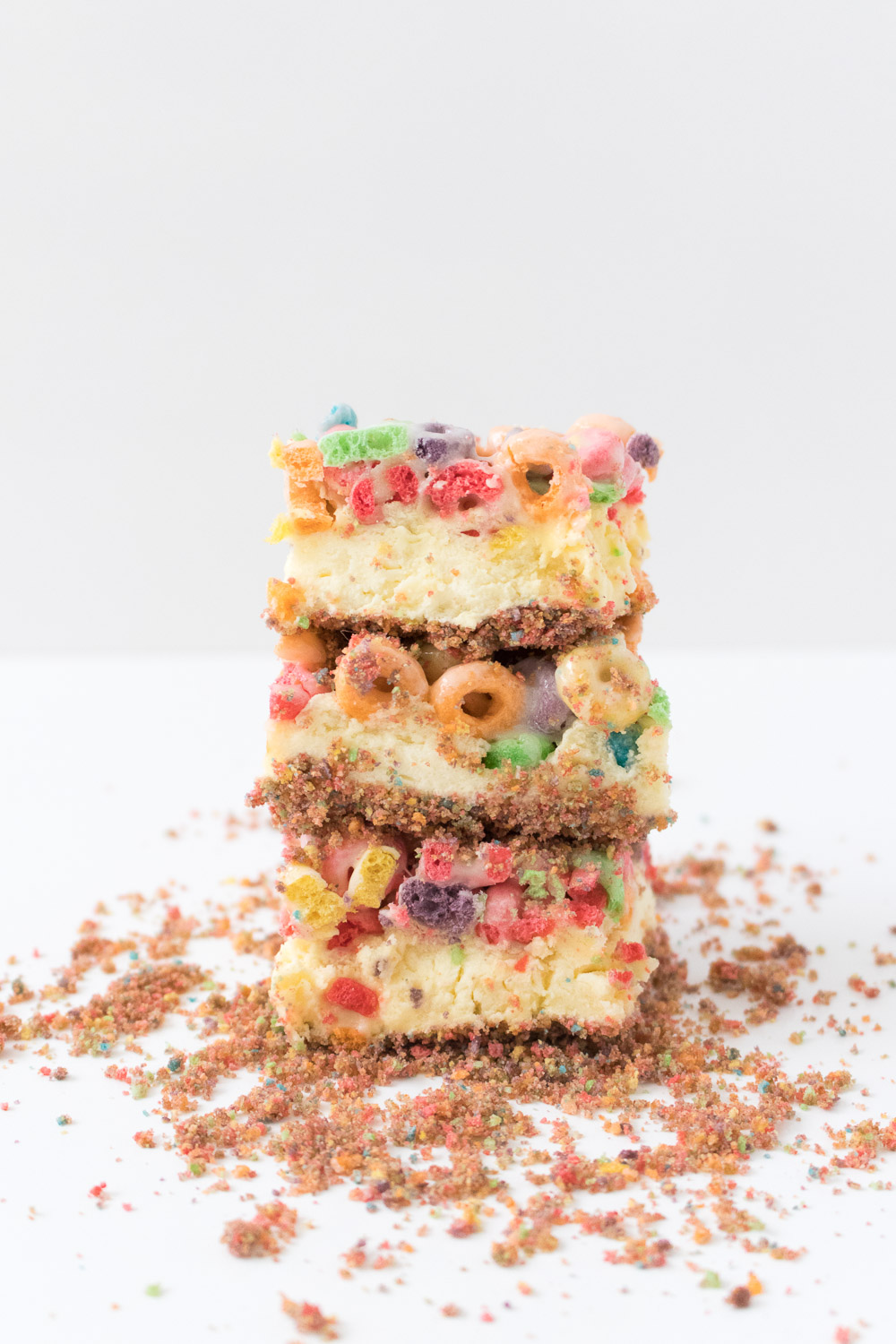 Let me take you back to my childhood again today because for the first time in 10+ years, I bought Fruit Loops. I think I forgot how much I loved them! I decided to add a little color to a classic recipe and made these Fruit Loops cheesecake bars! It gave me a great excuse to buy one of my childhood cereals, and I continued to snack on the cereal while I worked (naturally). Think of these like half no-bake cheesecake bars and half Fruit Loops marshmallow treats. Trust me, it's a delicious combo!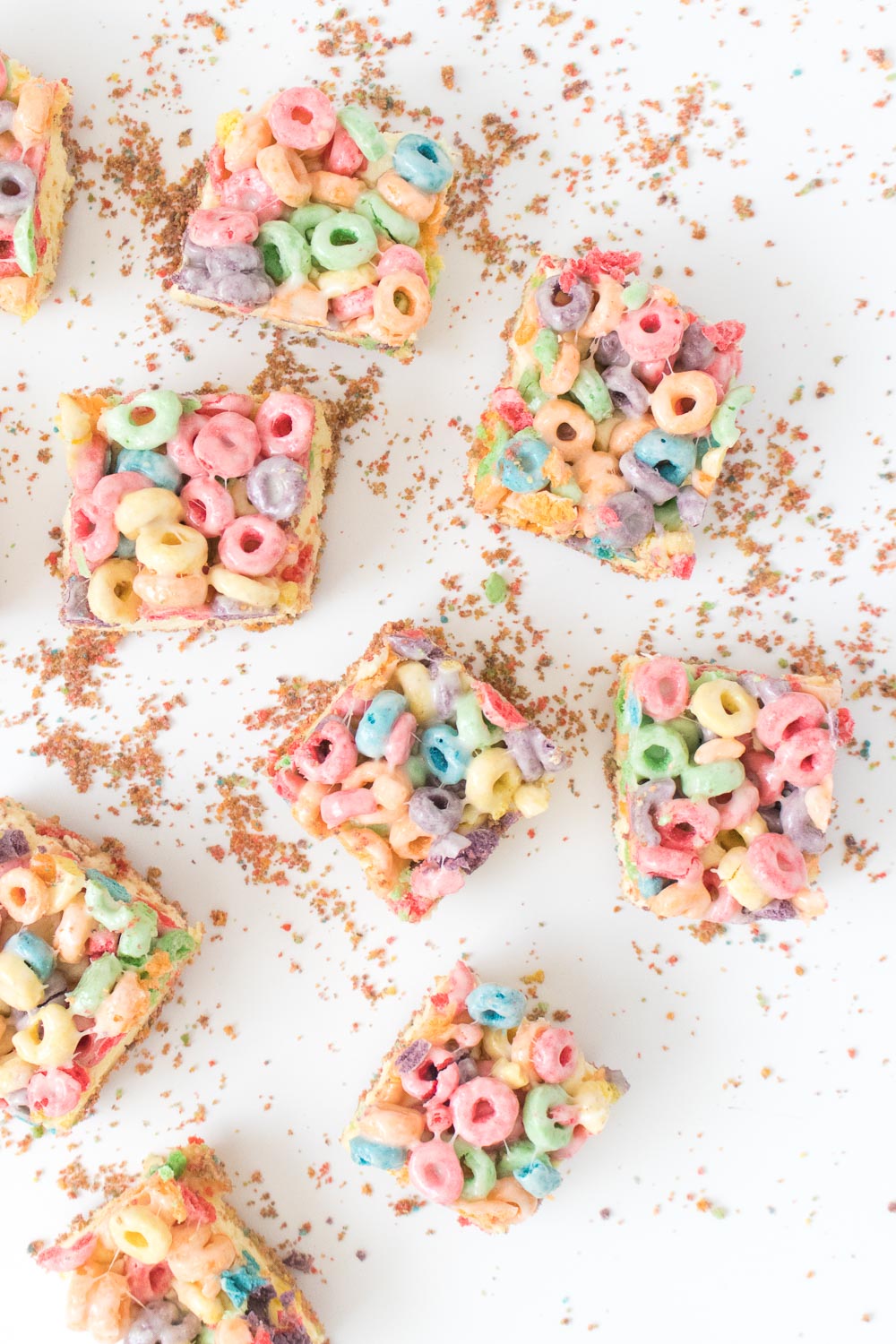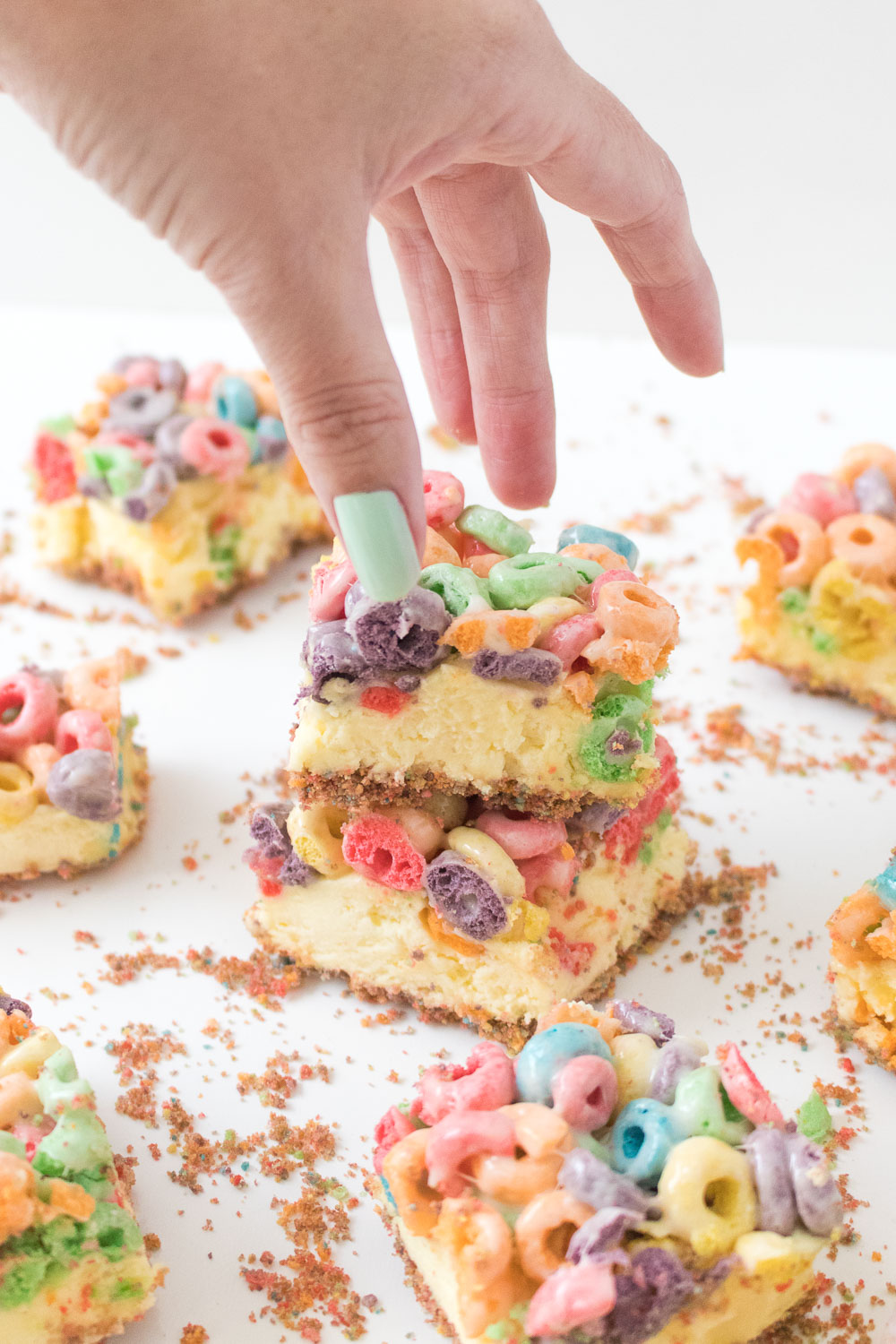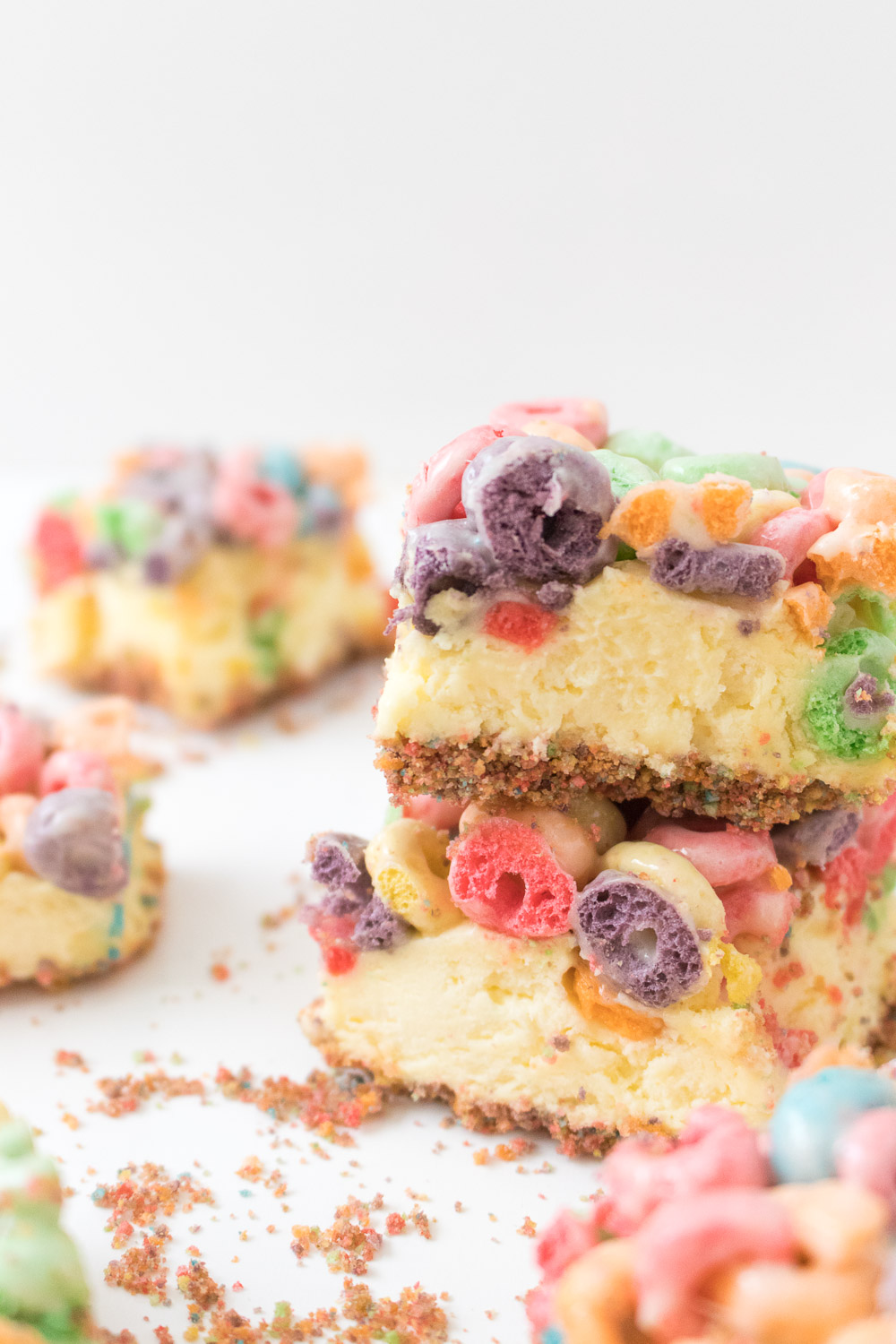 Personally, I think Fruit Loops is one of those cereals that tastes best on it's own, milk free. I prefer to just crunch on it like a snack. Anyone else?!
I also continued to snack on them once I slathered them in marshmallow like Rice Krispie treats. #noshame
Scroll down for the full recipe card! 👇🏼
Trust me, these cheesecake bars with a buttery crushed Fruit Loops crust, no-bake cheesecake filling and gooey Fruit Loops topping are definitely going to please your inner child.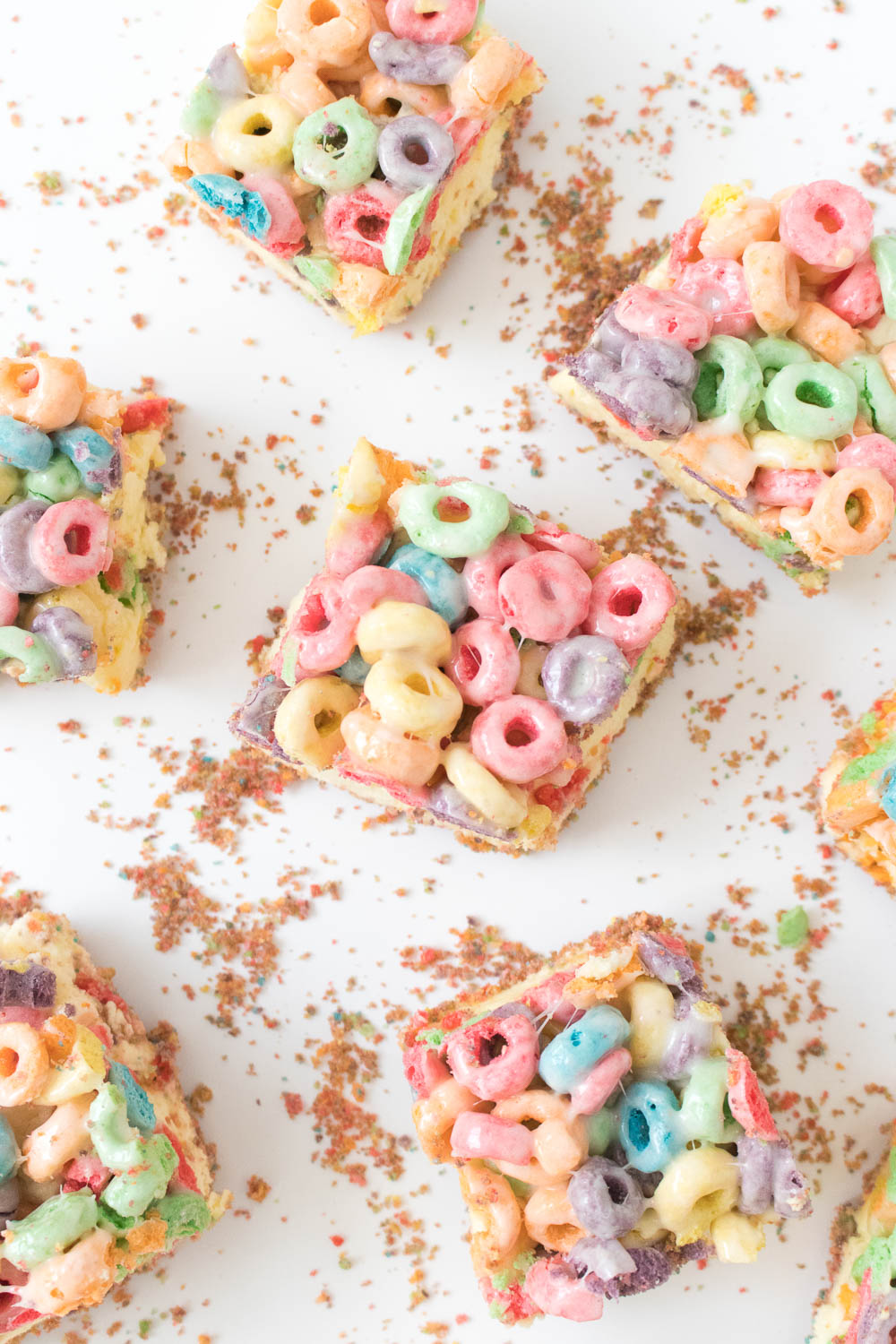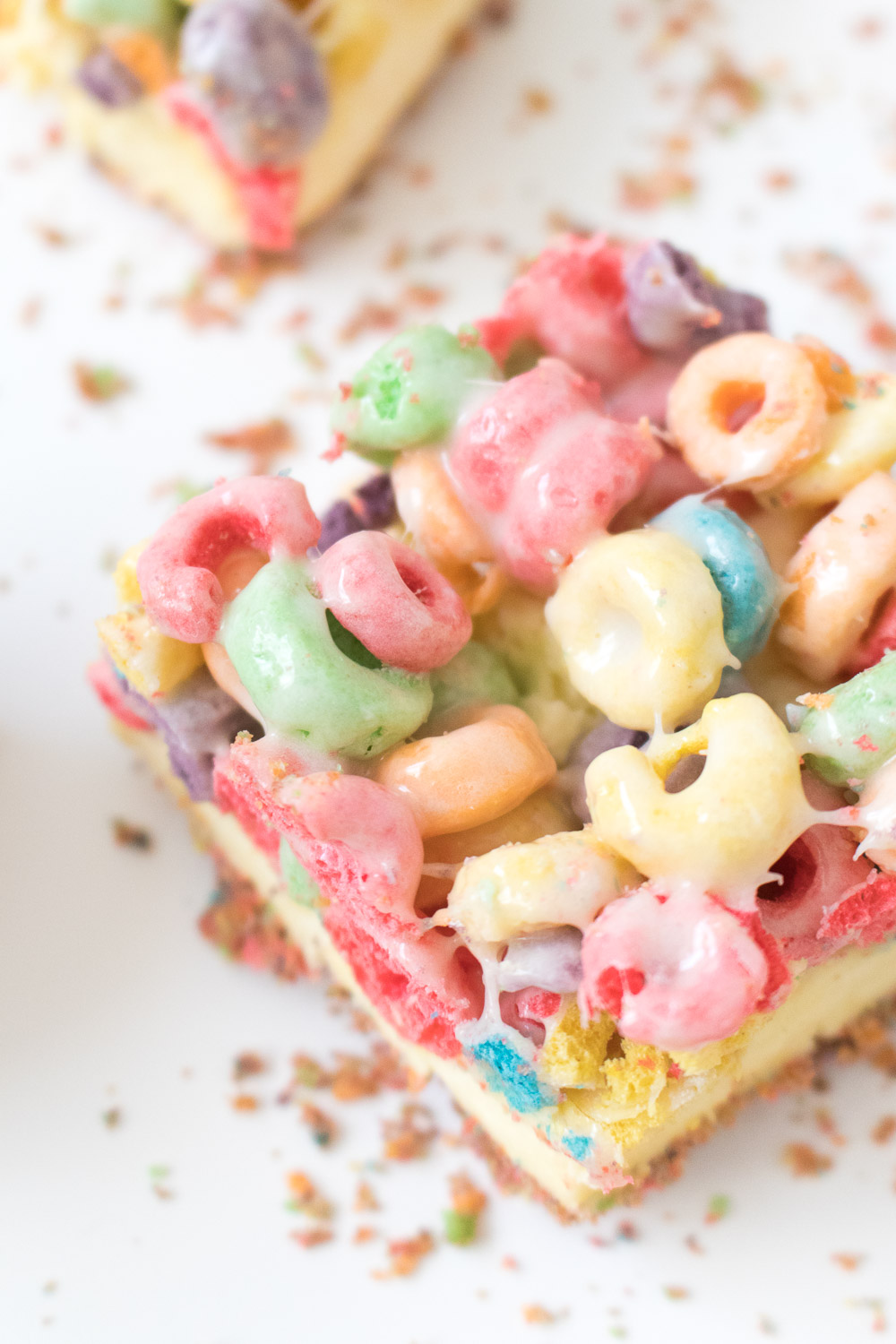 I actually tried something different with these cheesecake bars. Recently, I shared my banana split cheesecake, which included a simple, classic no-bake cheesecake recipe, so I thought I'd test a new technique for this one. Instead of making cheesecake from scratch, I used a powdered no-bake cheesecake mix. It felt a little weird making cheesecake this way, BUT it was incredibly easy and still tasted like classic cheesecake! If you're in a time crunch, I'd totally recommend trying the box mix. The only downside is the artificial ingredients…which is why I do normally make things from scratch.
Eh, I try these things so that you can make more informed decisions, right?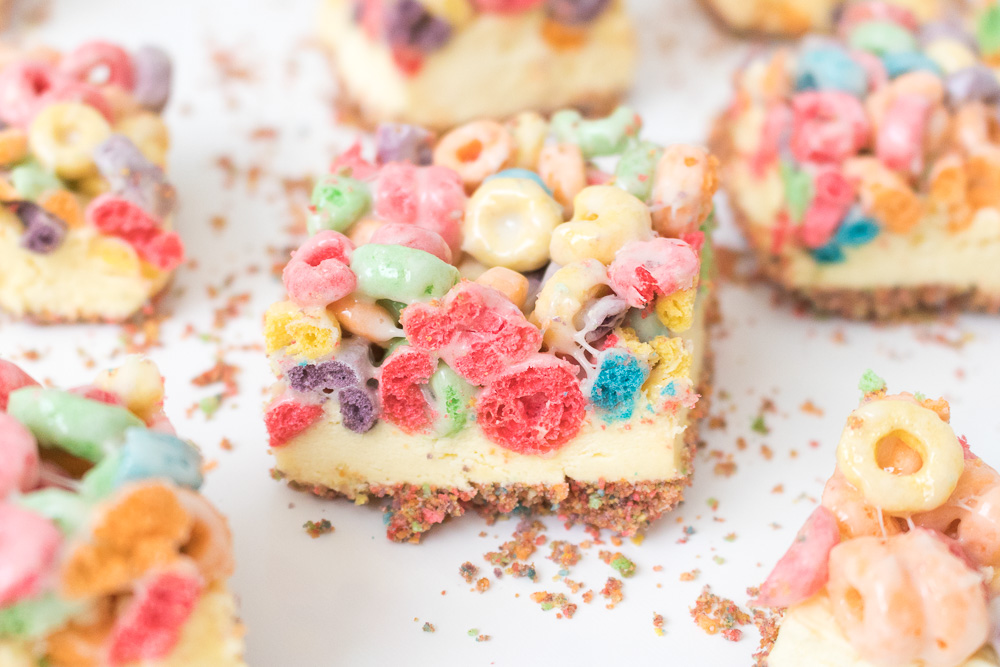 No-Bake Fruit Loops Cheesecake Bars
2018-02-17 12:51:42
Creamy no-bake cheesecake bars with a crushed Fruit Loops cereal crust and gooey marshmallow Fruit Loops topping
For the crust
3 cups Fruit Loops, crushed
3 tbsp butter, melted
For the Cheesecake Filling
1 package instant cheesecake mix
1 1/2 cups milk, cold
For the topping
5 cups Fruit Loops
3 tbsp butter
5 oz. mini marshmallows
For the crust
Blend the cereal in a food processor until fine crumbs form
Add melted butter and blend to combine
Press the crumbs into the bottom of a 9x9-inch square pan lined with parchment or wax paper
Move to fridge while you make the filling
For the Cheesecake Filling
Follow box instruction. Pour the milk into a large mixing bowl
Whisk in the powdered mix and beat for about 3 minutes until thick and creamy
Spread the cheesecake mixture over the Fruit Loops crust and chill while you make the topping
For the Topping
Pour the cereal into a large bowl and set aside
In a small saucepan over low-medium hear, melt the butter
Then add the marshmallows and mix occasionally until the marshmallows have completely melted
Pour the marshmallow mixture over the cereal and mix with a spatula to coat completely
Allow to cool enough to touch, and carefully spread the Fruit Loops topping over the cheesecake layer. Avoid pressing too hard or the cheesecake will spread
Move to the fridge for at least one hour to harden (this is necessary to cut cleanly)
Carefully pull out the parchment paper to remove the cheesecake and cut into squares
Store in a covered container in the fridge for up to 3 days
Notes
Freezing the cheesecake before cutting ensures that the bars hold their shape better
Club Crafted https://www.clubcrafted.com/