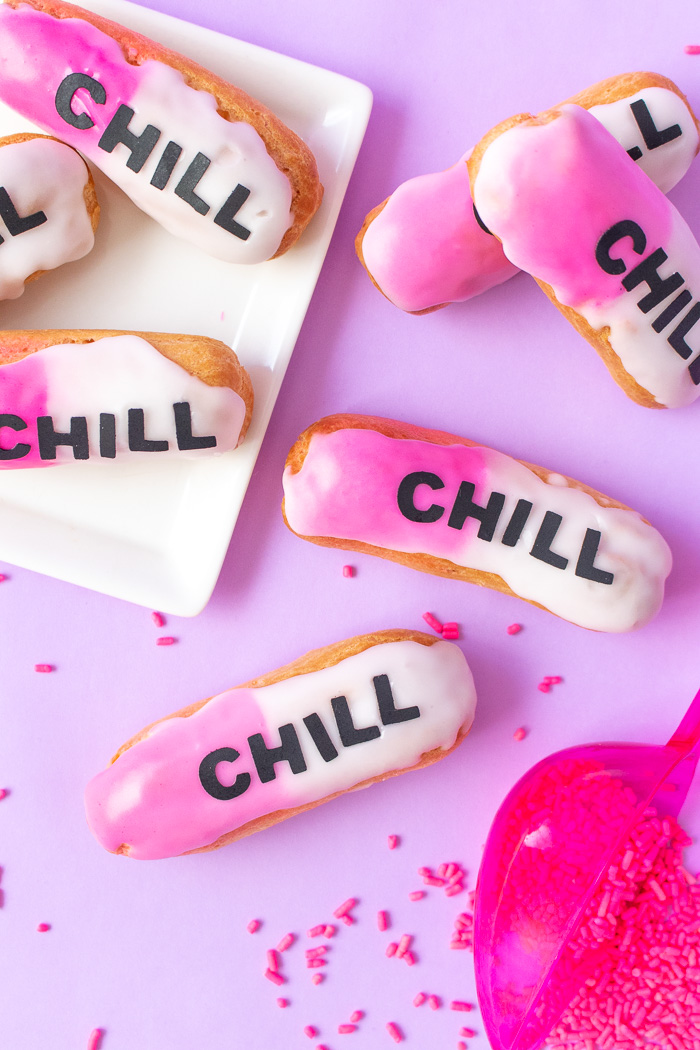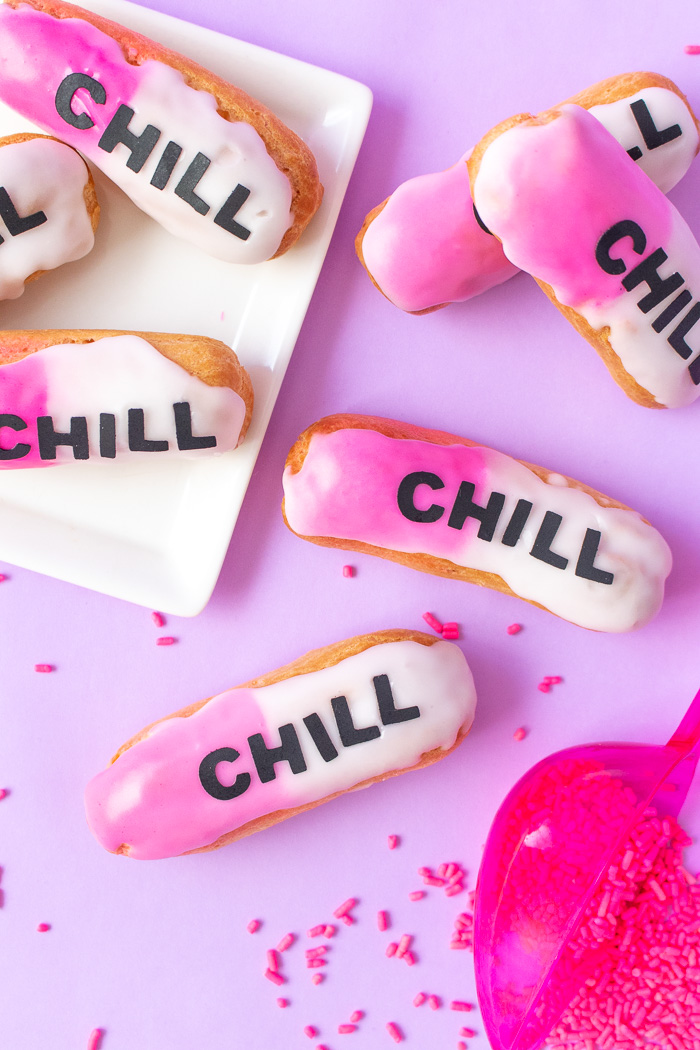 Nearing the end of the week, I'm sure we could all use a chill pill to decompress going into the weekend. Well, I like my chill pills in the form of desserts, so I made a set of chill pill ECLAIRS!! Every bit of these simple eclairs are edible, including the letters on top! More on that below. I kept these eclairs nice and small, so they're perfectly bite sized…which means you can easily eat ten of them. After making my hot dog eclairs a while back, I couldn't wait to make more eclairs, and they're already the perfect shape for making chill pill eclairs! It was clearly meant to be.
Sharing my chill pill duffel bag had me thinking about chill pills again, and when I realized eclairs were the same shape, I know I had to make them happen. But how?? The real key to making these chill pill eclairs a reality was the coloring and the letters. To make half of the eclairs pink, I used pink food color spray (I love this stuff). For the letters, I used a black sugar sheet and cut out the CHILL letters with my Cricut Explore Air!! Not sponsored, just love my Cricut. You can also cut letters with a stencil and craft knife, but if using a cutting machine like a Cricut, I recommend placing the sugar sheet plastic side down, mirroring the letters and cutting them on the iron-on setting. I did have some problems with tearing because sugar sheets are fragile, but I tried multiple settings, and this was the best. Play around with it!
Scroll down for the full recipe card! 👇🏼
These simple eclairs are one of my new favorite things to make though. I mean, I LOVE making cakes, but it's been fun playing around with new types of desserts, and eclairs are surprisingly easy to make. Now that I've made them twice, I feel like I learned more. This second batch baked much better than the first because I underbaked them the first time. You live, you learn! Luckily, as the weather cools down, I'll get to bake more and more.
OK, now I'm off to chill with the rest of the chill pill eclairs! Keep scrolling for the recipe below.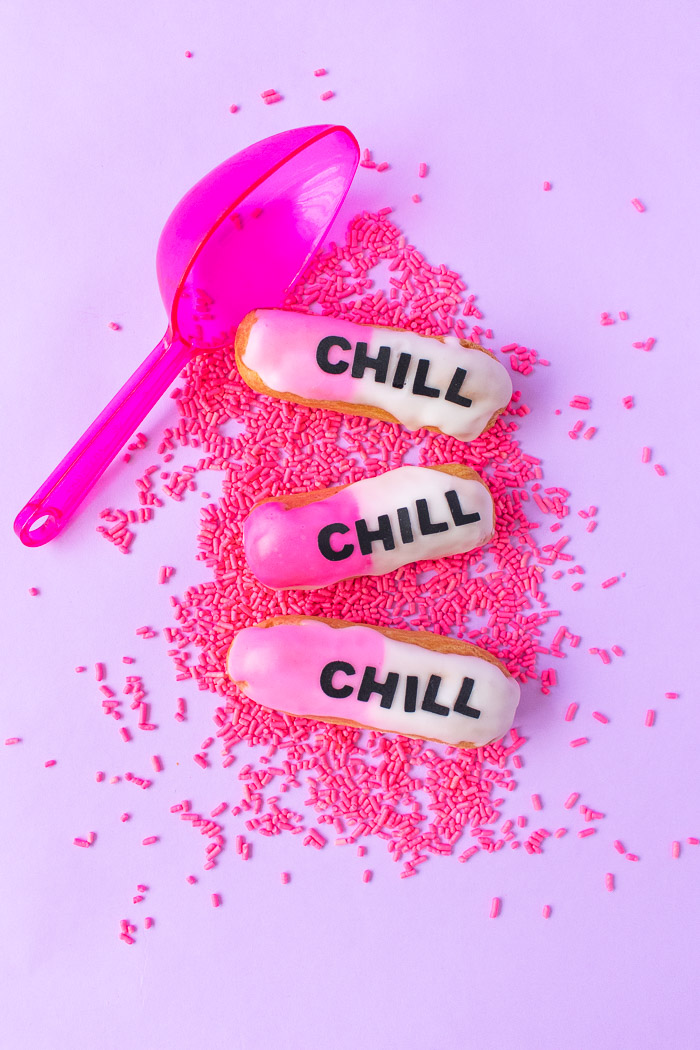 Chill Pill Eclairs
2018-08-30 08:16:08
Tasty, simple eclairs glazed and decorated like pink and white chill pills
For the Eclair Shells
1 cup water
1/2 cup butter, cold
1 1/4 cups flour
4 eggs
For the Icing
1 1/2 cups powdered sugar, sifted
1 tbsp milk
Pink food coloring spray
Black sugar sheets
For the Eclair Shells
Preheat the oven to 475 degrees F
Line a baking sheet with parchment paper or a silicone baking mat and set aside
In a saucepan, heat the water and butter over med-high heat until the butter has melted
Reduce heat to low and add the flour in one clump, mixing with a large spoon as the flour absorbs the moisture
Stir until the mixture is one lump of dough (about one minute) and remove from heat
Move the batter to the bowl of your mixer and beat with a paddle attachment for about one minute to release the steam and cool the batter
Once slightly cool, add one egg and mix until it incorporates the batter, repeating with each addition until the batter is smooth and does not appear curdled
Transfer the batter to a pastry bag with just a coupler attached and pipe lines of batter about 4 inches long on the prepared baking sheet
Bake the eclairs for 15 minutes. Then turn the heat down to 350 degrees and bake for an additional 25 minutes until golden
Allow eclairs to cool before filling or icing
For the Icing
Sift the powdered sugar into a bowl
Add a little milk at a time, whisking until smooth and glaze is very thick
Use immediately or place a damp towel over the bowl
To Assemble
Use a stencil or a cutting machine to cut small CHILL letters out of the black sugar sheet
Fill eclairs from the bottom with your favorite whipped cream or creme pat recipe
Dip tops of the eclairs in icing mixture and allow excess to drip off. Set on lined baking sheet to set at room temperature
Once icing is slightly hardened, use a piece of paper to shield half of the eclairs. Spray the pink food coloring over the other half and remove the paper
Lightly press the CHILL letters into the icing
Serve fresh, refrigerate for up to two days or freeze for up to 1 month in an airtight container
Club Crafted https://www.clubcrafted.com/
Please note this post contains affiliate links from which I may collect a small profit should you choose to make a purchase. I only link to products I personally use or recommend.