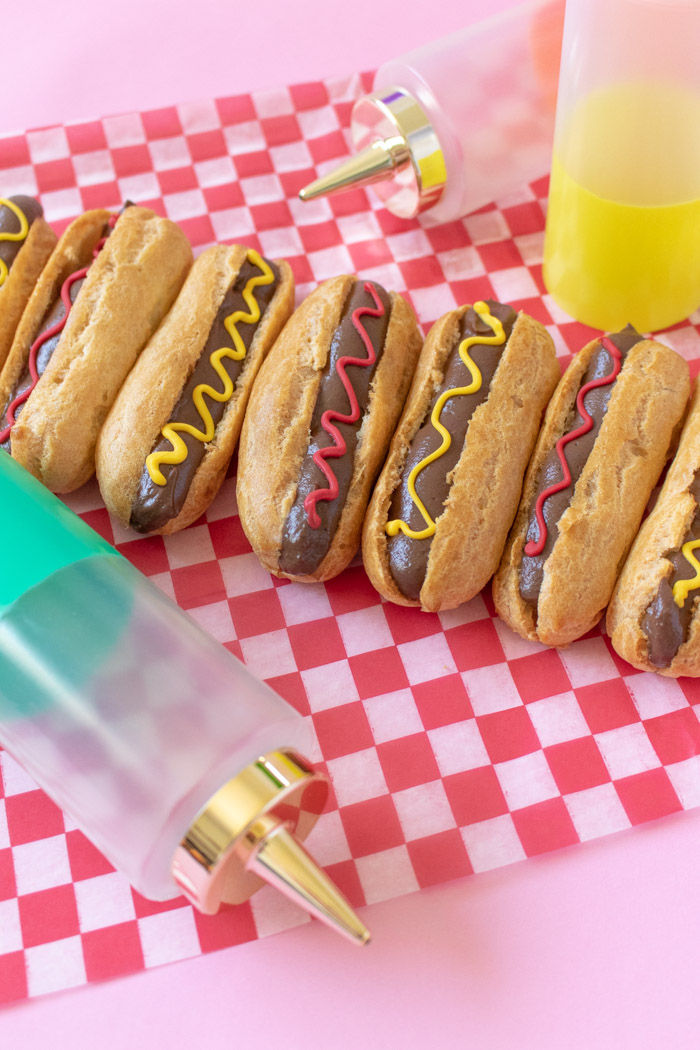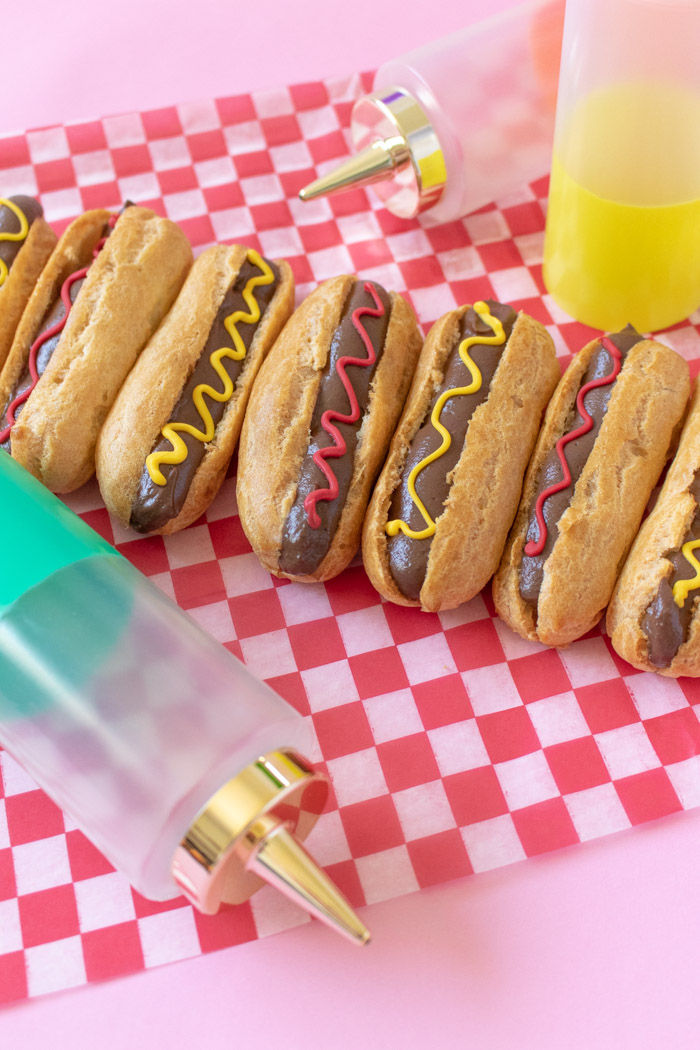 Are you even surprised to learn that there's a National Hot Dog Day?! This entire month is filled with food holidays, and this might just be my last stop for July. In true 'Merican fashion, I felt the need to celebrate hot dogs the way they were meant to be…as a dessert. Today we're making hot dog eclairs!! I couldn't believe how easy eclairs were to make. Why don't I eat these every day?! Disguised as tiny hot dogs, these simple eclairs with a homemade chocolate creme filling are a great compromise between classy and trashy desserts (aka my favorite kind). No matter what the occasion is this summer, I'm pretty sure hot dog eclairs are are requirement for your BBQ menu from now on.
How do you take your hot dogs? Ketchup, mustard, the works?
Personally, I'm a ketchup-only kind of girl, so I made sure to keep these dessert hot dogs simple. After all, you wouldn't want the toppings to take away from how cute the hot dog eclairs are by themselves! The yellow and red toppings are simply colored candy melts so they don't add much taste or texture to the classic eclairs, just decoration. Plus, you can see my Oh Joy! condiment bottles in the background that I've been using for SOO many shoots lately. They're one of my favorite products to keep around the house this summer for styling.
Scroll down for the full recipe card! 👇🏼
First, let's talk about how to make eclairs. Eclairs (and their sisters, cream puffs) are made with pâte à choux dough and generally filled with crème pâtissière. Trust me, they sound fancy but BUT they're actually pretty darn easy to whip up and pipe. I just find the baking to be a little tricky. Because eclairs puff up and become hollow, they're a lot of different from your usual treats. As soon as the tops seemed done, I wanted to pull them out of the oven, but when I cut into one, I realized the insides were still very raw. My tip for you is keep them in the oven for the entire time indicated in the recipe because looks can be deceiving!
Next up, let's talk creme pat. It's a chocolate pastry cream similar to a pudding or custard in that you cook it on the stovetop with eggs and allow the mixture to thicken, then it sets in the fridge to create a thick pudding-like cream. In this case, I actually found the final chocolate creme pat a little bitter for my own taste, which is why I ended up swapping out the bittersweet chocolate for semi-sweet. Don't worry, they still aren't too sweet though!
OK, are you ready to dive in?! These hot dog eclairs are my new favorite BBQ dessert!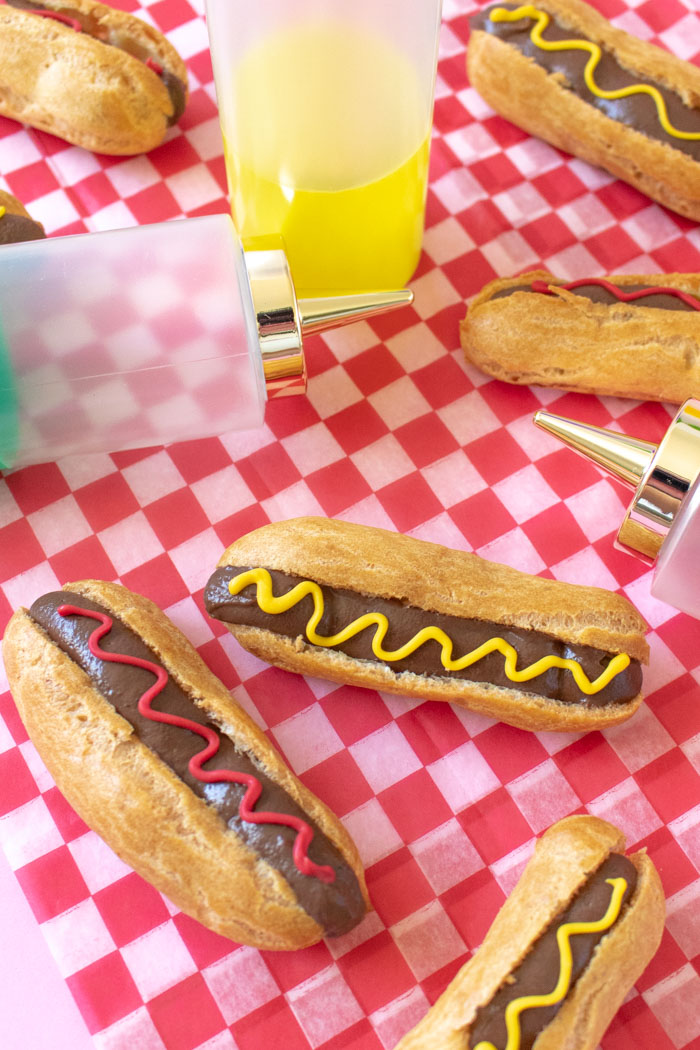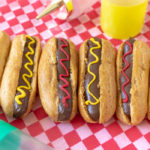 Hot Dog Eclairs
2018-07-14 13:18:47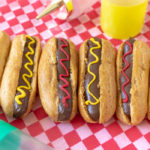 Serves 20
Mini eclairs with homemade chocolate creme filling, decorated to look like hot dogs with spreads of ketchup and mustard
For the Eclair Shells
1 cup water
1/2 cup butter, cold
1 1/4 cups flour
4 eggs
For the Chocolate Creme Filling
2 1/2 cups milk (I use low fat)
1 tsp vanilla
2 tbsp cocoa powder
3 egg yolks + 1 whole egg
1/2 cup sugar
2 tbsp cornstarch
1/4 tsp salt
5 oz semisweet chocolate, chopped
3 tbsp butter, room temperature
Red and yellow candy melts, for decoration
For the Eclair Shells
Preheat the oven to 475 degrees F
Line a baking sheet with parchment paper or a silicone baking mat and set aside
In a saucepan, heat the water and butter over med-high heat until the butter has melted
Reduce heat to low and add the flour in one clump, mixing with a large spoon as the flour absorbs the moisture
Stir until the mixture is one lump of dough (about one minute) and remove from heat
Move the batter to the bowl of your mixer and beat with a paddle attachment for about one minute to release the steam and cool the batter
Once slightly cool, add one egg and mix until it incorporates the batter, repeating with each addition until the batter is smooth and does not appear curdled
Transfer the batter to a pastry bag with just a coupler attached and pipe lines of batter about 4 inches long on the prepared baking sheet
Bake the eclairs for 15 minutes. Then turn the heat down to 350 degrees and bake for an additional 25 minutes until golden
Allow eclairs to cool before filling
For the Chocolate Creme Filling
In a small saucepan, heat the milk and vanilla over med-low heat until just boiling
At the same time, whisk together the eggs, sugar, cornstarch and salt together in a separate bowl, mixing until smooth
When the milk begins to boil, add a splash to the egg mixture and stir well
Then add a thin stream of about half of the milk into the egg mixture, mixing constantly to temper the mixture (otherwise you'll get scrambled eggs)
Once tempered, whisk the egg mixture back into the saucepan over medium heat
Whisk constantly for about 2 minutes until the mixture has thickened
When the top of the mixture begins to bubble, remove from heat and whisk in the chocolate until melted
Then stir in the softened butter until smooth
Pour the creme pat mixture into a bowl and cover tightly with plastic wrap so that it touches the top of the cream.
Cool the cream at room temperature, then chill in the refrigerator for about 3 hours until firm enough to pipe
To Assemble
Cut a slit down the center of the cooled eclairs, giving them a hot dog bun appearance
Move the chilled pastry cream to a pastry bag fitted with a medium round piping tip
Pipe chocolate down the center of the slit in the shells to create the hot dog
Melt red and yellow candy melts and transfer to small ziplock bags with the tips cut
Pipe a squiggle pattern down the center of the chocolate cream to create the appearance of condiments
Notes
Serve fresh for best results, or refrigerate in an air-tight container for up to two days. Freeze for up to two months. Do not leave shells at room temperature.
Club Crafted https://www.clubcrafted.com/