/
Valentine's Day Cake Idea // Conversation Heart Cake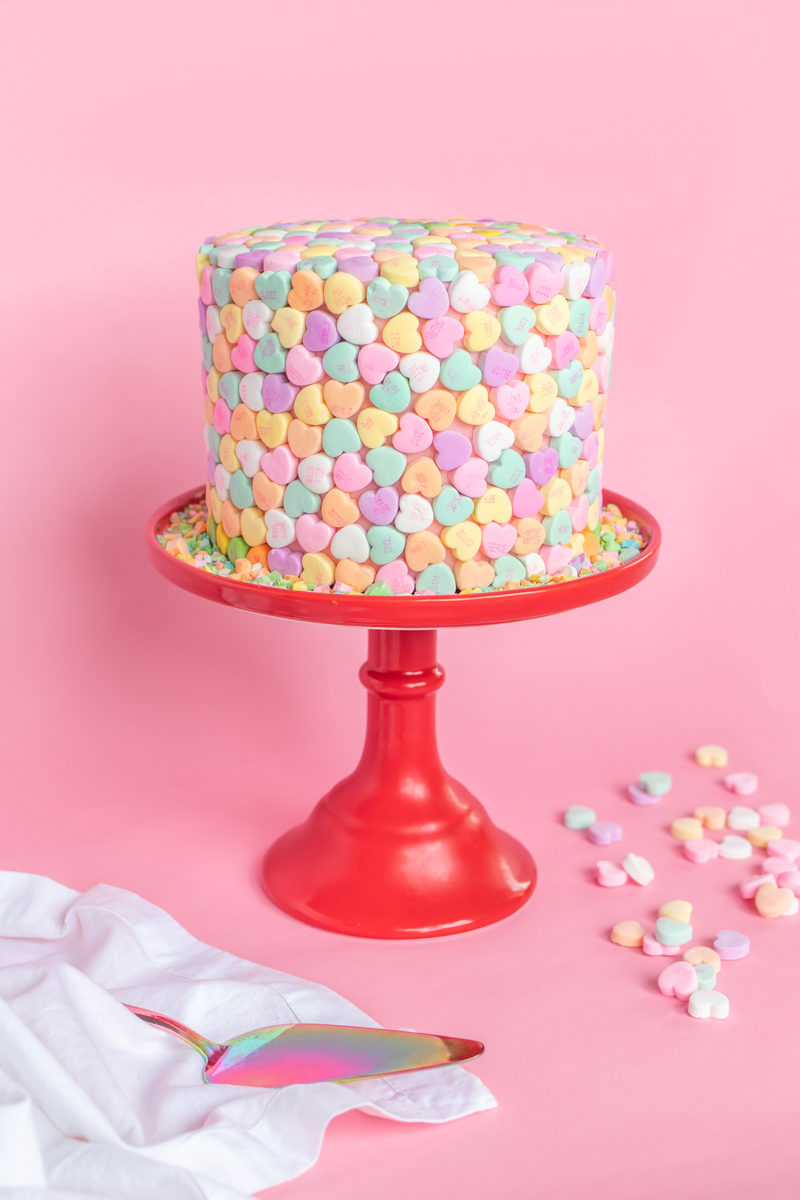 Who's ready for Valentine's Day?! I'm keeping the party going with an easy Valentine's Day cake idea using everyone's favorite holiday candy. This conversation heart cake is covered head-to-do in the classic candies! Inspired by my friend Kristin's Lucky Charms cake, this is probably the easiest way to decorate a cake for Valentine's Day. Placing these conversation heart candies may be laborious, but don't worry, you don't need professional baking skills to make a pretty cake (I'm proof). The candies fit together like a puzzle to cover the cake in a fun, colorful pattern! Keep reading for my simple tips for making this conversation heart cake.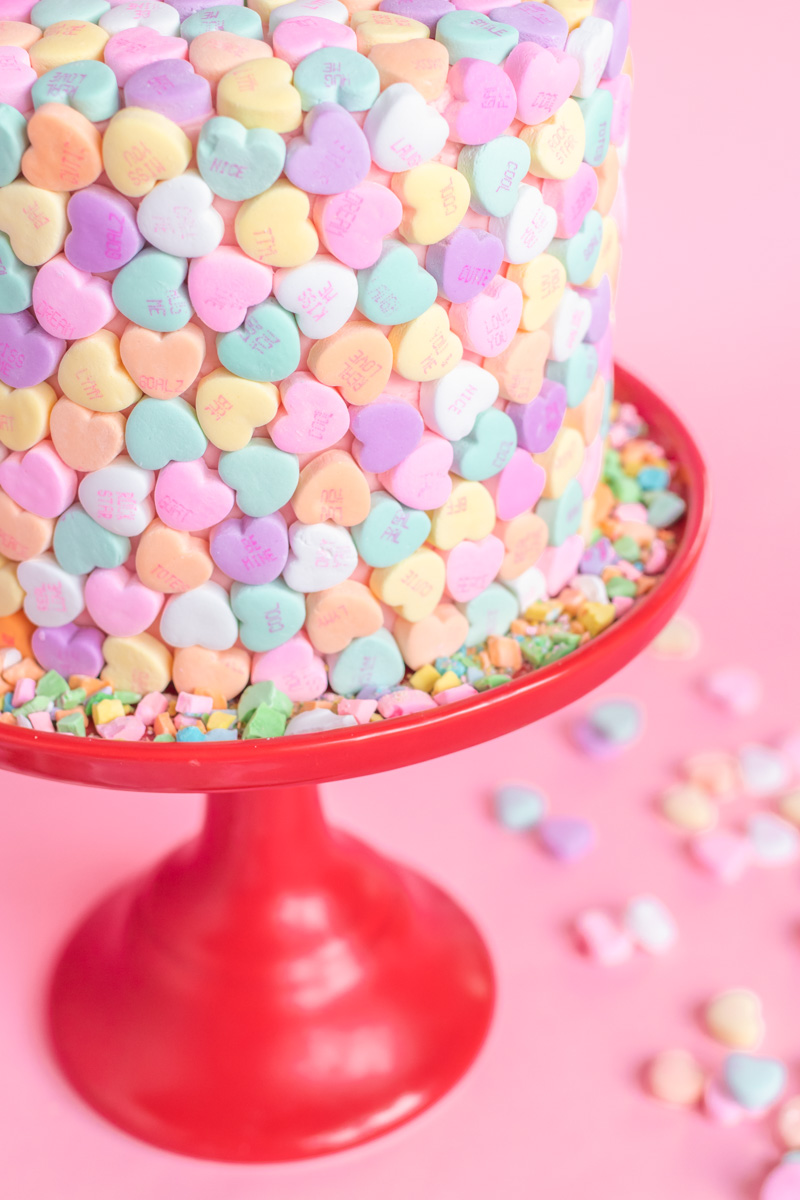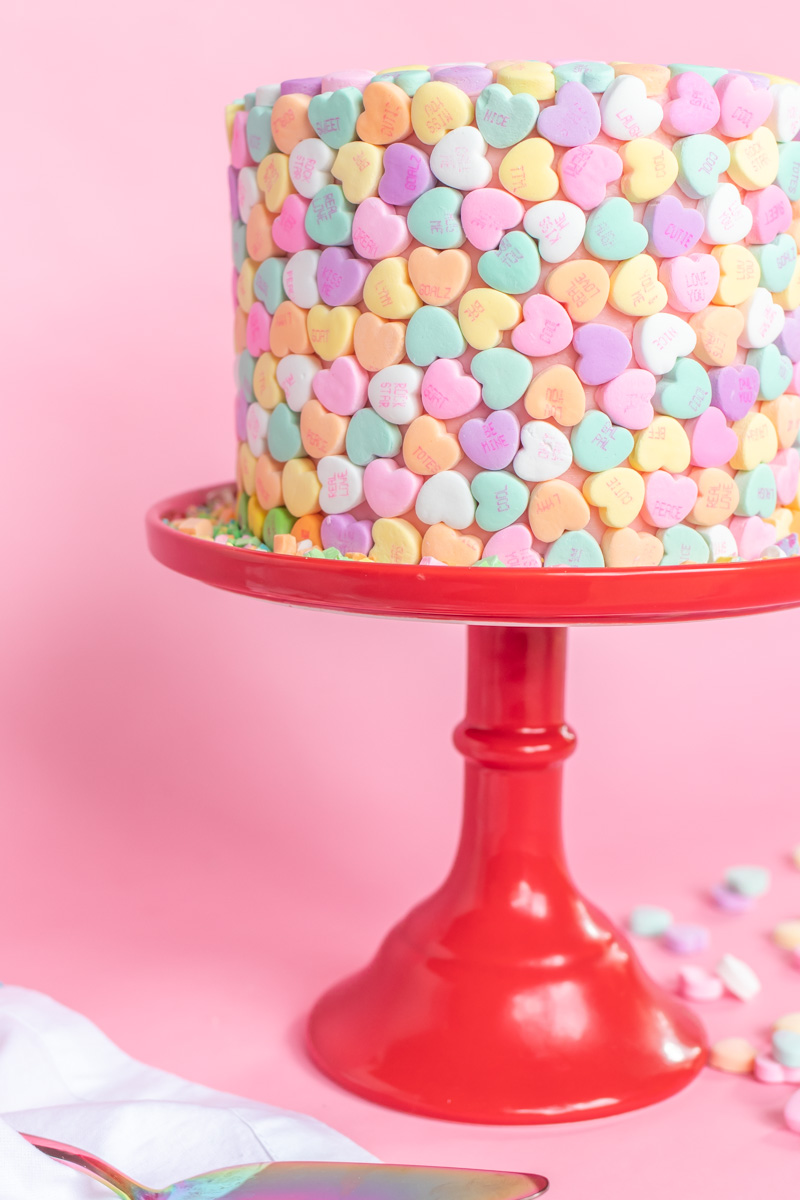 You can find conversation hearts at almost any store this time of year, including dollar stores. I'm pretty sure I bought out the supply at my local Target…
To make this conversation heart cake, you will need a LOT of candies. I'd recommend approx two 14 oz packs. Make sure the words on the candies are facing out – that's the best part! You can try this easy Valentine's Day cake trick on any size you wish and may need more or less candy. My cake is 6-inches with 3 layers.
Use Conversation Hearts to Make an Easy Valentine's Day Cake
Supplies:
Favorite cake recipe
Large batch of buttercream frosting
Pink food coloring
Angled spatula
Conversation heart candies, 2 14 oz. packs
Step 1: Layer and frost the cake with a somewhat smooth layer of icing. Don't worry if it isn't perfect! Luckily it will get covered with candies. Refrigerate about 30 minutes until frosting begins to firm up.
Step 2: Then start arranging candy hearts around the base of the cake. Work upward and outward until your cake is full with conversation hearts. Try to arrange the candies so that the colors alternate as much as possible. Each heart shape will be at a different angle to fit together like almost like a puzzle.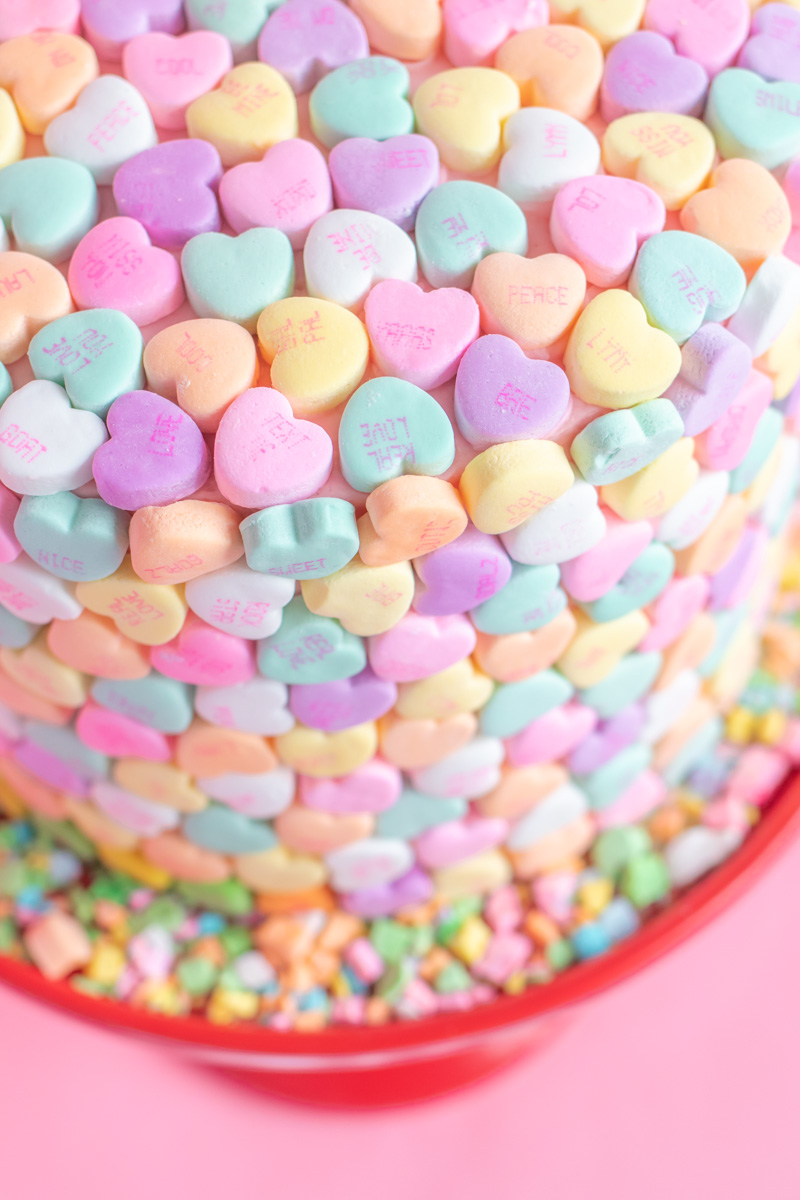 Fill it up, and it's ready to serve! Keep in mind that as your Valentine's Day cake sits, the moisture may impact the candy. Take a moment to sit back and admire your conversation heart cake after all that work! You deserve it.
Now, what's your favorite conversation heart flavor?! I like yellow and orange best. I don't even know what "flavor" they're supposed to be.
Be sure to check out my embossed keychains if you love all things conversation hearts!