/
Upcycled Sweater DIY! Easy No-Sew Mittens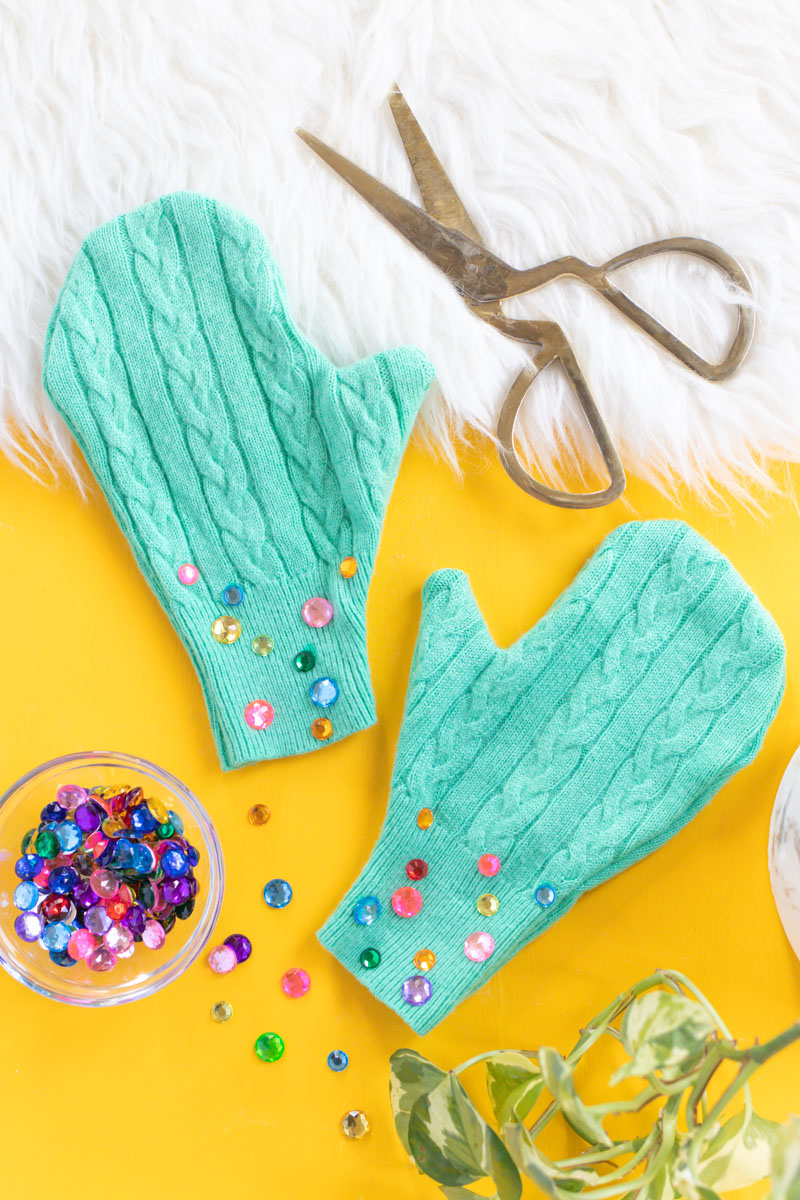 The following post is sponsored by Aleene's
It's sweater weather (even here in SoCal!) and my sweaters have been getting plenty of attention. Eventually, if they've had a little too much attention, it's great to utilize them for an upcycled sweater DIY like these no-sew mittens! I originally scored this casual teal sweater at a thrift store, and it was the perfect material for making a pair of cozy no-sew mittens. Using Aleene's Fabric Glue, I didn't have to touch the sewing machine! Plus, you can customize your new mittens with embellishments like rhinestones, pom poms, ribbons, etc. Keep reading for the quick video tutorial!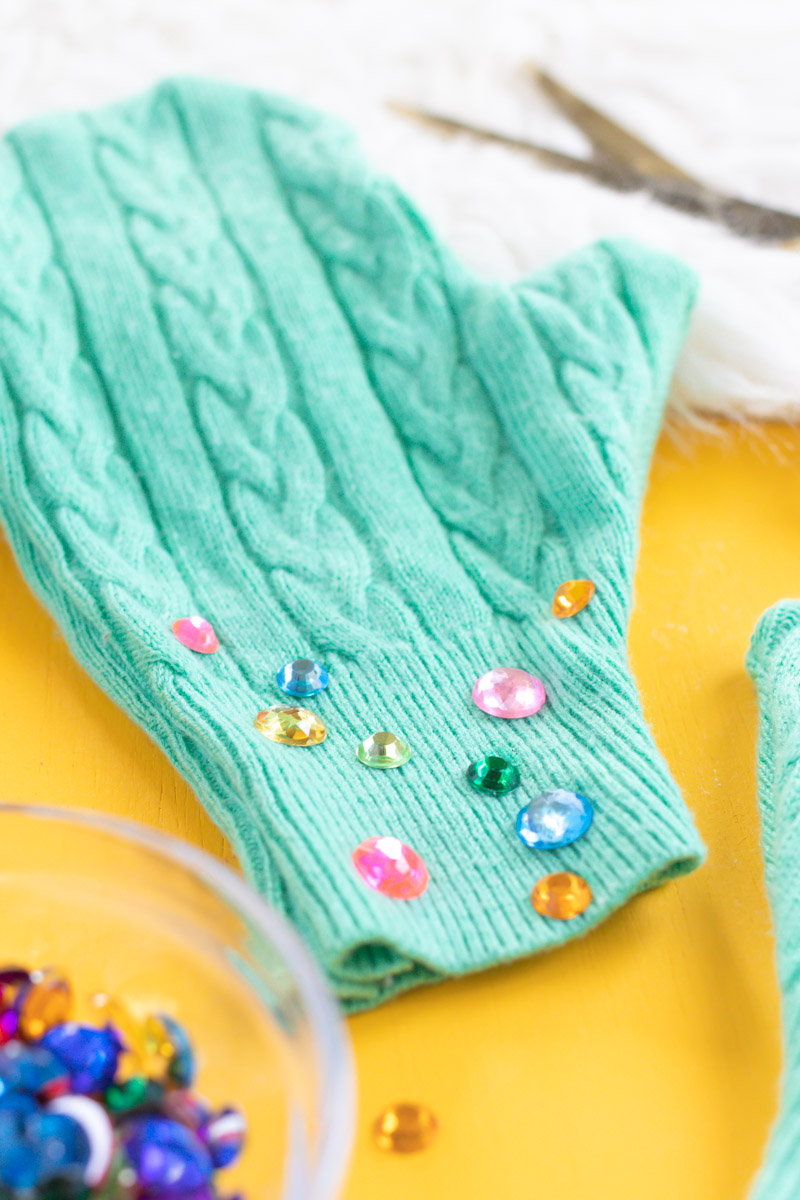 I guess I've been on a rhinestone kick lately. I've used them to bedazzle Christmas trees, Valentine's Day shoes and a pair of sandals. Depending on the sweater you upcycle to make these no-sew mittens, you may not need any embellishments at all! When choosing a sweater, make sure to pick something with a tight knit. After attempting this with a cable knit sweater, it proved impossible to hold together due to so many gaps in the woven design.
How to Upcycle a Sweater into No-Sew Mittens
Sweater (tightly woven, not thick cable knit)
Scissors
Marker
Rhinestones or other embellishments, optional
Step 1: Turn the sweater inside out. Even out the bottom of the sweater and lay flat.
Step 2: Place your hand at the base, fingers spread apart slightly. Use a marker to trace a mitten shape around your hand with plenty of extra space.
Step 3: Cut it out. The font and back of the sweater should remain together.
Step 4: Flip over the mitten, trace on the sweater and repeat to make a matching pair of no-sew mittens. Flipping them is important if the front and back of your sweater are different.
Step 5: With right sides together, add a line of glue all the way around the mitten to glue the front and back pieces together. DO NOT glue the bottom because this is where your hand will enter. Let dry 2-4 hours.
Step 6: Carefully turn the mittens right side out. They should appear symmetrical.
Step 7: Add embellishments if desired! Use the Fabric Fusion adhesive to glue on rhinestones, pom poms or other supplies to customize the mittens.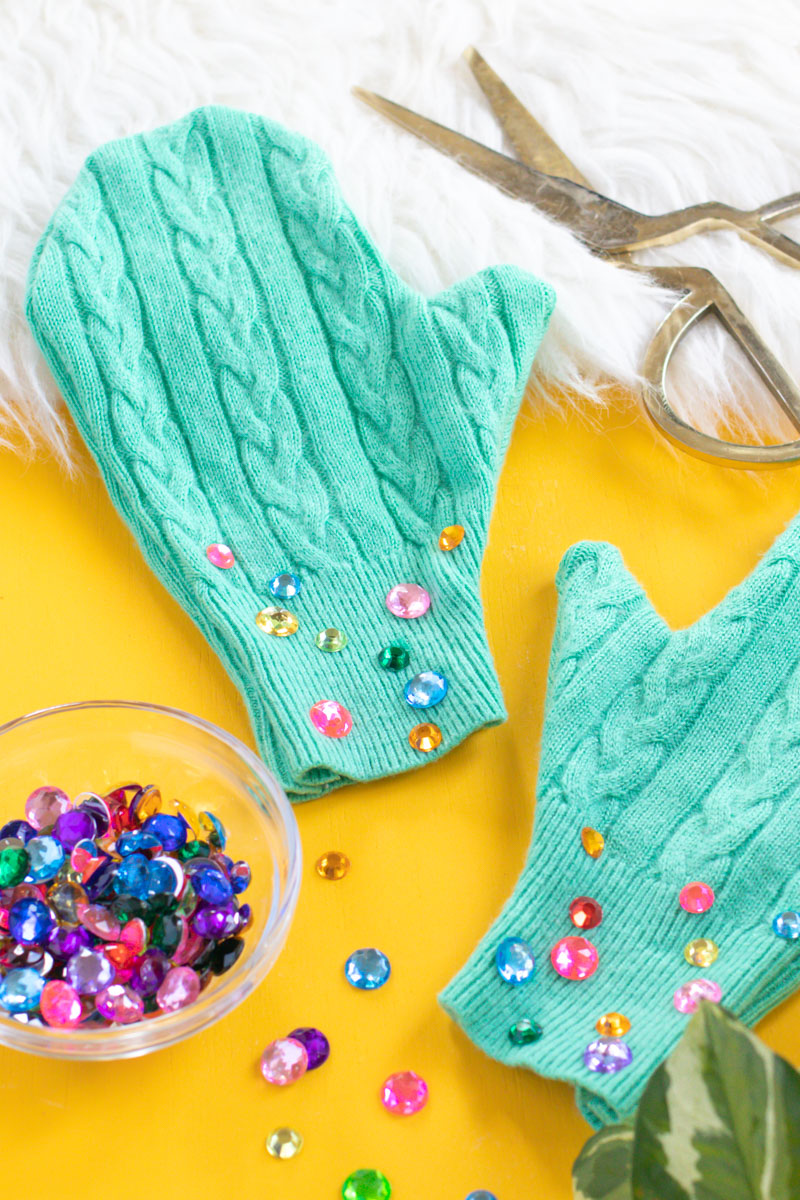 So far, this is my favorite upcycled sweater DIY that I've tried, and I know I'll be getting plenty of use out these no-sew mittens for the rest of the season. Our apartment is always colder than it is outside, and we have no heat! At least I'll warm up in style.
Thank you to Aleene's Glue for generously sponsoring this post. All opinions are my own. Thanks for supporting the brands that keep Club Crafted making!