/
Peach Lemonade Sorbet Recipe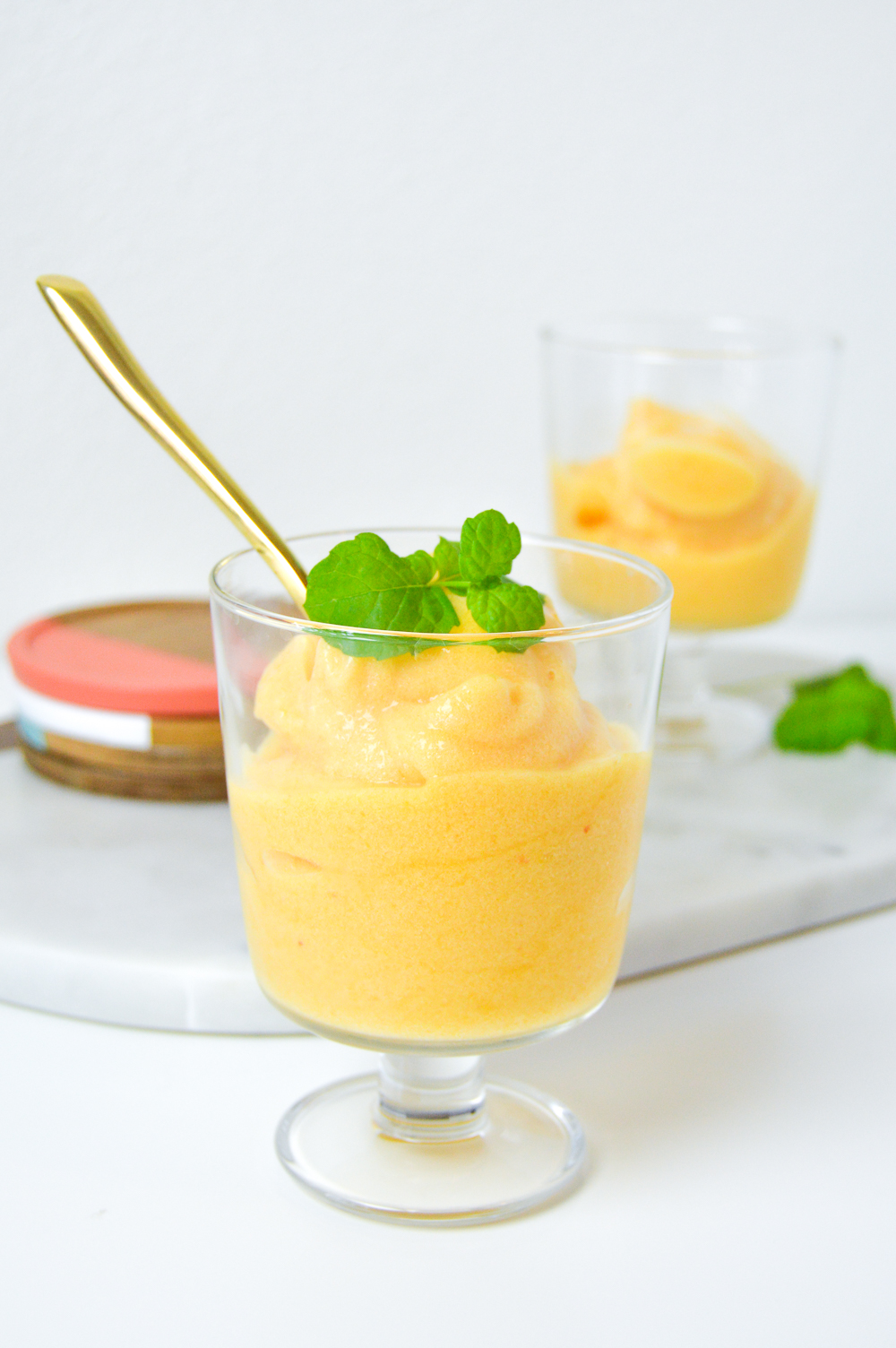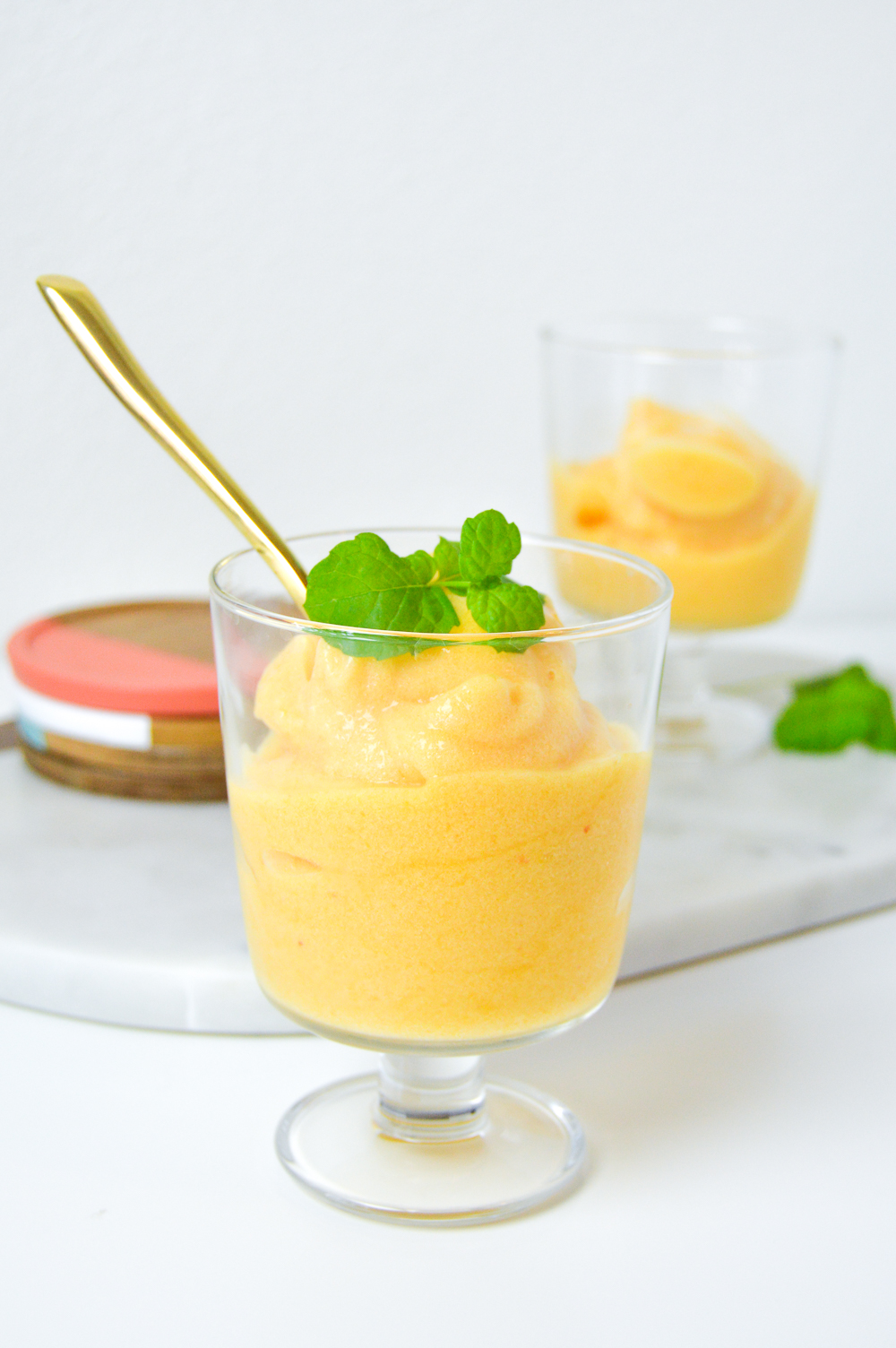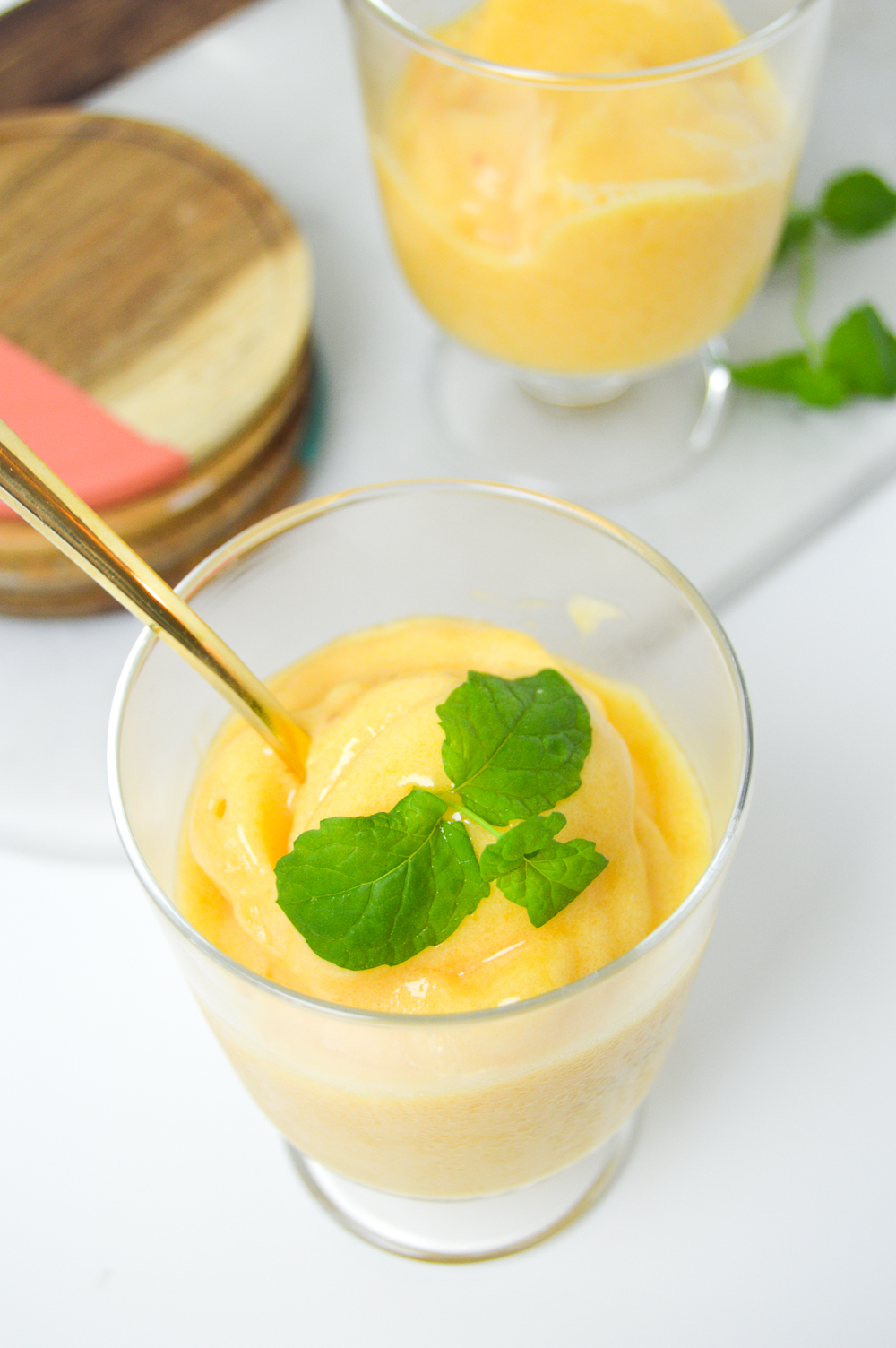 Happy National Peach Month! I wanted to sneak in a good peach recipe before the month ends (and summer ends with it), so here it is – peach lemonade sorbet!
I can't believe the summer is almost over, and even though I'm looking forward to cooler weather, I'm just NOT ready for summer to end. Summer is the time for frozen treats, dresses and sunny evenings. Basically, all my favorite things!
This peach lemonade sorbet recipe is actually the easiest thing you could make with just your food processor. The lemon adds just a little bit of extra flavor to the sorbet, but it mostly tastes like sweetened peach. Due to my lack of self control, I ate it immediately after making, but it does freeze well in a container. The recipe only makes two servings, but it can easily be doubled and tripled to make more (and trust me, you'll want more).
2 peaches, peeled, cut and frozen
Juice from 2 lemons, frozen
1/4 cup water
1/4 cup granulated sugar
In a small saucepan, combine the water and sugar on medium heat. Stirring occasionally, heat until the sugar has completely dissolved into the water in order to create a simple syrup. Set aside to cool for 5 minutes.
In your food processor, combine the frozen peaches and frozen lemon juice (I recommend freezing lemon juice in an ice cube tray). Puree to break up the frozen pieces. Add the cooled sugar mixture and puree for several minutes until the sorbet is smooth.
It should be ready to serve immediately, or you can freeze in an airtight container until ready to serve. It should last in the refrigerator for about one week. Scoop into small bowl and enjoy!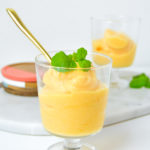 Peach Lemonade Sorbet
2016-08-21 15:54:39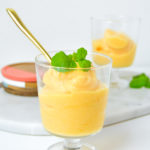 Serves 2
A smooth blend of peach and lemon create a delicious peach lemonade sorbet perfect for summer
Ingredients
2 peaches, peeled, cut and frozen
Juice from 2 lemons, frozen
1/4 cup water
1/4 cup granulated sugar
Instructions
In a small saucepan, heat the water and sugar on medium heat, stirring occasionally until the sugar has completely dissolved into the water
Set aside to cool for 5 minutes
In your food processor, combine the frozen peaches and frozen lemon juice*
Puree to break up the frozen pieces. Add the cooled sugar mixture and puree for several minutes until the sorbet is smooth
Notes
I recommend freezing the lemon juice in an ice cube tray
Club Crafted https://www.clubcrafted.com/