/
Why Businesses Need a Content Strategy (and How to Build One)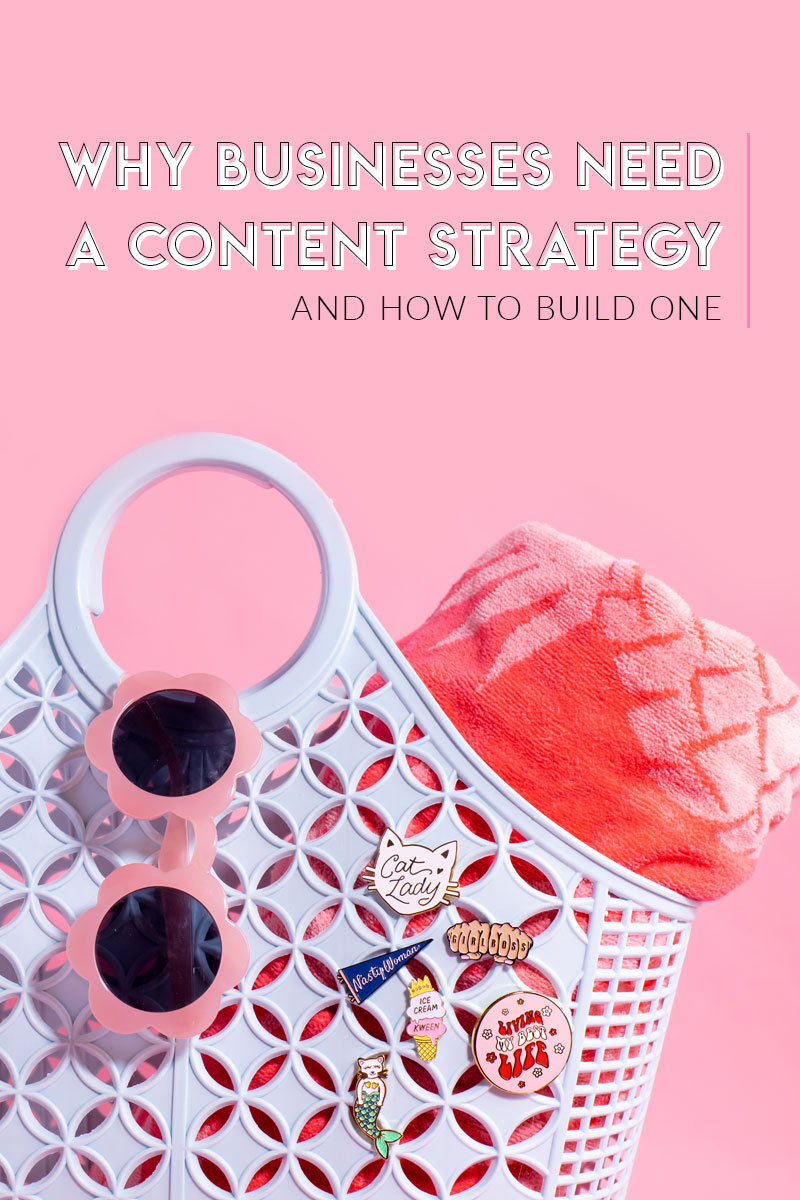 This post may seem unusual compared to my colorful DIYs and recipes, but it's something I'm very passionate about. In case you didn't know, my professional background is in content marketing and public relations. Over the past three years as a blogger and small business owner, I've also become the photographer and content creator you see here on the blog. As I merge both roles into my rebranded creative content studio, I thought it was important that I talk about why businesses need a content strategy and how to build a content strategy. I'll break this down a bit and continue sharing more tips here for anyone interested in growing their content creation strategy.
What is Content Creation?
OK, so first of all, what does content creation even mean? This is always the first thing I have to explain about my job. It's exactly what it sounds like – the act of creating visual or written content. This comes in many forms, including blog posts, videos, photography, podcasts, free downloads. etc. Anything that can be absorbed as information or for marketing can be considered content. Content is what makes the internet go round, which is why businesses need a content strategy to keep up.
How to Build a Content Strategy
Creating a content strategy for your business – no matter what kind – is not unlike creating a business plan. You'll break down who your audience is, what they want, what you want, what your message is and how you can provide information that's useful while still delivering your message.
Here's the general process of building a content strategy:
Identify your target audience. What do they want? Determine their interests, their problems and even their aesthetic.
Clarify what you want. You can't see results unless you know what to look for! What do you want content to help you with? It could help build an email list, generate new sales, raise awareness, increase social media followers, etc. Setting reasonable goals is important.
Determine how different content types can contribute to achieving your goal. Not all content strategies will make sense for your business. Think of the type of content that customers would enjoy, and prepare to make a tree of how different types of content work together. See the examples below for inspiration.
Create the content. Use in-house resources or hire experts (hi, like me!) to help you create the content you need.
Keep it up. Consistency is key to success online! One blog post won't change anything. Make a plan to produce consistent content to meet your goals. Your strategy may change over time and that's perfectly fine.
I hope that helps you understand why businesses need content creation to keep up online. Here's how to put it to use:
Examples of Content Creation for Different Business Types
Still not sure why businesses need a content strategy? Here are just a few examples of how different types of businesses can use content to build their brands and generate sales:
If a real estate company wants to position itself as an expert resource for first-time homebuyers, it would build a library of blog posts to answer common questions first-time homebuyers have about the process. Then the company would promote their blog posts through social media and email. By providing useful information, those blog readers will likely become new clients when they're ready to purchase their first home.
When a sprinkles company comes out with a new collection of sprinkles, they'll need photos to show them off. While it may create standard photography for its website to show close-ups of the sprinkles and bottle, it's not enough for promotion. Instead, they focus on creating recipes and corresponding photography with the sprinkles to share on their social media platforms (and potentially blog). To do this, they could offer incentives to influencers or hire a colorful content creator like me to create the recipes and complete the photography. Now they have an arsenal of unique photography to share on social media!
Many business coaches target female small business owners. To do this, they may create a blog filled with useful articles. Then they include pop-ups that offer MORE free information (often in the form of free downloads) to collect email addresses of potential clients. After hosting webinars and sending multiple highly-structured emails, they may receive a new customer. These models also benefit from marketing automation platforms.
Developing a content strategy doesn't mean you have to do it alone! That's exactly why I'm here. I help businesses create a strategy that works for their unique brand and offerings because these days businesses need a content strategy. My goal is to provide photography, written content and strategy advice for businesses of all types. Got questions? Send me a message with your concerns and I'll see how I can help.