/
A Spring Tea Party + 3 Easy Treats to Make at Home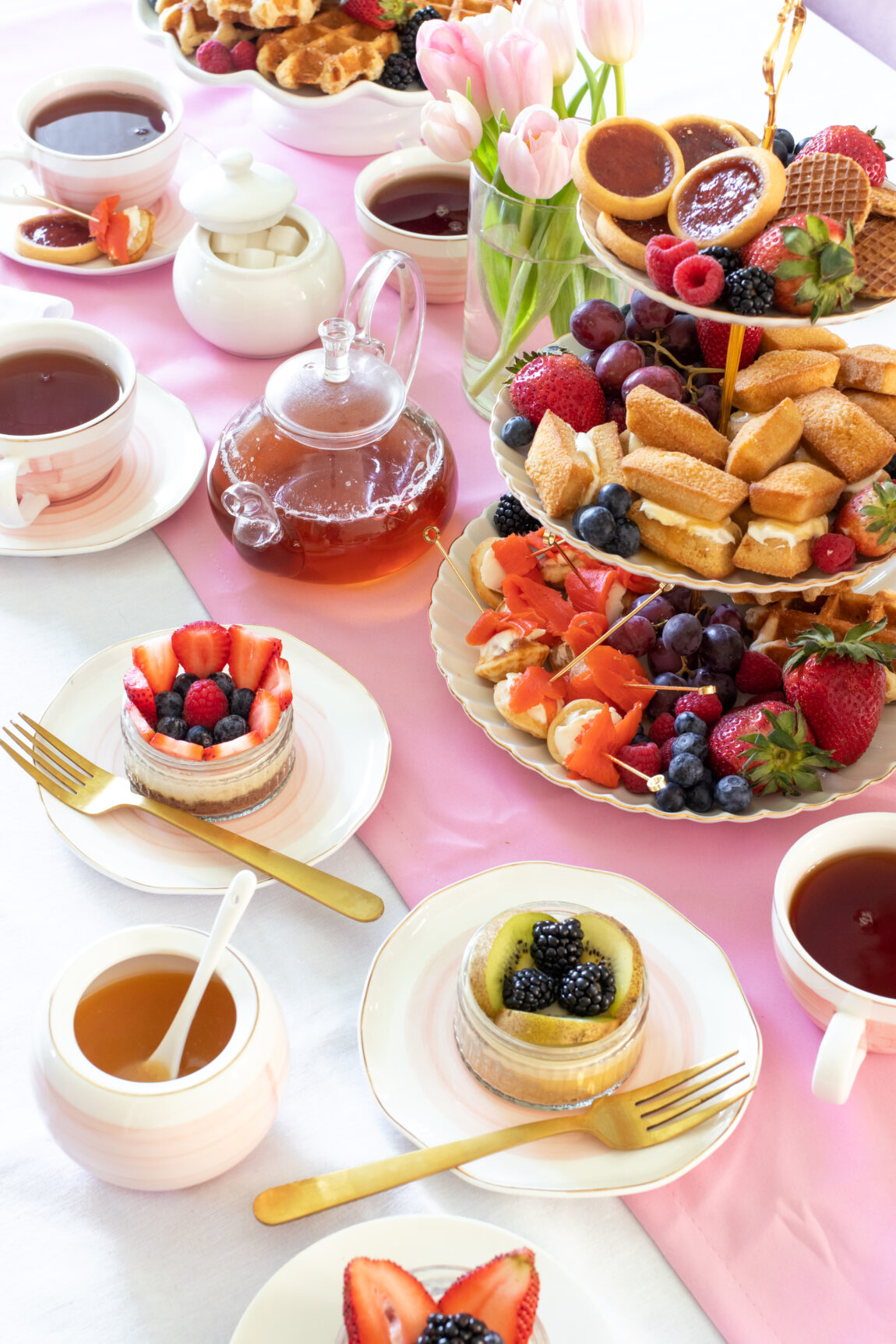 I know it's been a few weeks since my last post, but it's for good reason – I have been BUSY! Most recently, I partnered with my long-time client Belgian Boys to make a bright and elegant spring tea party, complete with three easy treats to make with Belgian Boys cheesecakes, mini pancakes and mini cakes. No spring tea party would be complete without tulips, so I filled the table with flowers, trays of treats and a beautiful pink and white tea set. I don't get to create these types of tablescapes often, but I truly love doing it! You'll find these tea party ideas and other inspiration on Belgian Boys's blog and Instagram, where I create most of the photography myself. Keep reading for more about the spring tea party decor!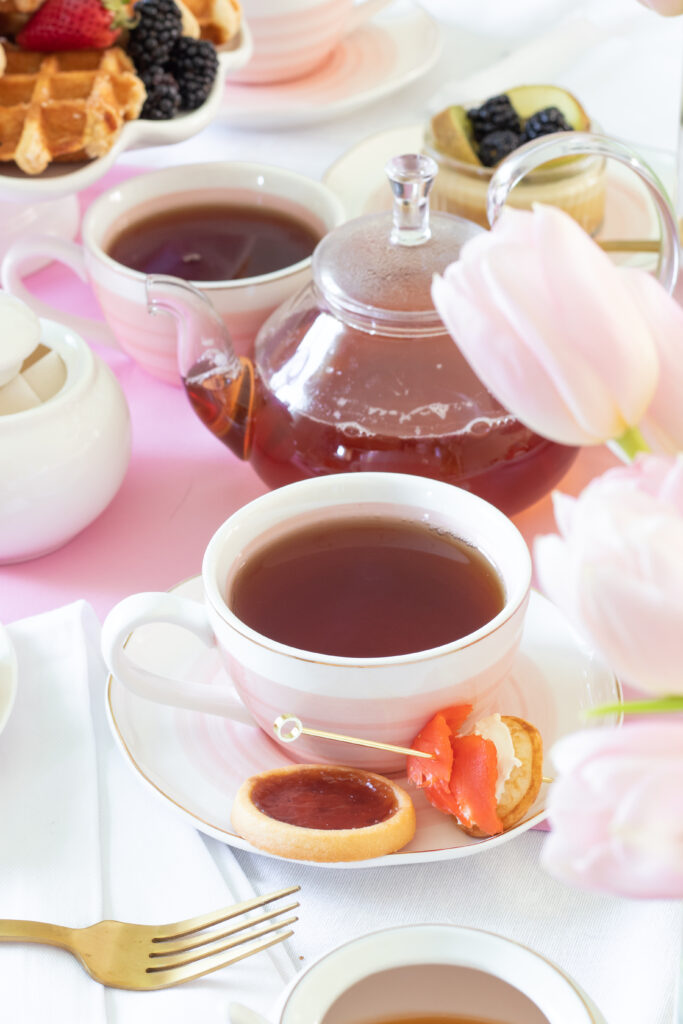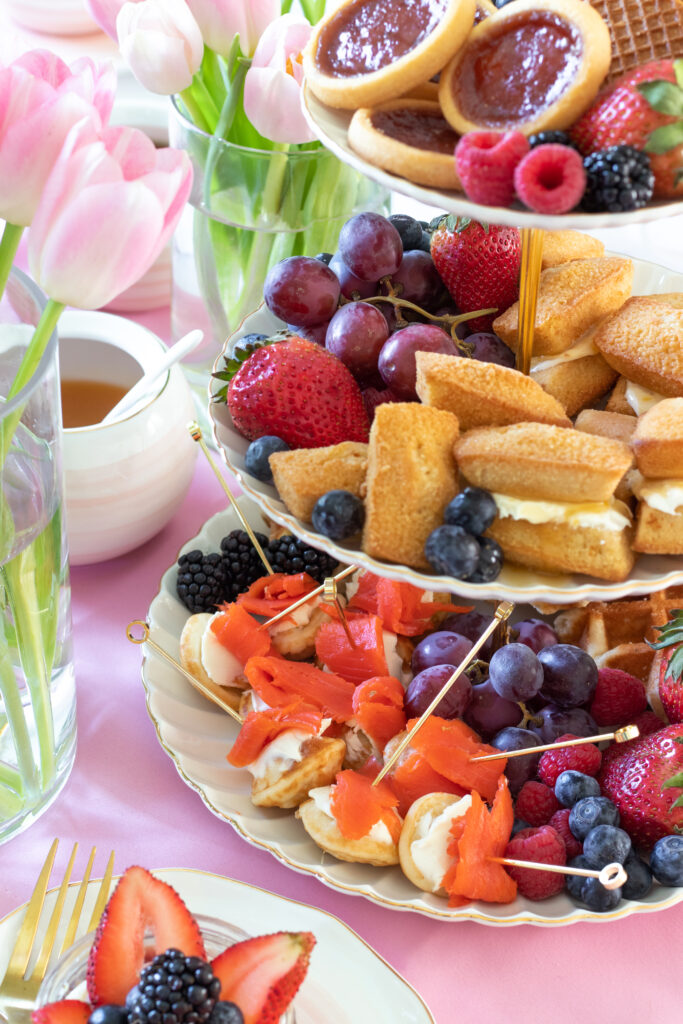 *Obviously, it's still a difficult time to host an in-person tea party with loved ones. If you choose to entertain, please be safe and limit contact with others.*
Now, let's talk about this spring tea party! You can learn more about the tea party with Belgian Boys and their treats here. This is also the first look at our in-progress dining room, and I'm excited to share more zoomed out photos with you soon. We started with a white table cloth across the whole table. Then I added a pink runner down the middle for a much-needed pop of color.
Two different sized vases of tulips are spaced across the table. Then a tall tiered stand and a low, traditional cake stand create different heights across the table. For me, that's the key to an aesthetically pleasing table. I filled in other spaces of the spring tea party decor with a sugar bowl, extra lemon curd, small plates and, of course, the tea set itself.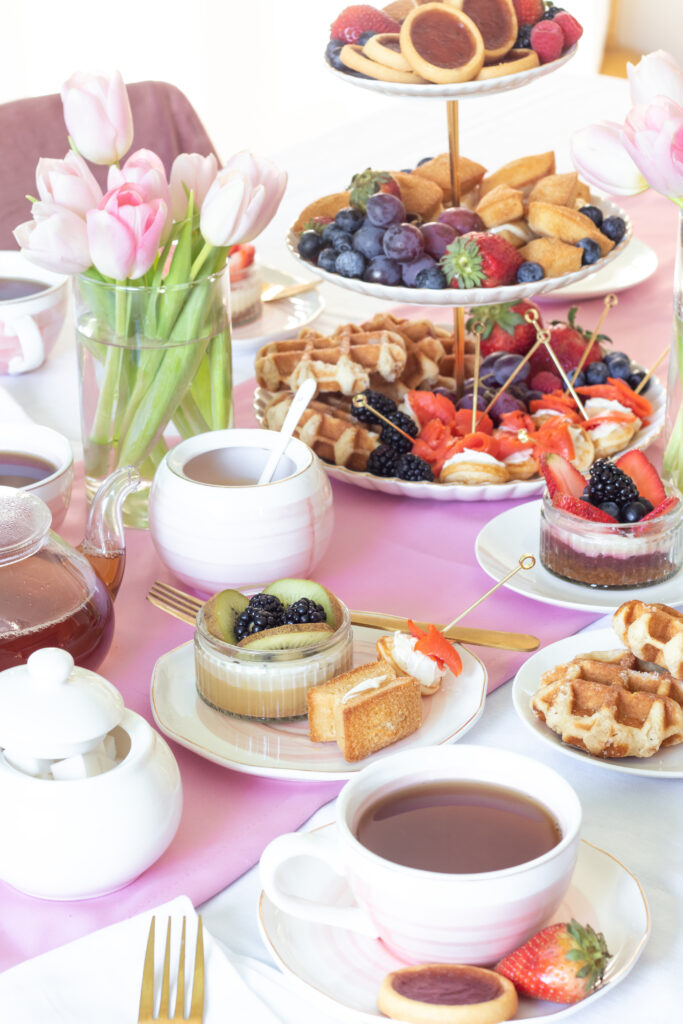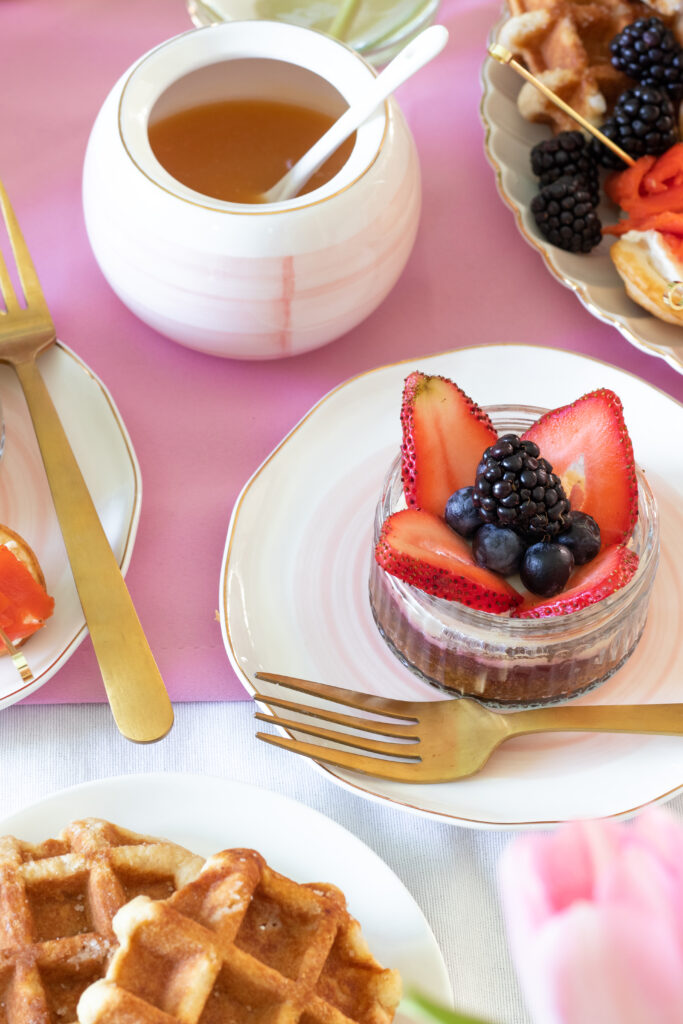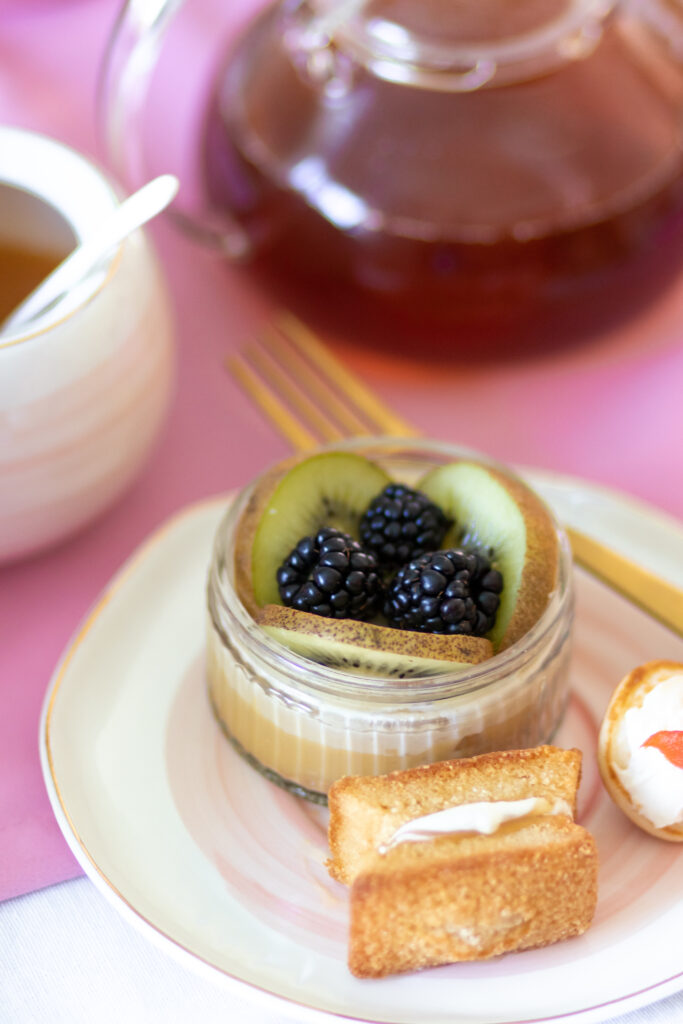 What to Serve at a Spring Tea Party
Our goal was to create easy treats you could make using Belgian Boys products as the base.
Fruit-Covered Cheesecakes: First, I used three different flavors of cheesecake: New York Cheesecake, Key Lime Cheesecake and Raspberry Cheesecake. You can see the layers in each ramekin! I topped them with small pieces of fruit to create beautiful patterns on top.
Salmon Pancake Skewers: Then I used Belgian Boys Mini Pancakes as the base for a smear of cream cheese and a piece of smoked salmon. Using the cutest gold skewers to hold the pieces together, it added some glam to the table.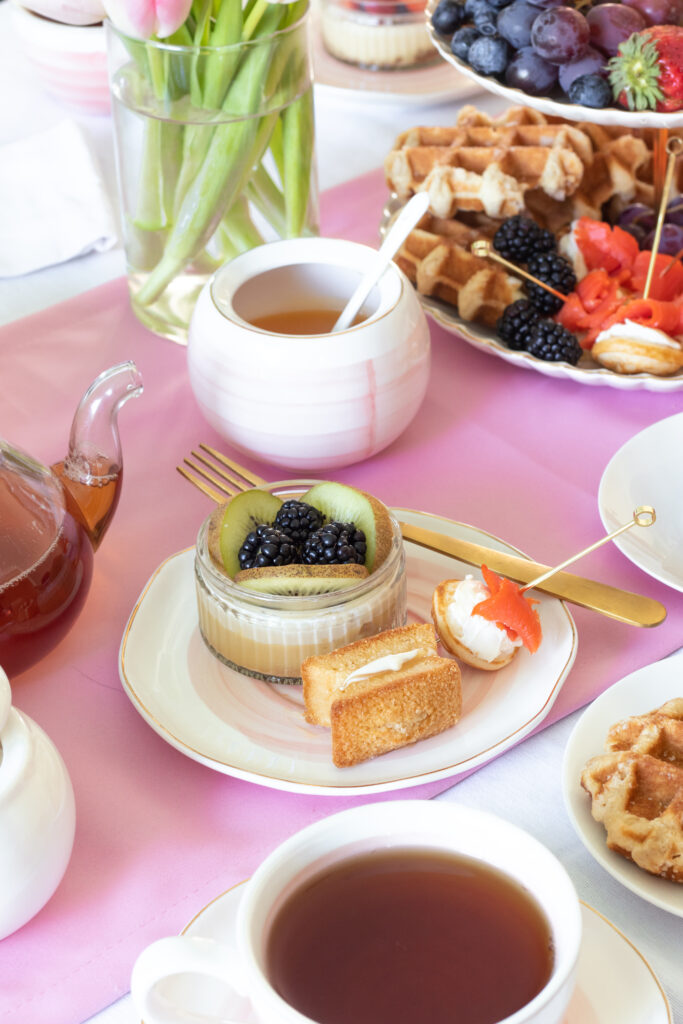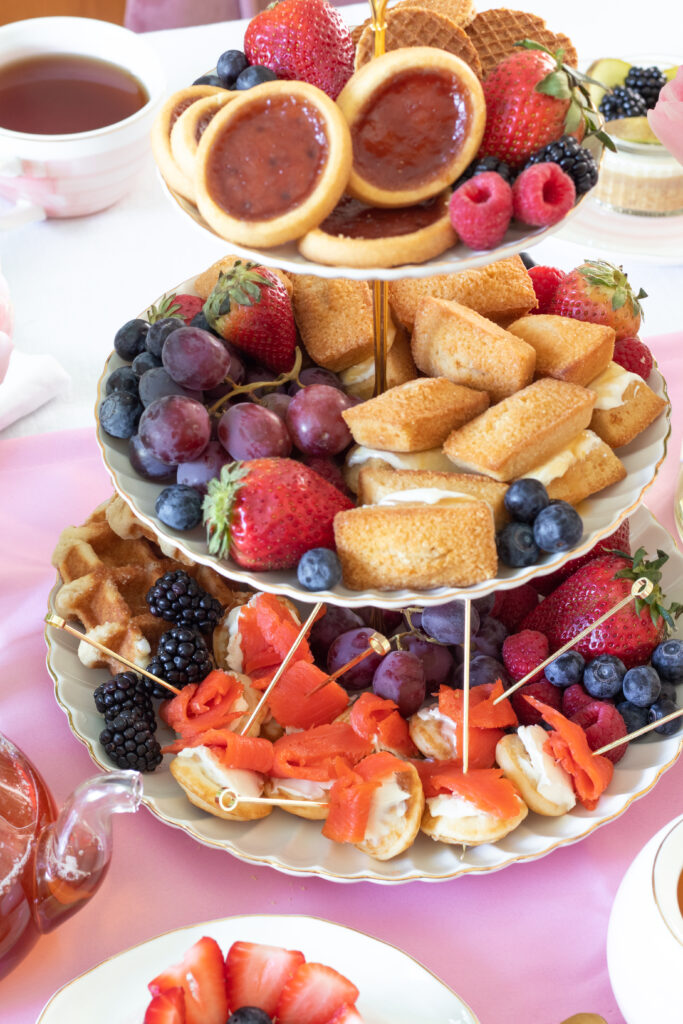 Lemon Curd Butter Cakes: My personal favorite are the Almond Butter Cakes sandwiched with whipped cream and lemon curd. They go perfectly with any cup of tea! Plus, I could literally eat lemon curd with a spoon. (Check out my homemade lemon curd recipe here.)
Once all of the treats are arranged on the tiered platter, fill it with fruit and simple cookies. Belgian Boys Raspberry Cookie tarts are another great tea party staple!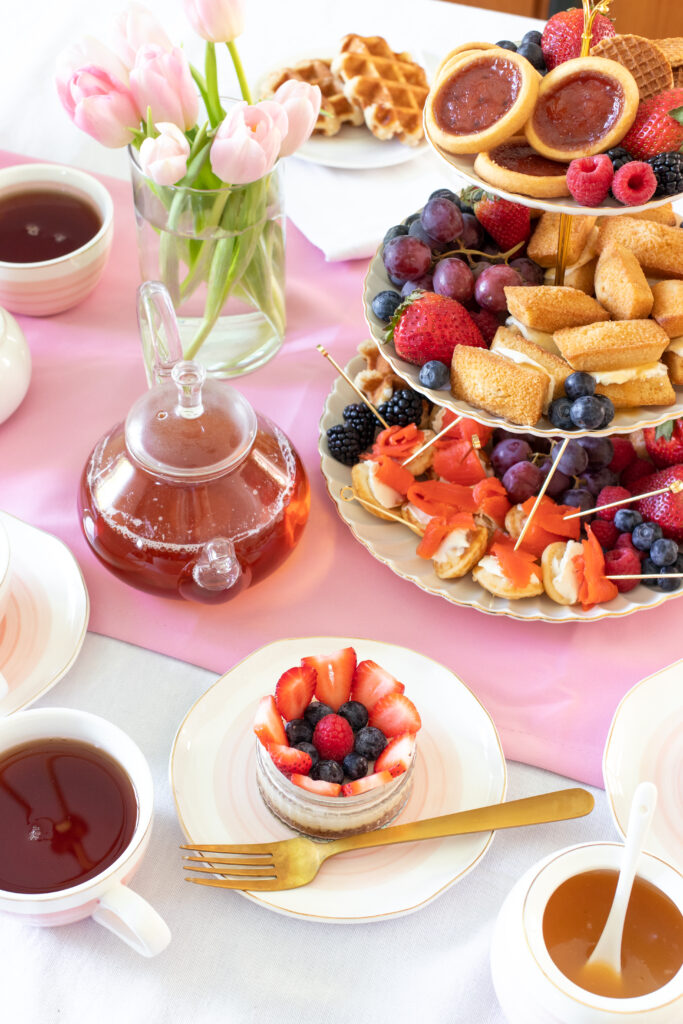 What kind of tea would you serve at a spring tea party? I'm partial to a classic Earl Grey, which is what you see here, but something like a passion tea or hibiscus tea would be refreshing for spring time! Be sure to head over the Belgian Boys to give them a follow! I love working with them because they are not only a female-owned company but they do a lot of charity work to benefit different organizations around the country. Have a happy spring season!