/
Double Duty: From Bar Cart to Coffee Cart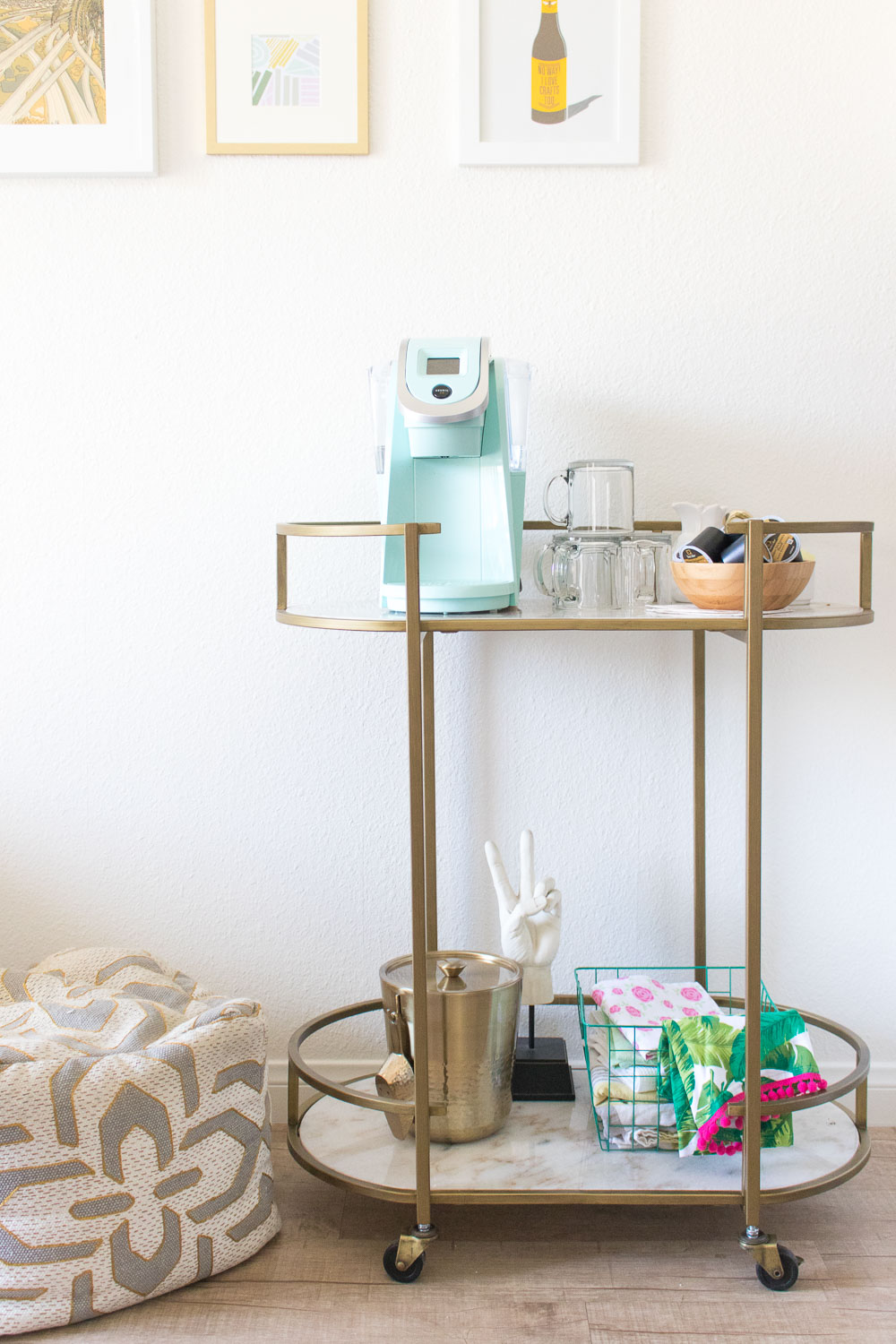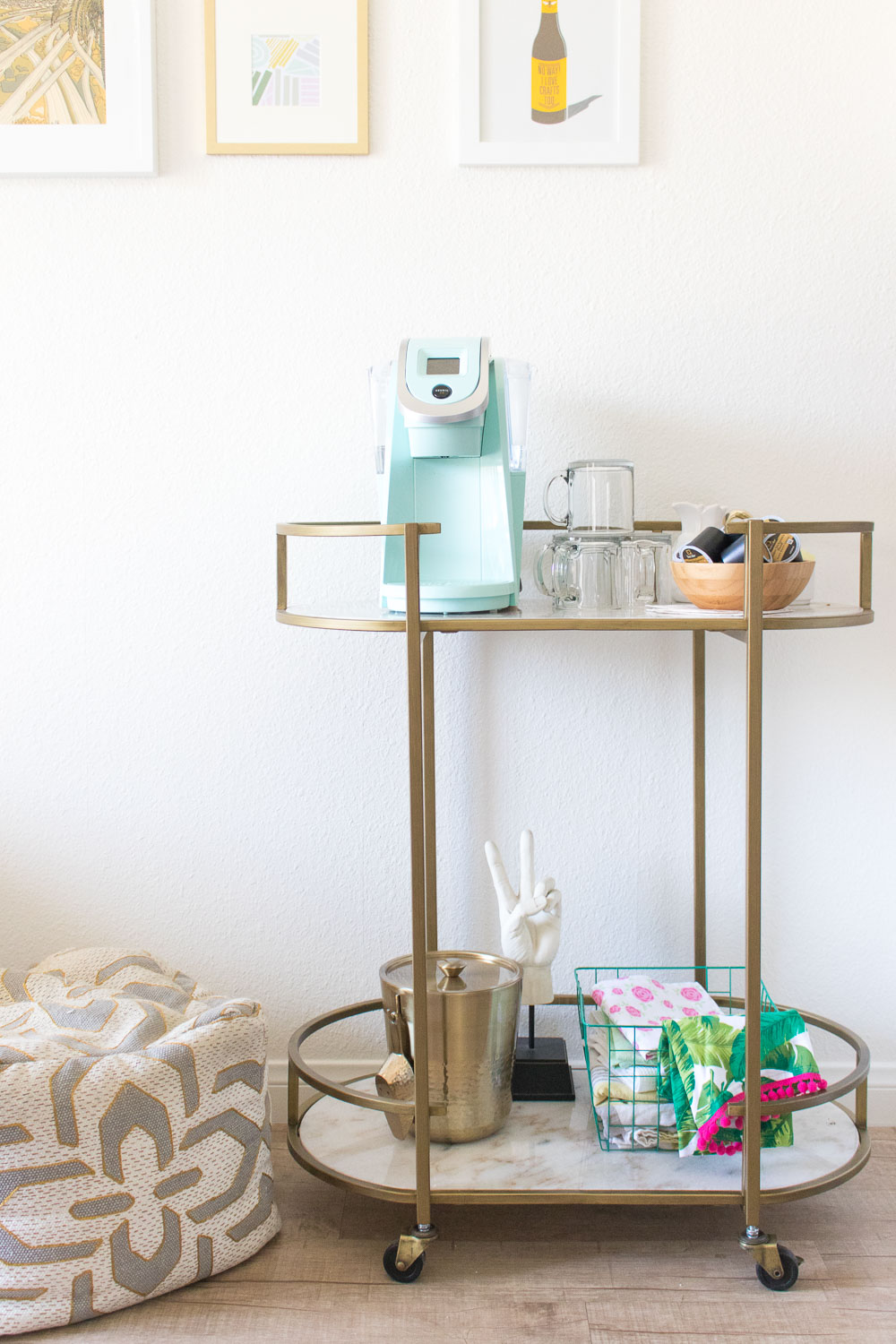 Recently, I shared the reveal of my dining room. I'm still totally in love with it, and it's not often I can say that about our apartment. One of the items I talked about was my new gold and marble bar cart from hayneedle.com (c/o), which is dressed and ready for a celebration in that post. It's been so nice having all of our bar essentials easy to access and on display, but I also wanted to see how easily I could transition it to a coffee cart for when we have guests over in the mornings (which isn't often, but we'll have overnight guests this summer!) so I thought I'd share how I made the transition from bar cart to coffee cart with a few quick changes.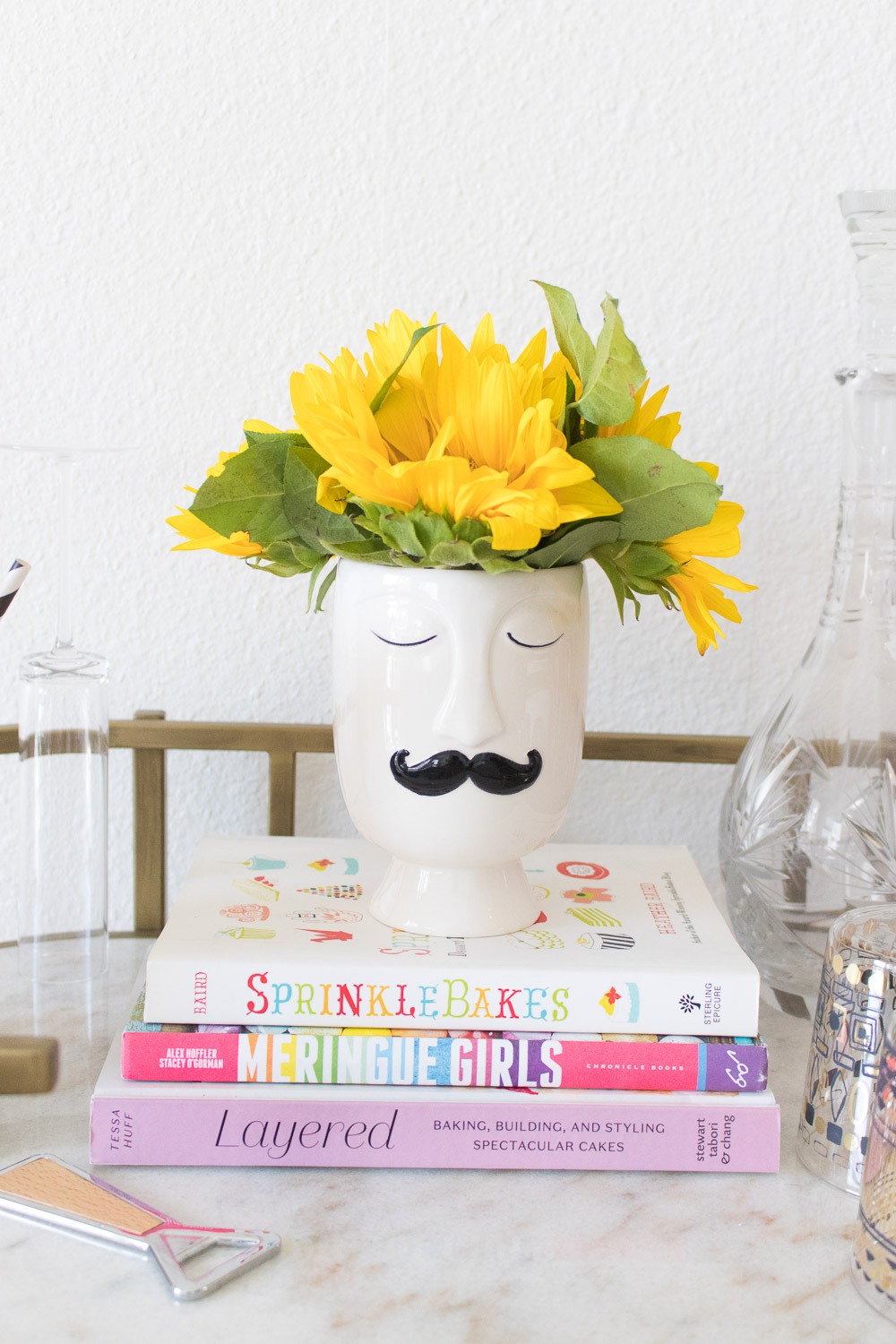 Since you may have already seen my last post where I went on and on about the bar cart, I'll try not to repeat myself. I put all of my go-to bottles of liquor and wine on the bottom with the ice bucket and a bowl of citrus. I have limes in the house constantly now for mojitos and margaritas.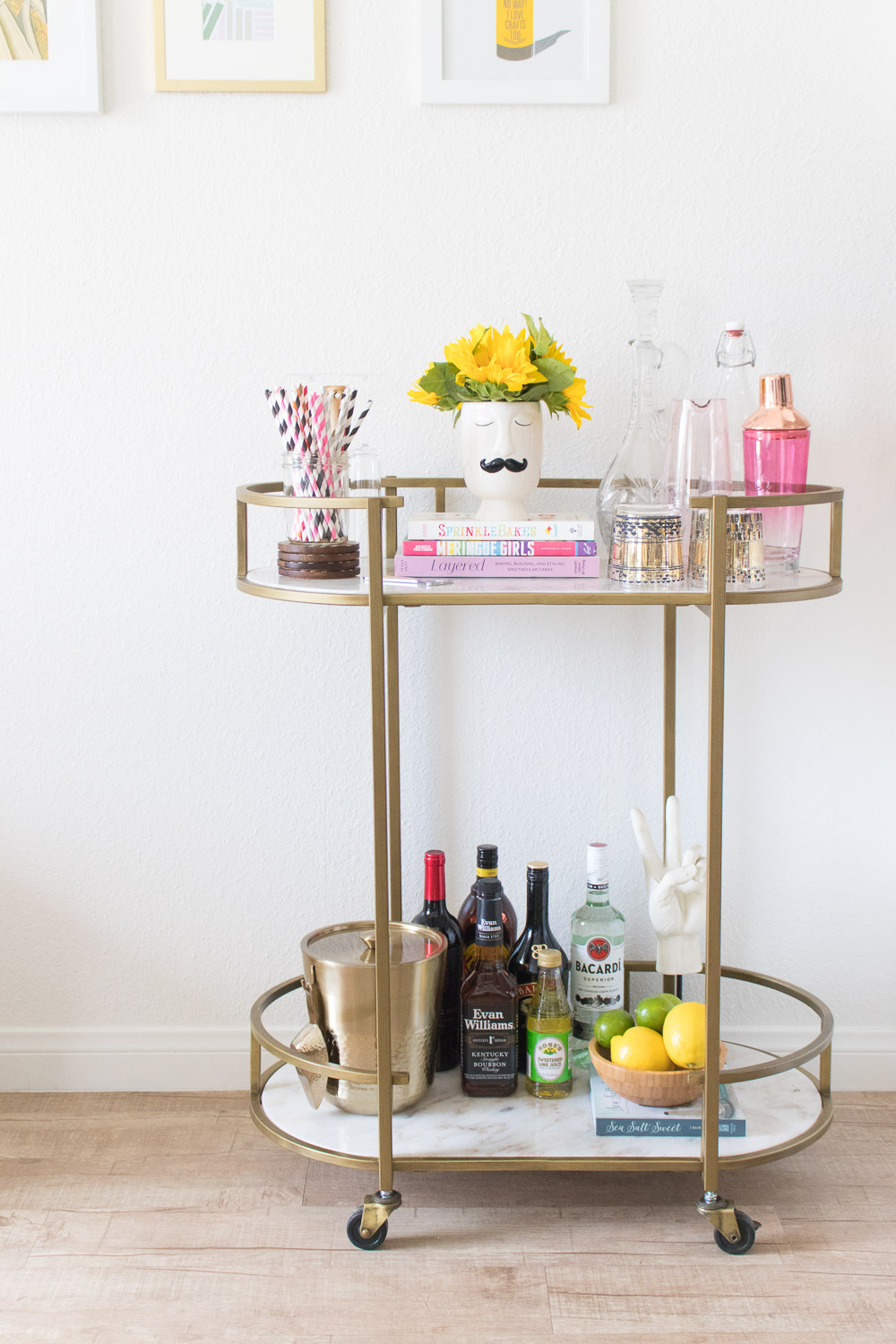 On the top shelf, I finally got to display the beautiful decanter my mom gifted me years ago. I was actually terrified to put it out because my cats can be troublemakers, but so far, they haven't knocked anything off the cart! (It's a legitimate miracle.) I also have some other barware I've collected over the years, including my Oh Joy! cocktail shaker, West Elm clearance glasses and some others. I added flowers in this cute mustache face vase my mom got me, placed on top off a stack of books, next to a mason jar full of straws because I'm totally a straw person.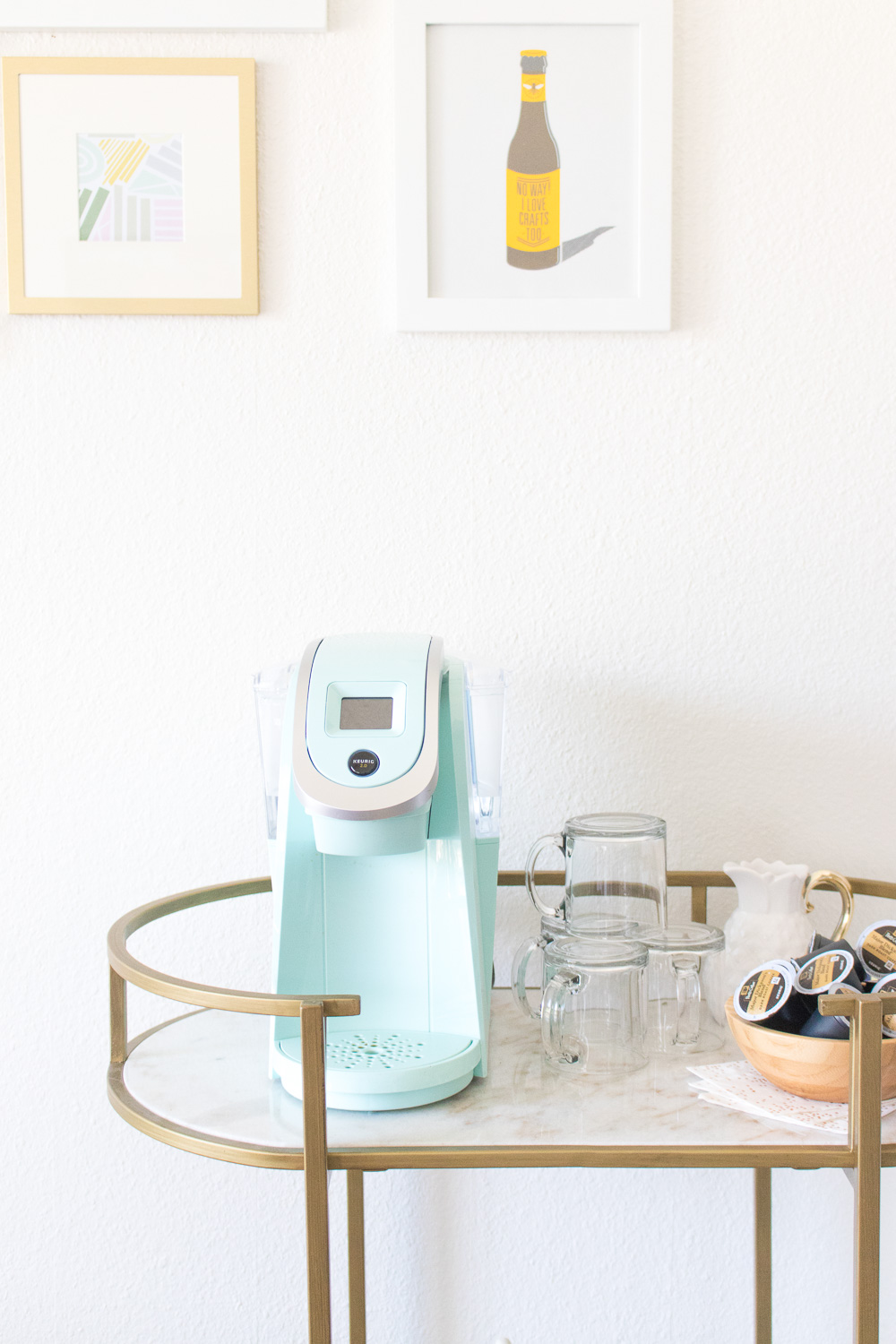 Onto the coffee cart…which is definitely more understated, just as I think mornings should be. I hope I'm not the only one whose Keurig is like a prized possession. Andrew wanted to purchase one and I was skeptical at first, but we purchased it in the color that matches my mixer (my favorite color) and now I couldn't imagine life without it. I easily moved it over to the top shelf of the bar cart – make sure it's within reach of an outlet though!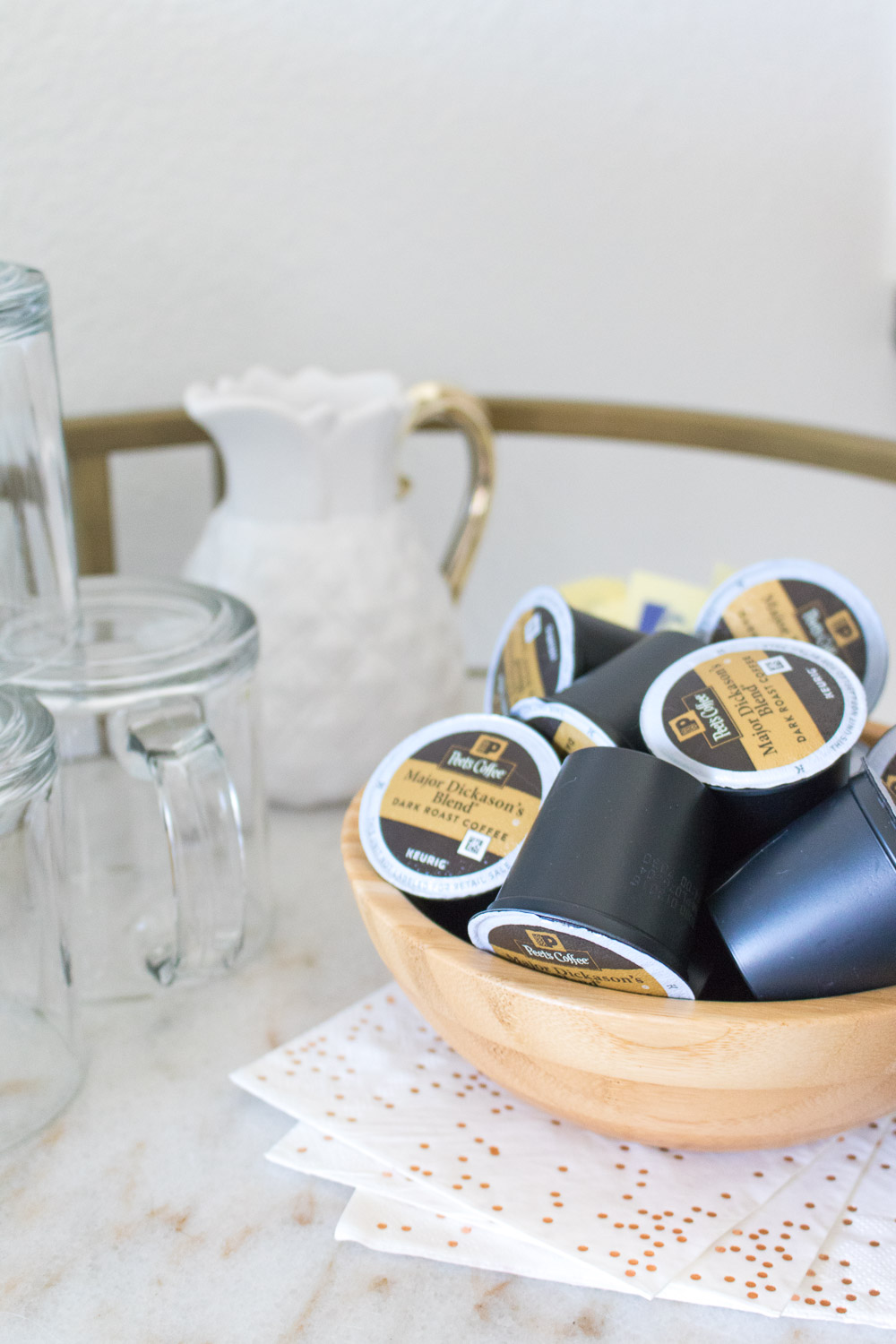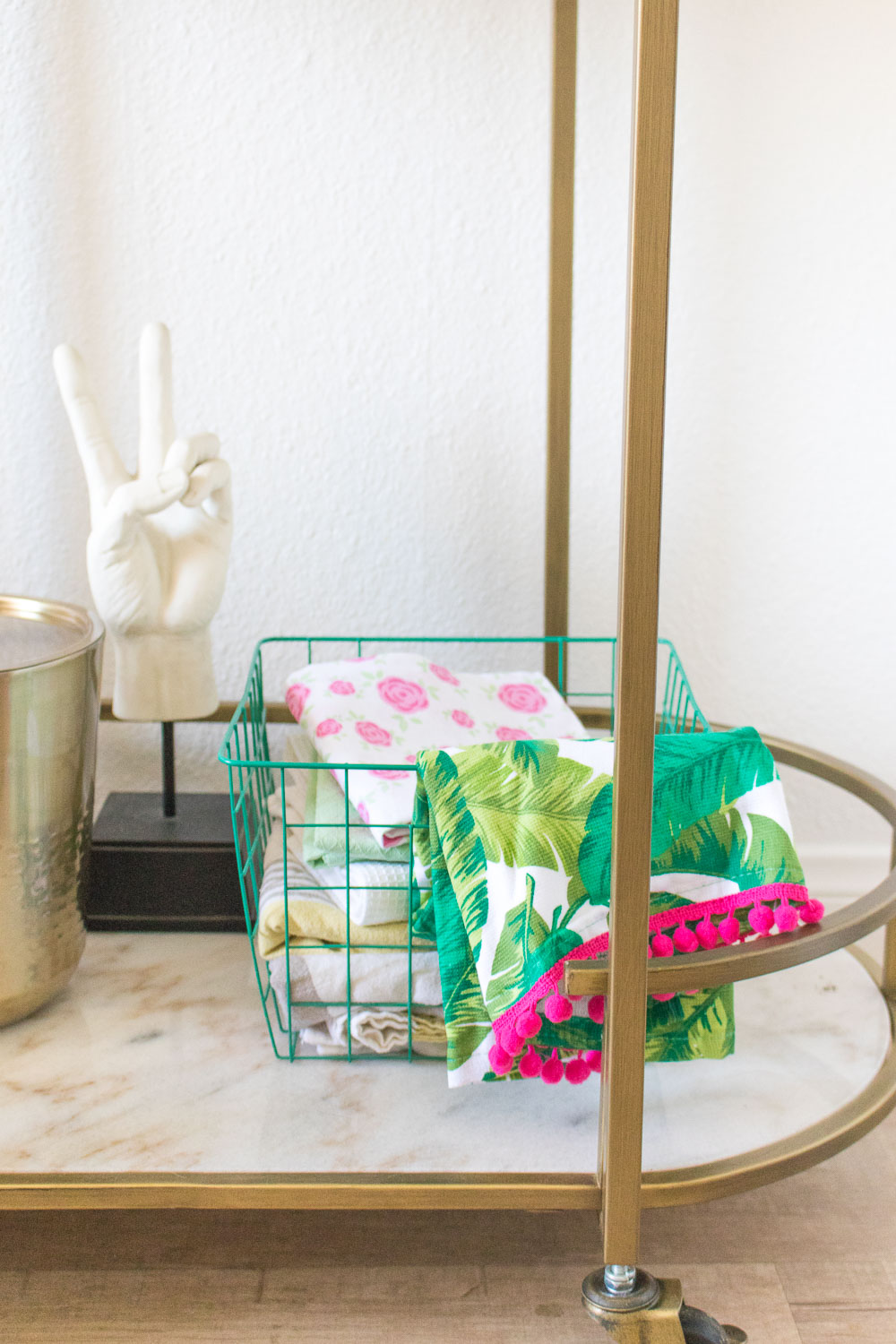 Then I emptied the bowl that was filled with fruit and filled it with K-cups instead. I put sugar packets in a bowl and stacked my favorite clear mugs next to the coffee maker. I put out this pineapple creamer pitcher I purchased at ModCloth ages ago. It's one of my favorite little things but I rarely get to use it, so when morning comes around with guests, simply fill it with milk or creamer for everyone to make their own coffee.
On the bottom shelf, I removed anything else that seemed bar-specific and added a basket of towels that I usually keep under the sink just to fill in the space and add color.
You don't have to move everything. I actually chose to leave the ice bucket on the bottom shelf because I didn't have anywhere else to put it and, who knows, maybe we can use it to hold ice for iced coffee. It is summer after all! I also left that peace sign sculpture thing, which also has a random story to it. My friend had it in her room in high school and I always loved it, so one day she just gave it to me and it's moved from home to home with me ever since! (Thanks Rachel!)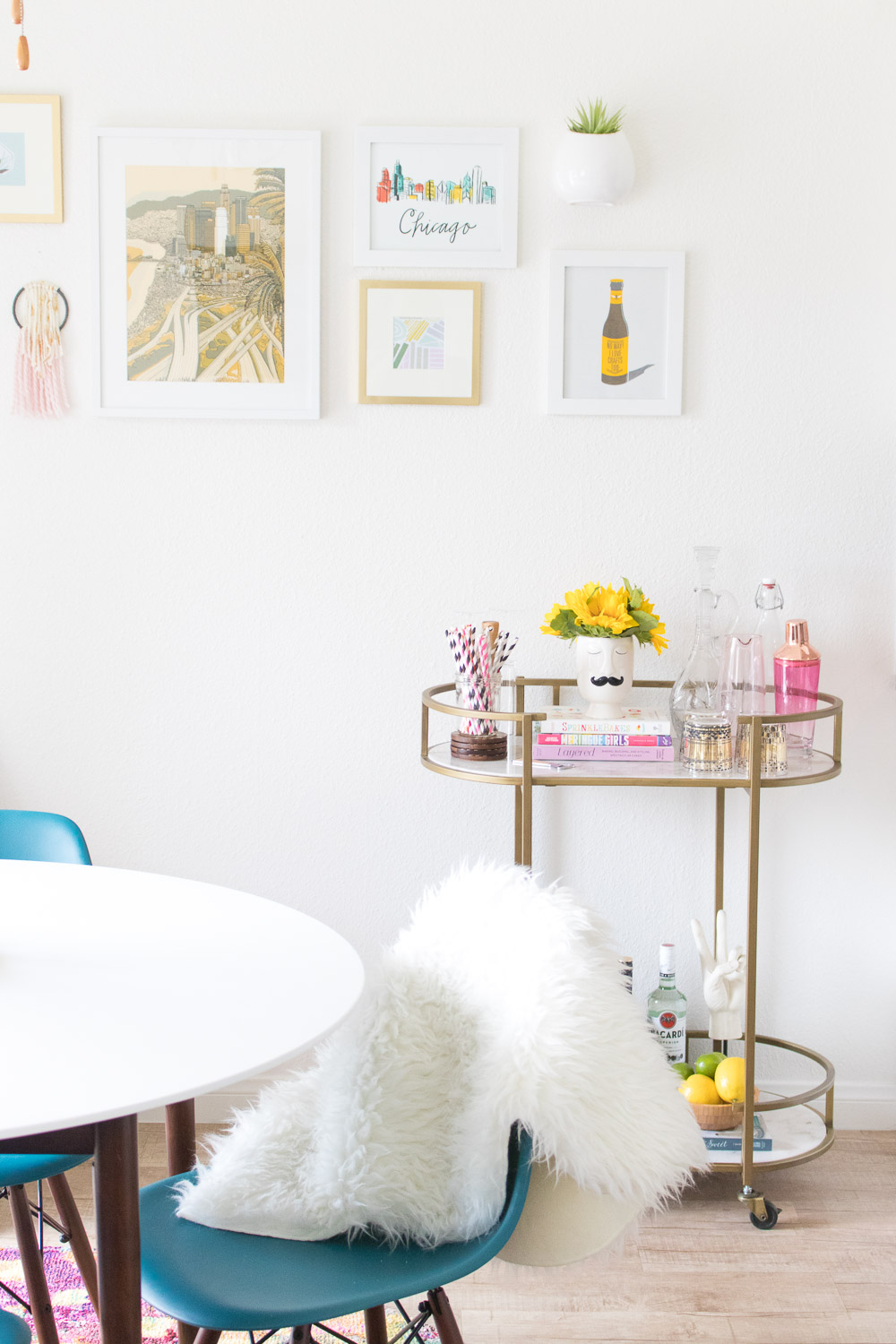 I change up the items on the cart often depending on what I'm using it for on any particular day. I love it and honestly want one in every room (too excessive?) but leave it styled as a bar cart most of the time. Eventually, I'm actually thinking of turning it into a vanity cart for our bedroom…we'll see!