/
Flower Power! Lemon Daisy Macarons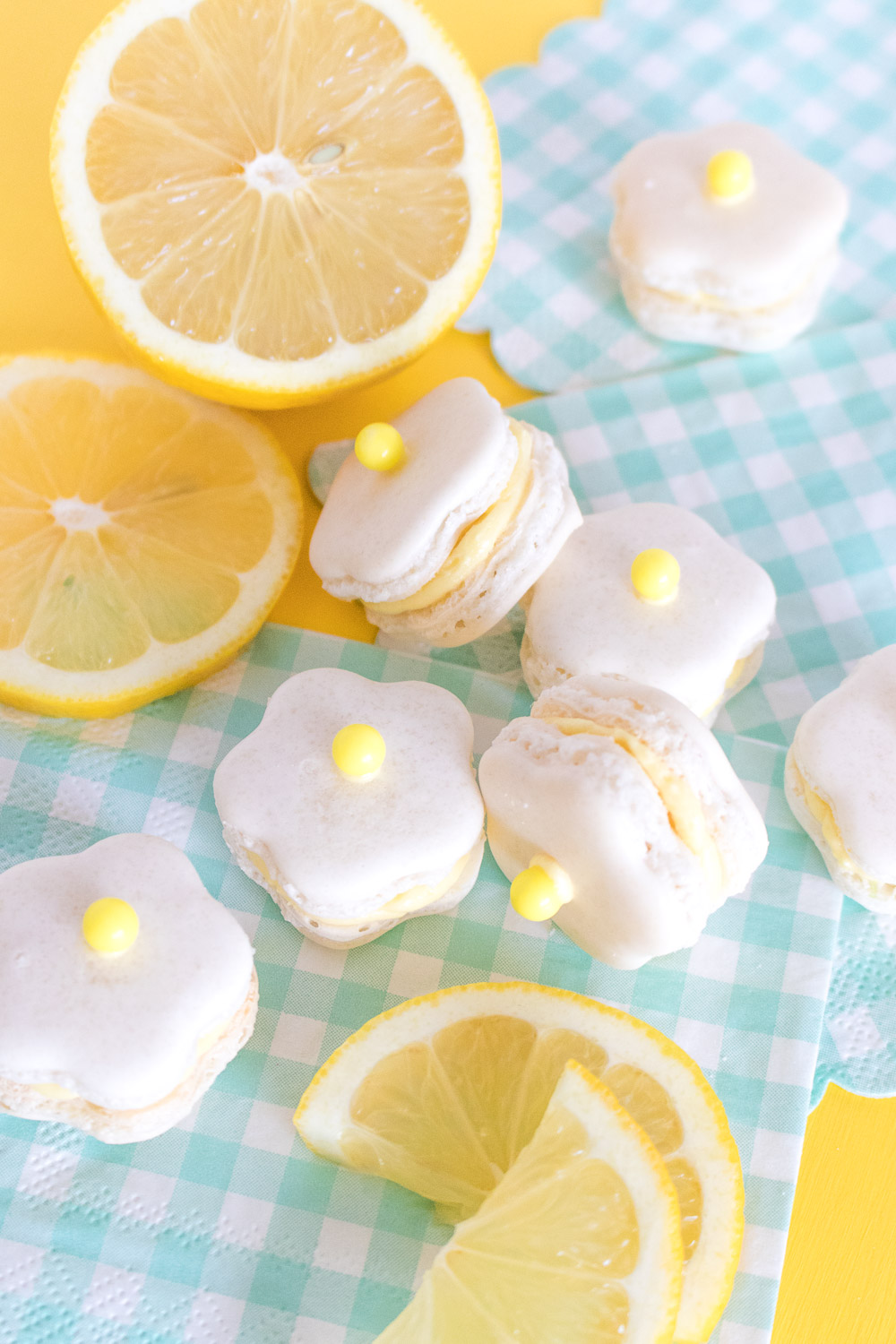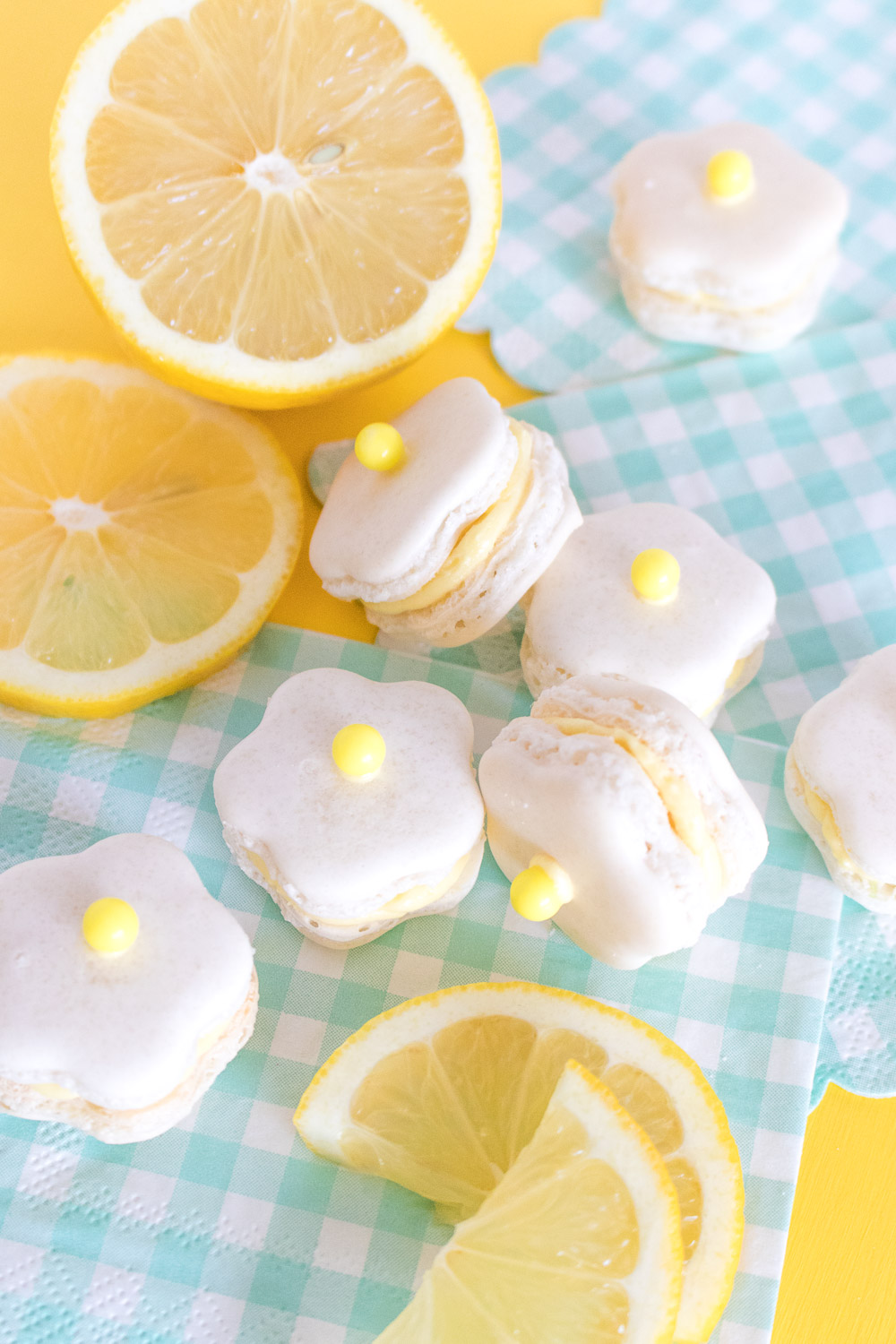 I feel incredibly proud of myself, you guys. If you've been following my Great British Baking Show addiction, you know I've been practicing my baking A LOT and it's truly paying off. After many sad attempts, I made a delicious and pretty batch of lemon daisy macarons!! This feels like quite the triumph for me after failing so many times. These daisy shaped lemon macarons are filled with a bit of vanilla buttercream and a punch of homemade lemon curd. As much as I loved the macarons, I think the lemon curd was my favorite! I ended up eating half the batch of macarons the first day in place of lunch – oops! – and it was absolutely worth it.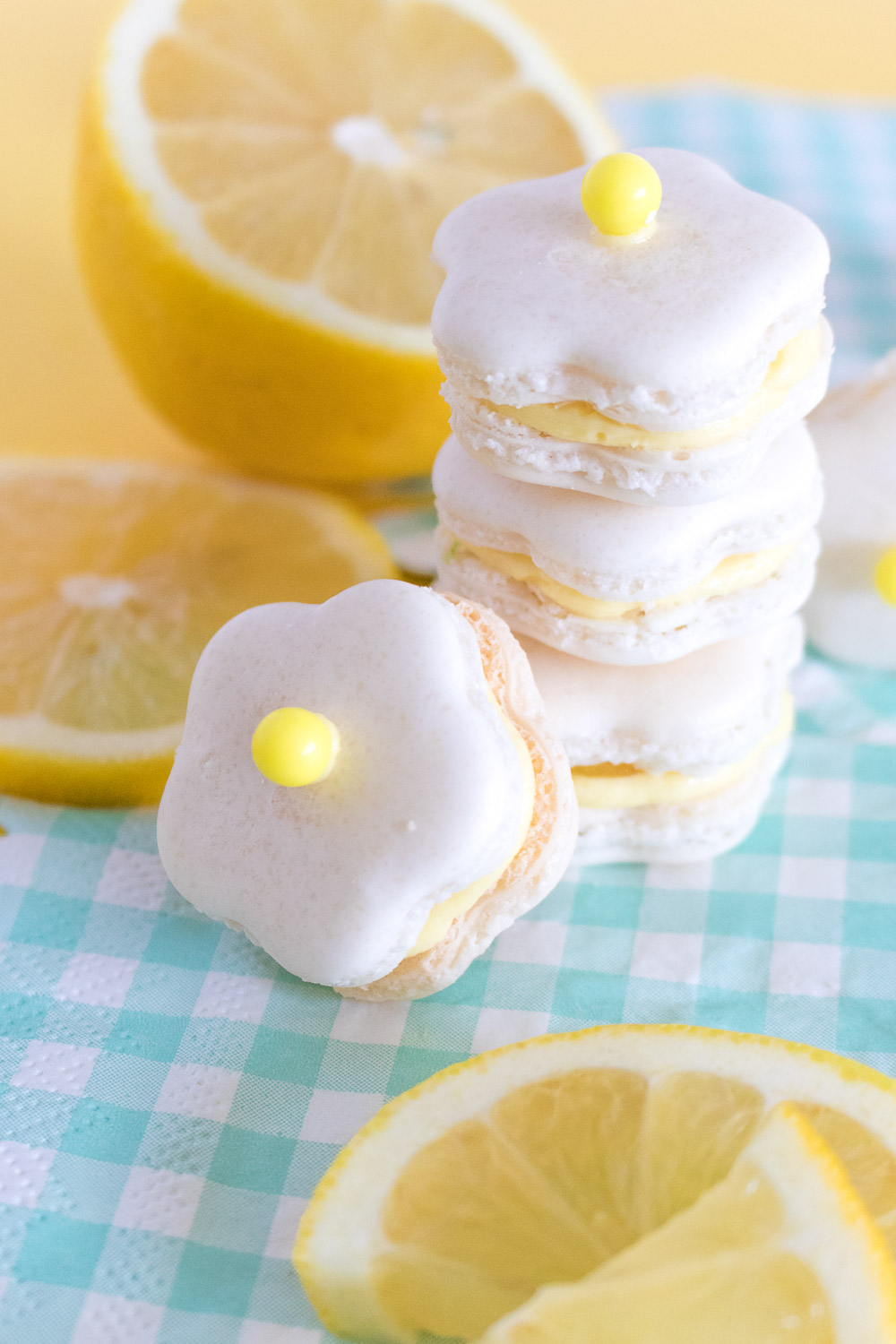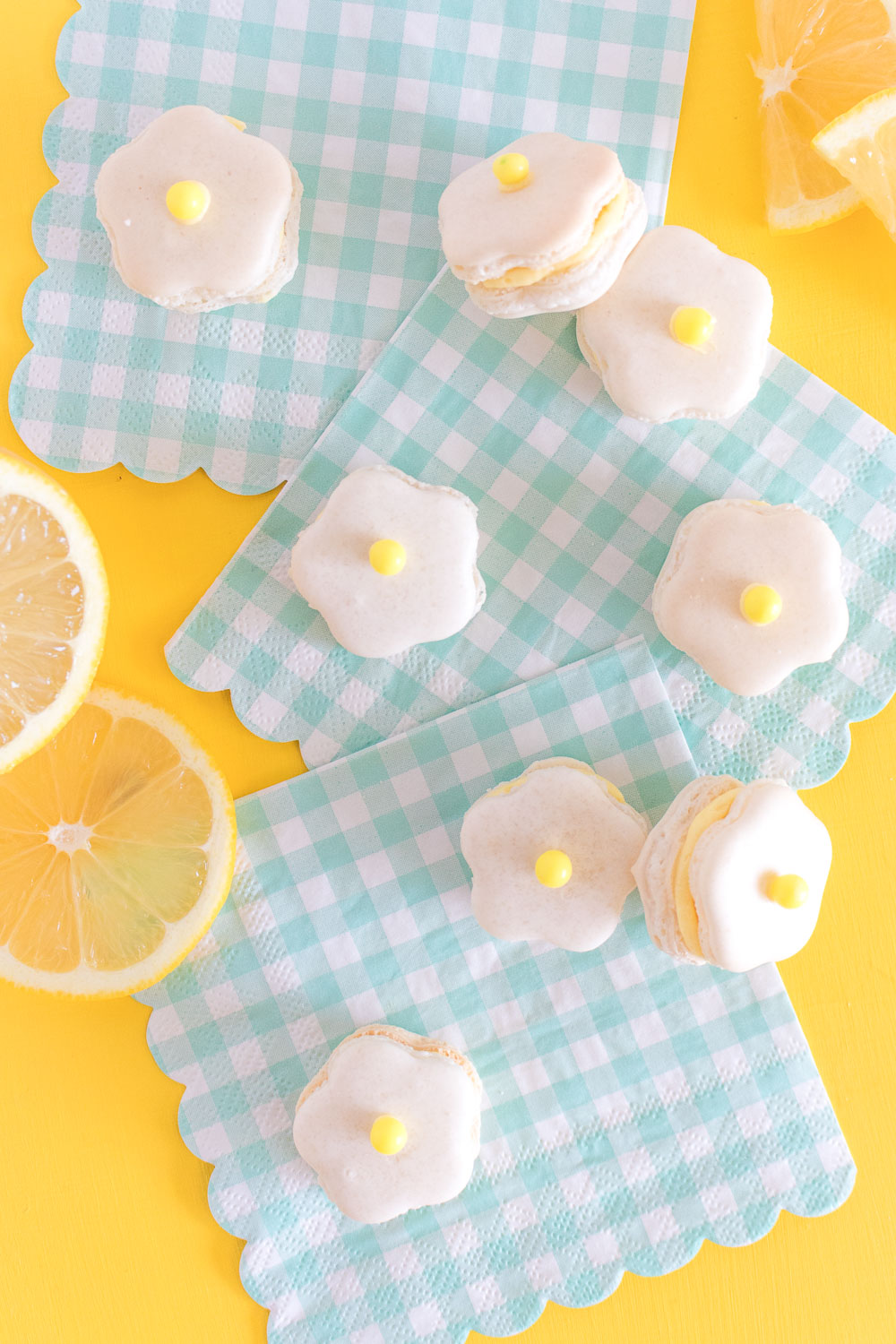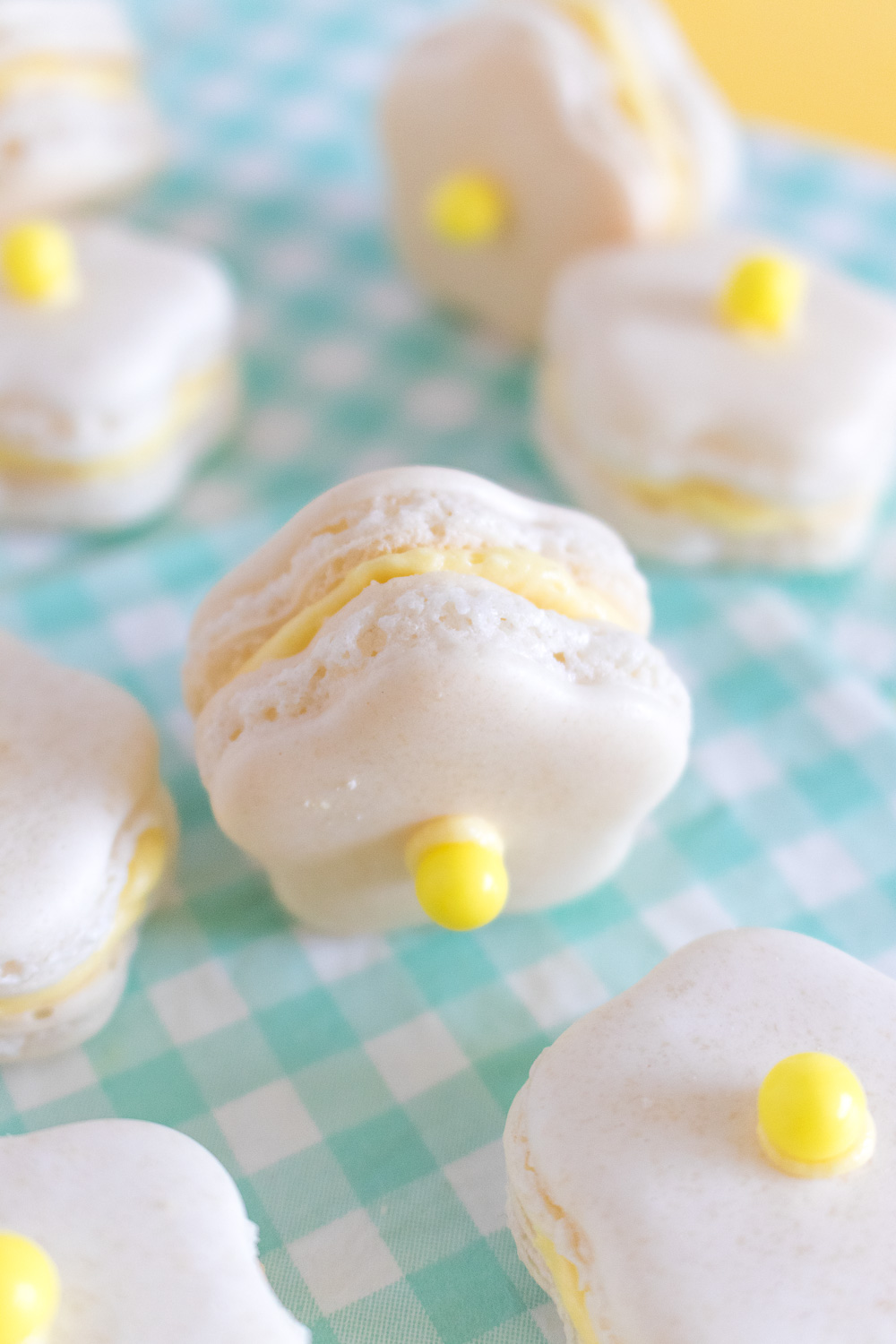 To me, lemon is one of those flavors that screams summer. I know it's not quite summer yet, but it feels like it in SoCal right now. I wouldn't mind sitting by the pool with a glass of rose and a few of these daisy macarons. Lemon is such a spring/summer flavor, and flowers obviously make me think of spring, so I was thrilled to find this flower-shaped macaron mat for making perfectly sized macaron shells that I turned into "daisies" with white macaron batter and a yellow sprinkle in the middle.
Scroll down for the full recipe card! 👇🏼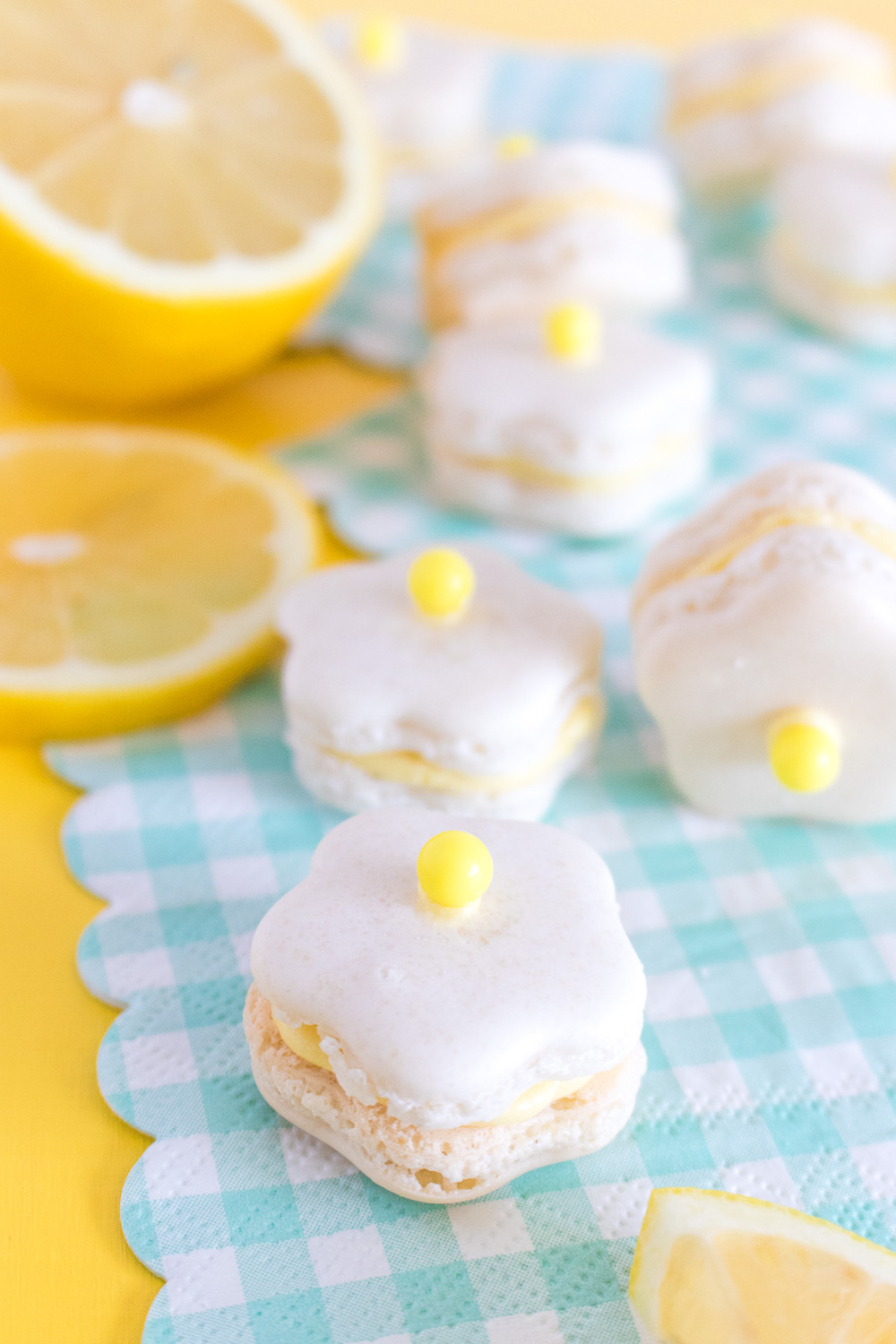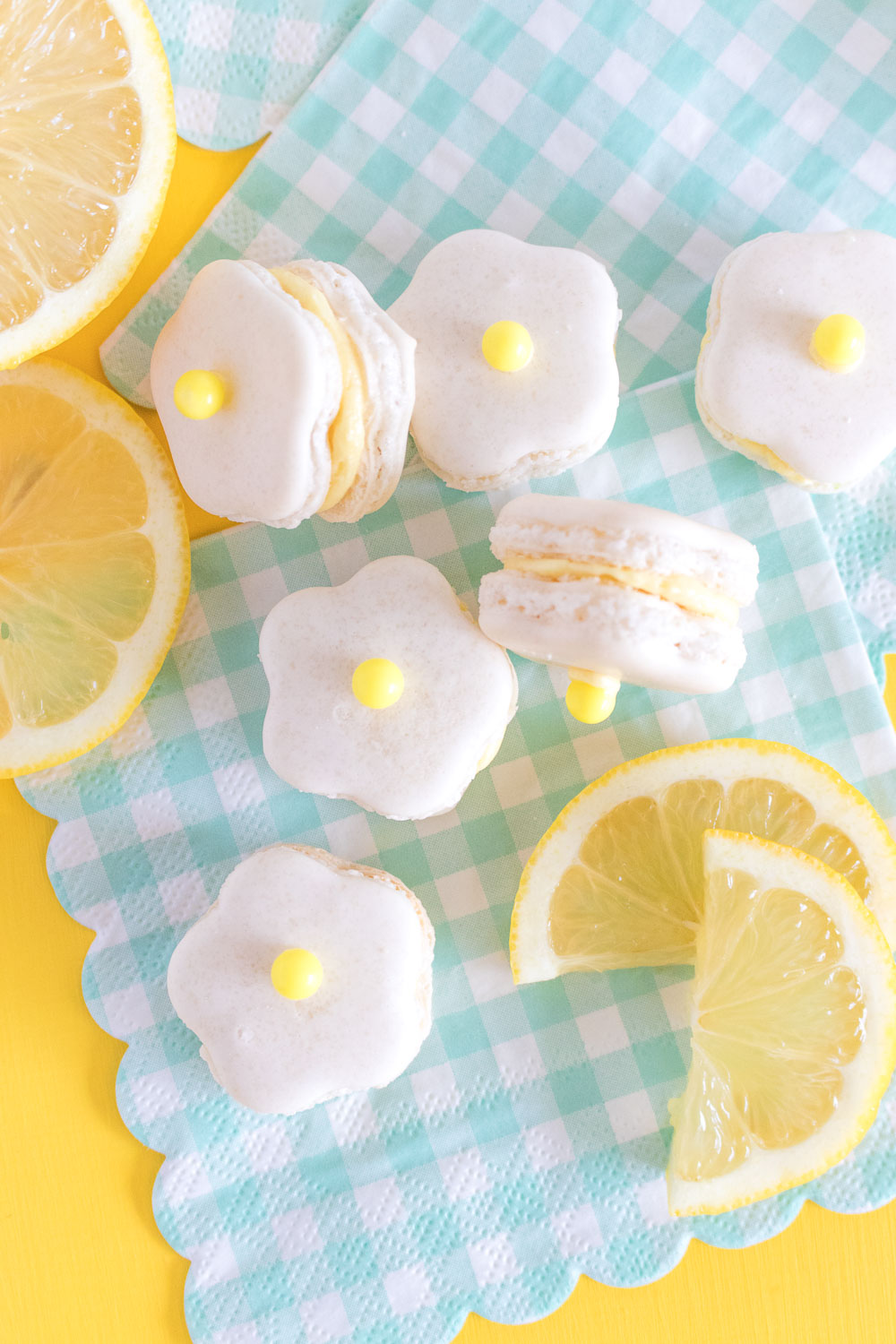 I tried this exact macaron recipe three times before I got it right. I've tried many others over the years with little luck, so I kept it simple and kept telling myself that if I can get the vanilla macaron recipe figured out, I'd move on to more flavors. And I did it, so I'm excited to branch out a bit more next time! Here's what I've learned that I think will help you if you're new to making macarons:
Don't use packaged egg whites; separate your egg whites by hand. I used fresh egg whites, but many people suggest aging them before making macarons.
Don't add the sugar too early when whipping the meringue. Whip the egg whites until they are foamy and you can actually turn the bowl upside down without them moving BEFORE adding any sugar.
Make sure the meringue has very stiff peaks before adding the dry ingredients, but be careful not to deflate it at this stage either.
When folding in the dry ingredients, do the "figure 8 test." When you'd removed enough air from the meringue that the batter drip off the spatula and you can create a figure 8 pattern in the batter that sinks back into it within about 20 seconds, your batter is ready to be piped.
Always leave the macarons at room temperature to form a skin before baking. At least 30 minutes has been the sweet spot for me (particularly with these smaller macarons).
Are you ready to get out there and making some lemony macarons?! I believe in you. As my dad always said, "practice, practice practice." I know, it drove me crazy when he told me that as a teenager, but it's the truth!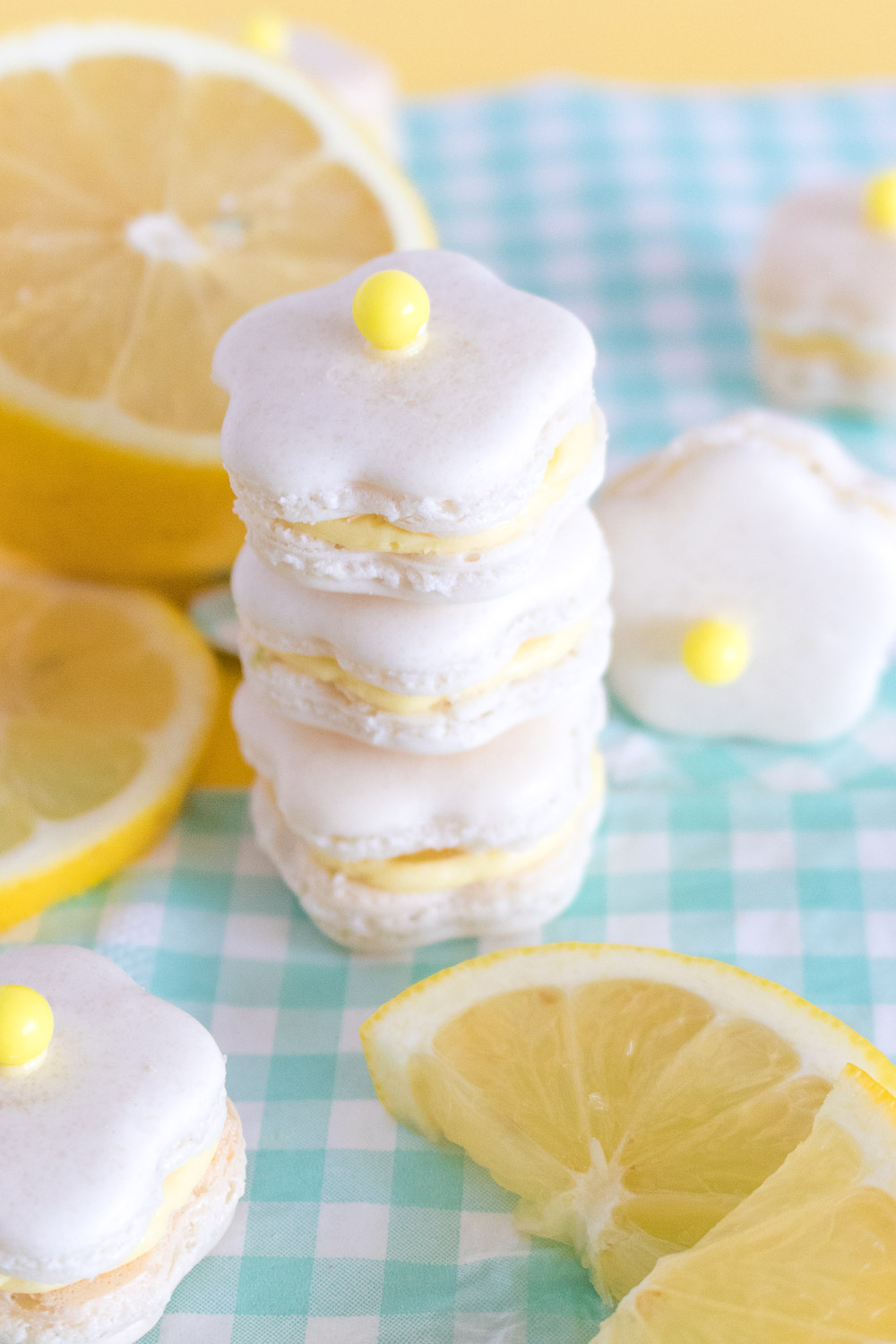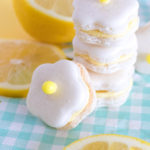 Lemon Daisy Macarons
2018-04-11 15:50:19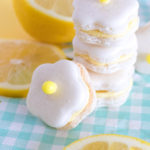 Classic vanilla macarons shared like a flower with a simple yellow buttercream and homemade tangy lemon curd filling decorated to look like daisies
For the Vanilla Macarons
3 egg whites
1/2 cup granulated sugar
1 1/2 cups powdered sugar
1 cup + 2 tbs almond flour
For the Lemon Curd
2 egg yolks
1/3 cup + 2 teaspoons granulated sugar
2 ounces lemon juice (approx 1 large lemon)
1 tbsp lemon zest
Pinch of salt
2 tbsp butter, room temperature
For the Vanilla Buttercream
1/2 cup butter, room temperature
1 cup powdered sugar
1/2 tsp vanilla extract
Yellow food coloring
Round yellow sprinkles
For the Vanilla Macarons
Line a baking sheet with a silicone flower macaron mold and fit a pastry bag with a 1/4-inch round piping tip
In one bowl, sift together the almond flour and powdered sugar and set aside
In the bowl of your stand mixer fitted with a whisk attachment, whip the egg whites on high speed until the form foamy soft peaks. When you can turn the bowl without the egg whites moving, they're ready!
Mixing on medium speed, add the granulated sugar one spoonful at a time and return to high speed, mixing until stiff, glossy peaks form
Remove the mixing bowl from the stand and begin folding in the almond flour mixture with spatula. You must fold pretty aggressively to remove some air from the meringue and create a thinner batter
Mix until the batter drips easily off the spatula and you can create a figure 8 pattern that dissolves back into the batter within 20 seconds
Move about half of the batter to the prepared piping bag and pipe within the flower-shaped constraints of the mat, allowing space for the batter to spread as it settles
Once the macarons are piped, tap the sheet on the countertop to remove air bubbles and spread the batter
Allow the macarons to rest at room temperature for at least 30 minutes until they form a "skin" and cover remaining batter with plastic wrap at room temperature
Preheat the oven to 325 degrees F
Bake the macarons for about 9-11 minutes until they appear set and the feet have formed
Allow to cool for about 15 minutes before peeling the shells from the mat. Repeat with remaining batter.
For the Lemon Curd
In a small saucepan, whisk together the egg yolks and sugar over medium-low heat
Whisk in the lemon juice, zest and salt until smooth
Cook over medium-low heat for about 3 minutes
Stir in the butter in chunks and whisk until incorporated and thick. If a white layer forms on top, keeping heating and mixing until it disappears
Strain the mixture into a small bowl and whisk until only the zest and proteins remain in the strainer
Let cool 5 minutes, then cover bowl with plastic wrap and refrigerate for about 30 minutes until set
For the Vanilla Buttercream
Beat the butter with a paddle attachment for 2 minutes until light and fluffy
Add powdered sugar and mix until smooth, scraping sides of the bowl as needed
Mix in vanilla and yellow food coloring until pale yellow color is reached
To Assemble the Macarons
Match the macaron shells in pairs
Move the buttercream icing to a pastry bag fitted with a small piping tip
Move the set lemon curd to a pastry bag or ziplock bag with the tip cut off
Pipe around the edge of a macaron shell with the buttercream, then fill the middle generously with lemon curd and lightly press another shell on top
Dot a tiny bit of buttercream in the center of the top shell and place a yellow sprinkle on top to create the middle of the flower
Refrigerate macarons in an airtight container for up to two days
Notes
Floral macaron mat: https://amzn.to/2GU1OoC
Club Crafted https://www.clubcrafted.com/
Please note this post contains affiliate links from which I may collect a small profit should you choose to make a purchase. I only link to products I personally use or recommend.