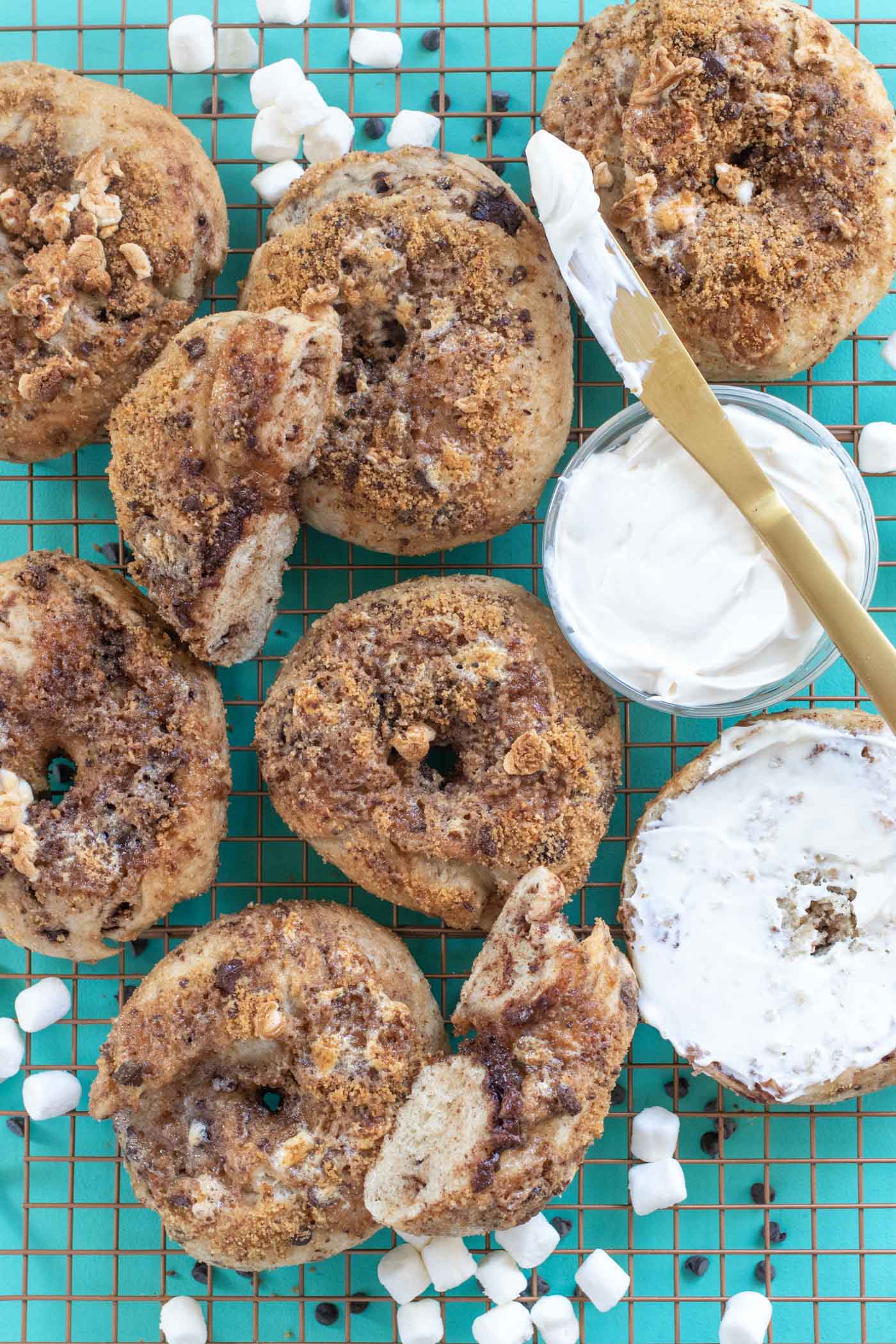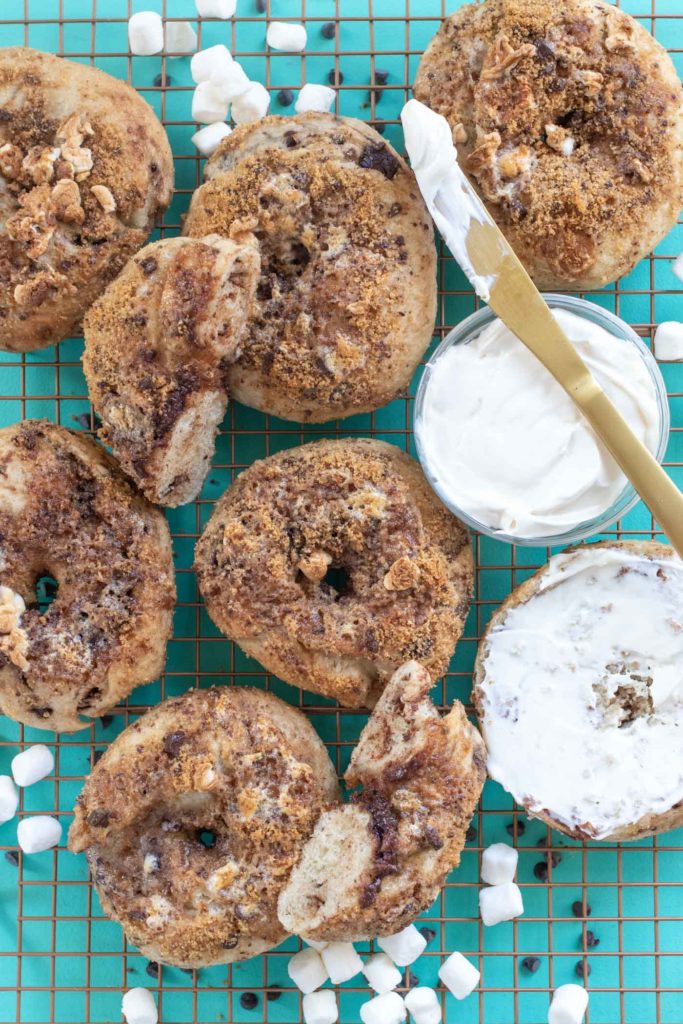 Gimme s'more bagels! Get it?! I'm very proud of today's recipe because I spent all day in the kitchen on Tuesday baking these and other treats. These tasty, sweet s'mores bagels came out gooey, buttery and delicious! If you've never made bagels before, don't be intimidated. As a recipe tester, every recipe takes me at least twice as long as someone following a recipe. Homemade bagels are surprisingly easy to make, and the sweet toppings make for a tasty breakfast treat that kids and adults will love. Camping nostalgia, anyone?! Each s'mores bagel has chocolate chunks and a buttery graham cracker and marshmallow topping that melts into the bagels when baking. No matter how you eat them, they're SO good!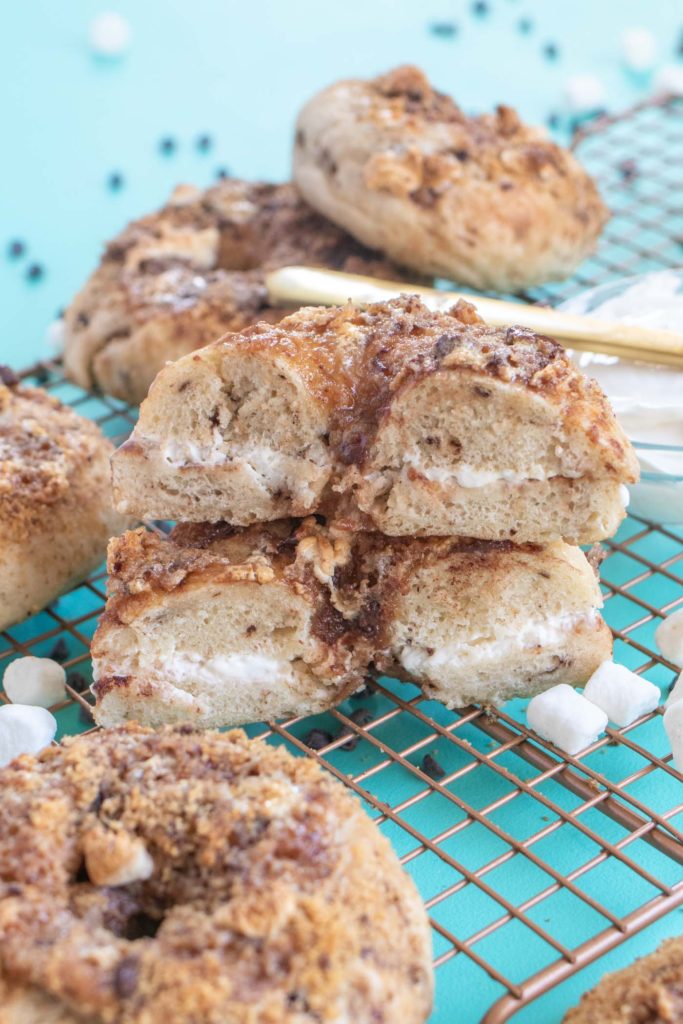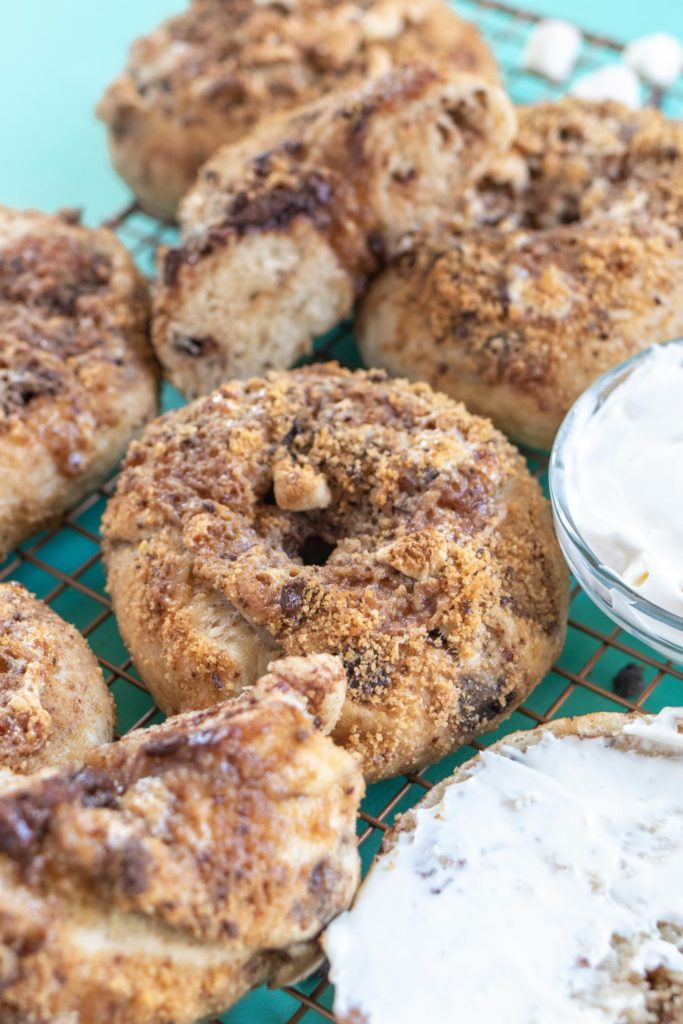 S'mores instantly transport me back to my Girl Scout days. There's something very nostalgic about them, and it turns out the ingredients are just what I needed in a bagel! If you are a fell s'more lover, you'll also love my s'mores NACHOS! Are they healthy? Nope, and that's OK. At least with homemade bagels, you know exactly what's in them, ha!
Keep scrolling for the full recipe card! 👇🏼
The process of making s'mores bagels will take you about 1-1/2 to 2 hours, plus baking time. Because bagels are a yeast-based dough, they need at least one hour to rest and rise before you can make them, so it's the waiting time that keeps you busy. Much like making homemade pretzels, bagels get a water bath to boil the outsides – this is an important step to achieve the correct texture! To make them sweet, I kneaded the chocolate chunks into the s'mores bagels and covered the boiled bagels with melted butter before adding the toppings. When making other types of bagels, you'd generally give them an egg wash instead. Are you drooling yet??
OK here's the recipe for s'more bagels now! If you're ready to tackle more yeast-based recipes, check out my rainbow sweet rolls.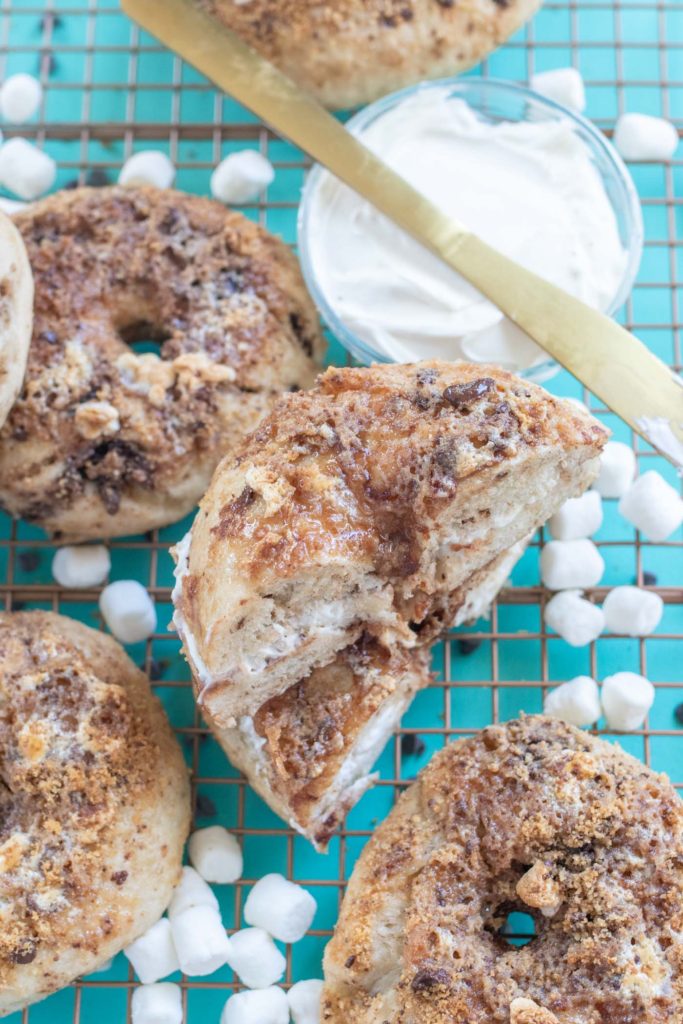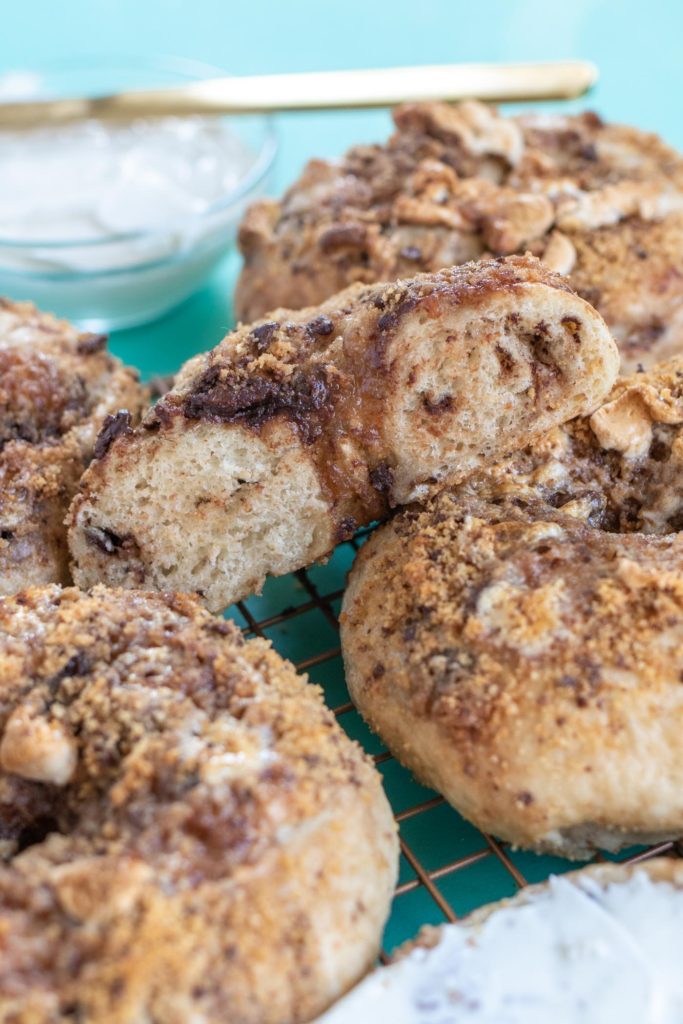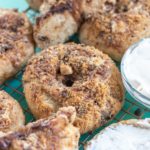 S'mores Bagels
2019-09-11 11:27:33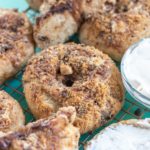 Simple homemade bagels with chopped chocolate, topped with butter, graham cracker crumbs and marshmallows to create a s'more taste
For the Bagels
2 3/4 tsp active dry yeast*
1 1/2 cups warm water (about 110 degrees F)
4 cups all-purpose flour
1 tbsp brown sugar
2 tsp salt
3 oz. semi-sweet baking chocolate, chopped (more for topping, if desired)
For the S'mores Bagel Topping
2 tbsp butter, melted
1 cup finely ground graham cracker crumbs
1 1/2 cups mini marshmallows, finely chopped*
Instructions
In the bowl of your mixer, whisk together the active dry yeast and warm water. Cover with a clean dish towel and let sit for 5 minutes
Measure and whisk together the flour, brown sugar and salt in a separate bowl
After 5 minutes, dump the dry ingredients into the yeast mixture and mix with a dough hook attachment for several minutes until thick and dough-like (heavy and thick)
Lightly flour a clean working surface and pull out the dough. Knead the dough with floured hands for about 5 minutes
Add the chopped chocolate and knead it into the dough for an additional minute, then shape into a ball
Grease the mixing bowl (no need to clean it yet!) with a butter or oil spray and add the dough ball. Cover with plastic wrap and allow to rise at room temperature for at least one hour until the dough has doubled in size
Preheat the oven to 425 degrees F and line a large baking sheet with parchment or a silicone mat
Punch down the dough and remove it onto your floured surface
Use a knife to cut the dough into 8 equal-sized pieces, and gently shape each into a ball
To shape, press your finger through the middle of the ball and shape the outsides to create a standard bagel shape - they don't need to be perfect! Set aside covered with a towel to rest
Bring a large pot of water to a boil and keep it boiling
Drop 2-3 bagels into the boiling water at a time and cook each side for about 1 minute. Remove with a slotted spoon and place the boiled bagels on a prepared baking sheet*
Melt the butter in a small bowl in the microwave
Use a pastry brush and generously coat the tops and sides of the bagels in melted butter
Generously top each bagel with crushed graham cracker and marshmallows as well as additional chocolate chunks if desired
Bake the s'mores bagels for 20-25 minutes, rotating the pan halfway through. If the marshmallows become too brown for your liking, carefully tent the pan loosely in foil
Once the edges of the bagels are lightly brown, remove the pan to cool before cutting, toasting or serving
Notes
You can also use instant dry yeast, but the rise time may differ so keep an eye on it and note when it has approximately doubled in size
To chop marshmallows into smaller pieces, grease a knife with cooking spray before cutting. Toss with the crushed graham cracker
The chocolate in the dough may melt in the water bath and create a chocolate film in the pot and that's OK!
Club Crafted https://www.clubcrafted.com/