/
Fried Apple Rings + Bourbon Caramel Dipping Sauce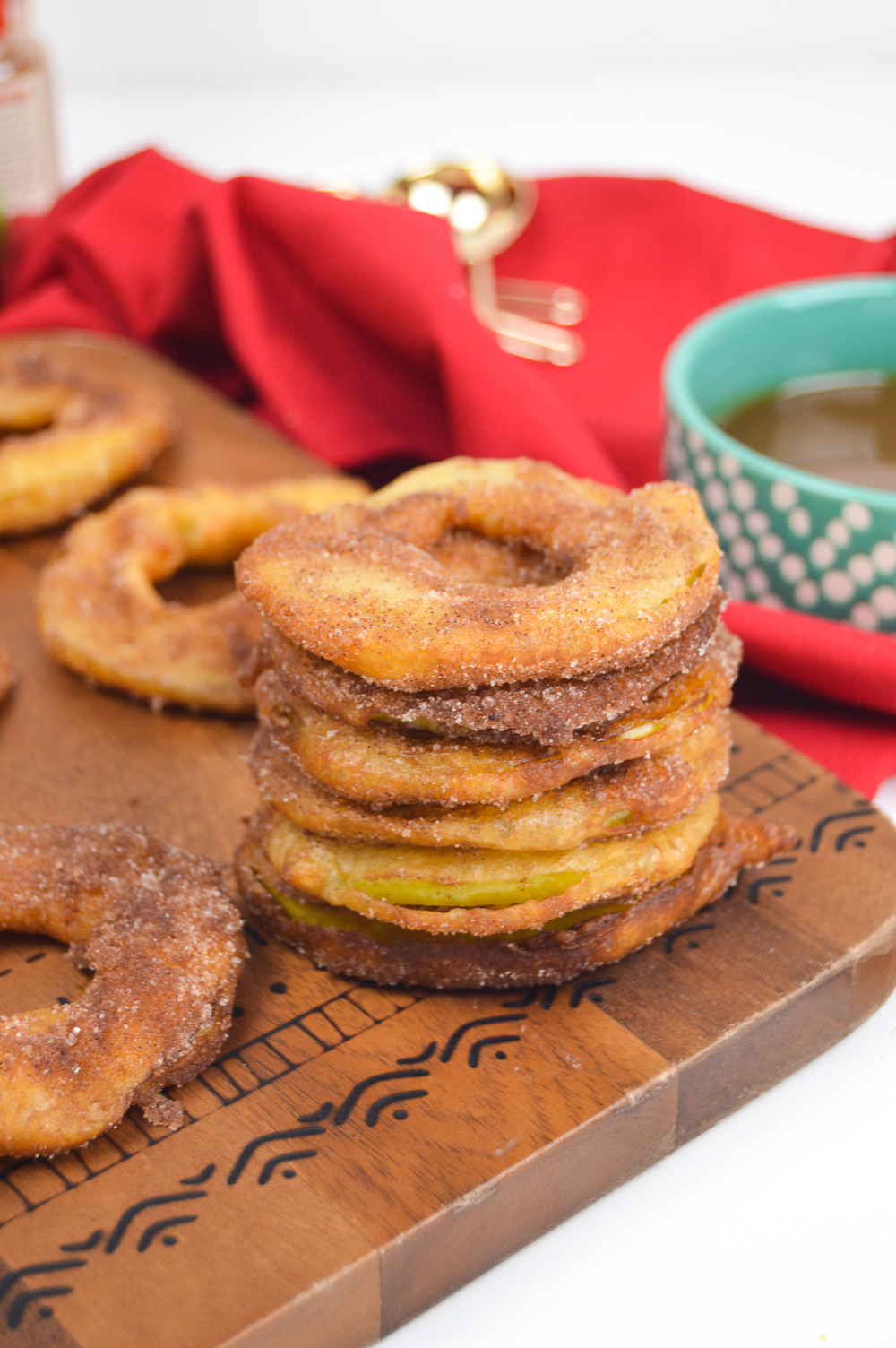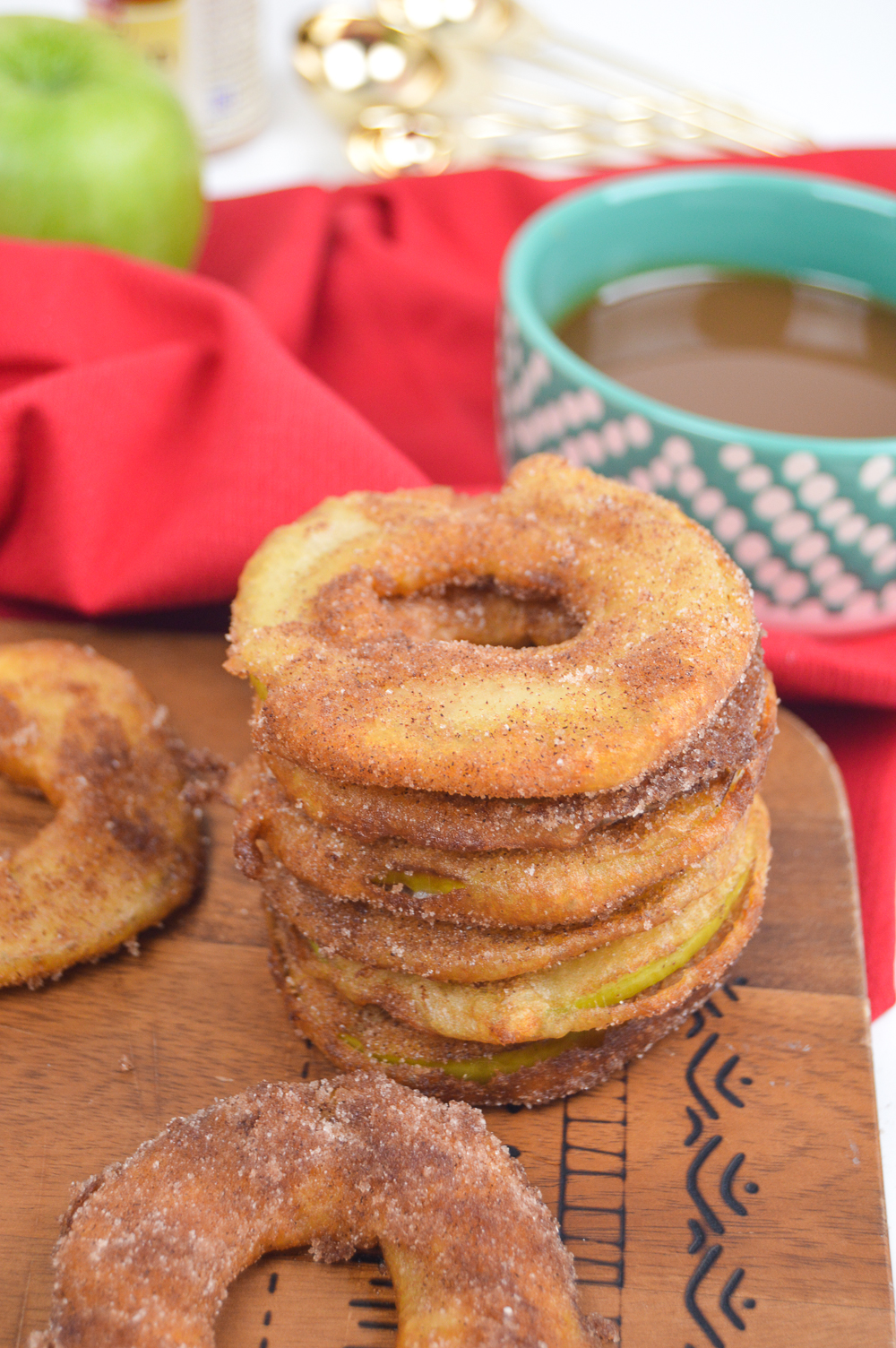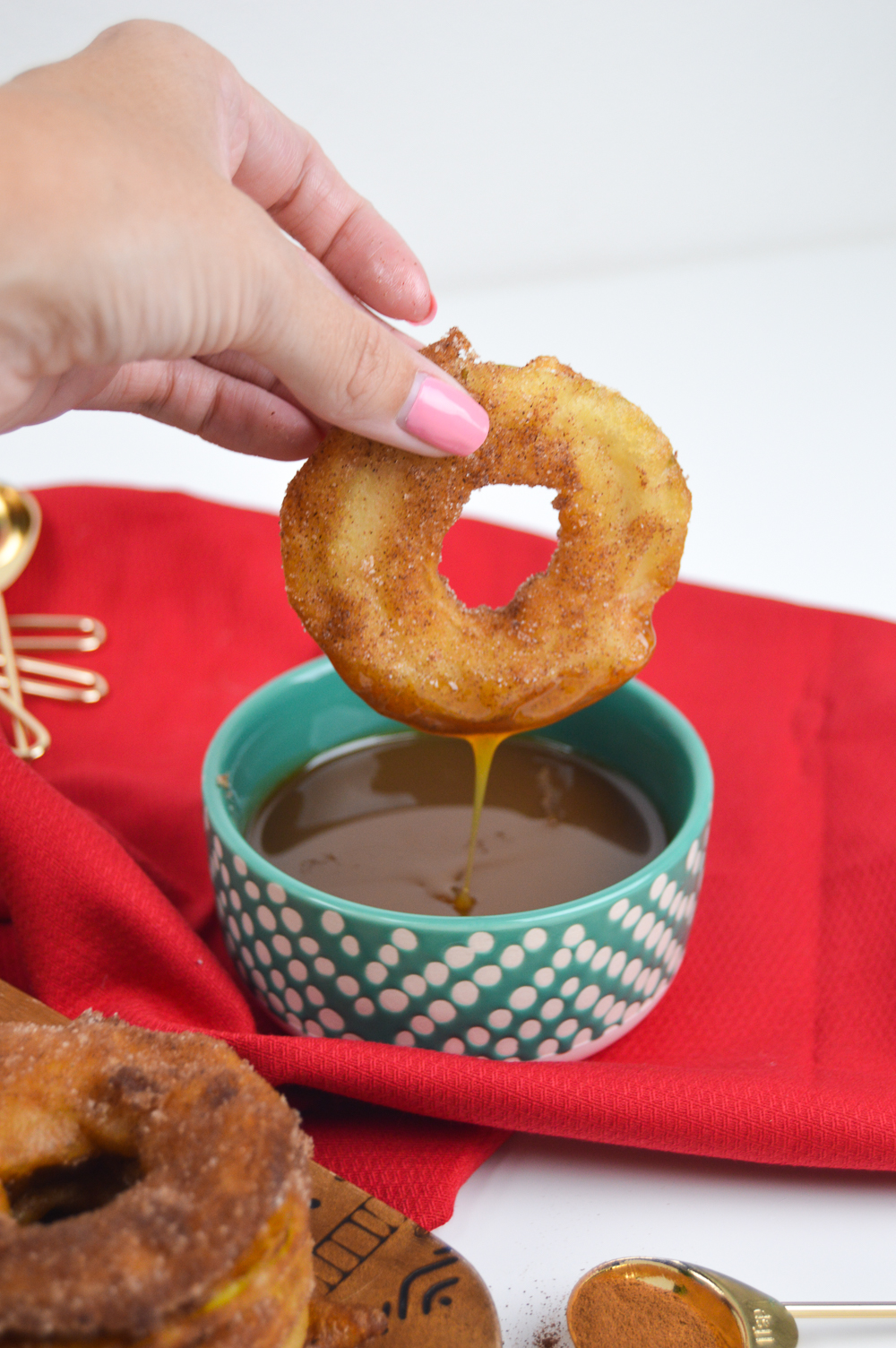 While everyone is over the moon for pumpkin this season, I'm all about APPLE. I mean, pumpkin is fine too, but apple is what I'm all about this time of year. I've wanted to make these fried apple rings for a long time, so when I picked up a bunch of Granny Smith apples, it seemed like the perfect opportunity to fry them up like onion rings (but, you know, better). Tossed in cinnamon sugar and served with a simple bourbon caramel sauce, they're fantastic!
I kept it incredibly simple with the caramel sauce by adding a little bourbon to a pre-made jar, but homemade caramel sauce is just as amazing if you want to make it from scratch. Simply add a little bourbon after the sauce is complete.
Scroll down for the full recipe card! ??
2 large Granny Smith apples (or other type)
1/2 cup flour
1/2 tsp baking soda
1/4 tsp salt
2 tsp sugar
1 egg
1/2 cup buttermilk
1 tsp cinnamon
Oil for frying (about 1/2 inch deep in heavy-bottomed pot)
Pre-made caramel sauce
1 tbsp bourbon
In a wide heavy-bottomed pot, heat the oil on medium heat. On a small plate, mix together 1 1/2 tsp sugar with the cinnamon. Line a larger plate with paper towels and set aside.
While the oil heats, mix the flour, baking soda, salt, egg, buttermilk and 1/2 tsp of the sugar in a large bowl with a whisk. Slice the apples into thin 1/4 inch circles and use various sized circle cutters to cut out the core and and cut each ring into multiple rings.
With your hands or a pair of tongs, dip each apple ring into the batter to evenly coat each side and place in the hot oil. Fry 2-3 rings at a time for about 30 seconds, turning half way until each ring is golden.
Immediately coat with cinnamon sugar and move to the towel lined plate to dry and cool. Repeat with all apple rings.
To make the bourbon caramel sauce, simply mix in a little bourbon with pre-made caramel sauce (or make your own!) and serve with warm fried apple rings for a delicious fall dessert.
Devour these while they're fresh! With the bourbon caramel sauce, fried apple rings are incredibly delicious and very sweet, but if they sit for too long they lose their initial crunch, so don't wait to serve if possible. Enjoy!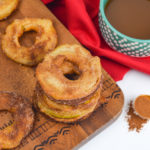 Fried Apple Rings + Bourbon Caramel Sauce
2016-10-08 19:35:19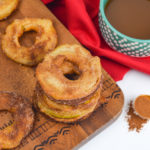 Serves 15
These delicious, cinnamon coated fried apple rings are paired with a sweet bourbon caramel sauce
For the fried apple rings
2 large Granny Smith apples
1/2 cup flour
1/2 tsp baking soda
1/4 tsp salt
2 tsp sugar
1 egg
1/2 cup buttermilk
1 tsp cinnamon
Oil for frying (about 1/2 inch deep in heavy-bottomed pot)
For the bourbon caramel sauce
Pre-made caramel sauce
1 tbsp bourbon
For the fried apple rings
In a wide heavy-bottomed pot, heat the oil on medium heat. On a small plate, mix together 1 1/2 tsp sugar with the cinnamon. Line a larger plate with paper towels and set aside.
While the oil heats, mix the flour, baking soda, salt, egg, buttermilk and 1/2 tsp of the sugar in a large bowl with a whisk
Slice the apples into thin 1/4 in circles and use a circle cutter to cut out the core
With your hands or a pair of tongs, dip each apple ring into the batter to evenly coat each side and place in the hot oil. Fry 2-3 rings at a time for about 30 seconds on each side, turning until each ring is golden
Immediately coat with cinnamon sugar and move to the towel lined plate to dry and cool. Repeat with all apple rings
For the bourbon caramel sauce
To make the bourbon caramel sauce, simply mix in a little bourbon with pre-made caramel sauce (or make your own!) and serve with warm fried apple rings for a delicious fall dessert
Club Crafted https://www.clubcrafted.com/