/
Peaches & Cream Pastries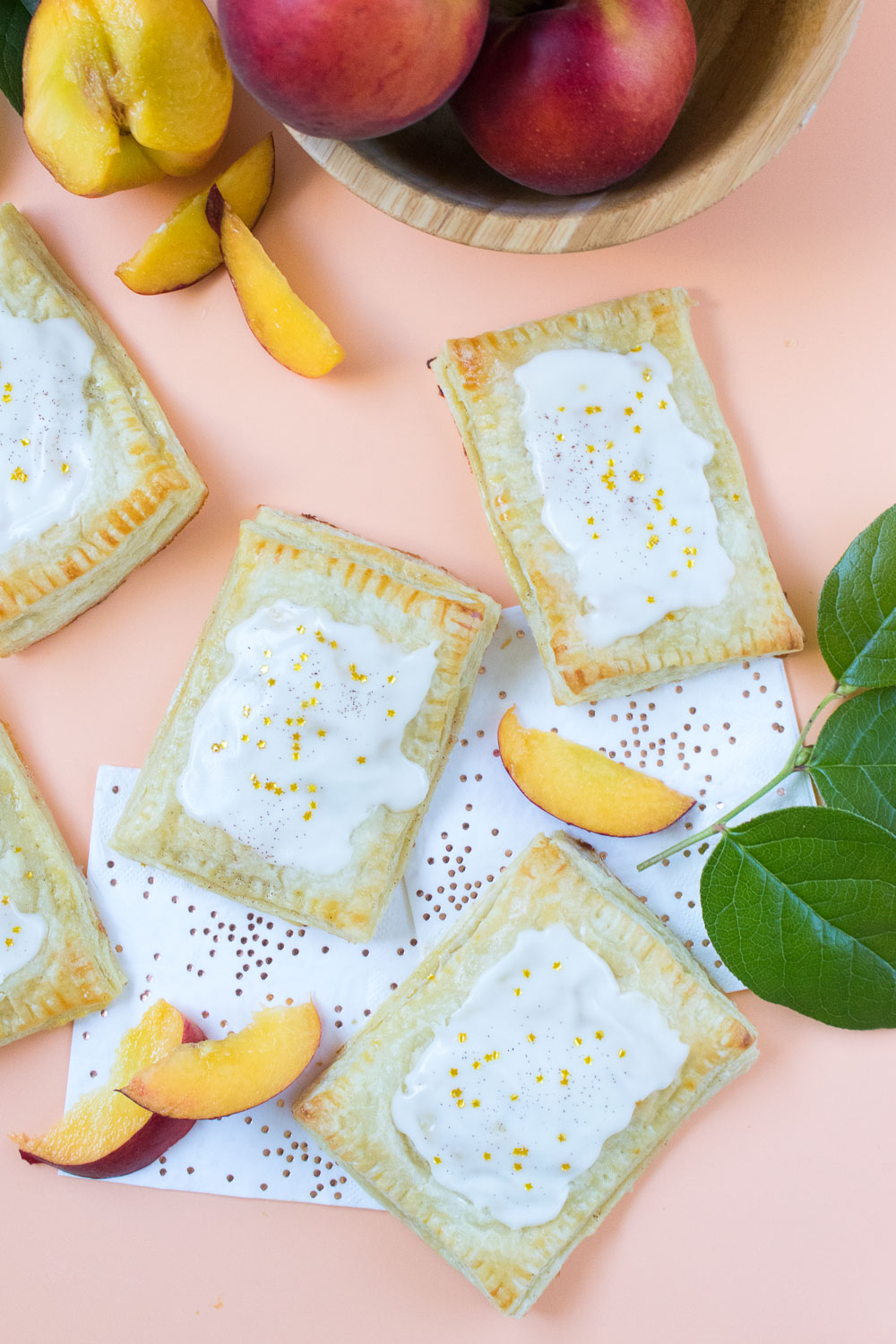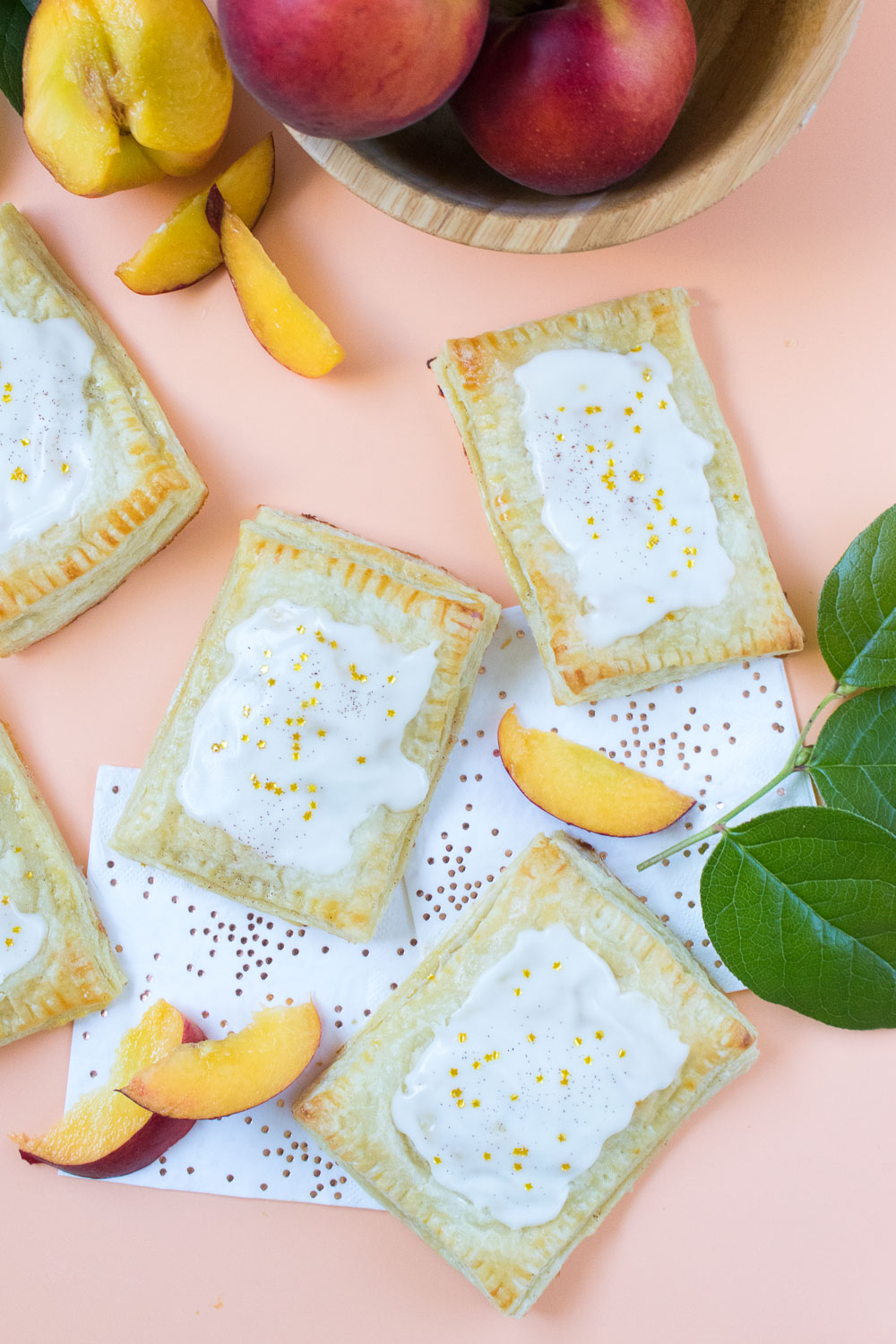 I have been waiting for peaches to come back in season for LITERALLY months for the sole purpose of making these peaches & cream pastries. Not even kidding. I had this post queued up in my post scheduler for months until I could finally find peaches because I wanted to make these specific pastries. The joys of food blogging, ha!
Could I have just bought peach pie filling? Sure…but it wouldn't be the same. I'd rather use a store-bought crust and homemade filling for any type of pie, tart or pastry. Anyway, these homemade peach pastries just scream summer and I devoured them in two days despite my whole "trying to eat healthier" thing I've got going right now.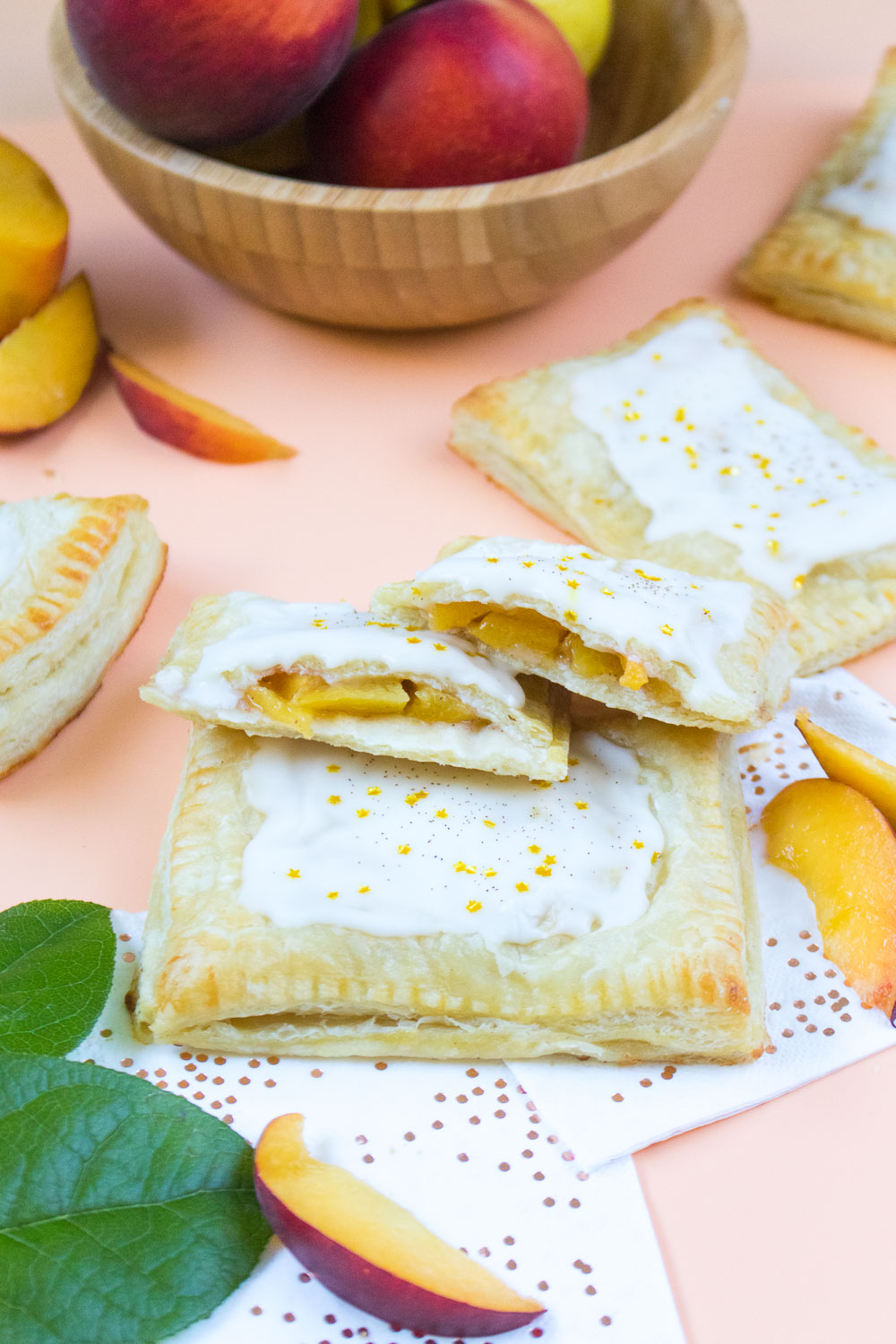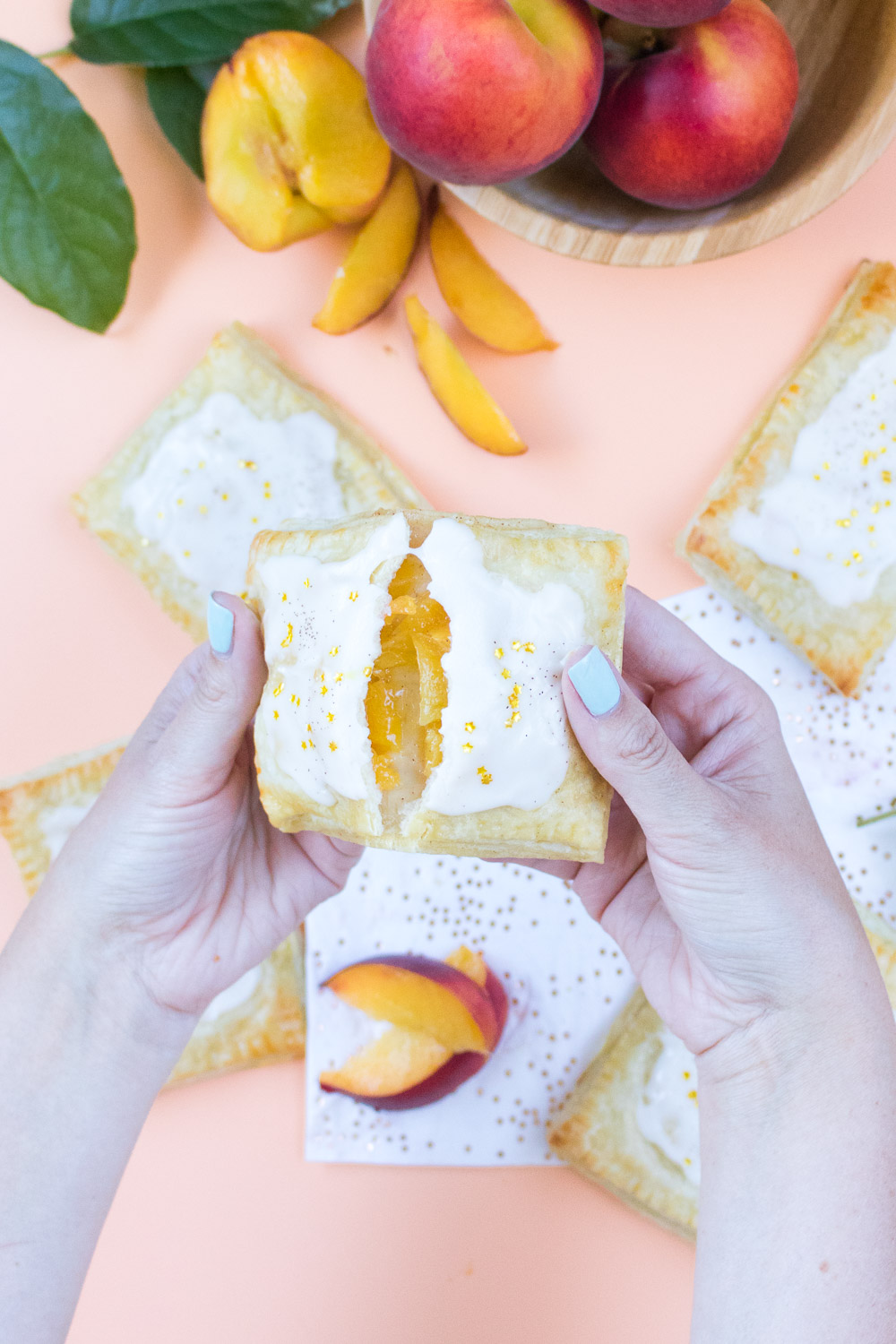 I had a very difficult time deciding what to call these. Originally, I was thinking pop tarts, but then I decided they were too fluffy to be pop tarts. They were really more like Toaster Strudel but I didn't want to call them that, so I settled on simply pastries. Seems to sum it up, right?
After making and eating these, you won't ever want to buy Toaster Strudel or other pastries ever again. Sorry if this ruins you, but I'm not sorry.
Scroll down for the full recipe card! ??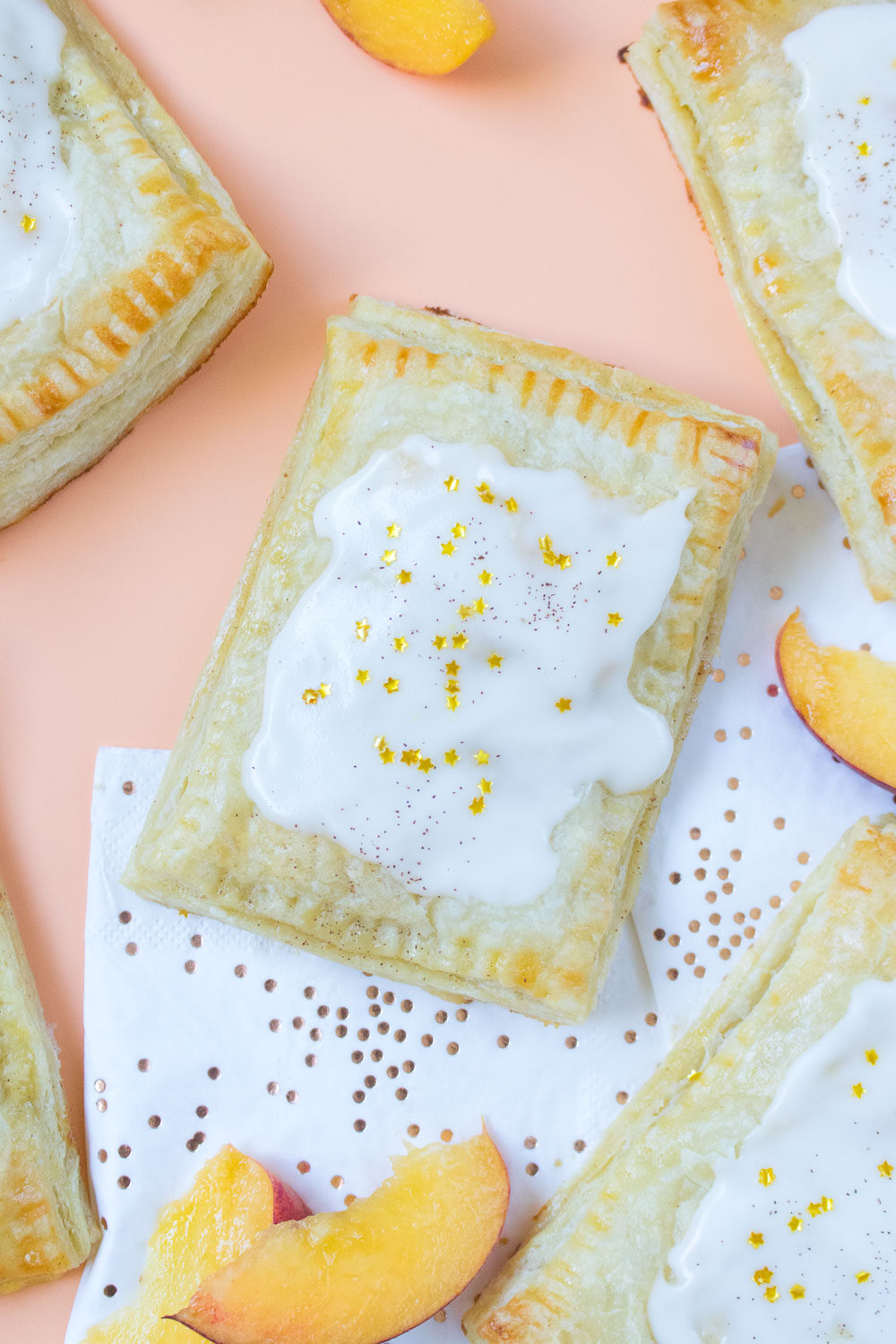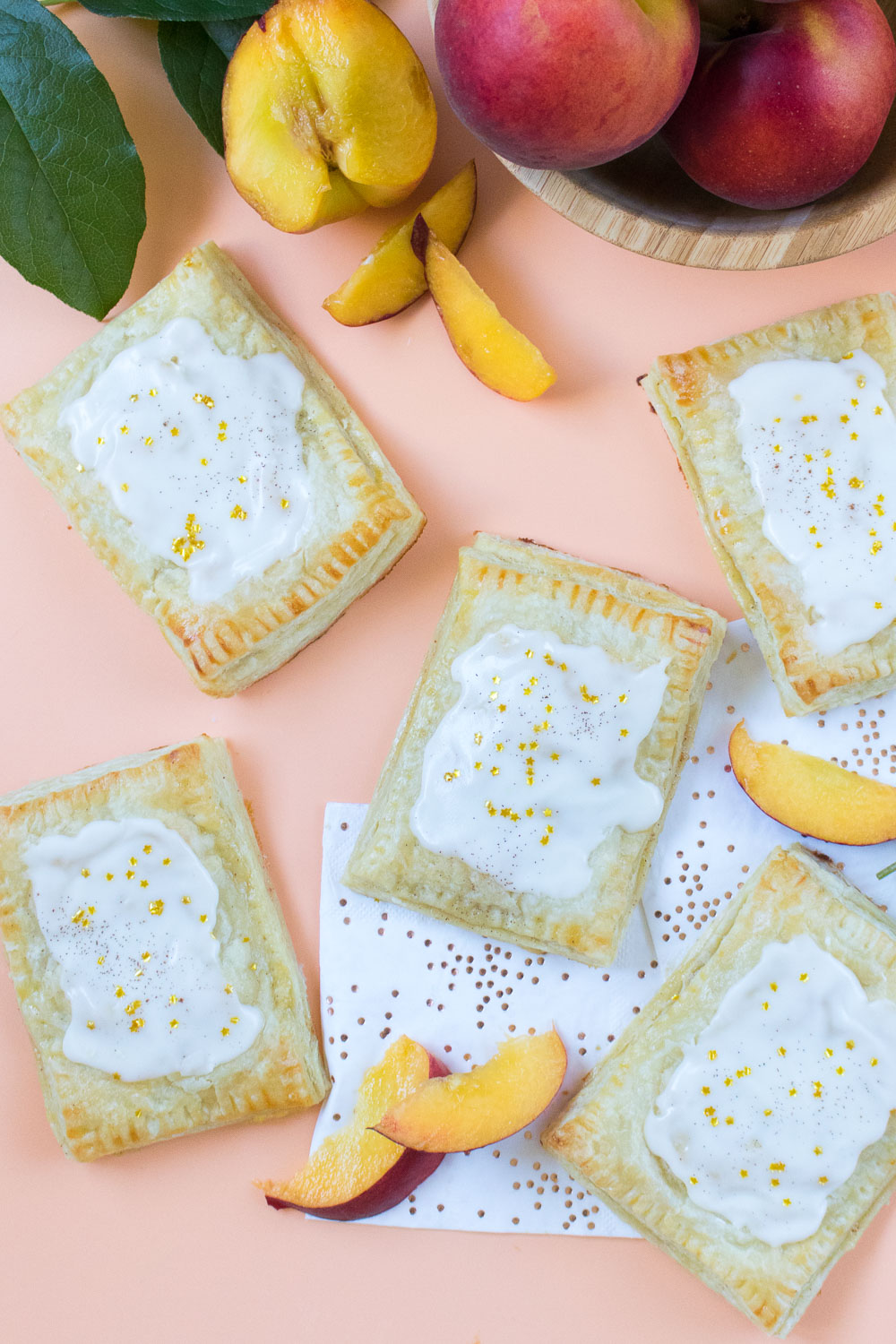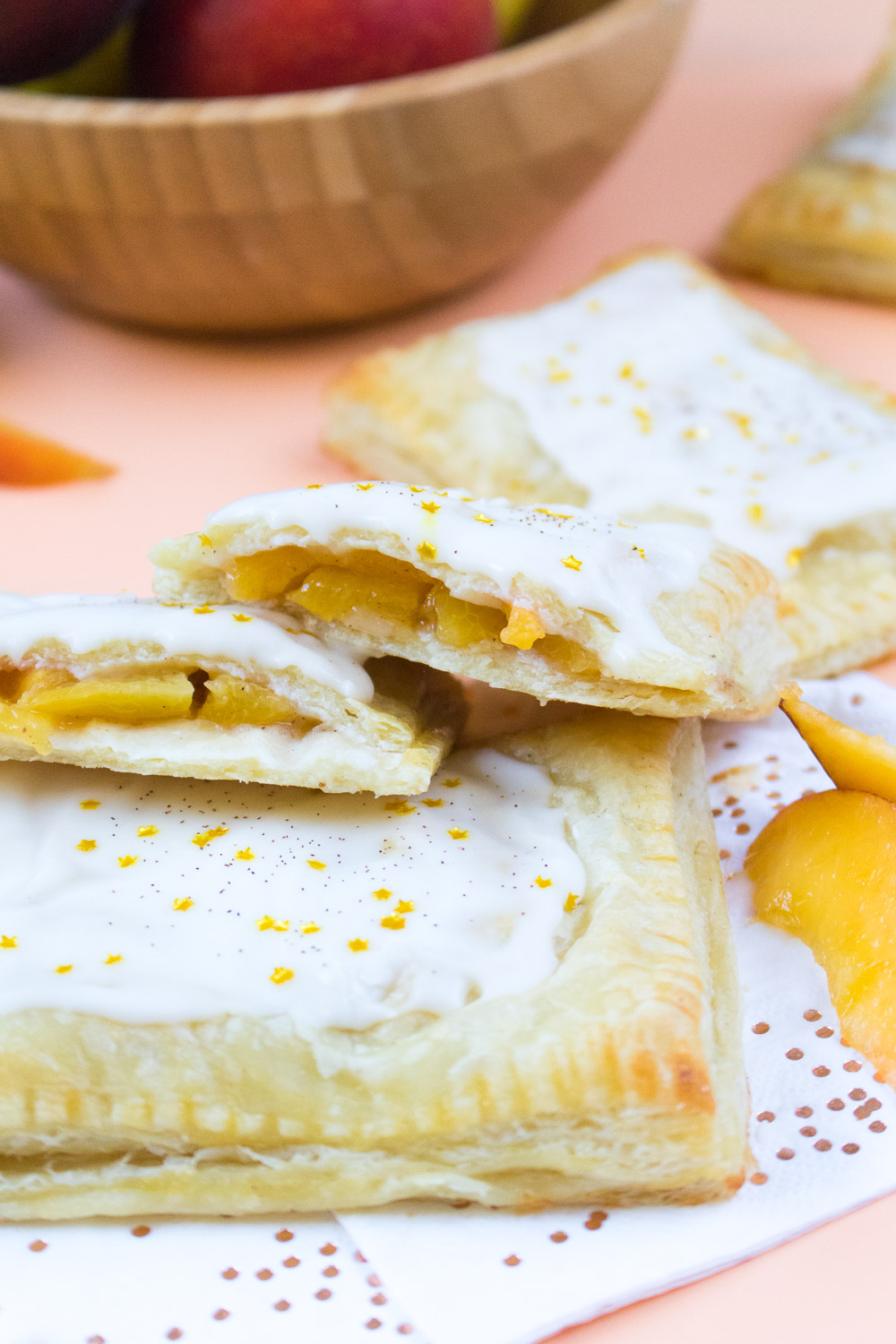 Surprisingly, I don't think I always liked peaches. I was always a picky eater (still am), but now I absolutely love peaches. Last year, I made peach lemonade sorbet and probably kept the grocery store low on peach stock over the summer. I also keep the freezer stocked with Haagen Dazs peach sorbet these days, and I've been consistently bothering the fruit stockers at my local grocery store about when exactly the peaches were coming in, so yeah, you could say I really like peaches.
Peaches are the only reason I like June, actually. June weather is the worst, even in California.
I never, ever make my pie/tart dough from scratch because I truly believe store-bought crusts and puff pastry are a gift to humankind. However, feel free! I used puff pastry sheets for this recipe, which I think was the best choice for a low maintenance recipe that achieve the right effect, and puff pastry results in extra fluffy layers that are perfect for sweet pastries like these babies.
Now, let's talk about the topping because that's just as important as the rest. Earlier this week, I shared my recipe for marbled sugar cookies, and I said that glaze recipe was the best ever and you can use it on everything. I was serious! Here I am using it again – twice in one week! The ONLY difference is I used cream instead of milk because I'm going for the rich "peaches & cream" flavor here and it made it creamier, so it seems more like a real "icing."
For good measure, I sprinkled a few gold stars and a little cinnamon on top of the glaze. They were missing some sparkle.
One bite and I'm in heaven, and you will be too! Serve these for dessert, breakfast, midnight snack, you name it.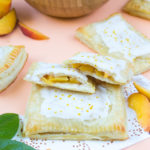 Peaches & Cream Pastries
2017-06-13 11:53:25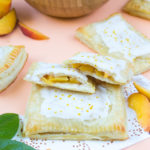 Toaster Strudel-like pastries made with puff pastry, homemade peach filling and topped with a creamy icing
For crust + filling
Puff pastry crust (frozen, 2-pack)
4 peaches, peeled and cut
1/4 cup granulated sugar
1 tbsp cornstarch
¼ tsp cinnamon
juice of ½ a lemon
1 egg
1 tsp milk
For the glaze
3/4 cup powdered sugar, sifted
1-2 tbsp heavy cream
1/4 teaspoon pure vanilla extract
For the pastries
Remove the puff pastry to thaw at room temperature for about 30 minutes until soft enough to cut
Preheat the oven to 350 degrees F and line a baking sheet with a silicone mat or parchment paper
Peel the peaches and cut into small cubes; place in a bowl
Add sugar, cinnamon, lemon juice and cornstarch and toss with the peaches until completely coated
Use a pizza cutter or sharp knife to cut the softened puff pastry into 6 equal sized squares. Repeat with both pieces of puff pastry
Spoon the peach filling into the middle of 6 of the cut dough squares (with minimal liquid)
Place another square of dough on top of the filling and press edges with a fork. Lightly poke holes in the top with a fork as well
Beat the egg and milk in a small bowl and brush lightly on the pastries
Bake for about 10 minutes until the edges are lightly brown and let cool completely before icing
For the icing
Sift the powdered sugar into a medium mixing bowl
Whisk in the vanilla and cream, adding a little at a time until the desired thickness is reaches. It should be thin enough to barely drop from the whisk
Spoon and spread the icing onto the cooled pastries and sprinkle with cinnamon or sprinkles
Store in the fridge for up to 3 days for best results
Club Crafted https://www.clubcrafted.com/