/
Lemon Cream Cheese Rainbow Sweet Rolls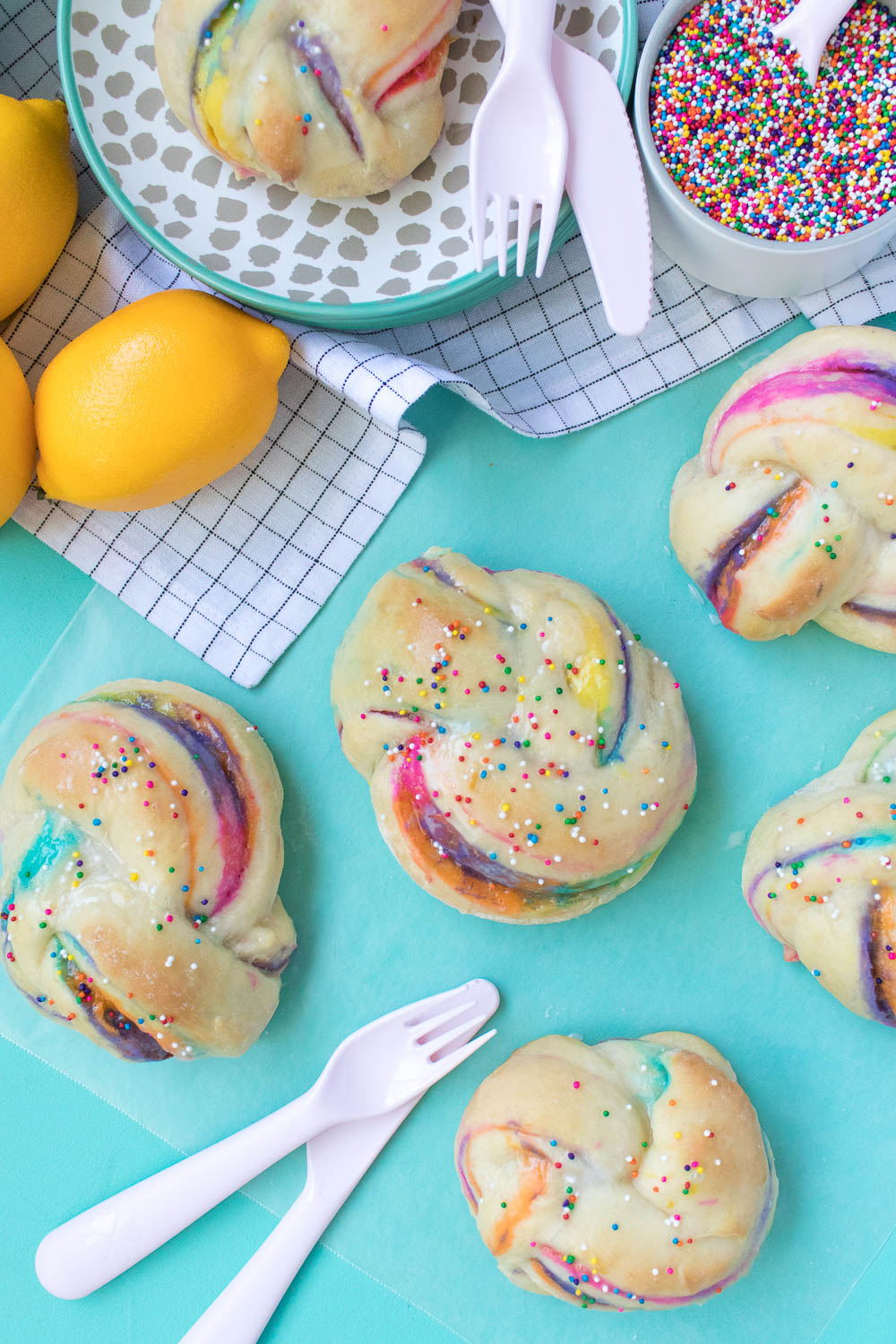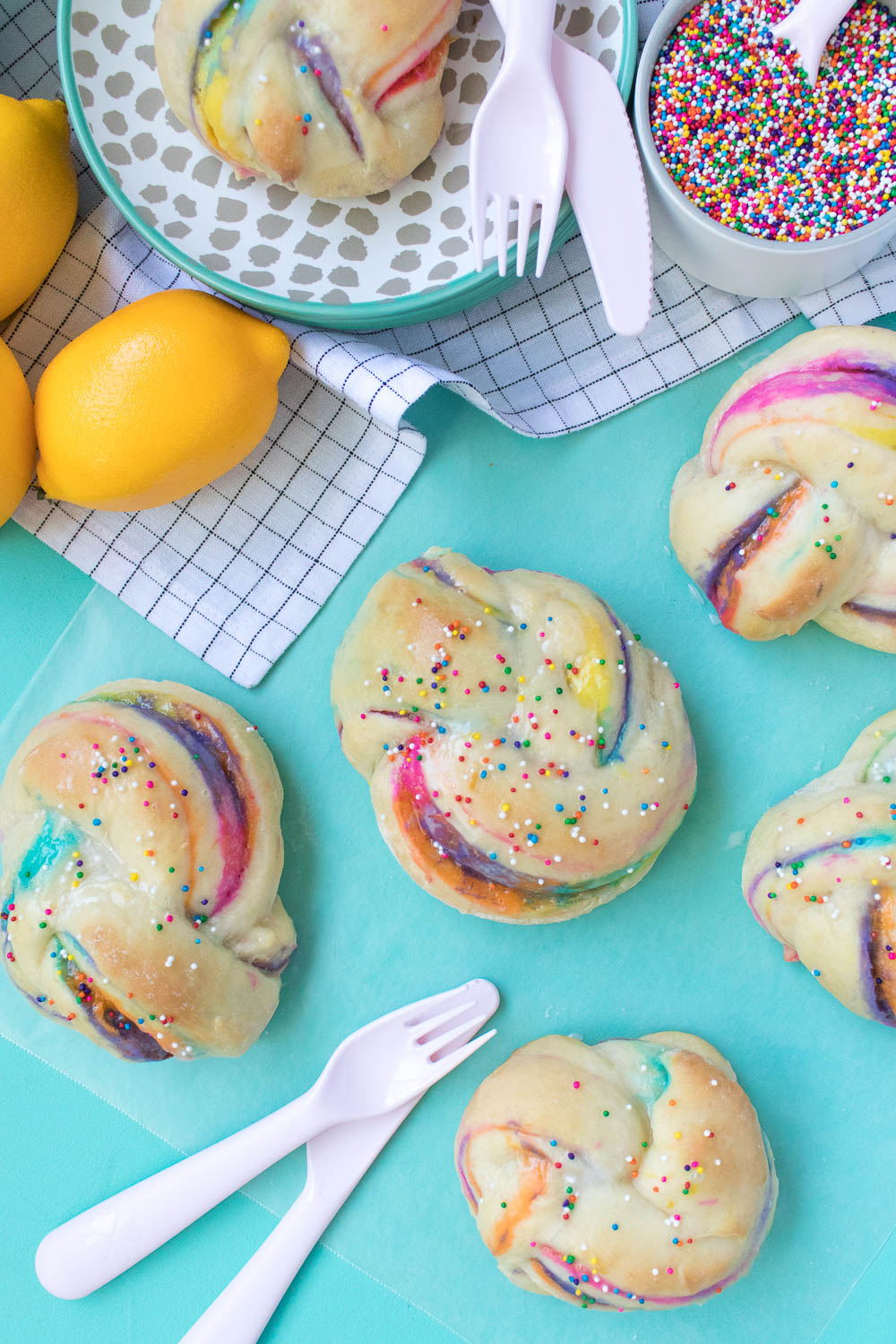 I've been obsessed with The Great British Baking Show lately (I even got Andrew into it) and it's given me the baking bug. I rarely have time to bake for fun anymore because I'm always baking with the intention to create a blog post, which adds more stress to the process, especially when I'm testing out a new technique that doesn't work out. Since Netflix was making me extra inspired, I decided to throw caution to the wind and bake a few things just for FUN (whaaaa?!), so over the weekend I practiced my macaron baking and made sweet rolls. These are not just any sweet rolls though…these are RAINBOW sweet rolls! I was simply trying to practice my sweet roll dough and ended up making lemon cream cheese rainbow sweet rolls! Even though I didn't intend to make a recipe for the blog, I was so happy with how they were going that I'm able to share my recipe with you all today.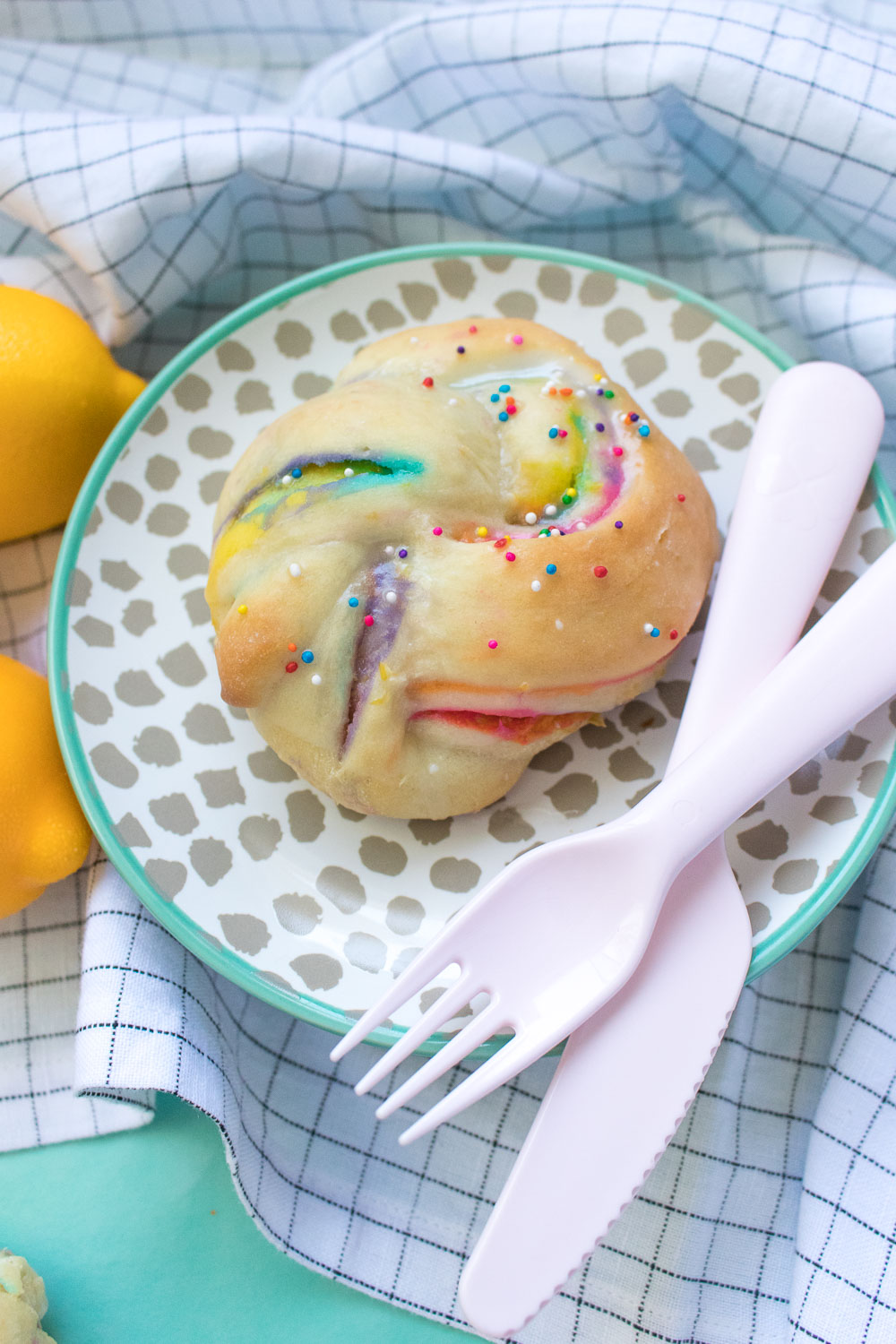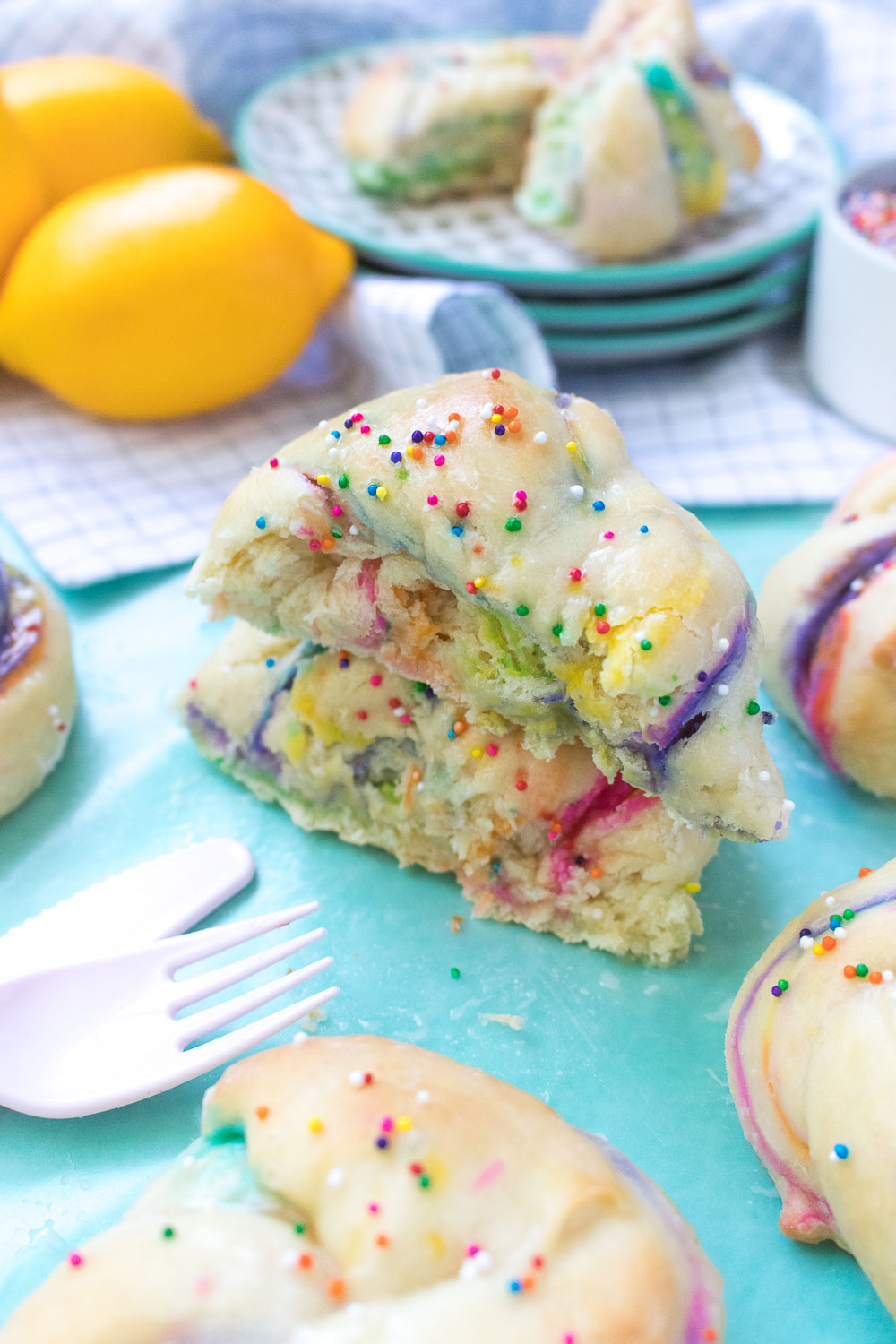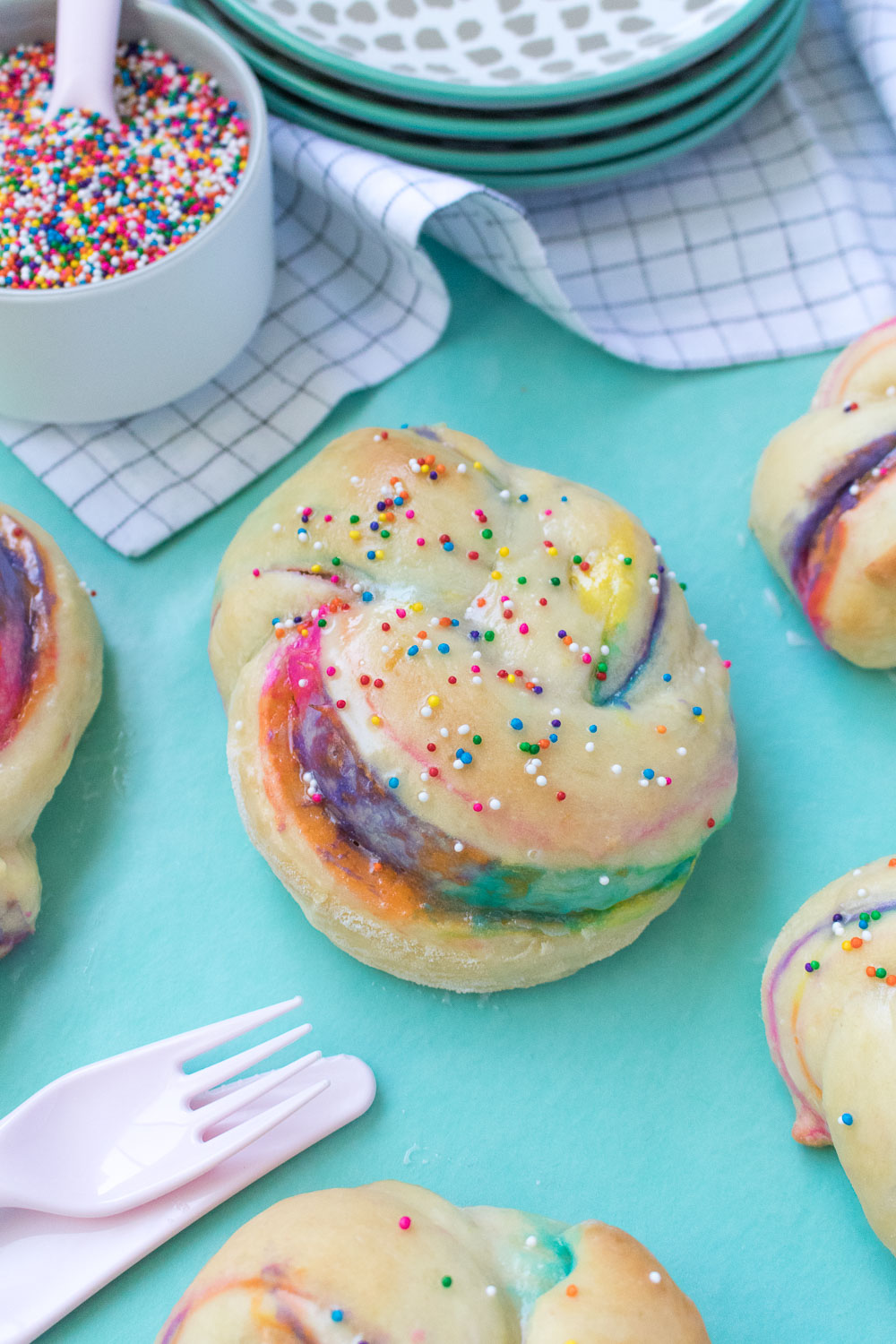 These melt-in-your-mouth delicious rainbow sweet rolls are made with lemon zest and a lemony cream cheese filling. Once baked, I coated them in a lemon glaze and rainbow sprinkles. I twisted the dough into fun knots rather than rolls so that you can see the colorful filling coming through. I have to say this is probably one of my favorite recipe projects!
Scroll down for the full recipe card! 👇🏼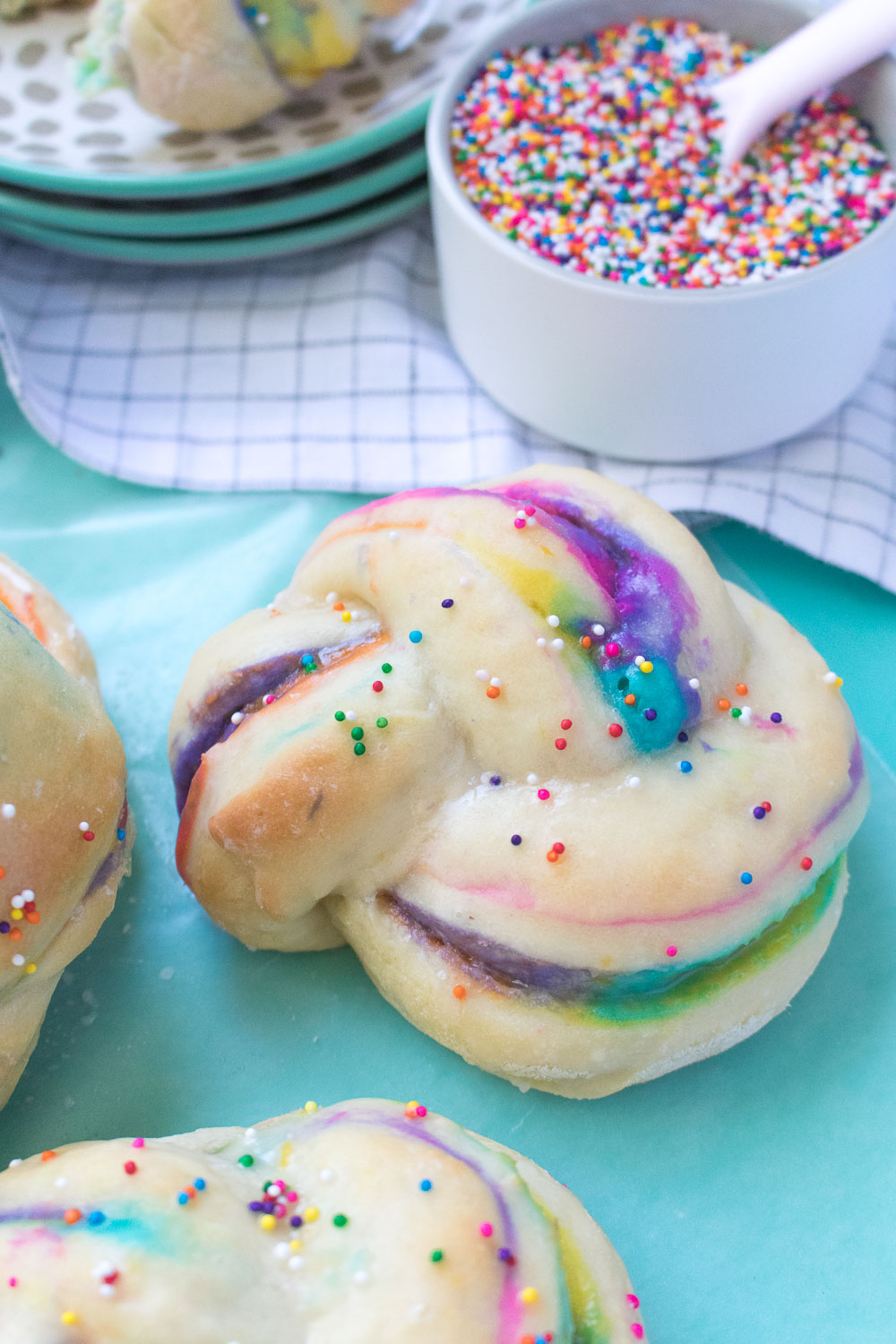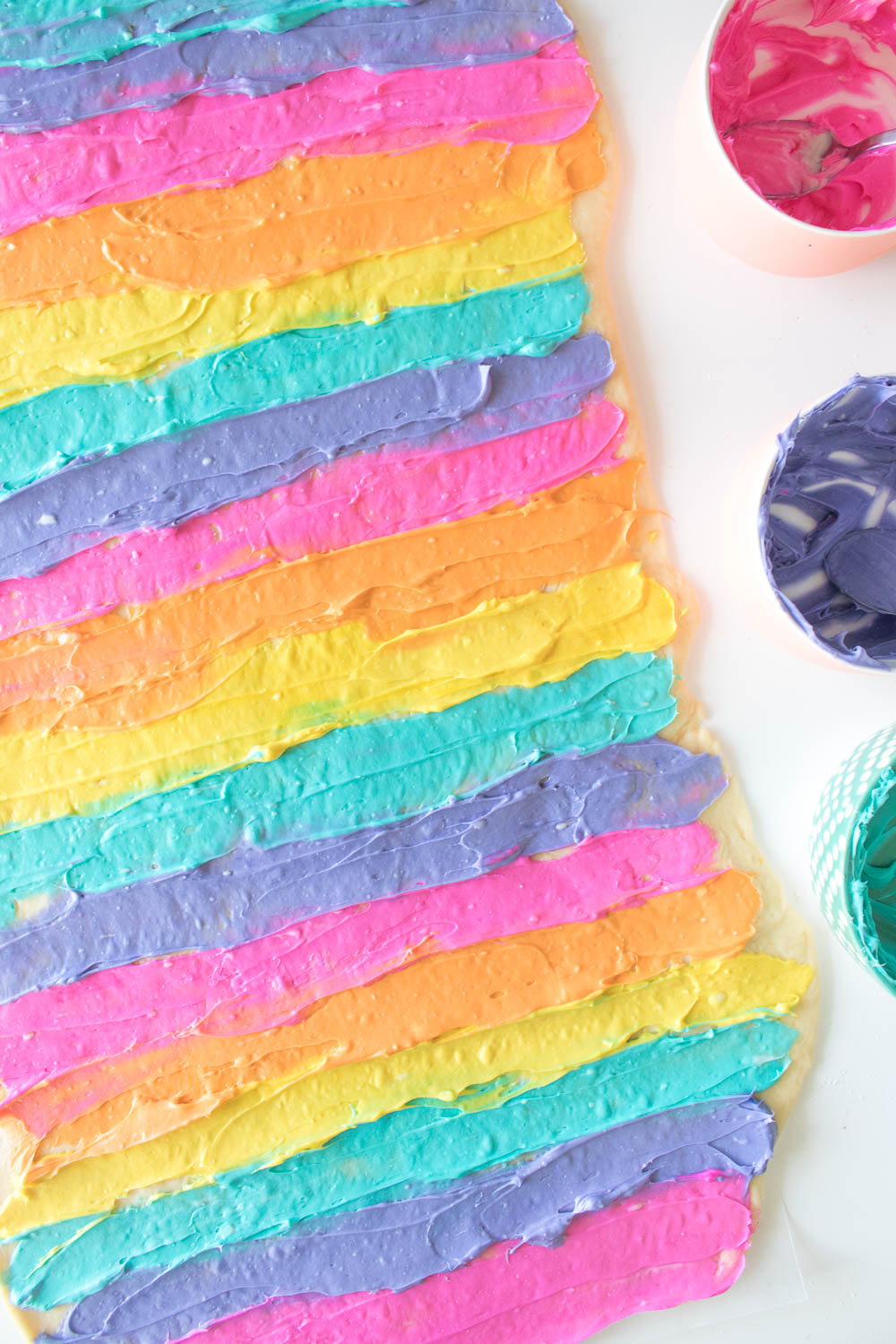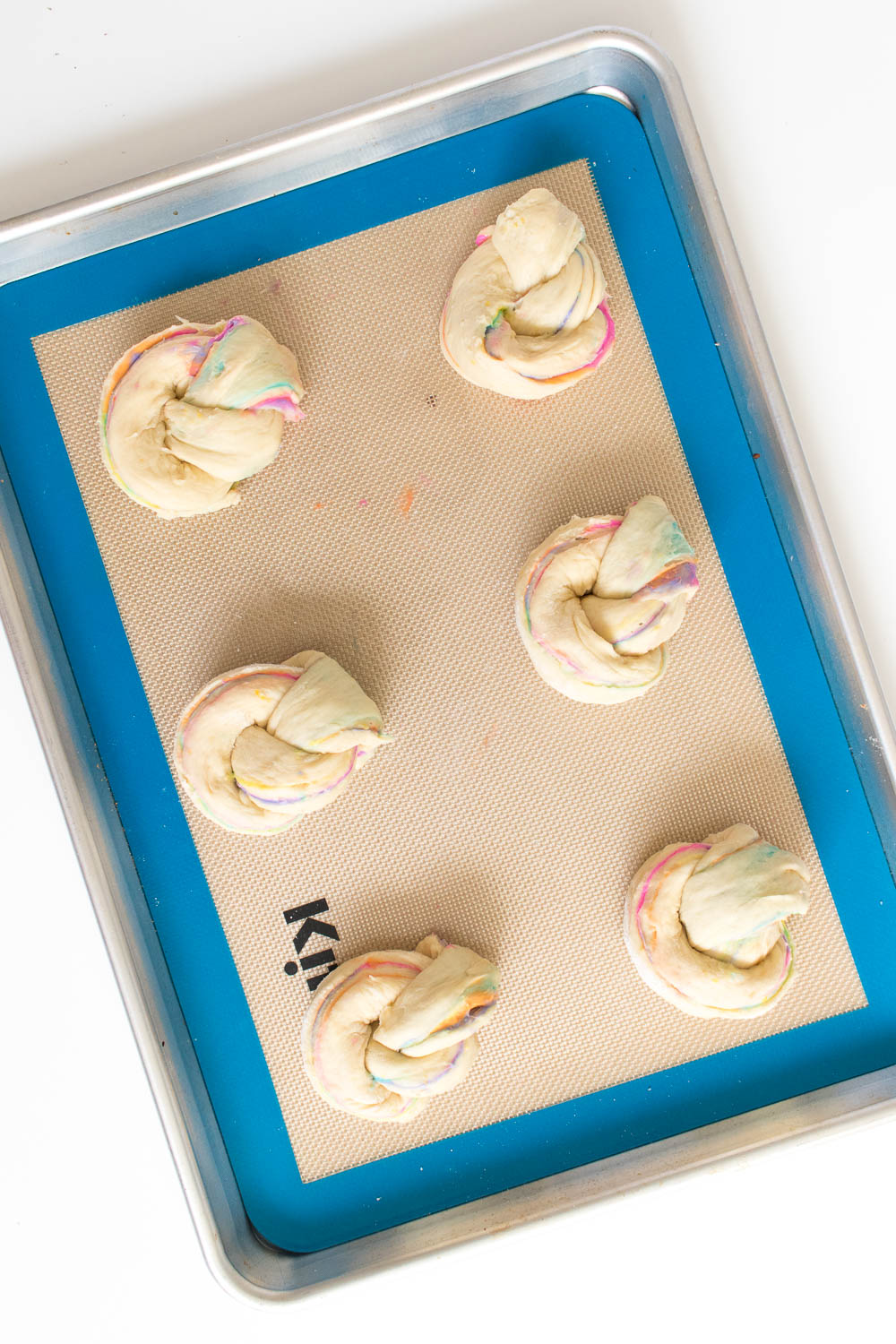 Here you can see how I spread the filling and what they looked like before I let them rise a second time and popped them in the oven. These are BIG sweet rolls btw.
Sweet roll dough – or cinnamon roll dough – is not incredibly difficult to make. I'm still a beginner when it comes to working with yeast, but I'm constantly learning. With this recipe, you can prepare the dough the evening before, let the dough chill overnight and then bake your lemon cream cheese sweet rolls in the morning so they're nice and fresh. Obviously everything is better when eaten fresh! Although, I did find that they reheated pretty well the following day.
These would also be a tasty addition to your Easter celebrations this weekend! (*hint, hint*)
Now I'm off to eat allllll the leftovers!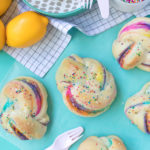 Lemon Cream Cheese Rainbow Sweet Rolls
2018-03-24 11:04:07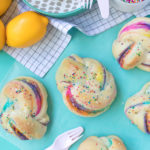 Serves 12
Lemony sweet roll recipe with a rainbow cream cheese filling, topped with a tangy lemon glaze
For the Dough
1 cup warm milk (not boiling)
1 envelope active dry yeast
1/3 cup granulated sugar plus 1 tbsp
1 tsp salt
1/4 cup sour cream
1 egg
6 tbsp butter, melted and cooled
1 tbsp vanilla extract
Zest of 1 lemon
4 cups all-purpose flour
For the Filling
8 oz. cream cheese, room temperature
1/3 cup powdered sugar
1/2 tsp vanilla extract
1 tbsp lemon juice
1 tbsp cornstarch
Food coloring, 4-5 colors
For the Lemon Glaze
1 cup powdered sugar, sifted
1 tbsp lemon juice
1 tbsp milk
For the Dough
Gently mix together 3/4 cup of warm milk, yeast and 1 tbsp of sugar. Set aside for about 5 minutes until foamy.
In the bowl of your mixer fitted with the paddle attachment, mix together the 1/3 cup of sugar, salt, sour cream, egg, vanilla extract, lemon zest, butter, and remaining 1/4 cup of warm milk
Add half the flour to the mixture and mix on low speed until just combined
Mix in the yeast on low speed just until combined. Then switch to a dough hook attachment and gradually mix in reaming flour
Once incorporated, mix on medium speed for about 5 minutes until the dough pulls away from the sides and is no longer sticky. Add small spoonfuls of flour as needed if the dough is too sticky
Lightly grease a separate bowl with olive oil or cooking spray. Turn the dough into the prepared bowl and turn to coat in the oil. Loosely cover with plastic wrap and place in a warm oven for about 1 hour until the dough has doubled in size
For the Filling
Beat all ingredients together with a paddle attachment until smooth
Separate into 4-5 small bowls and mix food coloring into each. Set aside
To Assemble the Rolls
Line two baking sheets with parchment paper or silicone baking mats
Gently punch down the dough and then let rest for 5 minutes
Move the dough to a lightly floured surface and roll it out into a large rectangle
Spread the cream cheese filling in thin stripes across the long side, varying the colors like a rainbow
Fold the dough into thirds like folding a letter (do not press too hard)
Cut the dough into 11-12 equal-sized strips. Twist each strip into a simple knot, tucking the ends underneath, and place on a prepared baking sheet several inches apart
Cover loosely with plastic wrap and let rise in a warm place until doubled in size, about 30 minutes.
As the rolls rise, preheat the oven to 350 degrees F. Bake for 15-20 minutes until edges are lightly brown. Let cool for 10 minutes.
For the glaze
Sift the powdered sugar into a large bowl
Whisk in 1 tbsp of lemon juice, then 1 tbsp of milk
The glaze should drip off the spoon easily and melt back into the icing. If it is too thick, add a little more lemon juice until you've reached the right consistency
When the rolls are cool enough to touch, carefully dip the tops in the glaze and top with sprinkles if desired
Serve fresh or store in an airtight container in the fridge for up to two days (see note)
Notes
For best results, only glaze the rolls that will be eaten immediately. To reheat, microwave until warm or heat in a toaster oven, then glaze.
Club Crafted https://www.clubcrafted.com/