/
Salted Caramel Popcorn Bucket Cake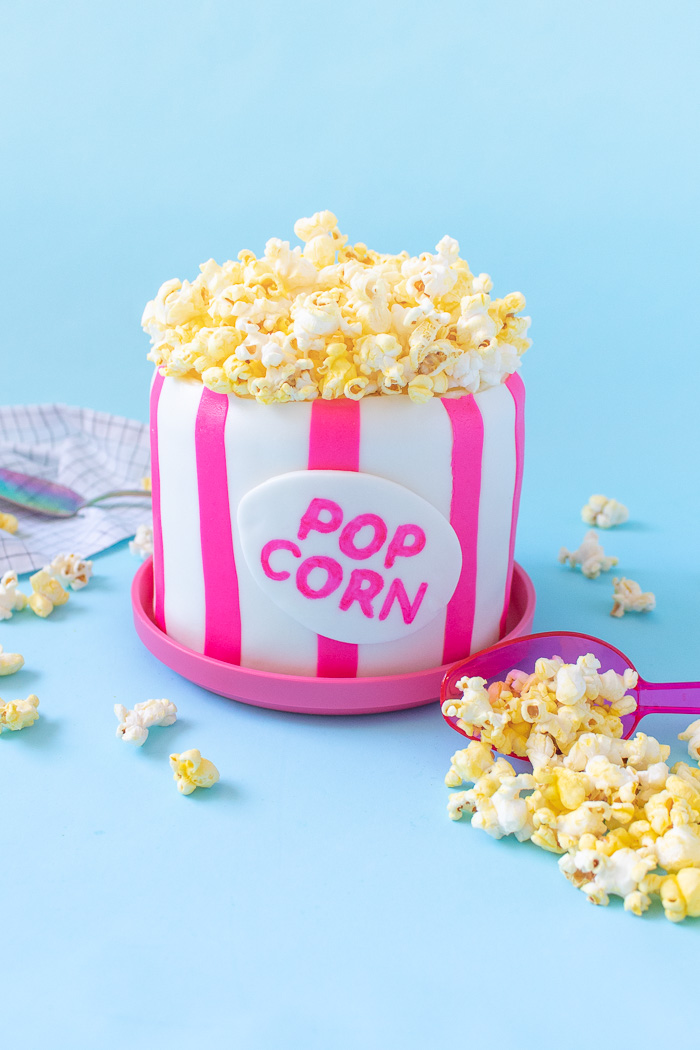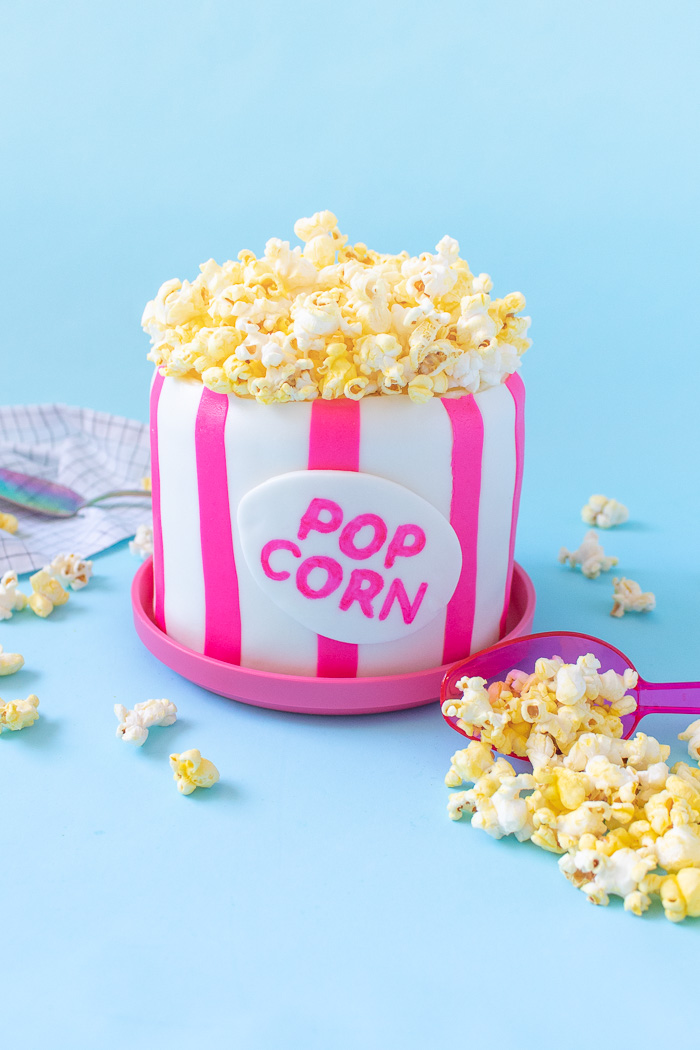 If you know me at all, you probably know that popcorn is my favorite food of all time. It's bad. It's a problem. Last time my doctor tested my blood pressure, the nurse asked if I knew why my blood pressure was so high and I had to admit I ate an entire bucket of salty popcorn the night before…oops. To celebrate my love of popcorn, I thought it was about time I make a popcorn bucket CAKE just like an old-fashioned striped popcorn bucket you'd find at a movie theater. Personally, I like this style way better than the advertisements they put on the buckets now, ha! This popcorn cake combines my two loves (cake and popcorn) into one tasty vanilla salted caramel cake, topped with freshly popped movie theater-style popcorn. I'll let you in on a secret for it below…
First of all, I used my favorite vanilla cake recipe, then drizzled each layer of frosting with salted caramel sauce and toffee bits for a little crunch and caramel flavor. On top, I made a big batch of popcorn and ate most of it before reserving some for the cake. Maybe I should have topped it with my rainbow popcorn? Movie theaters should probably start serving rainbow popcorn. Just sayin.
Scroll down for the full recipe card and how-to! 👇🏼
OK, let's talk about popcorn. More specifically, let me tell you how to get movie theater popcorn at home. Don't believe what those boxes at the grocery store tell you! These movie theater popcorn packets are the ONLY way to go. Andrew makes delicious movie theater popcorn for us with a couple specialty ingredients, but these packets make it even easier because they're measured for you. Beware though, you gotta love salt! You simply pour them into a pot and make popcorn, and BOOM, perfect popcorn like the movie theater. It's the best, and I'm ashamed to admit how often I eat this stuff, ha!
As you can probably see from looking at the popcorn bucket cake, I used fondant this time, which is something I rarely decorate with because of the taste. I use fondant as a last resort, but in this case, it was necessary in order to achieve those stripes. Without fondant, the stripes would just look messy. The best way to make a great tasting cake regardless of fondant (in my opinion) is to use a decent amount of icing on the outside. That way, if you want to peel away the fondant for eating, you can still enjoy the right cake to frosting ratio. I'm all about this ratio!
This simple way to make salted caramel cake is perfect for sweet-and-salty lovers, and it pairs perfectly with a salty popcorn topping. As usual, I should remind you that I'm an amateur baker, so if I can make this, then so can you! Fondant can be intimidating, and mine is certainly not perfect, but that's OK. Have fun with it, and don't forget you get to eat it all afterwards!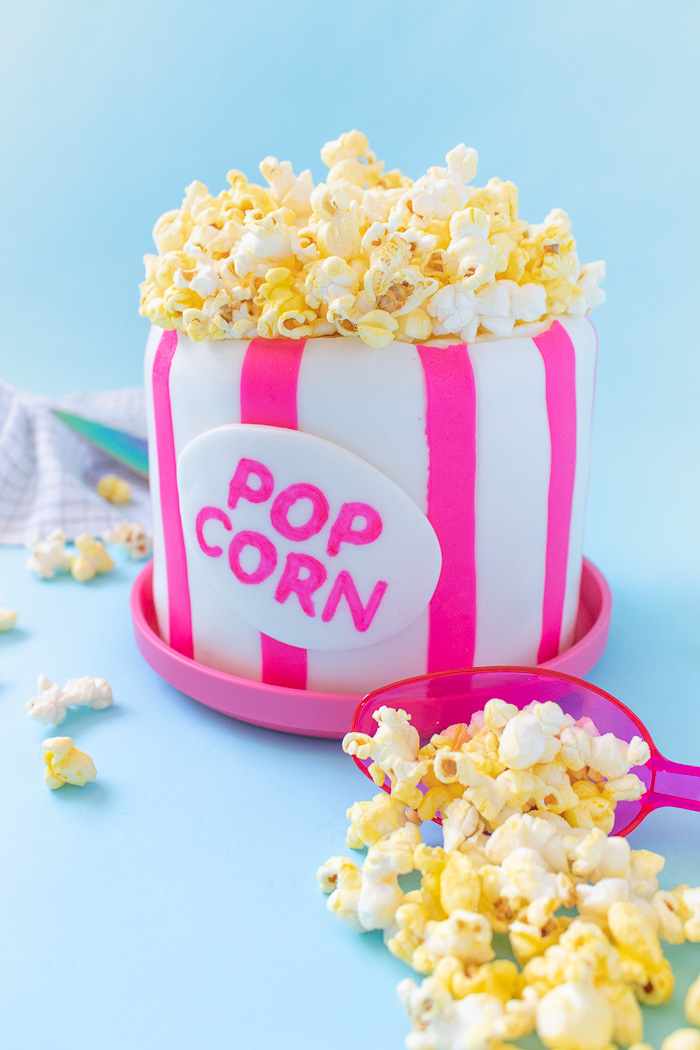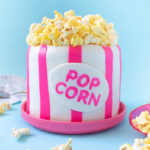 Popcorn Bucket Cake
2018-09-10 09:50:23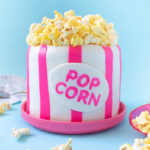 A light vanilla salted caramel cake decorated to look like an old-fashioned popcorn bucket
Ingredients
Vanilla cake (see links above)
Vanilla frosting
Salted caramel sauce
Toffee pieces
White fondant
Pink fondant
Pink food marker
Popcorn
Other Tools
Oval cookie cutter
Small knife
Ruler
Rolling pin
Bench scraper
Instructions
Level cakes into 4-5 equal layers. Frost each with a layer of vanilla icing, a drizzle of salted caramel sauce and sprinkle with toffee bits, and stack (mine was 6 in round, about 5 in tall)
Crumb coat with icing and refrigerate for 30 minutes. Ice again, scrape smooth and chill
On a lightly powdered sugar covered surface, roll out the white fondant so that it is a long rectangle (needs to be wide enough to wrap all the way AROUND the cake, about 21 in for 6-inch cake)
Separately, roll out the pink fondant so that it is equal thickness and wide enough to cover the height of the cake
Using a knife and ruler, cut 1/2-inch strips of pink fondant
Place the pink strips on top of the white fondant equal distance apart (about 1-1/2 inches) across the length of the white fondant. Roll again to press the pink stripes into the background
Carefully wrap the striped fondant around the sides of the cake. Smooth the sides with your hands and use a knife to cut away excess fondant from the top and bottom
Roll out additional white fondant until very thin. Cut a large oval out of the fondant
Use a pink food marker to write or trace POPCORN onto the oval. Use extra frosting to adhere it to the front of the popcorn bucket at a slight angle
Refrigerate until ready to serve or top with a pile of fresh popcorn to serve immediately
Notes
For best results, top with popcorn right before serving; Refrigerate without popcorn topping
Club Crafted https://www.clubcrafted.com/
Please note this post contains affiliate links from which I may collect a small profit should you choose to make a purchase. I only link to products I personally use or recommend.