/
A PAWSitively PURRfect Pair: Seeing Myself in My Cat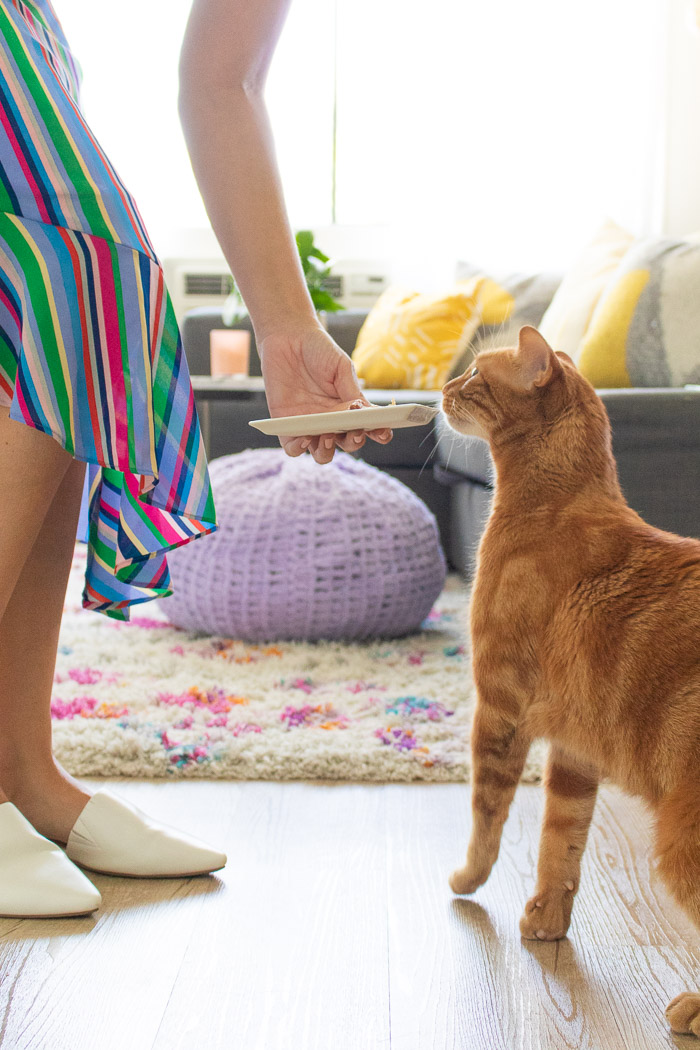 This shop has been compensated by Collective Bias, Inc. and its advertiser. All opinions are mine alone.
#DineALaCat #CollectiveBias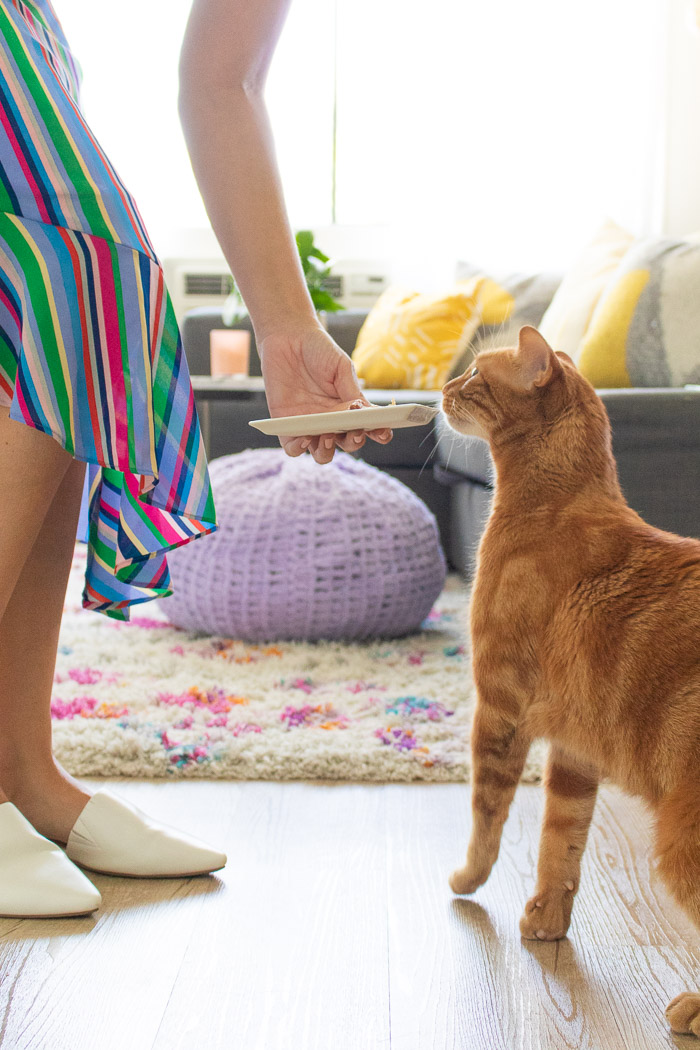 This is my favorite kind of post. Getting to talk about my cats for an entire article is really all I could ask for, and today I'm focusing on my best friend, Oliver.
I'm sure I've shared a lot about our orange tabby, Oliver, here on the blog, but there's something you might not know about him – he's just like me. Basically, if I were a cat, I'd be just like Oliver. We are a PAWSitively PURRfect pair! OK sorry, I've GATO stop making cat jokes. Last one, I PAWmise… Today, I'm partnering with Purina Fancy Feast® to tell you all about Oliver and how alike we are and discuss the interesting phenomenon of seeing ourselves in our pets. Remember that scene from 101 Dalmatians that shows owners who look just like their dogs? Well, I think there's some truth to that.
First, let me tell you how Oliver joined our family. When Andrew and I moved in together 4 years ago (feels like 10), I wanted a kitten sooo badly because I'd grown up with cats but my roommate had been allergic. We had a connection to someone at a shelter in LA, who had just taken in a 3-4-month-old cat who was found stealing food from a Starbucks dumpster. She sent us a picture and I was immediately in love with his two-sizes-too-big ears. About a week later, he was ours. Because he did live on the streets for the first few months of his life, he was timid and anxious and still is, but after hiding for the first few hours, he cuddled up next to us and CRASHED. We got him a blue collar and named him Oliver after the movie Oliver & Company, a movie about a cat who gets a family.
Funny enough, Penny was an accident. I walked into PetSmart for a new litterbox, and I walked out having adopted a feisty little kitten.
These are from the first days we met Oliver and then Penny, a year later: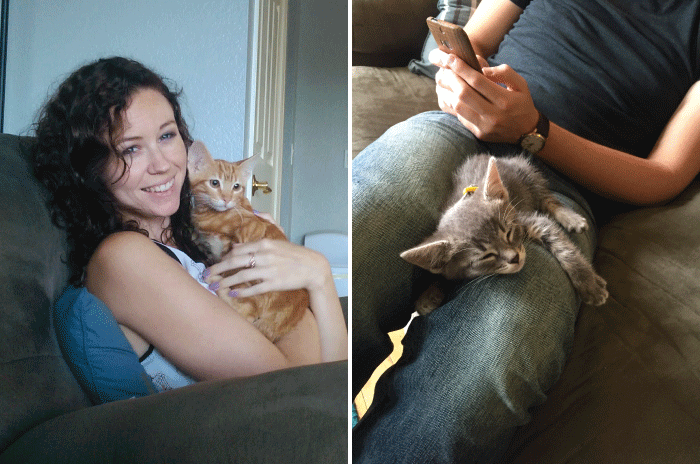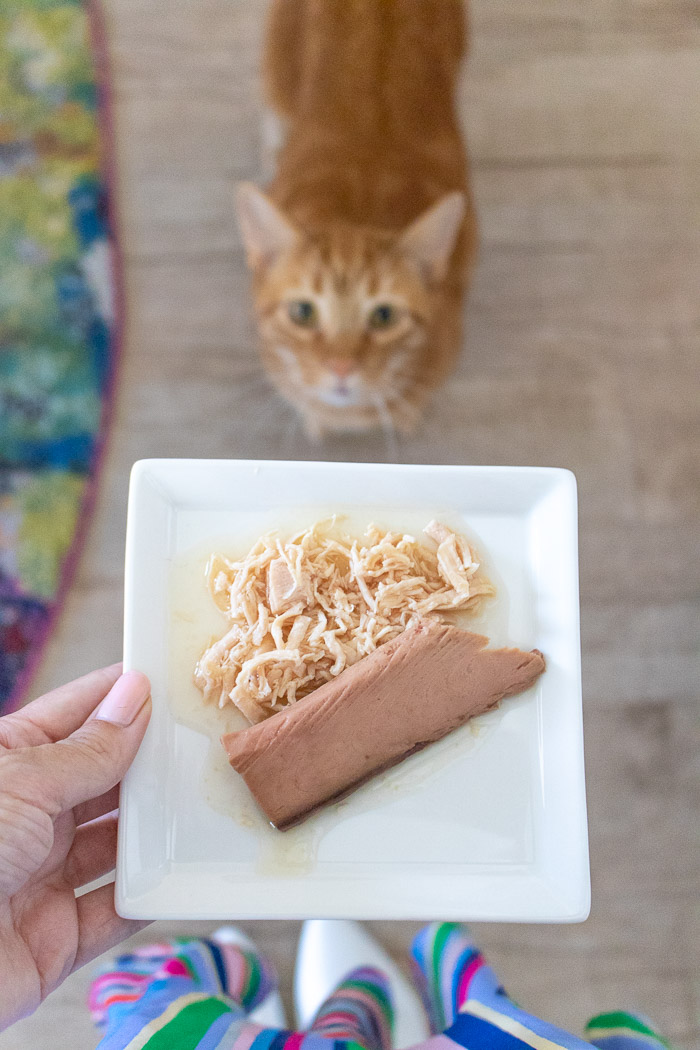 Oliver has a sensitive stomach and has had many vet visits that have made us put both him and Penny on a prescription food diet. However, this only applies to dry food, which he couldn't care less about. He's all about everything BUT dry food. When I treated him and Penny to a special snack of Purina Fancy Feast® Purely Fancy Feast Filets Natural Tuna with a side of Purina Fancy Feast® Appetizer White Meat Chicken, they went NUTS. I mean, just look at that cute face! 👆🏼 Oliver ate his own, then tried to eat part of Penny's.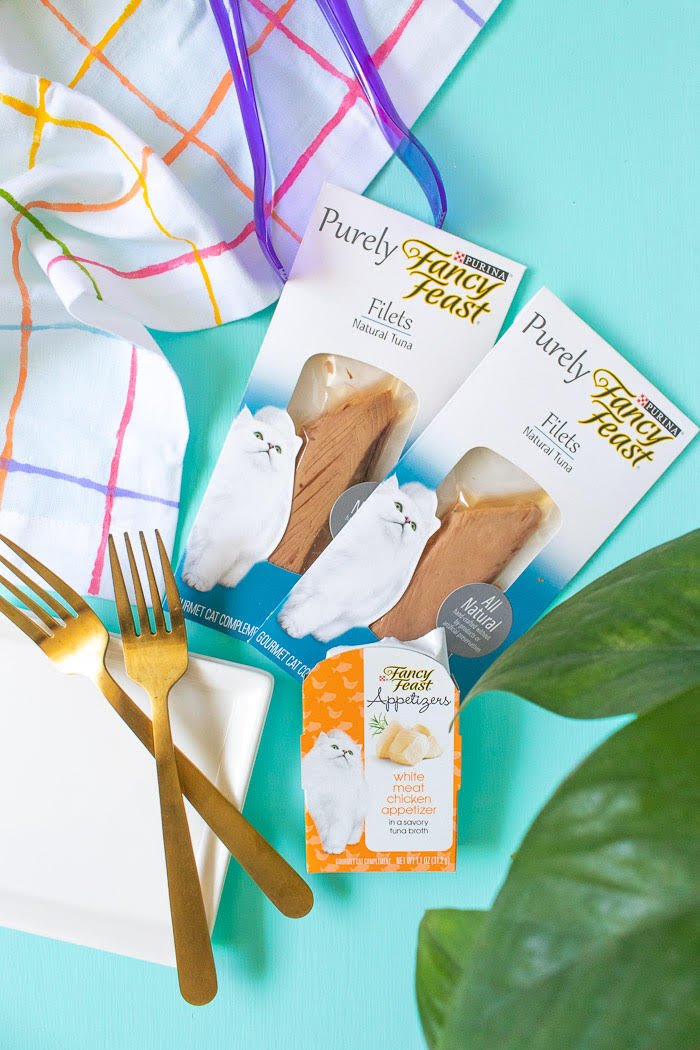 Psst, you can earn cash back when you buy any two (2) Purely Fancy Feast® Filets for a limited time! Check out the photo above to shop now.
I regularly feed both cats Purina Fancy Feast® but getting Purina Fancy Feast® Purely Fancy Feast Filets Natural Tuna was a real treat for them. You can serve it whole, flaked or even as a topper for your cat's meal. I kept it whole, but Oliver kept trying to run away with it. Ha, I think he thought I was going to take it away from him! Seeing how much they loved it, I bet they would enjoy their dry food more with tuna flaked on top. Purina Fancy Feast® Purely Fancy Feast Filets are a lovely gourmet cat complement that both cats loved as a snack in addition to their daily dry food.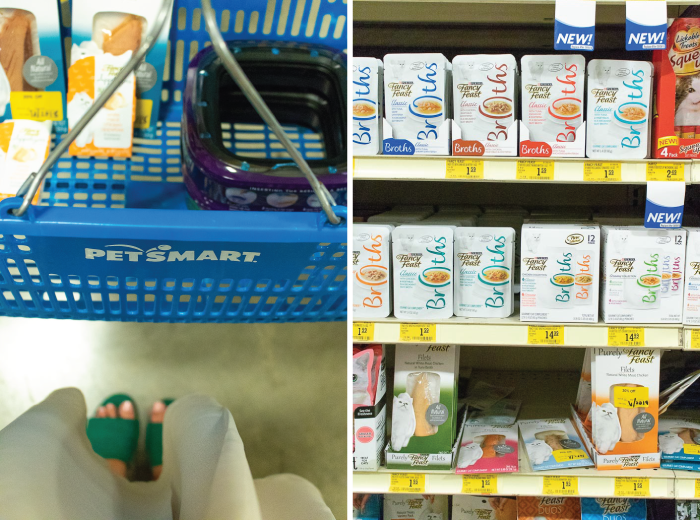 I shopped at my local PetSmart for Purina Fancy Feast® Purely Fancy Feast Filets Natural Tuna and other products. Luckily, one of the women (who also has a cat named Oliver/Olly!) was able to help me locate what I wanted because I must have walked by the aisle five times and kept missing it, ha! I found them in the treats aisle. I also stocked up on a few other necessities at PetSmart, including a new scratching post that I'm still trying to convince Penny to use.
My cats would not enjoy traveling with me to PetSmart, but I did meet a cat in line who makes visits to PetSmart with his owner often. He was probably the chillest cat I've ever met.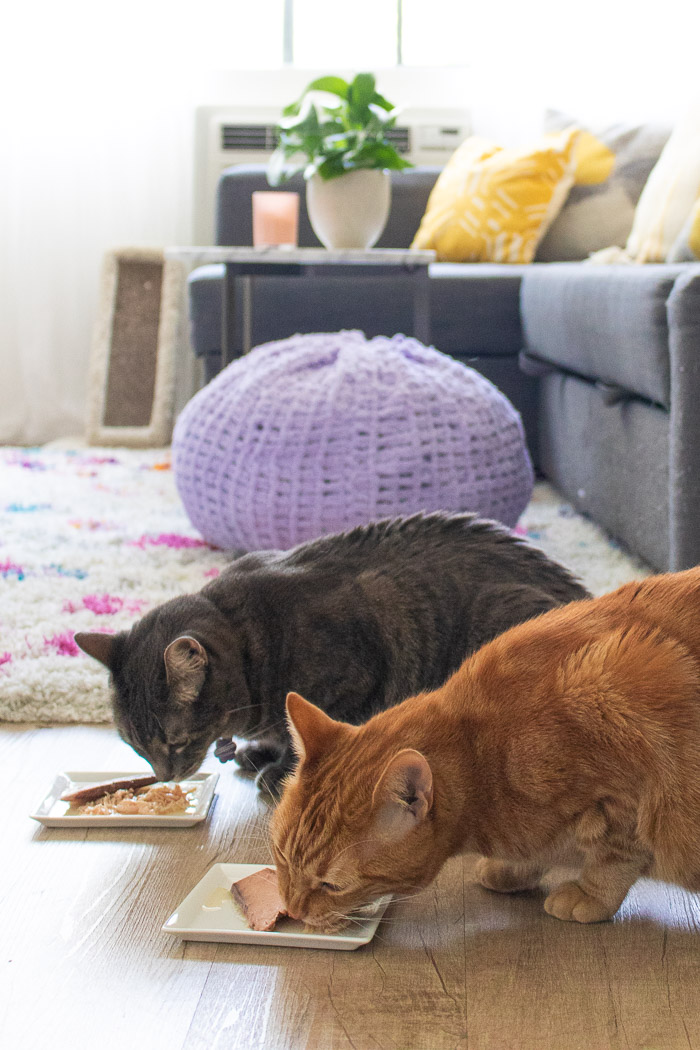 Back to how Oliver and I are alike. I put together a list:
We are both very anxious and jump at the slightest noise or sudden movement
We both want to hide from strangers until we get to know them better
We are both extremely food motivated – him by wet food, me by popcorn
We are both loveable when you get to know us (I think I am?)
We both enjoy cuddling and scratches behind our ears, but he likes tummy rubs and I DO NOT
We are happiest at home, preferably in a sunny spot
We glare at people until they give us food
We both shed A LOT of hair
We both scratch our enemies who try to give us uninvited hugs
I think we're attracted to adopt animals that are a little like us, or maybe there's a little nature/nurture argument here about whether our animals become more like us because of how we raise them. There's no doubt Oliver is a codependent mama's boy, and I love this characteristic about him (but not so much in an actual human). Who says cats aren't loyal?!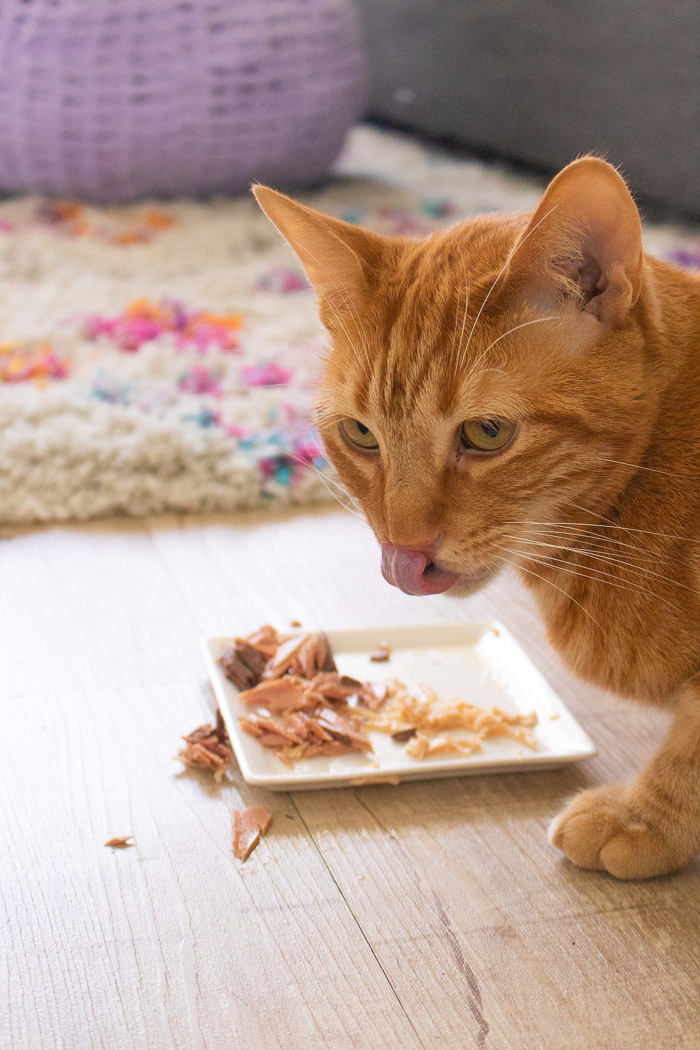 Not many people are lucky enough to see the side of Oliver that Andrew and I see every day, but he's the sweetest cat. He and Penny are the heart of our home! (Oh, and just wait until you see Penny's Halloween costume!)
What do you think? Are your pets just like you/your partner?
This shop has been compensated by Collective Bias, Inc. and its advertiser. All opinions are mine alone. Thanks for supporting the brands that keep Club Crafted sharing!