/
DIY Temporary Tattoo Pumpkins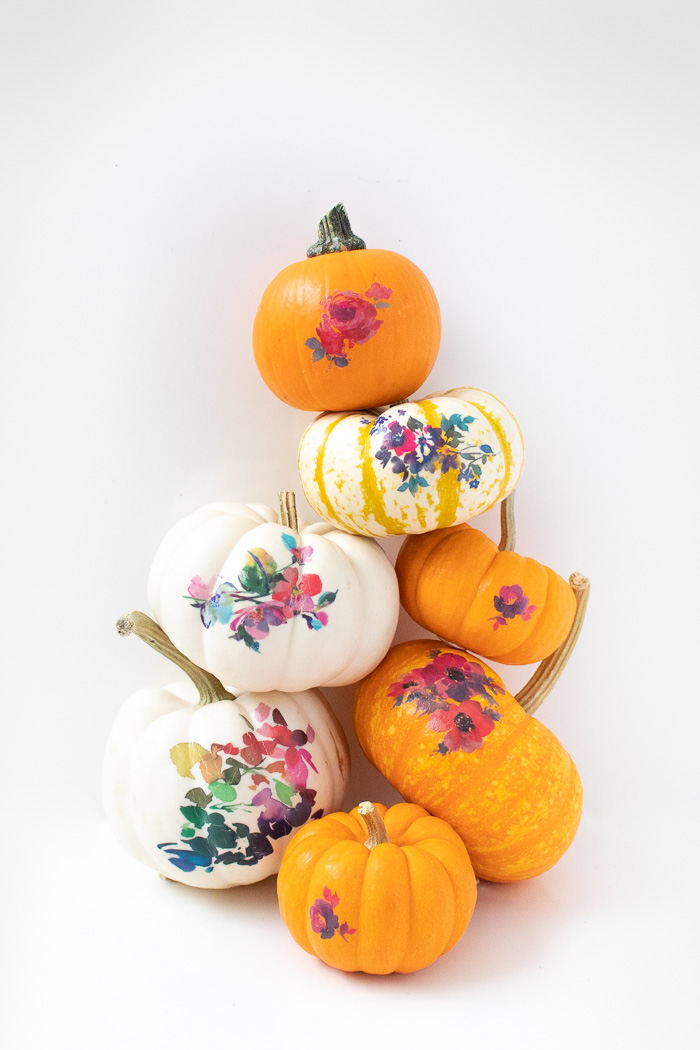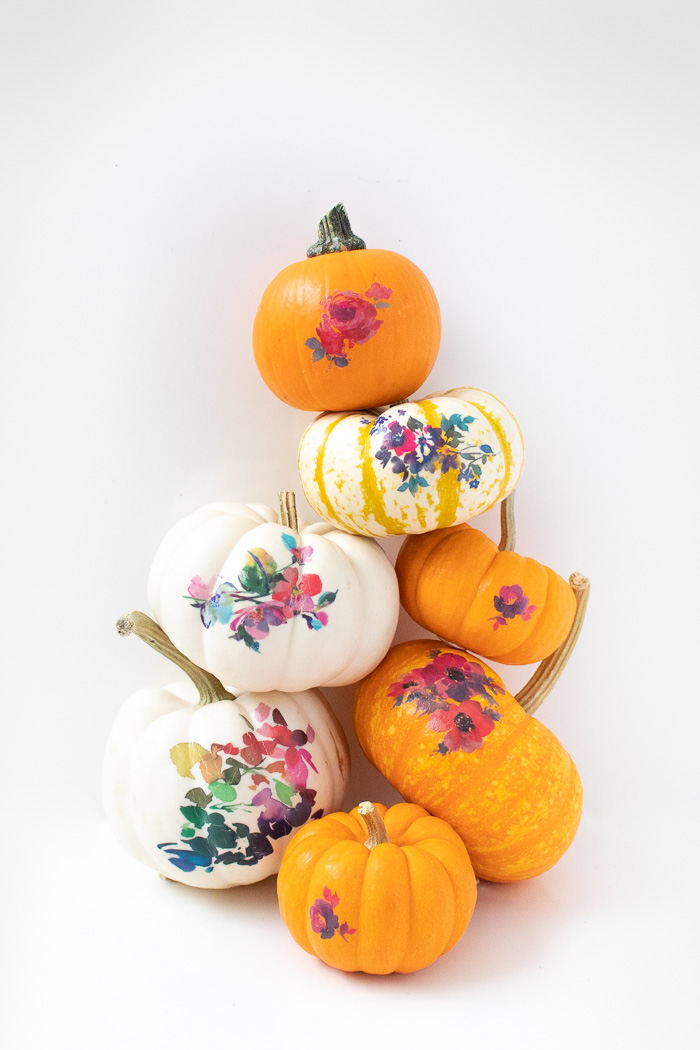 It's almost fall, but since Starbucks already released the PSL, I guess that means it's time to talk about pumpkins! While I do love fall, I'm not entirely ready to say goodbye to summer yet, which is one more reason I love California and its complete lack of seasons, ha. To get myself in the fall spirit and begin my decorating for the season, I wanted new fall decor that wouldn't take up a lot of space, so I came up with these cute little temporary tattoo pumpkins! There are so many beautiful temporary tattoos out there, and I thought they'd be perfect stuck on a variety of mini pumpkins I picked up at the grocery store. Make them in your favorite designs in about 5 minutes!
I purchased these tattoos from Tattly, which has a huge variety. I bought this set of watercolor floral tattoos, plus this additional abstract watercolor design. I'm looking forward to wearing the leftovers! You may have seen the temporary tattoo mugs I made for Sarah Hearts a couple months ago?! Those lovely metallic tattoos were also from Tattly, and I highly recommend them.
After making those mugs and seeing how well they held up over time, this seemed like the perfect opportunity to make more temporary tattoo crafts! It's starting to feel like I've run out of ways to decorate pumpkins, so this seemed like a fun project for making fall decor with the watercolor-inspired designs that I love. THIS is my kind of fall decor. Here's how to make them!
Time: 5 minutes
Supplies:
Mini pumpkins
Temporary tattoos
Mod Podge
Paint brush
Damp cloth or sponge
Step 1: Wipe the pumpkins clean and dry completely. Cut out the tattoo you want to use (don't leave attached to a whole packet).
Note, check how the pumpkin sits before adhering the tattoo in case the pumpkin is crooked or leans forward.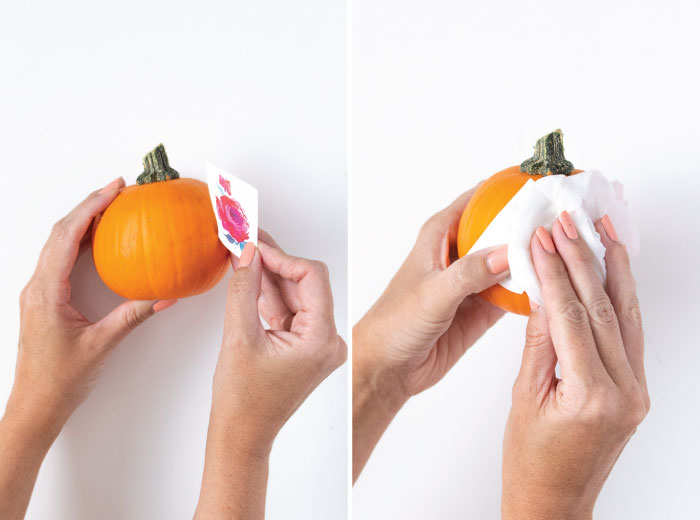 Step 2: Remove the plastic and place the tattoo face-down on the pumpkin. Hold securely in place and dab with a damp towel or sponge for 20-30 seconds. Carefully peel away the paper, checking that the entire tattoo is stuck properly to the pumpkin.
Note, for more indented pumpkins, work slowly and press the tattoo and towel into the indentations. Otherwise, the tattoo could become deformed. They are more likely to crack with indents.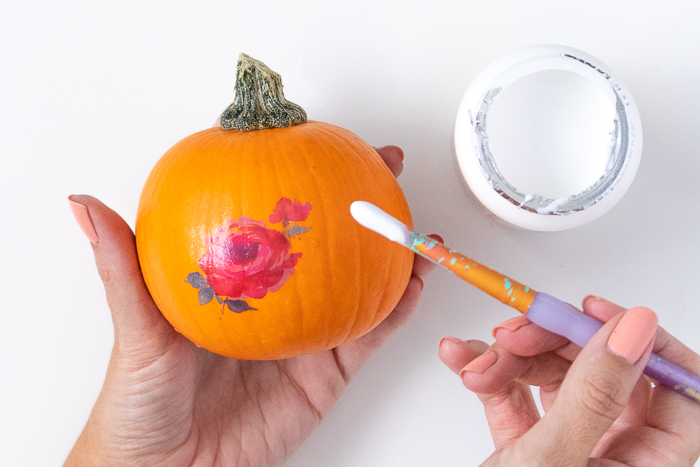 Step 3: Once the tattoo is finished and the pumpkin is completely dry, paint a thin layer of Mod Podge on top to seal. Let dry.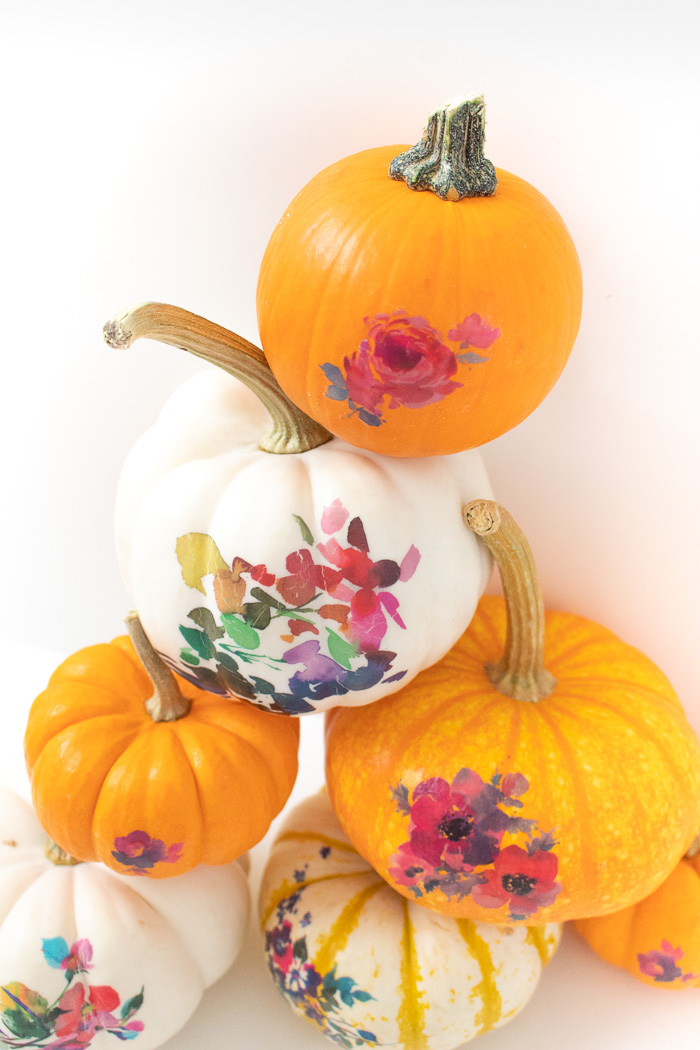 Now you can display these cute mini temporary tattoo pumpkins in various colors all over your home! I have mine currently spread out on our bookshelf, and it's definitely put me in the fall spirit, so get ready for more fall ideas!
PS, get in the mood for Halloween too!