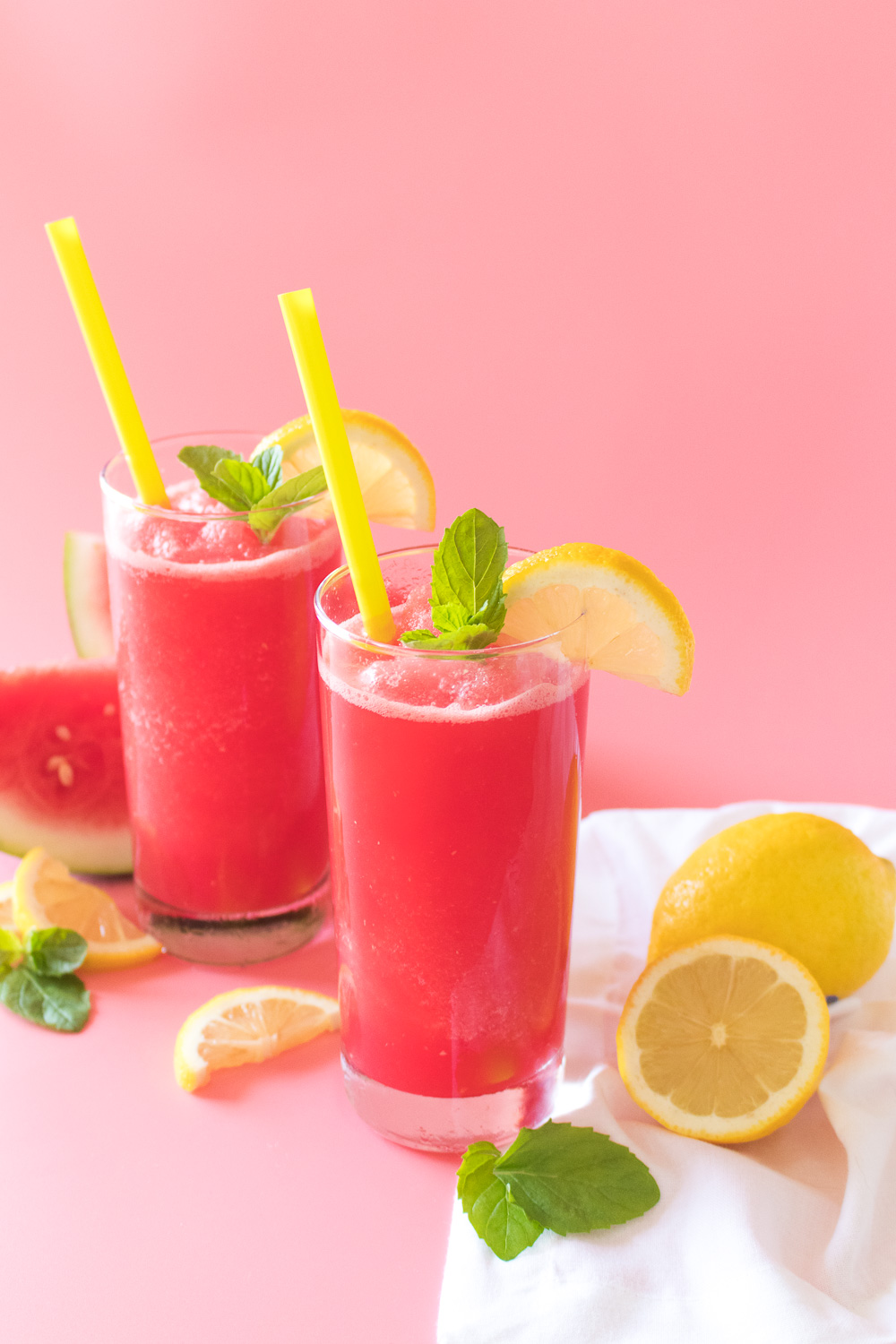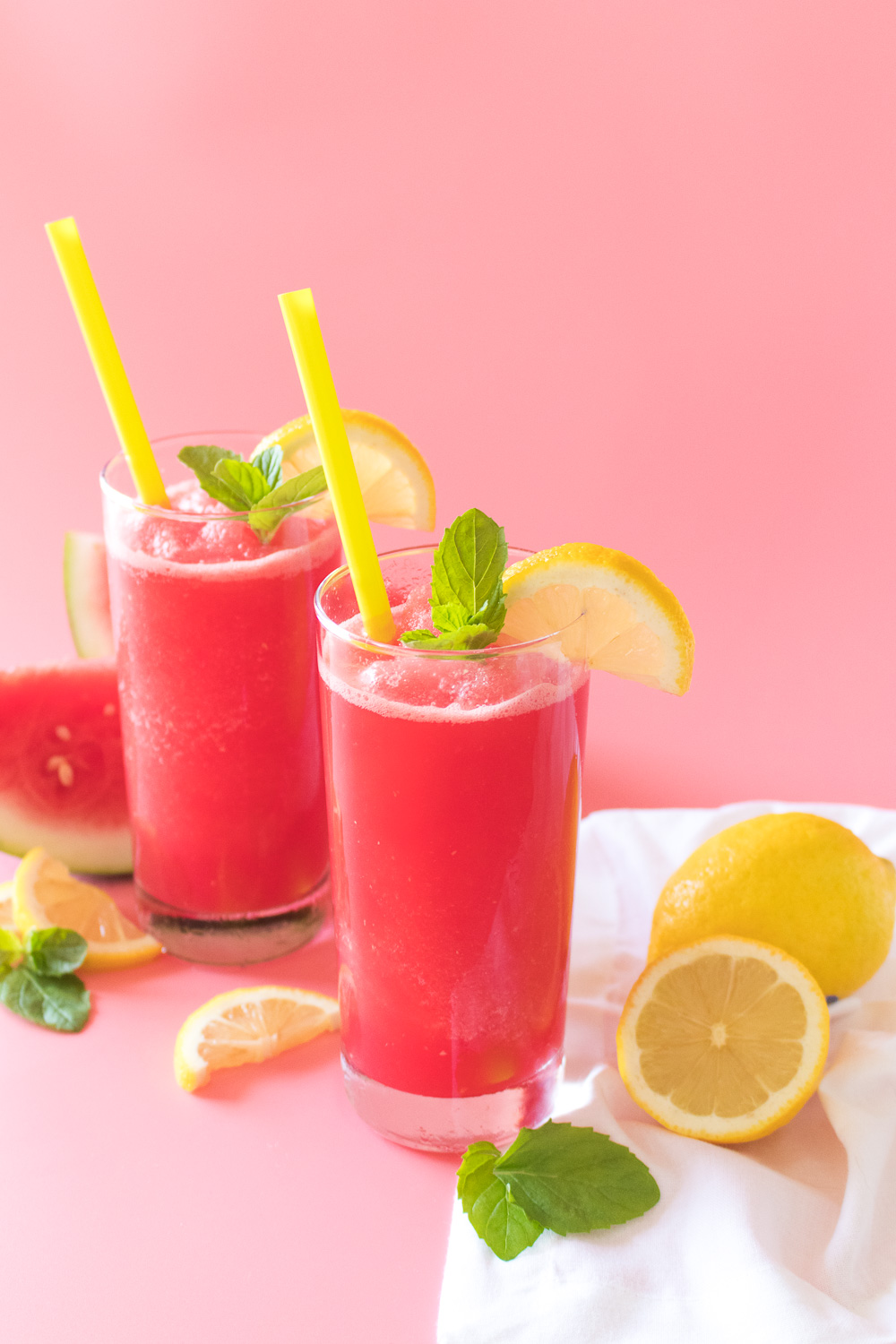 Did you know that melonade is a thing?! How did I not learn about this sooner?!
When someone mentioned "melonade" in passing on social media recently, I knew I wanted to try making it. Of course, I wondered what kind of flavors would be delicious to make with a watermelon/lemonade twist and decided that the ultimate summer combo would be a blended mint melonade, and I am pretty sure I just found my favorite summer drink. Oh, and I guess you can call this a mocktail, but I sure wouldn't mind a splash of rum in my glass!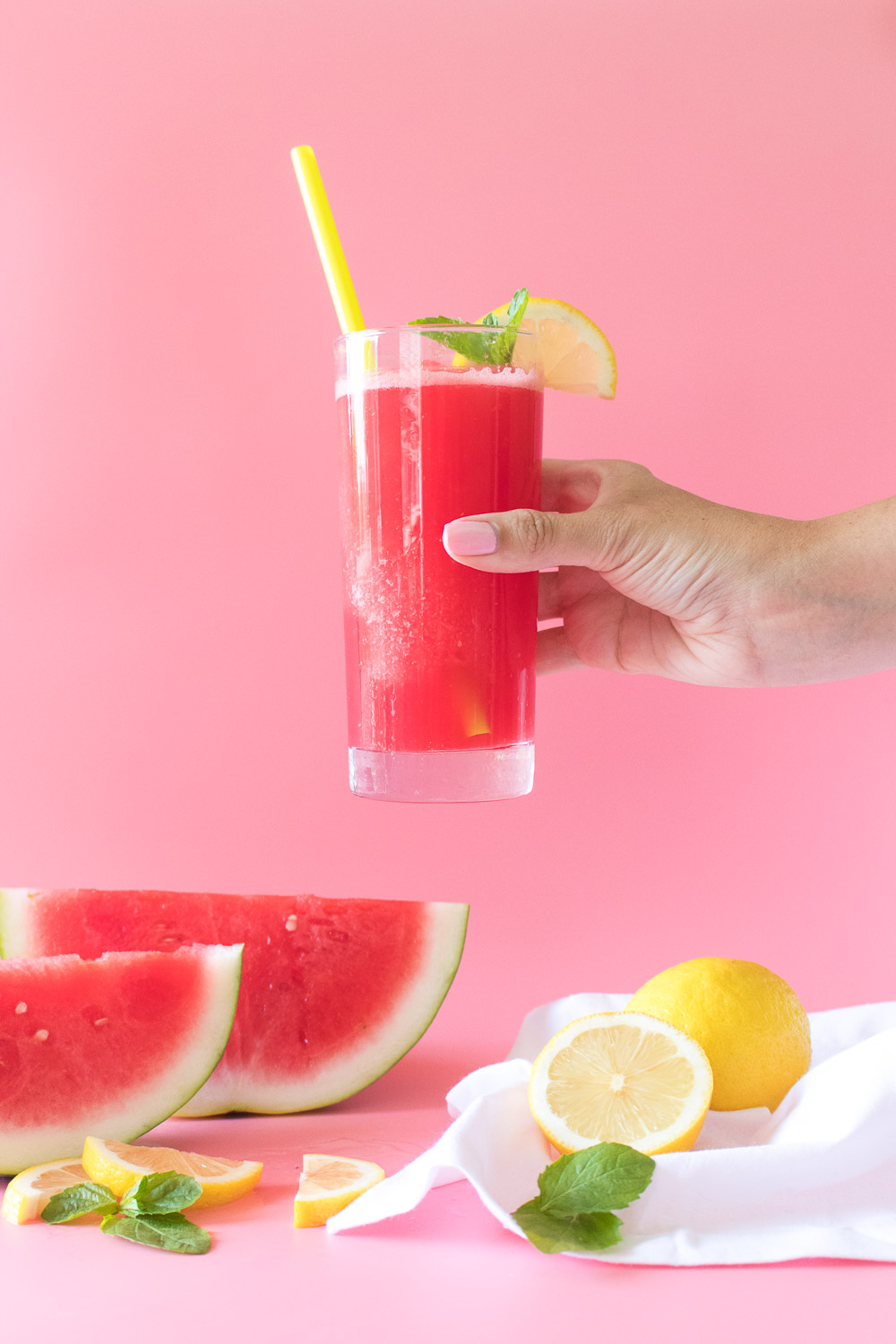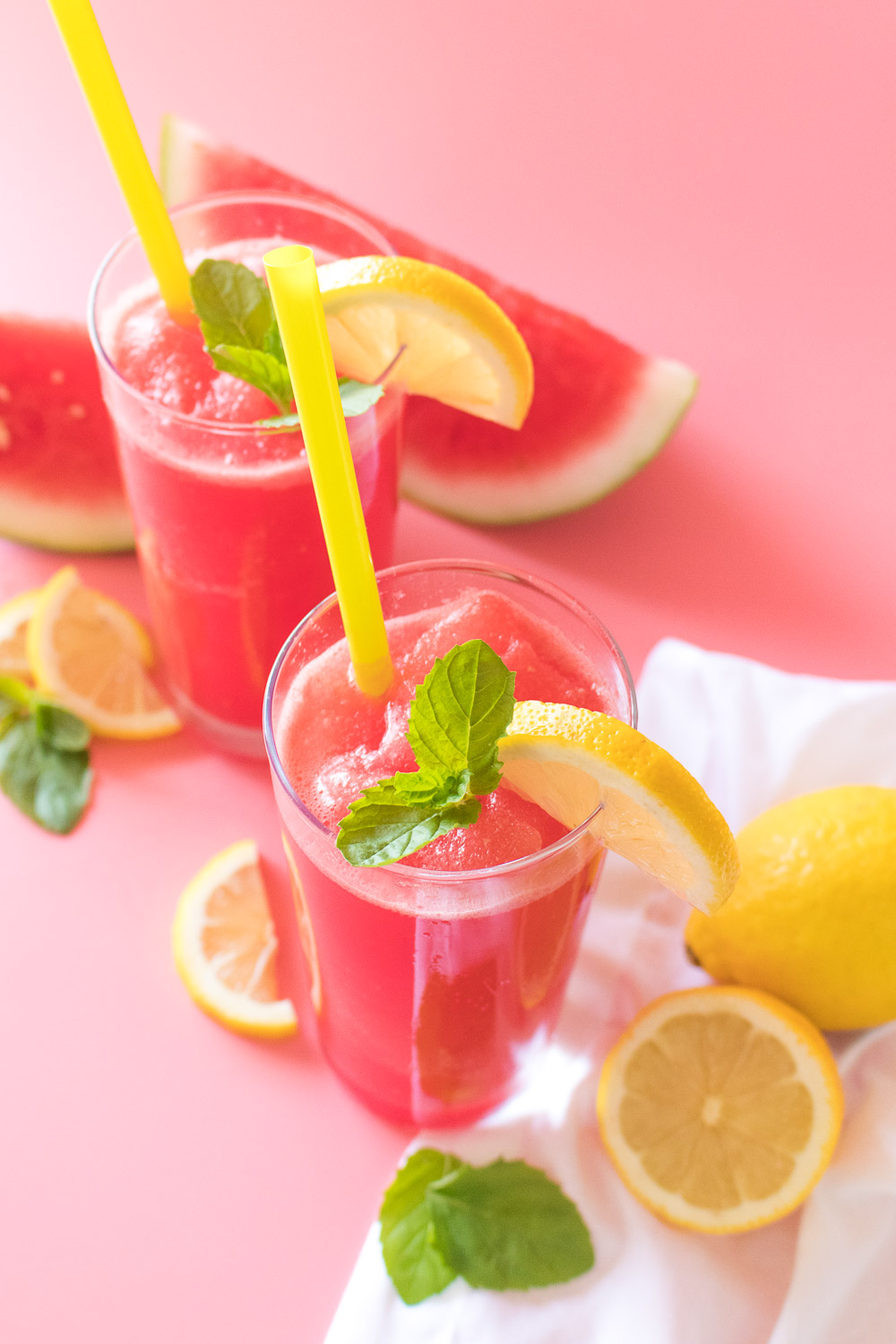 Is melonade as new to you guys as it is to me? Let me break it down: watermelon + lemonade = melonade
It's a match made it heaven, and blending at all together makes it feel more like I'm drinking something fancy on a tropical beach somewhere. With a little homemade mint simple syrup to give it sweetness and flavor, this blended mint melonade combines three delicious flavors to create my ultimate summer drink.
Scroll down for the full recipe card! ??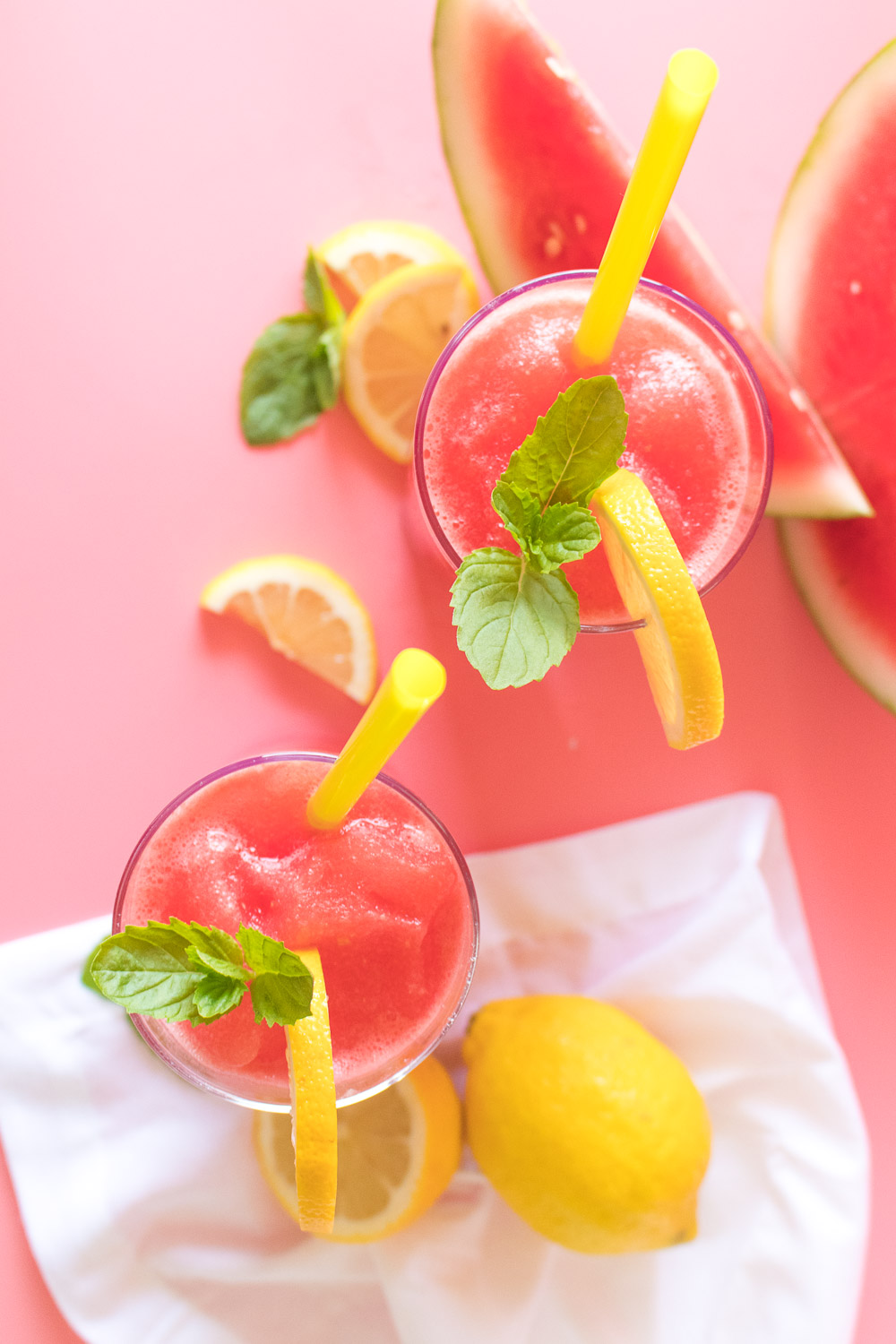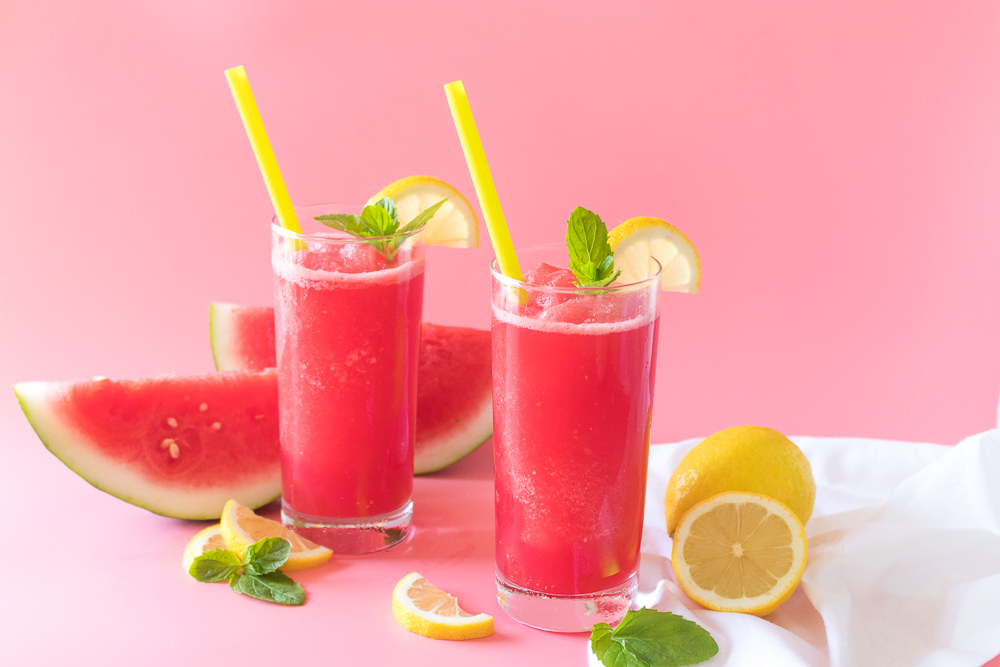 Seriously, I feel like this drink is worthy of a beach-front vacation…now, if only I had one of those.
My trick to making this drink right is to freeze the lemon juice rather than using only plain ice because it helps reduce how watered down the flavor becomes as it melts, so if you have enough time to prepare before making this drink, freeze the lemon juice.
Side note: it's actually really helpful to have frozen lemon juice cubes on hand for a bunch of reasons! I've used them for smoothies and even my water when I want to add lemon flavor.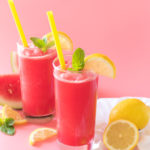 Blended Mint Melonade
2017-07-14 14:40:09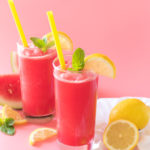 Serves 2
A delicious blended watermelon and lemonade drink made with mint simple syrup
Ingredients
2 lemons, juiced and frozen into cubes
1/4 of a mini watermelon, cubed
Ice
8-10 mint leaves
1/2 cup water
1/2 cup granulated sugar
For the mint simple syrup
Combine the water, sugar and mint leaves in a small saucepan over medium heat
Heat, stirring occasionally until the mixture begins to simmer and the sugar has completely dissolved
Remove from heat and set aside to cool and steep for 30 minutes
Remove mint leaves with a strainer and pour simple syrup into container, store in refrigerator until ready for use
For the mint melonade
Combine the frozen lemon juice cubes, cut watermelon, 3 tbsp chilled mint simple syrup and ice in a blender and blend until smooth, adding more ice as needed to reach desired consistency
Distribute between two glasses and garnish with additional mint leaves and lemon slices
Notes
You can substitute frozen lemon juice for fresh and simply add more ice
Club Crafted https://www.clubcrafted.com/