/
Churro Ice Cream Sandwiches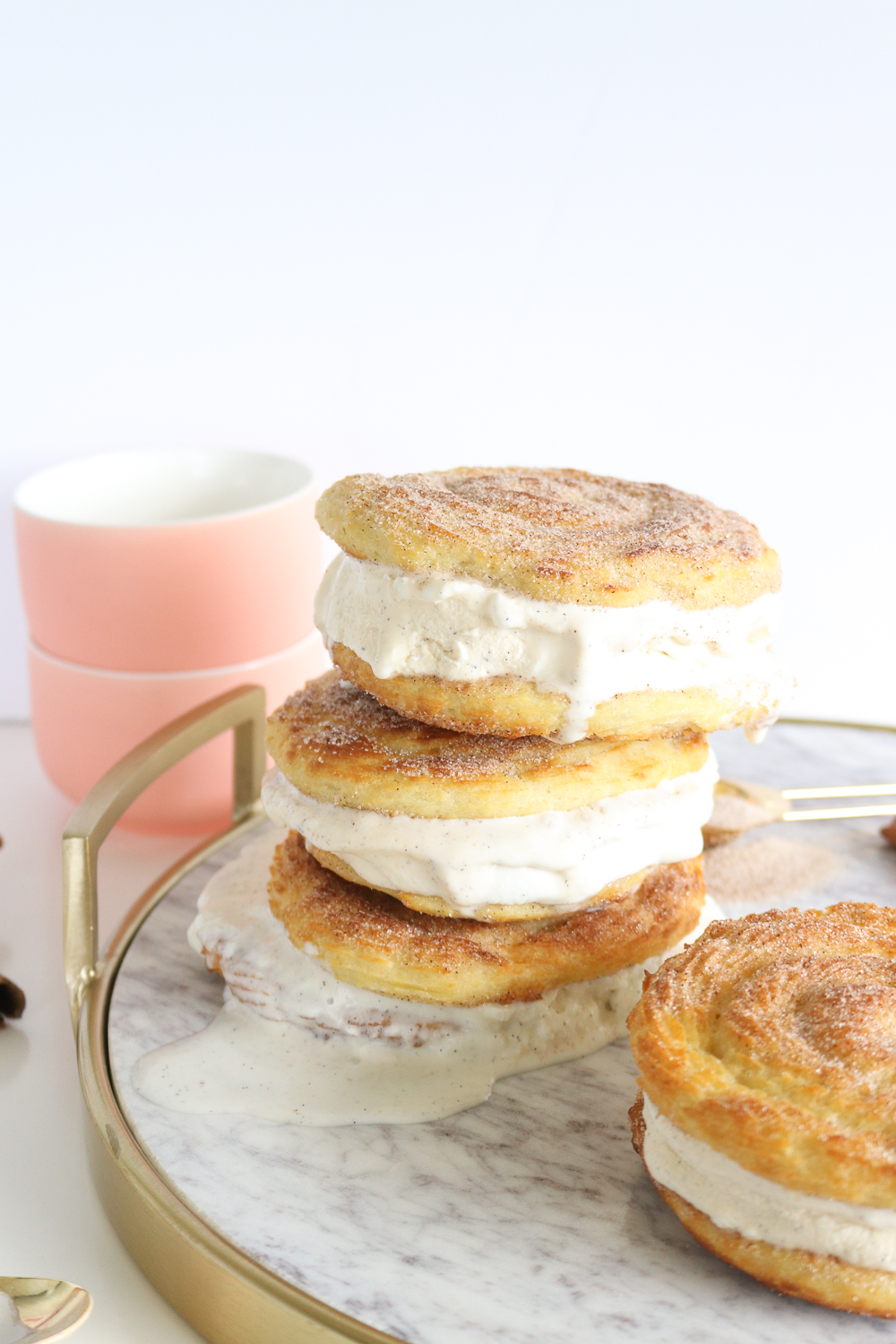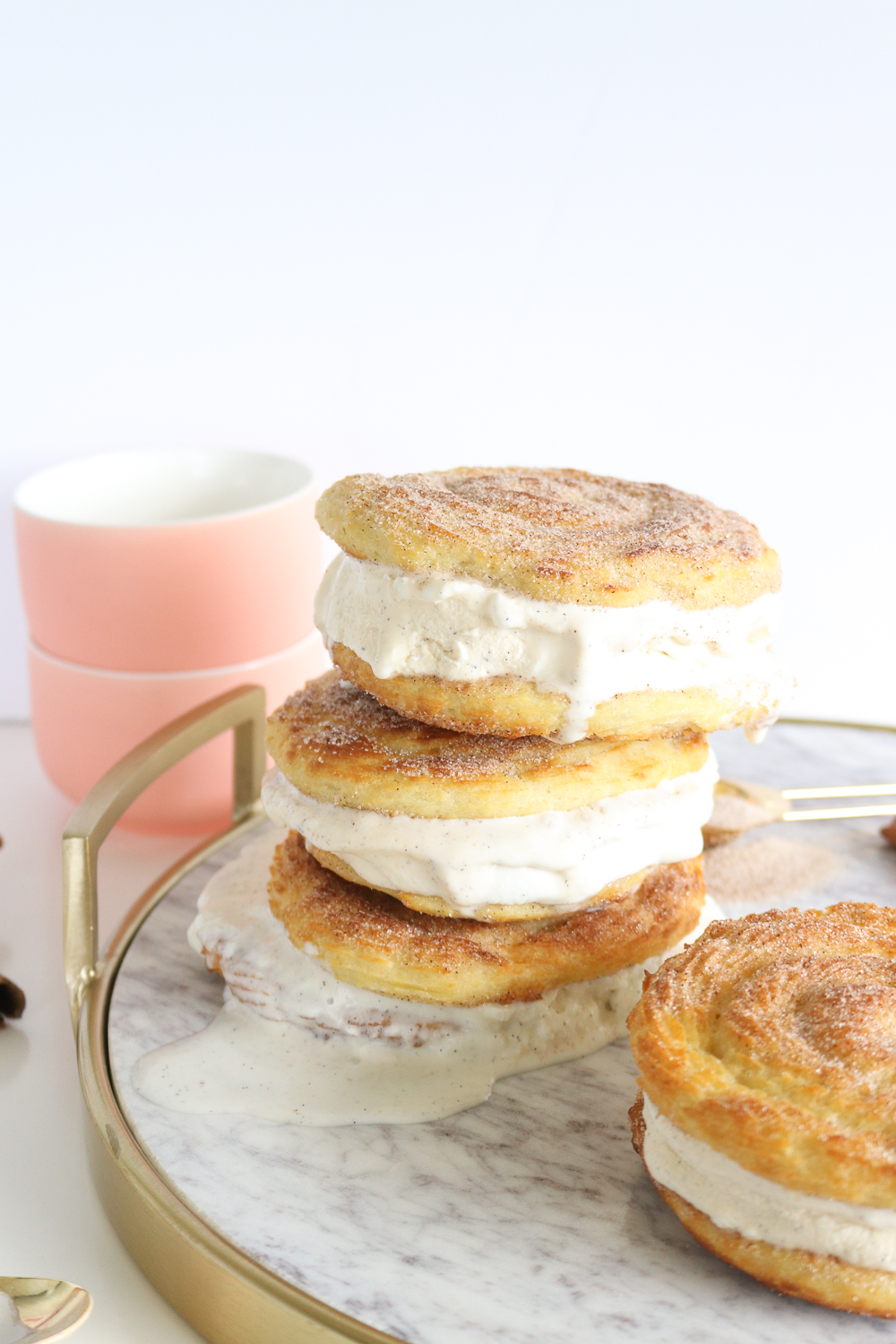 Whenever I go to fairs, theme parks or similar places, my favorite things to get are churros and pretzels. Churros, especially, are one of those foods that I only ever eat on occasions where I'm out at a fair or theme park, which is probably only once a year. So how does one satisfy a churro craving?! I had to make my own. I've seen them made several different ways and I knew they weren't difficult, but I had to take it to the next level for you guys.
I couldn't just make churros, so instead I made these delicious churro ice cream sandwiches by baked churros in round piped circle and then sandwiching vanilla bean ice cream in between them. When they're made fresh, they're SO delicious and messy (but in a good way).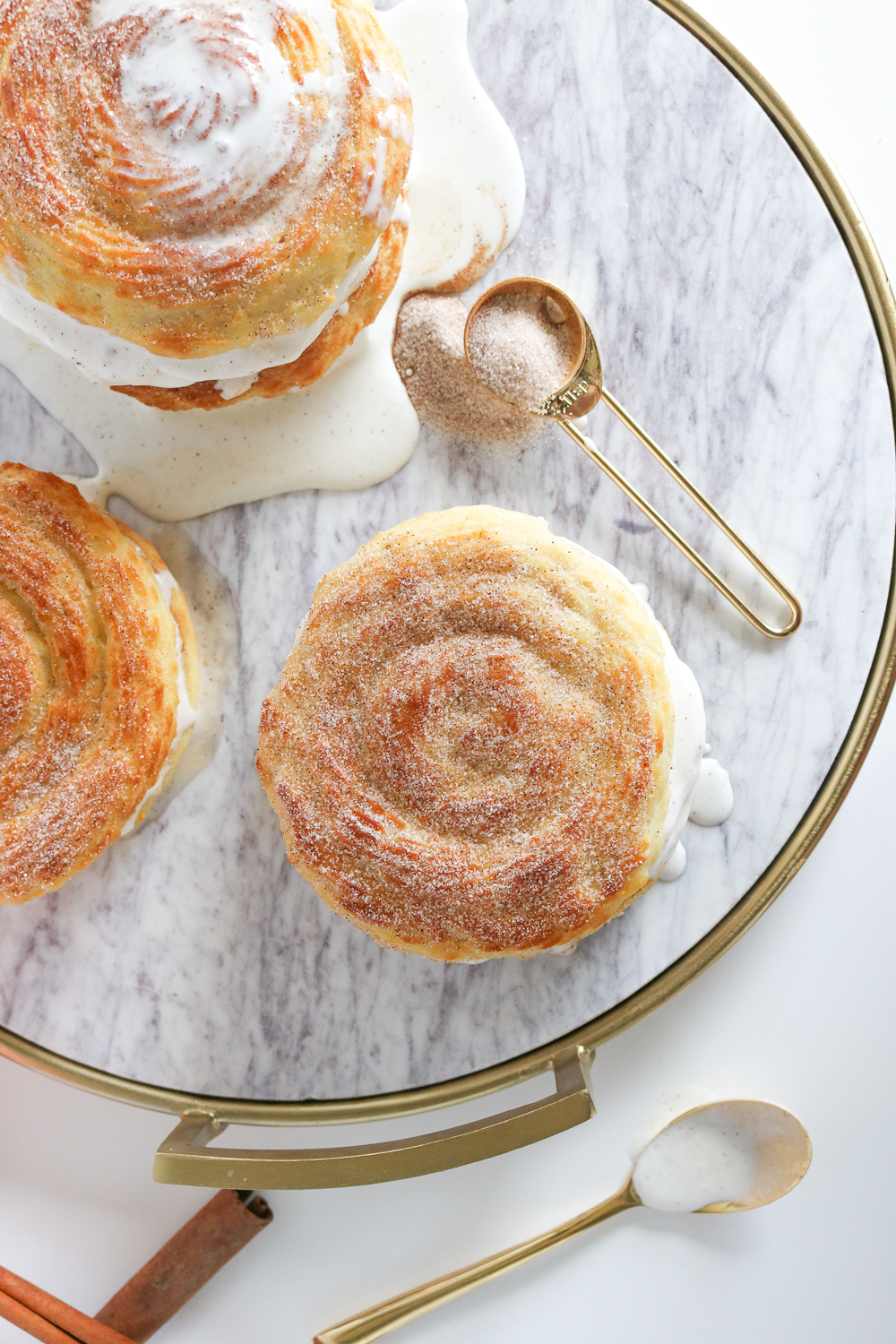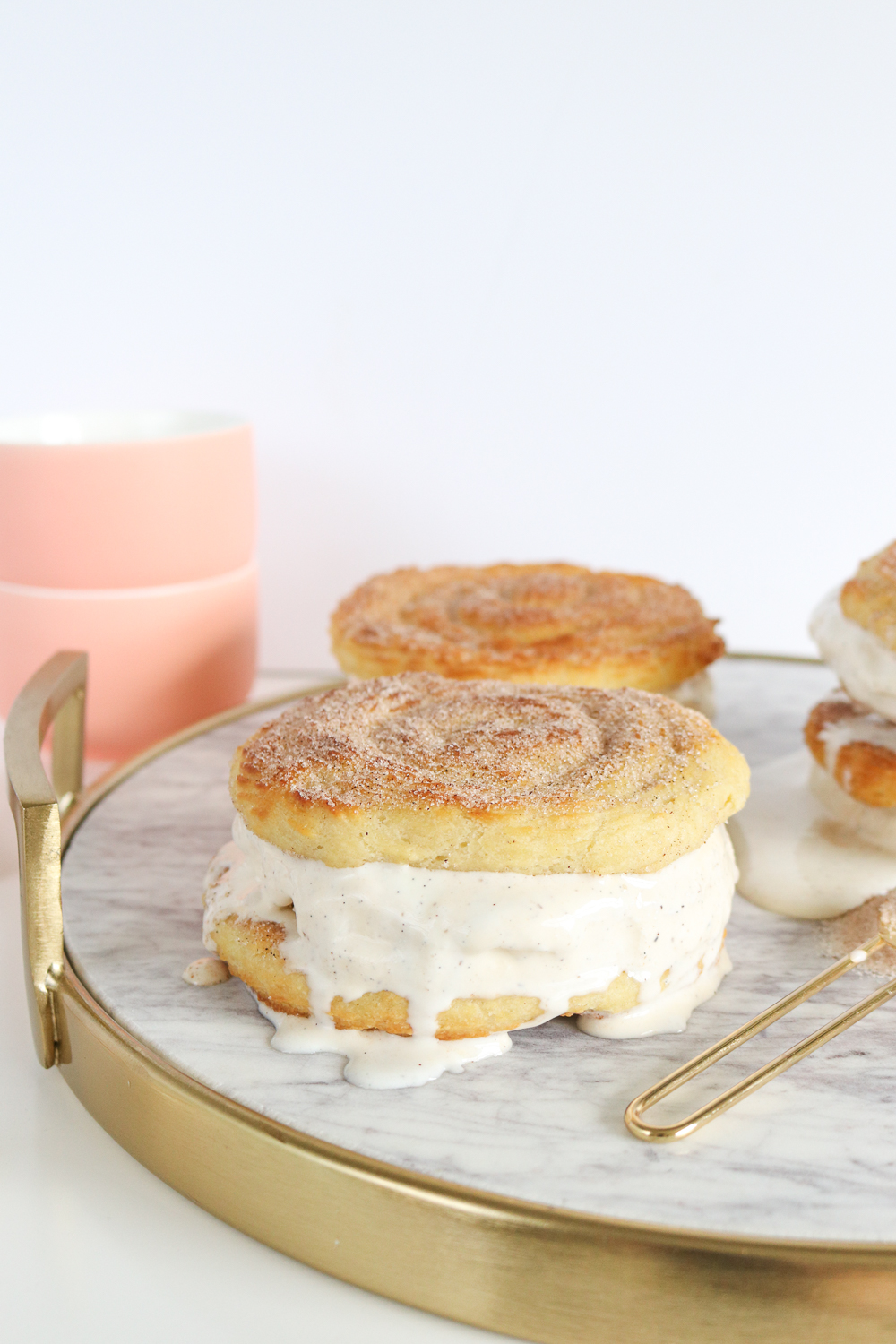 First of all, photographing ice cream is tough work. This was a very stressful experience, but it ended with ice cream sandwiches, so I guess I shouldn't complain. These ice cream sandwiches combine two amazing foods into one, and now I just want to eat them forever. Plain ice cream may be ruined forever?! Don't worry, it's not really.
Now, I suppose there are multiple ways you can go about making these churro ice cream sandwiches. You can bake the churros, which turn out fairly soft, and then scoop ice cream in the middle of two discs, or you can freeze ice cream in small springform pans and remove them to be sandwiched with ice cream. I used springform pans because the churros are soft, and therefore I did not want to risk damaging them by pressing on them with scoops of ice cream. However, this is a more time consuming option with a little more work involved.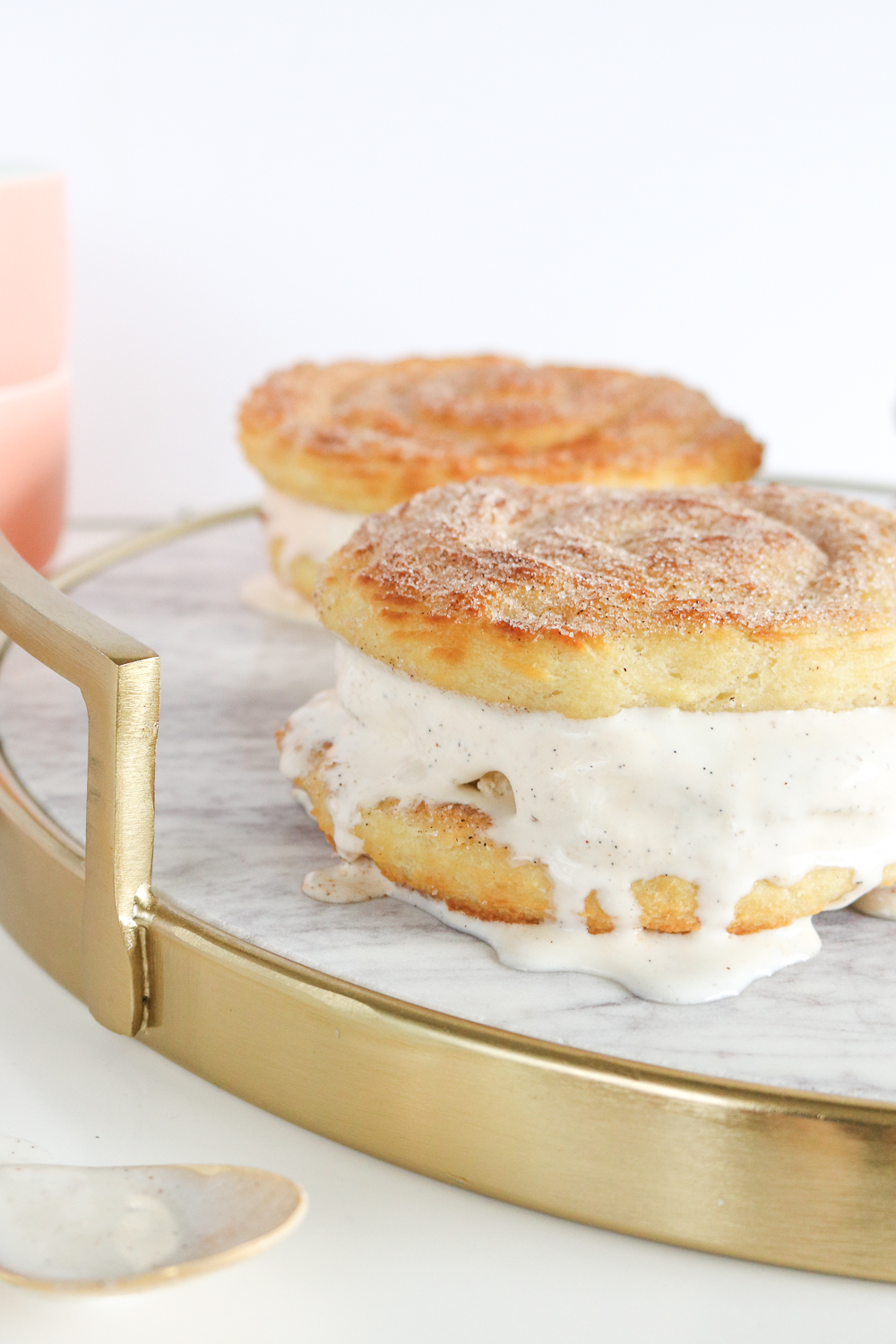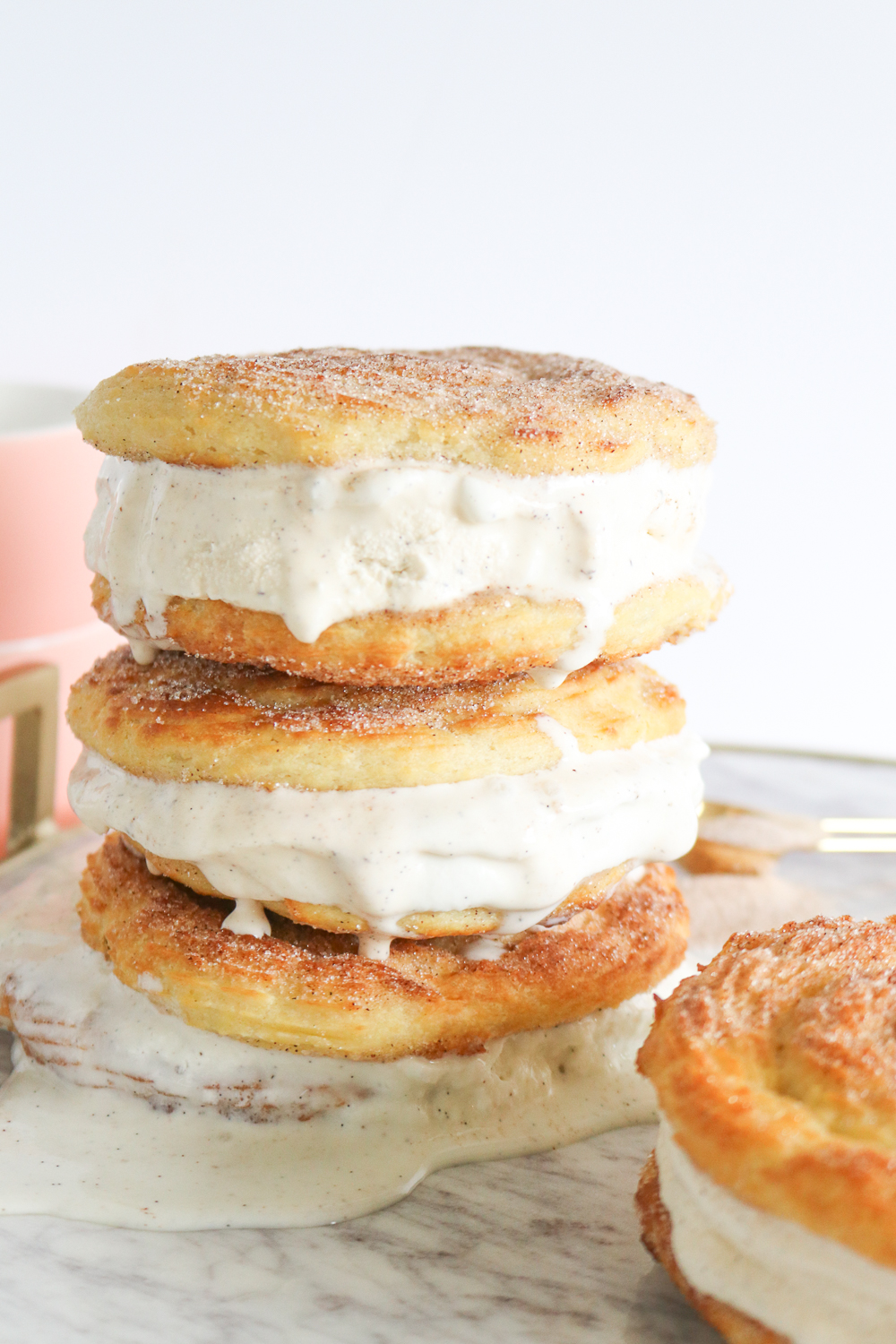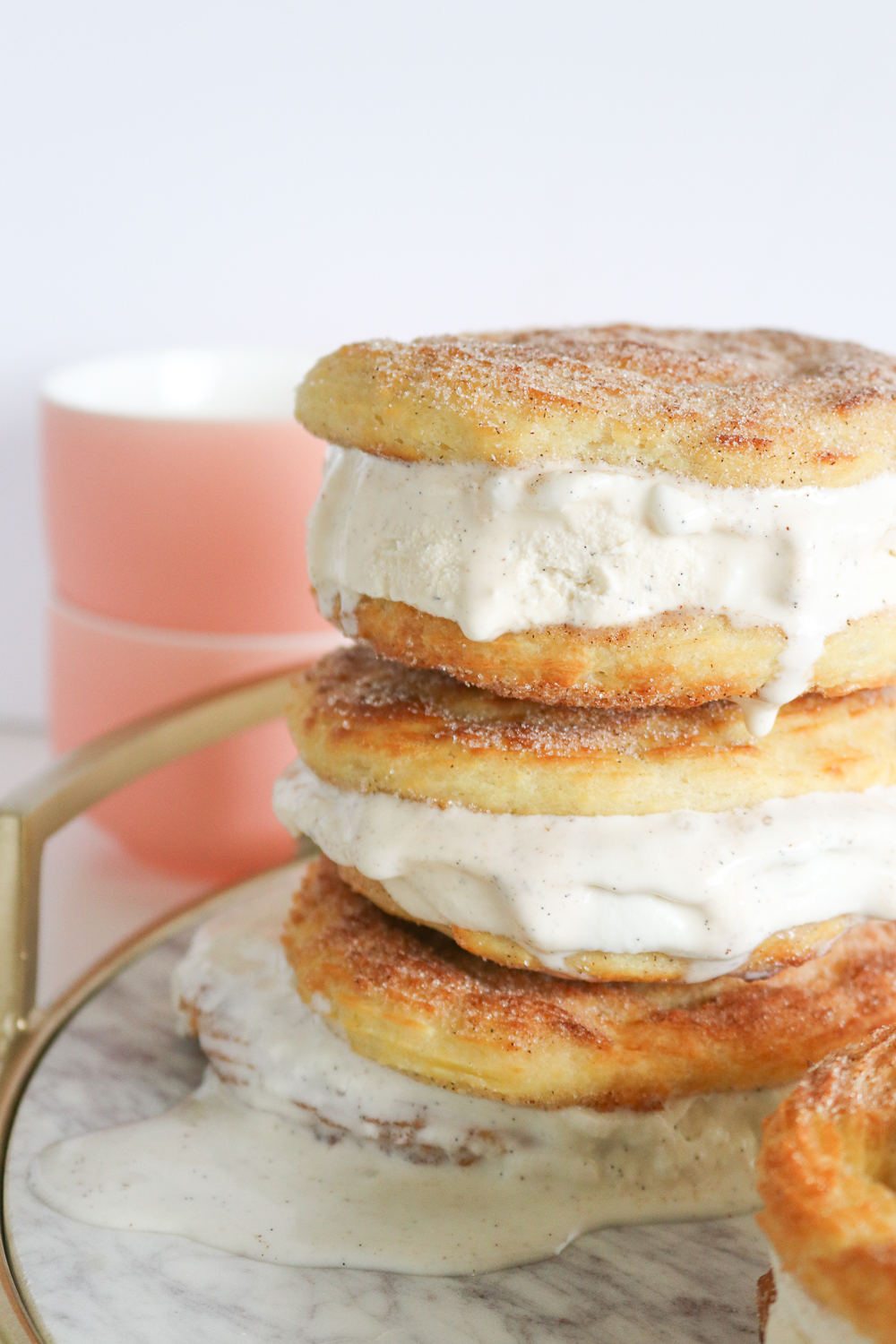 Most of the time, you're probably used to seeing churros fried (YUM). For these sandwiches, I couldn't achieve the exact shape if I fried them, so I went with the baking option, which I actually found much easier. Plus, it makes it slightly healthier, as if someone making ice cream sandwiches is super concerned about health…
As the weather starts heating up for spring and summer, these ice cream sandwiches are the perfect way to cool down and try something new. If you love churros and you love ice cream, you're definitely going to love these!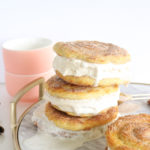 Churro Ice Cream Sandwiches
2017-03-18 10:37:26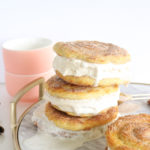 Vanilla ice cream is sandwiched between two delicious baked churro discs for the perfect frozen treat
Ingredients
2 cups water
1 cup unsalted butter
1/2 teaspoon salt
2 cups all-purpose flour
4 large eggs
2 tsp vanilla extract
Cinnamon
Granulated sugar
Vanilla ice cream
4-inch round springform pans
To make the churros
Preheat the oven to 425 degrees F and line a baking sheet with parchment. Use a pencil to trace the bottom of the 4-inch springform pan multiple times on the parchment and set aside
Combine the water, butter and salt on medium heat and stir until the butter is melted and the mixture is boiling
Remove from heat and stir in flour with a large spoon until well-combined
Mix in the eggs until smooth
Fit a pastry bag with a an open star tip and move the dough to the pastry bag
Starting from the middle, pipe a spiral in the middle of each drawn circle
Bake churros for about 25 minutes until golden brown
Turn on broiler and baked for about 2 minutes, watching closely, until the tops turn golden brown
Remove from the oven and immediately toss churros in a cinnamon sugar mixture (using tongs)
Set aside to cool completely
To assemble the ice cream sandwiches
Press ice cream into round springform pans and freeze until read to use
Carefully undo the springform pans and add a churro to each end of the ice cream
Freeze until ready to eat, but prepare at time of serving for best results
Notes
Remember, if baking in multiple batches, you will need to return the oven to the correct temperature prior to baking
These are best eaten fresh as the ice cream melts quickly and changes the churro texture
Club Crafted https://www.clubcrafted.com/