/
Rainbow Tie Dye Blondies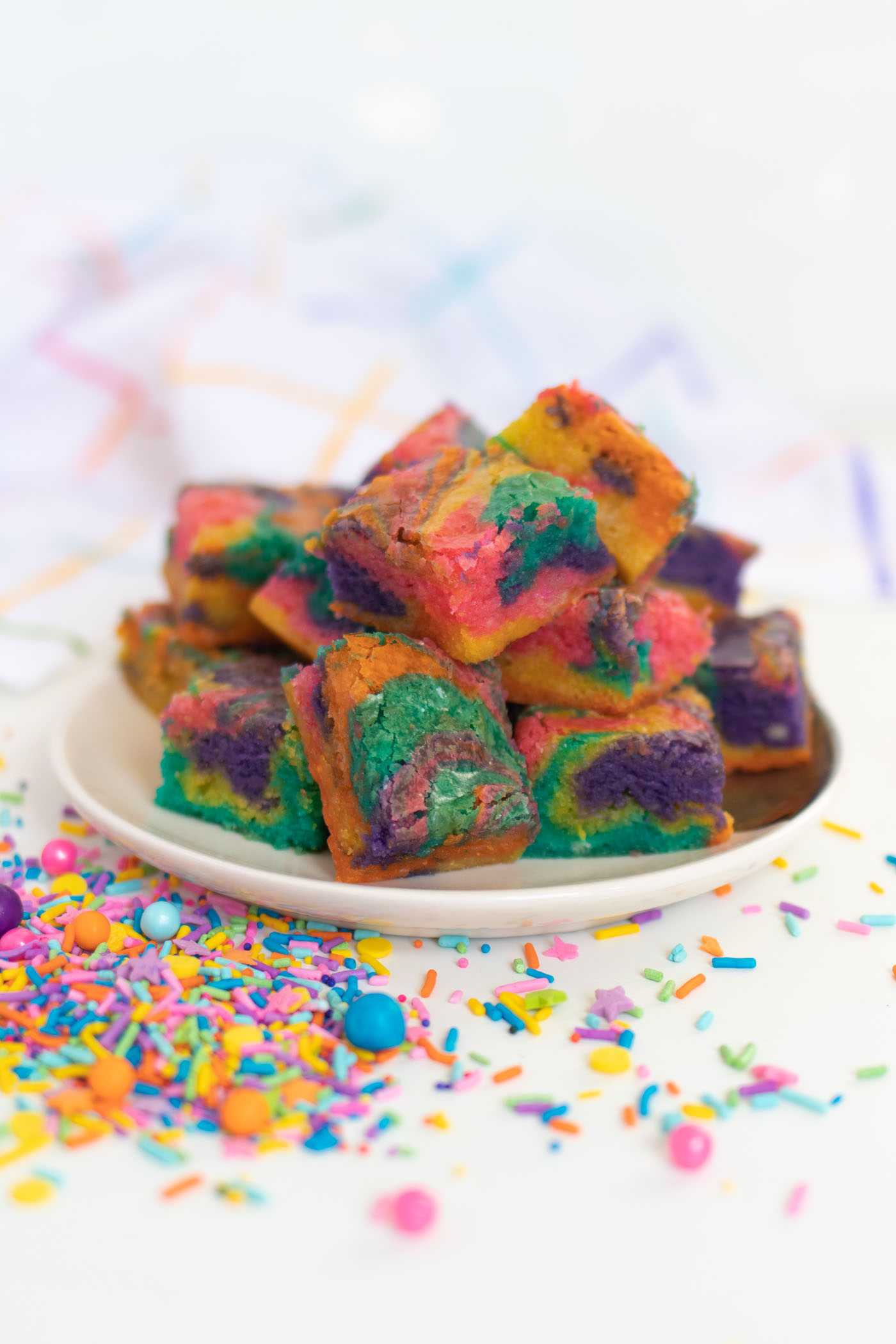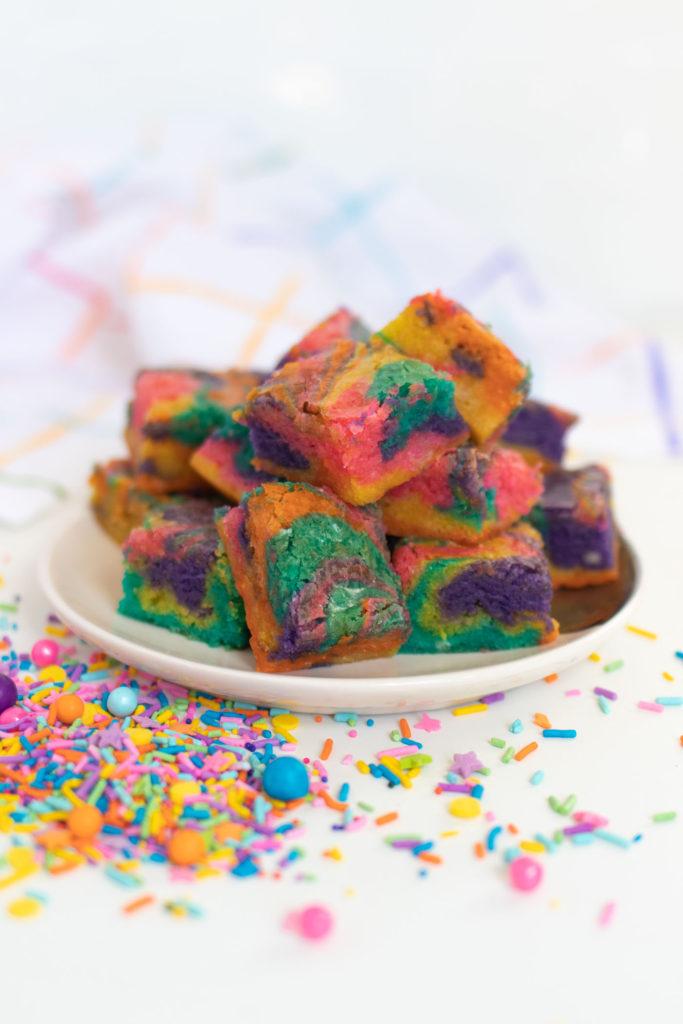 Get ready to add a little rainbow to your life! These tie dye blondies are a literal bite of a rainbow, and they were a real treat for our camping trip last weekend. Rainbow blondies are an easy treat to make without any special tools (no electric mixer needed!) and the fun tie dye look gives me major 90s vibes. Trust me, these rainbow tie dye blondies will have you questioning your love of classic brownies. Don't worry though, you can love both equally!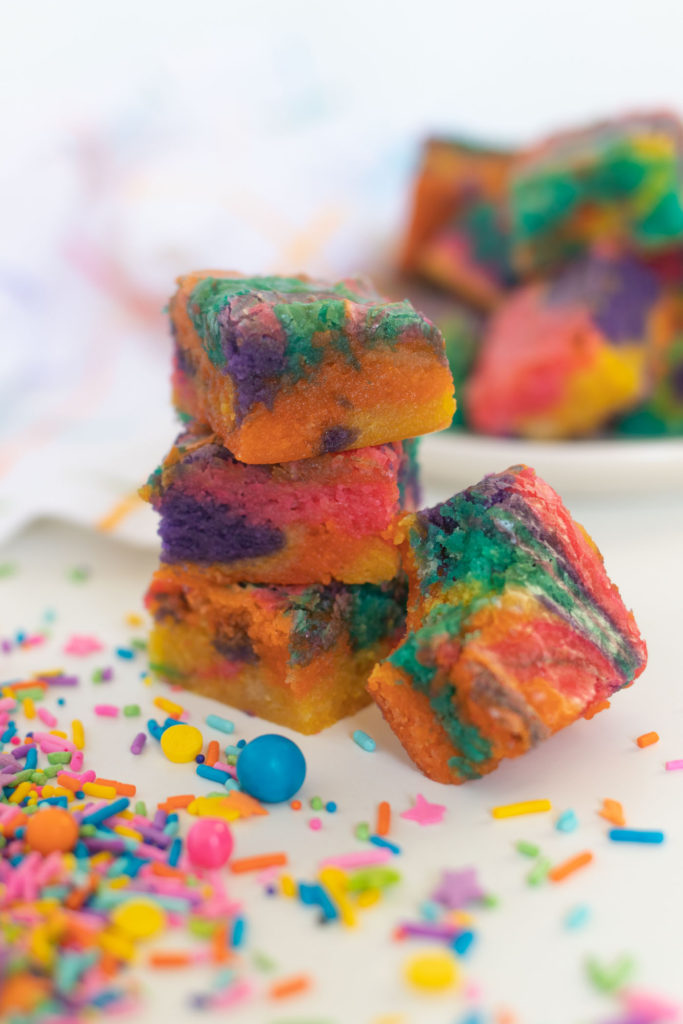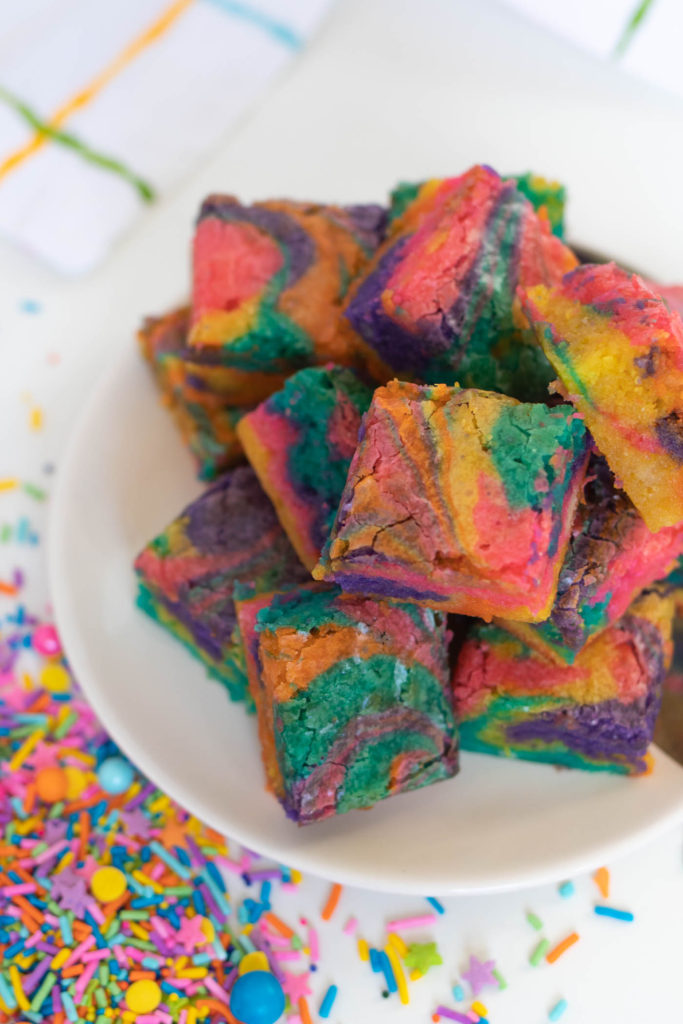 What are Rainbow Blondies?
People are always a little confused about what blondies are, but it's actually quite simple: blondies are vanilla (and sometimes a little white chocolate, like these!) and brownies are chocolate. Blondies can actually be more versatile, in my opinion, because they're sometimes made with brown sugar or white chocolate to completely change the flavor.
In the case of these tie dye blondies, I use a very small amount of white chocolate to give the blondies a richness and creaminess. If you don't like white chocolate though, have no fear! There isn't enough white chocolate in these blondies to give them a true white chocolate flavor. Andrew is the key – he liked the tie dye blondies even though he really dislikes white chocolate!
OK, are you sick of me talking about these rainbow blondies yet? That's fair. If you decide you don't want to taste the rainbow, that's OK too! Some people are purists. You can skip the rainbow and bake them as traditional blondies, and they'll be equally delicious. Plus, you can mix in your favorite add-ins like nuts and sprinkles! Personally, I like them as-is, but sprinkles make everything better. Duh.
Love rainbow desserts?? I have plenty of rainbow food ideas to try in the archives, but these rainbow mousse shooters are my personal favorite.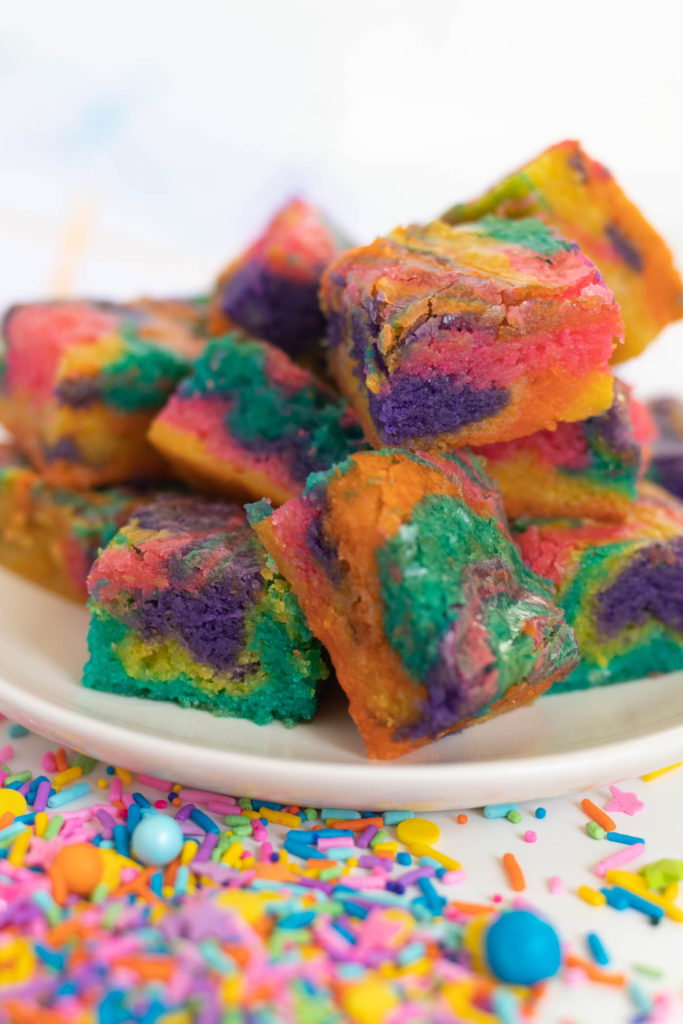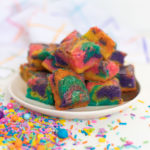 Rainbow Blondies
2019-08-05 13:43:36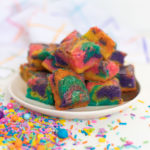 Soft, chewy tie dye blondies made with white chocolate and a rainbow of colors
Ingredients
1 cup butter
1/2 cup white chocolate
4 eggs
2 cups granulated sugar
1 tsp vanilla extract
2 cups all-purpose flour
1/2 tsp salt
Food coloring, rainbow
Instructions
Preheat oven to 350 degrees F and lightly spray a 9 x 13 inch baking pan with cooking spray. For easy cutting, line with parchment paper and spray again with cooking spray
In a small bowl, combine the butter and white chocolate and melt in 30-second increments, stirring in between, until completely melted. The mixture will appear separated.
In a large mixing bowl, whisk together the eggs and granulated sugar, then the vanilla.
Once the butter mixture is cool, whisk it into the egg mixture. Mix with the whisk until smooth.
Add the flour and salt in batches, mixing lightly until mostly mixed but some white still remains
Separate the blondie batter into 4-5 bowls for coloring
Add food coloring to each and mix lightly until color is vibrant throughout the batter
Pour each color into different sections of the prepared baking pan to create a tie dye appearance. Once finished, run a knife through the butter in a swirl pattern
Bake for about 30 minutes until a toothpick inserted into the center comes out free of liquid batter. Allow to cool at room temperature before removing from the pan
Pull the rainbow blondies out by the parchment and cut into squares
Notes
Recipe can be easily halved and cooked in a 8 x x inch pan instead. Lower cook time as needed. Store leftovers in an airtight container for up to 5 days, as if they'll last that long!
Club Crafted https://www.clubcrafted.com/