/
Rainbow RickRack Dress // How to Sew RickRack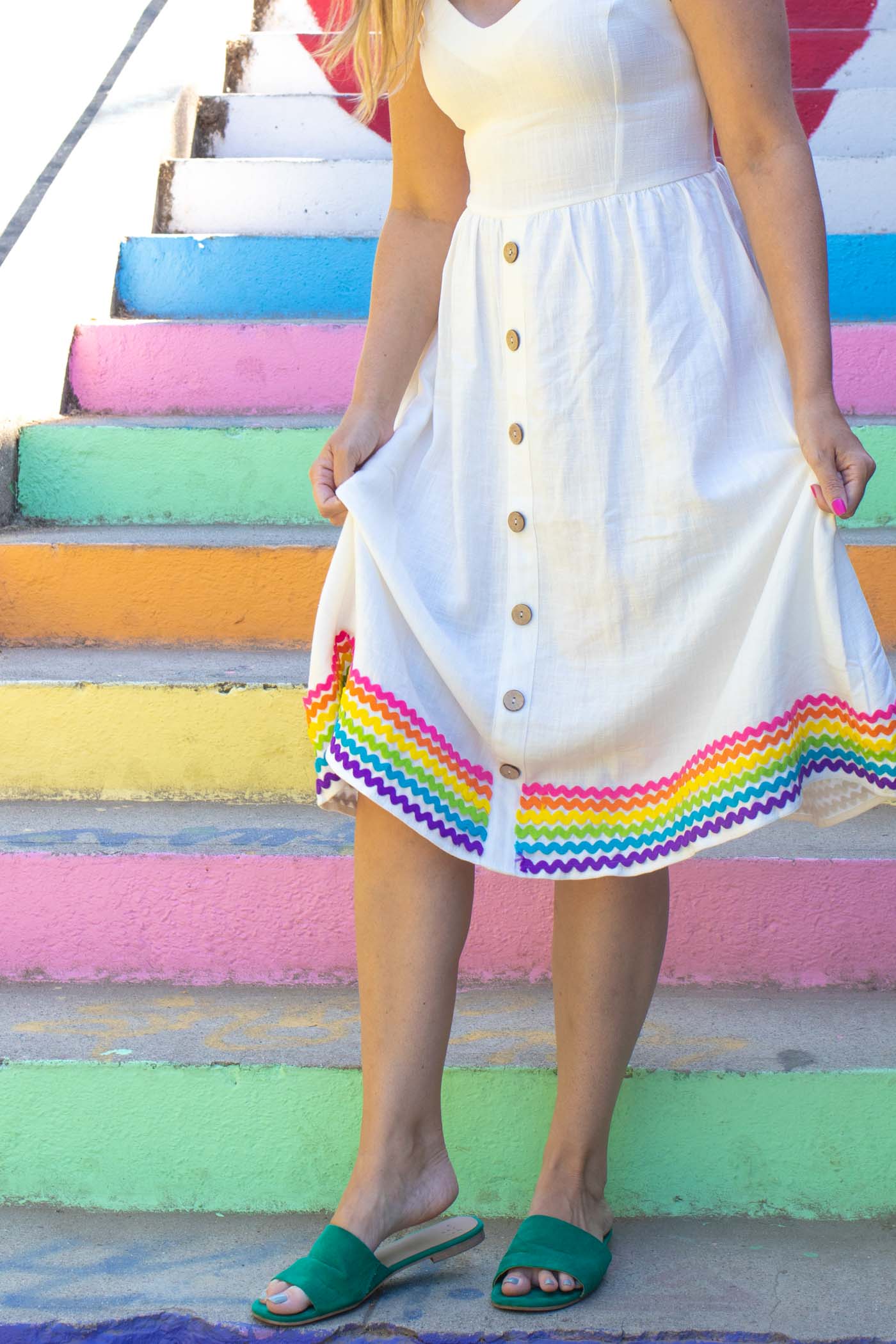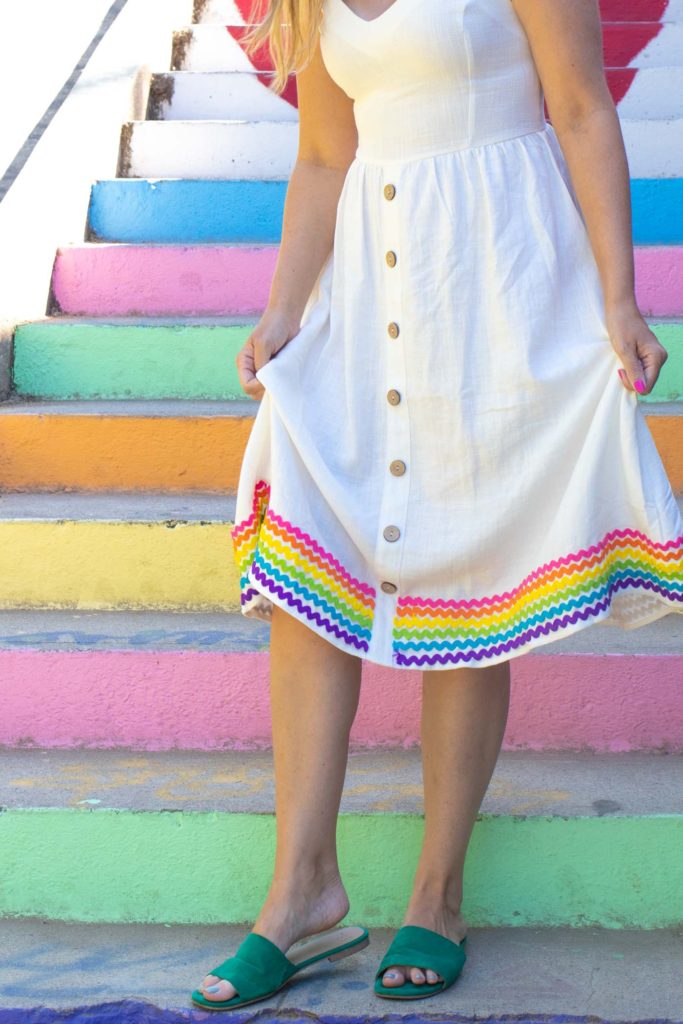 Summer in California lasts well into October, so I'm SO excited to get use out of this DIY rainbow rickrack dress! Preparing to sew this dress, I learned a lot about how to sew rickrack, so I'm excited to pass along my tips to you to help you update a plain dress with rainbow rickrack trim. I'd consider this a beginner sewing tutorial, but it will take some patience. Honestly, sewing in general takes patience! Nonetheless, every dress in my closet could use a colorful addition like this rainbow rickrack added. Keep reading for the full tutorial!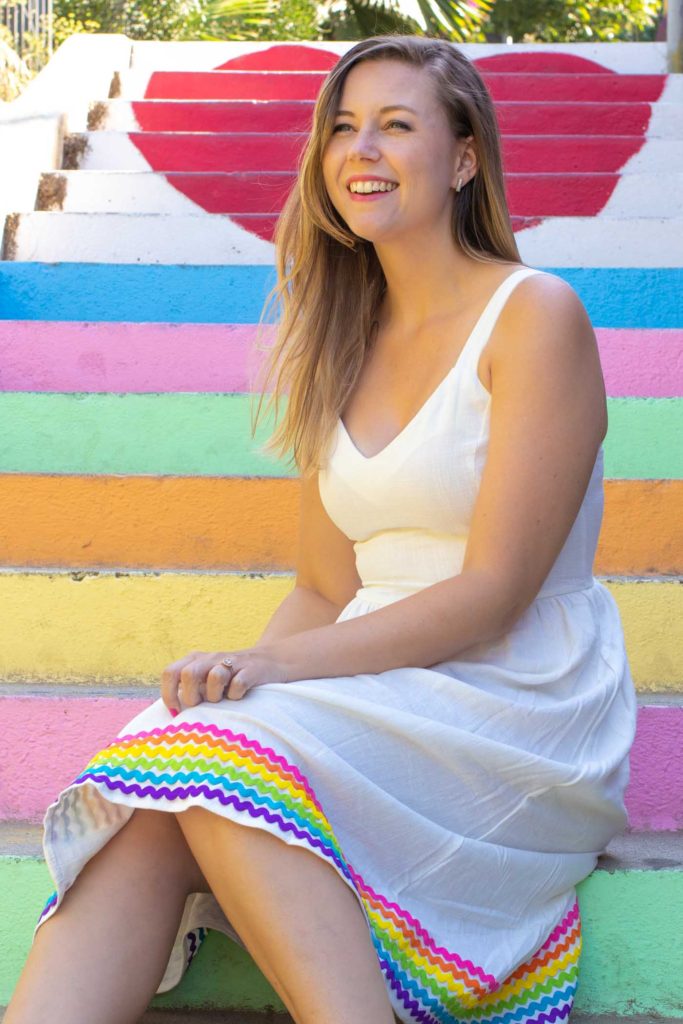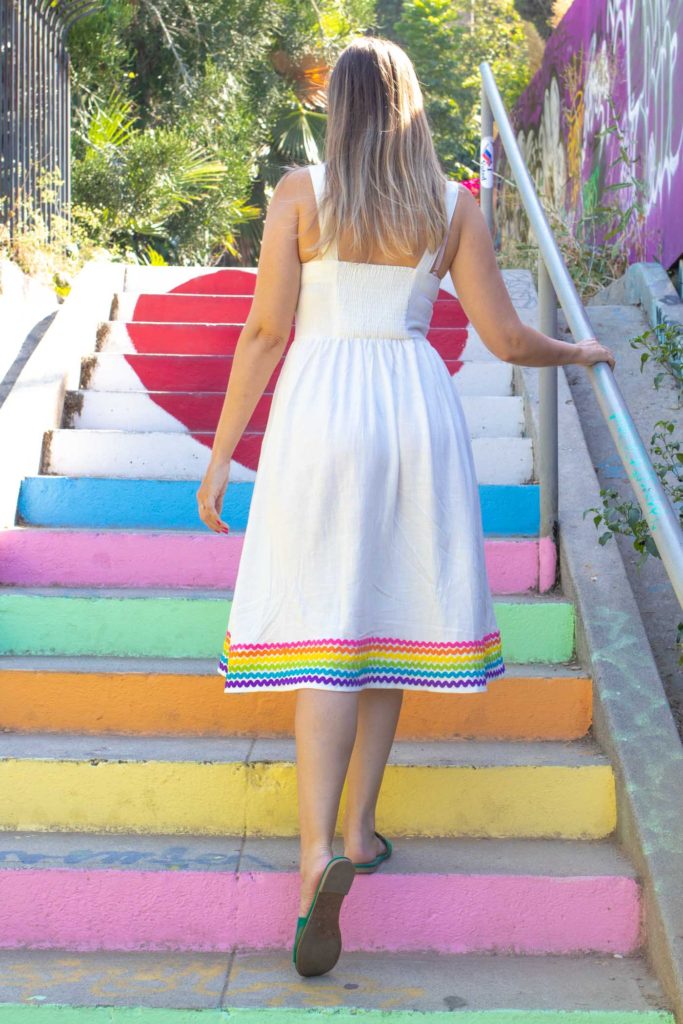 As you probably know by now, I like adding rainbows to just about everything! Naturally, we stopped by the rainbow staircase in Silver Lake for these photos.
Because I used six strands of rickrack around the bottom of the dress, it does add weight. Be aware of that when choosing your dress. Make sure that adding a little weight on the bottom won't pull the top of your dress down too much. This rickrack sewing tutorial would also be cute for a skirt!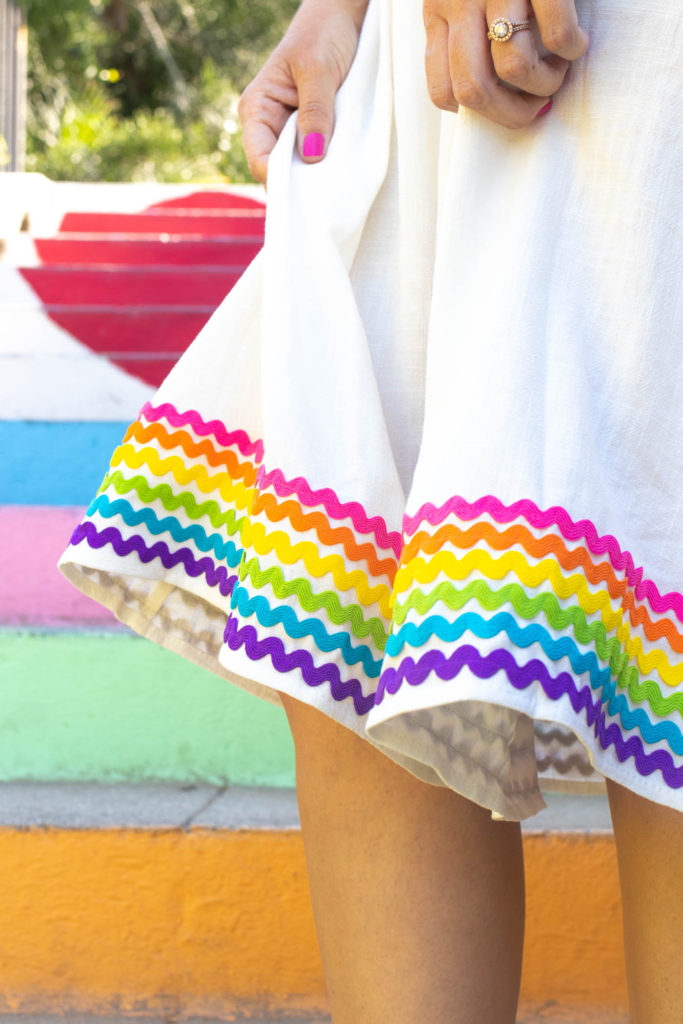 What is RickRack?
First, you might be wondering what rickrack even is…for that matter, is it rickrack or rick rack? Simply put, rickrack (no spaces, I think) is a zigzag-shaped braided trim that comes in just about any color you could want. You can find it at your local craft store like JOANN, which is where I purchased each color you see here.
RickRack is often sewn so that half of the zigzag shape peeks out from a seam, but in this case, I use it to create a rainbow rickrack dress detail along the bottom of a plain white dress. It's a really versatile type of trim, and it's easy to use! Below, I talk about how to sew rickrack, particularly as it applies to this style of dress.
Quick note about sewing rickrack: I use CLEAR thread for this rickrack dress because it allows me to avoid purchasing thread in all six colors and changing my thread constantly. The only downside to using clear thread in sewing is that it can break more easily, so it's best to work slowly, even if you're an experienced sewer.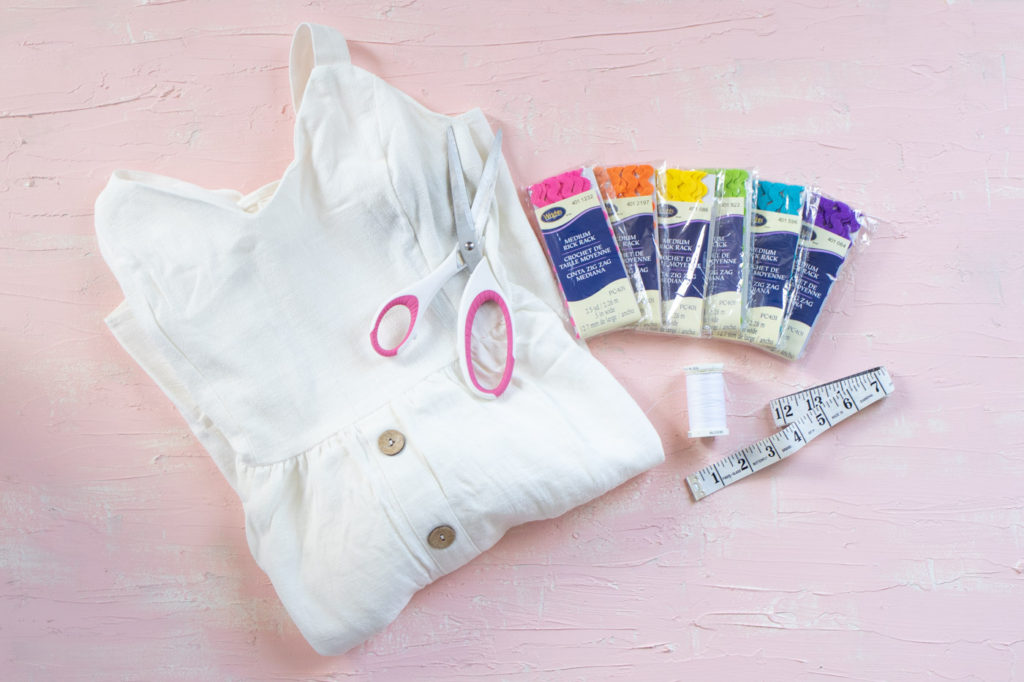 How to Sew RickRack as a Dress Trim
Supplies:
White dress (I purchased this linen dress)
Pins
Scissors
Sewing machine
Measuring tape, recommended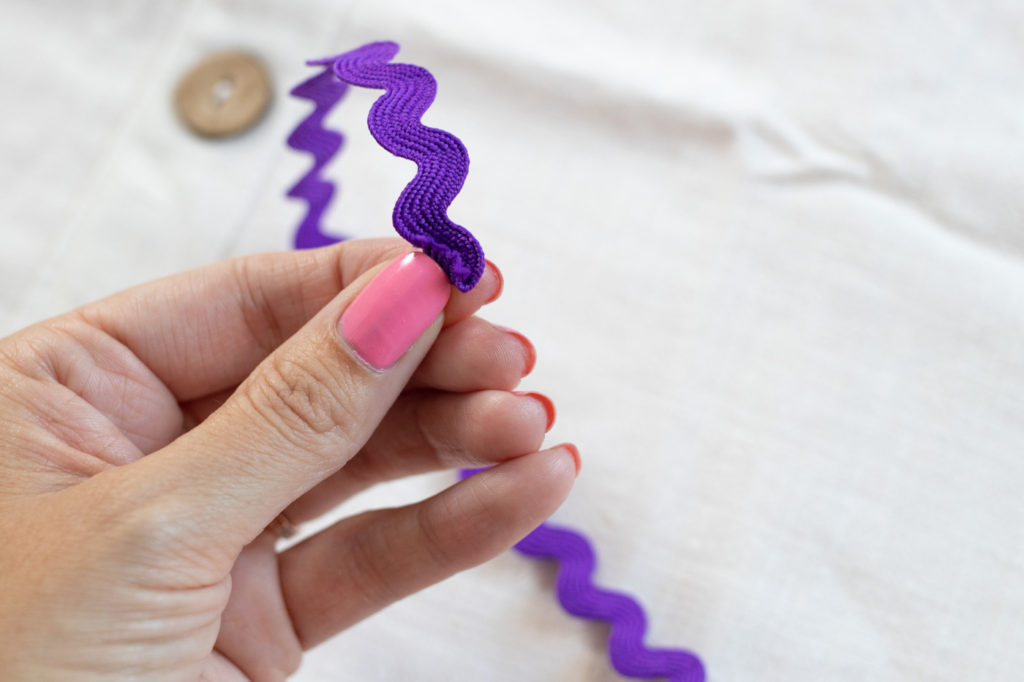 Step 1: Start with the color of rickrack you want along the bottom. Fold over the end to prevent fraying.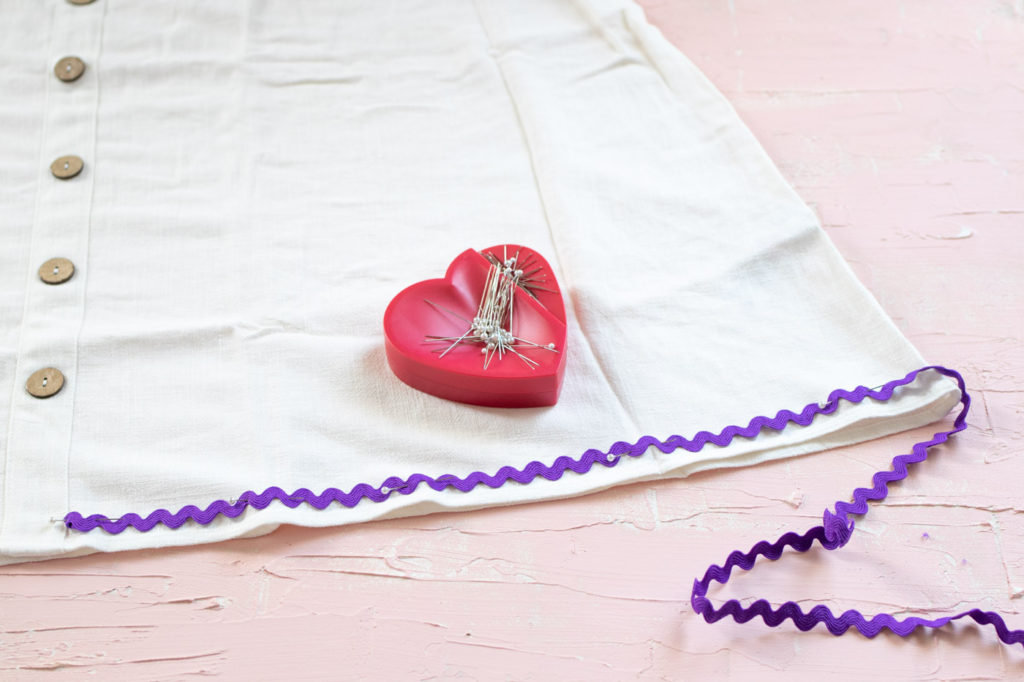 Step 2: Leave about 1 inch at the bottom of the dress, then pin the folded end of the rickrack to the dress at your desired seam. Keeping the same 1 inch of space along the bottom, pin the rickrack all the way around the dress until you reach the ending point.
Note, I started at the front of the dress and left the buttoned front un-sewn. If your rickrack dress is a different style, I recommend starting from a seam along the SIDE of the dress.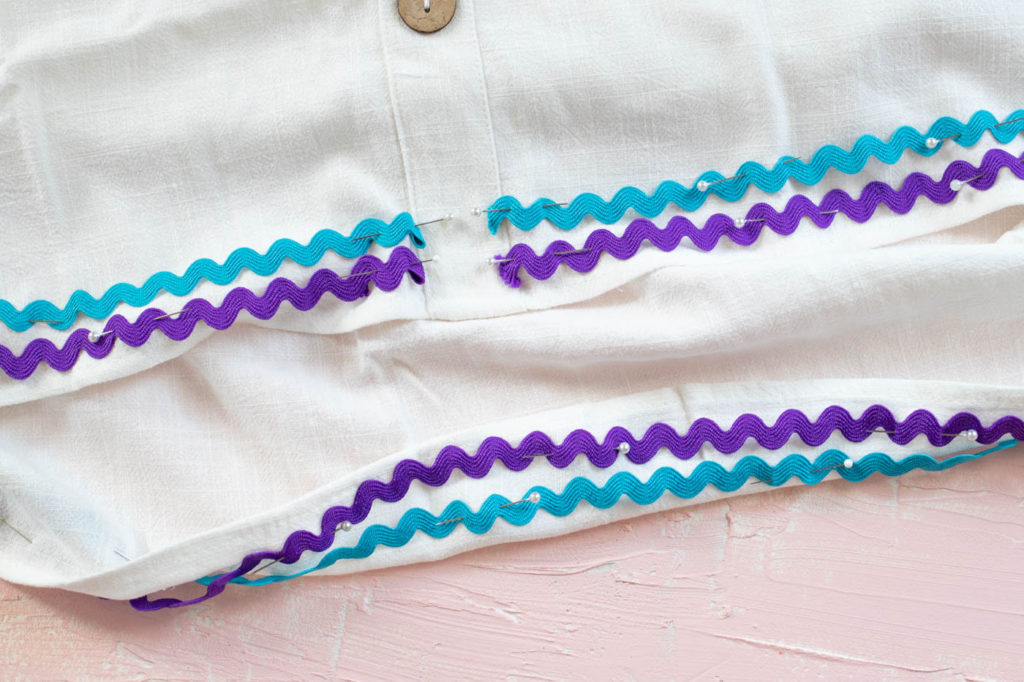 Step 3: When you reach the end, leave about 3 inches, then cut the rickrack and fold it underneath itself, pinning in place. You can pin several colors at a time, leaving equal amount of space in between the trim.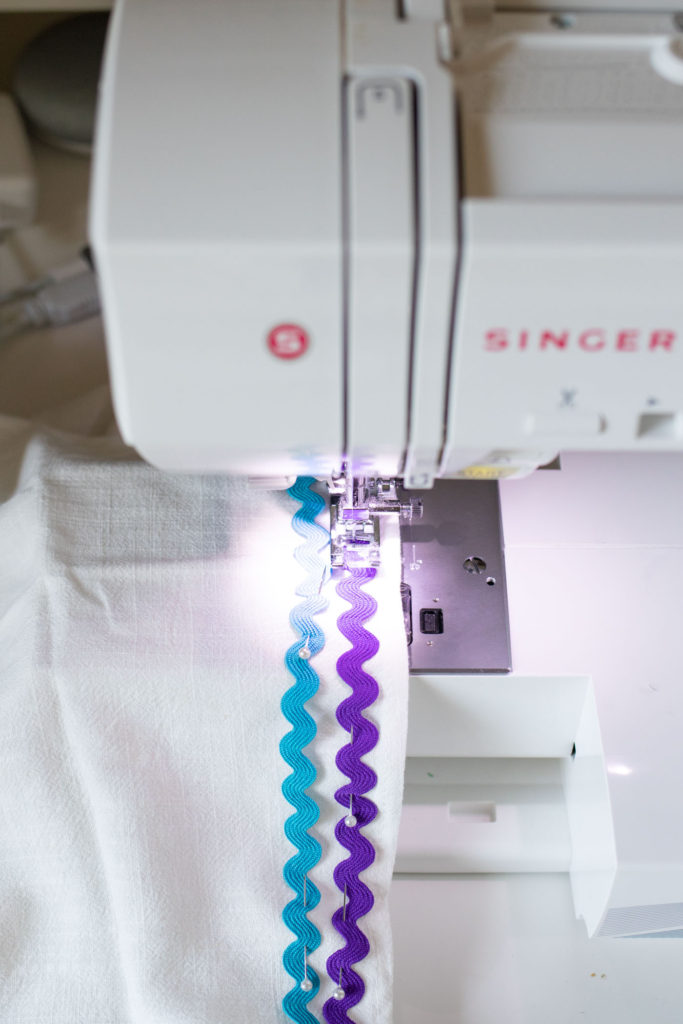 Step 4: Load your sewing machine with clear thread. Sew directly down the middle of the rickrack, back stitching at the beginning and end. Sewing down the middle with clear thread will make the rickrack secure and the thread almost invisible.
Step 5: Repeat with all colors around the bottom of the dress!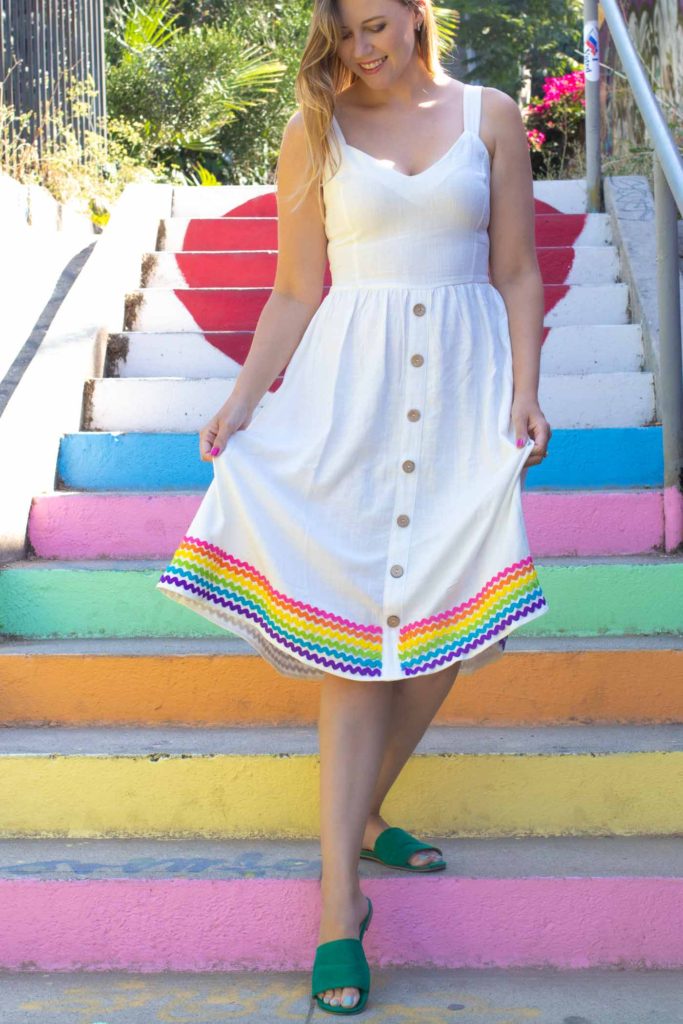 I LOVE this rickrack dress and look forward to wearing it as much as I can this summer! After all, every outfit could use more rainbows! What should I add rickrack to next?!
PS, if you love rainbow fashion, I think you'll love this rainbow clutch made from a placemat!
Please note this post may contain affiliate links from which I may collect a small profit should you choose to make a purchase. I only link to products I personally use or recommend.