/
Rainbow Mousse Shooters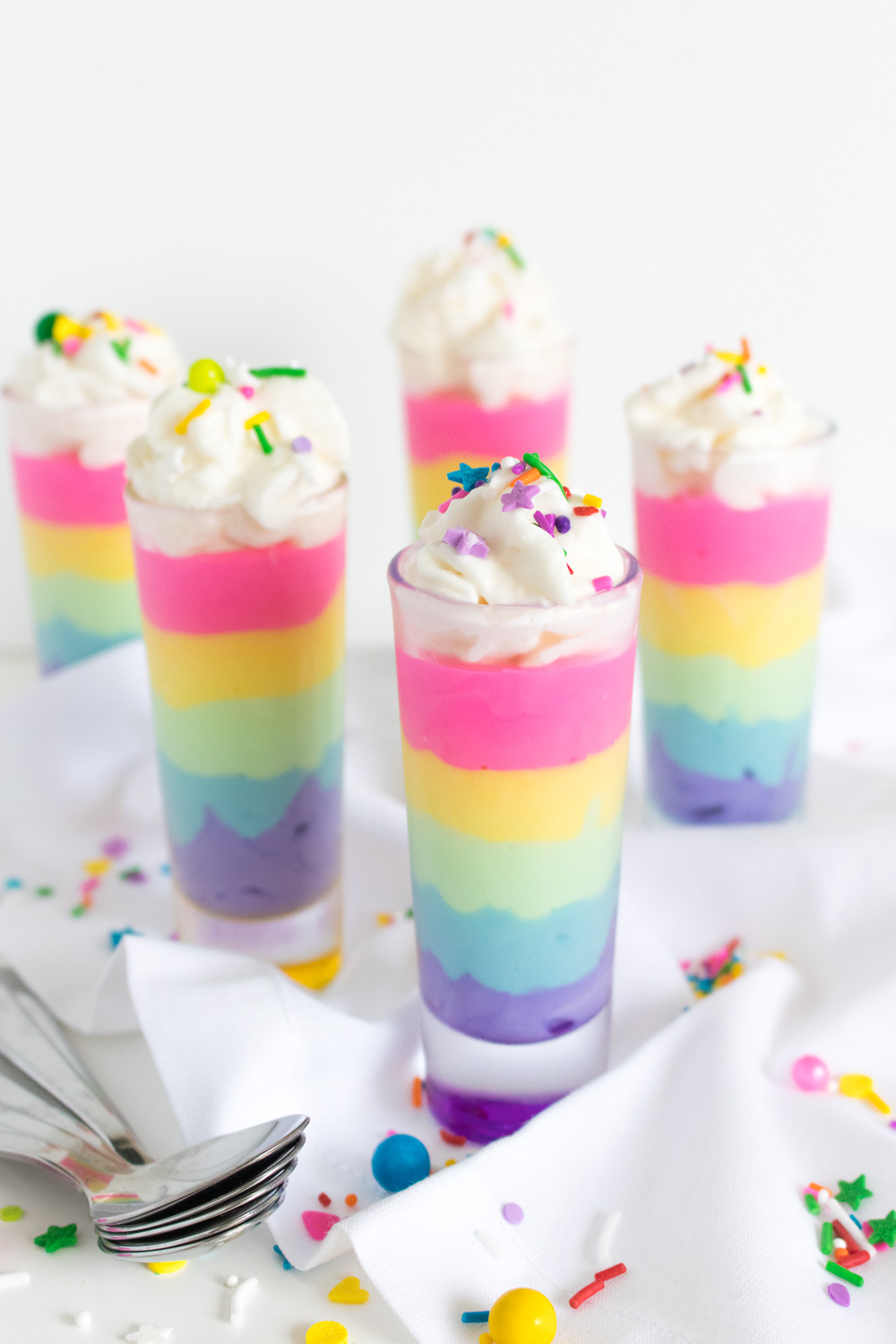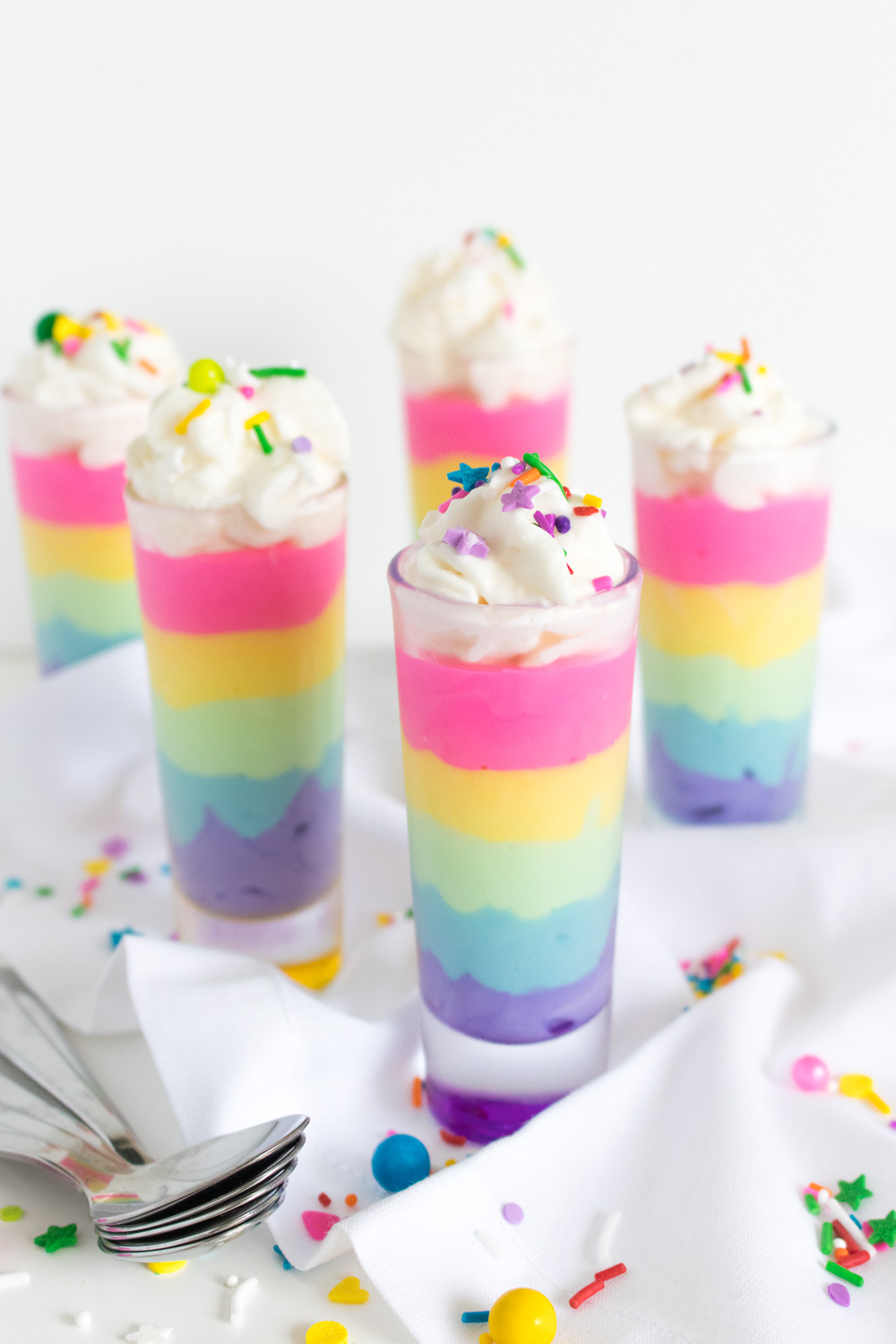 It's getting harder and harder to come up with unique ideas. Half the time, I come up with an idea I'm excited about only to find out that it's been done a hundred times before. Not this time, folks! One of the first questions I ask myself when vetting a recipe idea for the blog is "how can I make this look like a rainbow?" Yes, welcome to the real-life behind the scenes of being a blogger. It's not as glamorous as it looks! I bought the cutest rainbow shot glass set from Amazon recently, and I wanted to use them to make dessert shooters because HOW FUN DOES THAT SOUND?!
After some brainstorming, I thought mousse would be perfect for a dessert shooter recipe, and I was even more excited when I thought I could make rainbow mousse shooters! A lot of times, my ideas don't pan out, so I'm really happy that these cute little desserts came out perfectly. Plus, this is the simplest way you could possibly make mousse because you know how I like to keep things simple around here.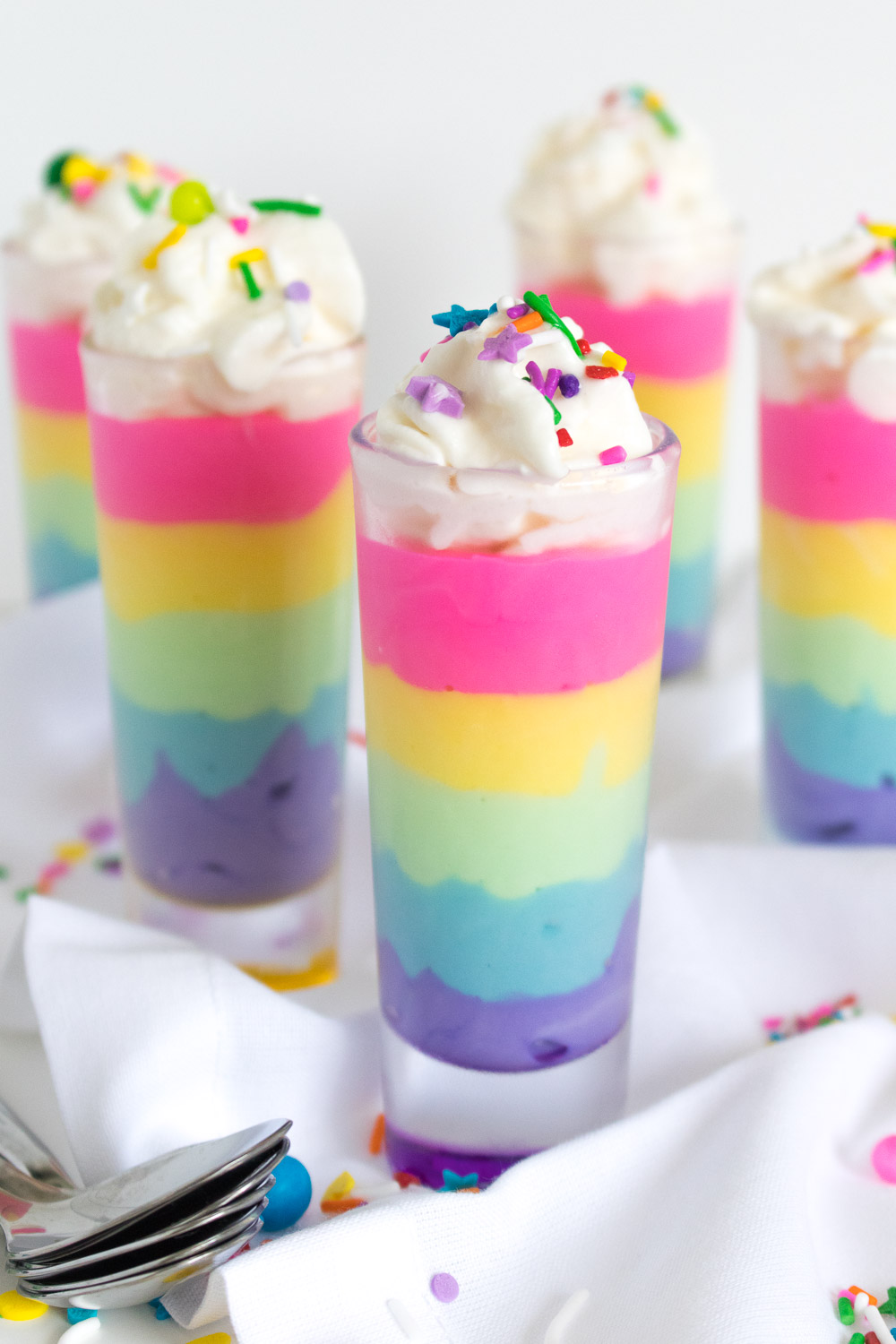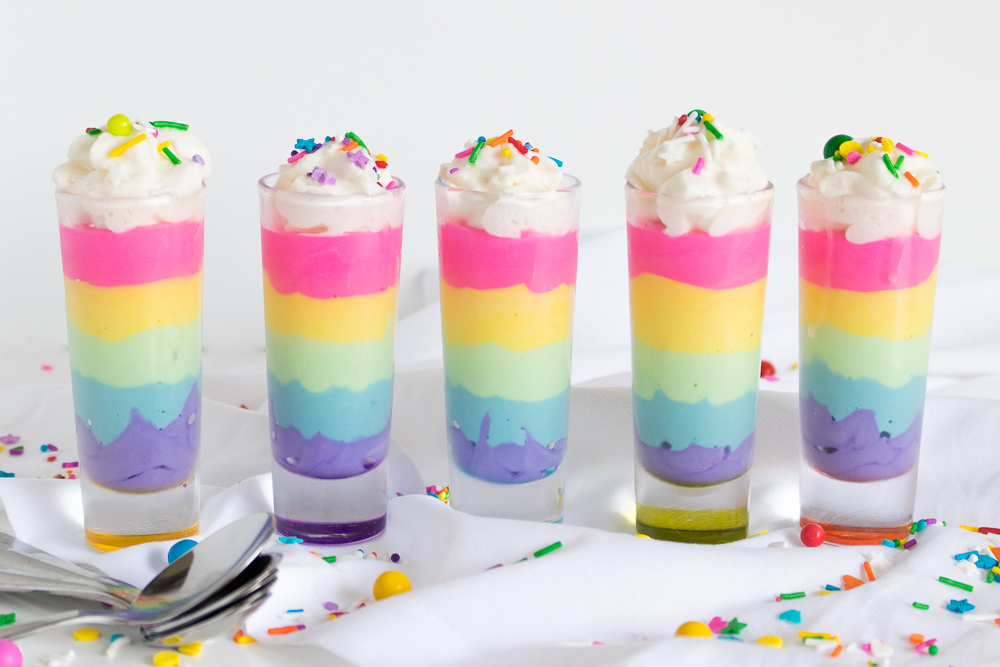 This white chocolate mousse recipe is only THREE INGREDIENTS! Yup, mixing the food coloring is probably more complicated than the actual recipe. It's smooth, fluffy and tastes delicious.
Scroll down for the full recipe card! ??
White chocolate is a hit-or-miss taste for a lot of people, but I personally love it. Because it's mixed with so much cream in this recipe, the white chocolate is not overpowering at all, which is why I think even non-white chocolate lovers may enjoy it.
Traditional mousse involves cooking egg yolks. It's more complicated than I was willing to tackle (though I have made homemade pudding that way before, and it's delicious), so I went the easy route. I melted white chocolate, mixed in hot cream, cooled it and then folded in whipped cream. As it sets in the fridge, the mixture turns from thin white chocolate to creamy mousse, similar to the consistency of pudding. Topped with a tiny bit of whipped cream, or in other cases fresh fruit, this white chocolate mousse will definitely satisfy your sweet tooth without overdoing it.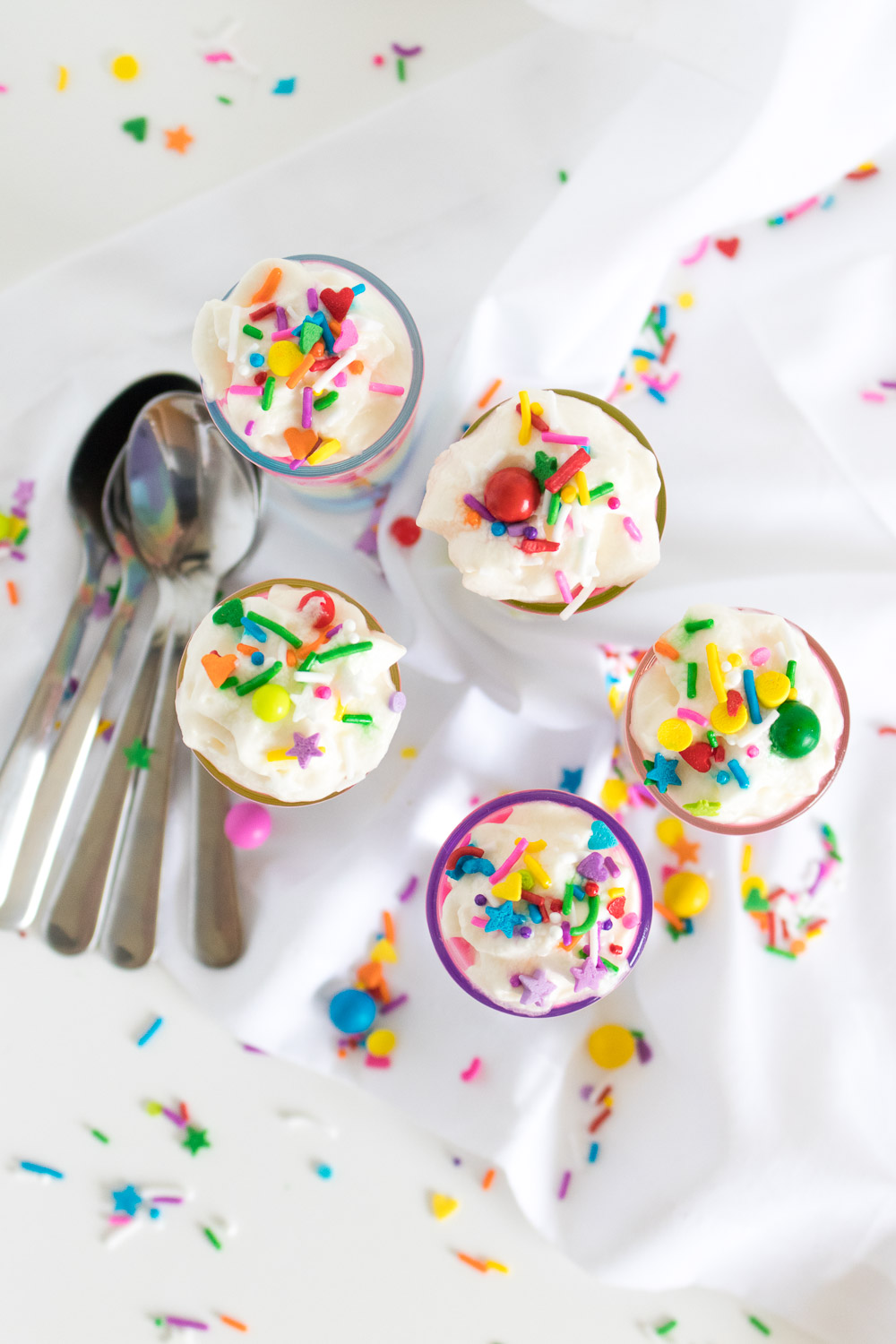 Here's how I achieved this rainbow shooters look!
Step 1: Prepare white chocolate mousse recipe according to below recipe card. Once the whipped cream is folded into the white chocolate, separate the mixture into five separate bowls.
Step 2: Add one color to each bowl and mix well. Use several drops of coloring to achieve darker, brighter colors. Then move to the fridge for at least one hour before piping into containers.
Step 3: Remove the set mousse from the fridge and transfer each color to its own pastry bag or ziplock bag. Cut off the tip of the bags and carefully pipe sections of one color at a time into tall shot glasses or similar containers. Lightly tap the containers after each color to settle the layer before continuing with the next.
Step 4: If desired, leave a little room at the top of the glasses for a small dollop of whipped cream – the cloud at the end of the rainbow, you might say. Top with colorful sprinkles and chill until firm and ready to serve.
Be sure to keep the shooters chilled until you're ready to serve them in order for the mousse to stay firm. Serve with mini spoons, and I'm sure you're going to love them! I would love to serve these as a cute little dessert for a party.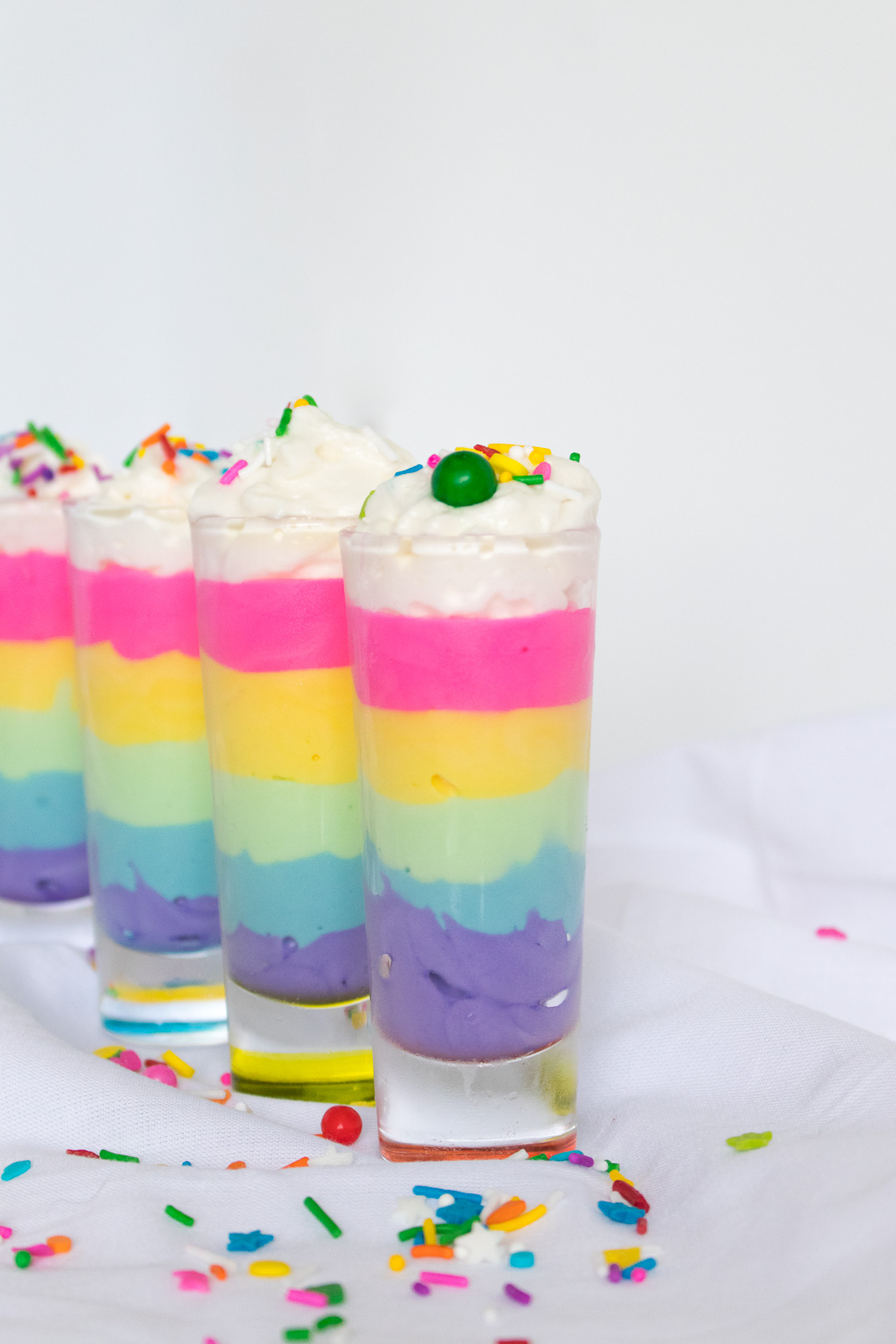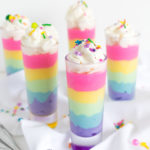 White Chocolate Rainbow Mousse Shooters
2017-07-15 19:15:11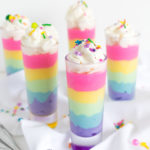 Serves 6
Spiked, deliciously smooth rainbow white chocolate mousse shooters topped with colorful sprinkles
Ingredients
1 1/2 cups white chocolate chips
1 1/2 cups heavy whipping cream
1/2 tsp vanilla extract
Food coloring
Instructions
In a small bowl, melt the white chocolate chips on a defrost setting on the microwave for 30 seconds, stir and repeat until melted
In a small saucepan, heat 1/2 cup cream over medium heat until it barely begins to simmer
Whisk the hot cream into the melted chocolate and add vanilla until completely combined. Move to the fridge for 30 minutes
In the bowl of your mixer, whip the remaining 1 cup of cream on high speed until peaks form
Remove the chocolate mixture from the fridge and fold in the whipped cream
Separate into several small bowls and add one color to each, mixing to combine. Return to the fridge for at least one hour before piping
Add each color of mousse to a separate piping bag or plastic bag, cut the tip and pipe a rainbow pattern into tall shooter glasses
Chill for at least one more hour until firm and serve chilled with whipped cream and sprinkles
Notes
Add a shot of bailey's to the hot cream for a little extra flavor!
Club Crafted https://www.clubcrafted.com/