/
Easy Christmas Light Cookies with Sprinkles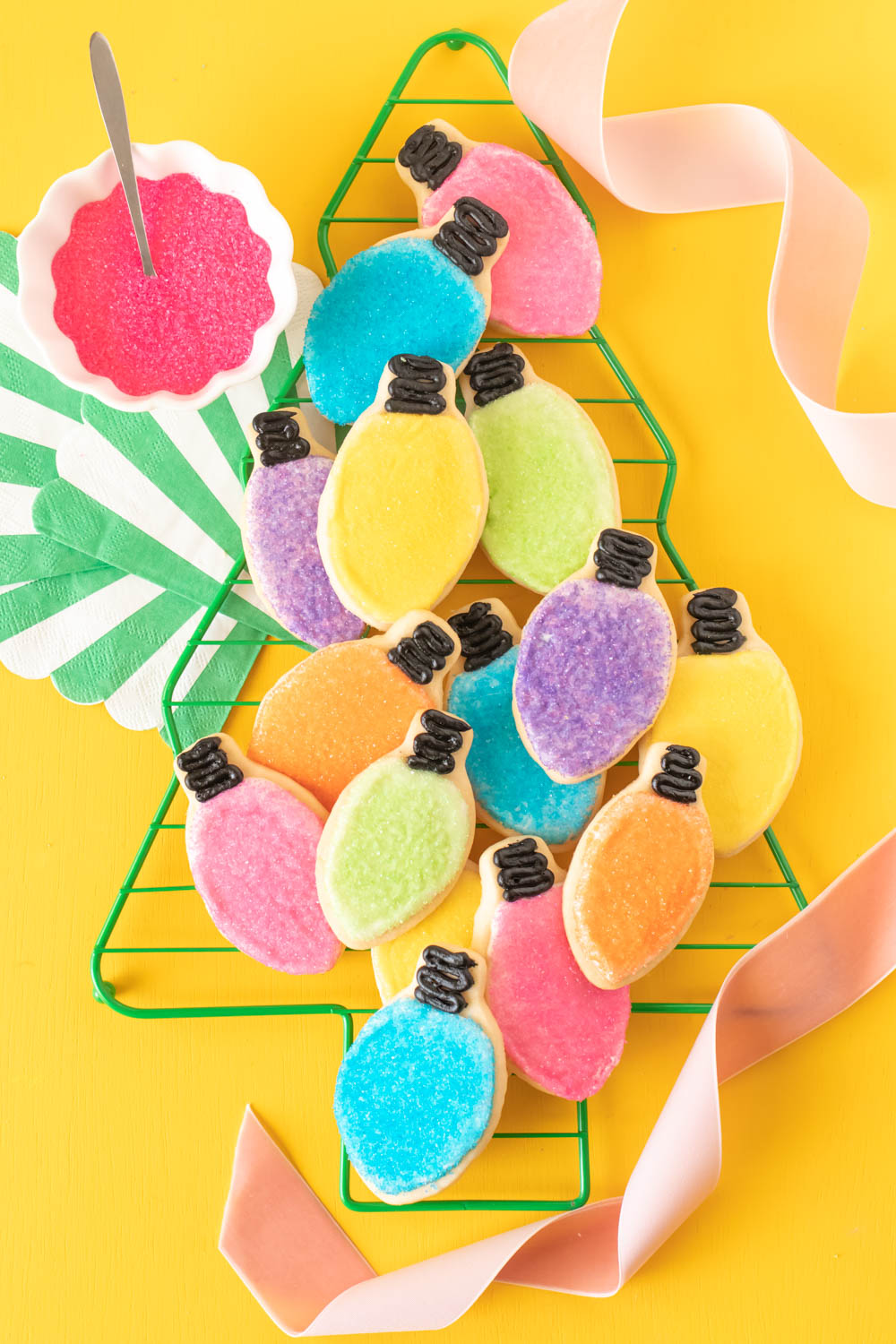 I can't believe this is my LAST Christmas post and my last post of the year! This is my favorite time of year, so I'm sad to see it go, but I'm really looking forward to a few relaxing days back home with my family. On the bright side, I'm SO excited about this last post. These easy Christmas light cookies decorated with colorful sugar sprinkles have been on my to-do list for a while now! I've talked a lot in my holiday posts here and on Instagram about my love of Christmas lights. The lights are my favorite part of the season, so these cookies felt like the perfect way to commemorate that! Keep reading for my classic sugar cookie recipe (same recipe used here) and a simple royal icing recipe. Trust me, this tutorial requires minimal cookie decorating skills, so it's perfect for beginners!
This post was originally published on December 20, 2019.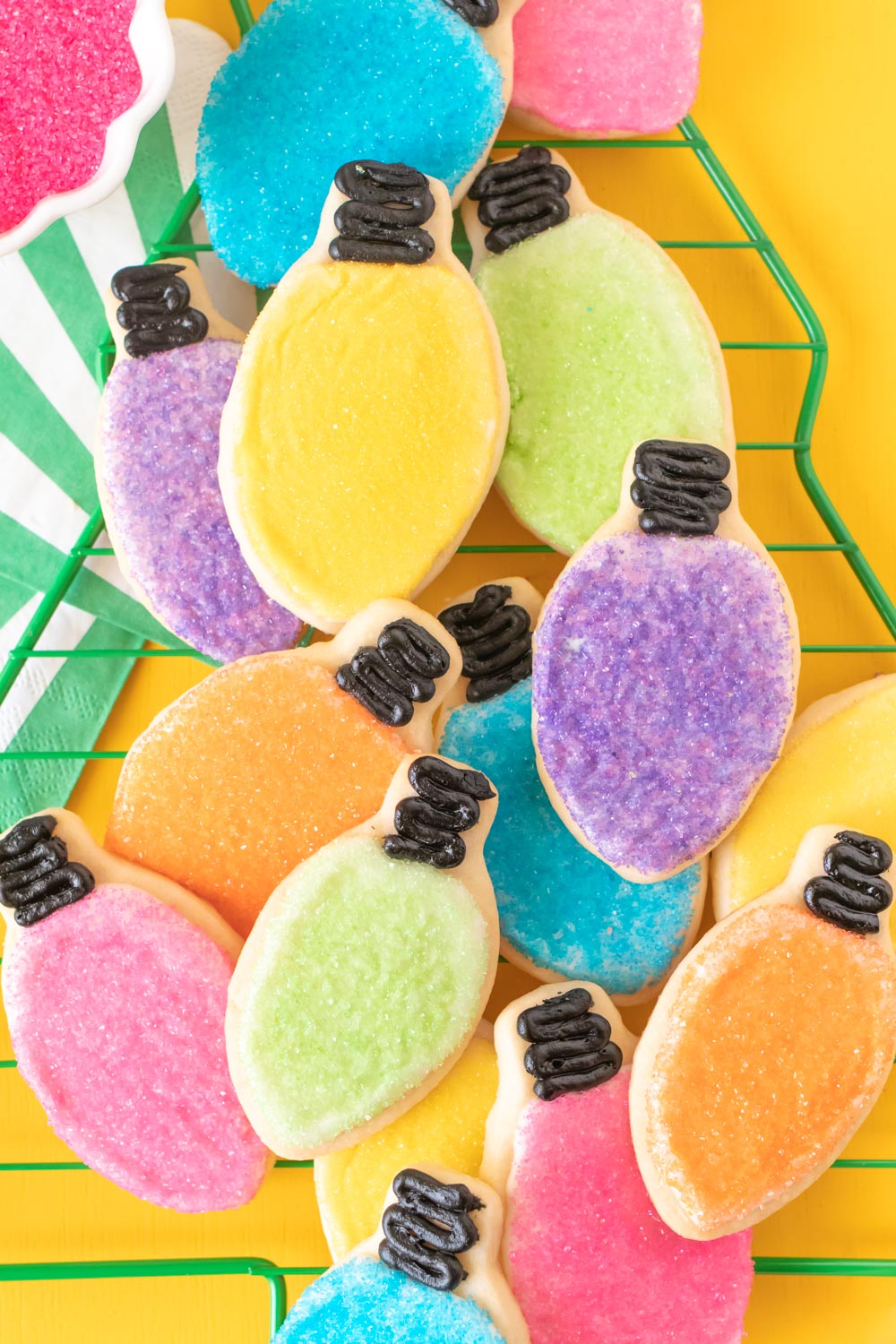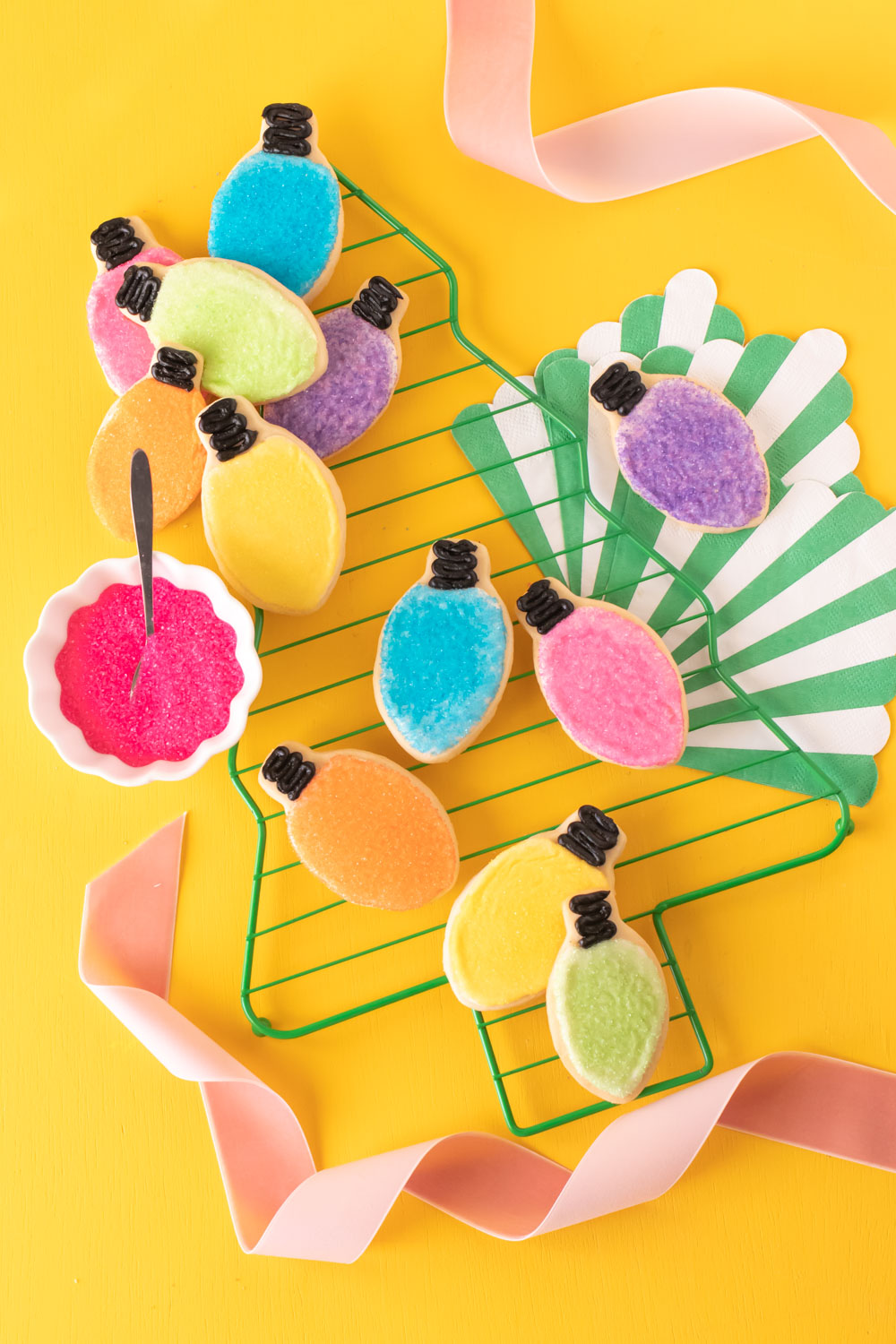 Watching cookie decorating videos on Instagram is my guilty pleasure. I have terribly unsteady hands, so piping decorations is kind of a nightmare for me. Regardless, I long to be able to create beautifully piped cookies. That's why I loved these Christmas light cookies! Because there is minimal detail to pipe, they're a very beginner-friendly cookie idea. Then I dip the icing into sugar crystals to give them color, hiding any icing imperfections. Lastly, I use a pre-made black icing for the top of the bulbs because I find it difficult to achieve truly black icing.
Scroll down for the full recipe card and Christmas light cookie decorating tutorial! 👇🏼
All of the sprinkles I used are by Wilton. I ordered mine from JOANN, and they come in every color you need to make a rainbow of cookies. I also found the tree-shaped cooling rack from JOANN that was perfect for displaying Christmas light cookies!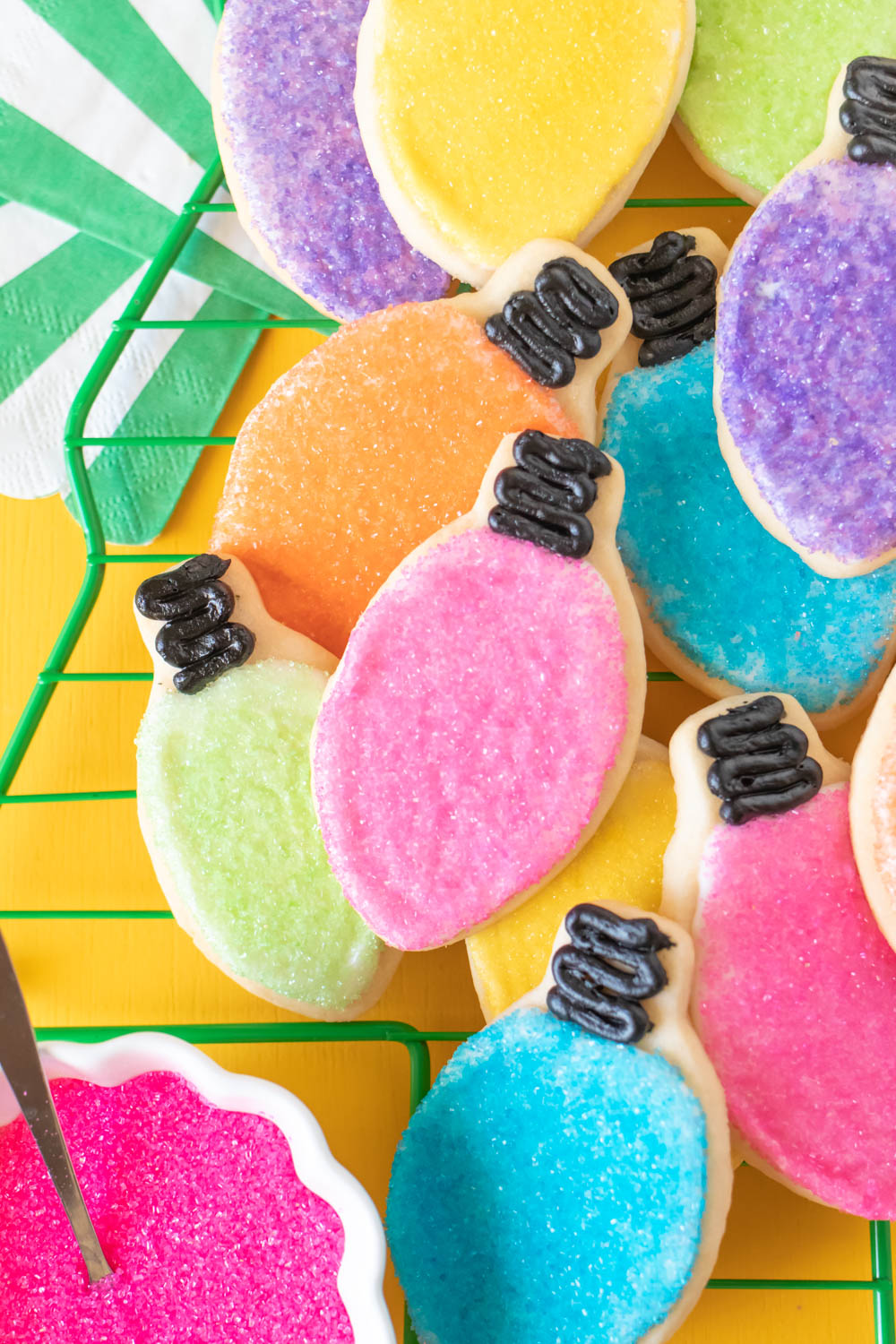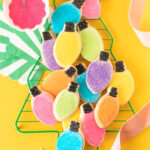 Classic Sugar Cookies: Christmas Light Cookies
2019-12-20 09:03:42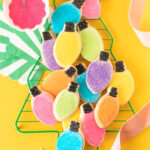 A simple sugar cookie recipe used to make colorful Christmas light cookies decorated with sugar sprinkles
For the Cookies
1 cup butter, room temperature
1 cup granulated sugar
1 tsp pure vanilla extract
1 egg
2 tsp baking powder
3 cups of flour
1/2 tsp salt
For the Icing
4 tbsp meringue powder
4 cups powdered sugar
1/2 cup room temp water, plus more if needed
1 tsp vanilla
Black icing packet
Sugar sprinkles, various colors
For the Cookies
Cream together the softened butter and sugar until pale and thick
Add in the vanilla and egg and beat until just combined
Slowly add the flour, baking soda and salt to the wet mixture
It may become thick and difficult to mix. If that happens, pull the dough onto a piece of parchment paper and continue to massage with your hands until the flour is completely mixed
Roll out the dough flat on a lightly floured surface until it is about 1/4 inch thick (thicker is better for these)
Use Christmas light cookie cutters to cut shapes out of the dough and move to a lined baking sheet. Continue until all of the dough is cut and chill in the fridge for at least 30 minutes (more time recommended)
Bake on 350 degrees for 8-10 minutes, checking them often so they don't overcook
Remove when they begin the brown very lightly on the edges and cool completely before icing
For the Icing
Sift together the meringue powder and powdered sugar in a large mixing bowl
Add 1/4 cup water and mix with a whisk attachment or by hand
Mix in additional 1/4 cup water and mix until smooth
Stir in vanilla. Add additional water as needed to reach your desired consistency. Icing should be just thick enough to hold a shape but still flood easily
For Decorating
Fill bowls with sugar sprinkles for dipping
Move the icing to a pastry bag fitted with a small round piping tip
Pipe the bottom section of the cooled Christmas light cookies, creating the bulb shape. Pipe the edges and fill it with the same icing.
Carefully hold the edges of the cookie and dip the iced side into the sprinkles to completely coat in colored sugar. Set back on a cookie sheet for the icing to set
Once all of the cookies are sugared, use the black icing packet to pipe a squiggle for the top of the bulb. Allow the cookies to set completely in a covered container for several hours
Club Crafted https://www.clubcrafted.com/