/
Lisa Frank-Inspired Rainbow Leopard Print Cake Roll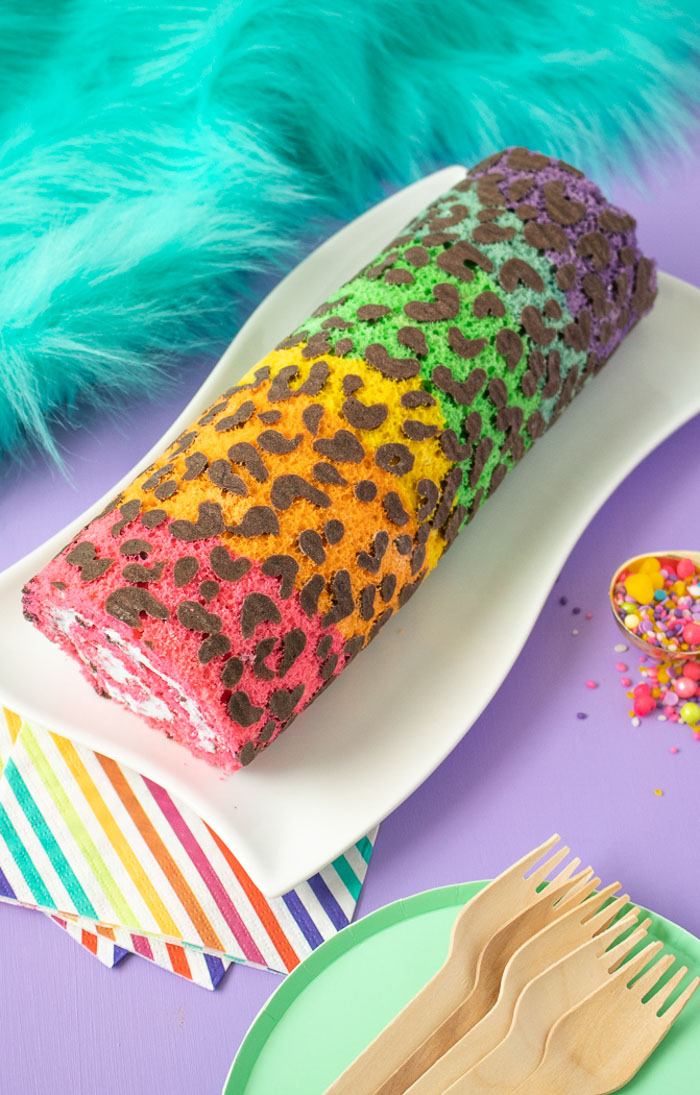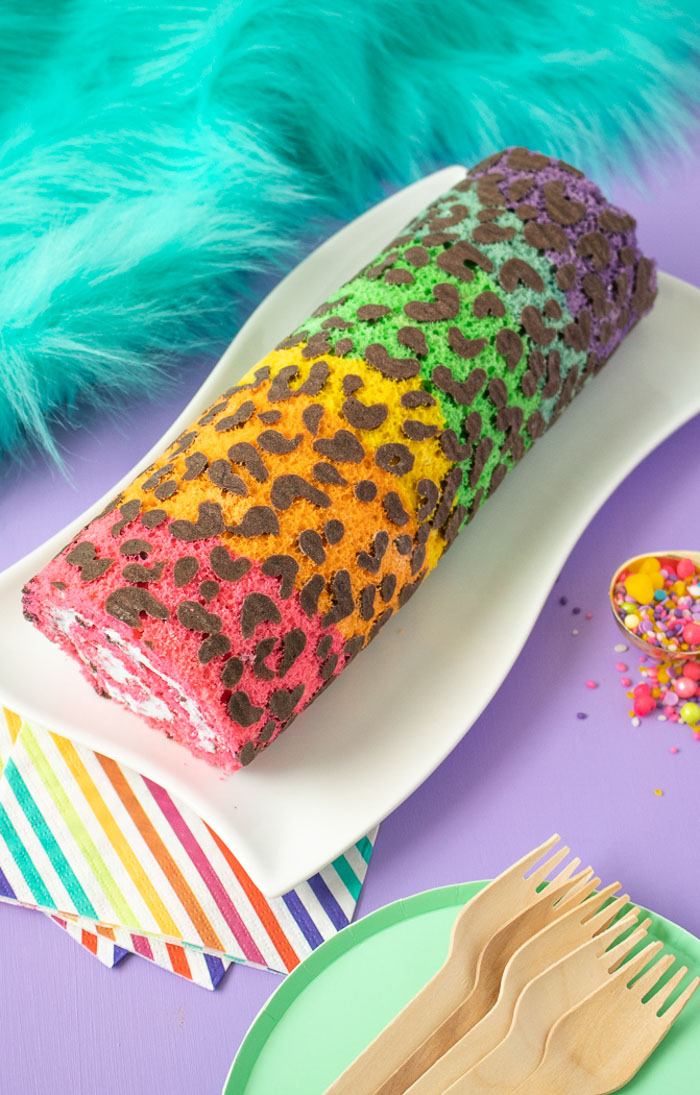 If you didn't have Lisa Frank swag growing up, you probably missed out on one of the greatest designers of the 90s. Luckily, she's back and has products available and tons of stores now (and I need all of them)! Lisa Frank backpacks, folders and other products were a must-have when I went back to school as a kid, and as a young cat lady, I was obviously partial to the kittens as well as the rainbow leopard, whose name is Hunter btw. Because Hunter is my favorite Lisa Frank character, I'm celebrating him and the classic Lisa Frank style with a rainbow leopard print cake roll!! This simple vanilla cake roll is decorated with leopard spots, stripes of rainbow and filled with freshly made whipped cream.
I've made plain cake rolls before, but now that I've made a leopard print cake roll, I can never go back to unpatterned cakes! In order to create patterns on a cake roll, you pipe the design on a prepared pan and freeze it before adding the cake batter. Freezing it helps the pattern set and stay in place during baking, so you can create any custom pattern you can dream up! Then you can dye the cake batter in your desired color and spread it on top of the design. Once baked, you get this unique pattern on the outside of your cake roll!
Scroll down for the full recipe card for this rainbow leopard print cake roll! 👇🏼
This cake is thin in order to roll it up, so it's baked in a large, short jelly roll pan and rolled up while hot in order to maintain its shape without cracking. Unlike most cakes, this recipe does not use a rising agent like baking soda or baking powder. Instead, it has whipped eggs that triple in size in order to give body and rise to the cake while it bakes. It's definitely unique and may take a few tries to get just right. It may not be your average cake, but that's part of the fun!
When you cut the sides of the cake roll, it reveals that pretty Swiss roll-style swirl. In this case, it's filled with whipped cream to pair with the light and airy cake. Generally, cake rolls are not paired with classic buttercream, and instead are filled with custards, whipped creams or fruit curds. Use your favorite flavor combos to create a cake that is both tasty and pretty!
Who is your favorite Lisa Frank character?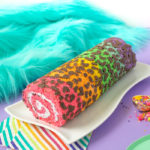 Lisa Frank-Inspired Leopard Print Cake Roll
2018-07-08 08:55:22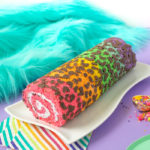 A colorful rainbow cake roll with leopard spots inspired by Lisa Frank, filled with simple whipped cream
For the Pattern
1 egg white
2 tbsp sugar
1/3 cup all-purpose flour
1 tsp cocoa powder
2 tbsp butter, room temperature
Black food coloring, optional
For the Cake
5 large eggs room temp
3/4 cup granulated sugar
3/4 cup all-purpose flour
1/2 tsp baking powder
For the Filling
1 1/2 cups heavy whipping cream
2 tbsp powdered sugar
1 tsp vanilla extract
Food coloring, optional
For the Pattern
Cut a piece of parchment paper to the size of an 11x15-inch lipped pan
If using a template to trace, place it underneath the parchment paper
Whisk together the pattern ingredients to form a thick, pipeable paste. Add cocoa powder and food coloring until almost black
Move pasta to a pastry bag fitted with a small round piping tip
Pipe small circle, half circle or dot shapes, or trace the designs of a print-out until the entire pan is covered with leopard print
Move pan to freezer for at least 10 minutes to set
For the Cake
Preheat the oven to 350 degrees F
Sift the flour and baking powder into a bowl and set aside
In the bowl of your mixer fitted with a whisk attachment, beat the eggs until foamy, about 2 minutes
Add sugar and beat for 6-7 minutes until the mixture triples in size
Fold in the dry ingredients in batches with a spatula so as not to deflate the egg mixture, stopping while some white flour remains
Divide the batter into separate bowls (4-5) and mix each with food coloring, folding the coloring in carefully so the batter does not deflate
Remove the pan from the freezer
Carefully spread the batter in a rainbow pattern down the long side of the pan (this way the whole rainbow shows when rolled). Make sure batter is even
Bake for about 8 minutes until just baked
Immediately remove the cake from the pan while hot and place patterned side down onto a powder sugar-dusted dish towel
Slowly roll the cake up with the dish towel and set aside to cool (this will help it keep it's rolled shape)
For the Filling
Combine the heavy cream, sugar and vanilla in a large mixing bowl
Whip the mixture on high speed with a whisk attachment until peaks form
To Assemble
Once the cake has completely cooled, unroll it from the dish towel
Spread a layer of whipped cream onto the unpatterned side (not too thick) and roll it up again lightly so that the filling does not leak out the sides
Place seam side-down on a plate, then cut a slice off of each side to reveal the swirl inside
Notes
Cocoa powder in pattern paste is for color only; Cover with plastic wrap and store in the refrigerator for up to 3 days
Club Crafted https://www.clubcrafted.com/