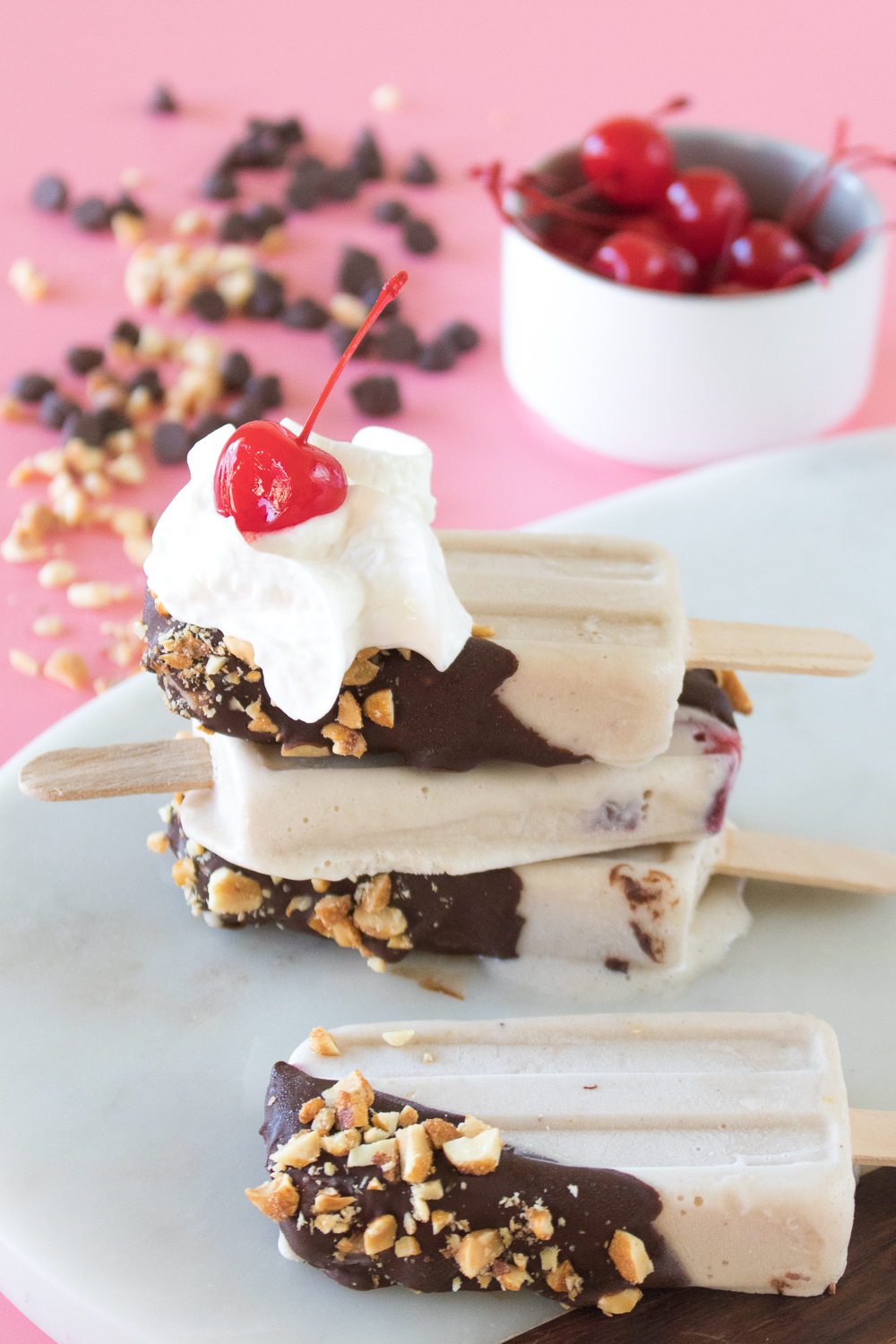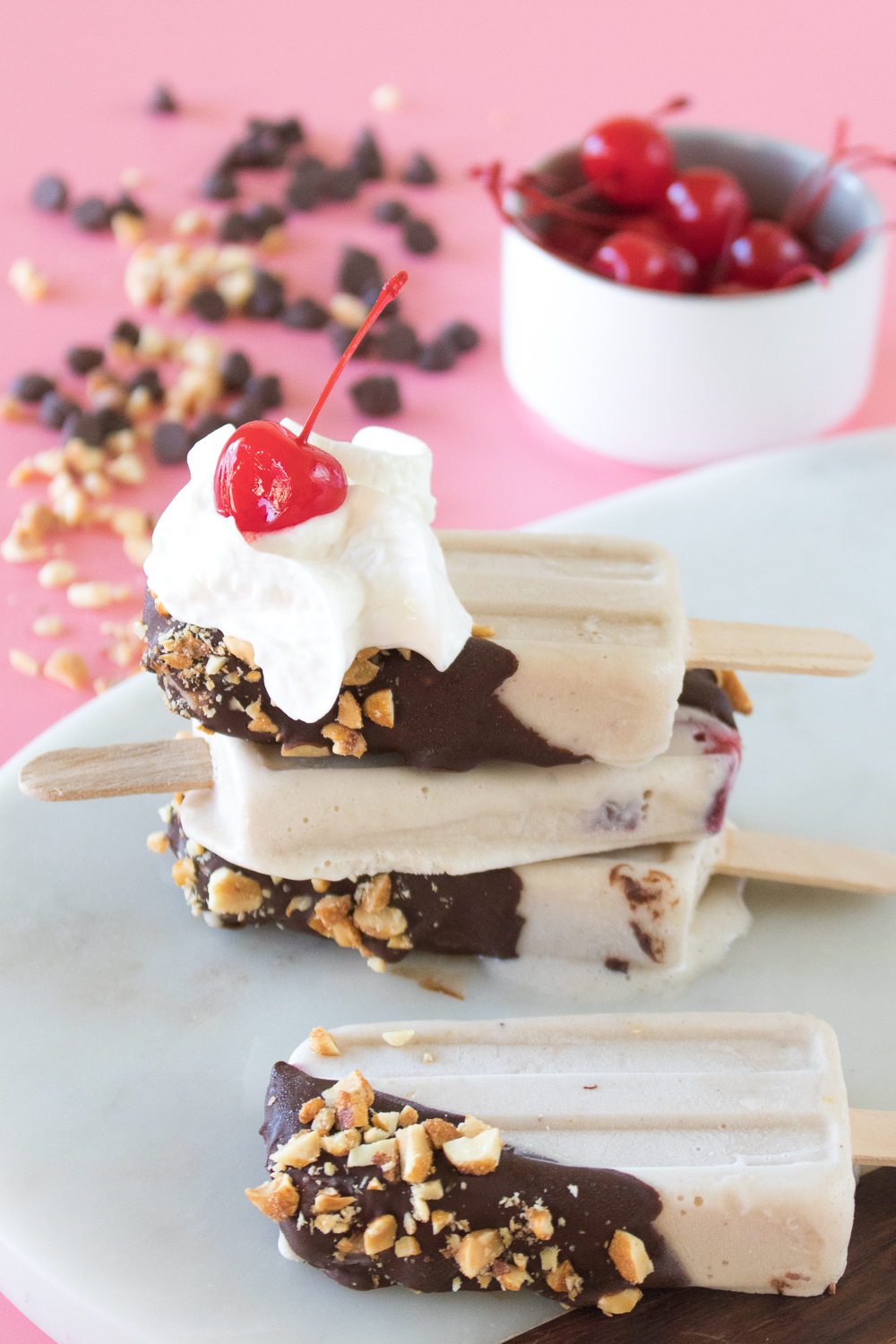 It's a rule that dipping things in chocolate automatically makes them better. If you don't agree, then this recipe is probably not for you.
When I started thinking about the ingredients in a banana split sundae, I thought "why not put all that in a popsicle?" I mean, sundaes are delicious, but popsicles are portable and easy to make in larger quantities and freeze for later. Thus, banana split popsicles were born and it's everything you'd want and MORE.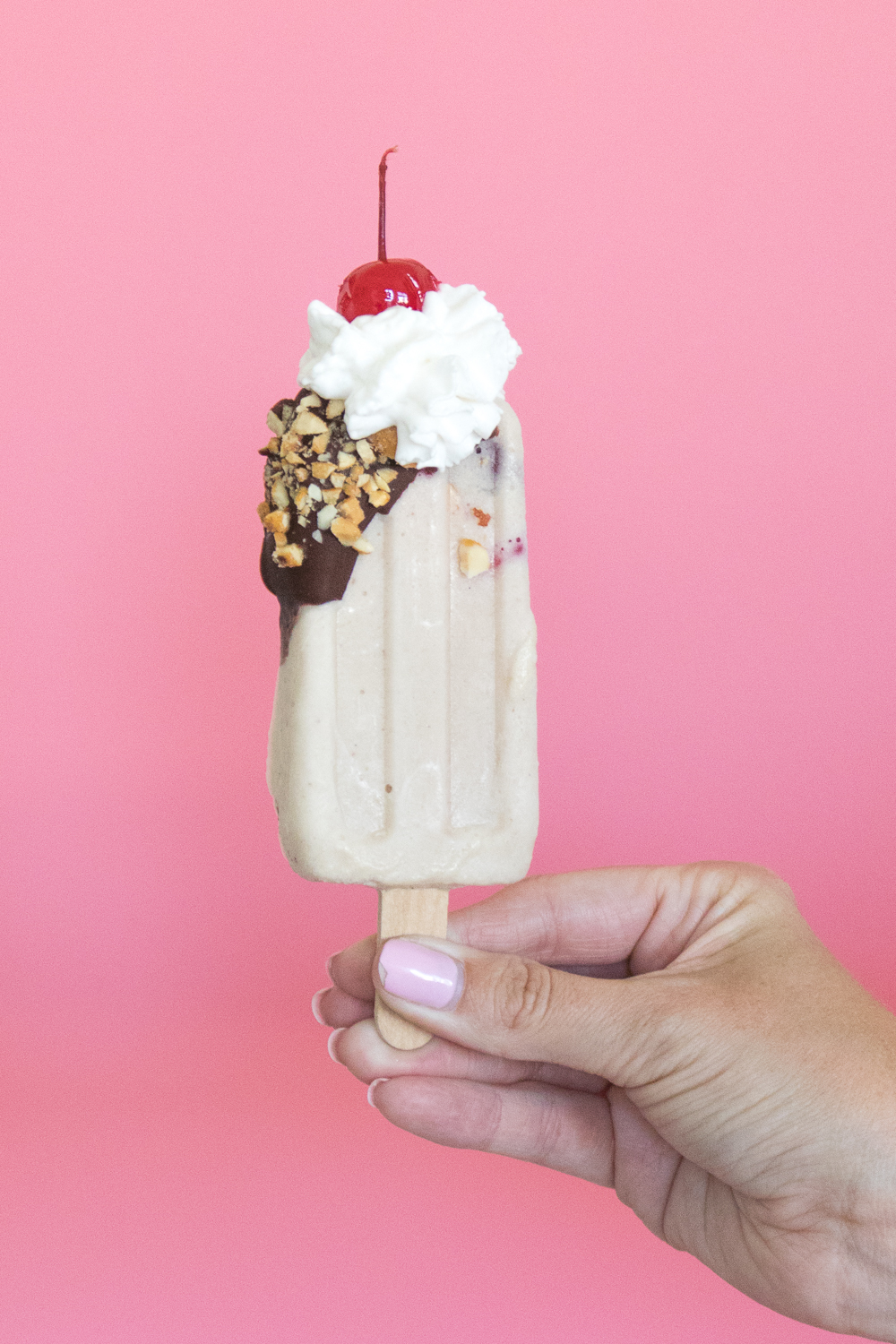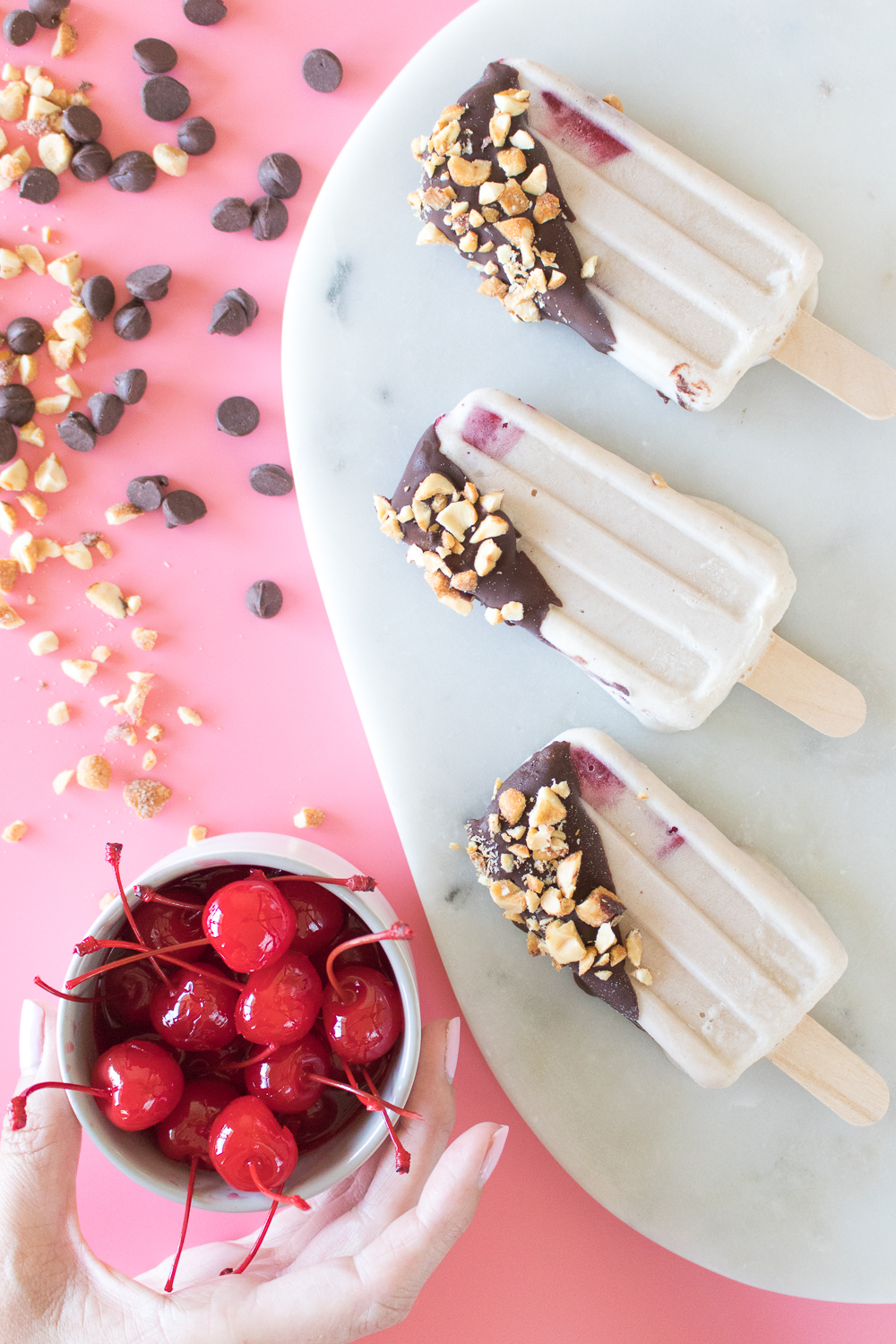 With the weather getting hotter and hotter, I have a feeling I'm going to enjoy eating these leftovers for the next few days!
Maybe everyone's ideal banana split is different, but with my recipe, you've got a banana vanilla ice cream popsicle with chunks of strawberry, dipped in chocolate with chopped peanuts and topped with a bit of whipped cream and a cherry.
Scroll down for the full recipe card! ??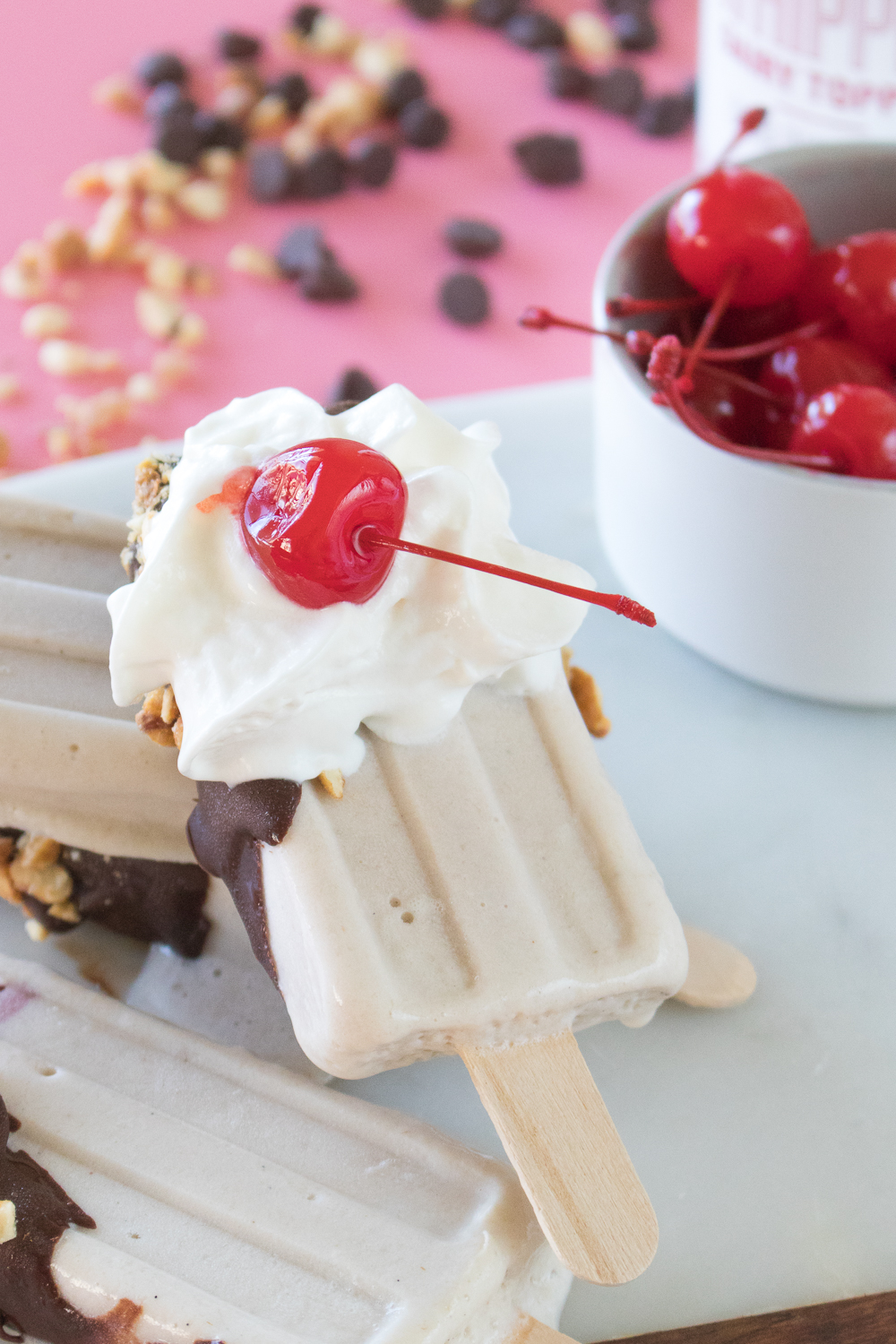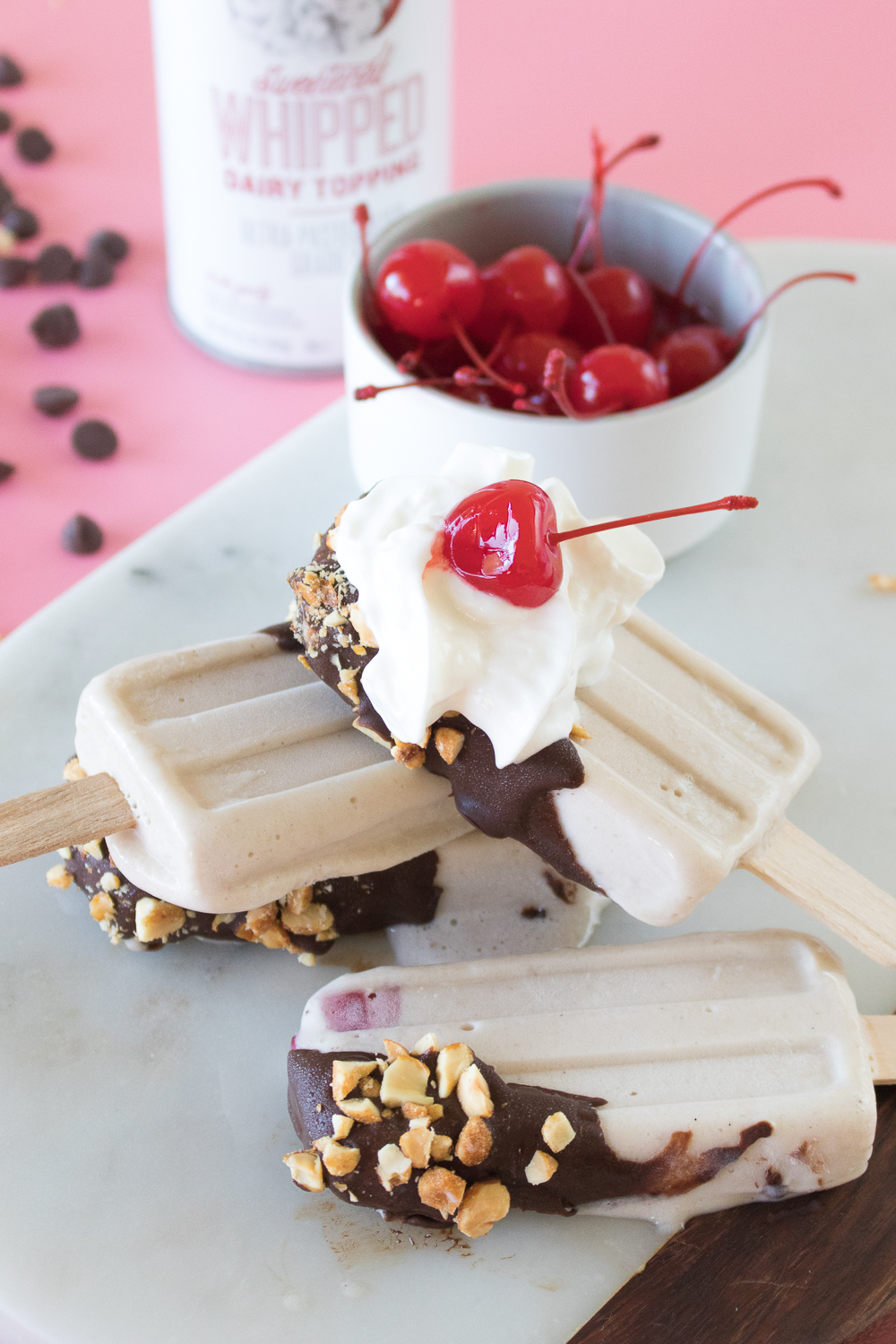 My favorite part about making these popsicles is that there's no real "homemade" aspect, which makes them very easy. To make the actual popsicles, I simply blended bananas, vanilla ice cream and milk and froze it in a popsicle mold with finely chopped strawberries. No special skills required here! In fact, the hardest part is probably dipping them in chocolate because, you know, ice cream melts.
All that matters in the end is that they taste good, and trust me, they taste REALLY good!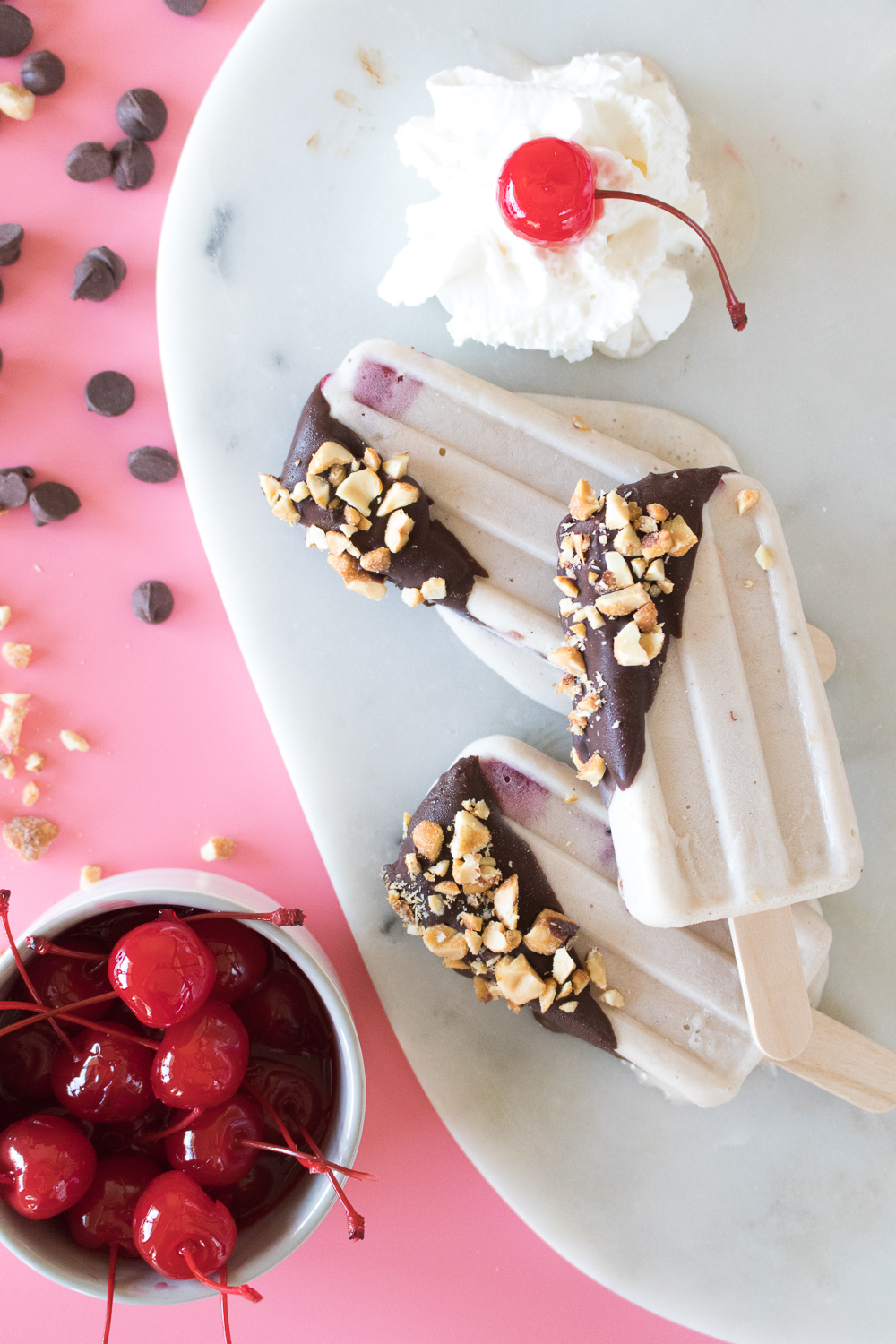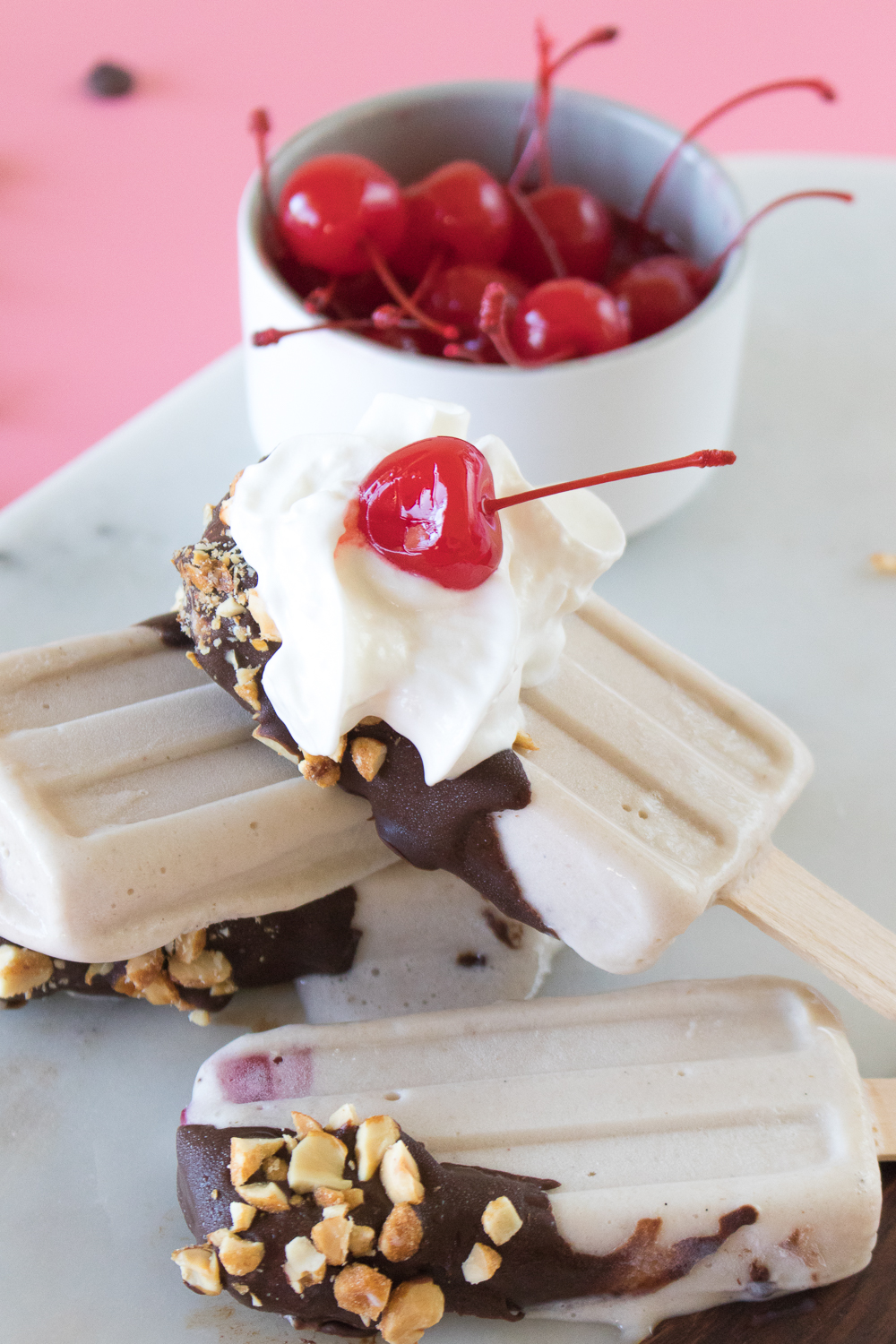 I may or may not have eaten straight whipped cream from the can after photographing these, so don't judge me! Overall, one bite of this combo and you know exactly what you're eating. Plus, if you don't want to go through the trouble of completing every step, they taste really delicious as plain banana/strawberry ice cream pops or as popsicles dipped in chocolate with nuts. No matter what combinations you use, you'll love these on a hot day.
I think these would be really fun for a party as an alternative to actual sundaes. Enjoy!
Banana Split Popsicles
2017-04-11 11:44:09
A popsicle made with blended banana vanilla ice cream, chunks of strawberry and dipped in chocolate and rolled in peanuts with whipped cream and a cherry to taste like a banana split sundae
Ingredients
3 cups vanilla ice cream
2 bananas, fresh or frozen
1 cup milk
1 tsp vanilla extract
6 oz. fresh strawberries, chopped into small pieces
10 oz. semi-sweet chocolate, melted
1 tbsp vegetable oil
Peanuts, chopped
Whipped cream, for topping
Maraschino cherries, for topping
Instructions
Add chopped strawberries to the bottom of a popsicle mold
Combine the ice cream, bananas, milk and vanilla extract in a blender and blend until completely smooth
Pour banana ice cream mixture into a popsicle mold until it almost reaches the top
Place a popsicle stick in each cavity and freeze for about 6 hours
Line a baking sheet with parchment or aluminum foil and set aside
Melt the chocolate with the vegetable oil on defrost mode in 30-second increments in the microwave, stirring in between, until completely melted
Once frozen, carefully remove popsicles from the mold and quickly dip the tops in melted chocolate and place on the prepared sheet
Quickly sprinkle with chopped peanuts and return to the freezer for at least 30 minutes
When ready to serve, remove the popsicles from the freezer, top with whipped cream, a cherry and other desired toppings
Notes
When dipping in chocolate, you must work quickly as the popsicles will melt more quickly when combined with warm chocolate. Vegetable oil is optional but makes the chocolate thinner for quicker dipping
Club Crafted https://www.clubcrafted.com/