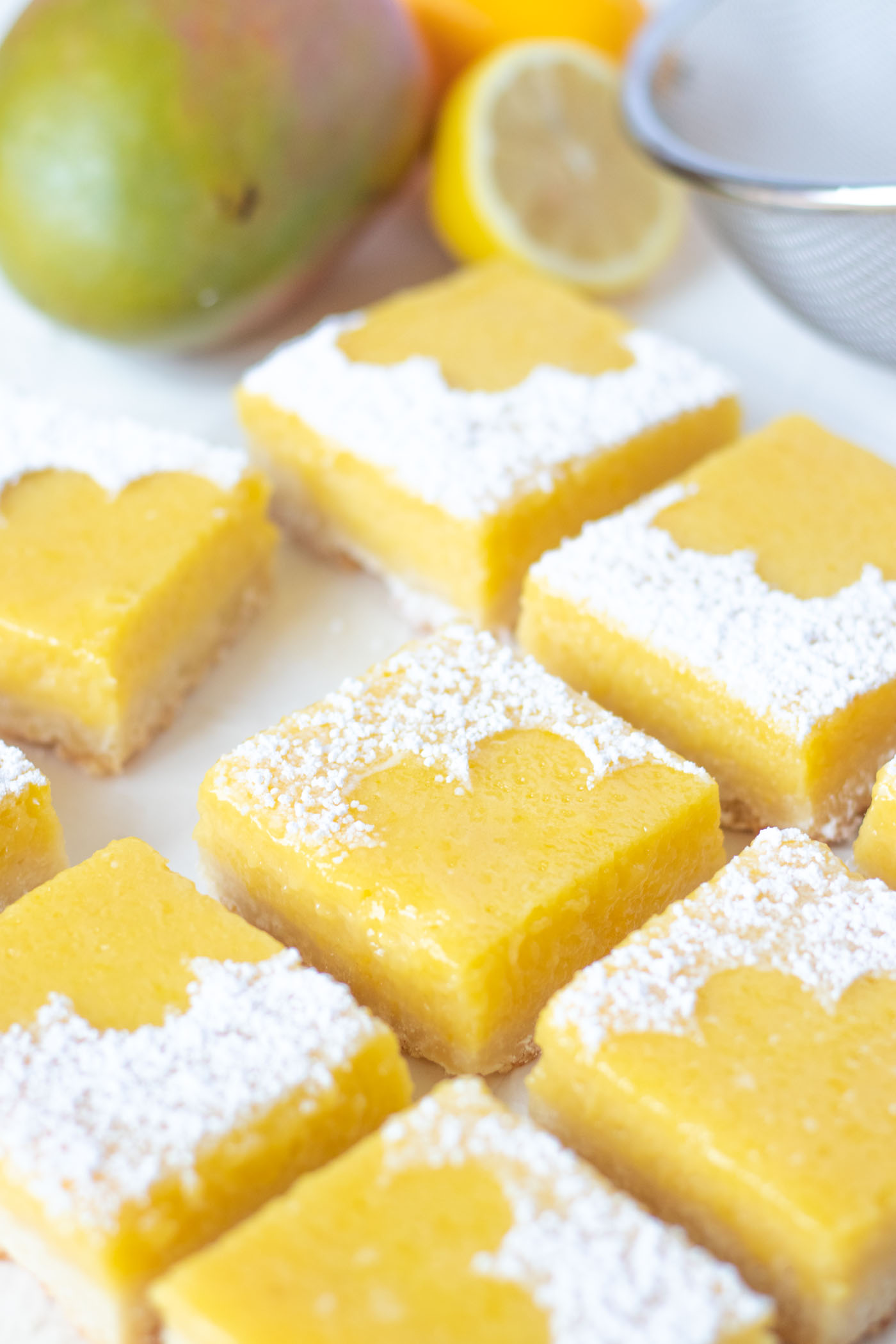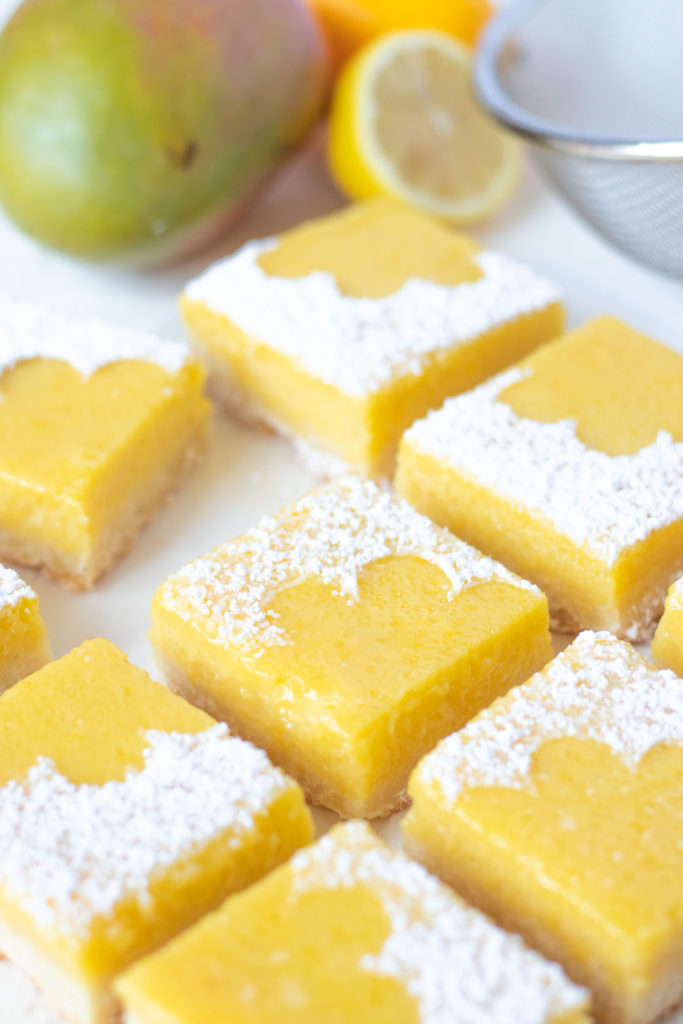 Surely you've tried lemon bars before but I bet you've never tasted the wonders of MANGO bars before! Honestly, these fruit bars are probably the best thing I've made in a while and everything about them screams SUMMER. They're slightly tart but mostly sweet and baked with a thick shortbread cookie crust. I'm a firm believer that everything should have a shortbread cookie crust. Then I dusted the tops with powdered sugar in a sweet floral pattern, which makes them feel like they belong at a fancy tea party! Even as someone who doesn't normally enjoy mango, these lemon mango bars are absolutely to-die-for! Keep reading for all the details and the full recipe card.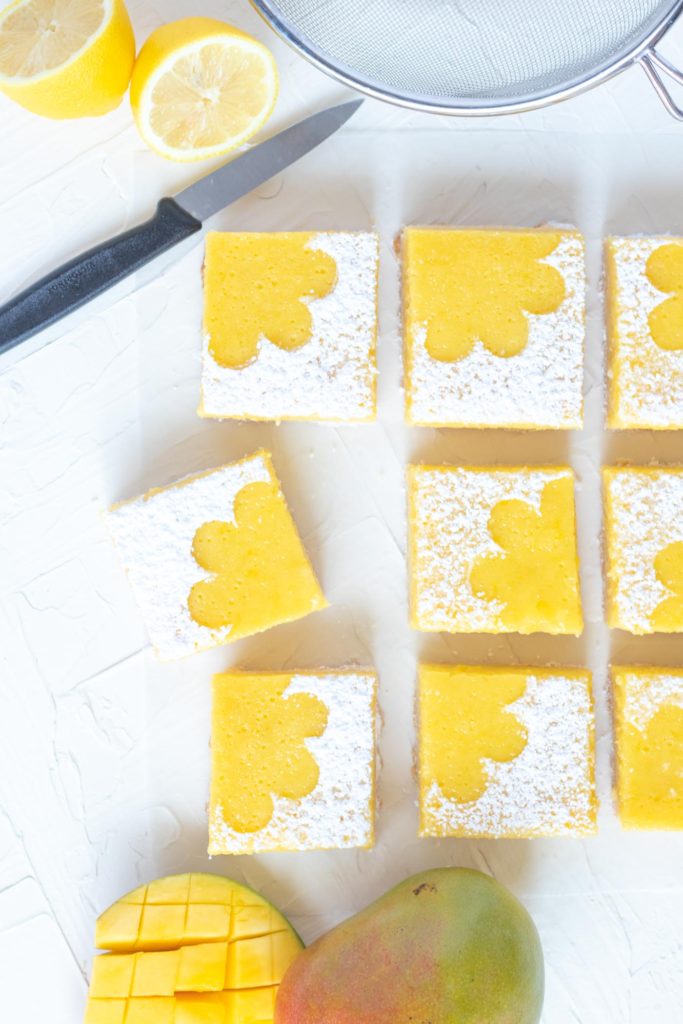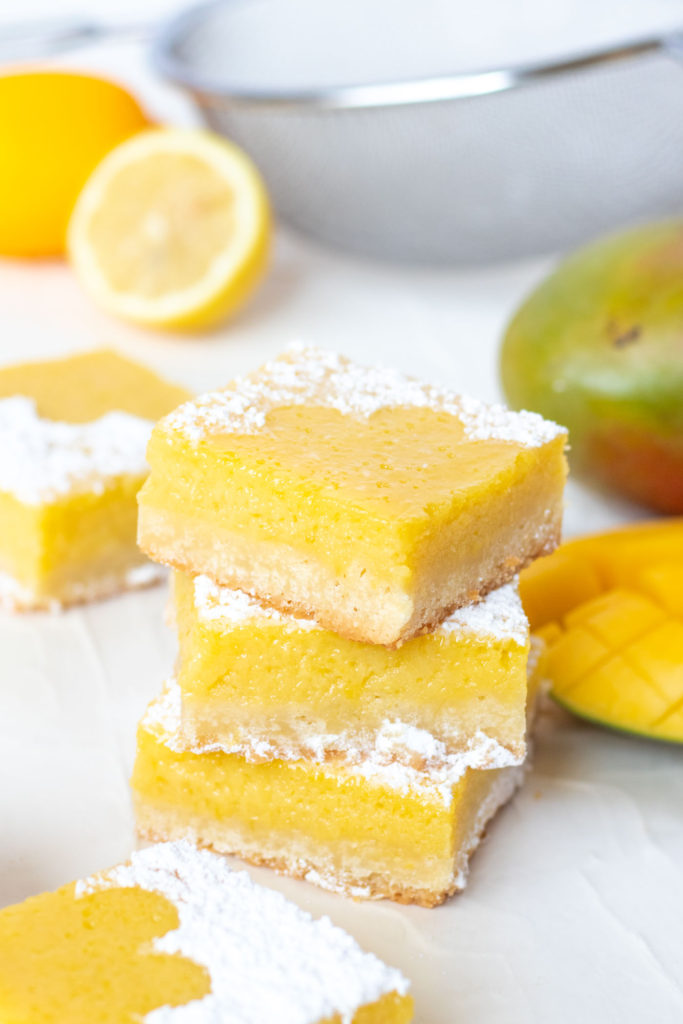 I've been experimenting with new recipes that create pretty, vibrant desserts without making them look unedible due to crazy food coloring combinations. As delicious and colorful as my tie dye blondies were, they have A LOT of food coloring and don't look natural…but these mango bars are au naturale! The vibrant yellowish orange color is all due to the mango puree, and they're still very pretty. I might be bias but whatever.
Scroll down for the recipe card! 👇🏼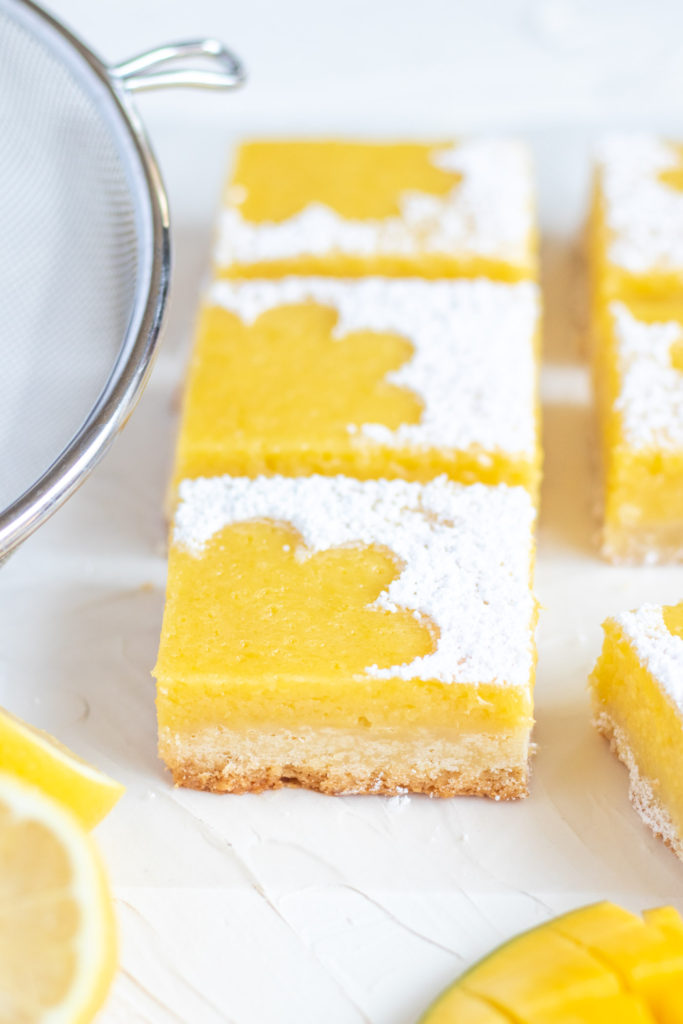 These mango bars taste entirely like mango despite the addition of lemon juice and lemon zest. The lemon juice gives it a light tartness so that the bars don't become too sweet, and it just lifts the flavor of the mango. Like I said, I don't normally enjoy mango but I LOVED these bars. Plus, I'm all about that thick cookie-to-filling ratio. Any one else love thick crusts as much as I do?!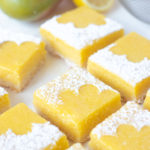 Mango Bars
2019-08-17 08:43:23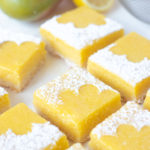 Lightly tart but mostly sweet fruit bars baked with mango puree and a shortbread cookie crust
For the Shortbread Cookie Crust
1 cup butter, room temperature
2 cups all-purpose flour
1/2 cup granulated sugar
For the Mango Bar Filling
1 cup mango puree (about 2 fresh mangos, diced)
1/4 cup fresh lemon juice
1/4 cup all-purpose flour
1 1/2 cup cup granulated sugar
1/4 tsp salt
1 tsp lemon zest
4 whole eggs + 1 egg yolk
1 tsp vanilla extract
For the Shortbread Cookie Crust
Preheat the oven to 350 degrees F
Line a 9 x 9 baking pan with parchment paper and spray lightly with cooking spray
Combine all ingredients in a food processor and pulse until fine and crumbly
Pour the crumb mixture into the bottom of the prepared pan and press until all areas with your hands or a spoon until well-packed and flat on top
Bake for about 15-18 minutes until just set and the middle is no longer gooey
Set aside to cool while you prepare the filling
For the Mango Bar Filling
In a clean food processor or blender, process the mango and lemon juice until smooth like a puree
In a large mixing bowl, whisk together the flour, sugar and salt
Then whisk in the whole eggs and egg yolk, followed by 1 cup of mango puree, lemon zest and vanilla extract
Whisk until smooth and pour over the baked shortbread crust
Bake for about 25-35 minutes until the middle is no longer jiggly (should be the firmness of jello). Allow to cool at room temperature before removing from the pan
Once cool, pull out the parchment paper and cut into bars
To create a floral pattern, use a paper flower shape to cover one section of a bar, then dust the rest with powdered sugar using a sifter or sieve. Repeat with each bar individually.
Store leftovers in an airtight container in the refrigerator for up to 4 days.
Club Crafted https://www.clubcrafted.com/
Psst, follow along on Pinterest to see my favorite recipes!