/
Mini Breakfast Cereal Bundts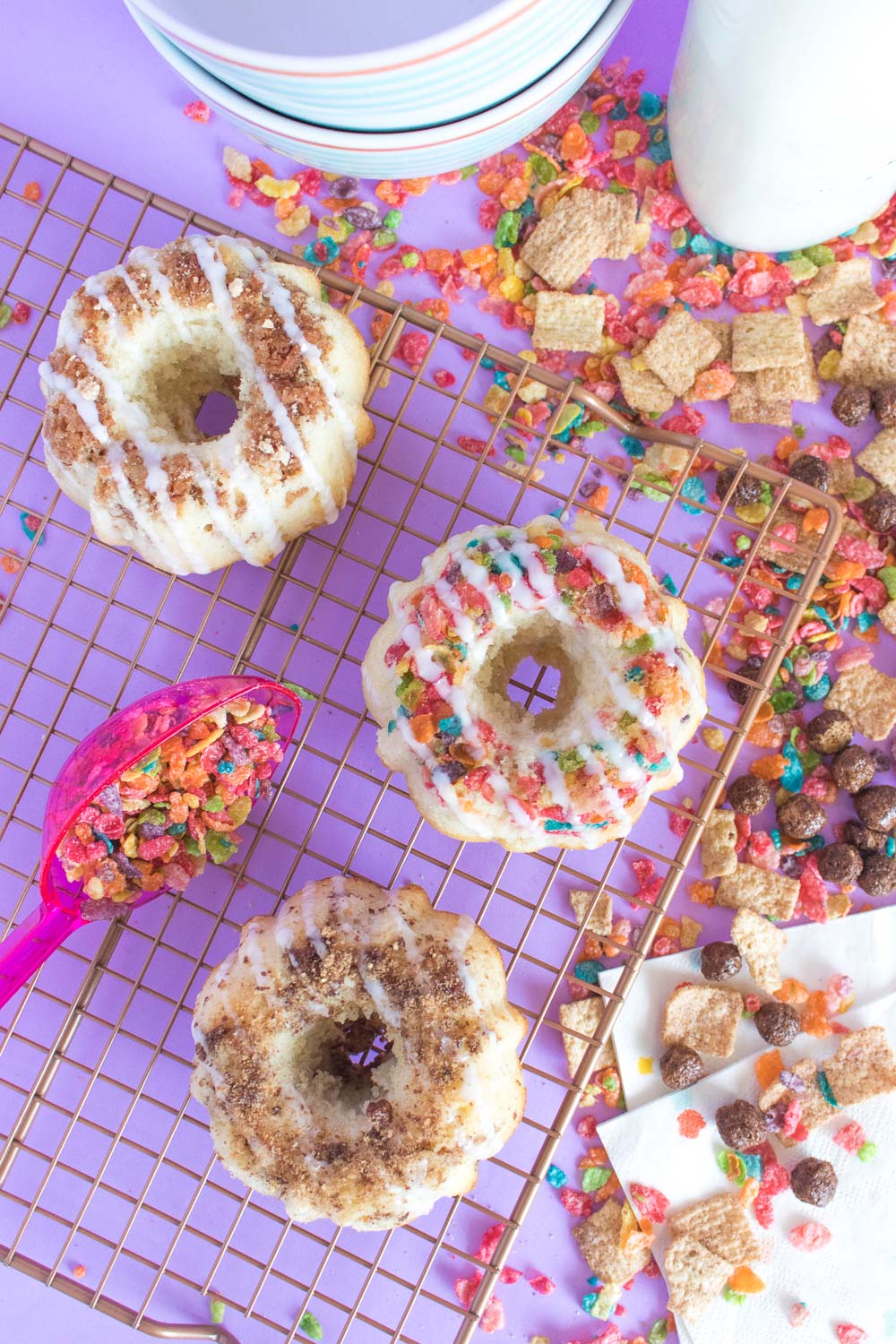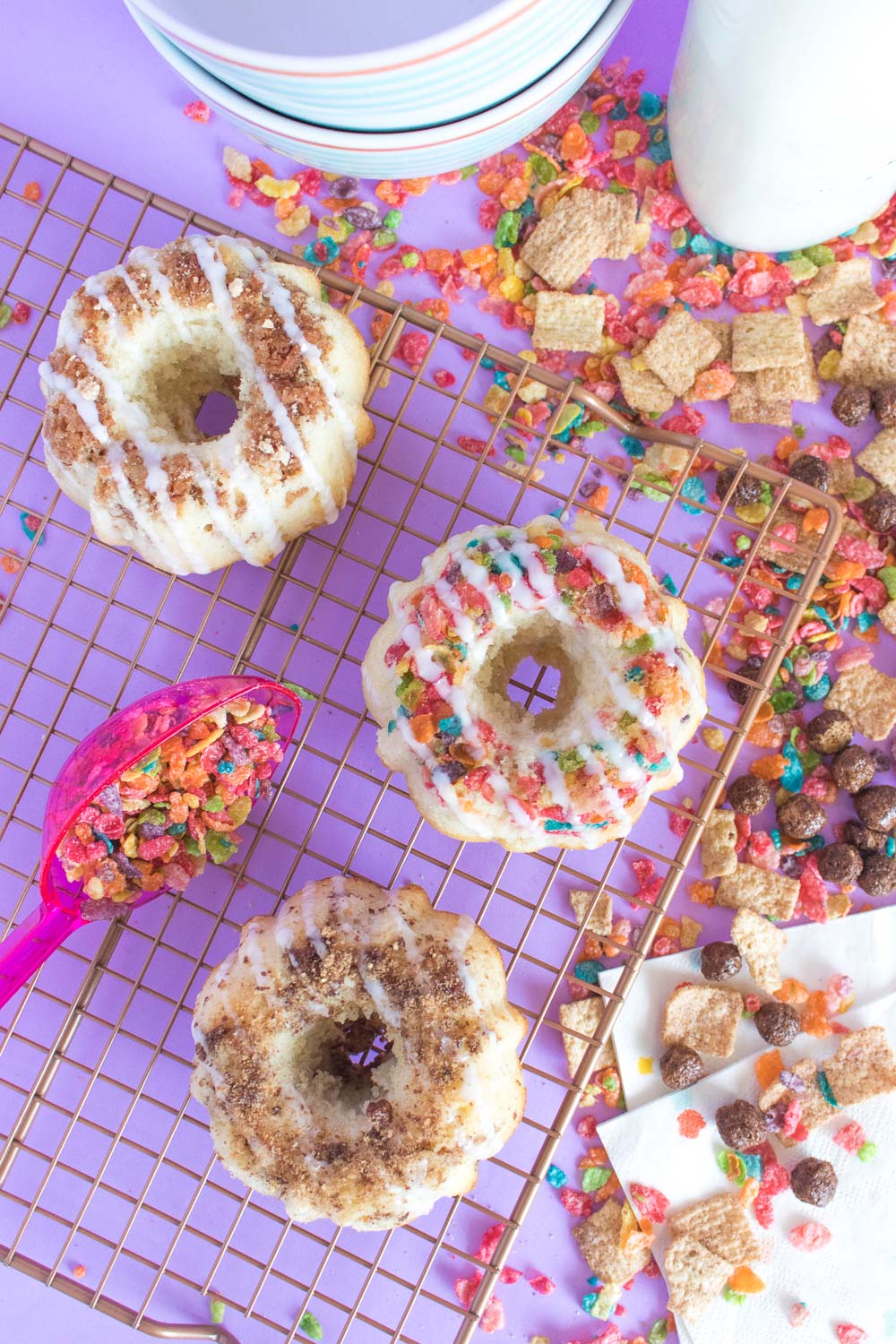 Since I'm an advocate of eating cake for breakfast (adulting at it's finest), I thought it was about time I share a cake recipe that's been missing from your breakfast routine. Why not combine two of our favorite things?! Cereal and cake have come together to make sure your day is off to a good start! These CEREALously tasty mini breakfast cereal bundts are made with super simple vanilla cake baked with a crown of your favorite cereals and topped with a classic vanilla glaze. All in all, I would like to eat these every day!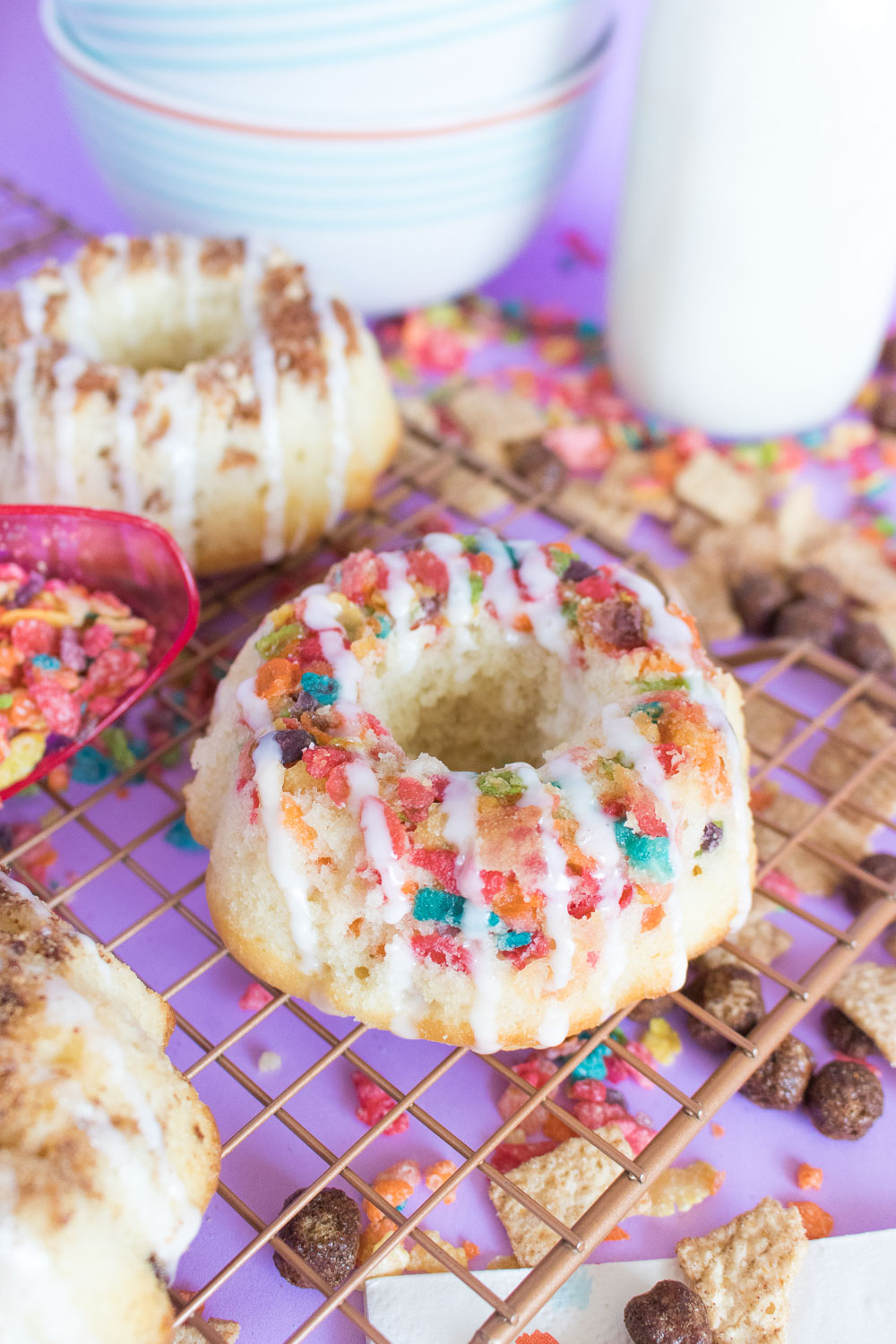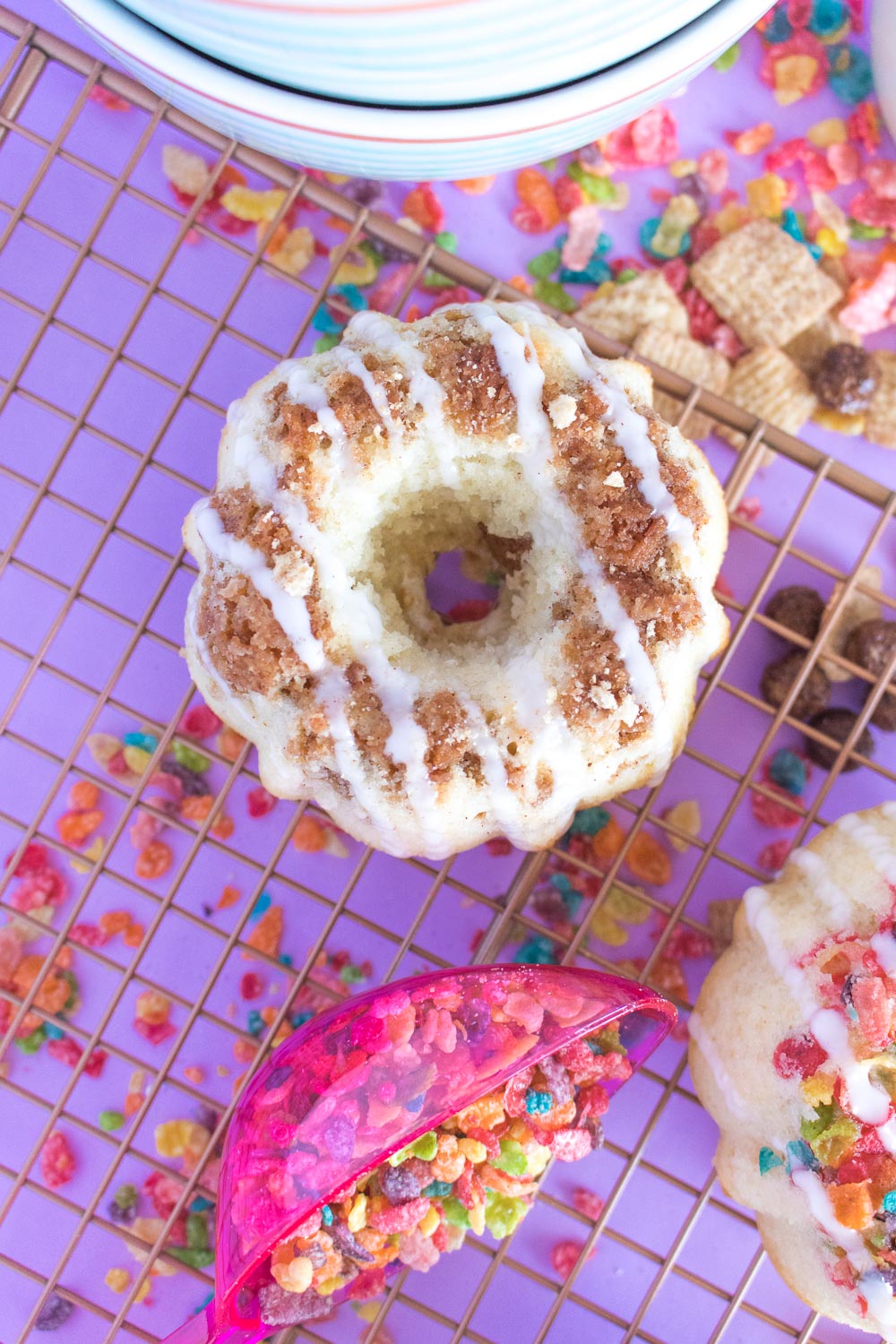 First, let's talk about cereal because the type of cereal you pick for your cereal bundt cakes is pretty important. The cereals I used were Fruity Pebbles, Cinnamon Toast Crunch and Cocoa Puffs, but I quickly learned that the only way to make it work was to lightly crush the cereal when adding it to the mold. If you don't, the large pieces (such as a full-sized Cocoa Puff) will float in the batter and end up soggy along the bottom of the cake. If the cereal is larger than Fruity Pebbles, simply crush them as you add them to the mold, and you'll have that pretty and tasty ring around the top of the bundts.
Scroll down for the full recipe card! 👇🏼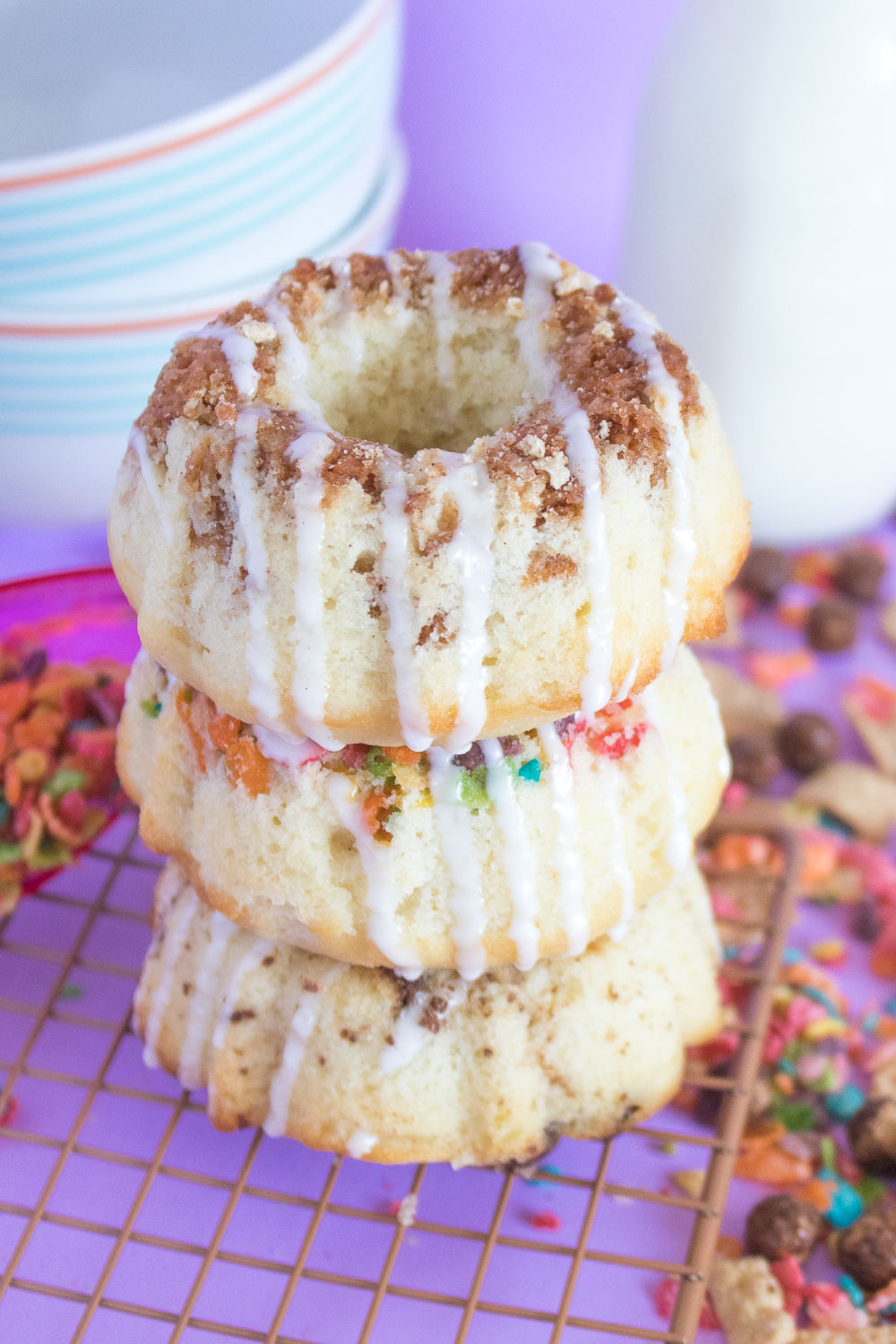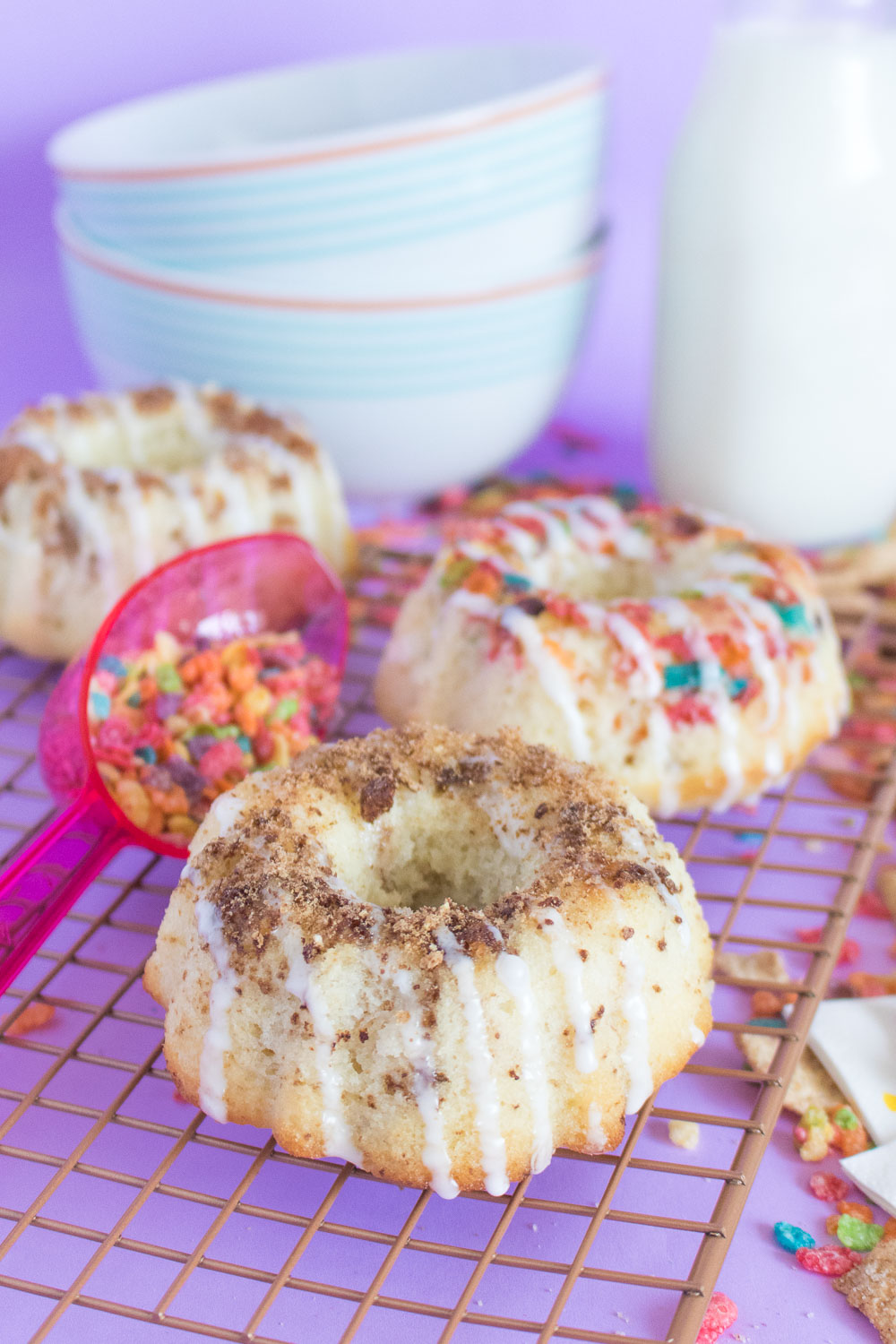 This vanilla cake recipe is very easy and one of my tried-and-true recipes. I'd consider this a go-to recipe whenever I need a cake because it always comes out perfectly for me. It was fun to mix it up with cereal this time! The Cinnamon Toast Crunch bundt was my favorite. Because I crushed up the cereal slightly, it made it taste almost like a coffee cake with a streusel topping. This is sure to be a breakfast favorite!
The glaze is equally easy, and I've used it for cakes, cookies, donuts, etc. and just vary how much liquid I add to it to make it work for just about any baked good.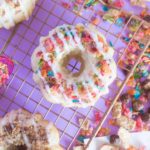 Vanilla Breakfast Cereal Bundts
2018-03-29 16:17:18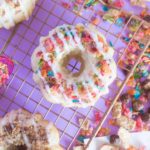 Serves 8
Enjoy cake for breakfast with simple vanilla bundt cakes baked with cereal and topped with a simple vanilla glaze
For the Cakes
Breakfast cereal of choice
1/2 cup butter, room temperature
1 1/2 cups all-purpose flour
2 1/2 tsp baking powder
1 cup granulated sugar
1/2 tsp salt
2 tbsp + 2 tsp milk
4 egg whites
2 tsp vanilla
For the glaze
1 cup powdered sugar, sifted
2-3 tsp milk
1/4 tsp vanilla extract
Instructions
Preheat the oven 350 degrees F. Grease a mini bundt pan (silicone molds) with baking spray and flour
Crumple a small handful of desired cereal into each greased cavity. Crushing the cereal slightly will ensure it does not float once the batter is added. Set aside
In the bowl of your mixer, beat the butter until light and fluffy, about 2 minutes
Add the dry ingredients and mix until crumbly. Scrape the bowl and mix again if needed.
In a separate bowl or measuring cup, whisk together the egg whites, milk and vanilla
Mixing on low speed, slowly add the wet ingredients to the dry. Scrape the bowl and mix until just combined
Divide batter into prepared bundts
Bake for 20-24 minutes until a toothpick inserted into the cakes comes out clean
Let cool for 20 minutes before carefully removing bundt cakes from the mold
For the Glaze
Sift the powdered sugar into a medium mixing bowl
Whisk in the vanilla and 1 tsp of milk, adding more milk as needed until the glaze drips slightly off of the whisk
Move to a pastry bag fitted with a small round piping tip and pipe the glaze across the cooled bundt cakes. If desired, top with additional crushed cereal for crunch.
Club Crafted https://www.clubcrafted.com/