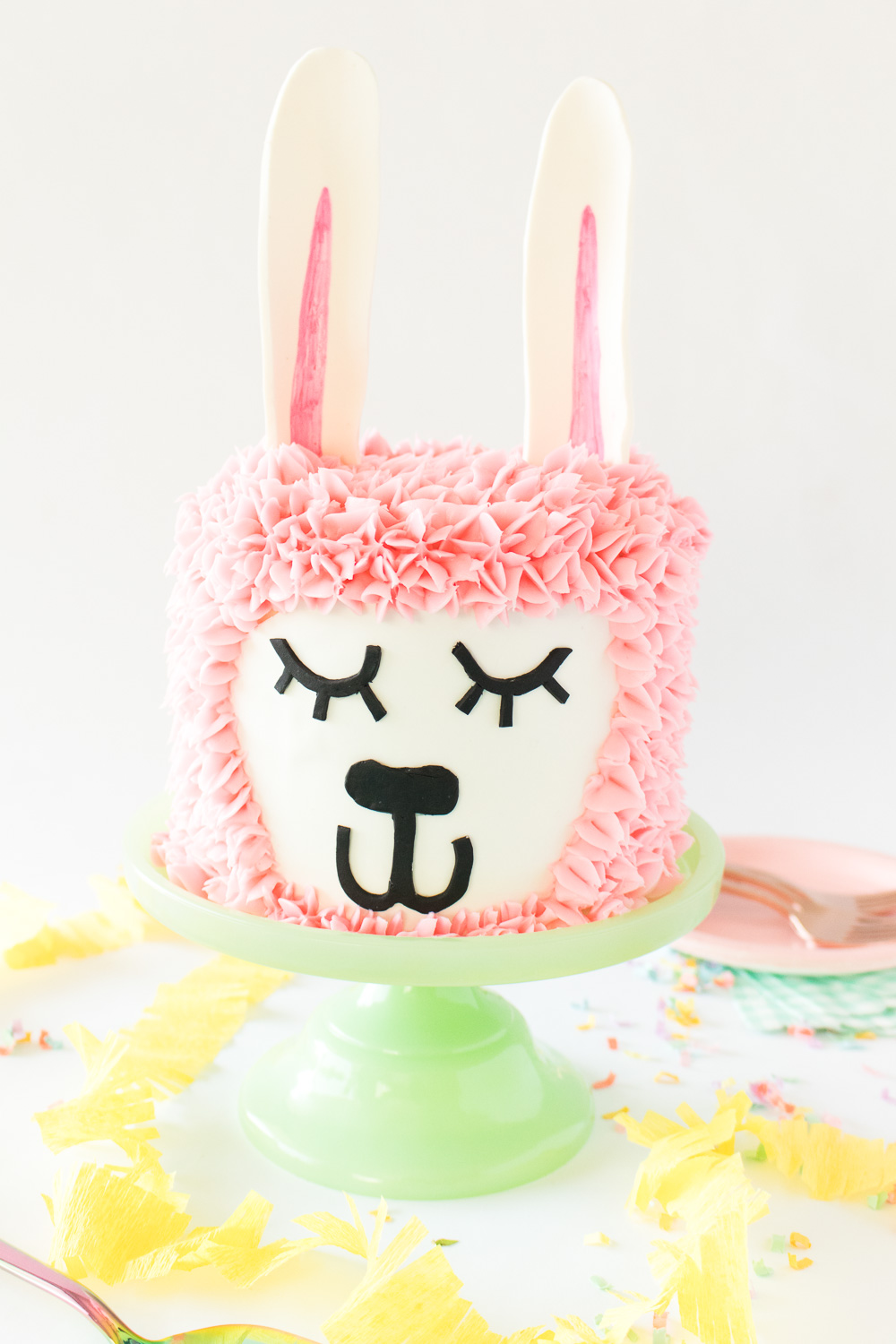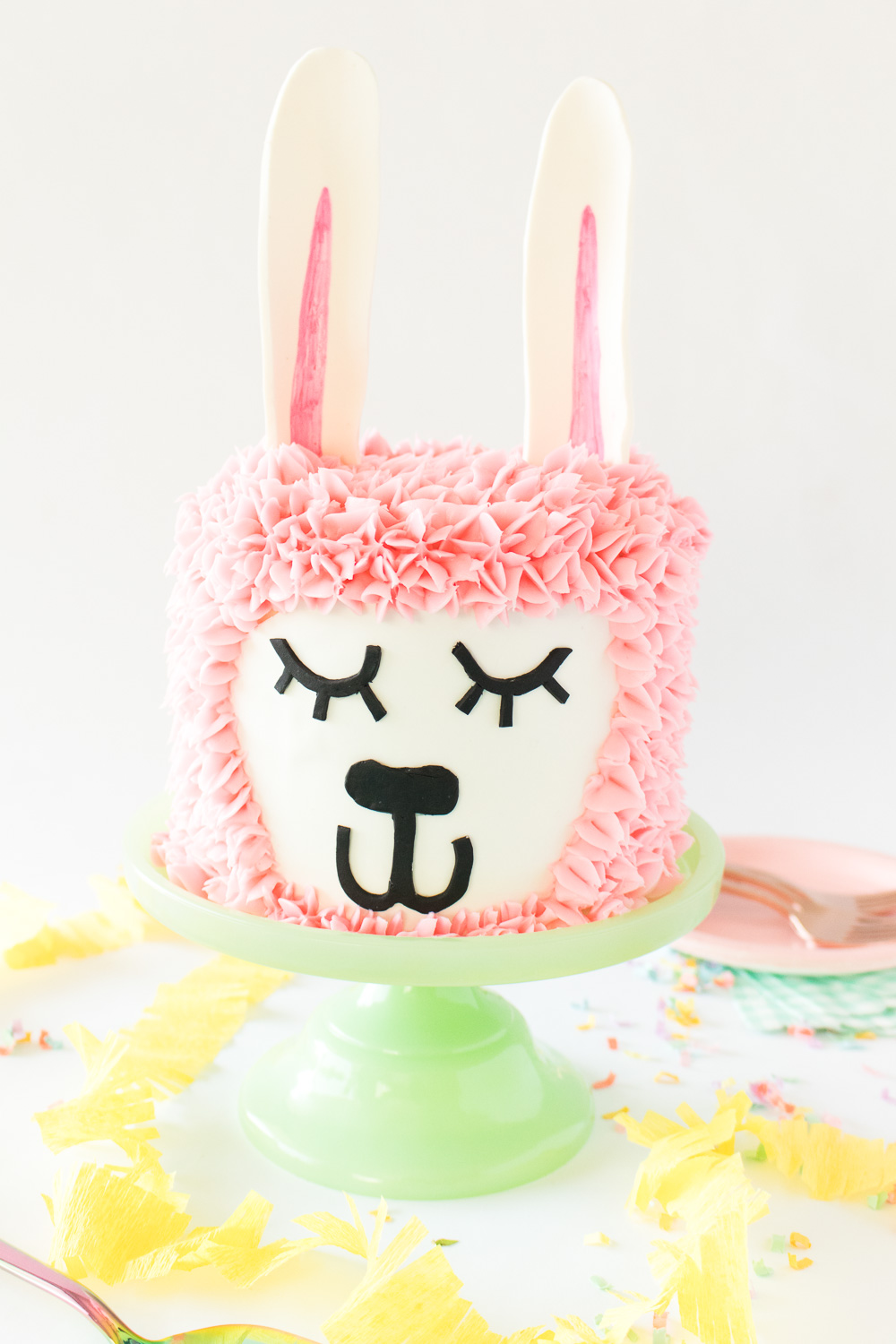 I definitely never thought I'd say the words "llamas are so in right now," but here I am. I can't even explain to you guys how much I researched the difference between llamas and alpacas to make today's project. 😂 This pink llama cake was so much fun to work on, and it has three layers of fresh strawberry cake with tangy cream cheese frosting! I honestly could have eaten the entire cake myself if my self control hadn't kicked in, ha! I think everyone will love this cake that's packed with REAL strawberry flavor – nothing artificial here. The cream cheese frosting is the perfect balance and this cute llama face is made with cut fondant.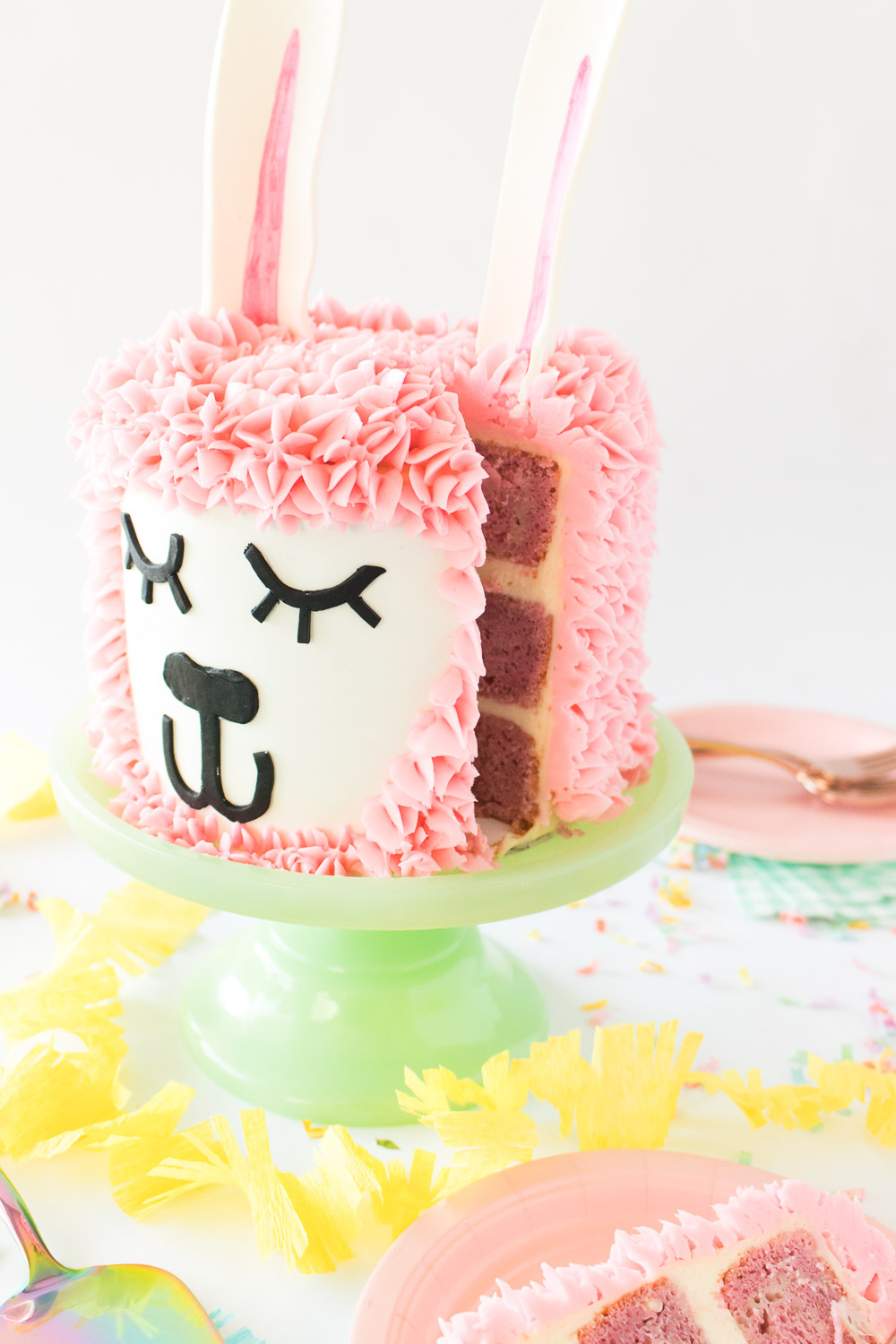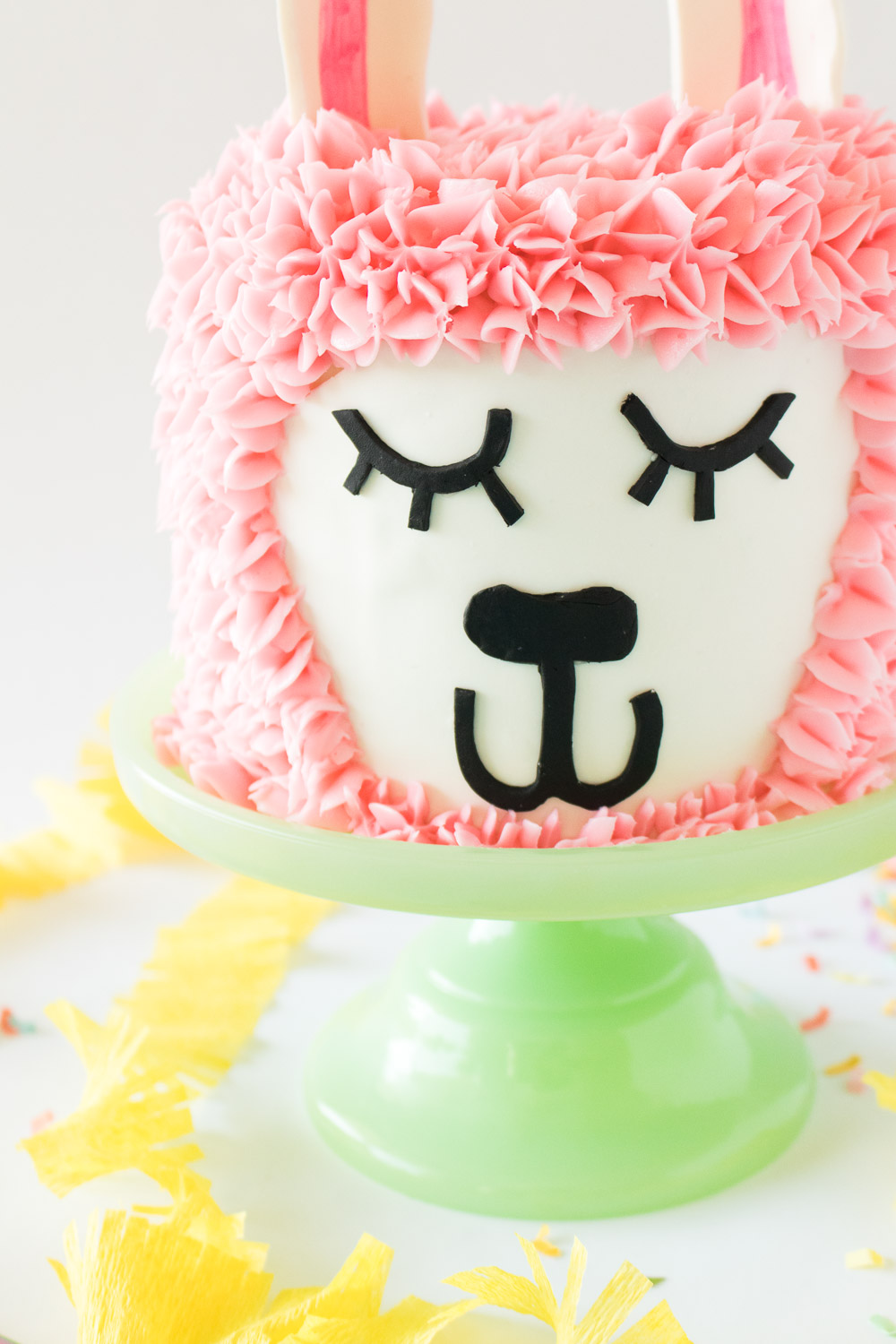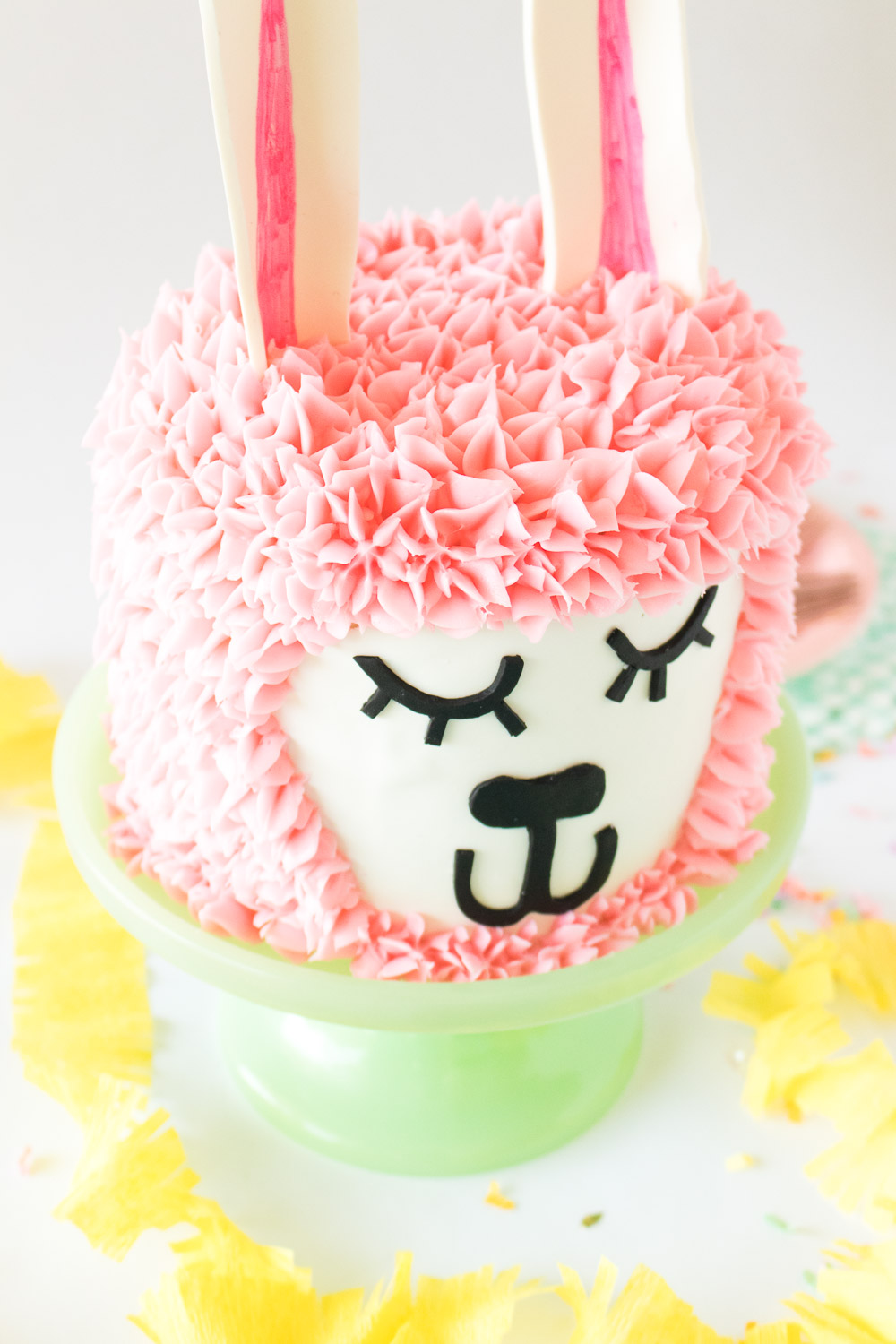 Since llamas are all the rage right now (you could say they're the new flamingo), I knew I needed to give a simple layer cake a makeover to look like an adorable pink llama. Duh.
Scroll down for the full recipe card and how-to! 👇🏼
I had to research the differences between llamas and alpacas to make sure it was clear this was a llama cake, so now I feel like an expert. The main difference for the purpose of this cake was the ears. Llamas have taller, banana-shaped ears, so I made sure this cute little guy had taller ears. The "fur" is made with the pink frosting and goes all the way around the cake except for the face, which is made of rolled fondant.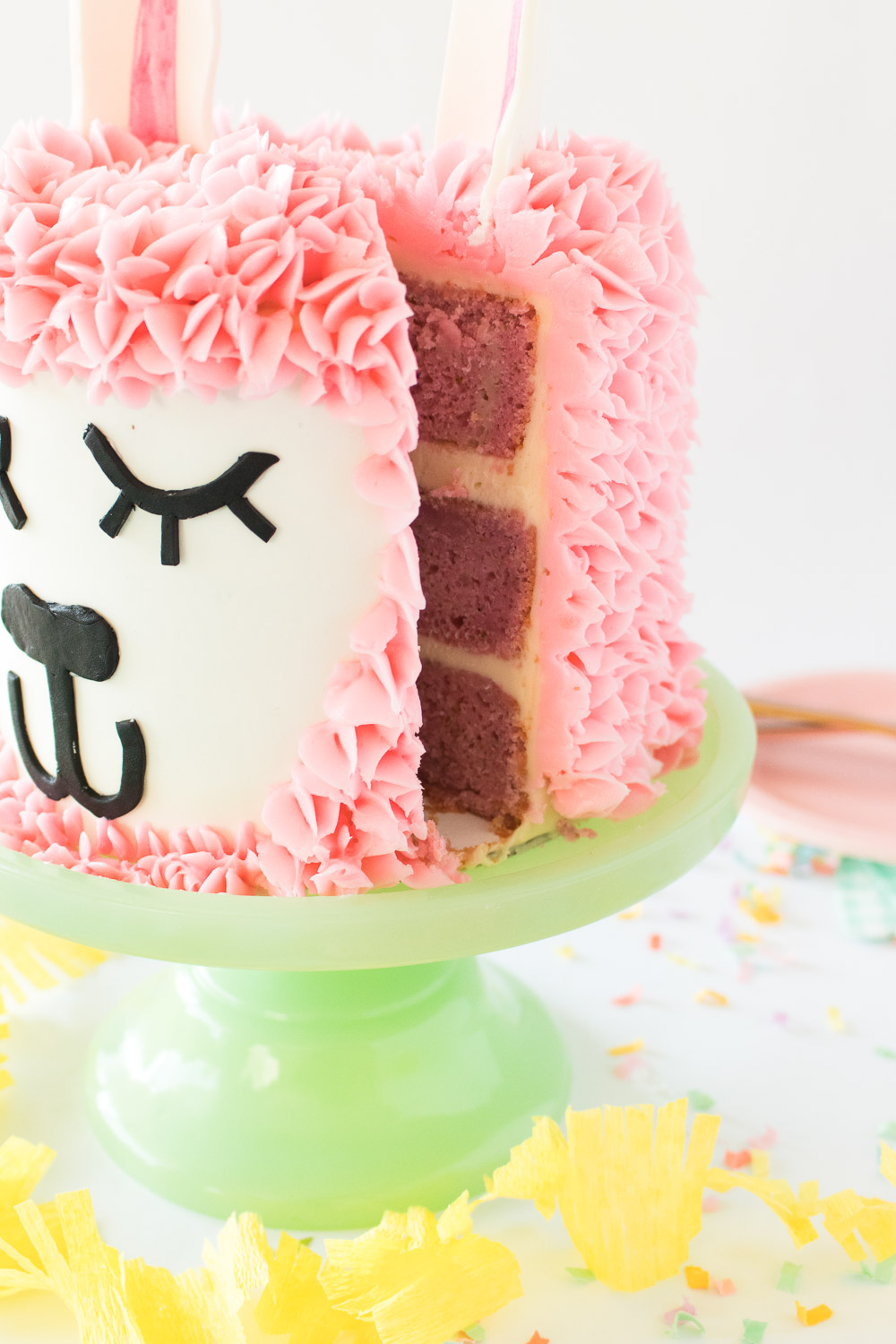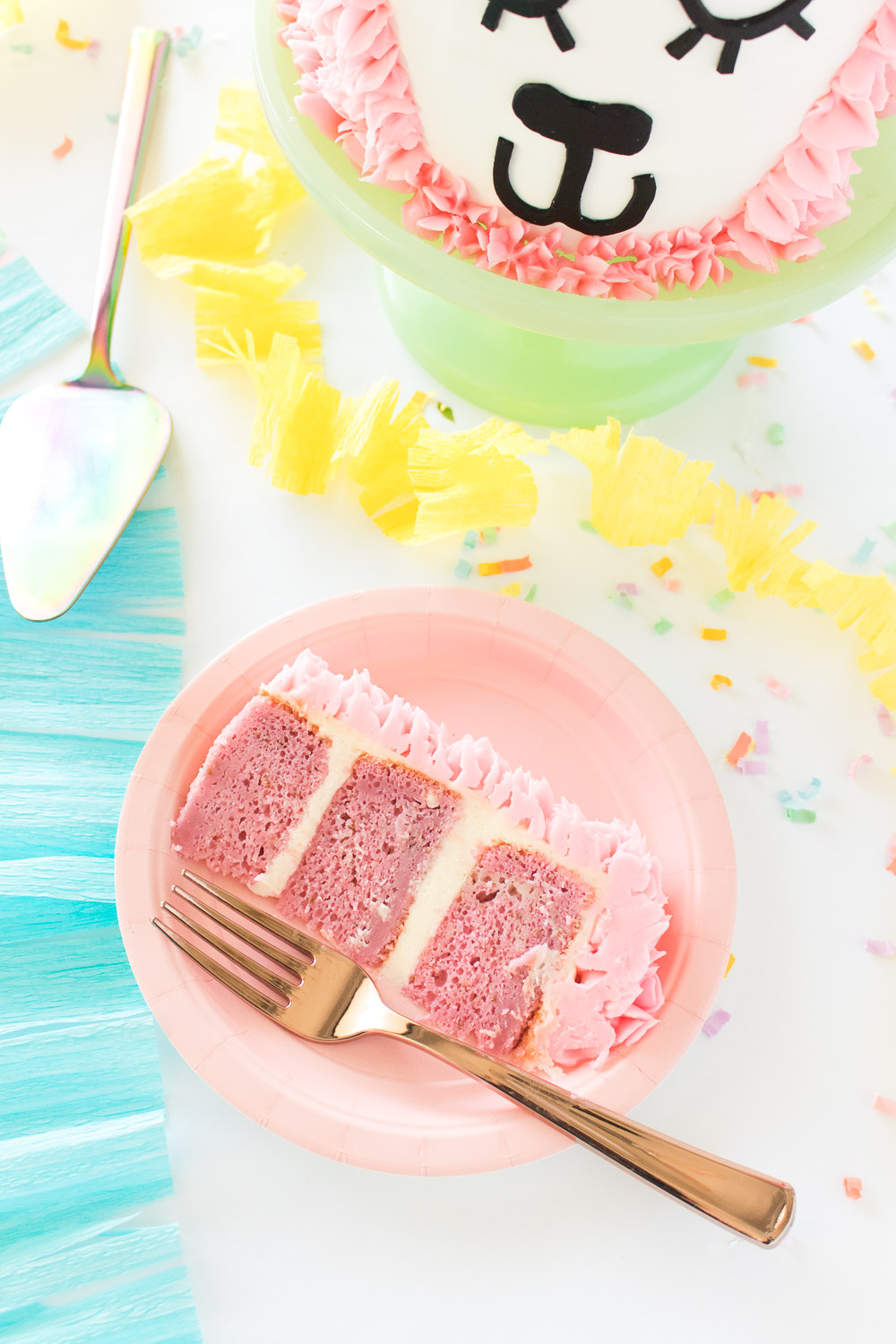 The cake itself is made with fresh strawberry puree and colored with pink food coloring to appear extra vibrant, but all of the strawberry flavor is natural. Strawberry cake is one of my personal favorites, and cream cheese frosting is the perfect pairing with it! Plus, it's very easy to make, which is always a plus.
Are you ready to make a llama cake?!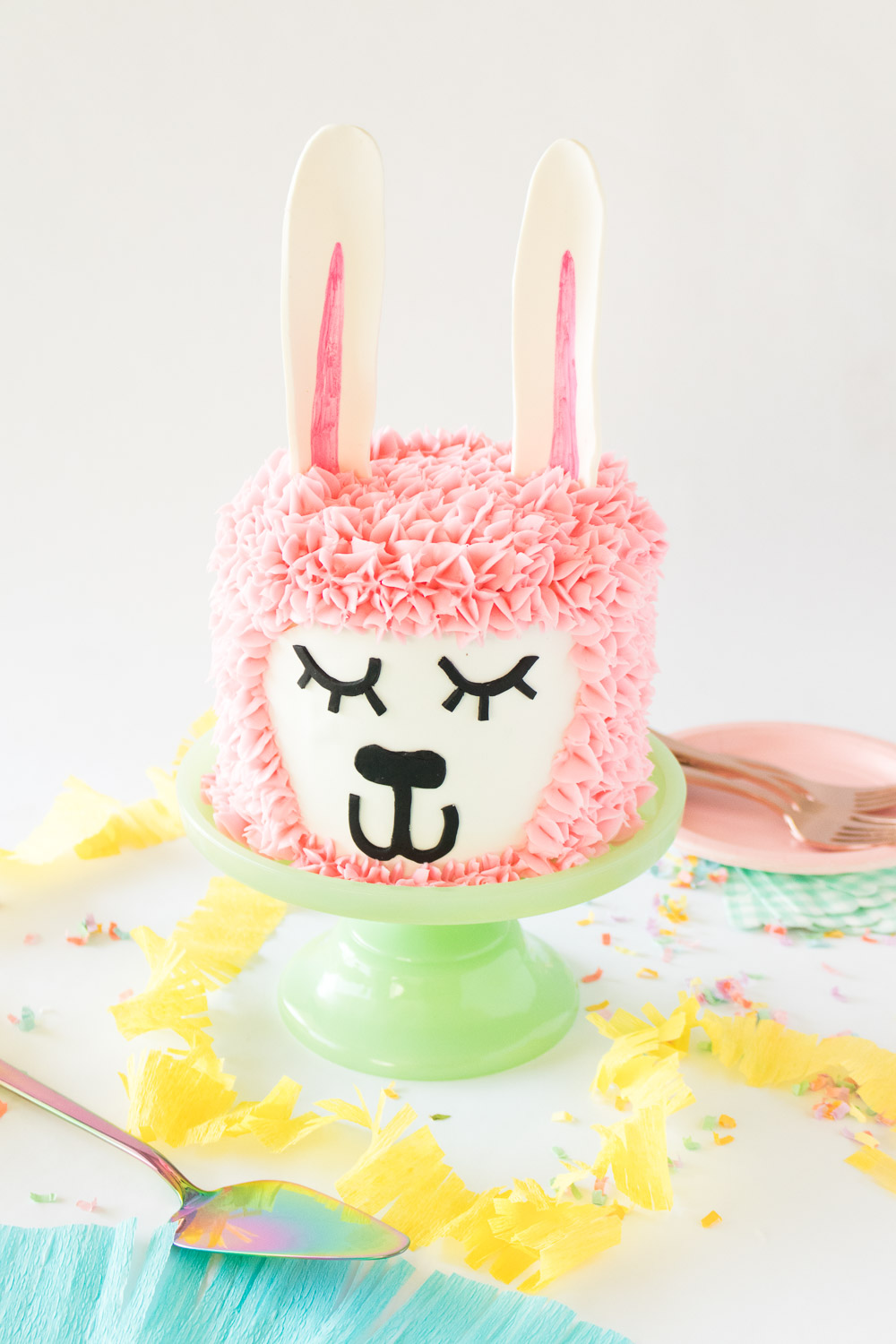 Pink Strawberry Llama Cake
2018-04-02 16:01:07
Layers of pink strawberry cake with cream cheese frosting, decorated to look like llama
For the Strawberry Cake
3/4 cup butter, room temperature
1 1/2 cups granulated sugar
1 cup sour cream
6 egg whites
2 1/2 cup all-purpose flour
4 tsp baking powder
1/2 tsp salt
1/3 cup milk
3/4 cup strawberry puree
Pink food coloring
For the Cream Cheese Frosting
16 oz. cream cheese, room temperature
12 oz. butter, room temperature
3-4 cups powdered sugar
1 tbsp vanilla extract
Pink food coloring
White fondant
Black fondant
Pink food marker
For the Cake
Preheat the oven to 350 degrees F. Grease three 6-inch cake pans with cooking spray and line them with parchment
Whisk together the flour, baking powder and salt in one bowl and set aside. Whisk together the milk and strawberry puree in a separate bowl or measuring cup and set aside
In the bowl of your mixer, cream together the butter and sugar
Add the sour cream and mix until just combined
Mix in the egg whites in batches, scraping the sides of the bowl between each addition
Add half the dry mixture, then the wet and mix to combine
Add in the remaining dry, then wet and food coloring, and mix until just combined and desired color is reached. Do not overmix
Divide the batter among the prepared pans and bake about 25-28 mins until a toothpick inserted into the center of the cake comes out clean
Allow the cakes to cool before removing from their pans
For the Frosting
In a large mixing bowl, beat the butter and cream cheese until lightly and fluffy, about 3 minutes
Add the powdered sugar in batches until you reach your desired sweetness
Add the vanilla extract and beat well
Separate about half of the frosting into a separate bowl and dye it pink
To assemble the cake
Level and layer the cooled strawberry cakes with white cream cheese frosting. Then apply a crumb coat with the white frosting and chill.
While the cake chills, roll out the white fondant very thin
Cut two long ears out of the fondant (about 6 inches) and cut the rest into a large rectangle that should be as tall as the cake
Remove the chilled cake from the fridge and wrap the rectangle around the front of the cake. The edges do not need to be neat because it will be covered with frosting
Move the pink frosting to a pastry bag fitted with a star piping tip and pipe small tufts of "fur" around the cake, covering everything except for the facial area created with the fondant. Move back to the fridge
Curve the white fondant ears over a spoon and allow the fondant to dry out at room temperature
Roll out the black fondant very thin and use a small knife to cut out the mouth and eyelash shapes. Use a small food-only paint brush to adhere the black fondant pieces to the face of the llama with extra frosting
Once the ears have hardened enough to hold their shape, use a food marker to add the pink coloring in the middle of the curved ears. Then insert into the top of the cake where the frosting can stabilize them
Chill until about 20 minutes before serving
Club Crafted https://www.clubcrafted.com/