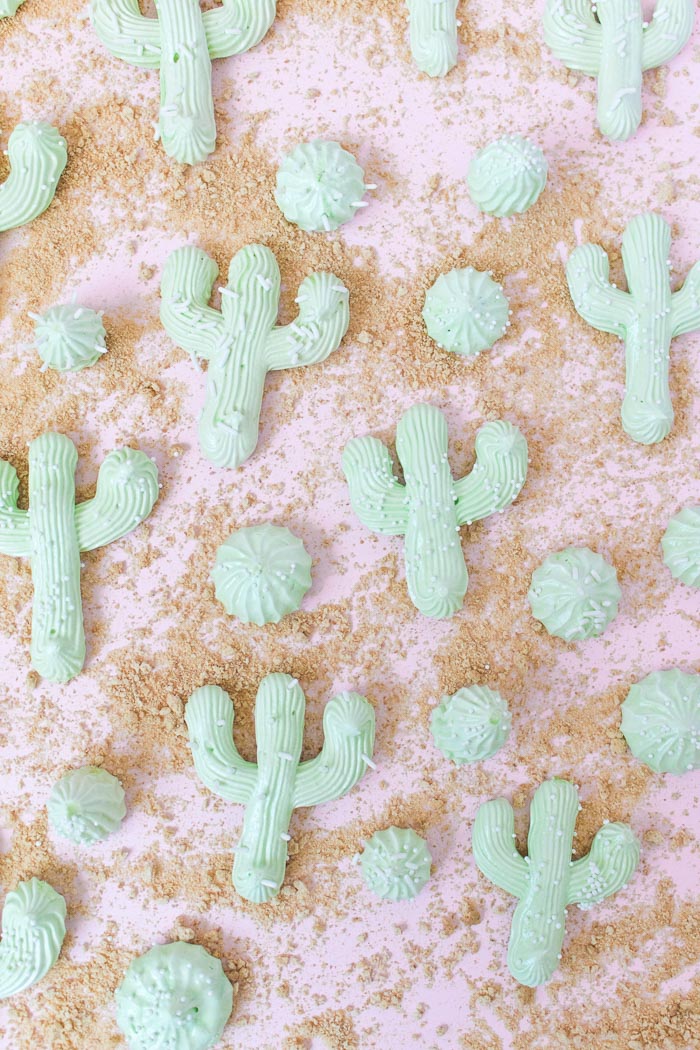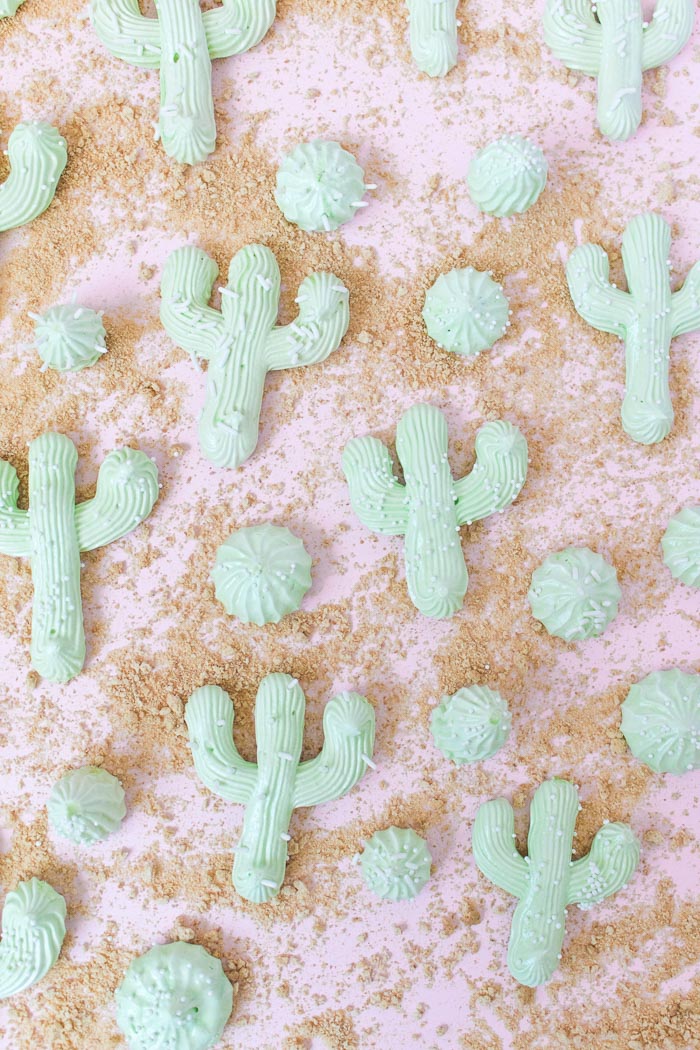 It feels SO good to finally get back to normal this week. We had a crazy but incredibly amazing week celebrating Andrew's graduation, which involved me stressing out beyond belief, but I honestly can't remember the last time I smiled so much. Sadly, all good things must come to an end, so we're back to reality now (not that my reality is bad at all haha) and that means a quick new food project for you. These simple cactus meringues have been on my to-do list for months – oops! – and I'm so glad I finally got around to trying them out. I'm pretty obsessed with meringues, and these cute cactus meringues are my new favorites. I mean, how can you not love a little cactus with sprinkle spikes?!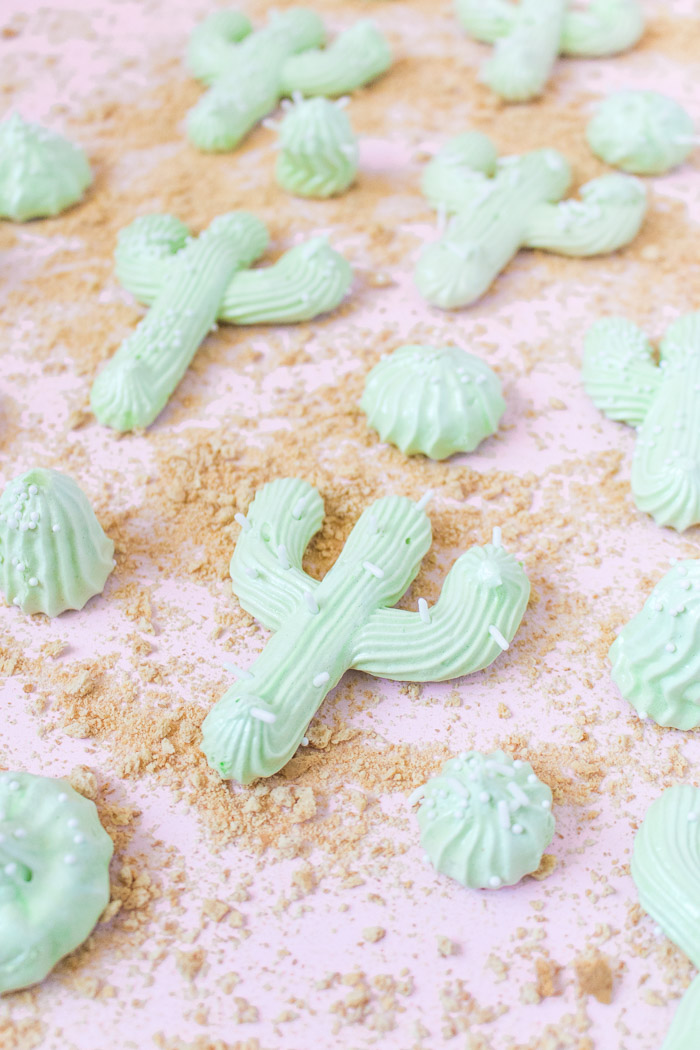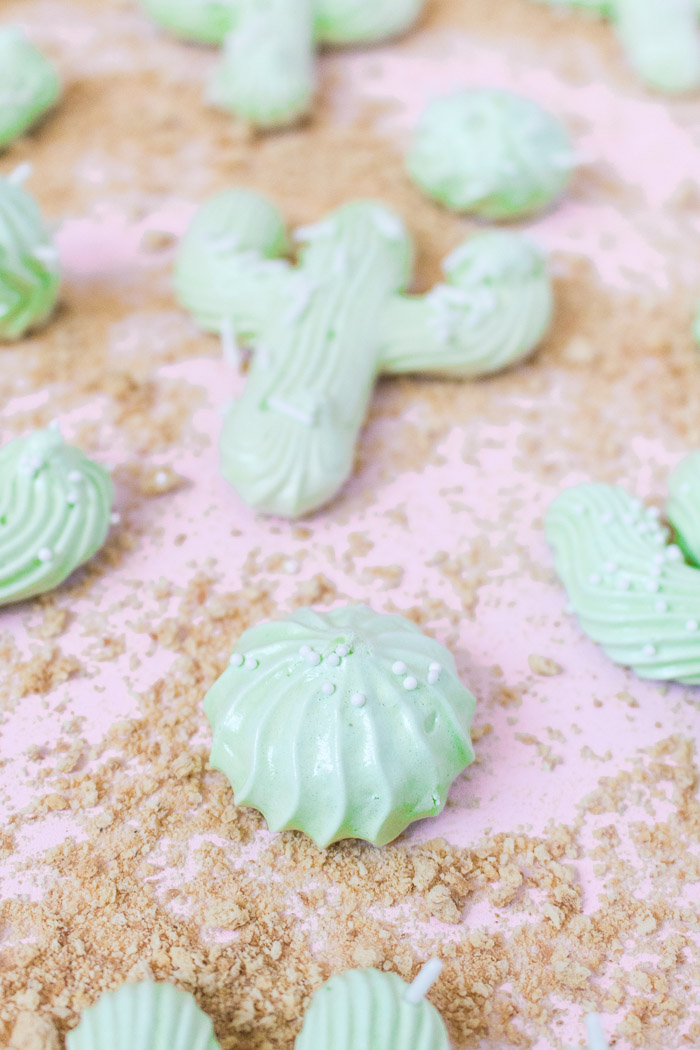 Meringue can take quite a bit of practice, but I feel pretty good about my recipe now that I've made meringue so many times. I did have some trouble this time because the weather in SoCal has been strange and gloomy with too much humidity for the meringues to handle. Dry temperatures are much better for making meringue, but it wasn't impossible!
Scroll down for the full recipe card! 👇🏼
I've seen such cute versions of cactus macarons, and since making meringue is a little easier than making macarons, I thought this would be a fun beginner baking project! As you can see, I made three different cactus shapes. The tall saguaro cacti are the most iconic, so those are definitely my favorites, but I wanted a variety of sizes, so I also made small dollops and taller shapes with the meringue to make cacti that look more like golden barrel cacti or similar types. Side note: there are SO MANY different types of cacti!
Simply dye the meringue green to look more like cacti, and the sprinkles create harmless little spikes. These would be so fun for a desert themed party, which I've been dying to put together myself!
PS, like meringues? My rainbow meringues are one of my favorites.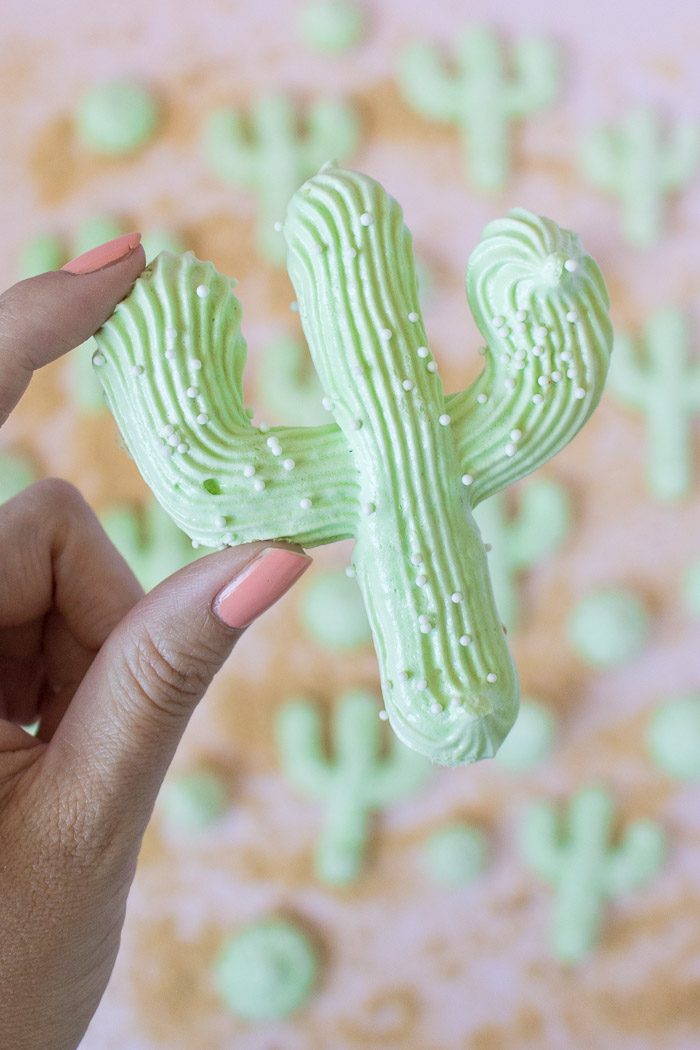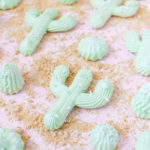 Cactus Meringues
2018-05-25 18:32:04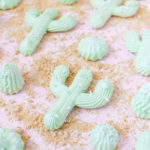 Simple meringue recipe dyed green and piped with sprinkles to look like variety types of cacti
Ingredients
3 large egg whites, room temperature
Pinch of cream of tartar
3/4 cup granulated sugar, fine
Green food coloring
White jimmies and/or nonparel sprinkles
Instructions
Preheat the oven to 400 degrees F
Line a baking sheet with parchment paper and pour the sugar on it in a thin layer
Bake the sugar for 5 minutes
While the sugar bakes, wipe down a metal mixing bowl and whisk attachment to remove grease
Whisk the egg whites on low speed until bubbles form; then add cream of tartar
Increase speed to high and whip until egg whites are just fluffy enough that you can turn the bowl over without them moving (be careful not to over beat)
Remove the sugar and turn heat down to 200 degrees F
With the mixer on high, add large spoonfuls of hot sugar to the egg whites and mix until it is very white and glossy and stiff peaks form
Test the meringue by feeling some between your fingers. If you can feel sugar granules, continue whipping for a little longer
Whip in green food coloring or fold in with a spatula, taking caution not to deflate the meringue
Move meringue to a large pastry bag fitted with an open star attachment
Line two baking sheets with parchment paper or silicone mats
To make the saguaro cacti, pipe the U-shape arms onto the baking sheet, then pipe a line down the center. For the others, simply pipe dollops but create some taller ones as desired.
Sprinkle with white jimmies or nonparel sprinkles
Bake the meringues for about 30-40 minutes (larger meringues will take longer) until the meringues peel off of the sheet with their bottoms intact
Let cool for about 10 minutes before removing, serving or storing
Club Crafted https://www.clubcrafted.com/