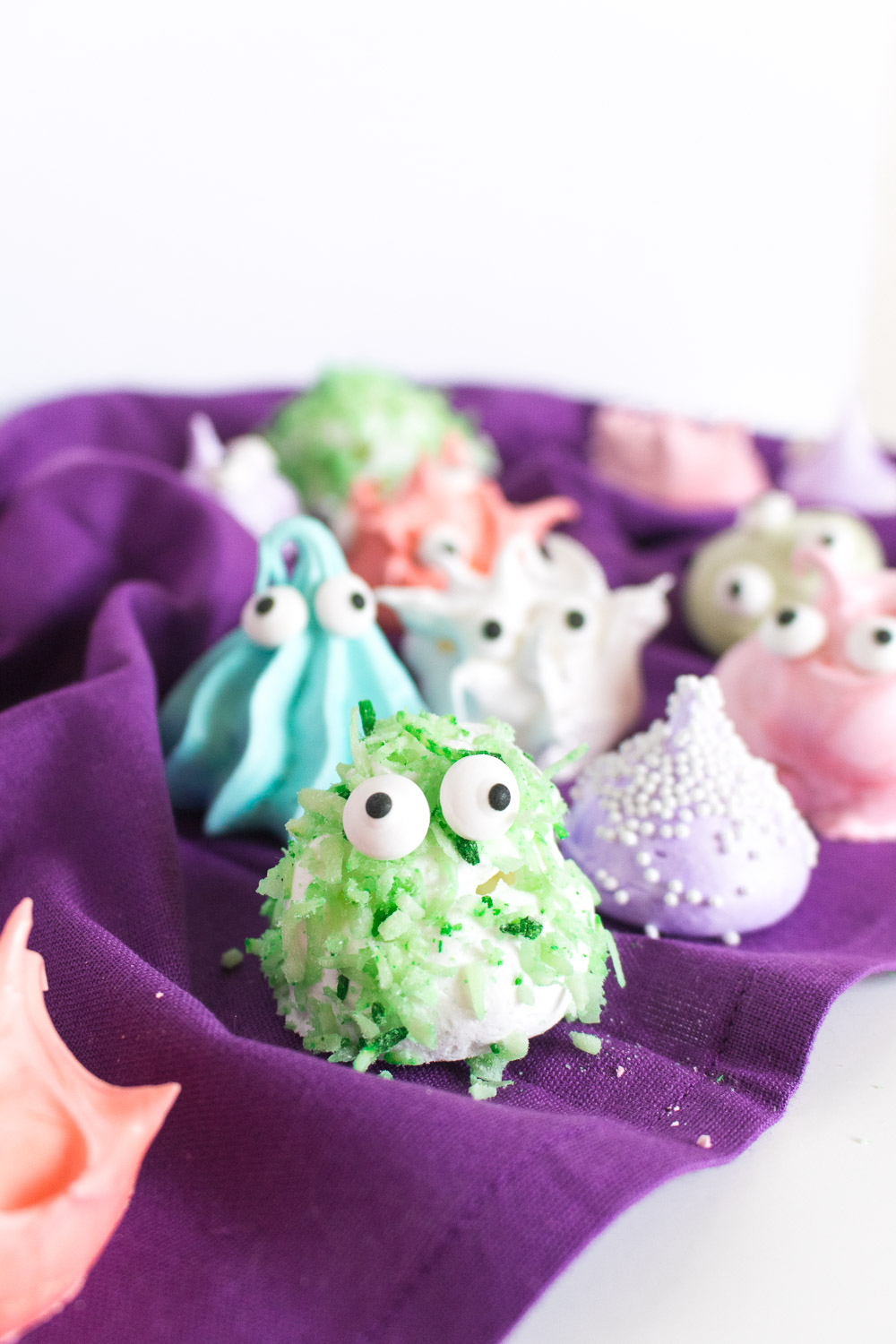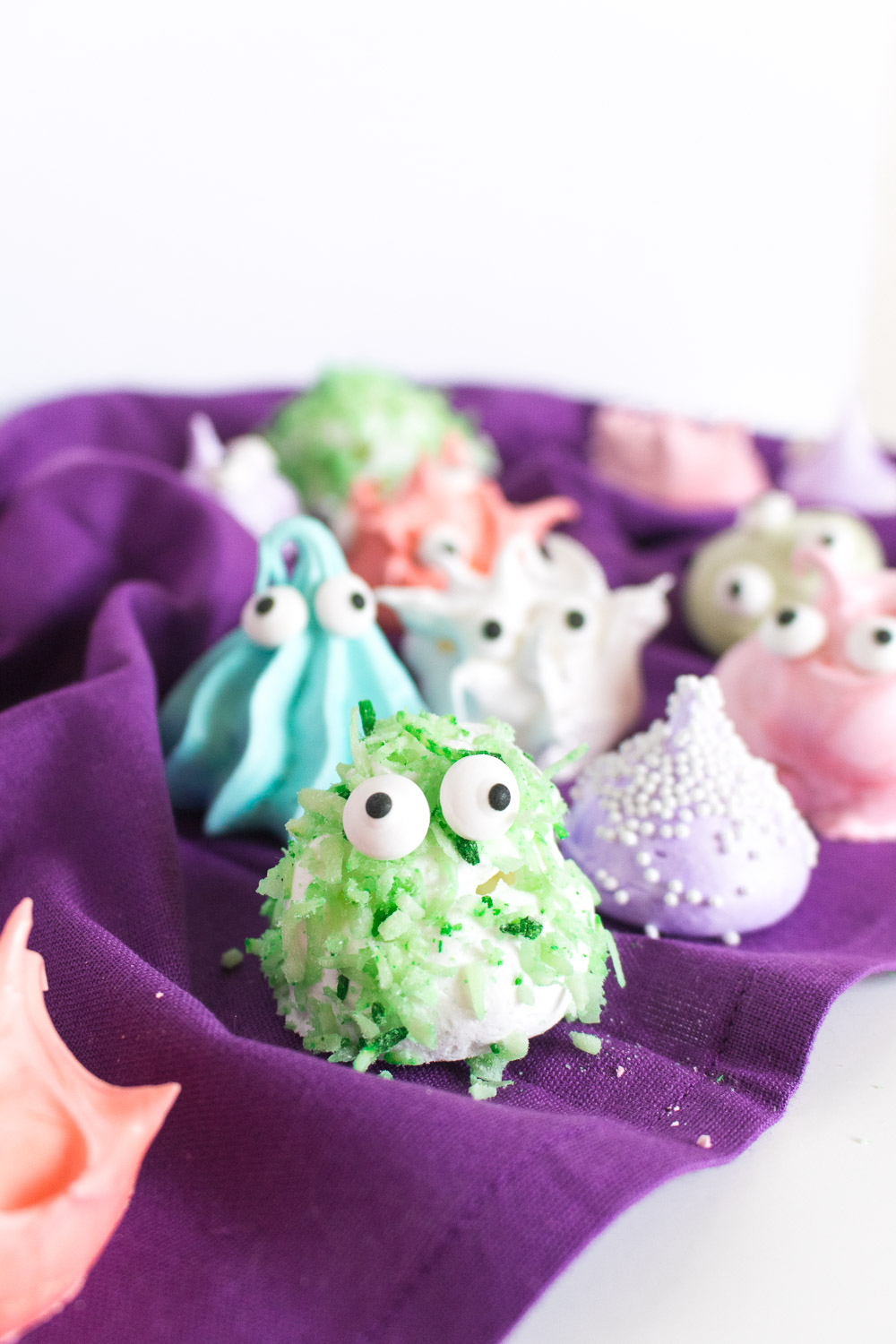 It's getting to be that time of year! I love Halloween, but I'm not necessarily into the scary side of things. I prefer the cuter side of Halloween with more non-traditional colors and goofy costumers, so these colorful meringue monsters seemed like the perfect fit. Making meringue is actually a passion of mine – I love making it, eating it, decorating it. These cute little monsters are so easy to make by simply adding eyes to the finished meringues, but my favorites are the blobs with spikes sticking out all directions.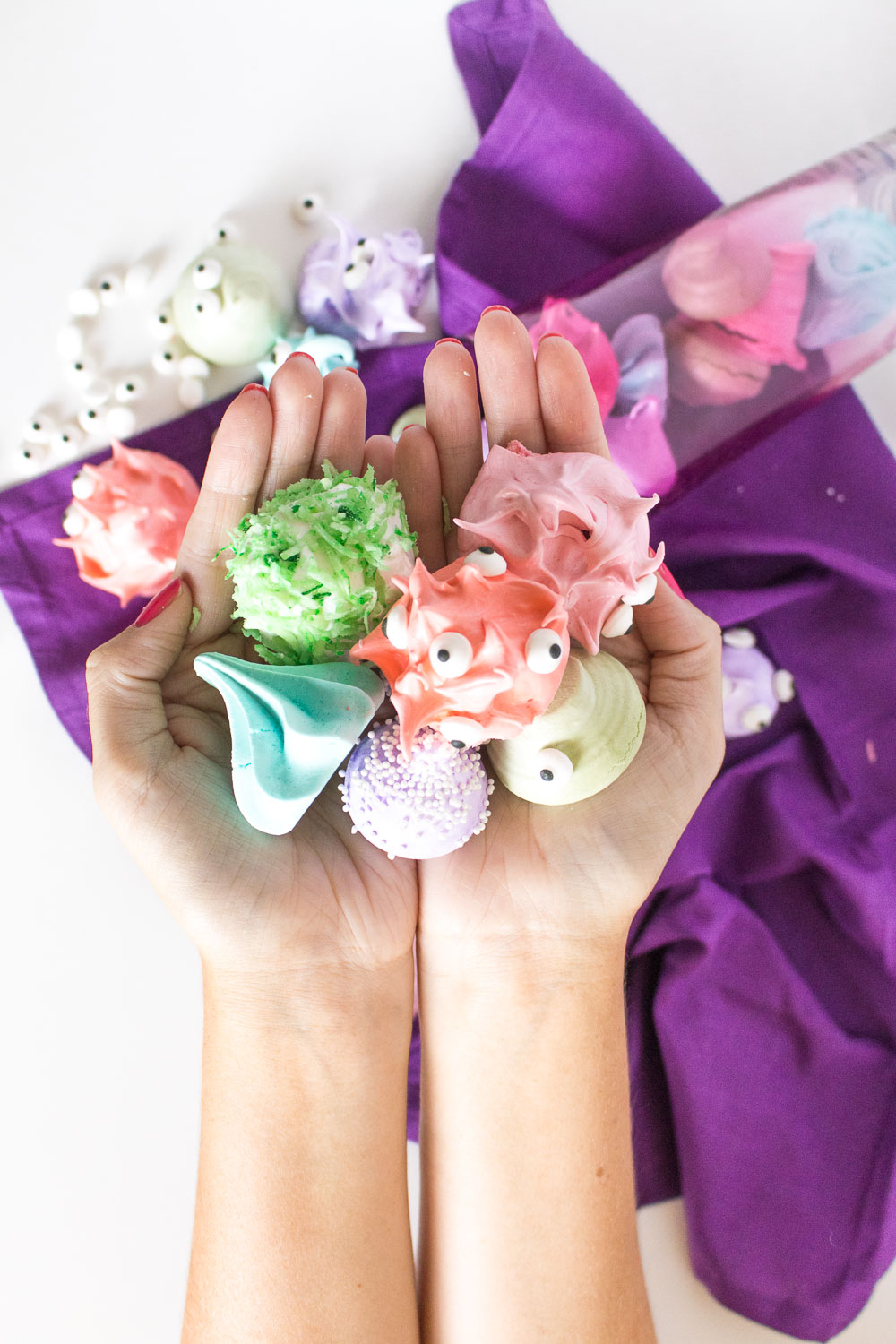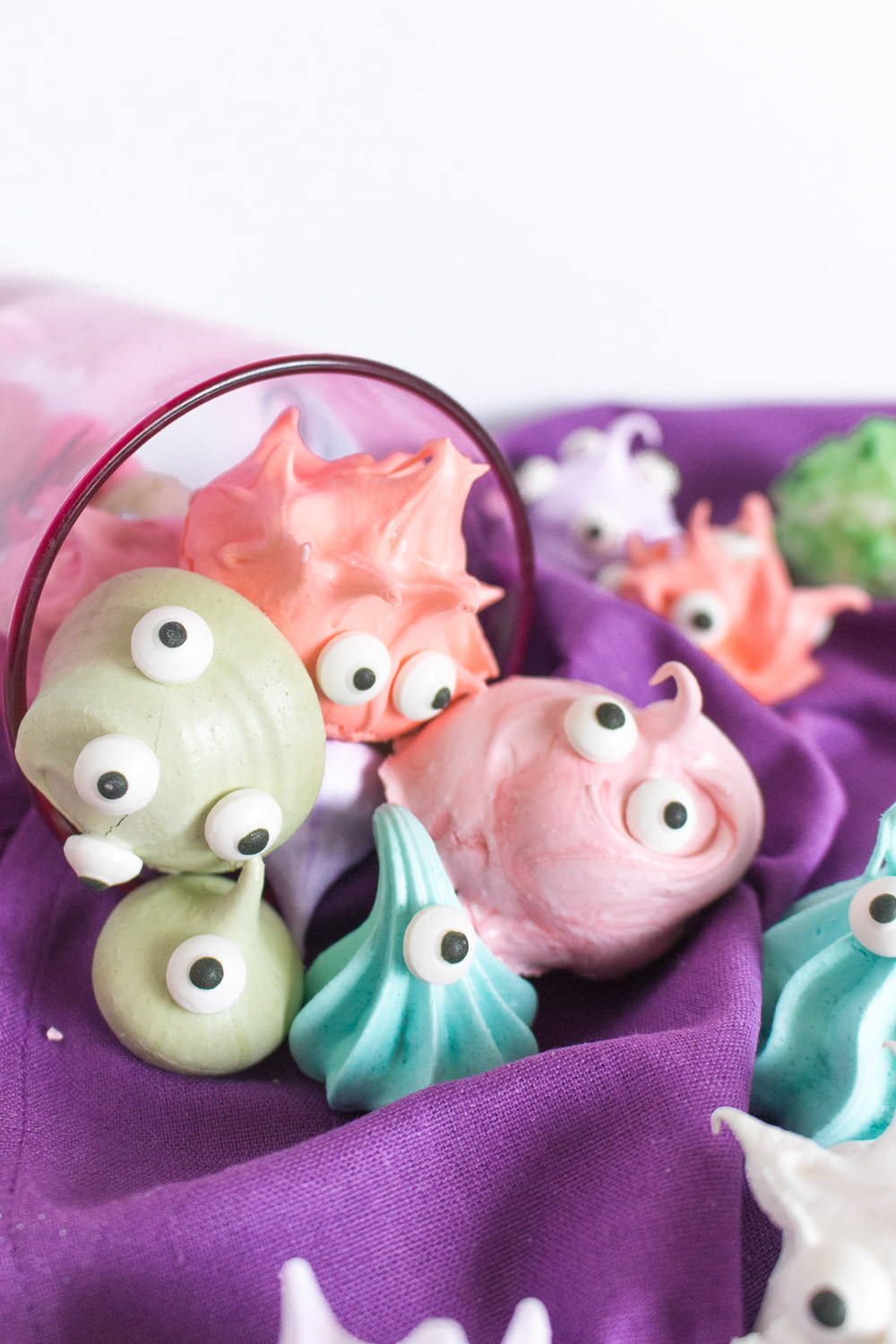 Putting eyes on things instantly makes them cuter, in my opinion. In fact, my first roommate and her friends had a habit of putting large googley eyes on random things throughout the house, so I always remember that when I see things with eyes now.
Scroll down for the full recipe card and how-to! ??
Meringue isn't hard to make, but sometimes it takes a few tries to make great meringue. It's all about proper mixing and measurements, so it just takes practice to get it right. The nice thing about these monster meringues is that you can simply plop some meringue on a baking sheet without having to go through the work of piping out perfect shapes. These cute little guys are all about imperfection!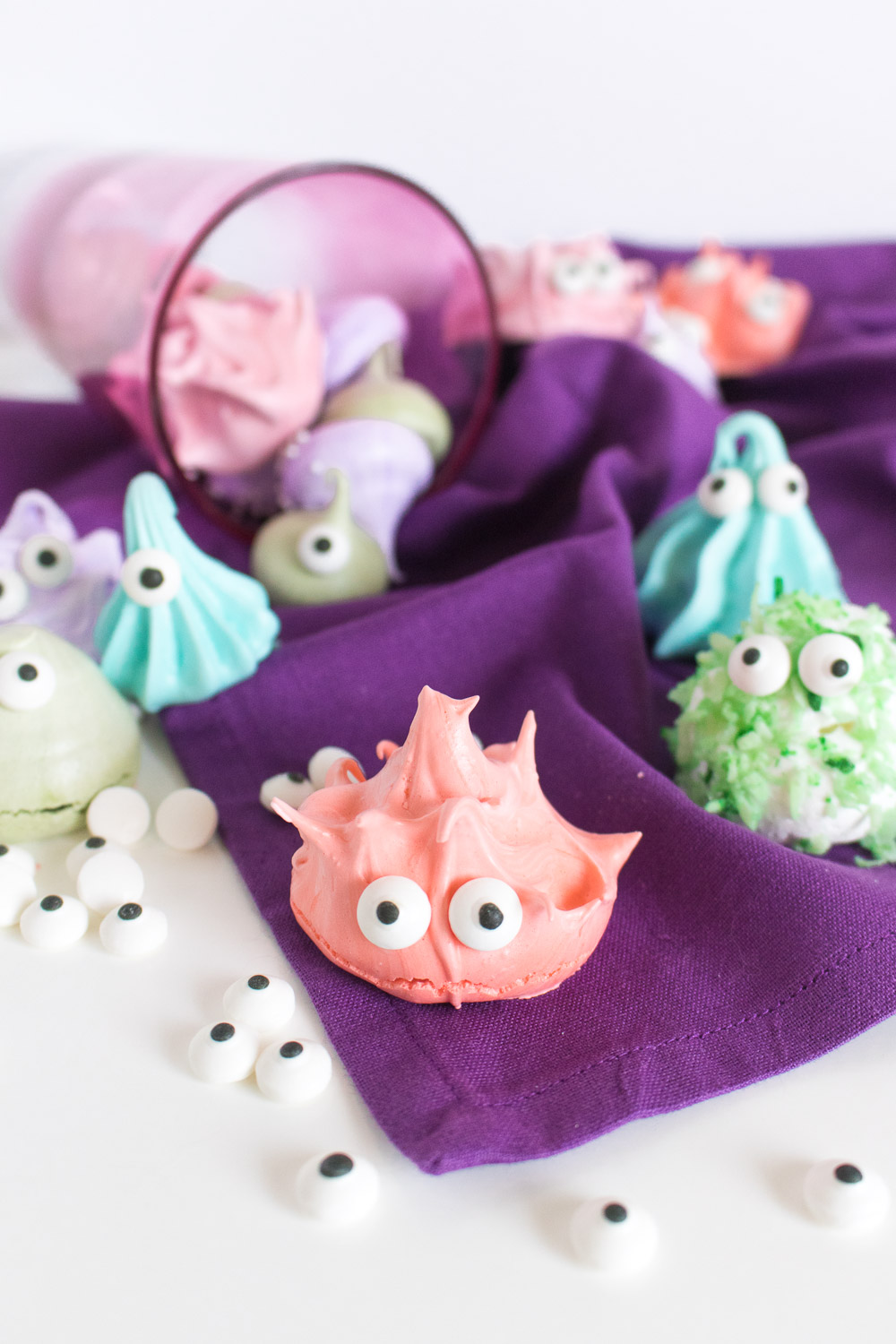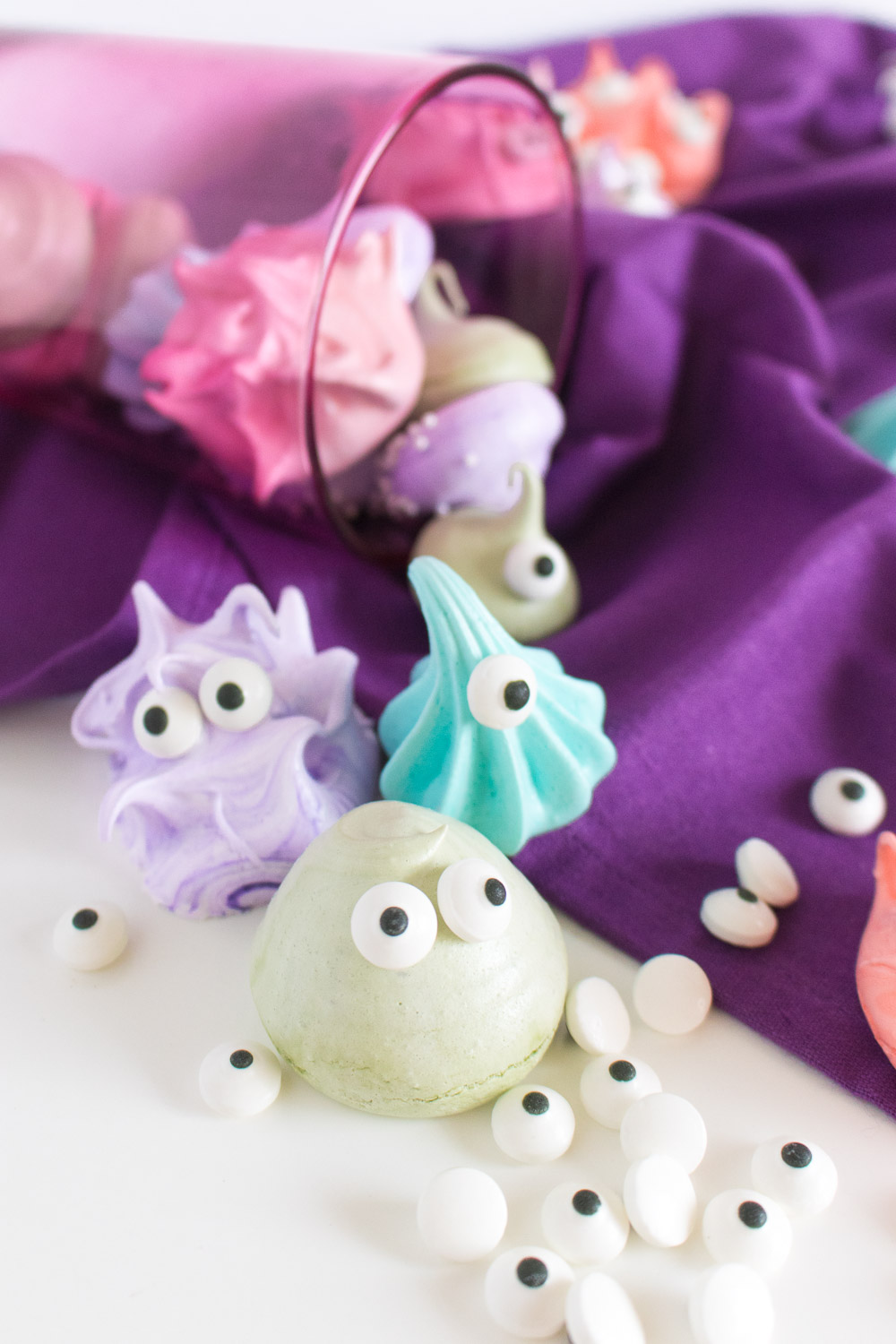 You can see I went for variety – I used several different colors and shapes. For some, I piped shapes with pastry bags, and others I simply used a spoon to plop the meringue onto a baking sheet. Note, these blob-looking ones may take longer to bake. Others I decorated with colored coconut or sprinkles. Then I added one eye, two eyes or more to various meringues to each one is unique!
Just have fun with these and serve for a Halloween party or just because! I think these are worthy of a "just because" moment. Stay tuned for lots more Halloween ideas!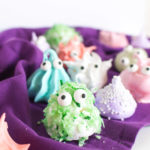 Meringue Monsters
2017-09-22 11:19:55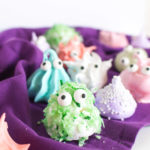 Cute little monsters made out of simple meringue, dyed with candy eyes!
For the meringue
3 large egg whites, room temperature
Pinch cream of tartar
3/4 cup granulated sugar, fine
Gel food coloring
Candy eyes
For the meringue
Preheat the oven to 400 degrees
Line a baking sheet with parchment and pour the sugar on it, spreading it out in a thin pile
Bake the sugar for 5 minutes
While the sugar bakes, wipe down a metal mixing bowl and whisk attachment to remove grease
Whisk the egg whites on low speed until bubbles form; then add cream of tartar
Increase speed to high and whip until egg whites and fluffy enough that you can turn the bowl over without them moving (be careful not to overmix)
Remove the sugar and turn heat down to 200 degrees
With the mixer on high, add large spoonfuls of hot sugar to the egg whites and mix until it is very white and glossy and stiff peaks form (avoid any caramelized pieces)
Test the meringue by feeling some between your fingers. If you can feel sugar granules, continue whipping for a little longer
To color, pipe and bake
Transfer the meringue to separate bowls and gently fold in a different color of food coloring to each bowl. Mix carefully so as not to deflate the meringue.
Either move the colored meringue to pastry bags or use a spoon to plop meringue onto a new sheet of parchment, using a spoon or your fingers to spread the meringue in a random pattern
Pipe and shape meringues as desired, leaving each about 1 inch apart on the baking sheet
Bake for about 30 minutes until the meringues can be carefully peeled off the sheet without the bottoms sticking. Let cool for about 10 minutes before removing from the sheet
To decorate
To "glue" the eyes to the meringues, mix together a small amount of powdered sugar and just enough water to create the consistency of glue or paste
With a pastry brush or similar, add a small amount of the frosting glue to the backs of candy eyes and carefully stick to the cooled meringues
Notes
For some, cover with shredded coconut (or colored coconut) or sprinkles before baking
Club Crafted https://www.clubcrafted.com/