/
Chocolate Mummy Cookies for Halloween! (Cake Batter Cookies)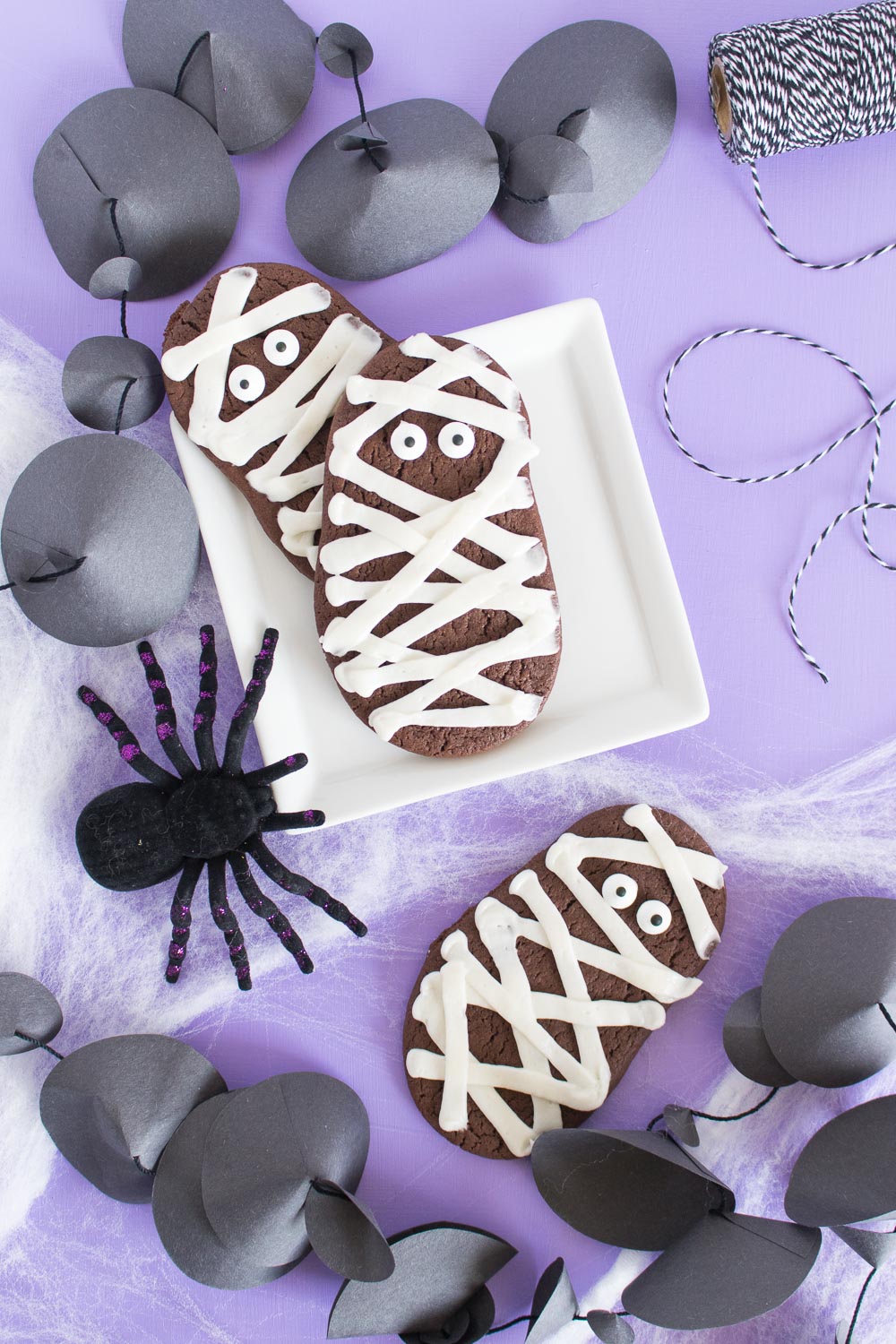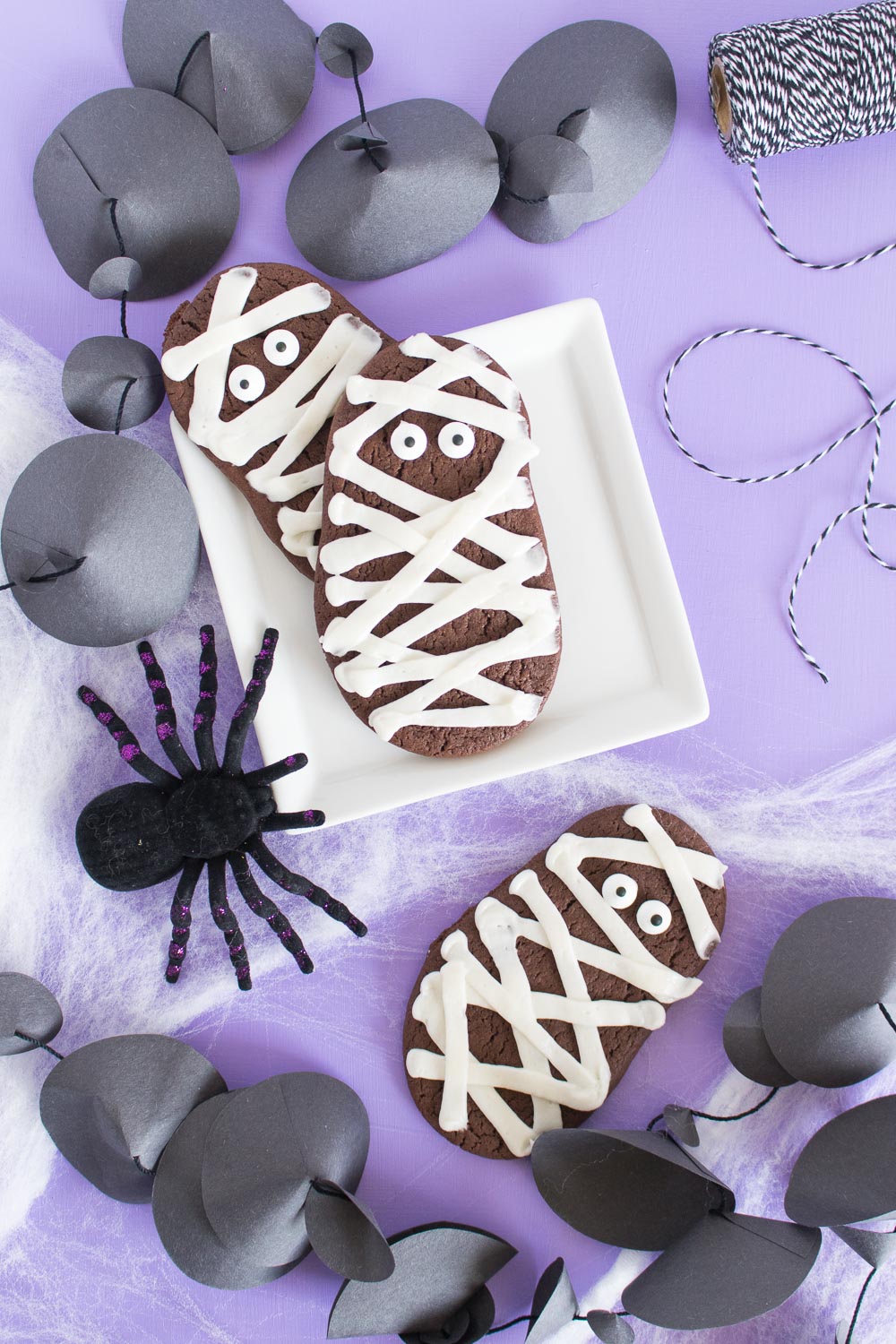 I'm going to let you in on one of my favorite baking secrets today. While you probably already know that you can make cookies using cake mix, what you might not know is you can make roll-out cookies with cake mix! Cake batter cookies are delicious, easy and roll out just like a traditional sugar cookie dough. Specifically, these chocolate mummy cookies are cute and delicious for Halloween, and they're SO much easier to whip up than a completely from-scratch cookie recipe. Cake mix cookies are a gift to bakers everywhere, and when you use flavors like chocolate, I swear it tastes just like the cake but in cookie form. For good measure, I topped it with homemade cream cheese icing and candy eyes to make mummies that are anything but scary, ha!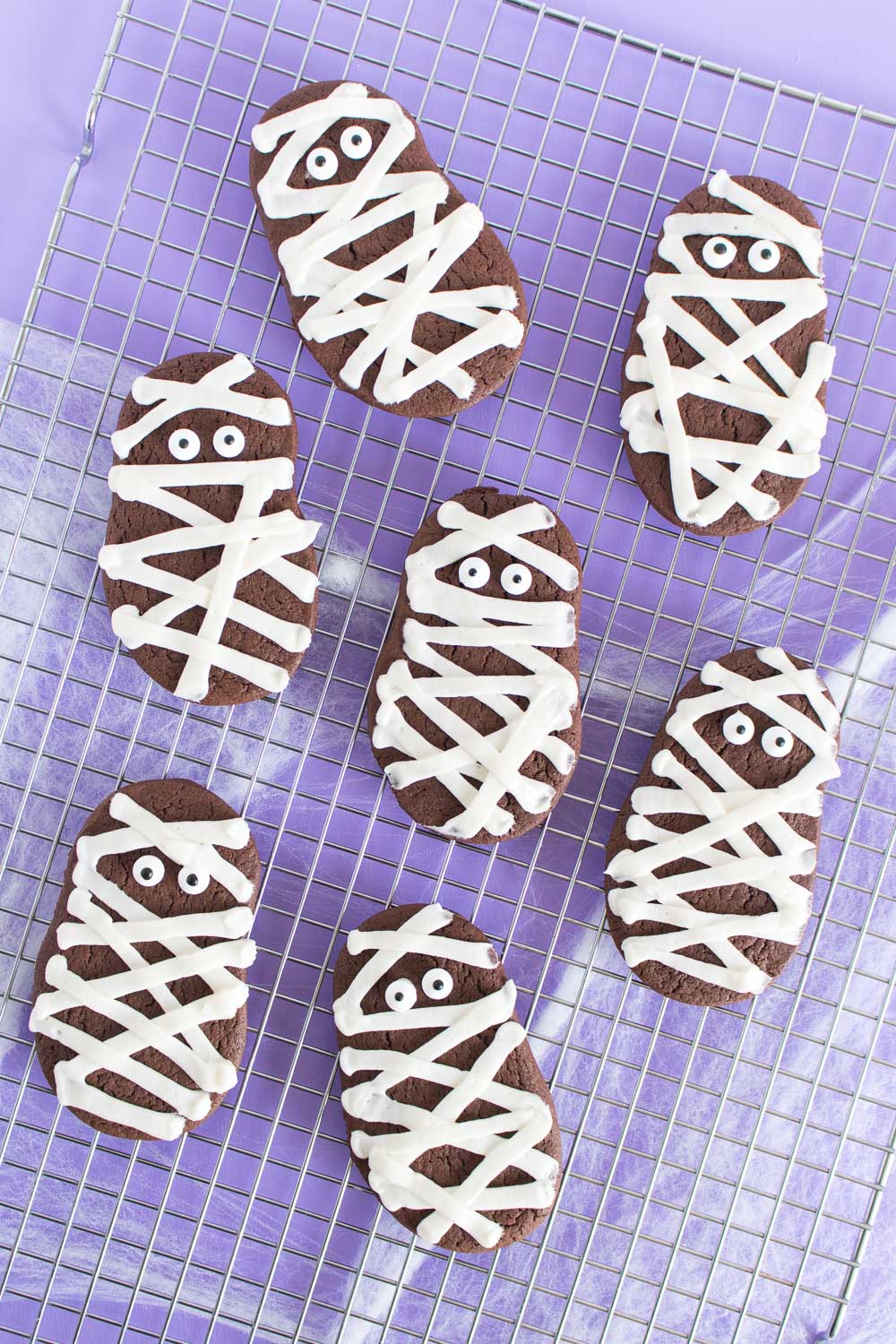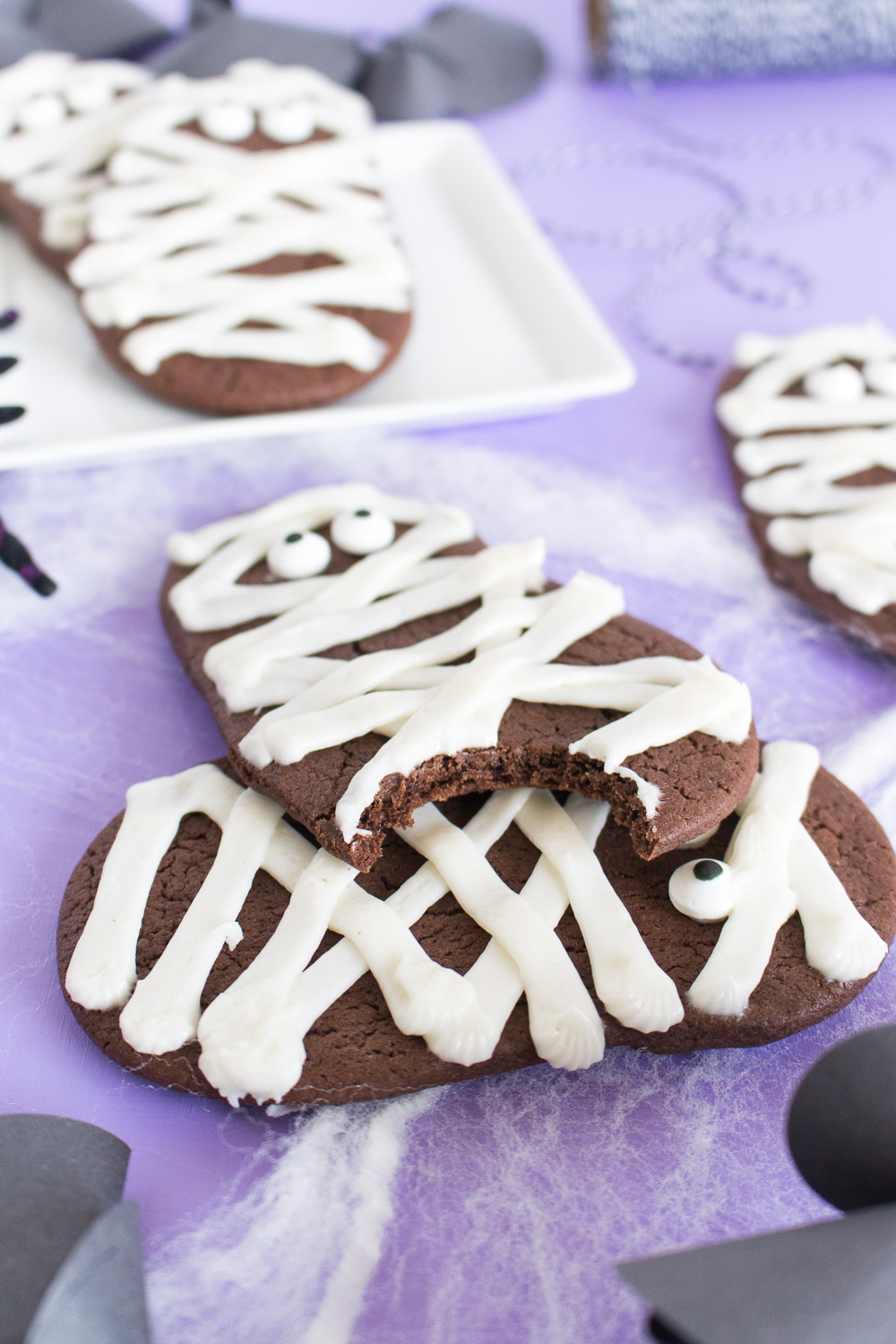 Nothing beats recipe hacks like this one because, I don't know about you, but I LOVE easy recipes that don't actually taste like easy recipes. These cake batter roll-out cookies mean no measuring whatsoever, and they end up tasting just like a chocolate cake…but in the form of a thin, soft cookie. Plus, this cream cheese icing recipe is so good you'll want to eat it by the spoonful. Been there, done that!
Scroll down for the full recipe card and directions! ??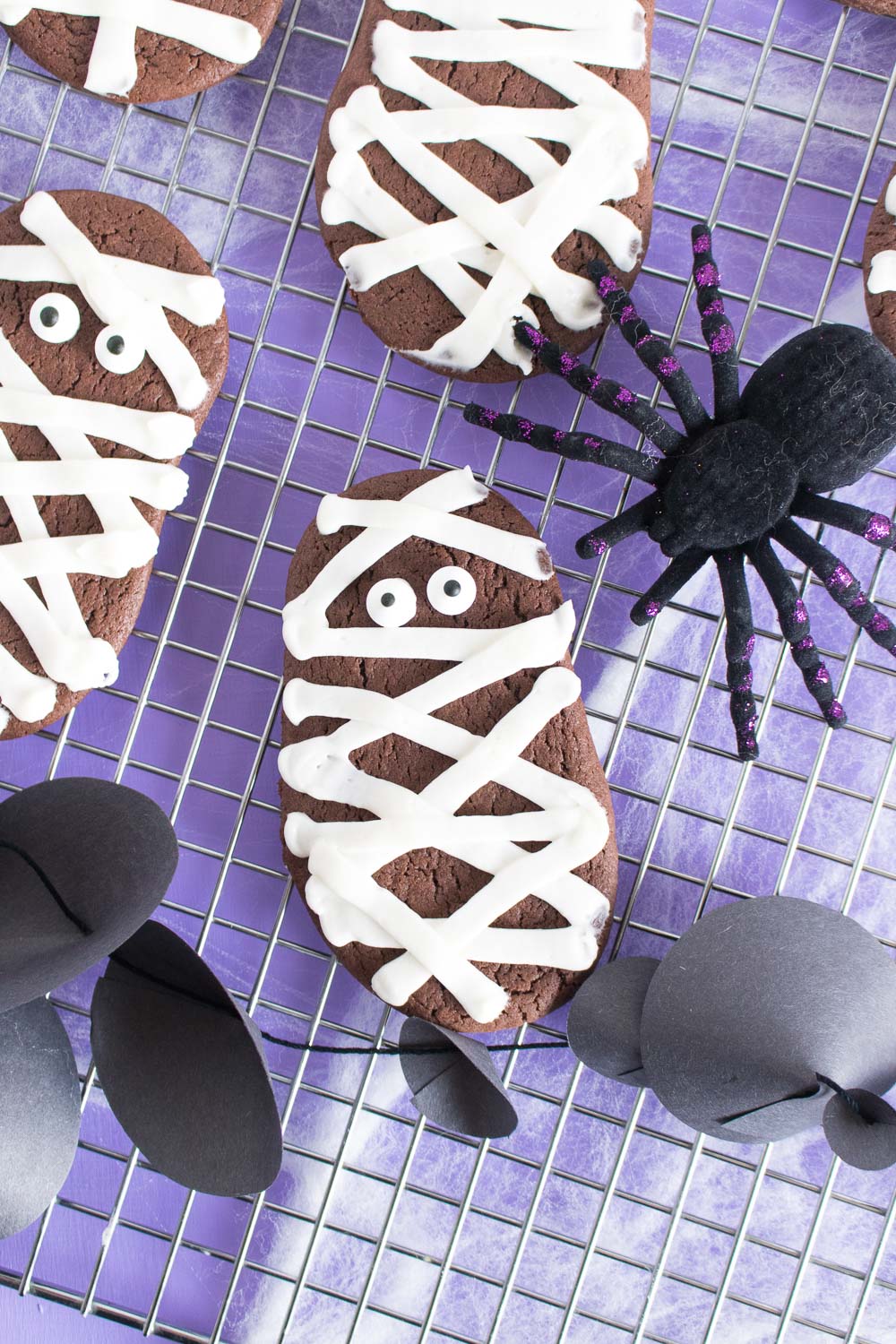 In order to create this mummy shape, I actually used an upside down flip flop cookie cutter (weird, right?) but other shapes that would work would be a circle, oblong or peanut shape. I just thought this one seemed to resemble a wrapped up mummy. Obviously, these are my *cute* take on mummies, complete with candy eyes. Very intimidating, aren't they?
Whip these up for a Halloween party treat or just because you're craving a cookie. I loved making these because my shaky hands prevent me from making clean piping designs most of the time, but these simple, straight lines were a piece of cake…er, cookie?
Ready? Bake!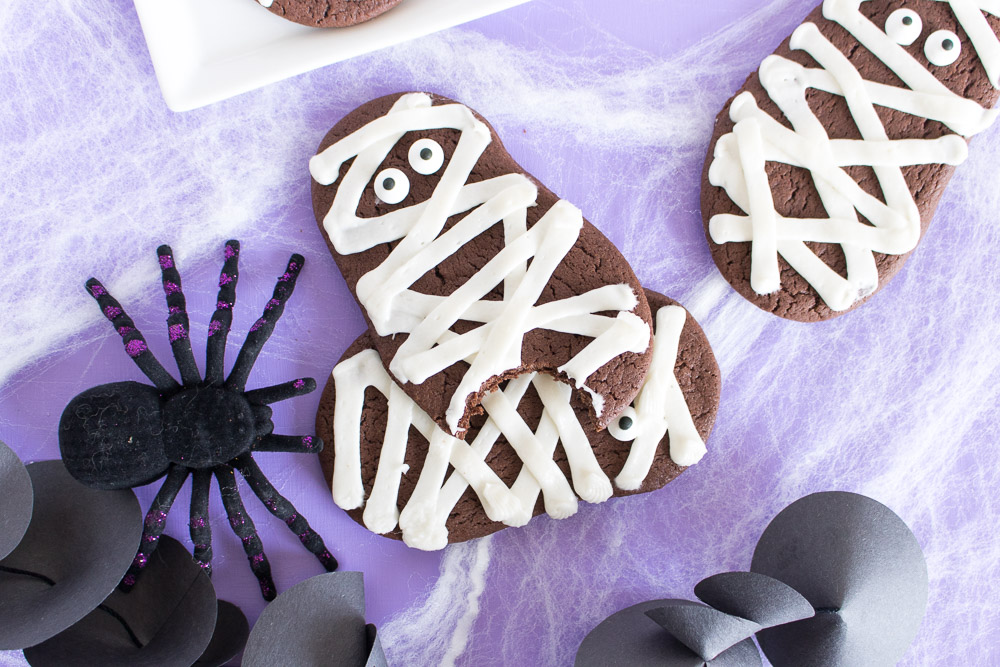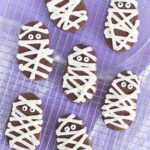 Chocolate Mummy Cookies (Cake Mix Cookies)
2017-10-02 09:14:32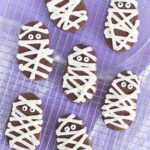 These chocolate cake mix cookies are rolled and cut into circles, decorated like cute mummies for Halloween with cream cheese icing
For the chocolate cake mix roll out cookies
1 box chocolate cake mix
1 egg
1/2 cup butter, room temperature
1 tsp vanilla
For the cream cheese frosting
4oz. cream cheese (half package), room temperature
1/4 cup butter, room temperature
2 cups powdered sugar
1 tbsp vanilla extract
Candy eyes
For the chocolate cake mix roll out cookies
Beat the butter for 1-2 minutes until smooth and fluffy
Add egg and beat until butter is no longer lumpy, and mix in vanilla
Mix in cake mix in batches, scraping the bowl occasionally, until well-combined
Dough will be sticky. Move to the fridge for at least one hour until dough can be handled with hands
Preheat oven to 350 degrees and line a baking sheet with a silicone mat or parchment paper and set aside
Pull the dough onto a floured surface and massage with floured hands to reduce stickiness. Use a floured rolling pin to roll to about 1/4 inch thick and cut with a flip flop cookie cutter or a medium-sized round cookie cutter
Place cut dough on prepared cookie sheet and bake for 8-10 minutes until edges are stiff and middles no longer appear doughy. Allow to cool for 10 minutes before moving cookies to a cooling rack
For the cream cheese frosting
In the bowl of your mixer, beat the cream cheese and butter for about 2 minutes until smooth and fluffy
Add the vanilla, followed by the powdered sugar in batches, scraping the bowl occasionally until the icing is smooth and thick
To decorate
Move cream cheese icing to a pastry bag fitted with a small flat piping tip
Lay the cooled cookies on a flat surface. Apply a small amount of icing to the back of candy eyes and place on the cookies
Pipe lines back and forth across the cookies at different angles, avoiding the eyes, until the mummy cookies are well-wrapped
Store covered in the fridge until ready to serve. Allow to come to room temperature about 15 minutes before serving for best results
Club Crafted https://www.clubcrafted.com/