/
Lemon Rosemary Shortbread Cookies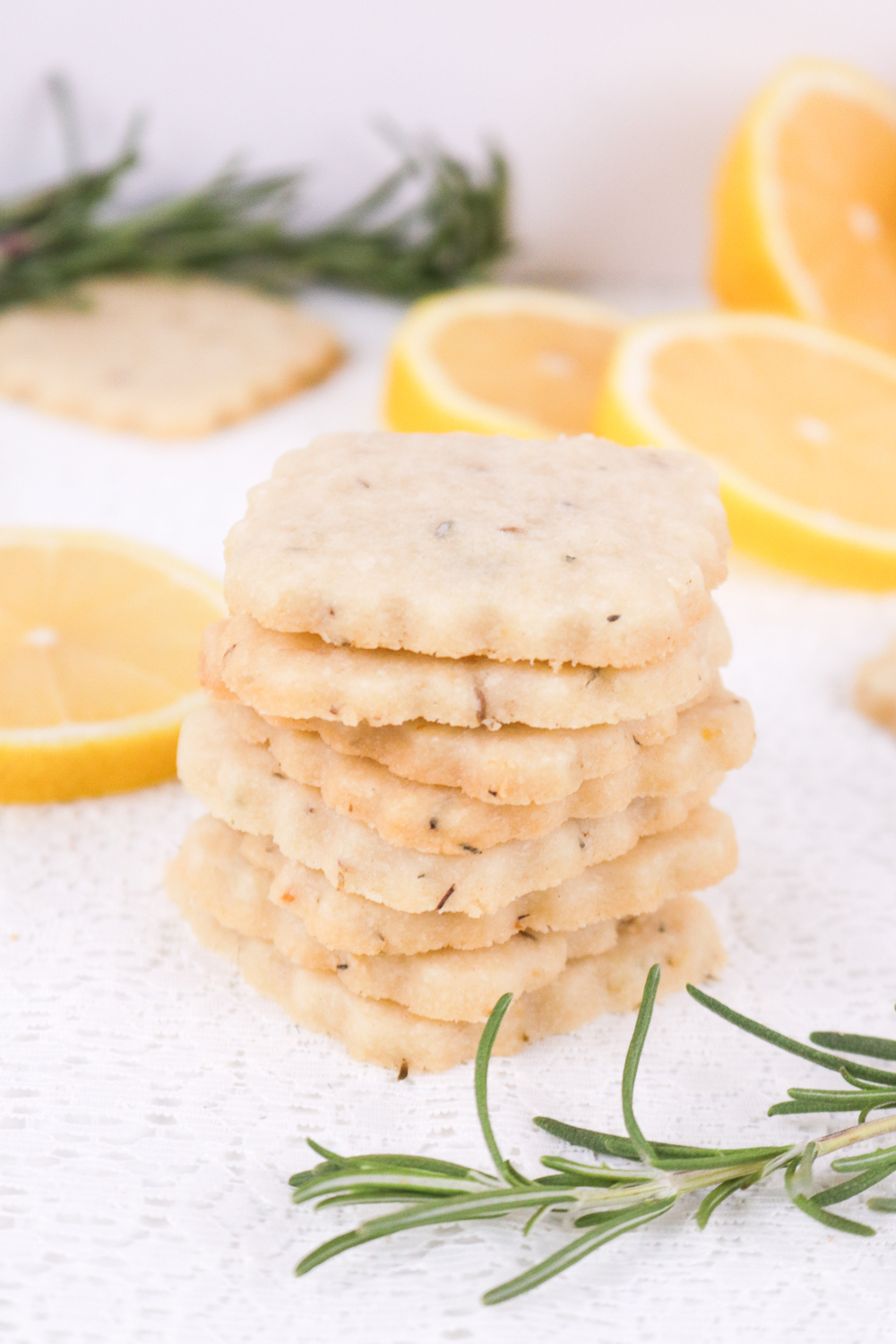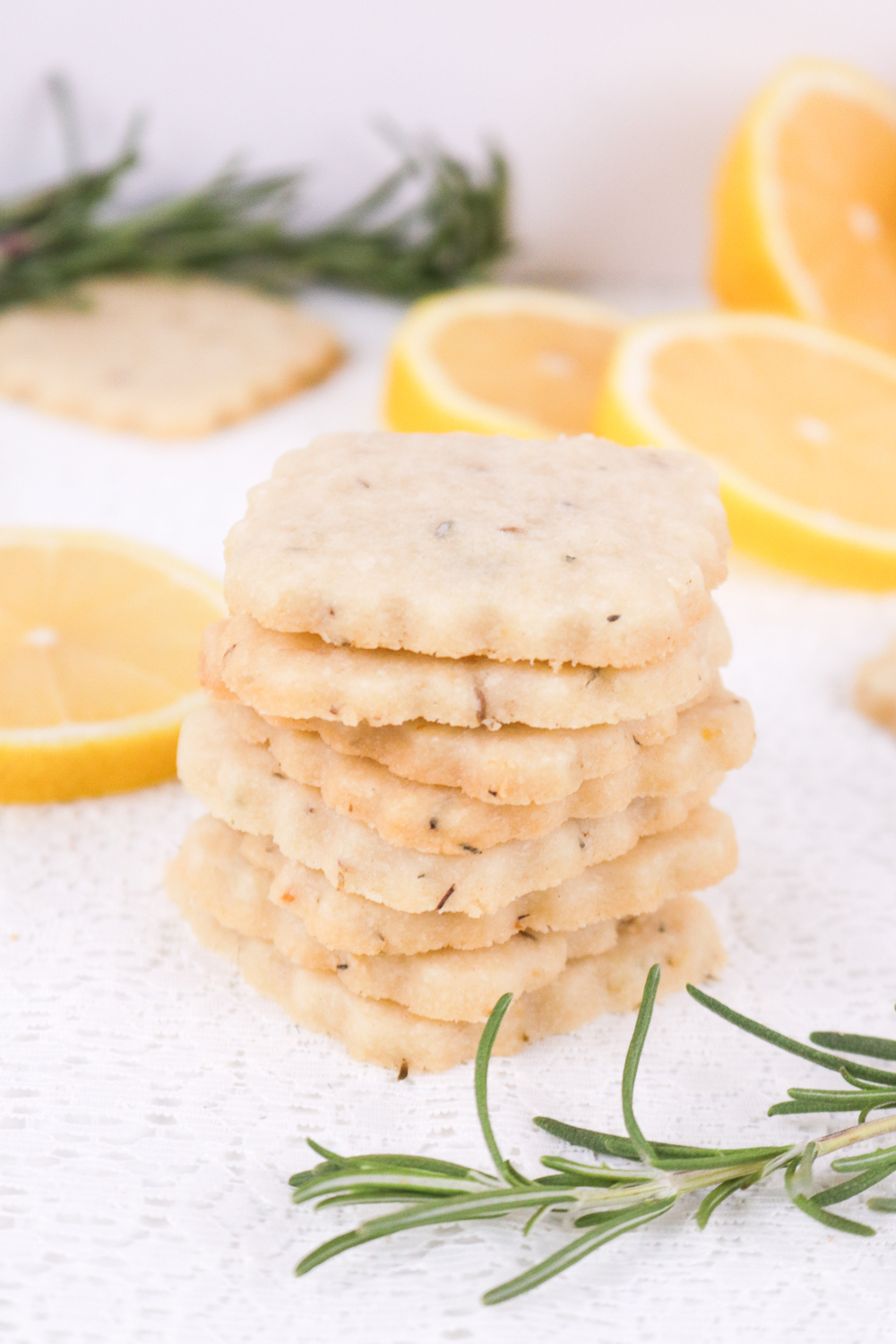 I'm sad to see "baking season" go, but luckily that doesn't stop me from keeping it going all year long! Today, I wanted to share a simple recipe that takes classic shortbread to a whole new level. I'm a sucker for shortbread, so I made these lemon rosemary shortbread cookies one day when I was craving something sweet and they did not disappoint!
Lemon and rosemary are an all-star combo, in my opinion. Although rosemary is normally seen in more savory recipes, I actually LOVE rosemary in baked goods and desserts. This super simple shortbread recipe is perfect for using rosemary because it pairs perfectly with the butteriness of shortbread without being overly sweet. The lemon makes me long for spring and summer, but combined with the shortbread and rosemary flavors, it still feels wintery. Either way, it's really easy to make (that's the beauty of shortbread) but it tastes so EXTRA. Did I even use that right? I'm obviously not one of the cool kids…anyway, here's how to make your own!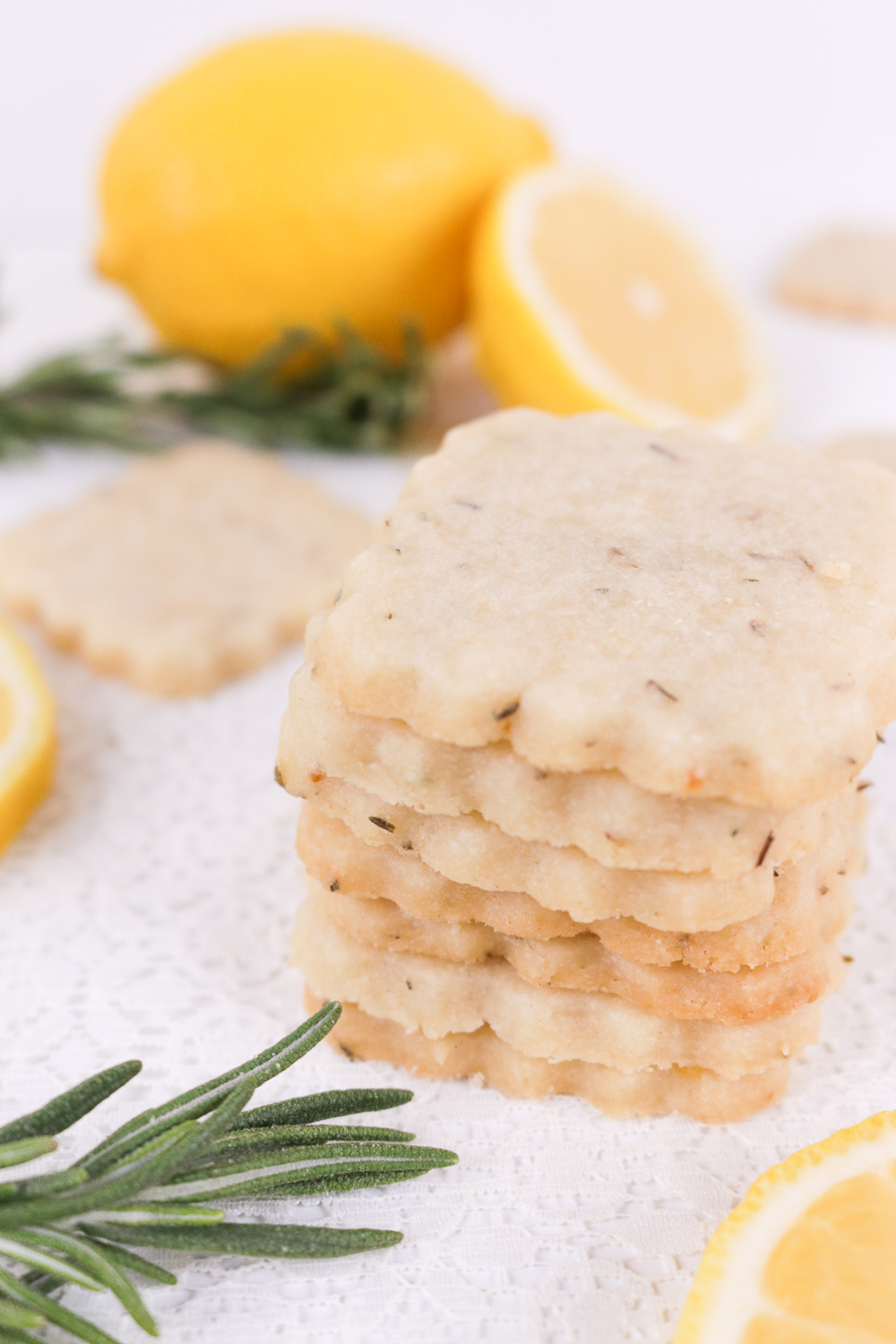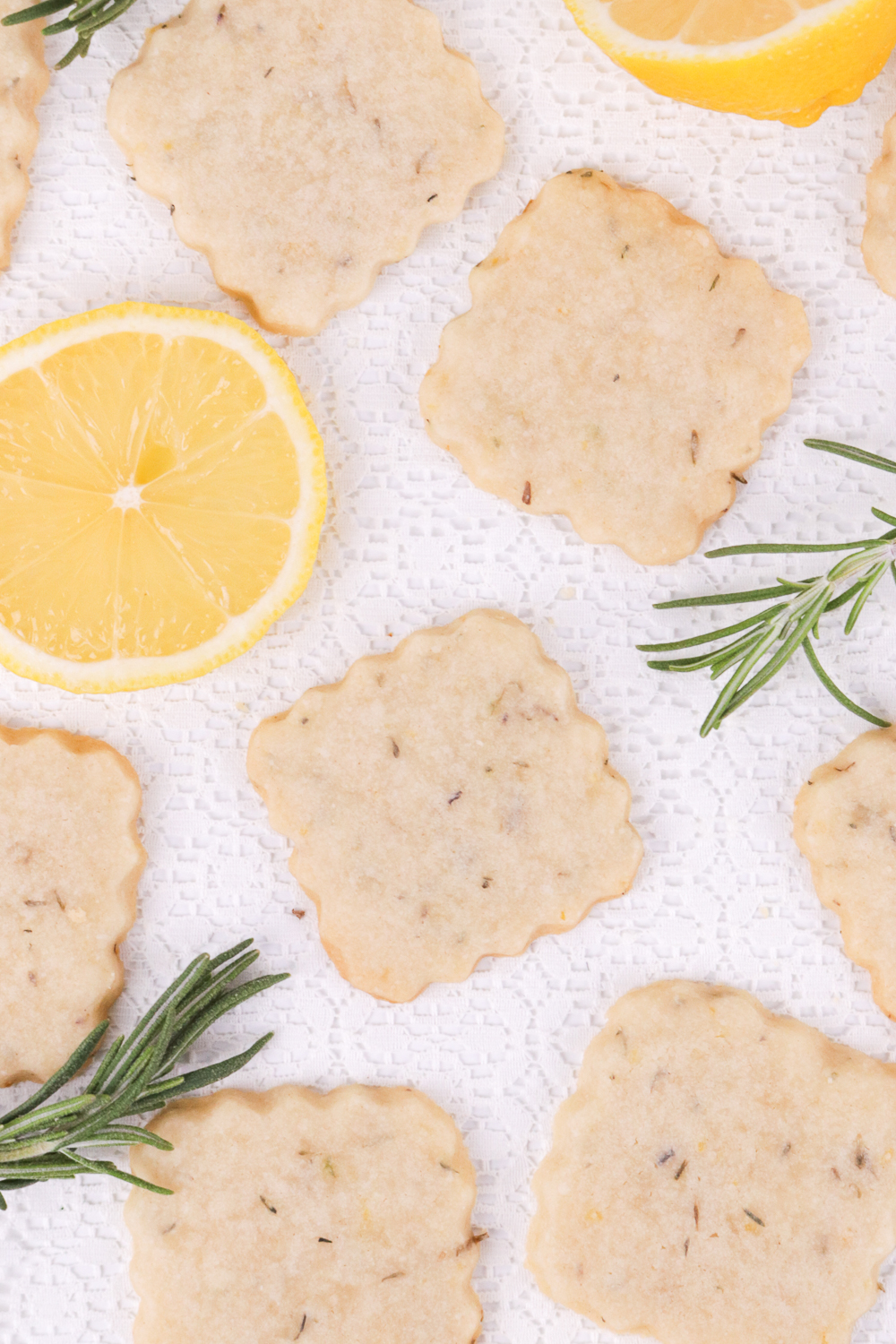 The best tip I can give you for making shortbread is to refrigerate it before baking, especially when you're cutting it into shapes. It keeps the cookies soft and reduces spreading. When in doubt, always refrigerate!
You can use cookie cutters or even just a pizza cutter to create shapes. Another common method in making shortbread is to form the dough into a log, refrigerate and cut off pieces for baking. I just think cookie cutters are way more fun! Once baked, the flecks of rosemary just make them look SO pretty, and baking them made the whole house smell amazing.
Scroll down for the full recipe card! ??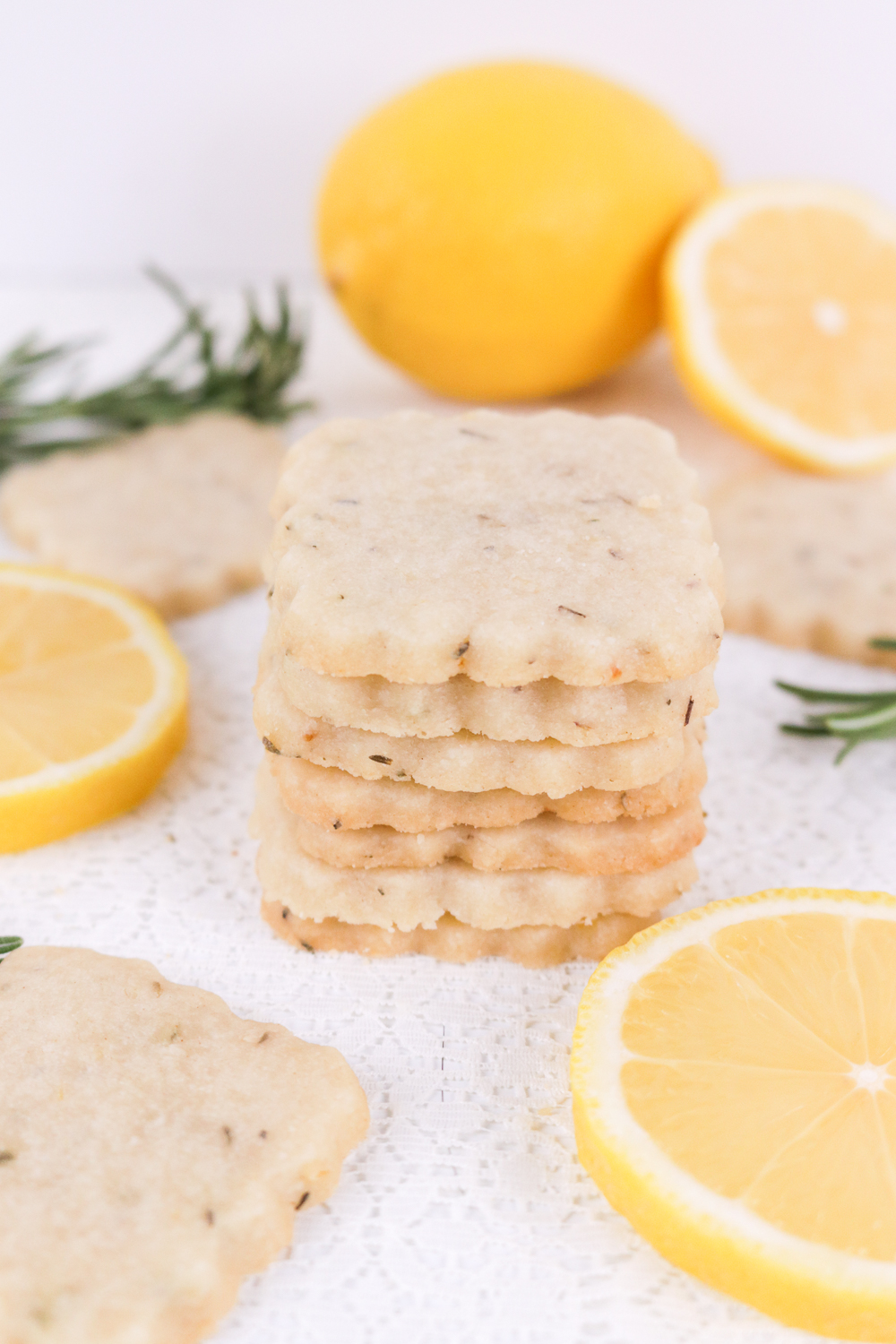 Ingredients:
2 cups all-purpose flour
1/4 tsp salt
1 tsp chopped rosemary, fresh or dried
1 1/2 tsp lemon zest
1 cup unsalted butter, room temperature
1 cup powdered sugar
1 tsp vanilla extract
2 tsp fresh lemon juice
Combine flour, salt and rosemary in one bowl and set aside.
In a separate bowl, beat the butter and sugar together for about 2 minutes until smooth. Add the vanilla, lemon juice and lemon zest. Mix in the dry ingredients in batches, scraping the bowl in between.
Move the dough to a piece of plastic wrap, form into a disc and wrap. Store in the fridge for at least an hour.
When ready, remove the dough and roll on a lightly floured surface until it is about 1/4 inch thick. Preheat the oven to 350 degrees and line a baking sheet with parchment or a silicone mat. Use cookie cutters or a pizza cutter to divide the dough and place on the prepared baking sheets.
For best results, return the baking sheets to the fridge for 30 minutes. Then bake for about 8-9 minutes until the edges barely begin to brown. Refrigerating the dough a second time reduces spreading.
Let cool on the baking sheets and store in an airtight container. I must have eaten 10 right out of the oven…oops! Diet starts tomorrow I guess?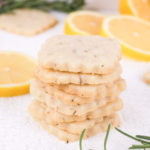 Lemon Rosemary Shortbread Cookies
2017-01-01 20:27:20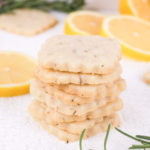 Sweet, slightly savory cookies made with lemon juice, zest and chopped rosemary for a delightful buttery flavor combination
Ingredients
2 cups all-purpose flour
1/4 tsp salt
1 tsp chopped rosemary, fresh or dried
1 1/2 tsp lemon zest
1 cup unsalted butter, room temperature
1 cup powdered sugar
1 tsp vanilla extract
2 tsp fresh lemon juice
Instructions
In one bowl, toss together the flour, rosemary and salt and set aside
In the bowl of your stand mixer fitted with a paddle attachment, beat the butter until smooth. Add the powdered sugar and mix for about 2 minutes until fluffy
Add the vanilla, lemon juice and lemon zest
Slowly mix in the dry ingredients, scraping the bowl in between as needed
Form the dough into a disc and wrap in plastic wrap to chill for about one hour
When ready to bake, preheat the oven to 350 degrees and line 2 baking sheets with parchment or silicone mats
Remove the dough from the fridge and roll on a lightly floured surface until the dough is about 1/4 inch think
Use cookie cutters or a pizza cutter to cut into shapes and lay about one inch apart on the prepared baking sheets
For best results, return baking sheets to the fridge for 30 minutes before baking the cookies
Bake for about 8-9 minutes until the edges barely begin to brown
Cool on a wire rack completely
Notes
Refrigerating the dough a second time is not necessary, but I do recommend it in order to reduce spreading and keep the cookies very soft
Club Crafted https://www.clubcrafted.com/