/
Sugar Coated Lip Gummies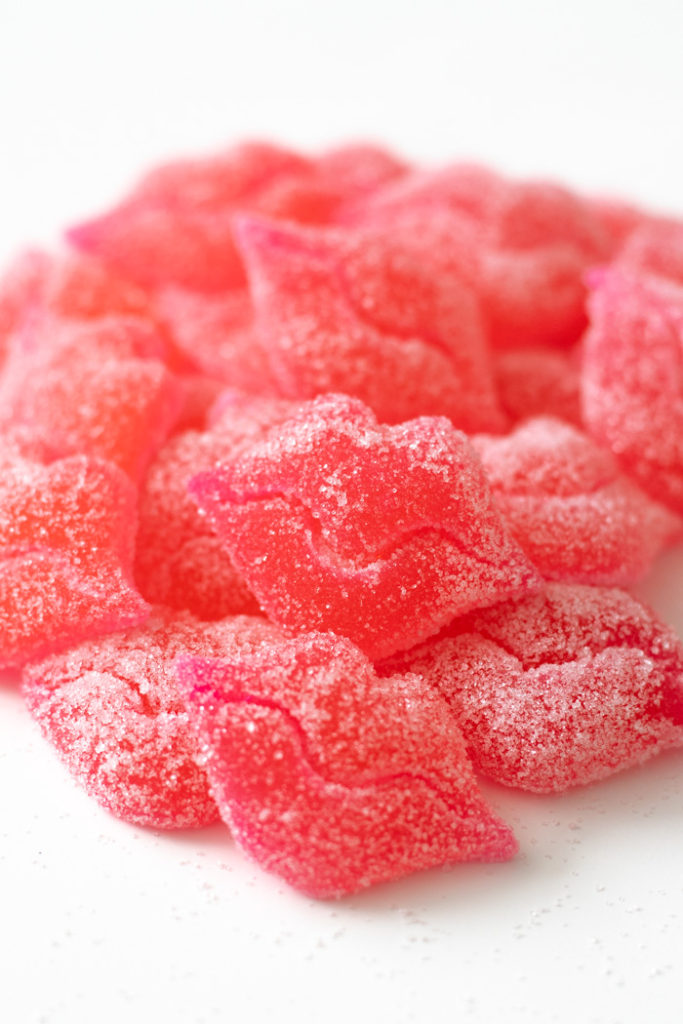 Happy Valentine's Day, lovelies! I've been holding onto today's post for a while, so I'm excited to finally share it! Is it safe to say sugar coated gummies are the best kind of gummies? I think gummy bears are the only exception. Otherwise, as someone with an overwhelming sweet tooth, I'm totally attracted to the sugar covering these pink sugar coated lip gummies. I bought this lip mold simply because I liked it, but I wasn't really sure what to use it for at the time. As it turns out, this simple gummy recipe was the perfect choice!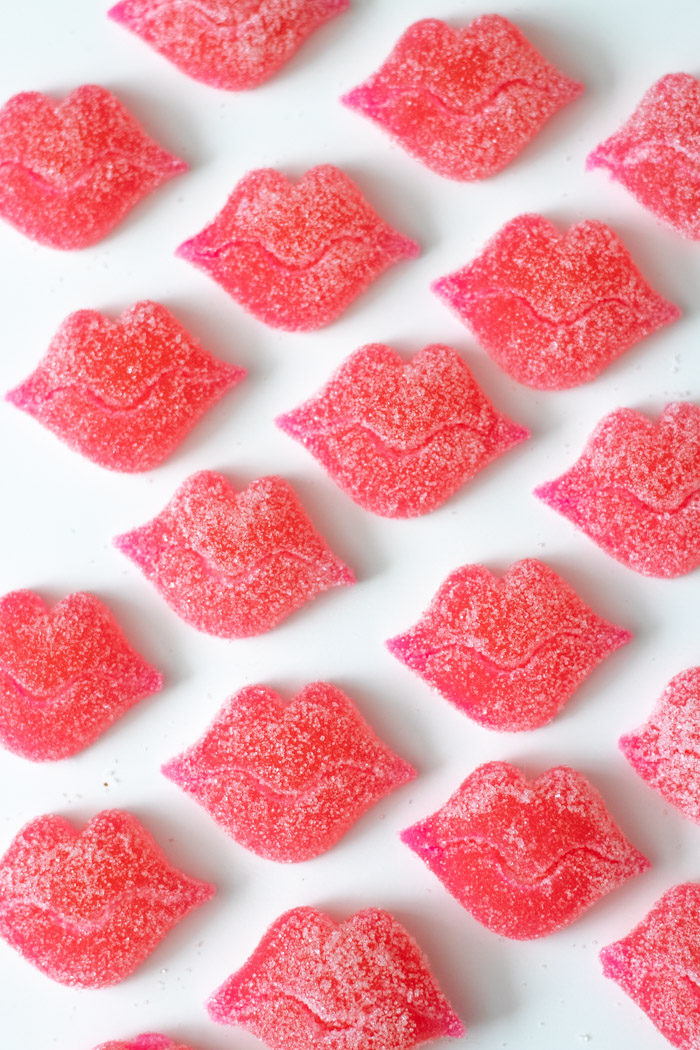 You can follow this gelatin-based gummy recipe for making these lip gummies in your favorite flavors, but I made these with watermelon flavoring. In the end, it reminded me of the same flavor of a watermelon Jolly Rancher, which is a GREAT thing in my opinion. With a little pink food coloring and a cute mold, these are so fun to make, and I bet they'd be cute for parties too. I could see these packaged up as party favors or used for a treat at bachelorette parties.
Scroll down for the full recipe card! 👇🏼 Here is the mold I used to make these lip gummies (3 will only cover about half of the batch).
People often ask me how I avoid eating all of the sweets I make for the blog and other sites, and I always say that I try my best to get it out of the house as fast as possible so that I don't eat it all. Well…that didn't work with these sugar coated lip gummies. In fact, within a day of shooting them, they were GONE. Oops.
In other words, I really liked them, ha!
I've never had the best luck working with gelatin-based candy like this before, so when I tried making these lip gummies, I didn't have very high expectations. Luckily, it worked out really well! In the past, my recipes have resulted in a mixture that didn't solidify well enough to maintain its shape when removed from the mold. That wasn't the case with these, and I think I finally found the right balance between how much gelatin and how much water to use.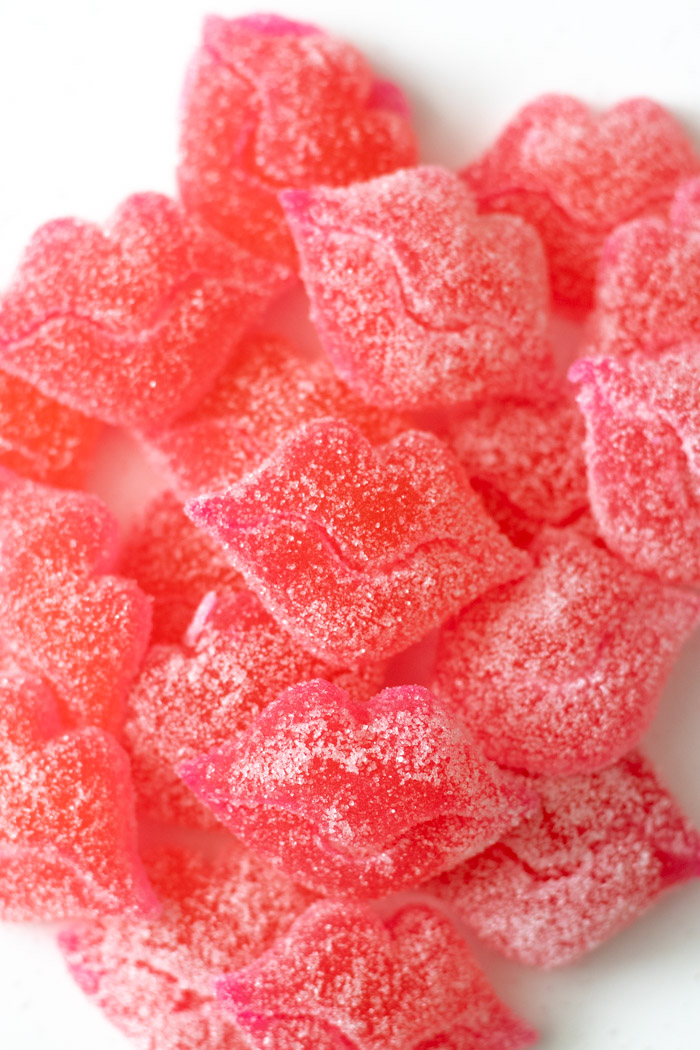 When choosing colors and flavors to add to the mixture, try to choose ones that coincide. For example, my watermelon flavoring makes sense with the pink, but it would have been weird if I made them purple or used grape flavoring in pink gummies. Try making your own, and enjoy!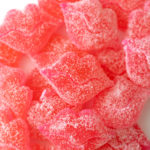 Sugar Coated Gummies
2017-06-17 10:21:40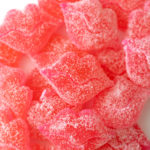 Watermelon-flavored gummies coated with sugar for sweet gifts
Ingredients
2 tbsp powdered gelatin (about 3 packets)
1/4 cup cold water + 6 tbsp water, separated
1 cup granulated sugar, plus extra for coating
Extract or flavored oil, about 2-3 drops
Food coloring
Instructions
Sprinkle gelatin evenly over the 1/4 cup cold water in a small bowl. Let sit for about 5 minutes until wrinkly
In a small saucepan on the stovetop, combine 6 tbsp water and 1 cup sugar. Bring to a boil and simmer until the sugar dissolves
Turn off heat and mix in the gelatin mixture, food coloring and flavoring until gelatin is completely dissolved
Move the mixture into a measuring cup with a pour spout and pour the liquid into the individual lip mold cavities
Refrigerate or freeze for several hours until solidified and easily removed from the molds (I recommend the freezer for intricate molds)
Pour sugar onto a small plate and roll the gummies until well-coated
Store in an airtight container at room temperature for about one week (or refrigerate to make them last longer)
Club Crafted https://www.clubcrafted.com/