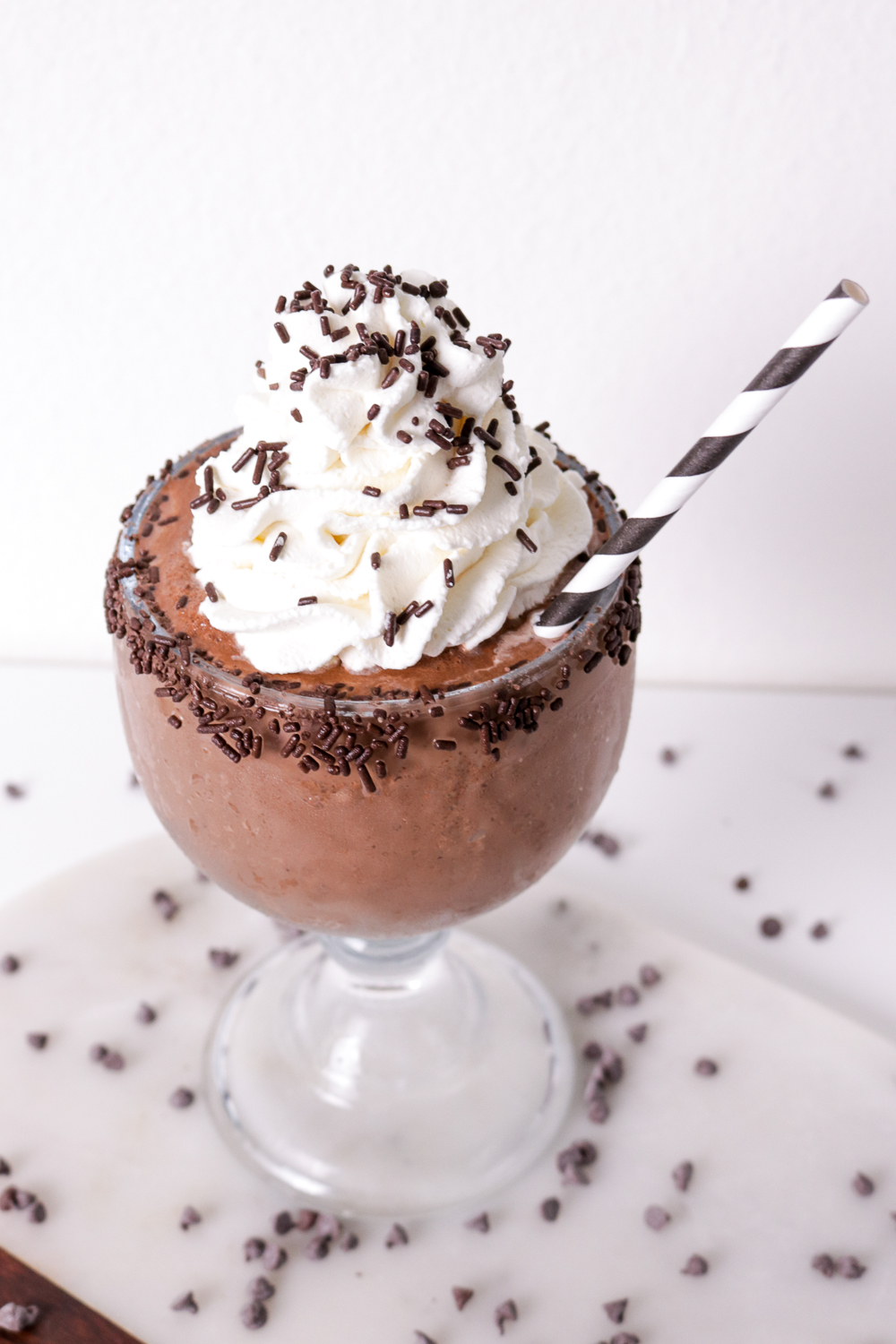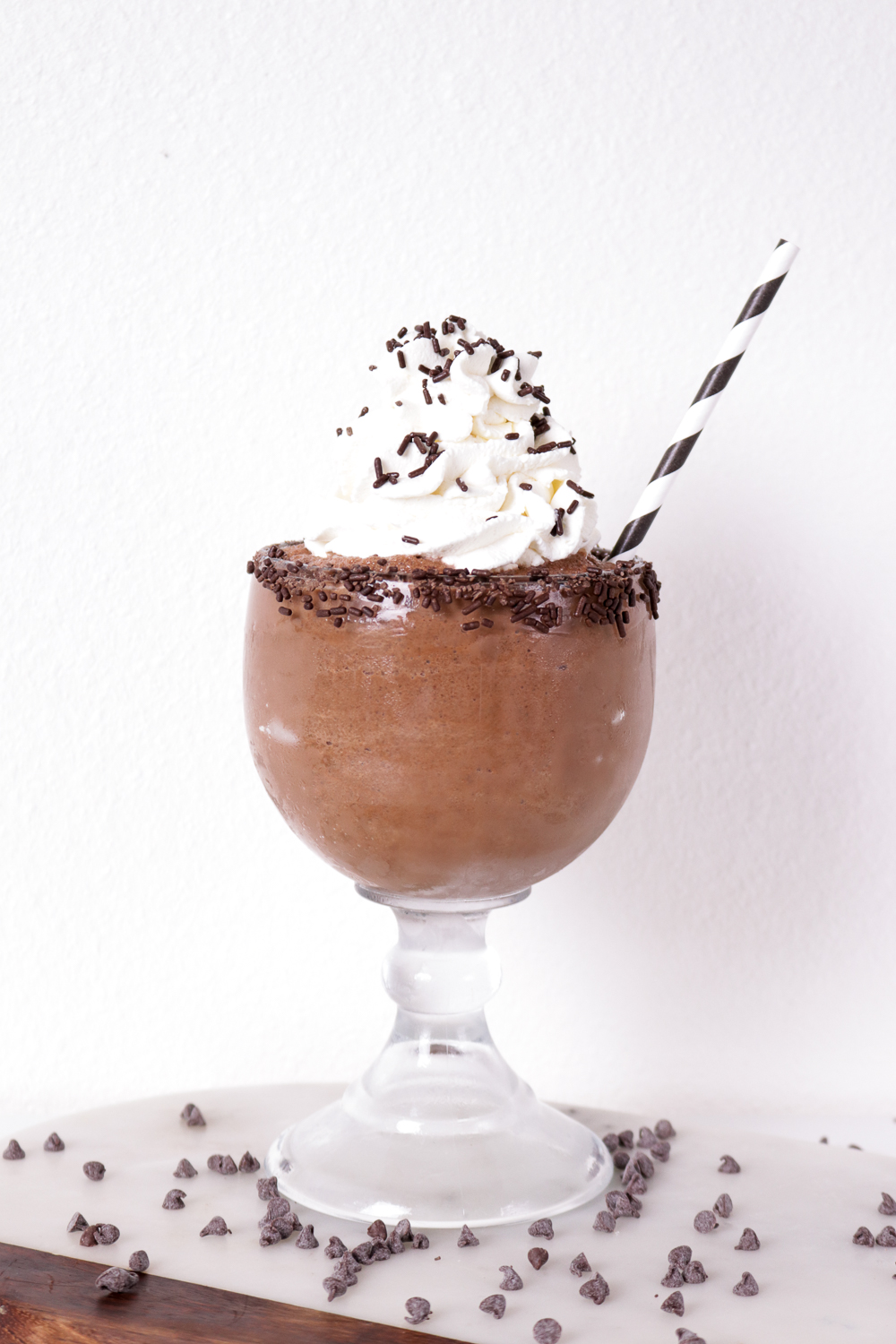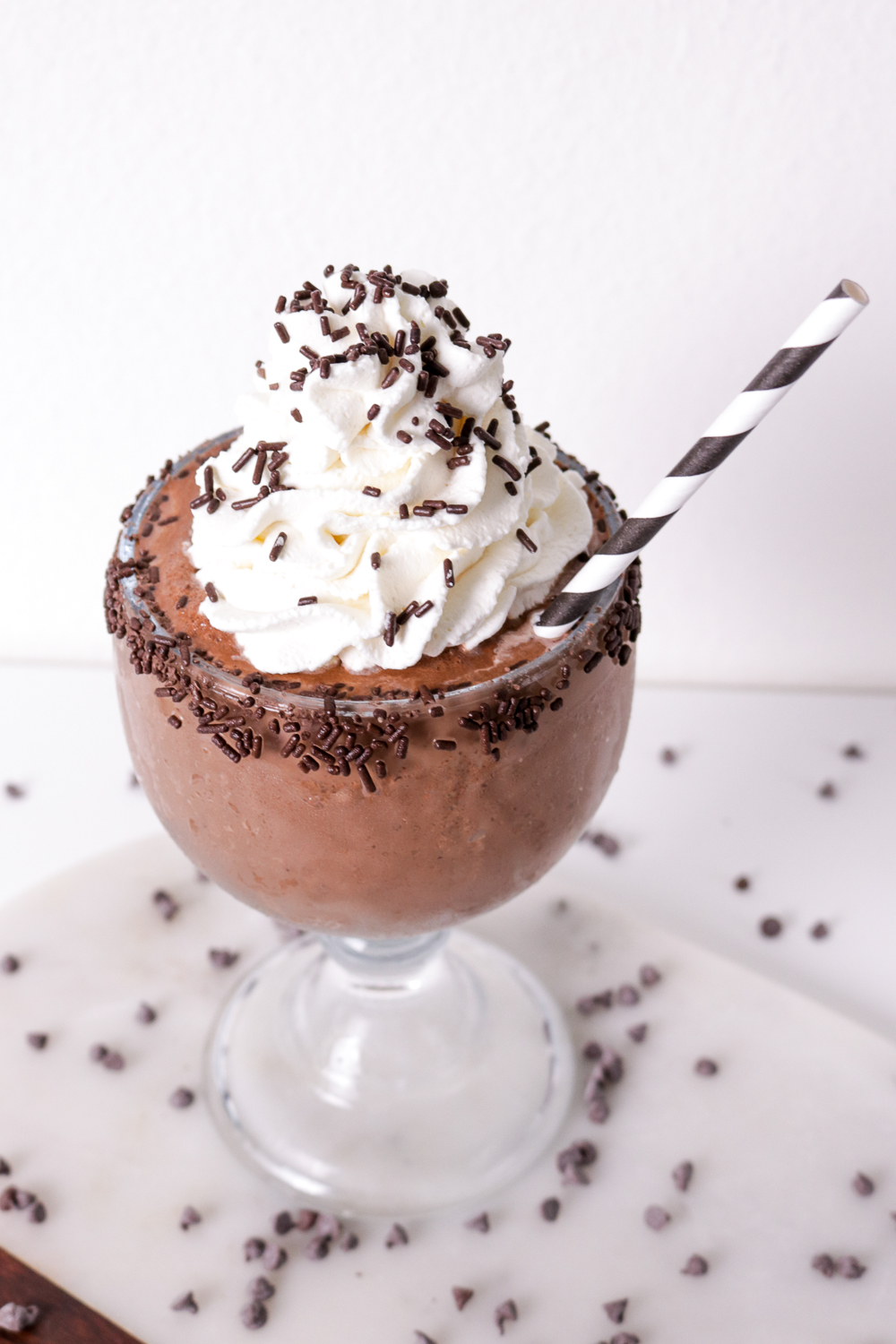 Over the summer, Andrew and I spent a weekend in Vegas for a wedding and before we left, I really wanted to visit a restaurant we could see from our window called Serendipity. If you haven't been before, I highly recommend it! It was a cute restaurant with an old school diner vibe and colorful details, and their specialty is frozen hot chocolate. I had never heard of it before then, so we ordered one and it was HUGE and delicious and covered with a thick layer of whipped cream. After that, I thought it would be fun to recreate frozen hot chocolate in the same over-the-top form as I had in Vegas. I'm happy to say, mission accomplished!
Frozen hot chocolate is exactly what it sounds like – a hot chocolate mixture that's blended like a milkshake. It does not (as you might predict) taste like a milkshake. To get the right flavor, I used a combination of melted chocolate, hot chocolate packets and milk with sugar for added sweetness. It's not difficult to make, and it tastes very unique. Plus, you can use a variety of hot chocolate flavors, like dark chocolate, caramel or peppermint. Then you have to top it off with a whole bunch of whipped cream – homemade, of course – and sprinkles.
Scroll down for the full recipe card ??
1/2 cup semi-sweet chocolate chips, melted
2 tbsp pre-made hot cocoa mix
2 tbsp granulated sugar
1 cup milk
Ice
Melt the chocolate chips in the microwave, stirring until fully melted. Mix in the powdered hot cocoa mix and sugar, followed by 1/2 cup milk until smooth. If the chocolate clumps, return the bowl to the microwave for 30 seconds and continue mixing. Let the mixture cool.
Blend together the chocolate mixture, milk and ice, adding ice until you reach your desired consistency.
This recipe makes two standard sized mugs or glasses, or one of these extra large schooners. I rolled the top in chocolate sprinkles, filled it to the top with frozen hot chocolate and topped it with homemade whipped cream (recipe for that below) and more sprinkles with a straw for sipping.
I promise you're going to love it! It's a delicious alternative to your usual hot chocolate and you can switch up the flavors or toppings to fit your ideal combinations. Plus, it's a great way to have the taste of hot chocolate all year long. Try it for Christmas this year and let me know how it goes!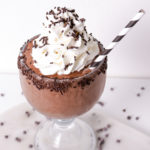 Frozen Hot Chocolate
2016-11-27 14:36:52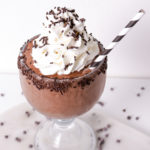 Serves 2
A delicious ice blended frozen hot chocolate made with hot cocoa powder and milk, topped with homemade whipped cream and sprinkles
For the frozen hot chocolate
1/2 cup semi-sweet chocolate chips, melted
2 tbsp pre-made hot cocoa mix
2 tbsp granulated sugar
1 1/2 cups milk (low fat)
Ice
For the whipped cream
1 cup heavy whipping cream
3 tbsp powdered sugar
1 tsp vanilla extract
Instructions
Melt the semi-sweet chocolate in the microwave on half power, mixing frequently until melted
Then whisk in the hot chocolate powder and sugar
Pour in only 1/2 cup of milk and whisk until smooth. If the chocolate begins to clump, return the bowl to the microwave for 30 seconds to heat the mixture and continue whisking
Set aside to cool completely
If making whipped cream from scratch, make it now by beating the heavy cream and powdered sugar on high speed with a whisk attachment for about 2 minutes until fluffy and peaks form in the cream
Combine the cooled chocolate mixture, the remaining milk and the ice in a blender and blend until smooth
Line a large frosted cup or mug with chocolate sprinkles, pour in the frozen hot chocolate and top with fresh whipped cream and chocolate chips, syrup and/or shavings
Notes
Use more or less ice to reach desired consistency
Club Crafted https://www.clubcrafted.com/