/
Colorful Christmas Gift Box Cake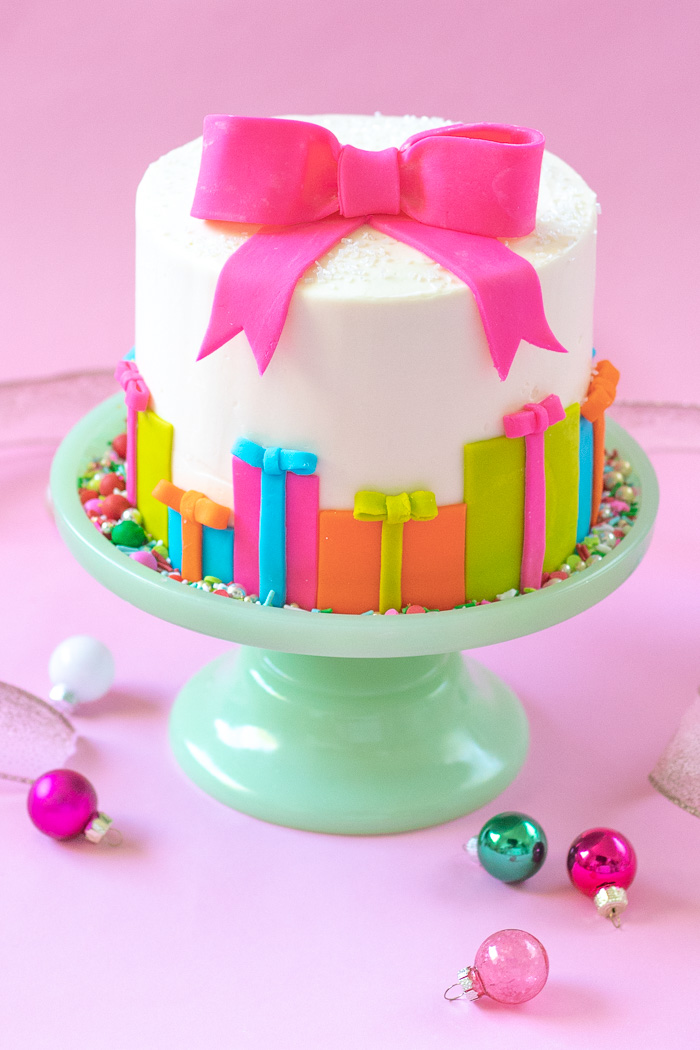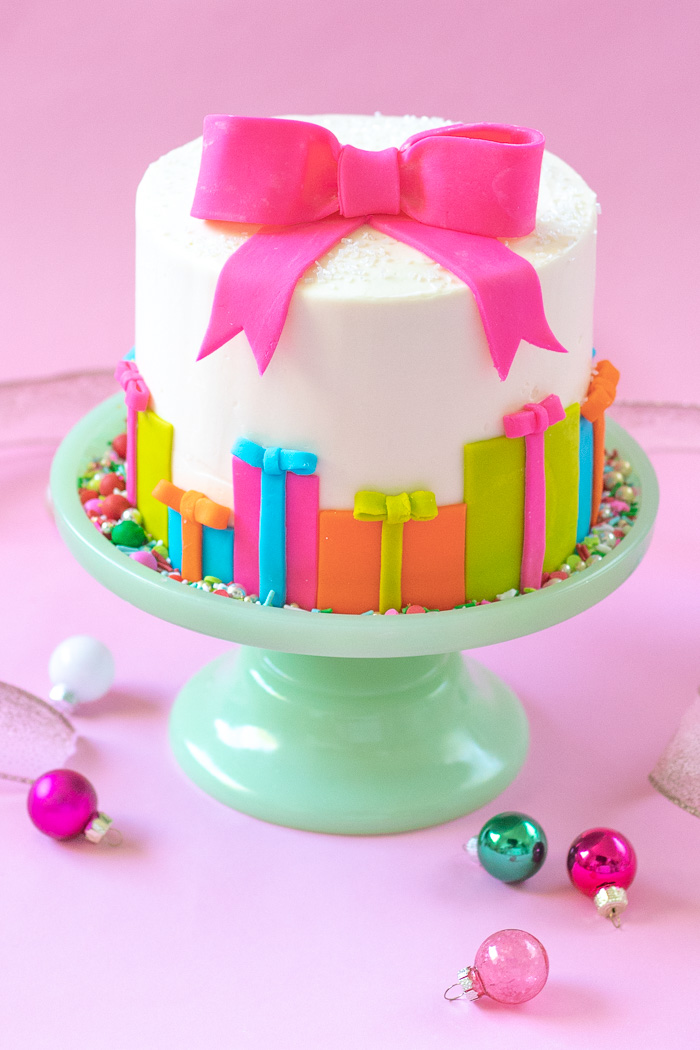 Can we all agree that all the treats during the holiday season are the best? Flavors like eggnog, gingerbread, peppermint and apple cinnamon are truly what I look forward to every year, and it's why I love baking so much this time of year. This time, I'm using my favorite spice cake recipe by Liv for Cake as the base for a fun, colorful Christmas gift box cake adorned with brightly colored fondant packages and a large fondant bow on top! Use a classic buttercream or a tangy cream cheese frosting for a cake that's deliciously seasonal and definitely looks the part. All the decorations are made with fondant, but have no fear – the cake itself is only covered with frosting, so it's easy to eat around the fondant Christmas decorations (does anyone actually eat fondant?). Serve for a holiday or Christmas party and prepare to impress your guests!
I'm going to be really up front with you guys and say that I'm not a pro cake decorator. Although I'd like to pretend that I am, I often find myself Googling things and failing many times before getting a trick just right. This cake was supposed to be something completely different…I covered it in fondant and took a decorating route that didn't work out, but I didn't want to waste my perfectly good cake, so peeled off the fondant and repurposed it into something I'm MUCH happier with. Yes, that really does happen!
I also don't have an arsenal of fondant tools like in the YouTube videos I find myself watching. I just have my usual rolling pin, pairing knife and $1 pizza cutter to make these decorations, and it works just fine. You don't have to buy every single tool available to make this Christmas gift box cake! Just search through your kitchen drawers, and I'm sure you'll find the supplies you need to start working with fondant. However, I have linked some of the products below if you'd like to invest in your cake decorating supplies.
Honestly, fondant is not my favorite, but there's no doubt it's the best way to add decorations to a cake. That's why I used them only as decorations and left the cake itself covered with icing to preserve the flavors of the spice cake and buttercream.
How to Decorate a Christmas Gift Box Cake
Supplies:
3-layer cake
Buttercream frosting or cream cheese frosting, white
Fondant ribbon cutter (or pizza cutter)
Pairing knife
Ruler
Step 1: Layer and ice a three-layer cake of your favorite recipe onto a cake board. I used the spice cake recipe by Liv for Cake to make three 6-inch rounds. It's iced with my classic vanilla buttercream. Smooth the buttercream as much as possible for straight sides, then chill while you prepare the fondant decorations.
Step 2: On a clean surface, sprinkle a bit of powdered sugar to prevent sticking. Roll out at least four different colors of fondant until very thin, about 1/8-inch thick.
Step 3: Use a pizza cutter or knife to cut various sized rectangles out of the fondant (use a ruler if needed for straight cuts). These will become the packages, and each one will be a different size. Place them around the base of the cake with the sides touching, varying the colors.
Note, you can use a food-only paint brush to dust away any excess powdered sugar.
Step 4: Use the ribbon cutter or a pizza cutter to cut thin strips of fondant (about 1/4 inch) and cut to the height of each box, mixing the colors as desired. Use a small amount of extra frosting to stick the strips to the fondant boxes, creating ribbons.
Step 5: Then cut more strips about 1-1/2-inch long to make mini bows. Carefully bend each side to meet in the middle, securing with a little buttercream. Cut a tiny strip of fondant to wrap around the middle, completing the bow. Repeat with one for each gift box around the base of the cake. Allow them to sit at room temperature for about 30 minutes so that they dry out and hold their shape.
Step 6: Cut two long 1-inch strips of fondant for the bow on top of your cake. Cut two pieces about 4-5 inches long and cut a notch at the end of each for the ribbon ends. Place on the cake with the ends trailing over the edge of the cake, bending the ribbons so they look fabric-like.
Step 7: To make a simple fondant bow, bend the edges to meet in the middle of the strip and secure with a little buttercream. Scrunch the middle together slightly to give it the appearance of actual ribbon. Then use another strip of fondant to wrap around the middle and pinch together at the back of the bow. Let it dry out at room temperature for about 30-minutes before placing it atop the cake, covering the ends of the ribbon.
Step 8: Lastly, use additional buttercream to adhere the mini bows to the tops of each package.
Sprinkle the top of the cake with white sprinkle crystals if desired for a wintery look. Then it's ready to serve!
If you follow my stories, you saw that this cake was actually my lunch yesterday, ha! I'm sure I'll be eating a lot of it myself the next few days, but I hope to make it again for any upcoming holiday parties this season. What's your favorite Christmasy flavor?!
Please note this post contains affiliate links from which I may collect a small profit should you choose to make a purchase. I only link to products I personally use or recommend.