/
Chocolate Covered Strawberry Cocktail for Valentine's Day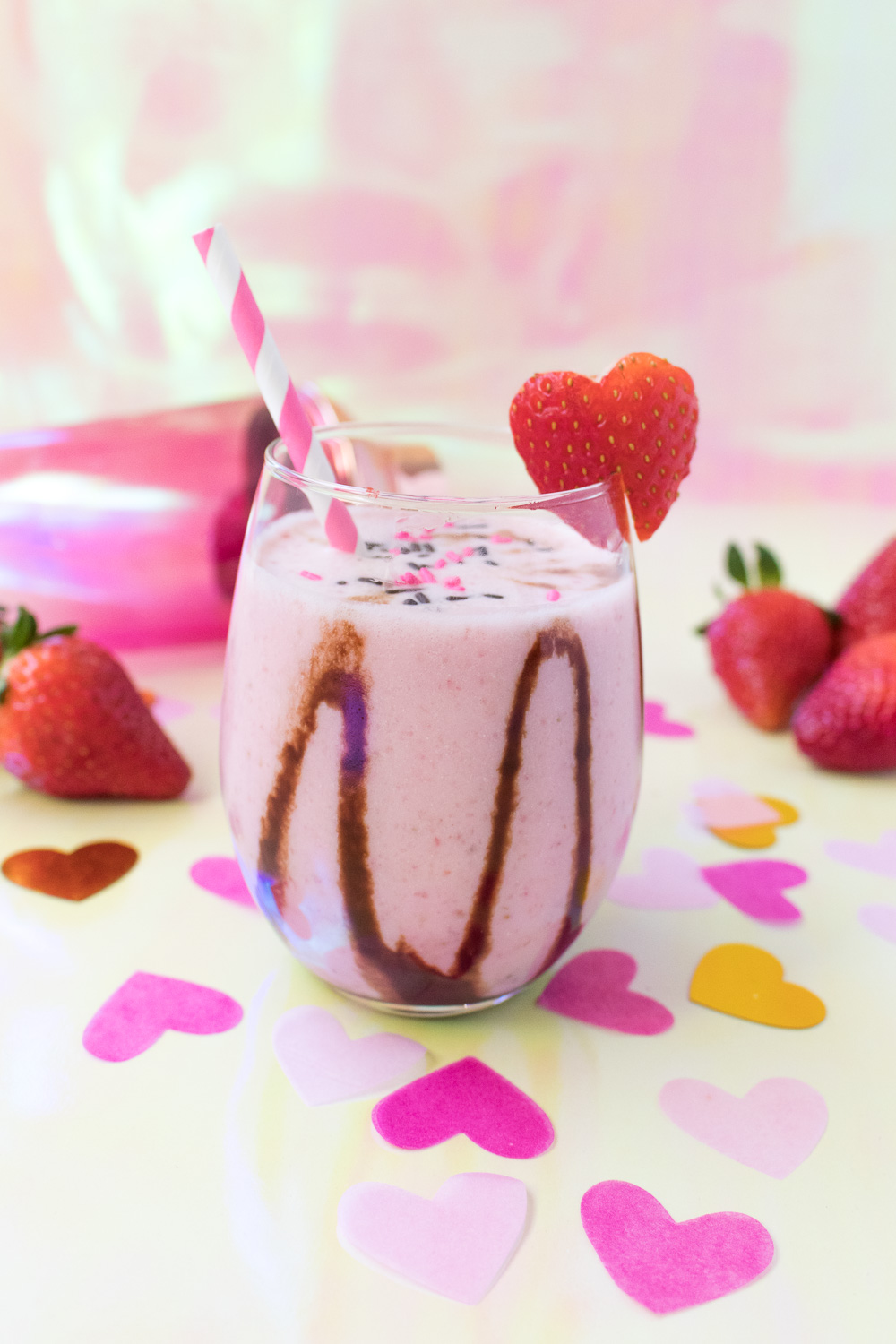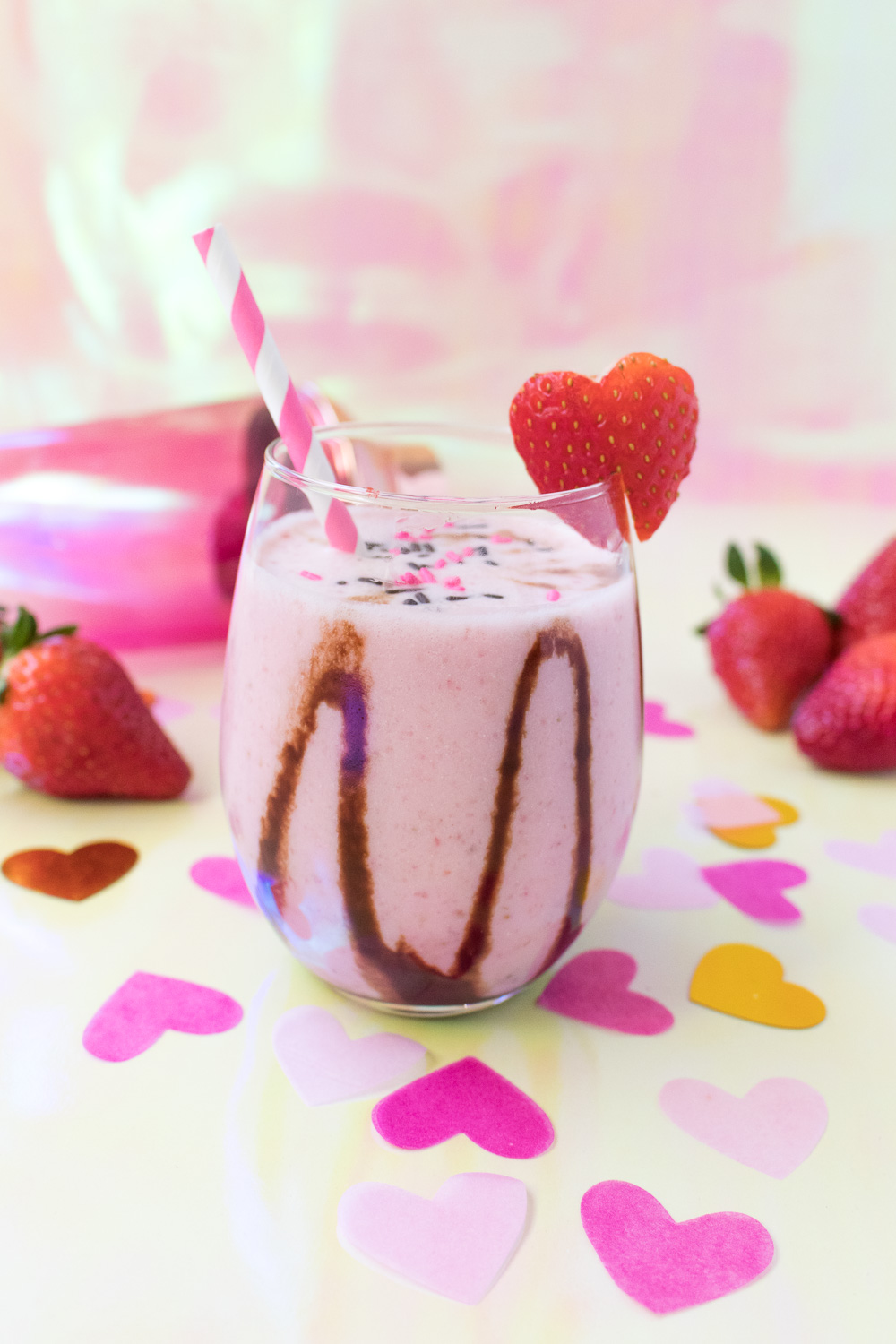 It looks like Valentine's Day is going to be a quiet night in for us this year, and I'm 100% OK with that. This is one of those holidays Andrew and I would rather make ourselves dinner and watch a movie with a cocktail than shell out the money for the whole Valentine's Day shebang. I think I'll indulge in a drink that is part cocktail and part dessert. This chocolate covered strawberry cocktail is like a hybrid of a milkshake, cocktail and chocolate covered strawberry, and it is DANGEROUSLY delicious. With one of these tasty cocktails in-hand, I'm sure we'll have no problem enjoying our Valentine's Day!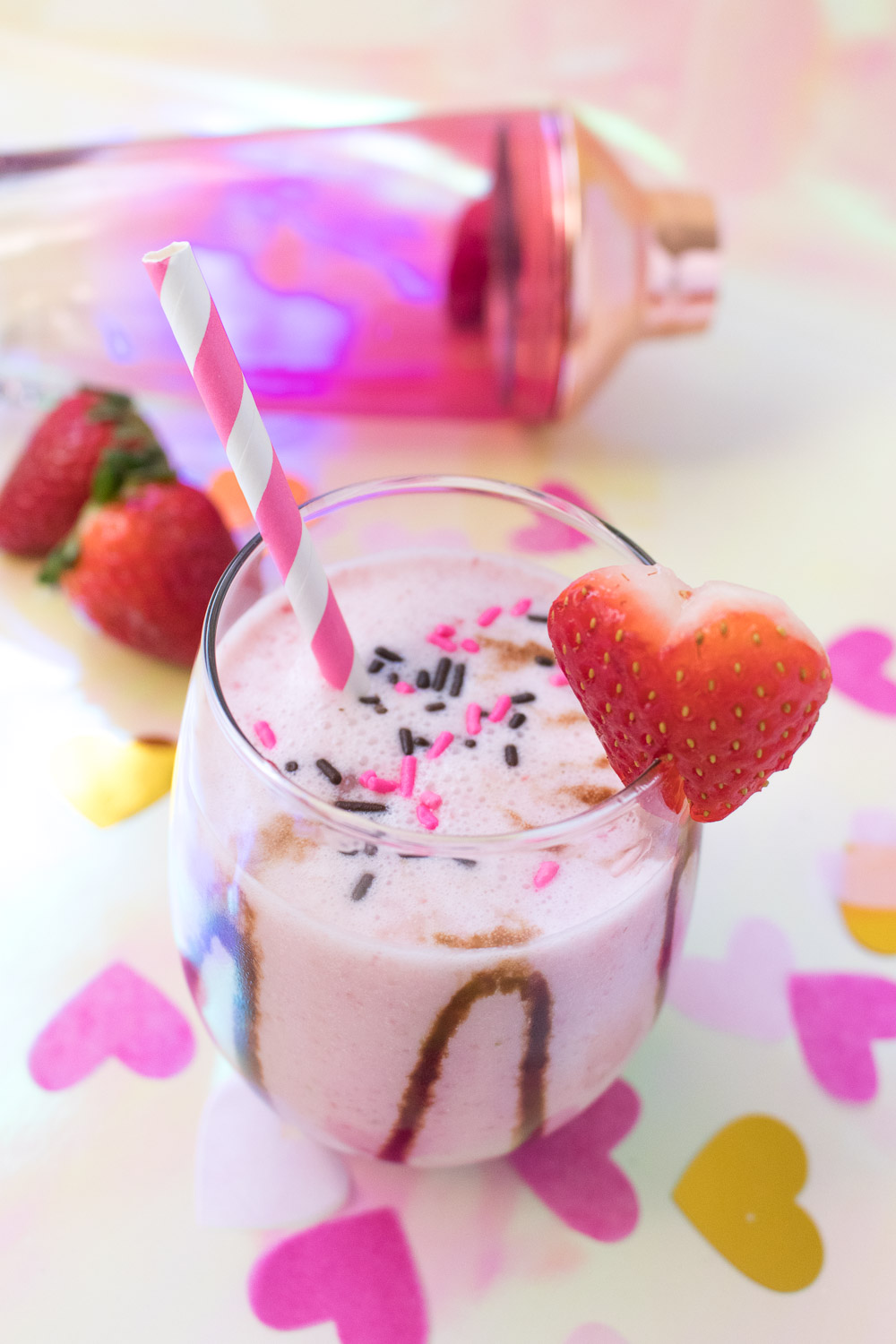 This indulgent chocolate covered strawberry cocktail tastes exactly how it sounds…like a chocolate covered strawberry! Made with fresh strawberry puree and half & half, it has the deliciousness of a milkshake with a little extra booze. Spiked with strawberry vodka and creme de cocoa for the creamy chocolate flavor, it still maintains it's chocolate and strawberry flavor. It's rich and tasty, and the chocolate drizzled glass is the perfect touch and addition to the chocolate flavor.
Scroll down for the full recipe card! ??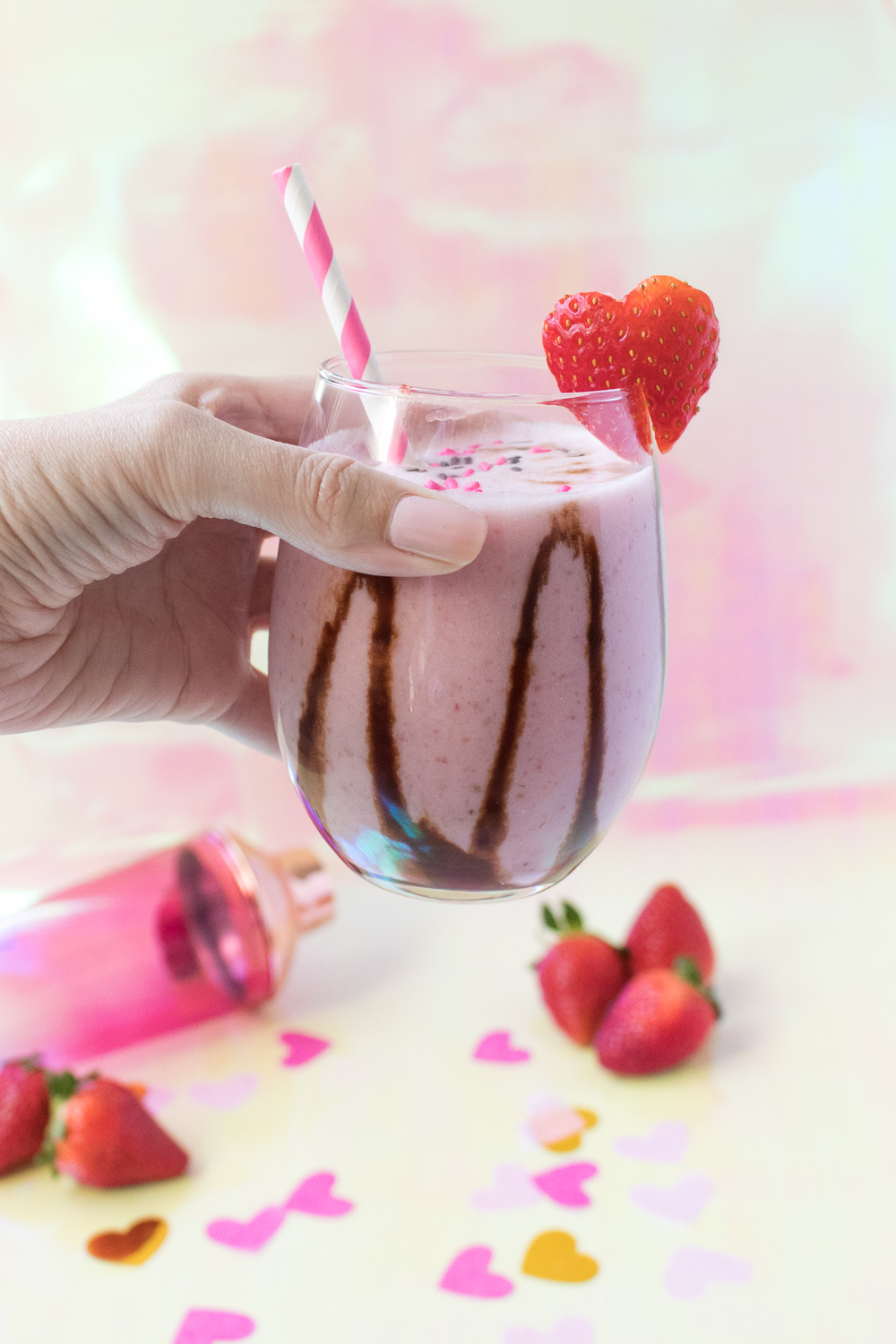 The little strawberry heart on the rim is probably my favorite part. You can carve one with a knife or simply use a mini cookie cutter to cut one from an extra-large strawberry. It's not exactly strawberry season, so you can also substitute frozen strawberries if it's easier and more cost effective. I'm sure it will taste equally delicious!
I would drink this all year, regardless of Valentine's Day! Who's with me?!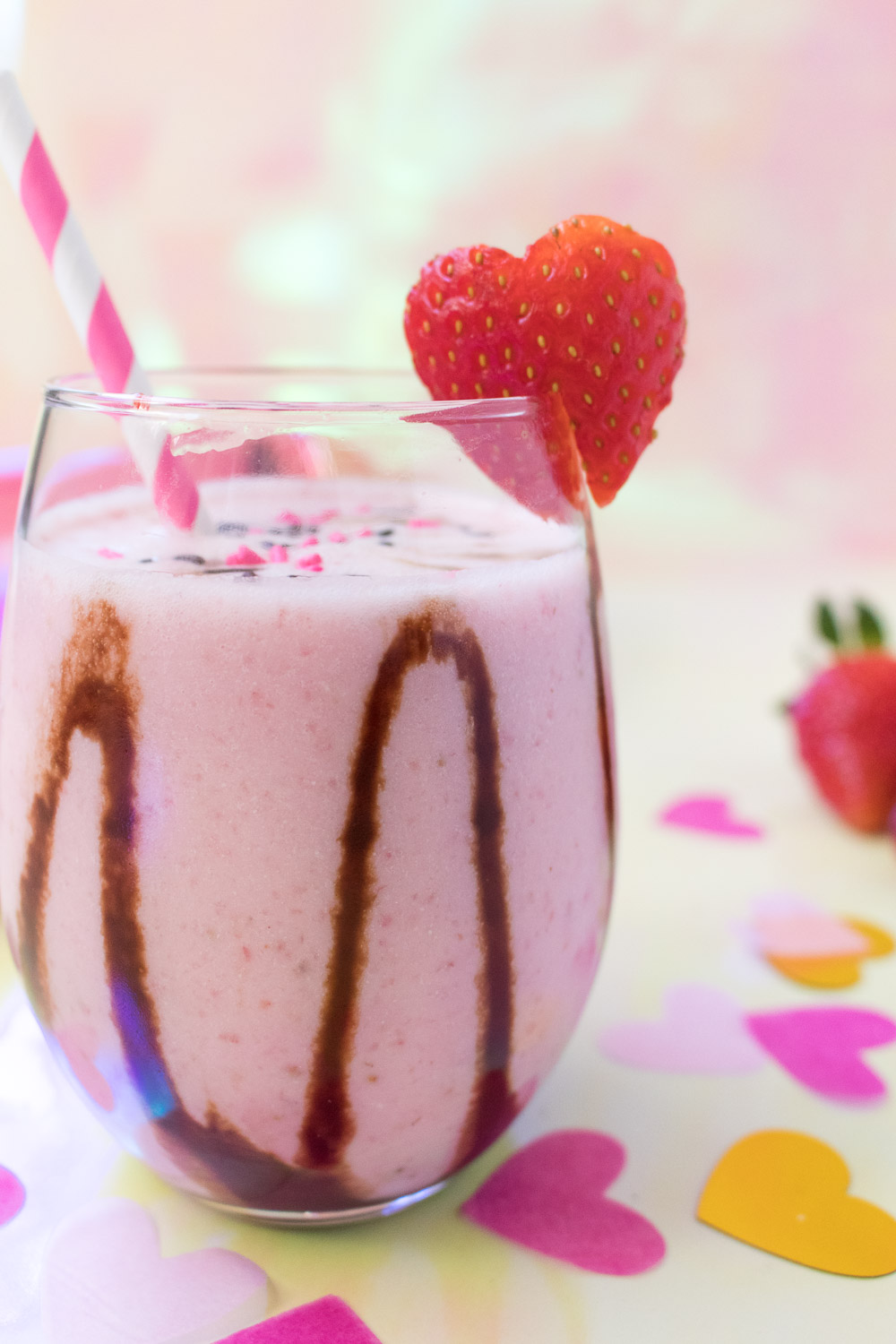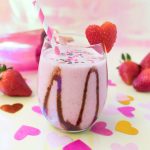 Chocolate Covered Strawberry Cocktail
2018-01-30 15:26:31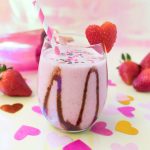 A rich cocktail inspired by chocolate covered strawberries with blended strawberries, chocolate liqueur, strawberry vodka and cream
Ingredients
5-6 fresh or frozen thawed strawberries (3/4 cup puree)
2 shots creme de cocoa
1 shot strawberry vodka
1/2 cup half & half (can sub milk or cream)
Chocolate syrup, optional
Instructions
Puree the strawberries in a food processor
Drizzle the inside of a tumbler glass with chocolate syrup if desired
Combine the strawberry puree, creme de cocoa, strawberry vodka and half & half in a cocktail shaker with ice
Shake and strain into the prepared glass. Add a strawberry heart to the rim if desired.
Notes
Alternatively, you could blend all ingredients with ice for a thicker drink
Club Crafted https://www.clubcrafted.com/