/
Unicorn Frappuccino Cake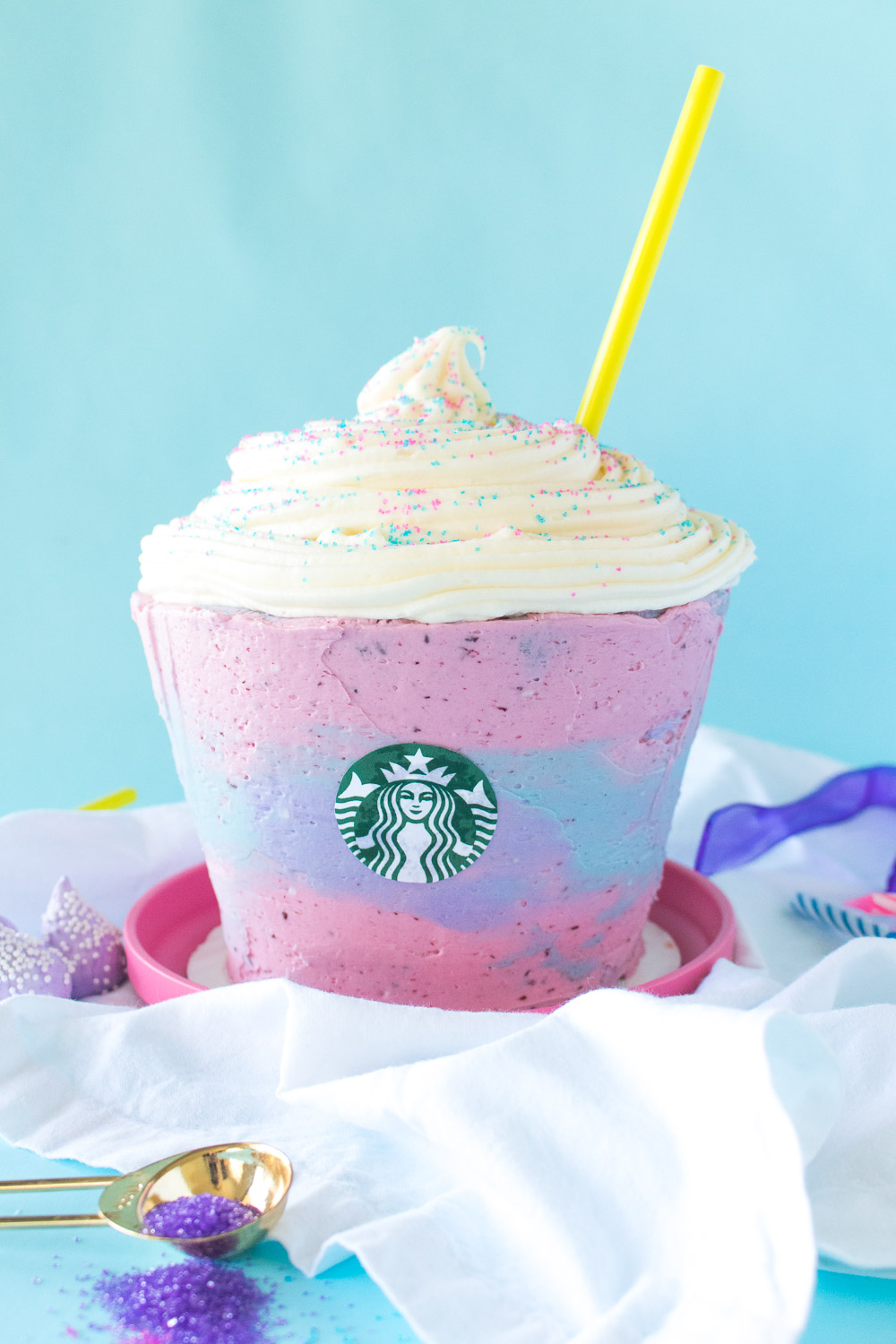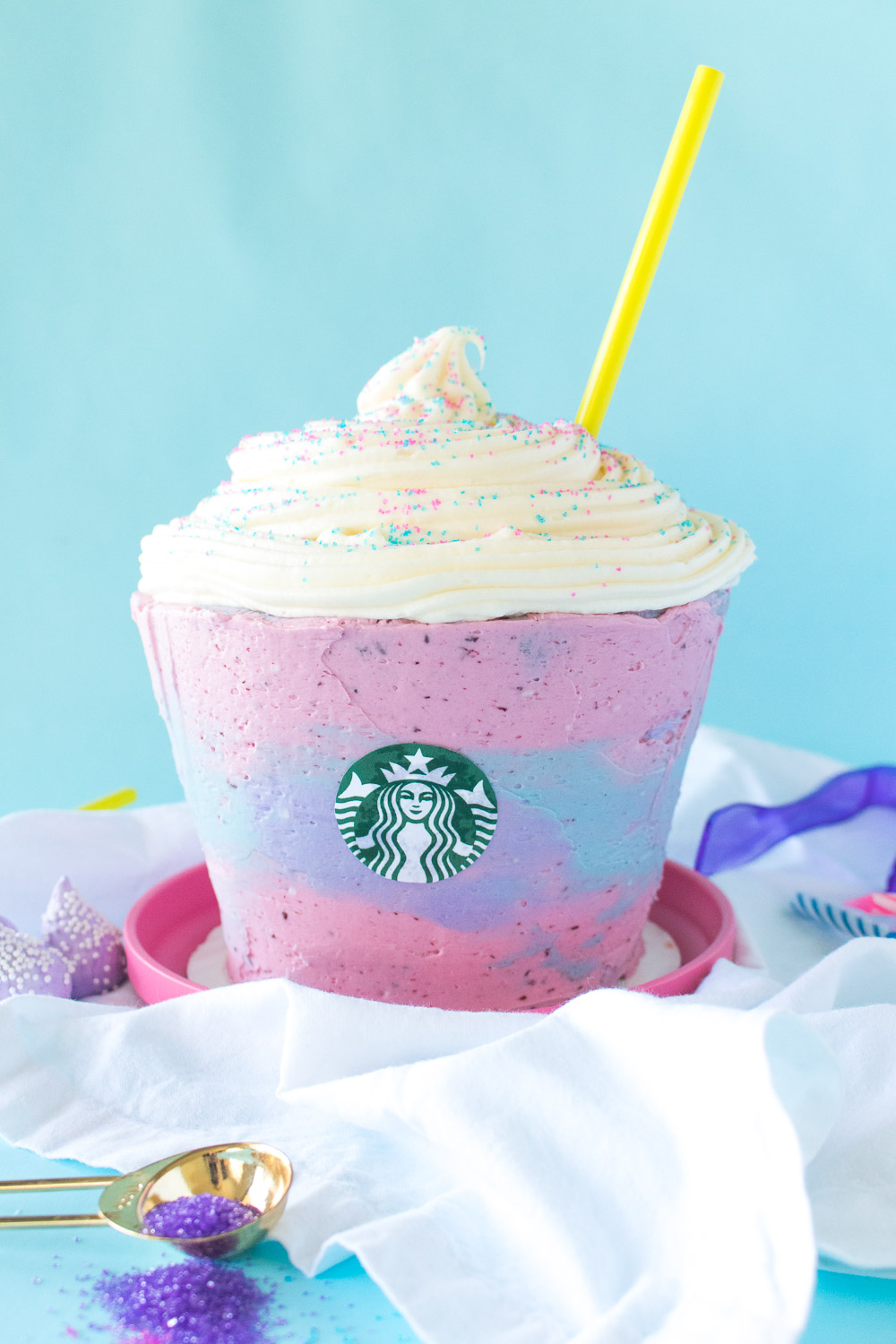 Do you guys remember WAAAY back during summertime, Starbucks came out with a little drink called a Unicorn Frappuccino and the world freaked out? I mean, the drink was pretty, but since it didn't seem to taste very great, I thought I'd make one that would taste a whole lot better…by making a Unicorn Frappuccino CAKE! That's right; this unicorn frappe is colored on the inside AND the outside to mimic the colorful, sour-tasting blue, purple and pink drink, and it's topped with colorful sanding sugar for good measure.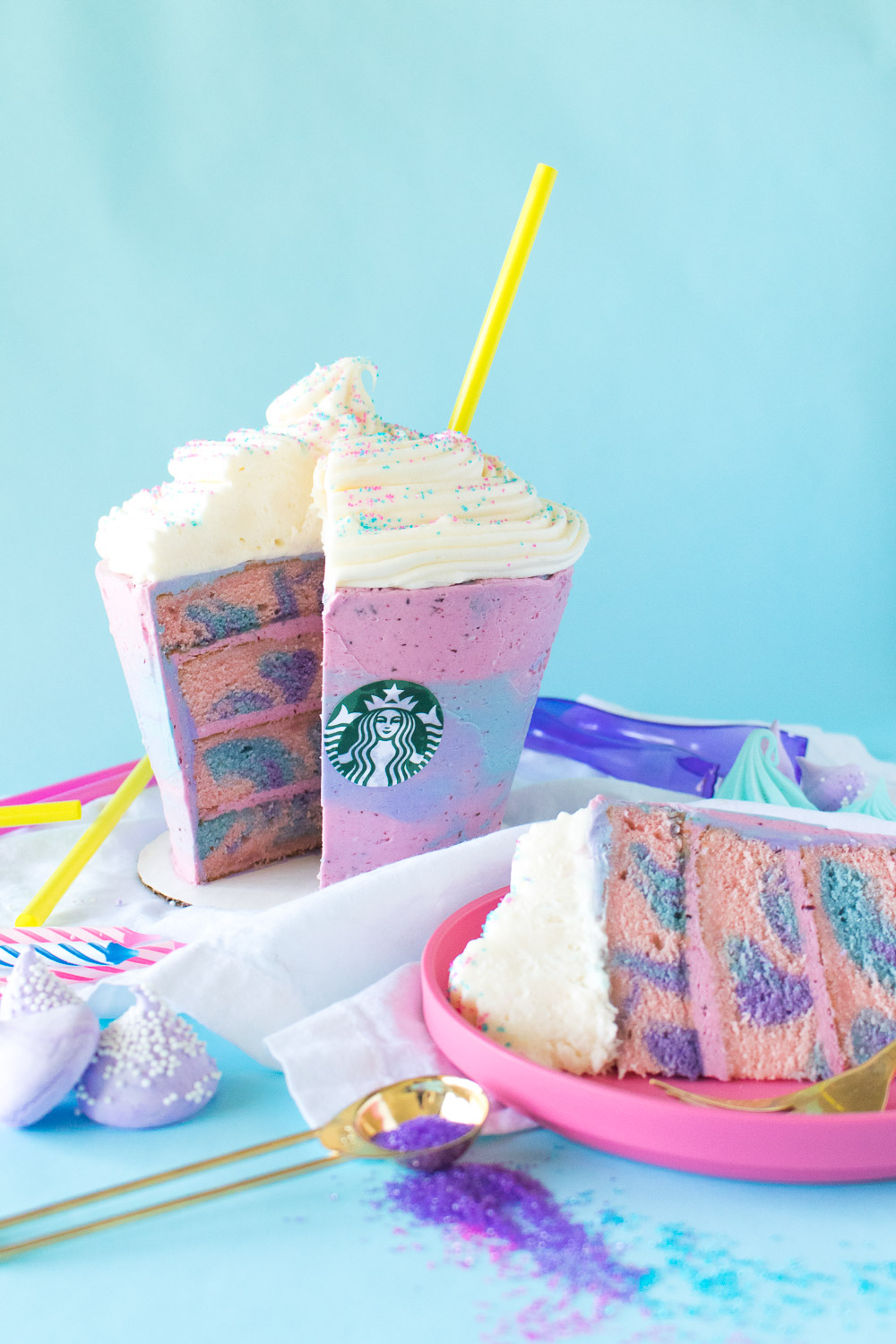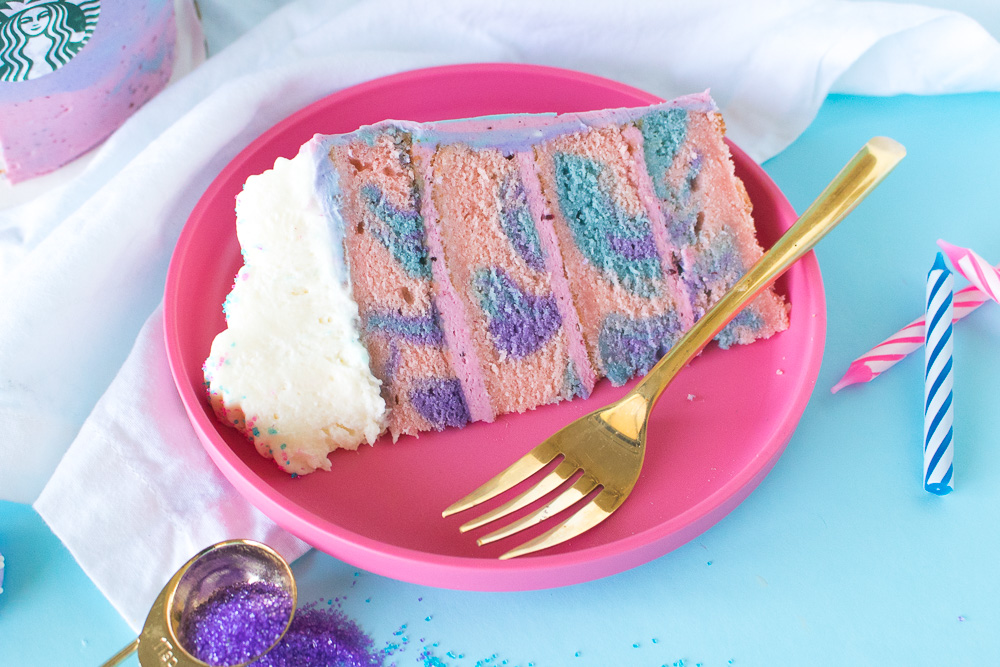 I love a good vanilla cake, so I made a pretty vanilla swirl cake with pink, purple and blue, layered between strawberry buttercream and topped with a whipped vanilla frosting and sanding sugar. A little tinted buttercream on top of the pink strawberry icing create the colorful marbled look of the unicorn frappe. I think it looks good enough to drink…er, eat.
Scroll down for the full recipe card! ??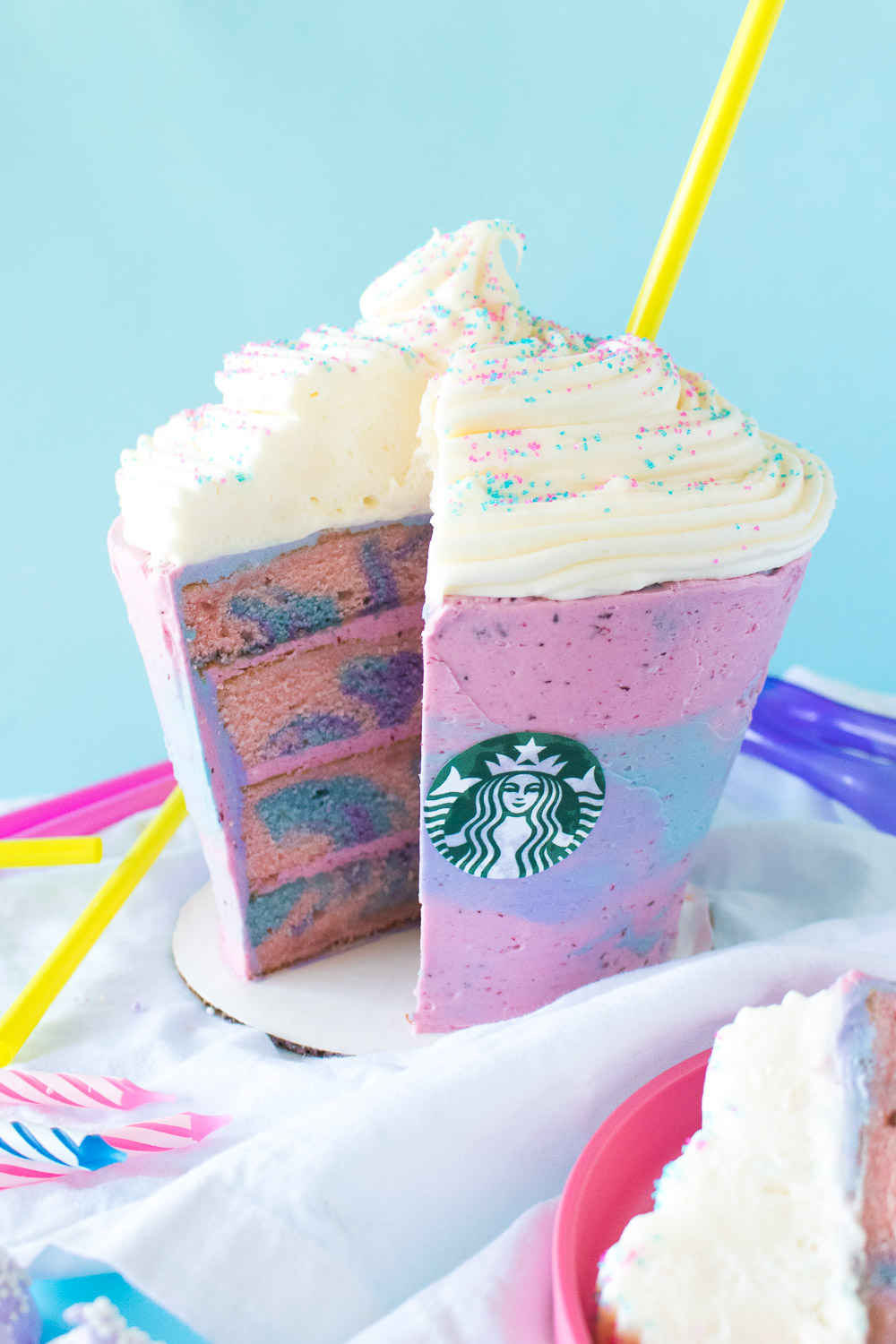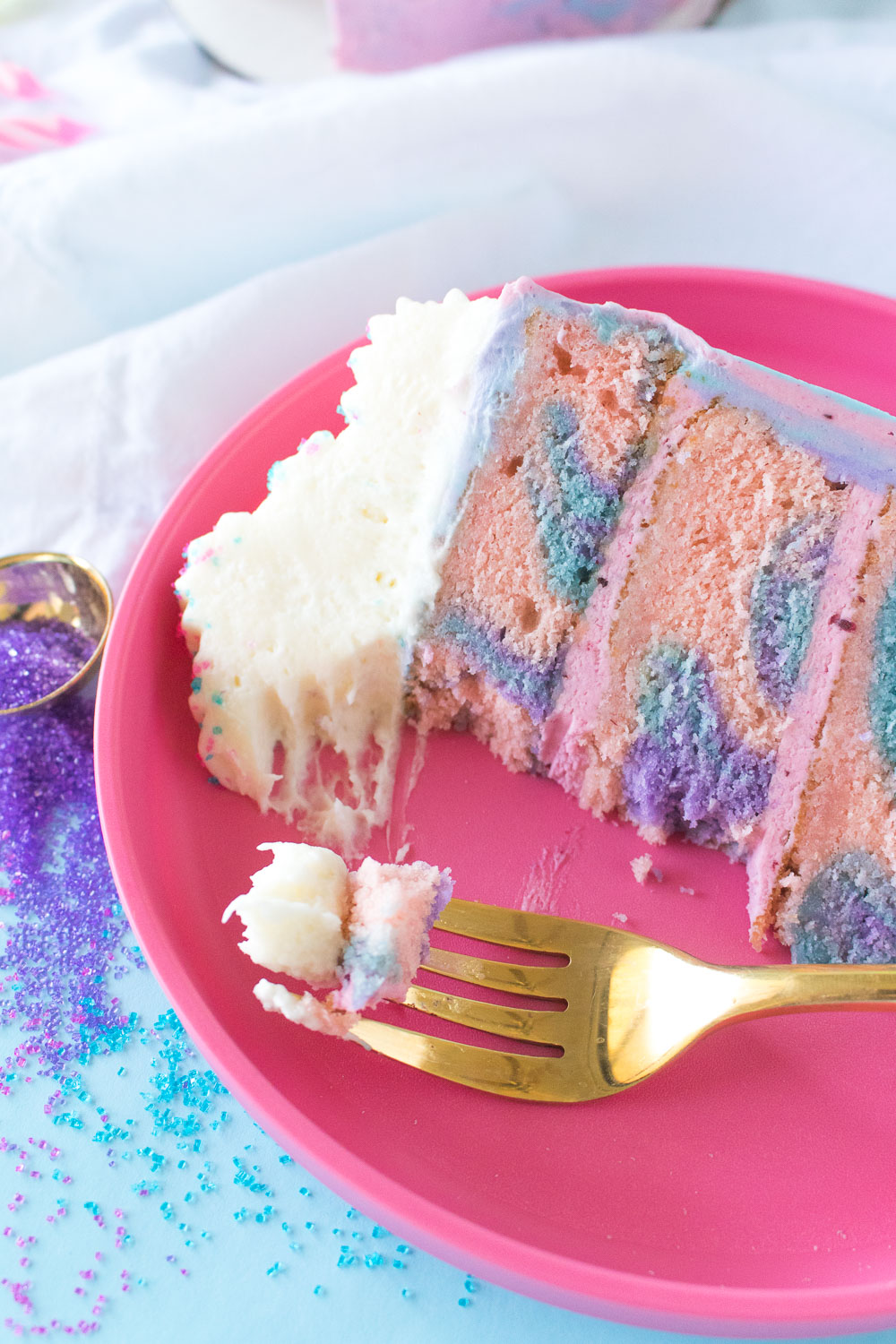 Don't worry, there's nothing sour about this cake. It's sweet and a little fruity with lots of vanilla.
Since I'm no expert at shaping cakes, I love that this shape is very easy to create, looking similar to a tall Starbucks cup with its short and stout appearance. This four layer cake is enough to feed a party, and a small piece goes a long way. I would say pair this cake with a unicorn frappe, but I'm pretty sure the cake tastes better than the drink, ha!
I wonder what crazy drink will come out next…did you see the zombi frappe for Halloween?! I'll stick with my macchiato, but they're certainly fun to look at.
What should I turn into a cake next?!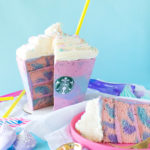 Unicorn Frappuccino Cake: Vanilla Swirl Cake
2017-09-16 12:10:19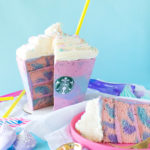 Serves 12
A delicious vanilla cake swirled with colors and frosted with strawberry buttercream to look like a Starbucks Unicorn Frappuccino
For the vanilla swirl cakes
3 cups all-purpose flour
5 tsp baking powder
2 cup granulated sugar
1 teaspoon salt
1 1/3 cup milk, room temperature
8 egg whites, room temperature
4 tsp vanilla extract
1 cup butter, room temperature
Pink, purple and blue gel food coloring
For the strawberry buttercream
2 cups butter, room temperature
4 1/4 cups powdered sugar
1 tbsp pure vanilla extract
1/2 cup seedless strawberry jam
For the whipped cream cheese frosting
1 8oz. package of cream cheese, room temperature
1 cup powdered sugar
2 tsp vanilla extract
1 1/2 cups heavy whipping cream
For the vanilla swirl cakes
Preheat the oven to 350 degrees and spray three 6-inch round cake pans plus 1 8-inch round cake pan with cooking spray. Line with greased parchment rounds and set aside
In the bowl of your mixer fitted with a paddle attachment, beat the butter until smooth and fluffy (about one minute)
Add the sugar, flour, baking powder and salt and mix on low until it forms a crumbly mixture
In another bowl or a measuring cup, whisk together the milk, vanilla and egg whites until fully combined
Slowly add the wet mixture to the dry ingredients, mixing on low speed. Scrape the bowl and continue to mixing for about 30 seconds until batter is smooth
Separate batter so that 2/3 is in one bowl and 1/3 is split between two others bowls. Dye the largest batch pink and the other two purple and blue
Distribute the pink batter among the greased cake pans, add a small amount of blue and purple and swirl the colors together with a butter knife. Bake for about 30 minutes until an inserted toothpick comes out clean. Let cool completely in the pans
For the strawberry buttercream
In the bowl of your mixer fitted with a paddle attachment, beat the butter for about 2 minutes until light and fluffy
Add the powdered sugar in batches, scraping the bowl in between, mixing until smooth
Mix in vanilla
Set aside a small amount - about 1/2 cup - of untinted frosting in a separate bowl
Mix in seedless strawberry jam to main batch, scrape the bowl and beat until smooth. Add pink coloring if desired to reach pink color
In the frosting that you set aside, split in two and dye on purple and one blue
For the whipped cream cheese frosting
In a bowl fitted with a whisk attachment, whip the heavy cream on high speed for several minutes until stiff peaks form
In another bowl beat the cream cheese for 2-3 minutes until smooth. Mix in powdered sugar in batches until smooth, and mix in vanilla
Fold in the whipped cream until barely combined and move to a large pastry bag fitted with a star attachment
To assemble unicorn frappaccino cake
Level all four cakes so each is the same thickness. Layer the three 6-inch rounds with a layer of strawberry buttercream in between, followed by the 8-inch one on top
With a serrated knife, carefully carve the cake into a funnel shape so that the wide top blends with a thinner bottom. Remember, you can always cut away more cake if needed, so make small cuts!
Once you've achieved the proper shape, apply a crumb coat of strawberry buttercream and chill the cake for about 30 minutes
Apply another layer of strawberry buttercream on top of the cake and scrape smooth
Spread a small amount of the blue and purple frosting randomly in the mid-section of the cake and scrape smooth to create a marbled appearance
Move the whipped cream cheese frosting to a pastry bag fitted with a star tip and pipe the "whipped cream" on top of the frappe cake. Sprinkle with blue, pink and purple sanding sugar and add a green straw off to the side
If desired, print out the Starbucks logo and stick to the front of the cake - just don't forget to remove before eating
Club Crafted https://www.clubcrafted.com/