/
A Colorful Ice Cream Sundae Bar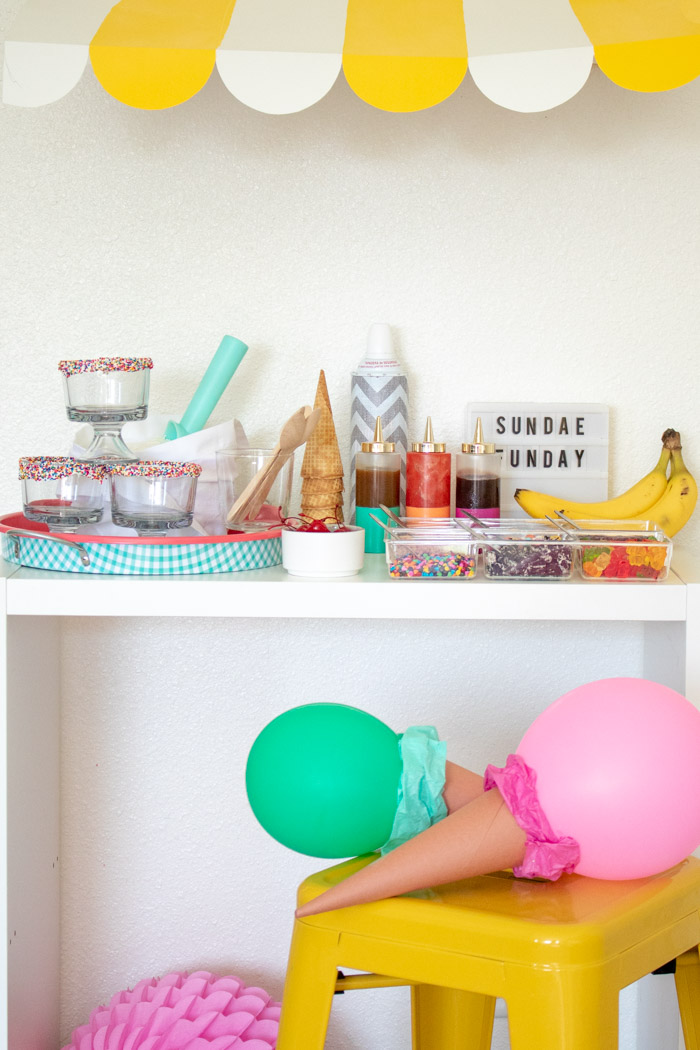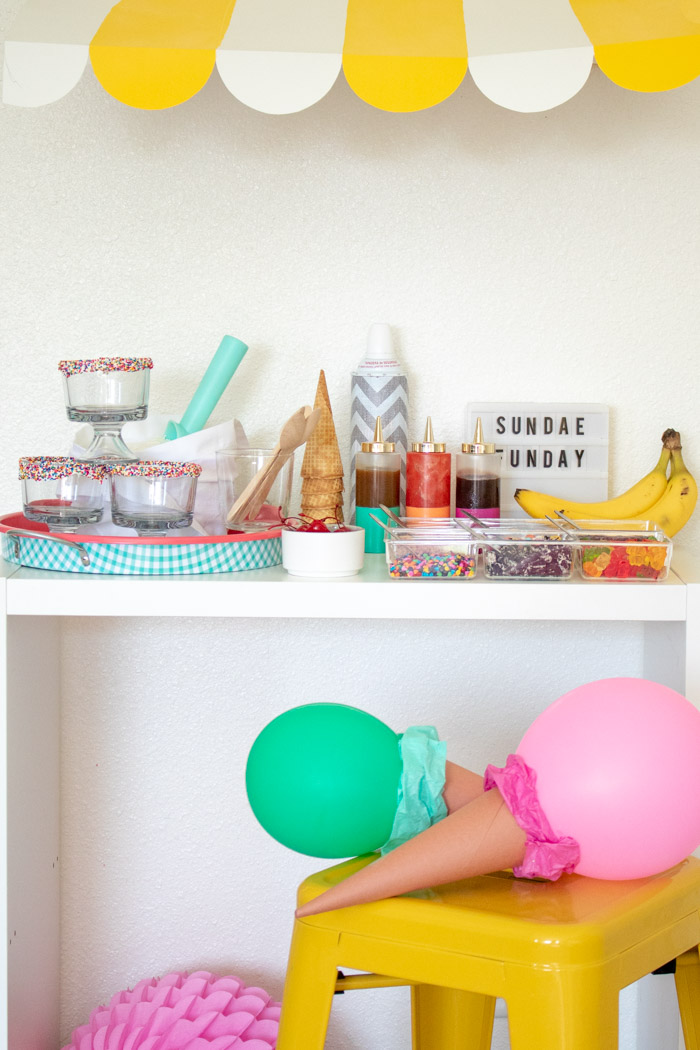 I've been indulging in National Ice Cream Month so far this July, and since Sunday was National Ice Cream Day, I thought I'd share one way to have an ice cream party! Ice cream sundaes always remind me of childhood, so we put together a cute little ice cream sundae bar with colorful accents, lots of toppings to choose from and even a homemade striped awning inspired by old fashioned ice cream shops. It's easy to whip up a sundae bar for adults or kids, and you can use them for all sorts of parties or events! I've even seen ice cream sundae bars used for weddings, and I love that idea for summertime. Each person gets to decorate their ice cream sundae with their favorite toppings, making every day SUNDAE FUNDAY!
Customize your own sundae bar with a variety of toppings and choices so that each person can make an ice cream sundae with all your favorites. Our Sundae Funday bar was complete with a homemade awning painted with yellow stripes! I have to admit it's my favorite part of the sundae bar, but it was definitely a challenge getting it to stay up, ha!
Elements of an Ice Cream Sundae Bar:
A cute sign! Use a lightbox, letterboard or banner to display a sign
LOTS of toppings, like sprinkles, gummies, cookie crumbs, chocolate chips or toffee
Fruits like bananas (for banana splits), cherries or strawberries
Syrups like chocolate, caramel and strawberry as well as whipped cream
Ice cream cones
Sprinkle dipped glasses
Vanilla ice cream (and other flavors too!)
We also added honeycombs and balloons because every celebration needs them. My niece Peyton helped make the ice cream cone balloons to decorate the space. We used construction paper to make the cones, balloons for the ice cream scoops and tissue paper where the balloon and paper meet to create the bottom of the scoop.
For the sauces, I used store-bought chocolate and caramel sauces and made my own strawberry sauce by reducing strawberries, sugar and lemon juice, pureeing until smooth. I tried to choose ingredients that offered something for everyone, including fruit, chocolate, gummies, etc.
Sources: honeycombs / yellow stool / ruffled top / orange skirt / jelly sandals / acrylic trays / mini lightbox (similar) / color dipped squeeze bottles (Oh Joy!, old) / glass parfait glasses
What's your favorite sundae topping? I'm all about crushed Oreos and a bit of whipped cream!
Enjoy what's left National Ice Cream Month!
Please note this post contains affiliate links from which I may collect a small profit should you choose to make a purchase. I only link to products I personally use or recommend.