/
Home Makeover Goals for 2021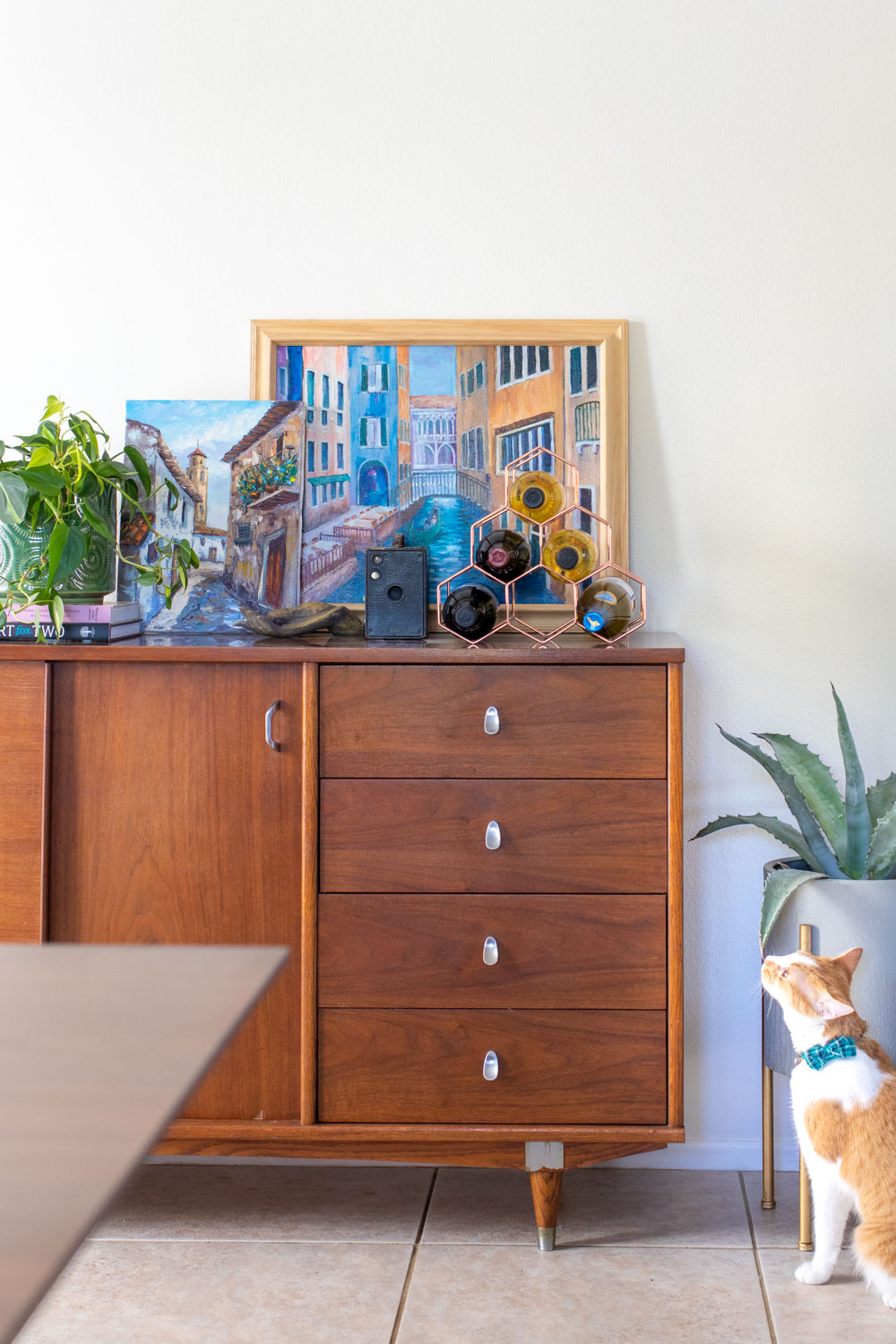 Helllllo 2021! Like all of you, I'm hoping this year will be a million time better than the last. That's setting the bar pretty low…and we're NOT off to a good start. Now that we've made it through the holidays, I'm hoping to get back to focusing on the house. I've been purchasing decor pieces here and there to keep things affordable, and yes, there are DIYs in the works. You can follow all home projects for Montez Manor here! Sometimes, I share my resolutions for the year in writing to hold myself accountable, but let's be honest, it's pointless. Instead, I wanted to share my home project GOALS for 2021. Will I get to achieve them all? Probably not. Nonetheless, my goal is to make this house feel like US. Right now, there's still minimal art on the walls and a lot of blank space. Let's get to work!
Here's a rough list of home makeover goals I hope to accomplish this year:
Finish Guest Bathroom Makeover – Our main bathroom has been a work in progress for a couple months now. It gave me HELL. After struggling to remove the original wallpaper, clean and retexture the walls, our first paint choice was awful. It looked like a dingy hospital room. EWW! I pushed forward and purchased a bold wallpaper. This allowed me to take samples with me to the store to pick the right paint color this time. lt worked! I love the paint color now….but the vanity paint was also wrong. My first project of 2021 will be repainting it a better color. We're also replacing the faucet this week. There's a special DIY in there I also need to finish. Hopefully, this will be the first fully complete room by the end of the month!
Transition the Fireplace – Did you see my fireplace makeover from a couple months ago?! We have a wonderful wood burning fireplace, but we've decided to transition it to a gas fireplace because it already has a gas hookup. This one will be ready in time for us to enjoy it before the weather heats up again!
Finish Hanging Photos in the Hallway – I'm almost done with this one! To make it feel like we actually LIVE HERE, I've been creating galleries along the different walls in our hallway. I love it. I've found myself just standing in the hallway staring at photos. Just one wall left! PLUS, I added two new runners in the hallway.
Hang Art in the Dining Room – We invested heavily in new furniture for our dining room and replaced the old fan with a beautiful new light fixture. That's a story for the reveal post…the lesson: know where you're buying from. We have the rug, table, chairs, bar cart and a mid-century buffet I inherited from family. Now it just needs some art! The room is feeling really plain and I'm indecisive.
Paint Kitchen Cabinets – I'm not going to lie, I'm dreading this project. Our cabinets are fine quality-wise, but they're old with a thick, orangey lacquer on them we'll have to sand away. The sanding and subsequent painting will be incredibly laborious. Am I ready for my house to be in a consistent state of disaster while we work through it? Not quite.
Hang Curtains in Living Room – Because we have a lovely bay window in the living room, I've been avoiding the expense of adding a special curtain rod and four curtain panels. Plus, there's another window in there that I want to match. The living room just feels forgotten and I'd like it to feel more like US.
Remove Kitchen Cabinets + Replace Backsplash – After wishing for a full kitchen remodel, we've accepted that it's probably just not realistic in this house. Instead of opening up the whole kitchen, we agreed to remove the cabinets that block the view between the kitchen and dining room. They aren't really necessary, and removing them would add to the open concept we want. At the same time, we hope to swap out the old school backsplash for a more modern alternative. It'll be a lot more work than any other projects we planned, but I'm soooo looking forward to it.
Remove Master Bath Wallpaper – Much like the main bathroom, the master has original 80s wallpaper I'm dying to remove. It's just a small water closet with the toilet and shower, so I'll probably just paint it white and add some open shelving on the wall.
Hang Art in Andrew's Office – Right now, Andrew's office is really bare. Staring at an empty wall is getting to him, so I would like to get at least one large piece of art on the wall across from his desk to make it feel more homey.
Replace Bedding – Milo has not been kind to out duvet cover and sheets. There are small holes, claw snags and frayed strings. He's a little better now, but he's still plenty destructive. Hopefully a new set is in the works for us soon!
Makeover Master Bathroom Vanity – The master bathroom vanity is open to our master bathroom. It's very convenient, but it means I lay in bed staring at the ugly vanity and giant frameless mirror. We just replaced the leaking faucets last week, and I've already purchased the new light fixtures. Now, I just need mirrors and a new paint job to get things in order. We also have two of those old style medicine cabinets built into the side walls. I'm looking into options to remove them for a more modern storage solution.
Replace Flooring – OK, this one is the most ambition project on the list. We've talked about it A LOT. Our entire house (with the exception of the living room) is covered with bland old tile. It's fine. It works. It's not cracked. It's just ugly and I have a strong dislike for tile anywhere other than a bathroom. If we can figure it out financially, this will jump to the top of my priority list!
Makeover the Laundry Room – The laundry room is currently the only "untouched" room in the house. While every other space got a repaint when we moved in, I skipped the laundry room due to time constraints. It remains beige and blah. Making it pretty might be a little impossible, but I want to at least paint the walls and cabinets and add a bold wallpaper on one wall. Andrew even gave me permission to pick whatever I wanted!!
Clean Out Backyard Planters – This spring, we are hoping to remove the red pavers filling up all of the planters in our backyard. It'll be a lot of work to dig them out, but I'm sure it'll look so much better with a rock filler instead. Overall, it shouldn't be too expensive, just labor intensive.
Buy a New Couch and Accent Chairs – Even though we can't do much entertaining during a pandemic, I am ACHING for a bigger couch with a set of accent chairs in the living room. Our IKEA couch (check out the couch cover makeover here!) has served us well, but I'm ready for an upgrade. Unsurprisingly, the one I want is very pricey. Will it happen this year? We'll see…
I'm sure there's so much more that I want to accomplish. Do you find that it helps you work towards your goals when you write them down or share them with others? Does it hold you accountable? I haven't decided if it helps me or stresses me out yet, ha. I'm excited. Let's do this!