/
Renter-Friendly Closet Door Makeover with Wallpaper + My Bedroom Refresh for Fall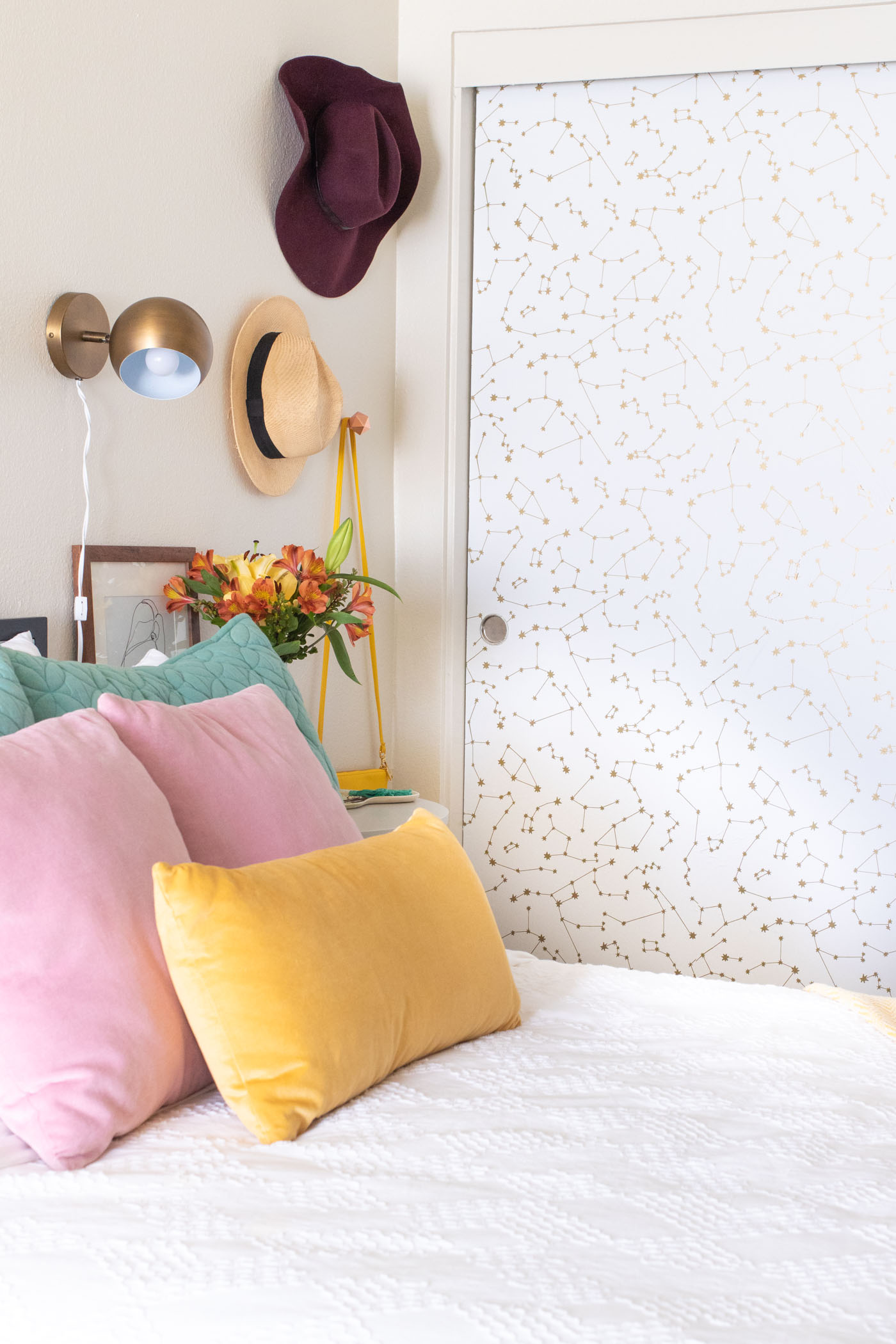 The following post is sponsored by Wayfair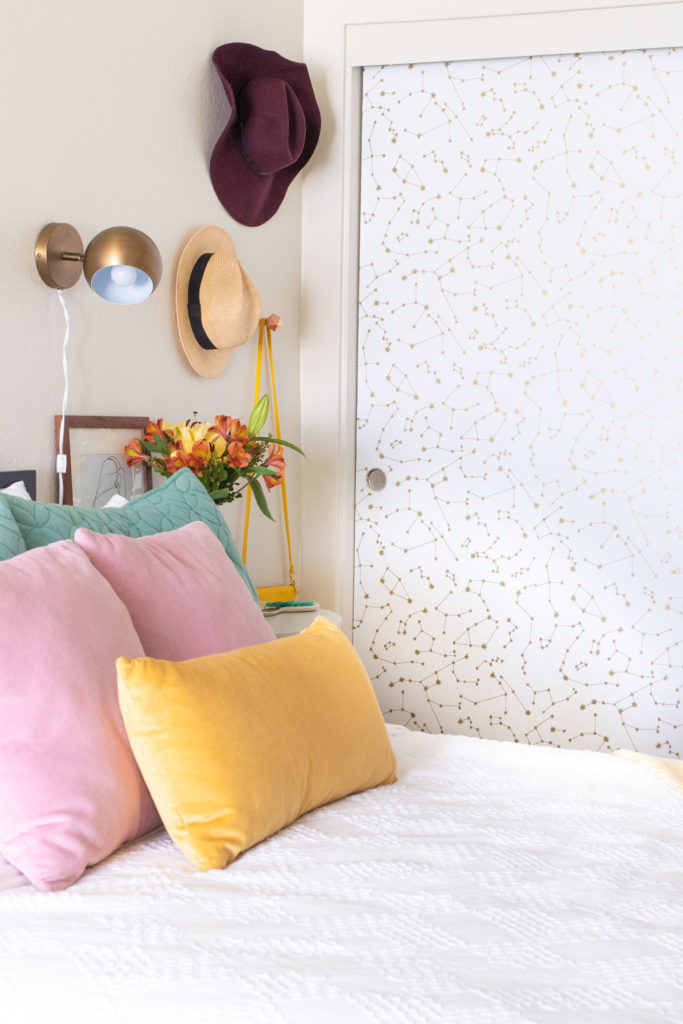 YOU GUYS, I'm seeing stars over today's renter-friendly closet door makeover with wallpaper! This project has been on my mind since we moved into our new apartment, so I'm thrilled to partner with Wayfair to share how to makeover closet doors (without a long-term commitment) and how I've updated our bedroom in preparation for fall! I fell in love with this constellation wallpaper and round nightstand from Wayfair, which you can see in my plans for our bedroom decor. Things are finally starting to come together! Read on for all of the changes I've made so far: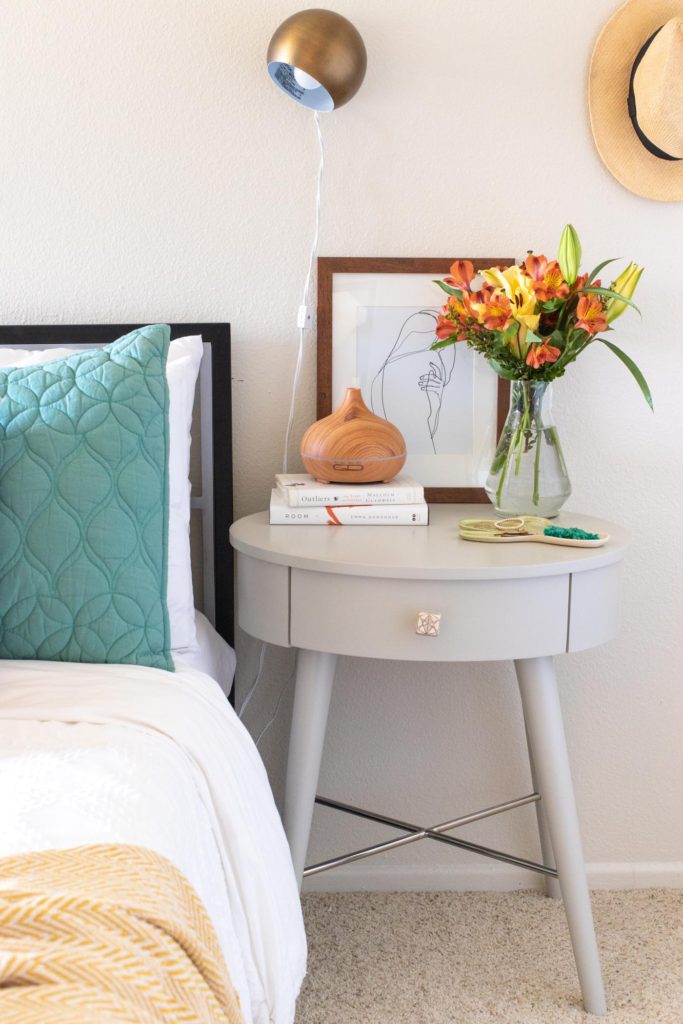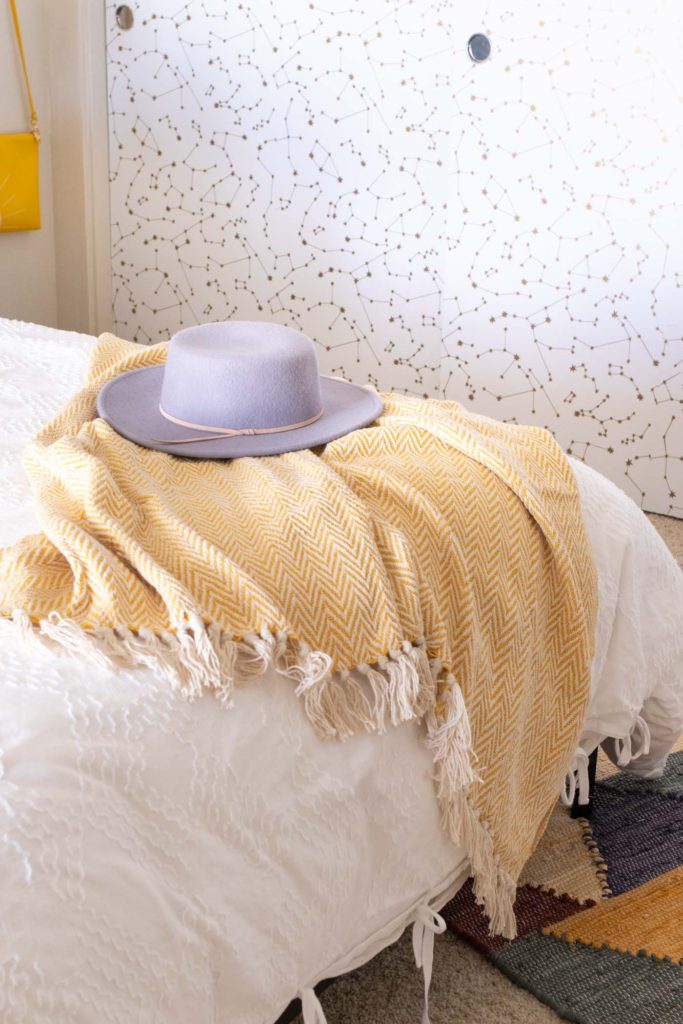 The biggest changes are the new constellation wallpaper (there are so many cute peel-and-stick wallpaper options!) and the Lugenia End Table. I wanted a light colored nightstand rather than a stained wood one, but there are so many options for simple side tables that you can use as nightstands.
How to Makeover Closet Doors with Wallpaper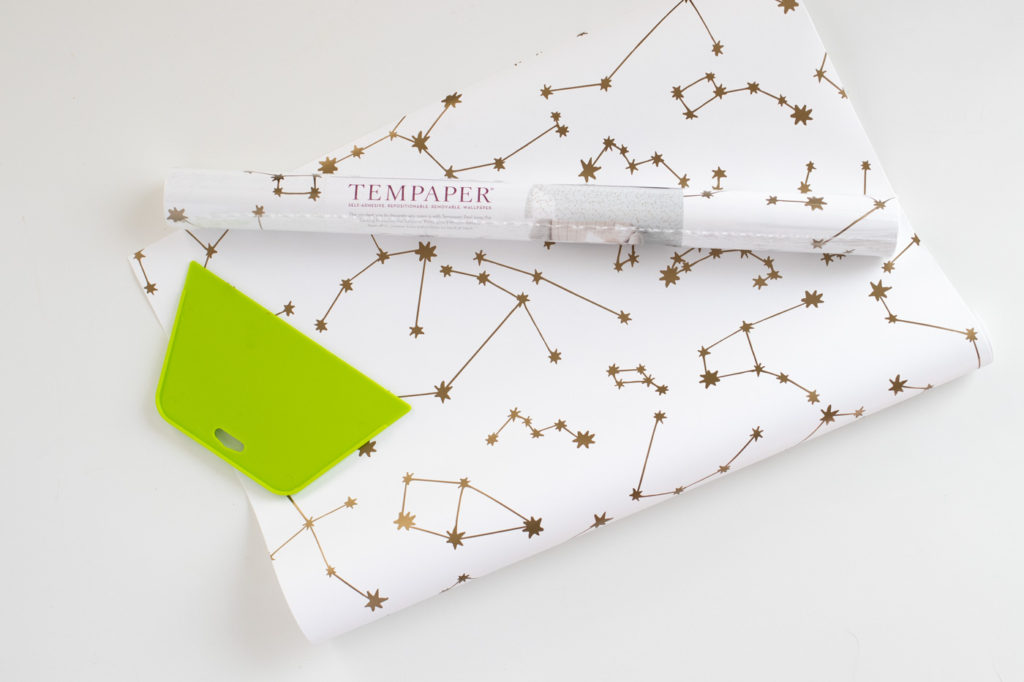 Supplies:
Scraping tool
Scissors
Craft knife
Step 1: Measure your doors! Measure each piece and calculate the square footage altogether to determine how much wallpaper you need.
I have 3 doors total, so I purchased three rolls of removable wallpaper. I like using this handy square footage calculator.
Step 2: Measure one piece of the wallpaper to the height of the door, adding 1-2 inches. Cut to the height of the closet door.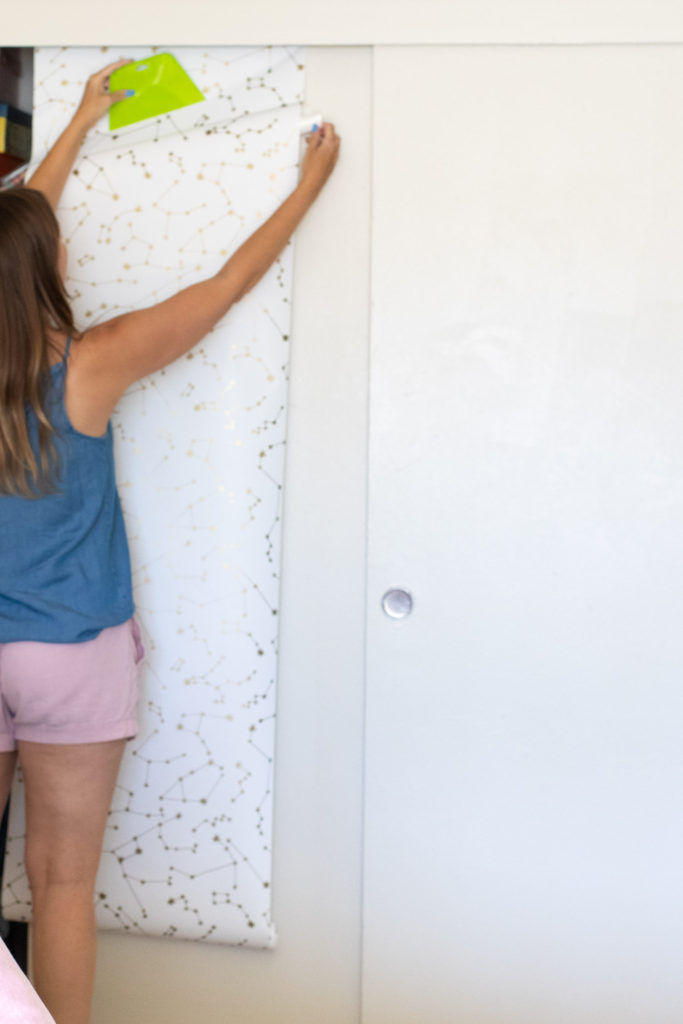 Step 3: Peel back one corner of the removable wallpaper and carefully position it at the top corner of the door. Slowly peel away the backing more as you press the wallpaper to the door, keeping the top and sides lined up with the door.
Step 4: Use the scraping tool to smooth the paper and remove air bubbles.
Step 5: Repeat with another sheet of wallpaper, carefully aligning the side AND the pattern with the first sheet. Continue on all doors so that they are entirely covered.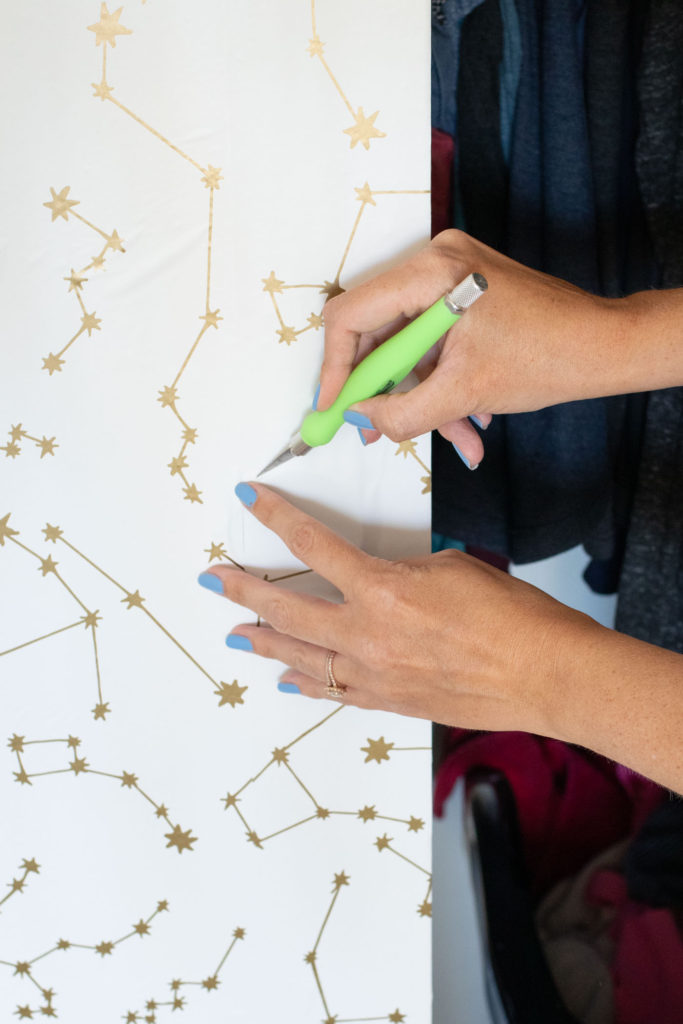 Step 6: Use a craft knife to remove excess paper from the bottom of the doors and from the top of any door handles.
Now your beautiful new doors are ready to admire! As far as renter-friendly home decor goes, I have to admit this closet door makeover with wallpaper is my favorite so far!
Psst, you can also use extra scraps of wallpaper for DIY projects or even hanging as artwork!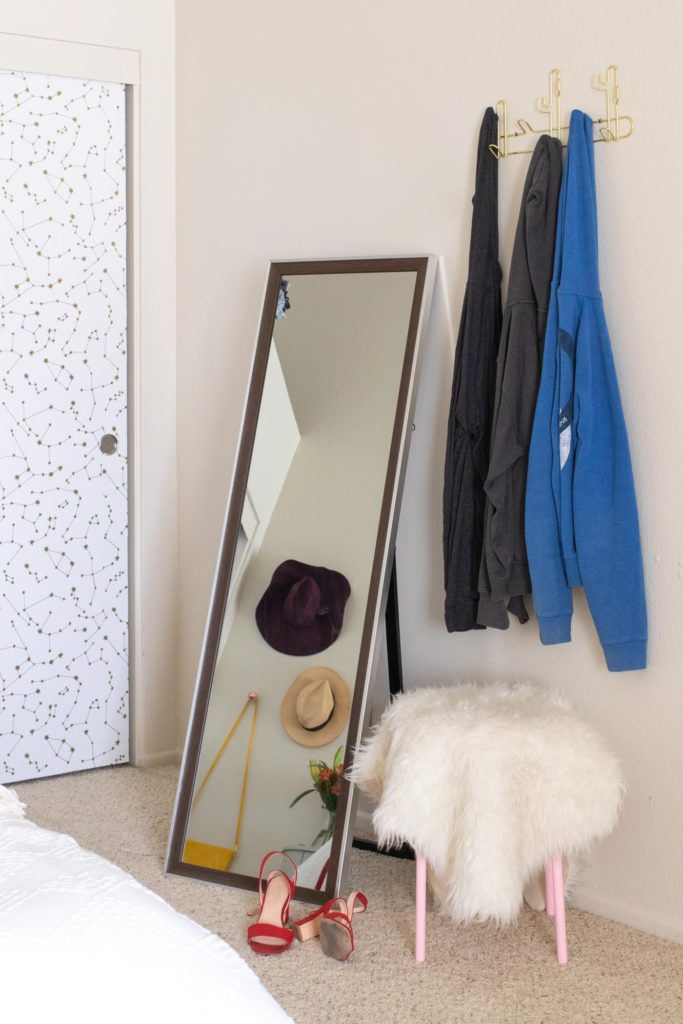 How to Give Yourself a Bedroom Refresh for Fall
Here are a few ways I'm creating a more fall-friendly bedroom to prepare for the new season:
1. Fall Florals – Add fall colored flowers to your nightstand to bring in freshness and coziness for the season. Either display fresh flowers when you can or make an arrangement of fake flowers to last all season.
2. Add Bulky Storage – Incorporate more storage for bulky fall coats and winter clothes (see my favorite inexpensive closet storage solutions here). We have these plastic drawer sets in our closet for added storage. We also added these gold cactus hooks to hold the coats we use most often. Coat racks are a great way to add storage anywhere in the house!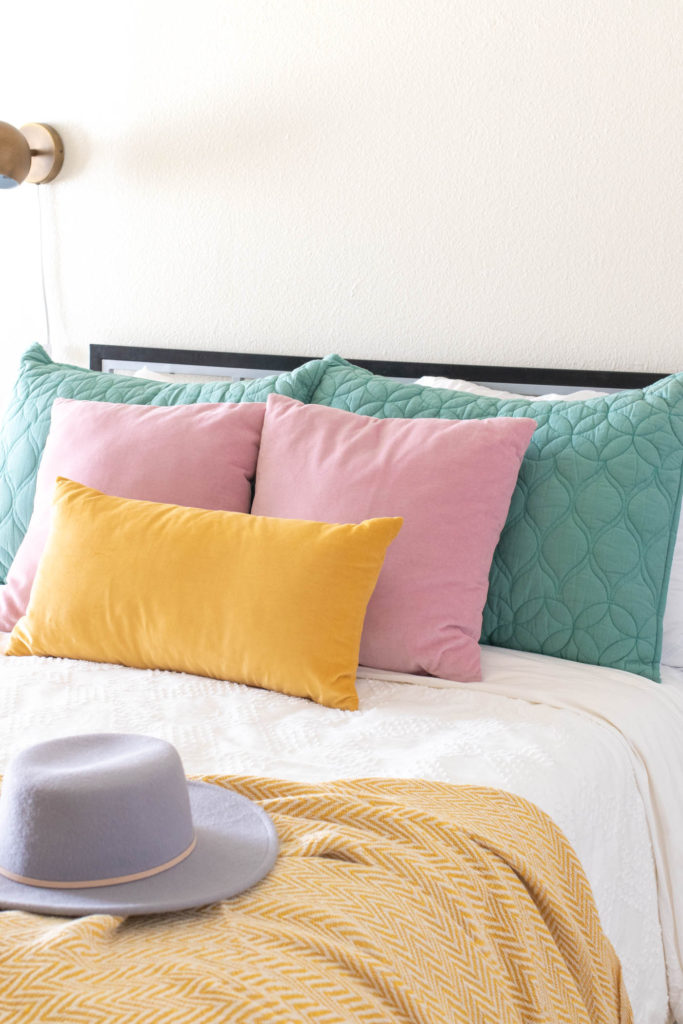 3. Earthy Decor – Add earthy gold and rust tones to your decor for a fall-inspired look. Oh, and I'm working on a new wall hanging for above our bed that screams FALL! Plants are also a great addition for any time of year.
4. Cozy Accents – The addition of layered throw blankets (like this yellow throw) add a level of coziness and incorporate the fall color scheme into our decor. I'm the type who believes you can NEVER have too many pillows or throw blankets…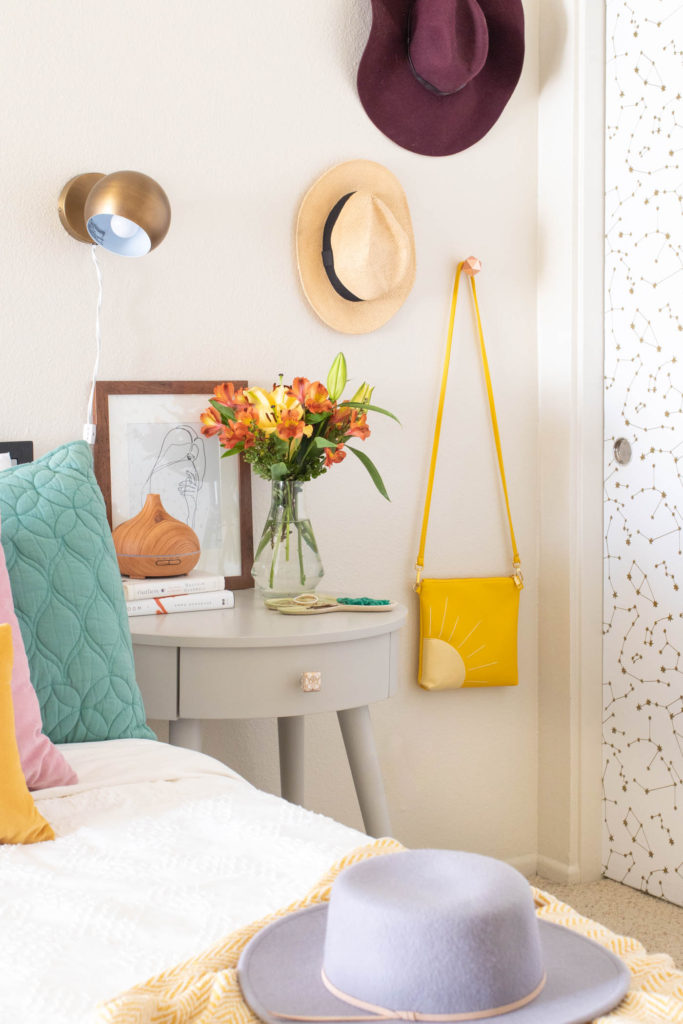 How else would you update your bedroom for fall?! I can't wait to share more updates about our bedroom as we make more changes!
Thank you to Wayfair for sponsoring this post. All opinions are my own. Thanks for supporting the brands that keep Club Crafted sharing!