/
Our Couch Makeover with Comfort Works IKEA Friheten Sofa Bed Cover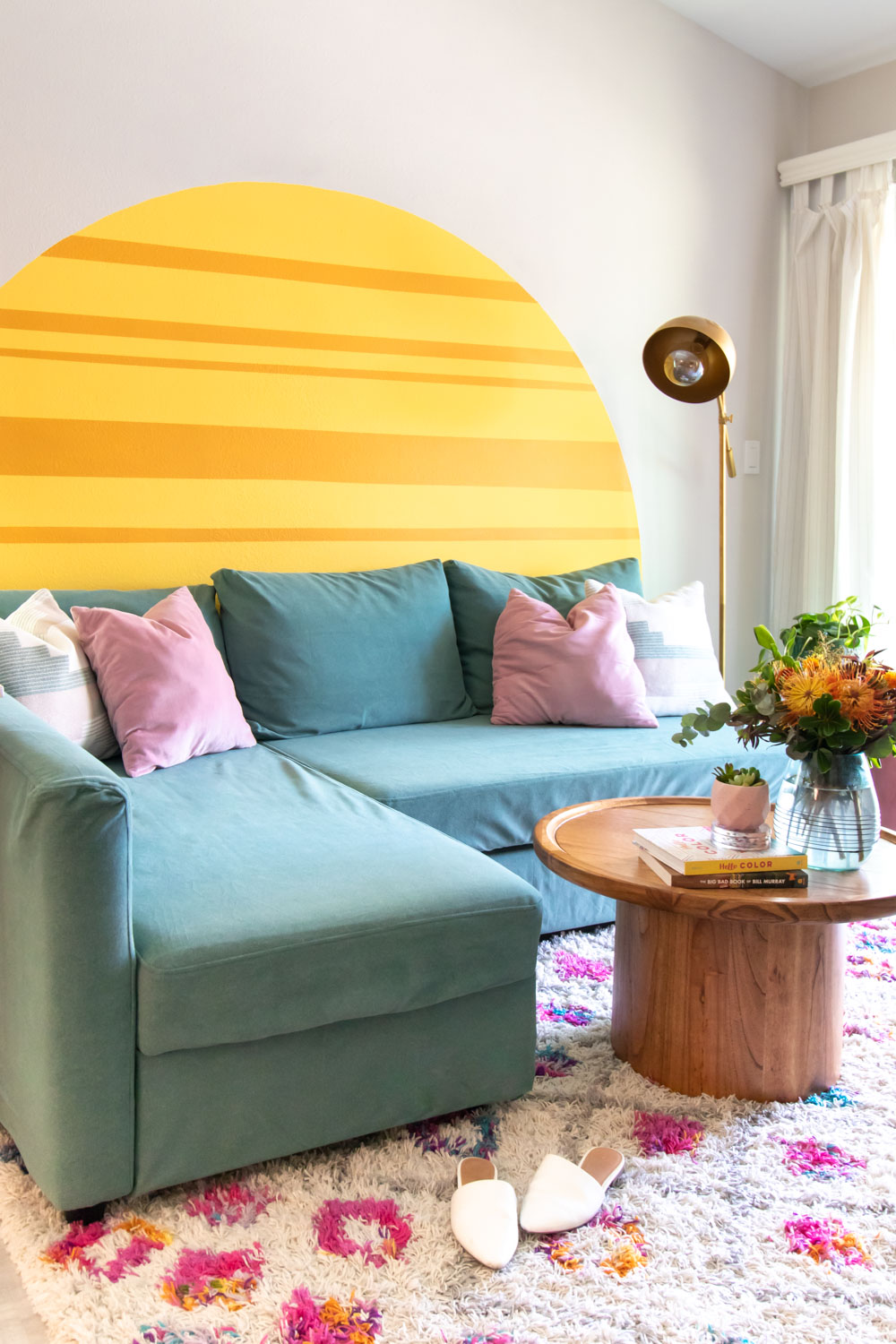 The following post is sponsored by Comfort Works
Today's post is one I have been dying to share with you all for a while. As we prepared for our most recent move, we were concerned about what to do with our IKEA Friheten Sofa Bed, which has been with us for four years and four apartments now. It's been good to us, and the pull-out sofa bed is perfect for having guests over! Instead of splurging on an expensive new sofa, we were able to give it a beautiful makeover with the help of Comfort Works, which makes custom slipcovers for IKEA products as well as a large selection of other brands. Not only was it a more cost effective way for us to update a worn IKEA sofa but it made it feel like we got a whole new couch! Keep reading for more photos of our new space and more details about these handy slipcovers.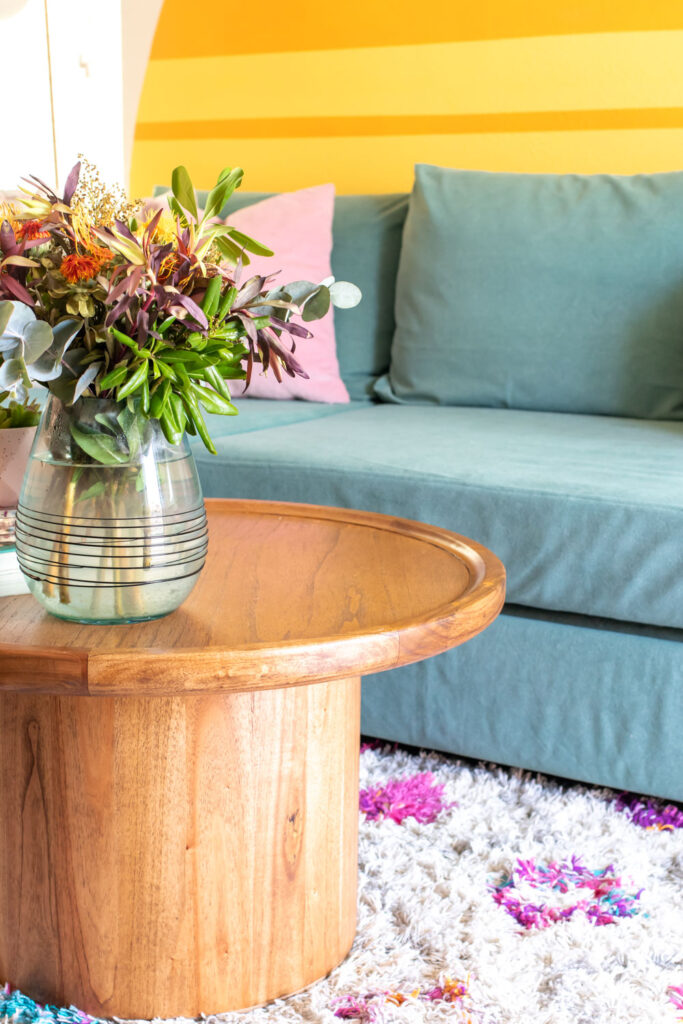 As I searched the web for "affordable" sofas, I wasn't finding one that worked for us. After all, sectional sofas that also pull into a full-sized bed are quite rare, and the ones I found were simply too expensive. Comfort Works offered the perfect fix! I first learned about Comfort Works via Instagram and longed to have a beautiful velvet sofa cover one day. Andrew wasn't so sure about my velvet idea at first, but now, he is really happy with the look and feel of the couch. They recommended their brand new selection of Claw-Proof fabric options when I mentioned our cats, who are responsible for the extensive damage to our sofa in the first place. The fabric is meant to be extremely durable, and I find that to be very true so far.
After sending us multiple fabric samples of the Claw-Proof Velvet fabric and a few others to choose from, we put in an order for our custom couch slipcover in Claw-Proof Velvet Green! Each one is custom-made, so it took a few weeks to arrive. Then we got to work assembling it!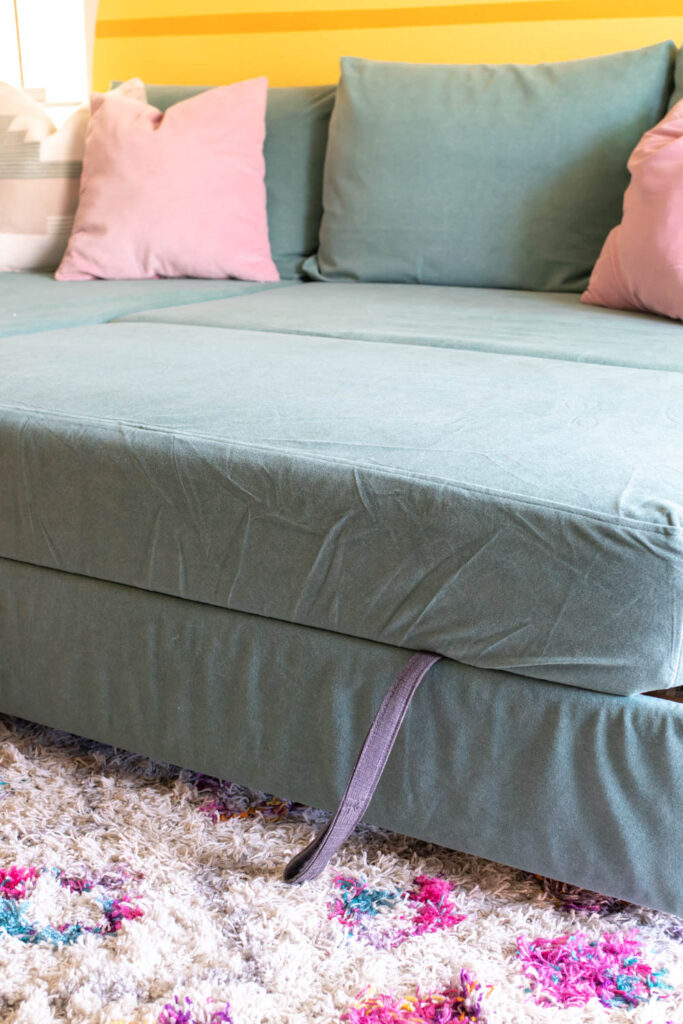 How to Update a worn IKEA sofa with a Slipcover
Installing the new sofa cover on our IKEA Friheten Sofa Bed took us a couple hours. Thankfully, Comfort Works has video tutorials on their website to show HOW to install the slipcover for each specific couch type. It requires you to disassemble the couch, add the covers on individual pieces and reassemble the couch. Is it a lot of work? YES. It is worth it? YES!
Depending on your sofa type, updating the slipcover may end up being easier for you than it was for us. Because it is both a sectional and a sofa bed, there are a lot of pieces to manage. You can see the time lapse above for a peek at how our assembly went.
Each piece of the slipcover has a tag specifying what piece of the couch it is designed for. This takes out any guesswork! Because you take the couch apart and reassemble it, you do need to create holes for hardware. I know it seems odd to be poking holes in your new slipcover, but it's actually helpful because this way you know the hardware holes with always line up with the slipcover holes (because the placement can vary). Then they are hidden inside the couch once finished.
Pay attention to which direction the seams are facing (outward). Comfort Works is also unique because each slipcover is available with wireless charging pockets. This is a great feature Andrew has been loving! For best results, make sure to run the cords for the charger BEFORE reassembling the pieces of the couch. This way, you ensure the outlines of the cords are not visible through the slipcover.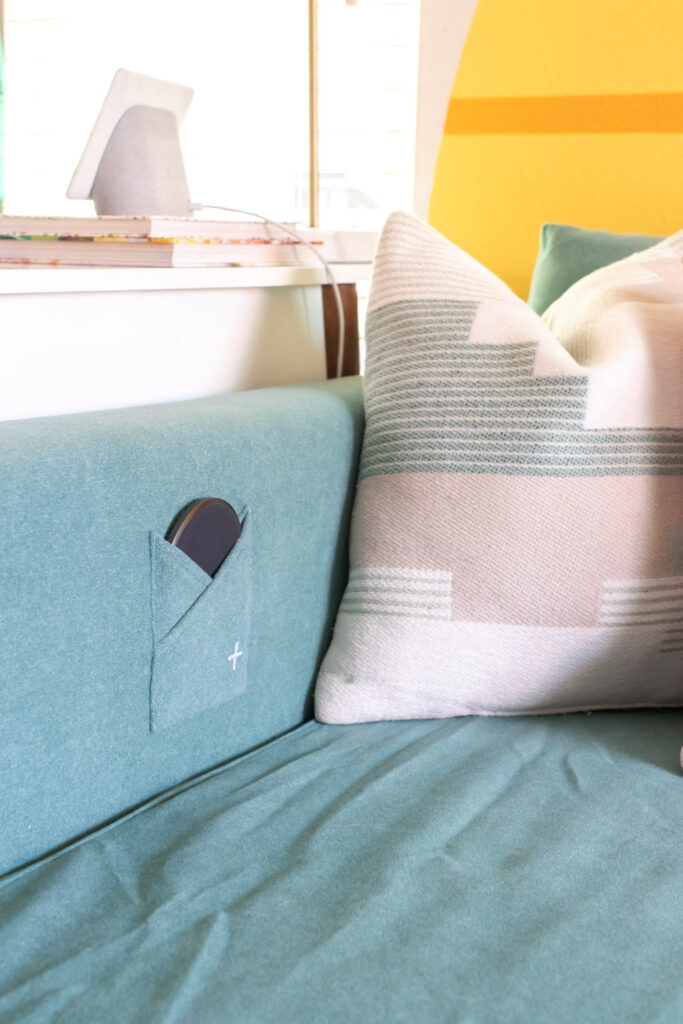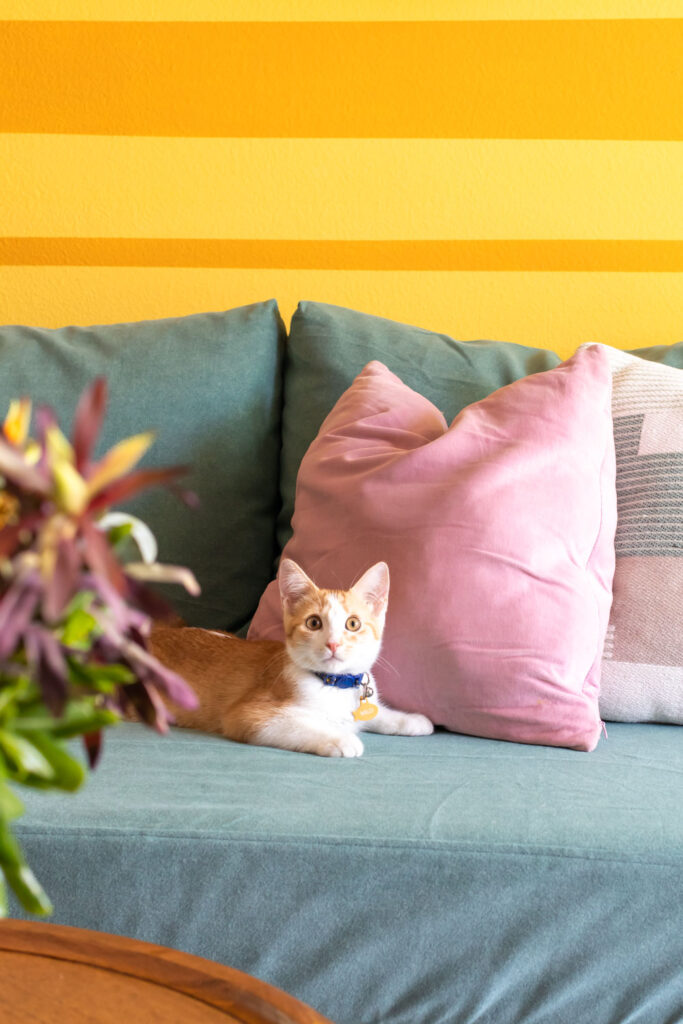 How DOES the Couch Makeover Hold up to Claws?
As you may have seen on Instagram, we adopted our kitten Milo, who is now four months old. He is good about not scratching the couch TOO much, but he's still learning. So far, I'm really impressed with how this Claw-Proof Green Velvet Slipcover has held up to him and Penny. Even as I tore holes in the slipcover for hardware, I was impressed with how difficult it was to break through the fabric with a literal knife. I'm convinced! I really believe this fabric is pet-proof will hold up to our cats.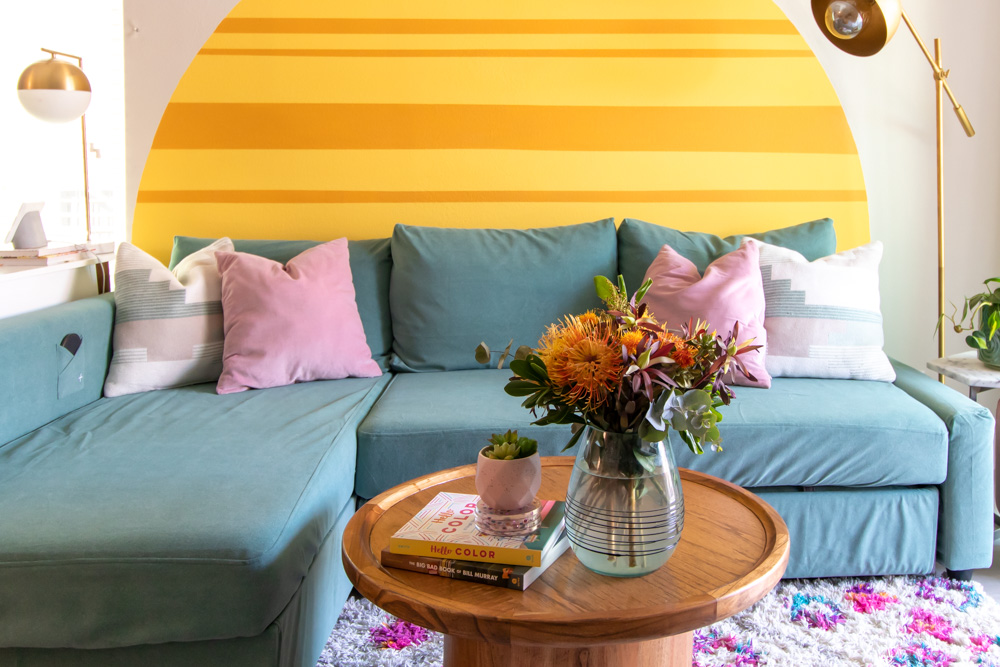 Once our new IKEA replacement slipcover was installed, we used a small steamer to remove some of the wrinkles. You can see I also painted a mural behind our couch! Inspired by a sunrise, it adds some personality to the space. Stay tuned for more details – I'll have a tutorial video available in the coming weeks!
We're thrilled with how we were able to update a worn IKEA sofa! It make us feel like we have a new couch, and it's made the space feel so much better (especially during a time we're at home so much). Be sure to check out the Comfort Work Slipcover Style Guide to help you choose a sofa cover of your own!
PS, see more renter-friendly ways to update your home in the archives!
Thank you to Comfort Works for generously sponsoring this post. All opinions are my own. Thanks for supporting the brands that keep Club Crafted sharing!