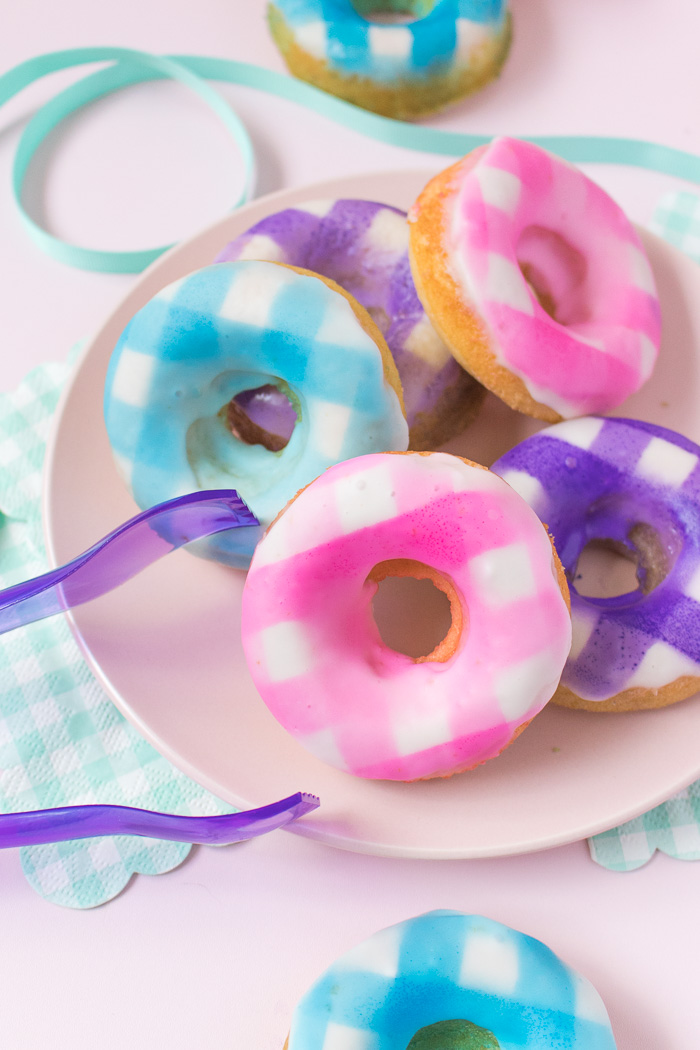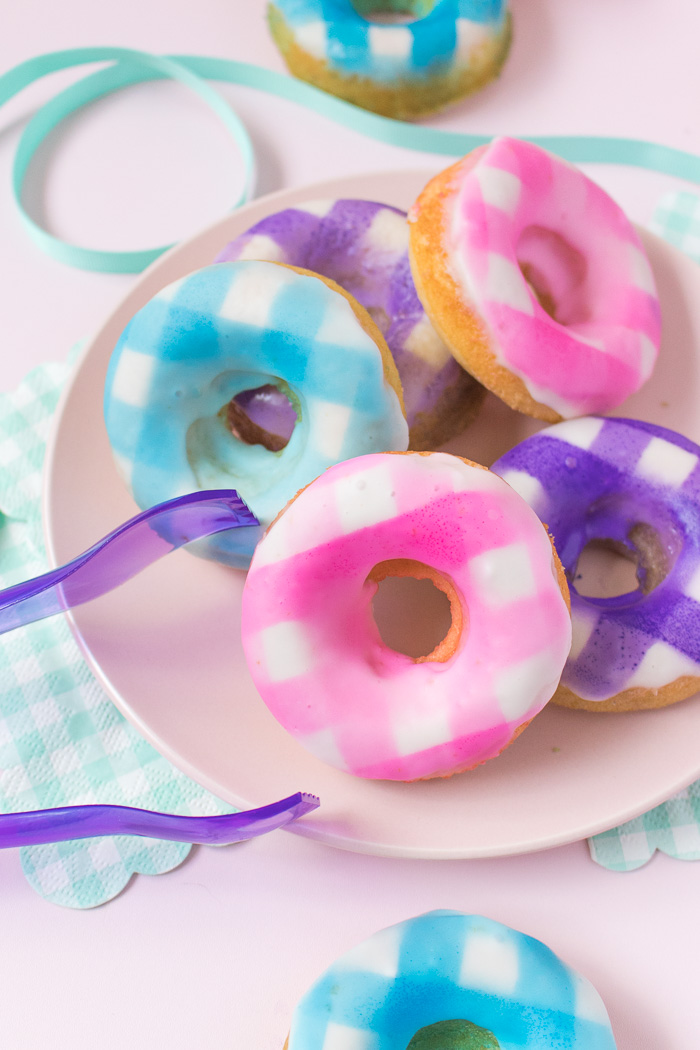 Happy National Donut Day! Can you believe it's been almost a YEAR since I posted a donut recipe or decorating tutorial? It has been tooooo long, so I'm celebrating National Donut Day with a simple decorating trick for making gingham donuts!! I've been really into gingham lately, and now it's time to transfer my love of it over to these adorable donuts painted with a gingham pattern. Not only am I sharing how to give them this pretty gingham look, but I have a simple donut recipe for you to follow to make perfectly tasty baked vanilla donuts. Since my most popular post of all time was these marbled donuts, a new idea was long overdue, but my favorite baked donut recipe hasn't changed much.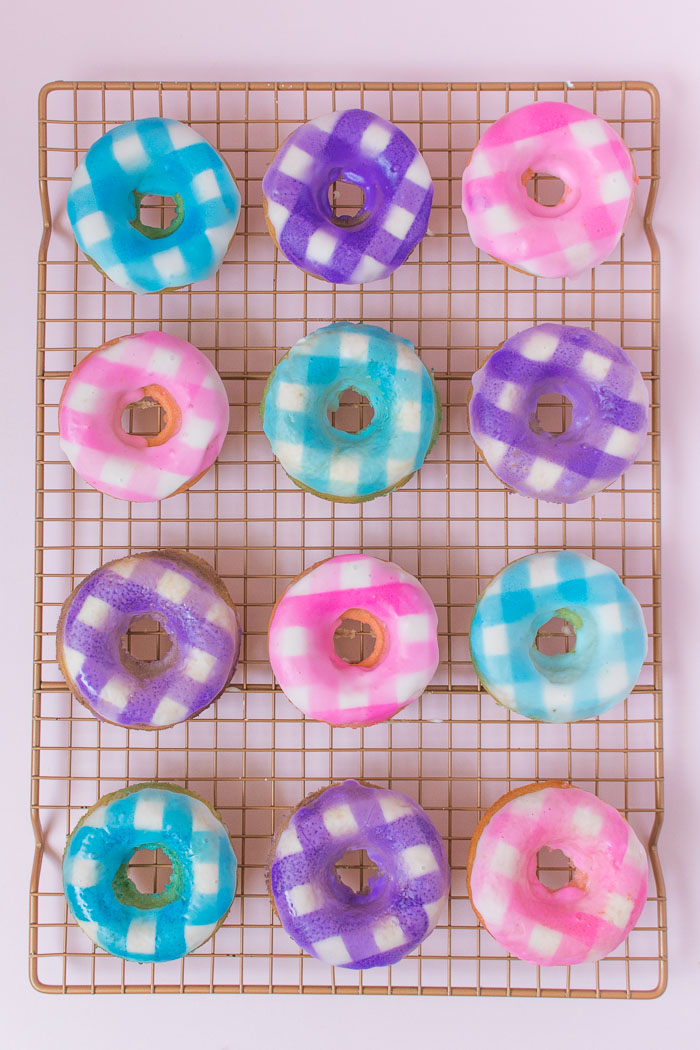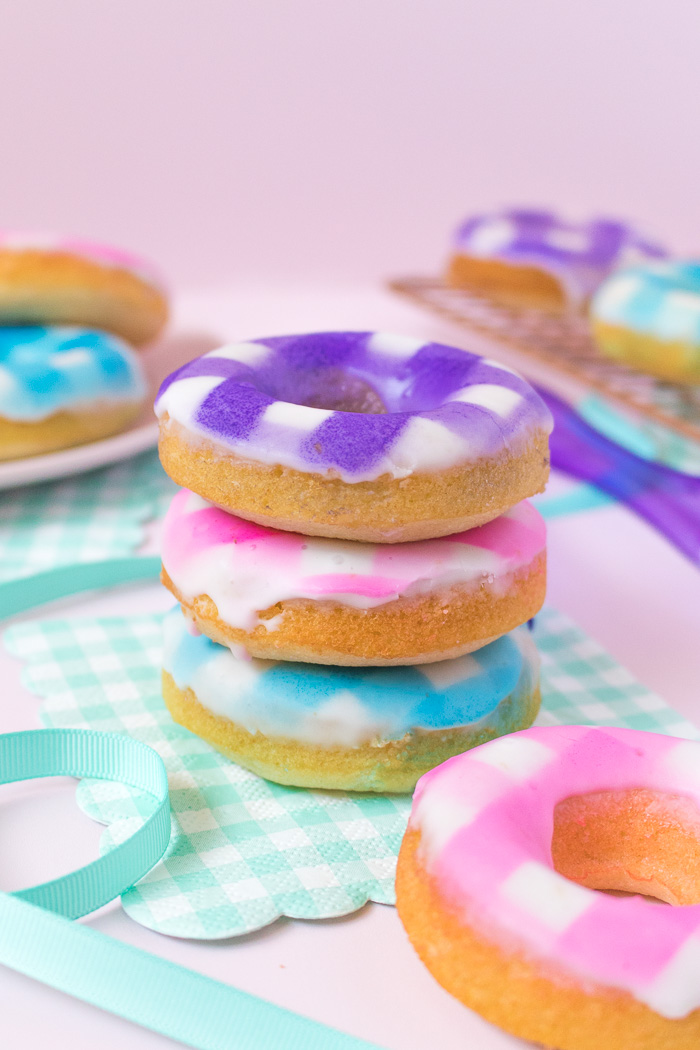 Like I said, I'm really into gingham right now, and considering the amount of gingham patterned dresses I've been gawking at online, I'm guessing I'm not the only one!
To give these donuts a cute, colorful gingham makeover, I used my secret weapon: edible spray paint. With a simple paper template, this picnic blanket-inspired design came to life very quickly. I used three different colors to give them some variety, but I think the pink ones are still my favorites.
Scroll down for the full recipe card! 👇🏼
It's safe to say I'm ALWAYS craving a donut, so this project was a pretty great excuse to eat ALL the donuts! Isn't it harder to resist when the donuts are pretty? Gingham donuts definitely take the cake (er, donut?) as the cutest donut project I've made so far! Now, here's how to make them.
How to Make Gingham Donuts
Supplies:
Vanilla Donuts (see below)
White icing (see below)
Cardstock paper
Craft knife
Cutting mat
Ruler
Edible spray paint (or Color Mist)
Step 1: Coat the donuts with smooth vanilla icing and set aside for the icing to harden completely.
Note, I HIGHLY recommend coating the donuts a second time for a smoother icing. You can tell the difference between the ones I coated once and the ones I coated twice.
Step 2: With a piece of paper on a cutting mat, place the ruler in the approximate middle and align it straight with the side of the paper. Make a long cut about 5 inches long.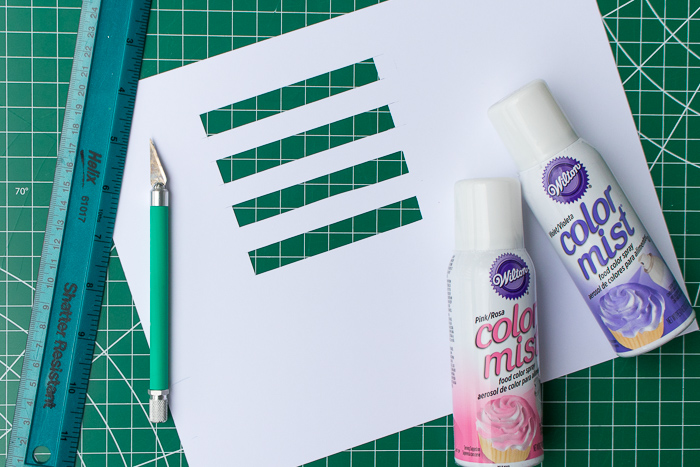 Step 3: About a half inch over, make another cut. Then connect the two and remove the middle. Repeat with strips cut out every half inch. It should be wide enough to cover a donut.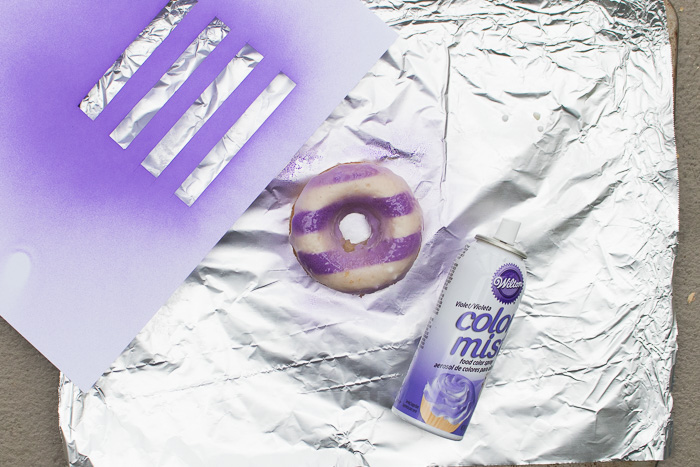 Step 4: Cover your surface well (consider doing this outside if possible). Place the paper stencil over the set icing and lightly spay the Color Mist. Remove the stencil and let dry for 10-15 minutes.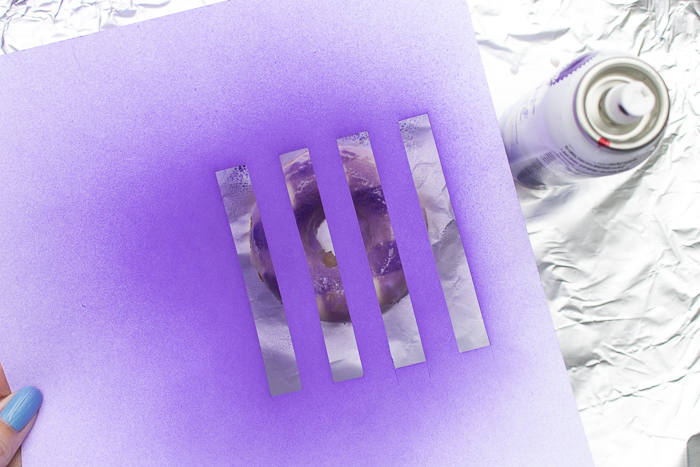 Step 5: Position the stencil at a different angle (about 90 degree difference) and spray another light coat to complete the gingham pattern.
Note, after a few uses, the paper may begin to seem soggy. Make another if needed, just to be on the safe side!
Once the color has set, your pretty gingham donuts are ready to eat!
Baked Vanilla Gingham Donuts
2018-05-31 08:55:35
Simple baked vanilla donuts with a white vanilla icing decorated with a gingham pattern
For the Donuts
1/2 cup butter, room temperature
2/3 cup sugar
2 eggs
1 tsp vanilla extract
1 ¾ cup all-purpose flour
1 1/2 teaspoon baking powder
1 tbsp corn starch
1/4 tsp salt
3/4 cup buttermilk
For the Icing
2 cups powdered sugar, sifted
1 tsp vanilla extract
2-3 tbsp milk
Edible spray paint (Color Mist)
For the Donuts
Preheat the oven to 350 degrees and spray two donut pans with cooking spray. Set aside
Whisk together the flour, corn starch, baking powder and salt in one bowl and set aside
In the bowl of your mixer fitted with a paddle attachment, beat the butter and sugar until light and fluffy
Mix in the eggs and vanilla
Add the dry ingredients in batches, scrape the bowl and mix in the buttermilk until smooth
Move the batter to a pastry bag or large ziplock bag , cut the tip and fill each donut cavity 3/4 full with batter
Bake for 10-12 minutes until an inserted toothpick comes out clean and the edges have barely browned
Set aside to cool completely before glazing
For the Icing
Sift the powdered sugar into a large bowl
Whisk in the milk and vanilla until smooth but still thick
Carefully dip the tops of the cooled donuts into the icing, allow excess to drip off and set aside to harden for at least one hour
For the Gingham Pattern
Cover your work surface to protect from color splatter
Lay the paper template on top of the set icing and lightly spray with a coat of Color Mist
Remove the template and allow color to try for 10-15 minutes
Place the template on top at a different angle (90 degrees) and spray again to complete the pattern
Notes
Store iced donuts in an airtight container at room temperature for up to 3 days
Club Crafted https://www.clubcrafted.com/