/
How to Sew a Hand Embroidered Camera Strap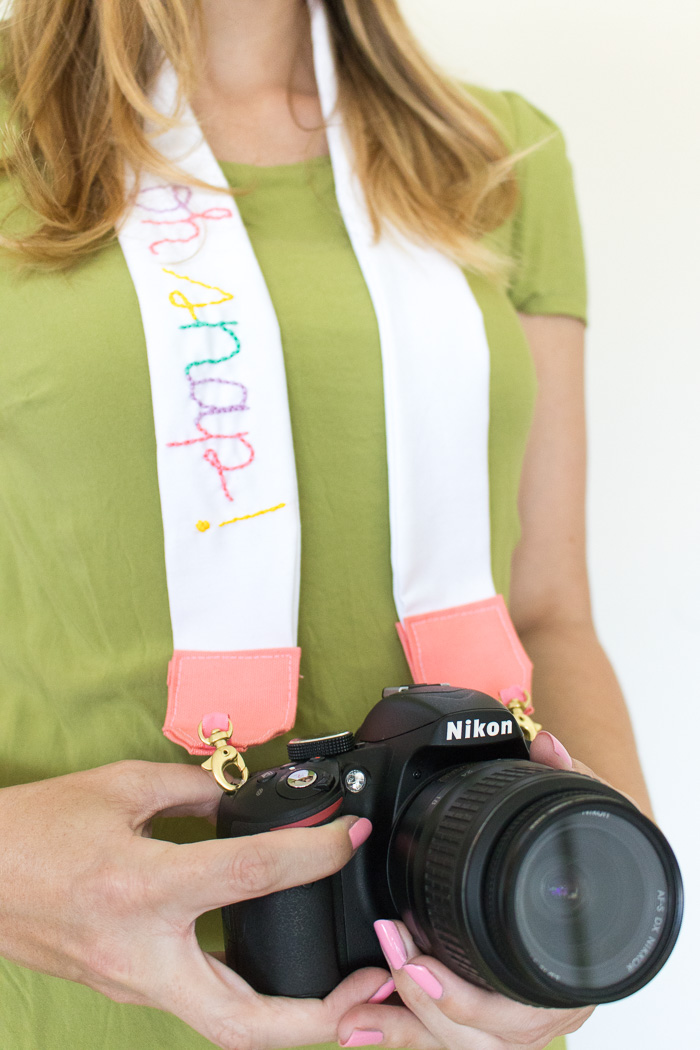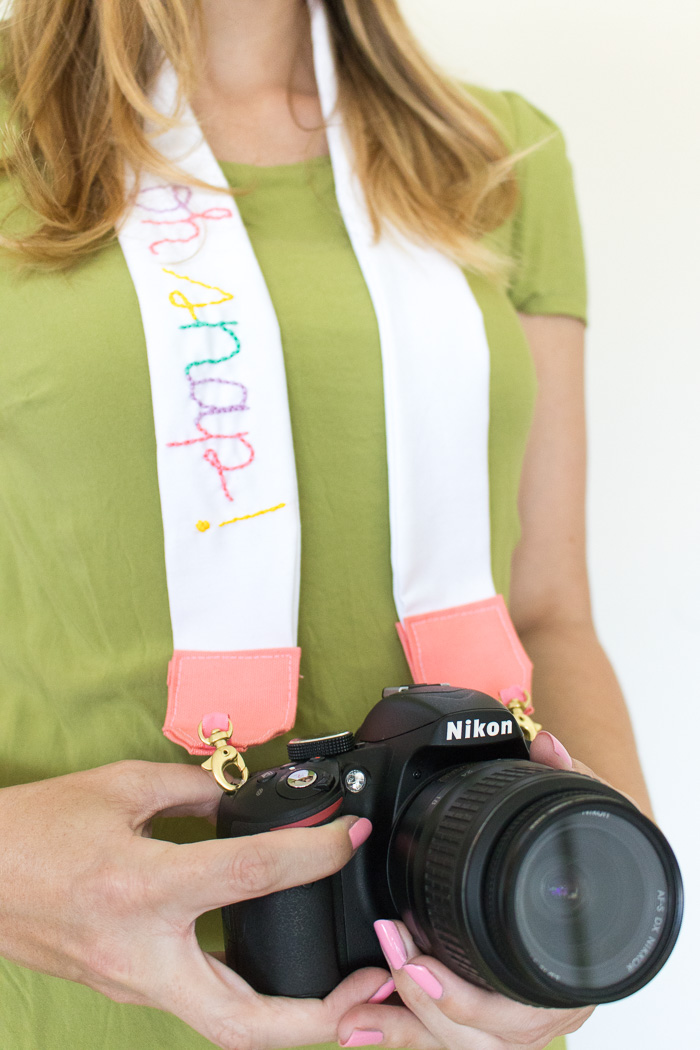 I've been practicing a lot of crafting techniques lately (as you saw with my needle felting project recently) and now I'm practicing embroidery. I always worry that I don't have the patient for embroidery, but when I started making this hand embroidered camera strap, I learned to love it a lot more! Not only can I share how to embroider your own camera strap but this tutorial will show you how to sew a camera strap of your own with a size that fits perfect to your preferences. Using lobster clasps, it's easy to remove and change out whenever you'd like if you're the type of photographer who wants to change your camera strap with your mood. I've used the same strap for years and LOVED it – I highly recommend Couch straps on Etsy – but the design on the leather was beginning to fade so it seemed like a fun opportunity to try a DIY version and make my own camera strap! Naturally, it was in need of a pun as well as a little color, so this "oh snap!" design is embroidered with four bright colors.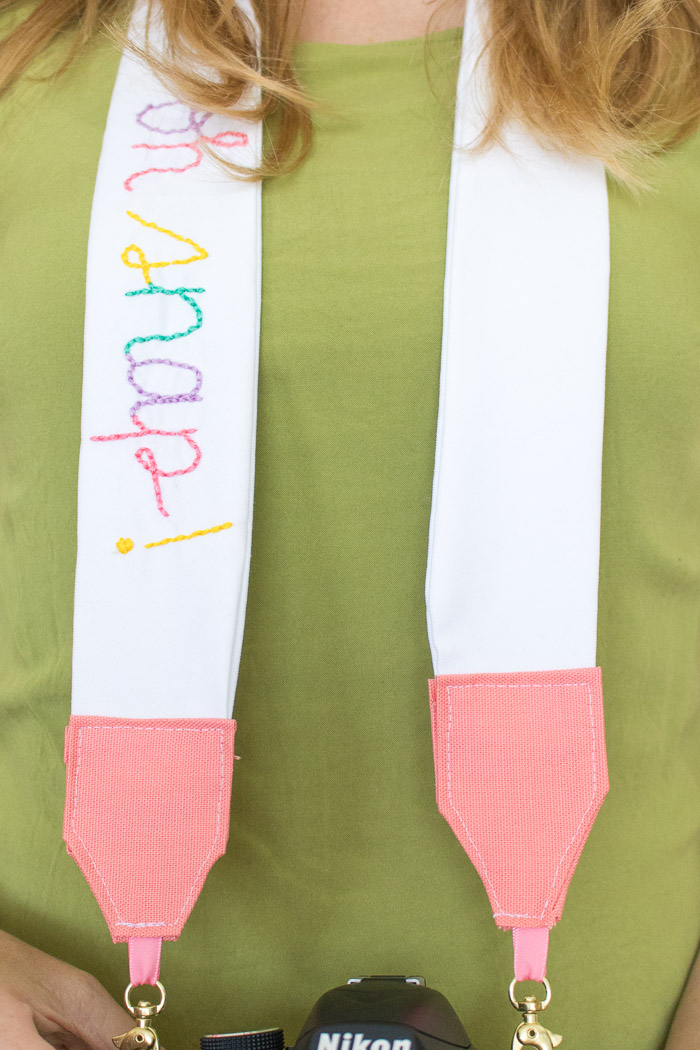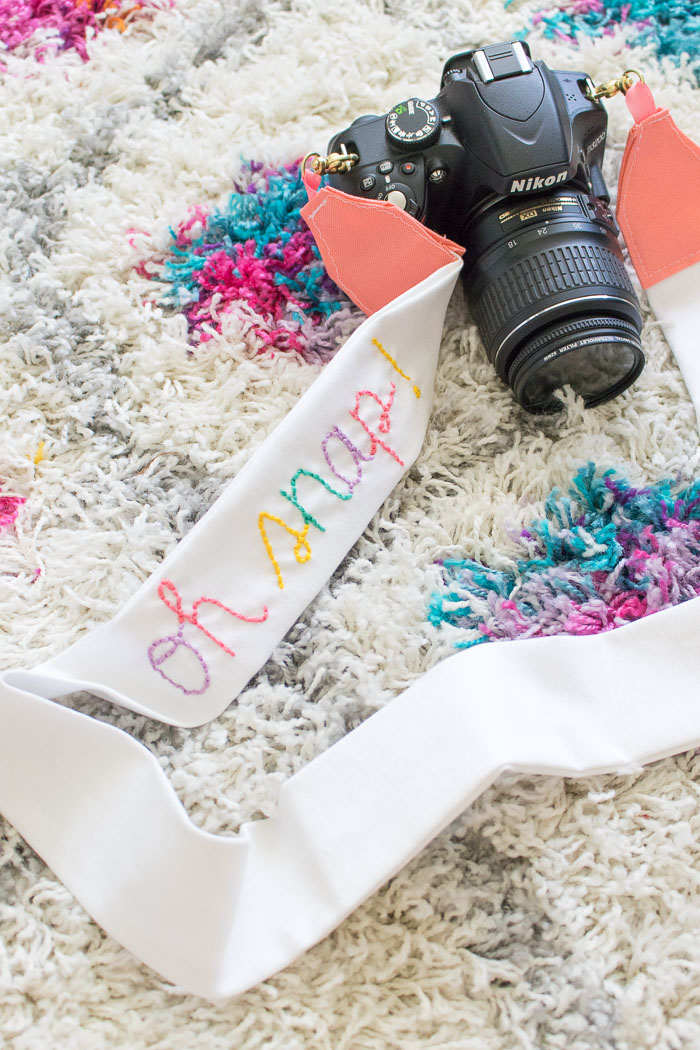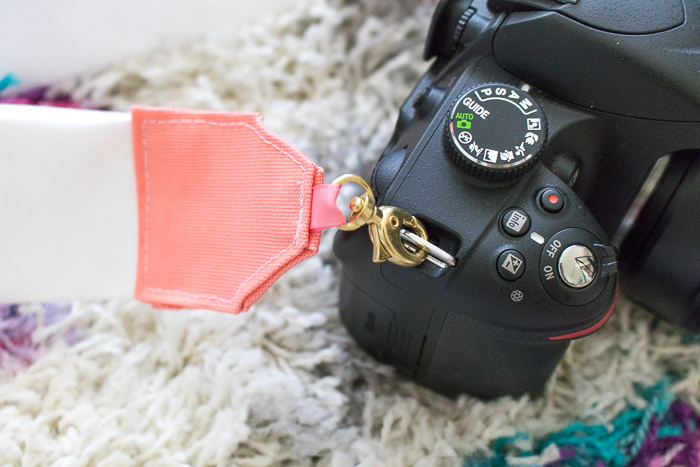 The way I designed this project ensures that the backside of your embroider is hidden inside the strap, so you get a pretty clean look to the finished embroidered camera strap! The most difficult part of this project for a beginner is the connector pieces (and yes, I still consider myself a beginner) because it's difficult to line up both sides and ensure they are ironed to be equal sizes. The nice thing is you can iron and re-iron them as much as needed to get the sizes right before actually sewing them. Please just be careful not to burn yourself with the iron making those thin folds!
For the embroidered part of this tutorial, just sit back with a good show on Netflix and stitch away. It will be over before you it! I think mine took about 30-40 minutes to embroider.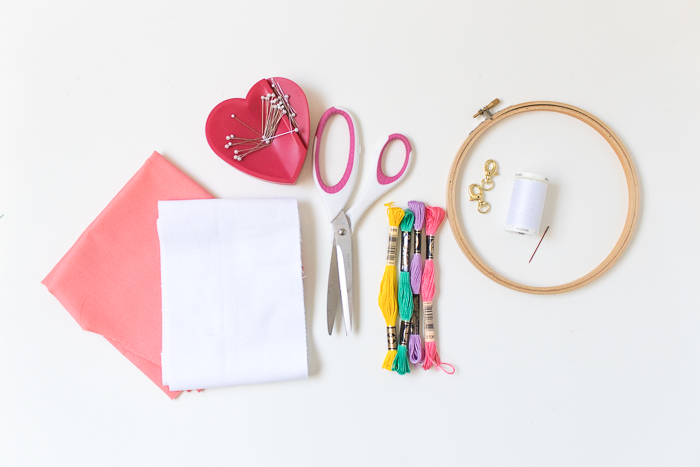 Time: 1 hour
Supplies:
1/4 yard medium weight fabric, white or chosen color
Scraps of medium weight or canvas fabric, secondary color
Embroidery floss, multiple colors
Sewing machine
Iron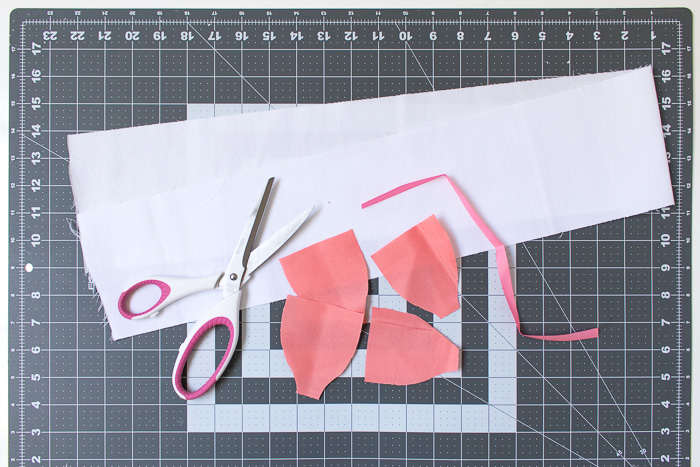 Step 1: Cut a piece of fabric about 5 x 40 inches for the strap. Then cut four small pieces of the above linked strap connector template out of your secondary color. Also cut a small piece of ribbon.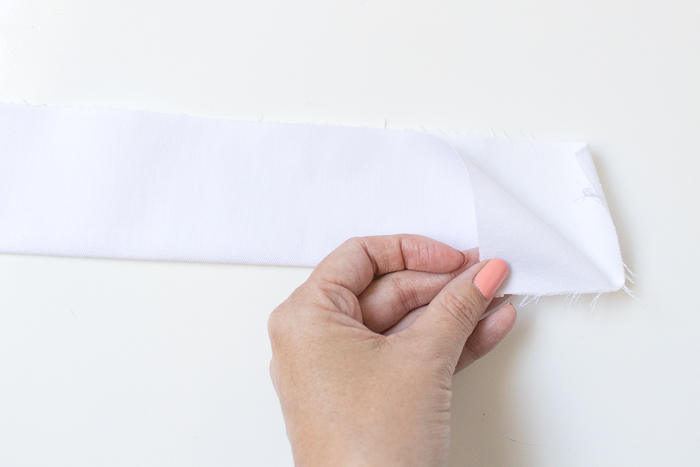 Step 2: Iron the long strap piece in half so that it is 2.5 inches thick.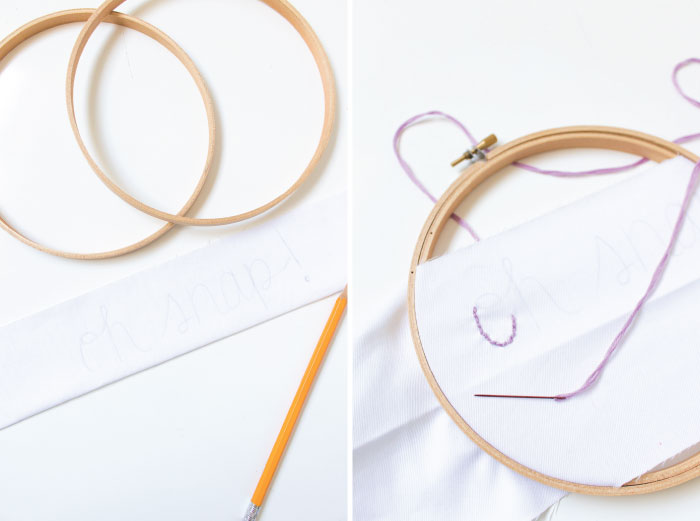 Step 3: With the ironed side as the bottom, sketch out your embroidery pattern, such as the words "oh snap!" Unfold the fabric. Thread a needle with your chosen embroidery floss (I double up for thick strands), insert the section of fabric into an embroidery hoop, then embroider over your template, switching colors for each letter if desired. I use a back stitch.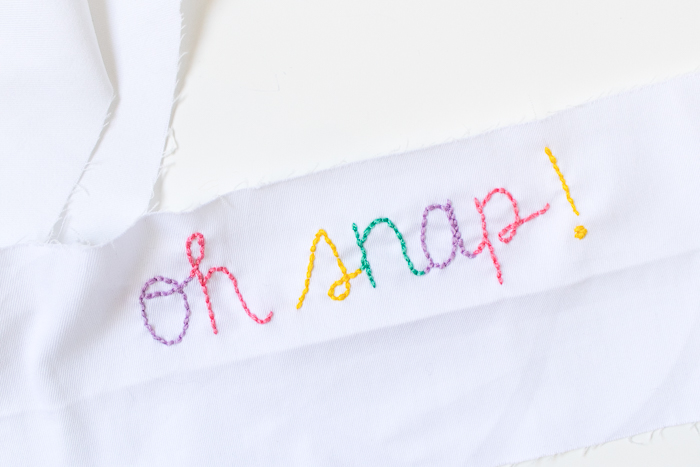 When you finish stitching, the ugly backside of your embroidered camera strap will end up hidden when you sew the strap together!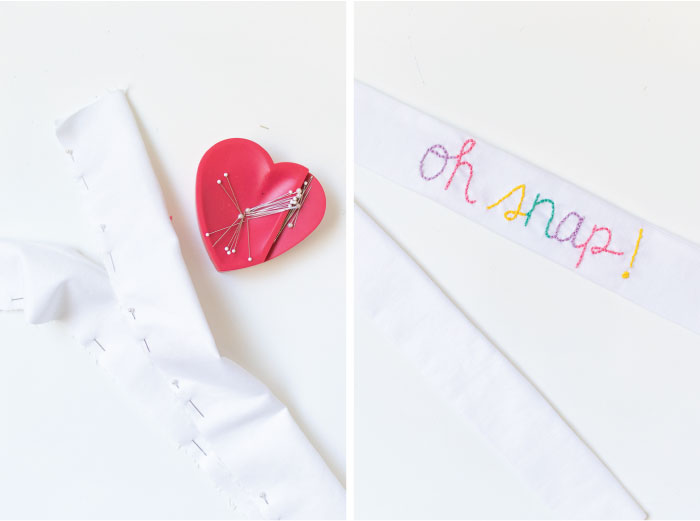 Step 4: Now fold the strap in half with the embroidery on the inside and pin along the edge. Sew a straight line along the pin line.
Step 5: Trim loose threads and turn the strap right side out, revealing the clean embroidered design. Iron for a clean seam.
Step 6: Cut the ribbon into two 2-inch pieces. Thread through the lobster clasp. I folded it so that the patterned side would not be visible.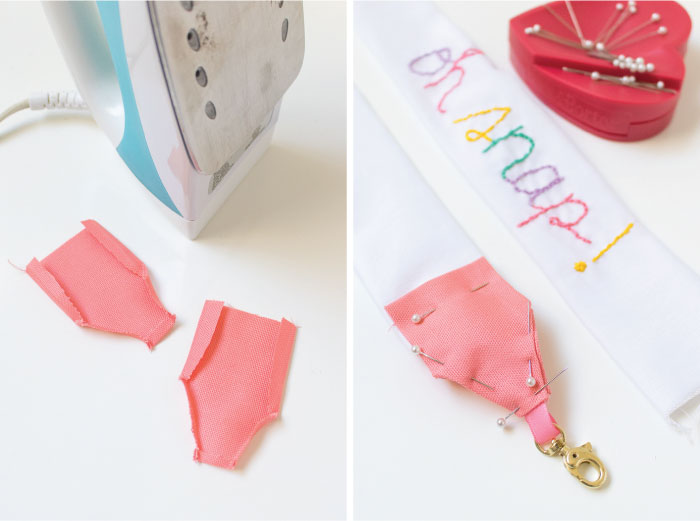 Step 7: Iron thin seams into each side of the four strap connector pieces. Don't worry about maintaining the curved shape of the template. It must be as wide as the sewed camera strap and each set of pieces should mirror each other to create a front and back.
At this point, measure your camera strap around your neck and trim the bottoms if desired, accounting for the added length from the strap connector pieces.
Step 8: Once ironed to create clean sides, pin to the embroidered camera strap, sandwiching the bottom of the strap between the two connector pieces. At the bottom, insert the ribbon between the connector pieces as well and pin in place. Sew around all sides with a thin seam.
As you can see, mine isn't perfect! My sewing machine had trouble sewing through all the layers of fabric.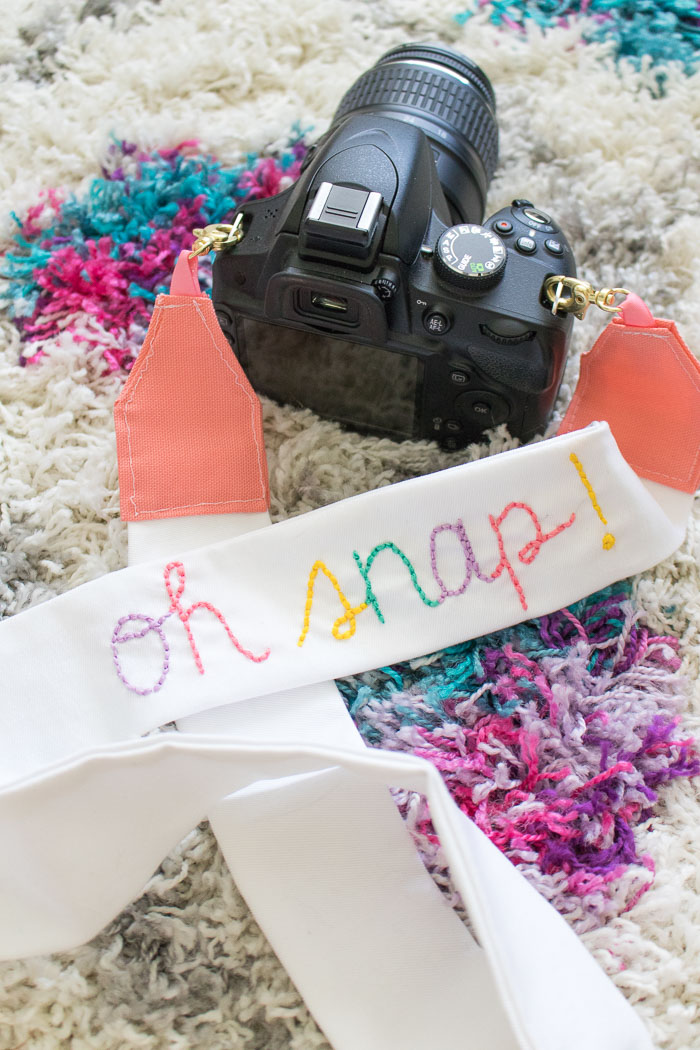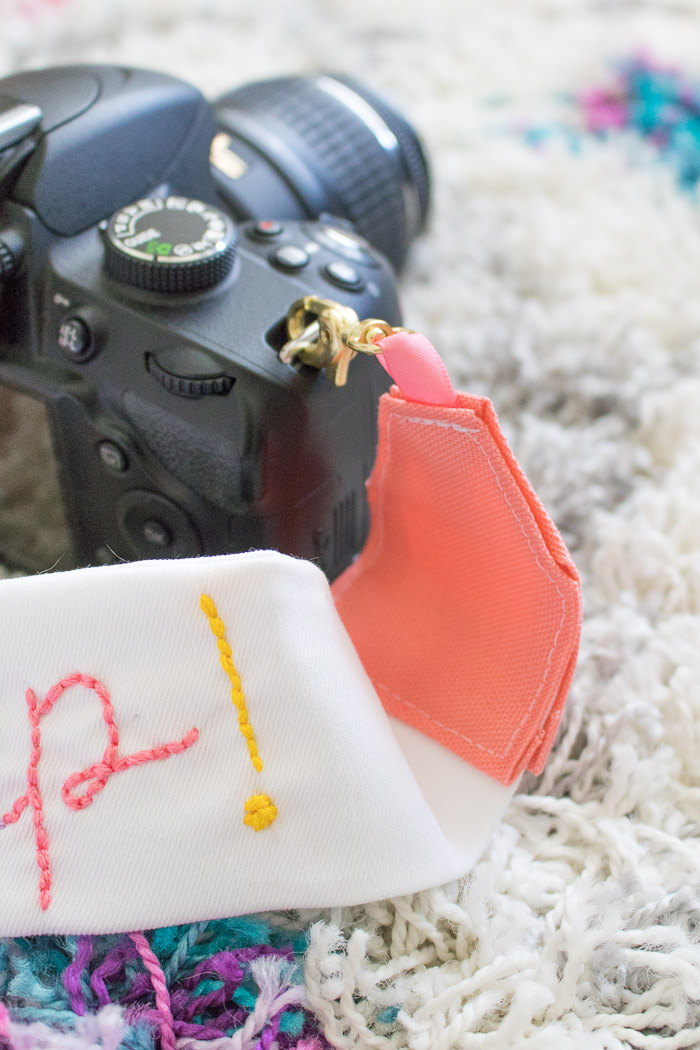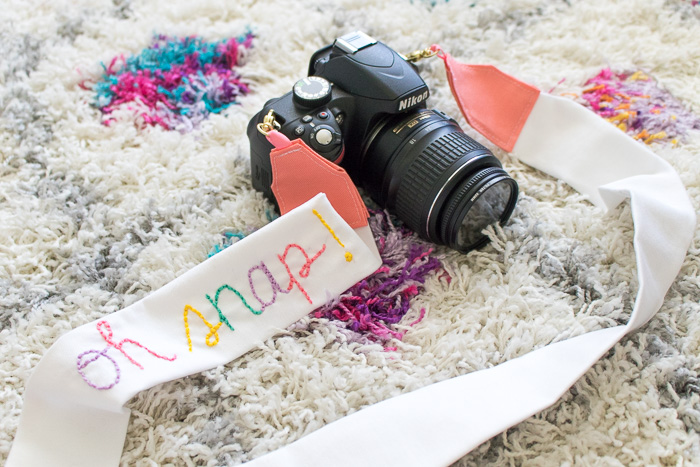 Now your hand embroidered camera strap is ready to wear! Simply attach the lobster clasps to your camera and you're ready to go!
Please note this post contains affiliate links from which I may collect a small profit should you choose to make a purchase. I only link to products I personally use or recommend.