/
Fruity Pebble French Toast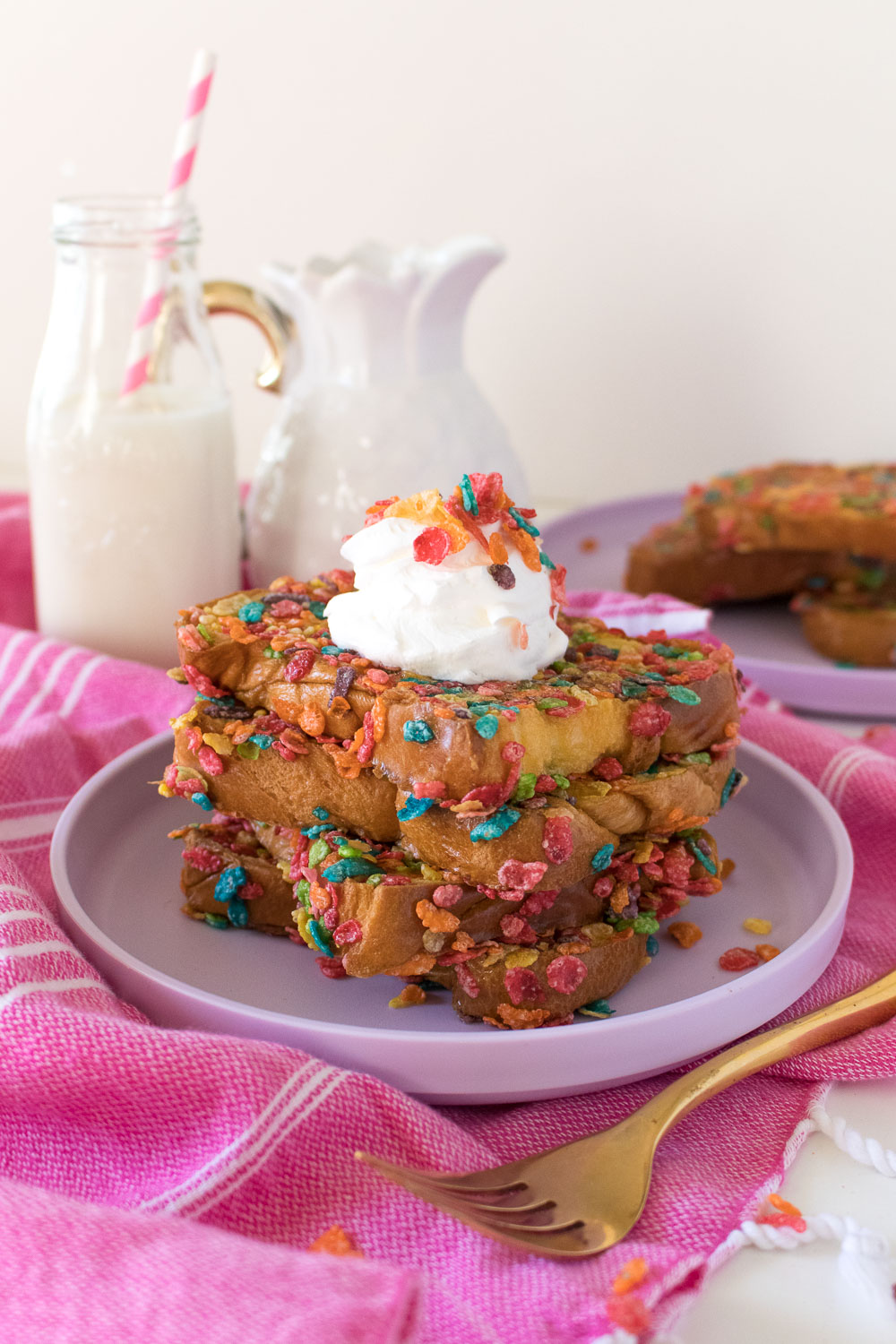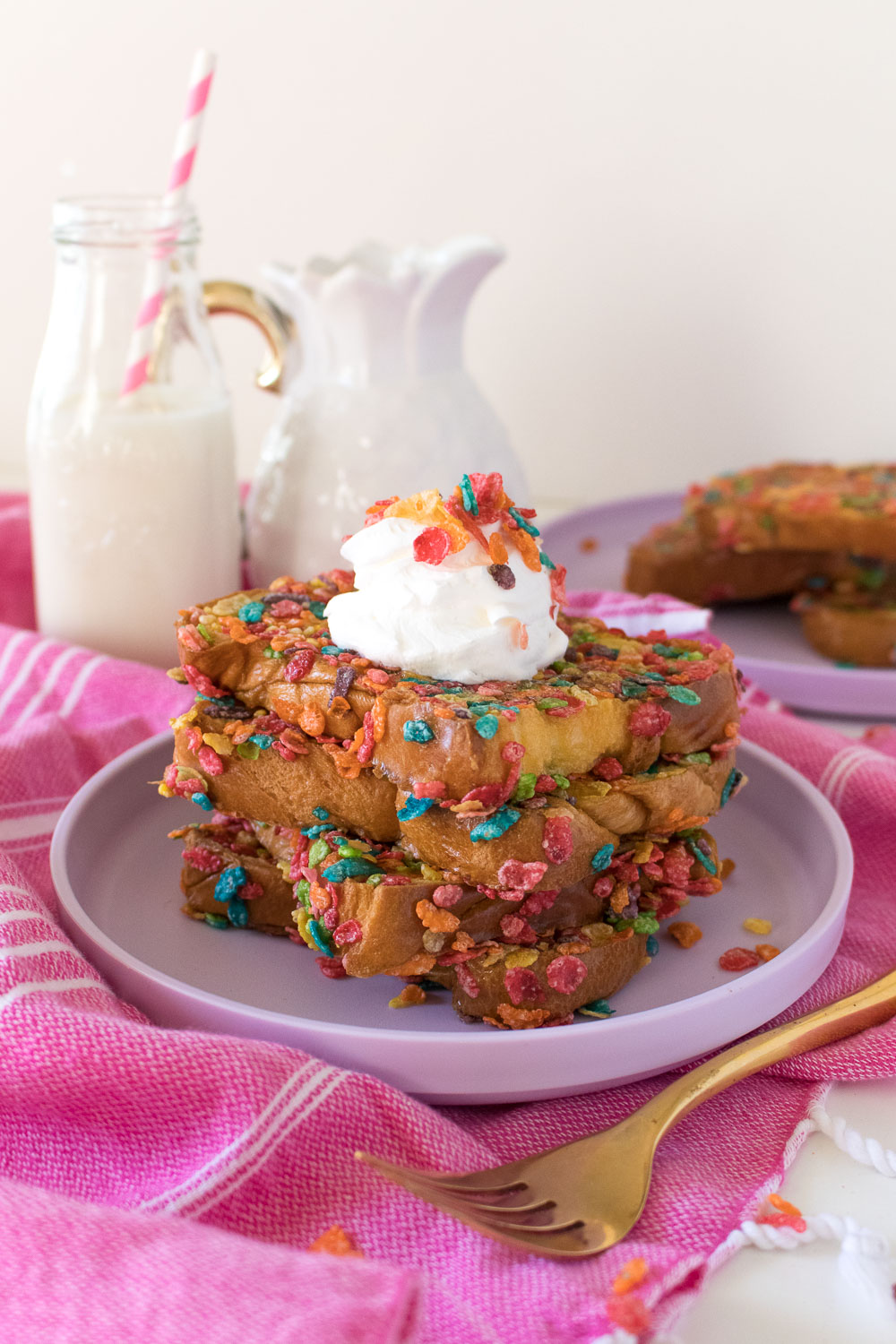 New year, new posts! I hope you had the best holiday season with friends and family! I know I did, and it's incredibly hard to find the motivation I need to get back to work this week after taking an entire week off for family time. I thought I'd kick off 2018 with a colorful breakfast recipe I couldn't wait to try – Fruity Pebble French toast! This super easy recipe combines the delicious taste of classic French toast with the fruity crunchiness of Fruity Pebbles or similar cereals. This lightly crispy French toast is to-die-for and perfect for a fun breakfast with kids or adults.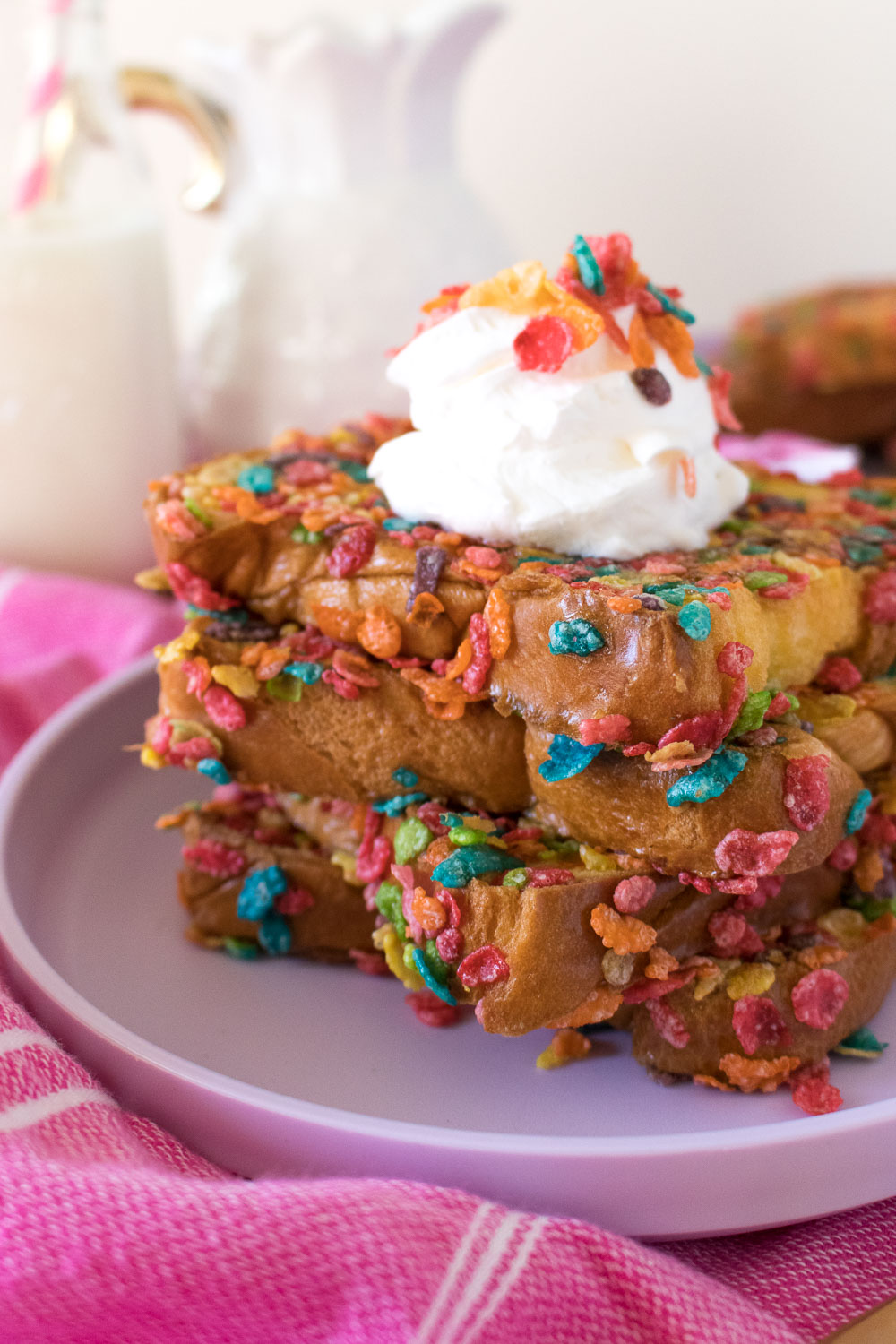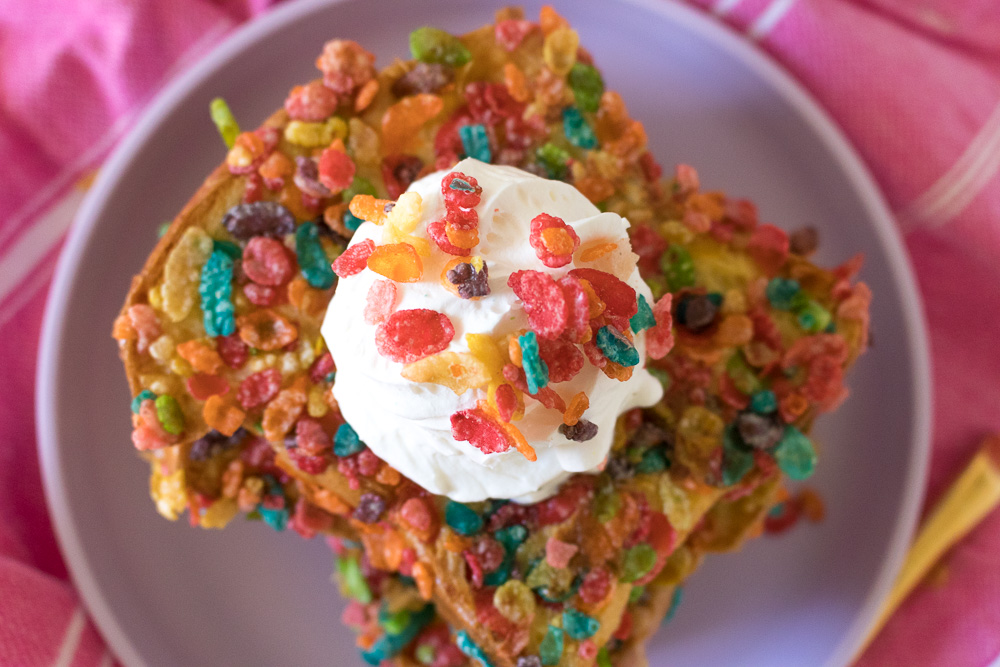 French toast is my all-time favorite breakfast food! It's my go-to order at breakfast and brunch, and there's no argument that the thick brioche bread it the best way to make it. With high quality, thick bread and a box of fruity gem-like cereal, this Fruity Pebbles French toast is bound to be your favorite weekend meal, especially when you see how easy it is to make.
Scroll down for the full recipe card! ??
Unlike regular French toast, I don't think this fruity flavored French toast needs any syrup, but I'll leave that up to you. Personally, I thought a dollop of whipped cream was the perfect pairing, and some fruit on top would make it even a little better. Now, if only I could find a way to eat this Fruity Pebble French toast every day…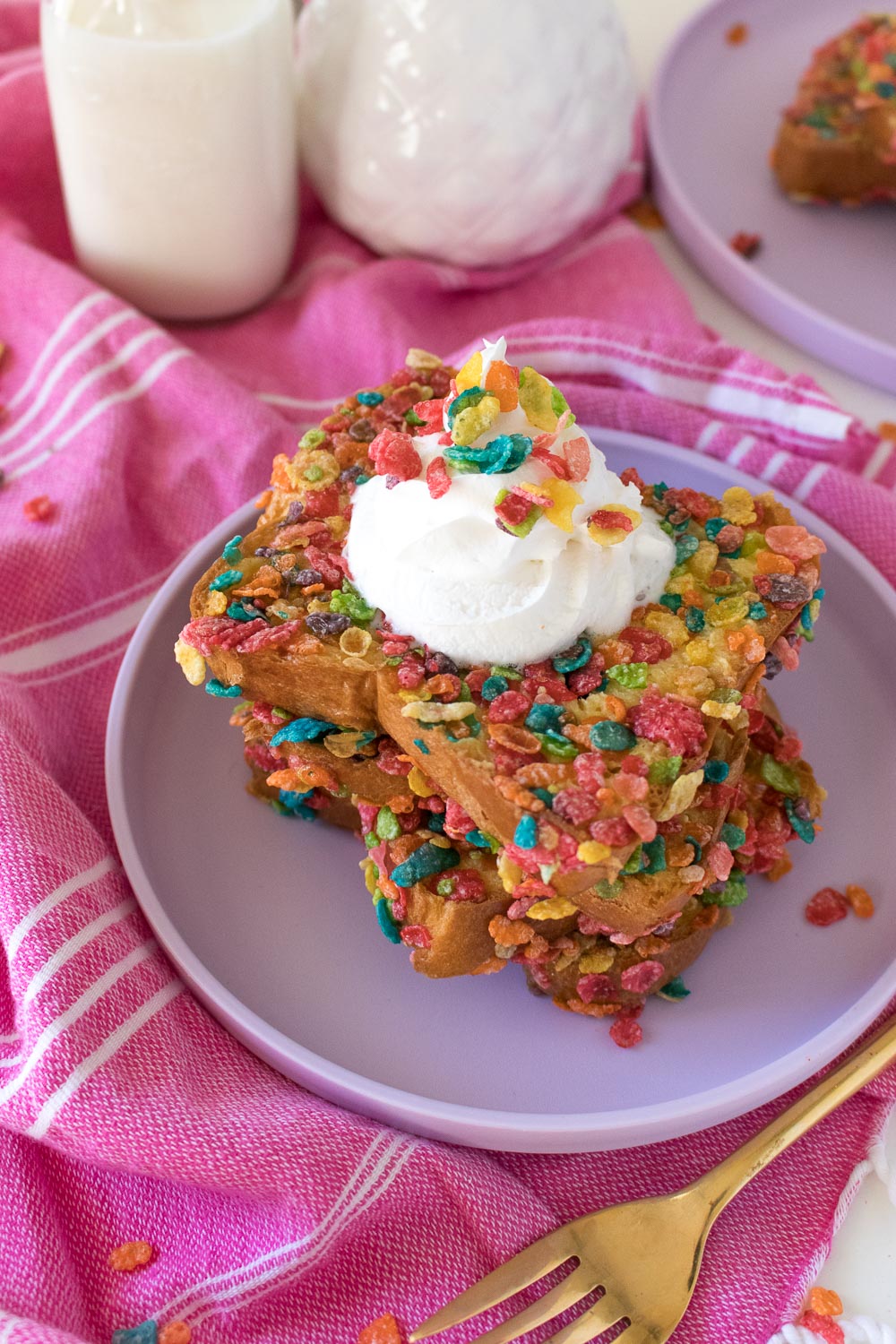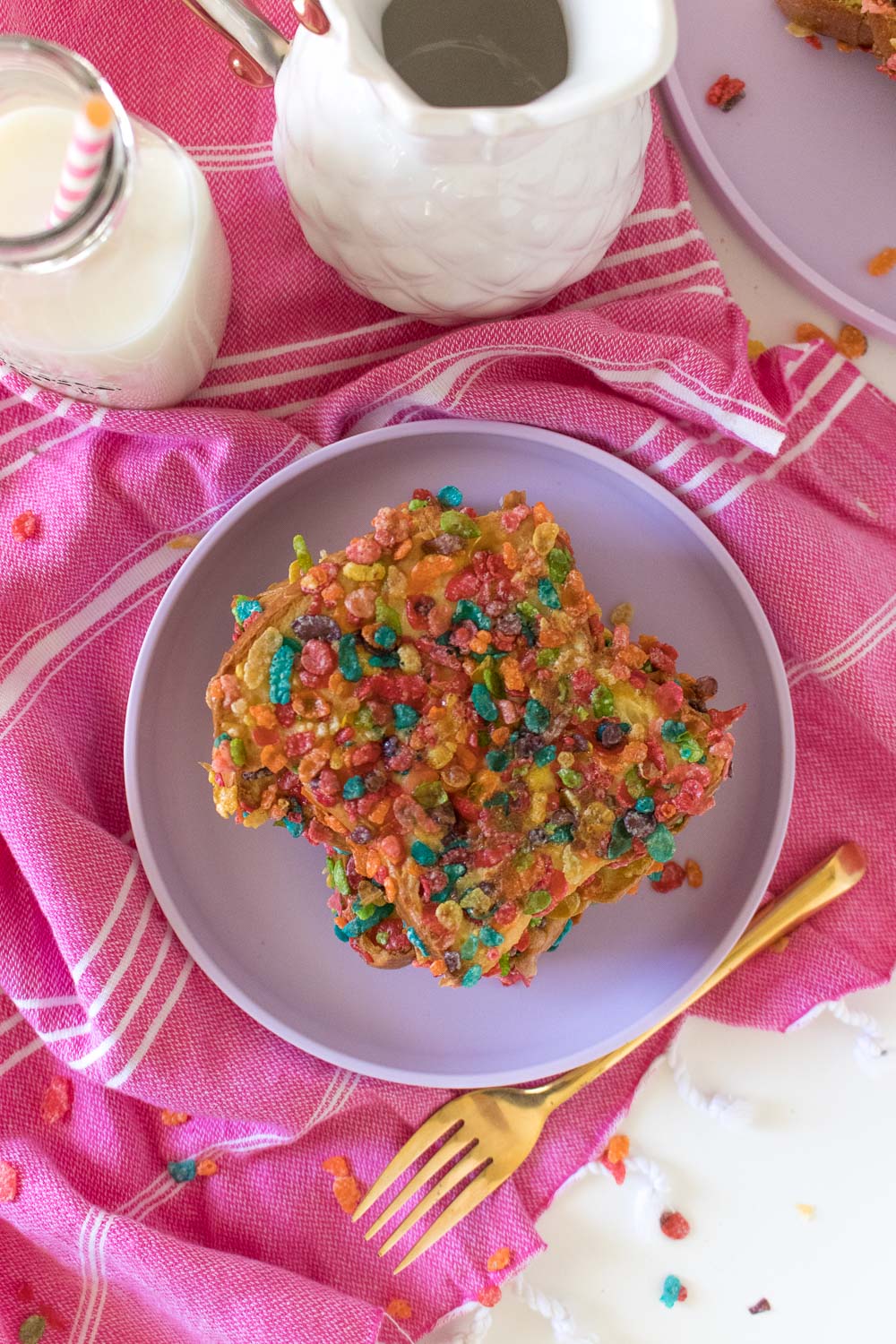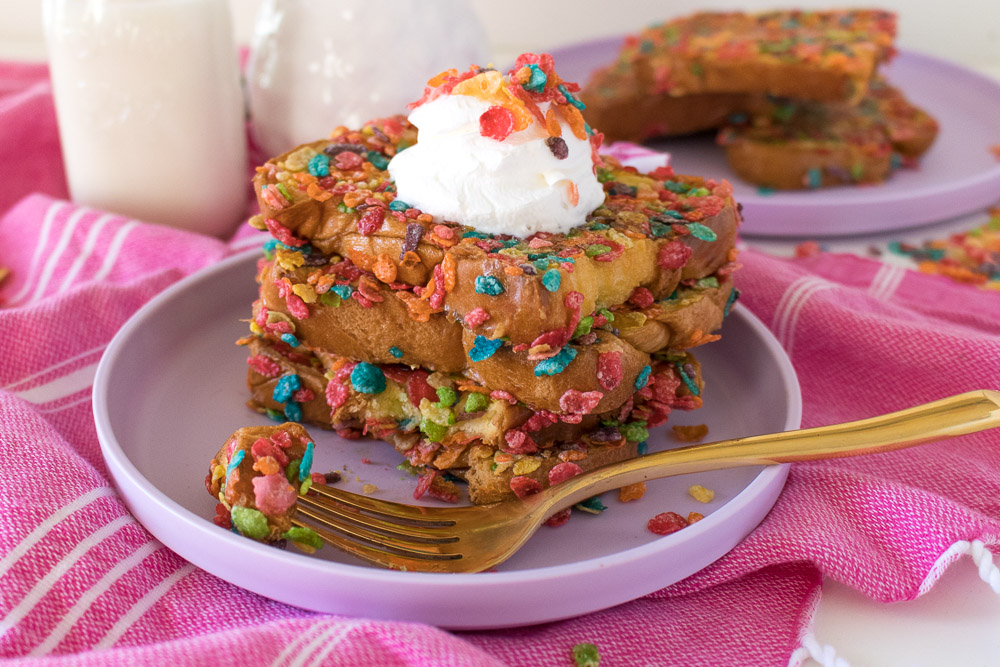 As I was telling Andrew about this recipe idea, he was very skeptical because he assumed the cereal would just brown all over and become ugly, but LUCKILY that is not the case. When you use a griddle or lightly coated non-stick pan, there isn't enough liquid to actually fry the bread to brown the crunchy cereal, so there's no risk of your French toast frying like chicken strips. With this method, the cereal stays nice and colorful, but you still enjoy a light crunch and fully cooked French toast. After all, no one wants mushy French toast for breakfast!
If you love fruity flavors or if you just love French toast, you're going to love this recipe!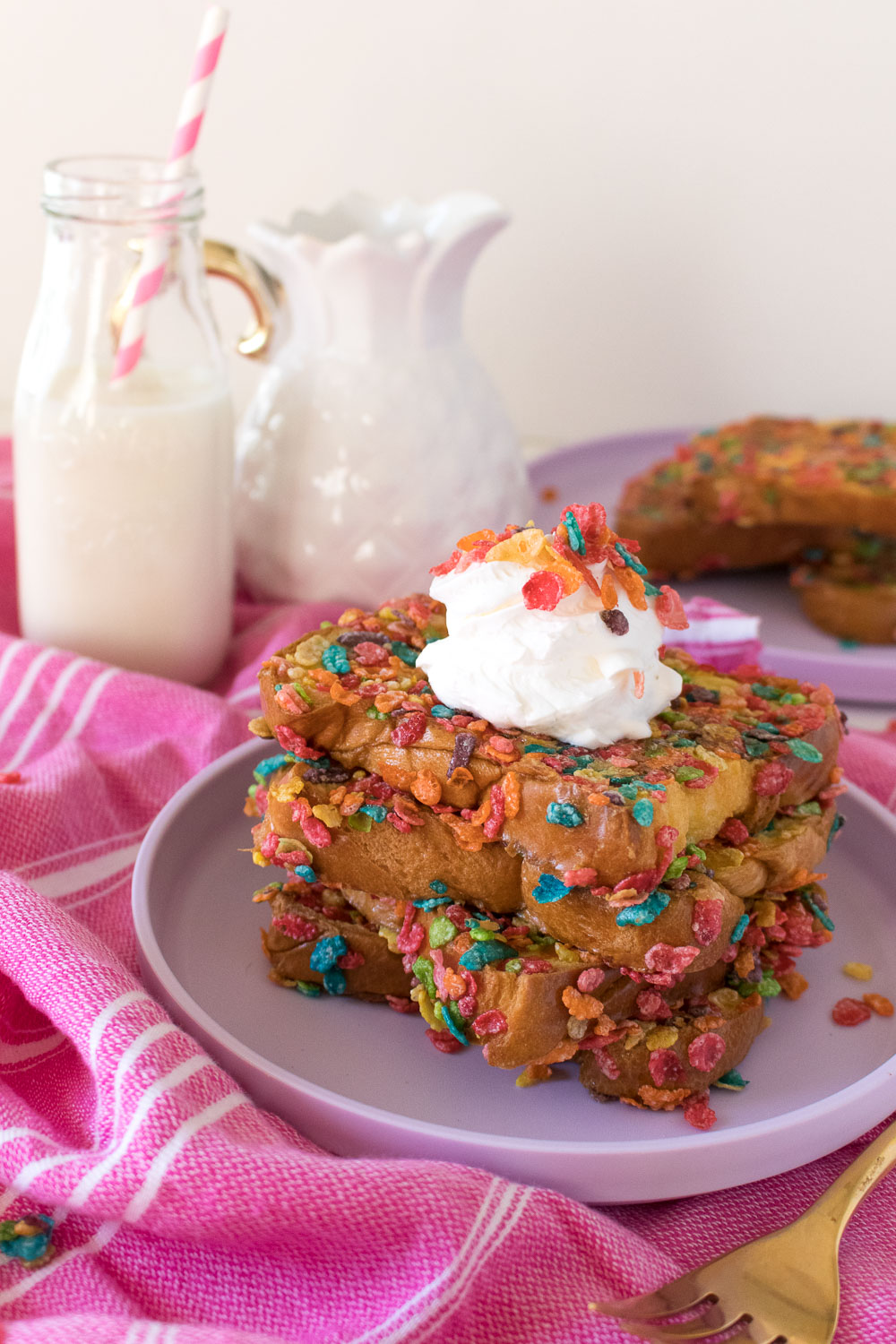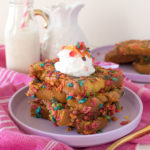 Fruity Pebble French Toast
2017-12-30 15:26:21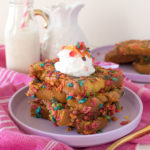 Deliciously crunchy French toast cooked with a crust of fruity gem cereal
Ingredients
Brioche bread, cut into thick slices
Fruity gem-like cereal
6 eggs
1/2 cup milk
1 tsp vanilla extract
1/2 tsp cinnamon
Instructions
Preheat a griddle to about 400 degrees F and lightly spray with cooking spray
Cut a loaf of brioche bread into thick slices and pour the fruity cereal onto a plate
In a medium-sized bowl, whisk the eggs with a fork until smooth.
Mix in the milk, vanilla and cinnamon
Dunk both sides of the bread into the egg mixture to saturate, then place on the plate of cereal and coat both sides
Place the bread on the griddle and cook for several minutes on both sides until very lightly browned and a little crispy
Cook all pieces of brioche bread and top with whipped cream, fruit, syrups or other toppings
Club Crafted https://www.clubcrafted.com/