/
DIY Bop It Costume // 90s Toy Costume for Halloween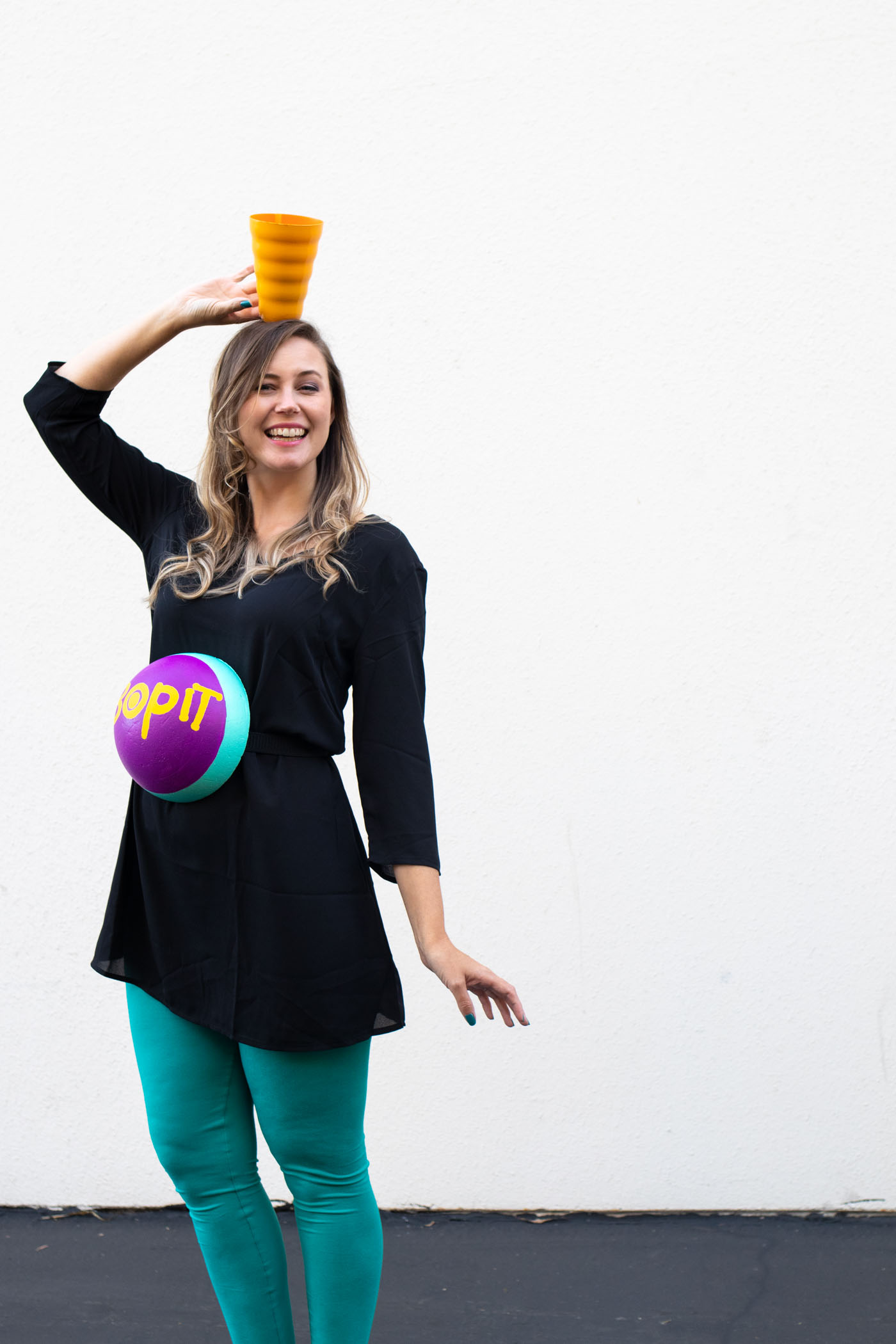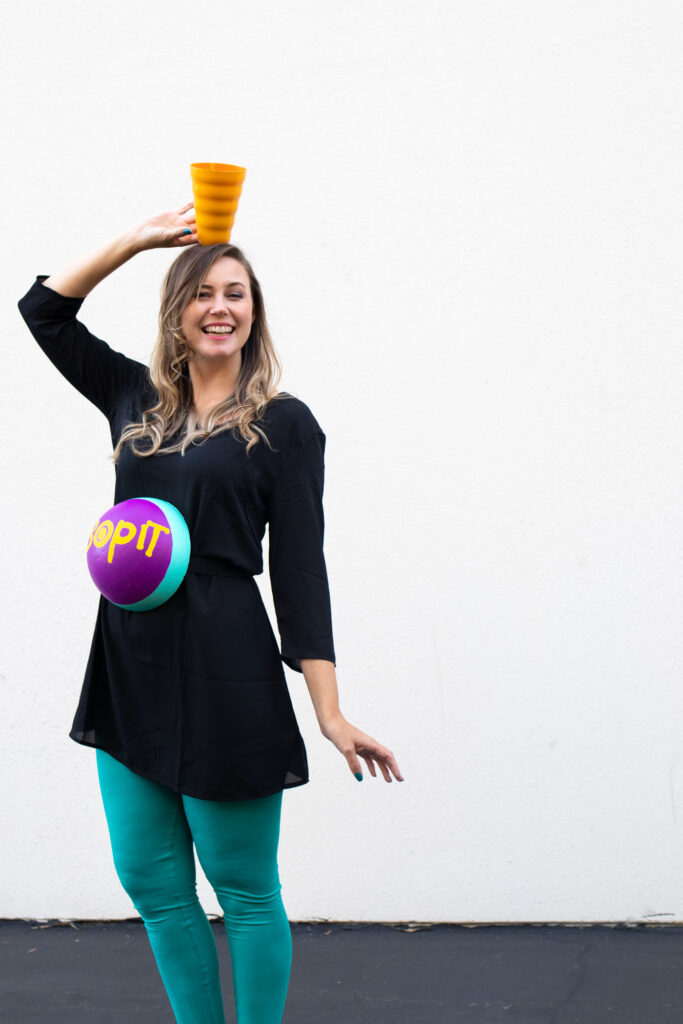 Just Bop It! I hope that any 90s kid can remember the Bop It! game (the classic version, of course) where you twist it, pull it or Bop It based on the combination the game tells you. I've been so inspired by nostalgic costume ideas this year that I wanted to make an easy DIY Bop It costume for kids or adults to make this year! It's an easy last-minute Halloween costume that just requires a little paint and a trip to the craft store. All throughout your Halloween party, people will be trying to bop you, twist your hat or pull your leg. Play along, ha!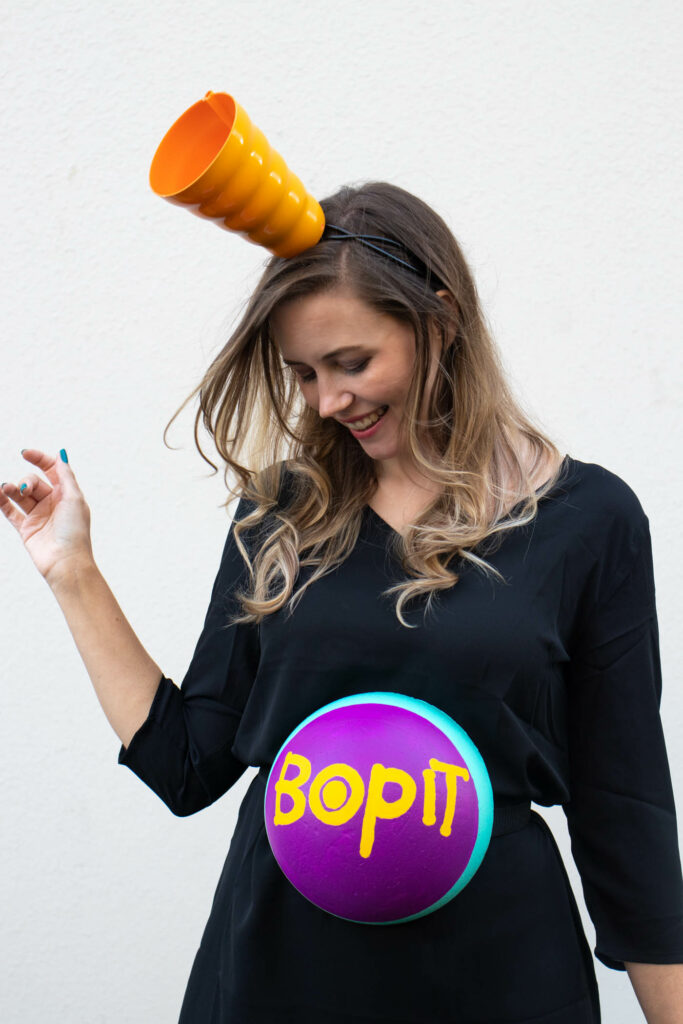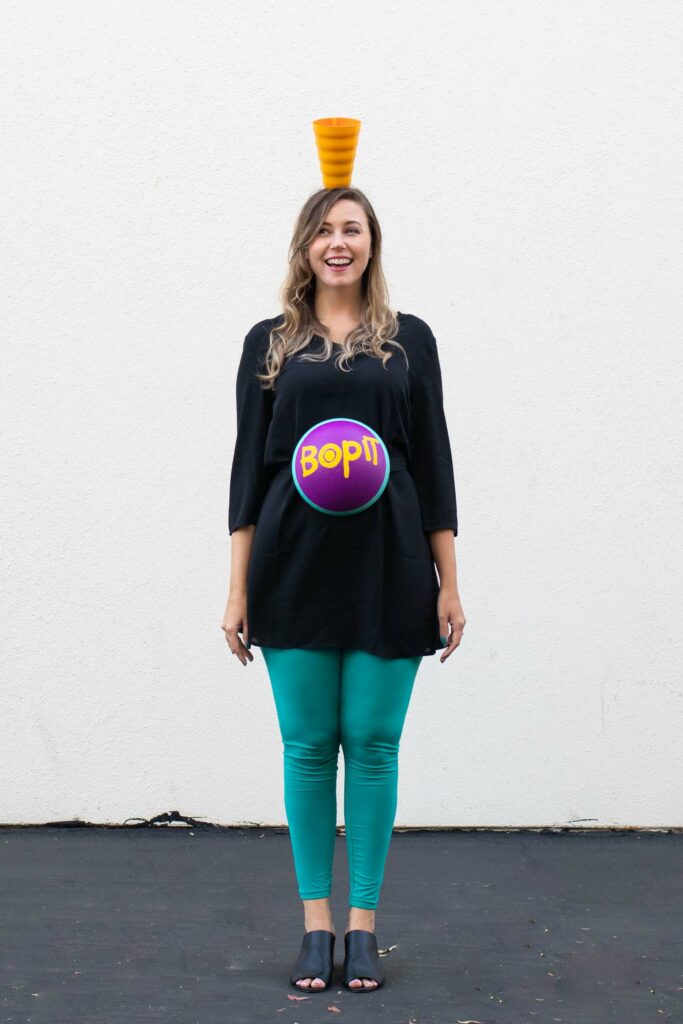 I remember Bop It! so vividly…probably because I wasn't very good at it. Let's just say I don't have the best reflexes when the game starts to move faster. Nonetheless, Bop It! was such a fun game that I thought it would be a great nostalgic Halloween costume.
Don't let the long list of supplies scare you! It's not very difficult to make a Bop It costume from random items, and there are multiple ways to make the costume work for you.
Supplies:
Large foam half-sphere
Acrylic paint in black, purple, teal and yellow
Yellow spray paint
Glue gun
Black elastic
Black top/dress
Teal leggings or teal socks
Cup, ribbed pattern recommended
Yellow craft foam (optional)
Headband
Scissors
How to Make a 90s-Inspired Bop It Costume
Step 1: Start by painting the outside edge of the large foam half-sphere bright teal. Depending on the size of your foam, you'll want to paint the edge and at least 1 inch up the sphere.
Step 2: Paint the middle part of the sphere purple. Add several coat as needed for the colors to pop and let dry.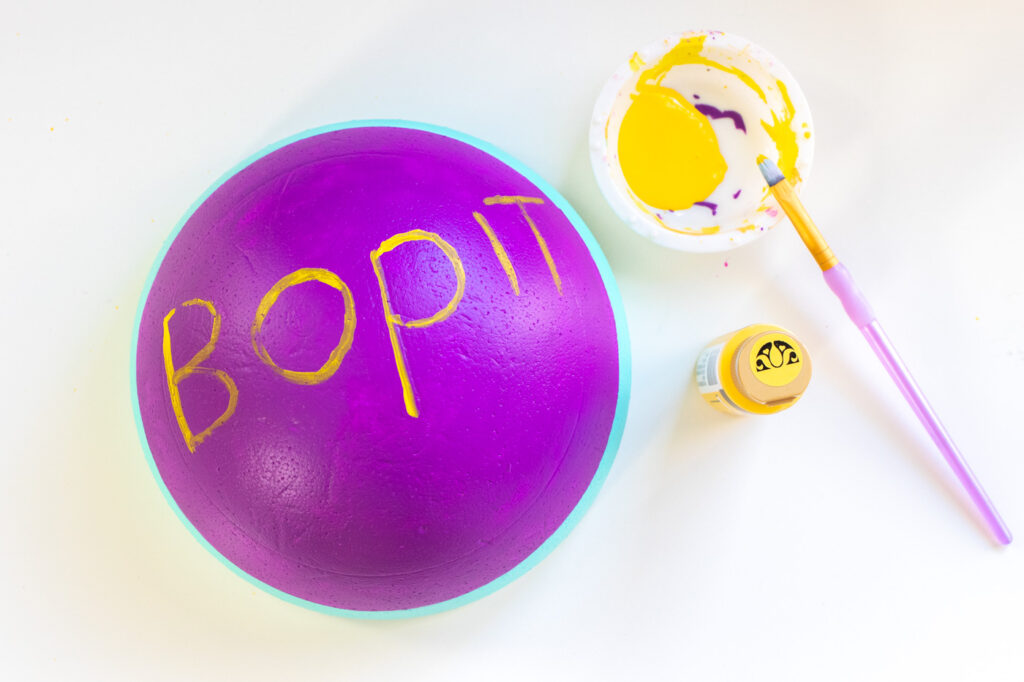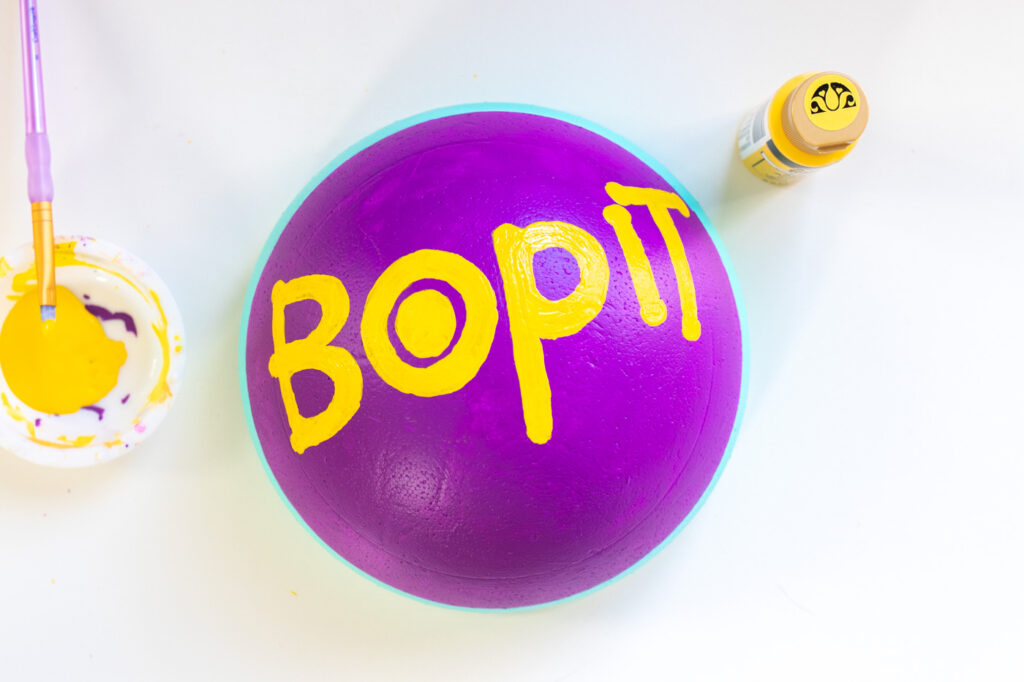 Step 3: Draw out "Bop It" in yellow paint and fill it in. The words should fill the purple section of the sphere, creating the look of the Bop It costume button.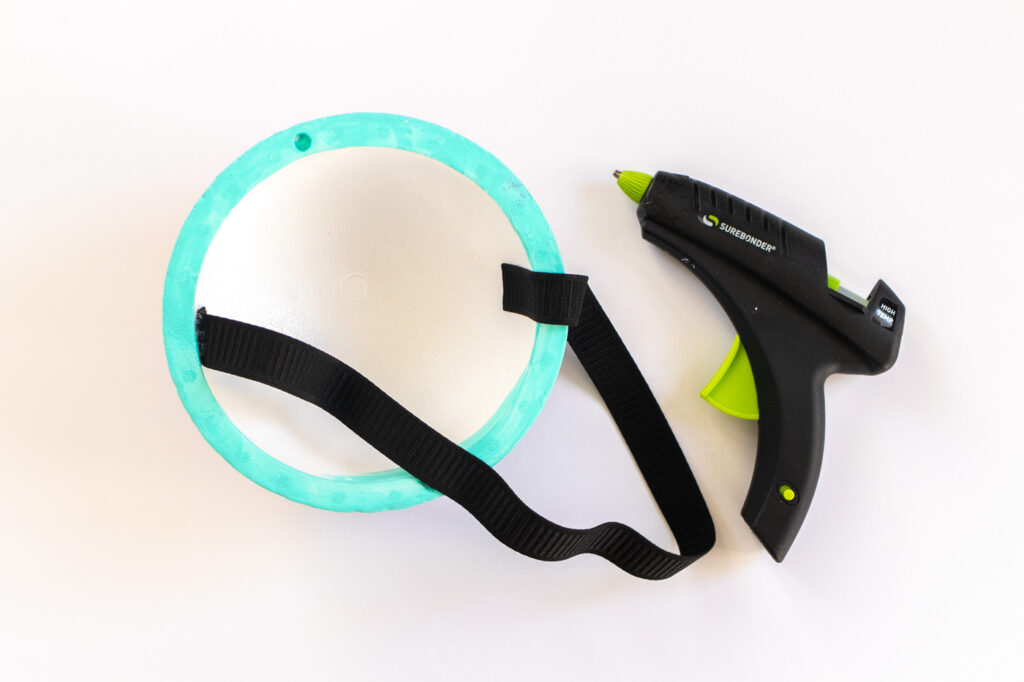 Step 4: Once dry, place the sphere against your stomach. Measure how much of the black elastic you'll need to secure it to your waist and cut. Then glue either end to the inside of the sphere. Now you should be able to slip it over your legs and stretch it to fit your waist.
Step 5: Paint a ribbed or similarly textured cup yellow with spray paint. If using a regular cup, cut pieces of foam and glue it around the cup to create the texture. Then paint and let dry completely.
Step 6: Once the cup is dry, glue the bottom of the cup to the headband. It should be approximately in the middle.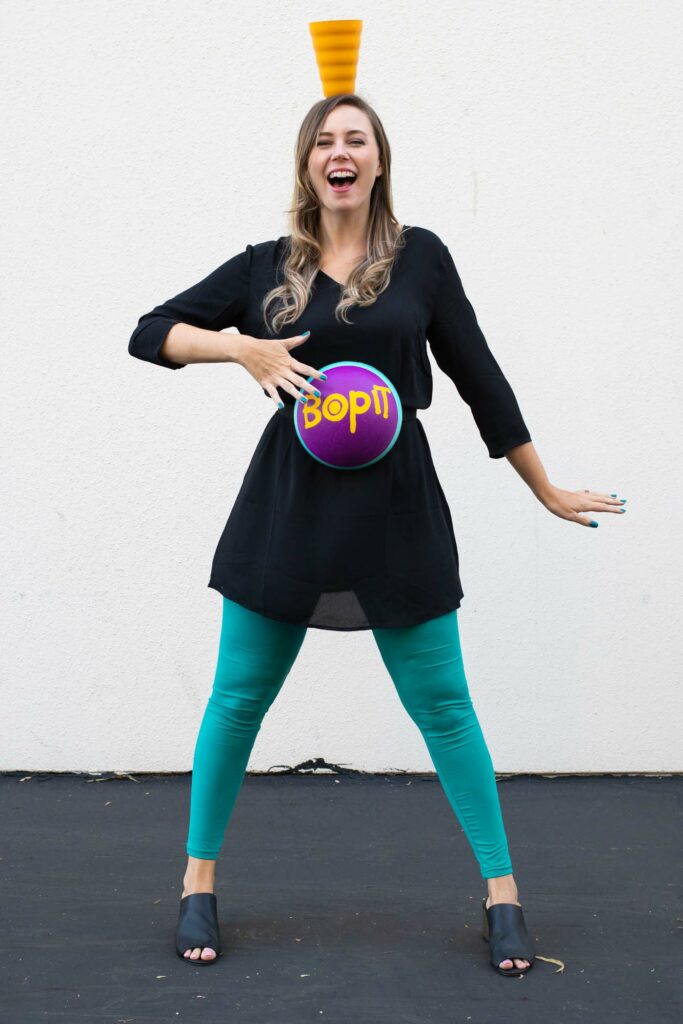 Assemble the Bop It costume: To assemble your new 90s toy costume, put on a black shirt, dress or tunic. Pair it with teal legging or long teal socks that imitate the "pull it" piece of the costume. Pull on the Bop It button around your middle and put on the "twist it" headpiece.
Any 90s kid should be able to instantly understand what you are! Now you just need to practice your Bop It! sound effects before your next Halloween party 😆